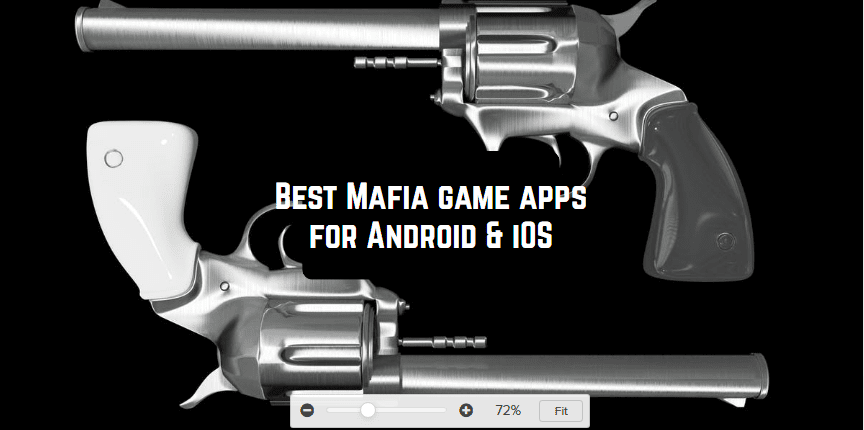 It is fair to say, that the term "Mafia" involves some kind of a cool stereotype to us. Though the real Mafia is left somewhere in the past on the Amfari Coast, it is definitely more than alive in the video games and stays the eternal inspiration for the game developers.
If you are feeling like you're up to something adventurous, then you can choose to play mafia. Which kind of game – it's up to you to decide. If you are an extrovert and you like to chat with people, spend time with friends – then you can participate in an online game, strategy, or classical card game.
If you are more into adventurous stuff and like playing alone – you can choose those games telling captivating stories about how the interaction with Mafia has changed someone's life.
Mafia City
Don't miss a chance to become a part of a wide community of Mafia players. This game is a challenge for your strategic planning abilities, so join millions of other people who play this game and have the time of your life. Any borders that existed before this game will vanish. All the world nations came to play, no prejudices. All together you will fight for the name of a Godfather.
Start a game and get involved in the crazy flow of action: robberies, chasings, races, sneaking – all is just to become the King of Mafia. The life in the game is extra harsh, you should stay tuned all the time or you lose. Even your best friends can turn out to be your worst enemies. Fight for your ambitions and achieve your dream. Because it's not only you who's playing, but there is a huge network of gamers, the whole process feels really vivid and interacting.
There is something going on every day. In the game, you have a full 360 view so you can see all the details and be in control of what is going on. What is more, you can unite into groups, form your own team and work on your strategy together. The game has one global server so all the people can join from all over the world.
There are several types of characters in the game and they all possess different skills and weapons. The higher the rank – the more dangerous is the character. You can make fights in a case when regular conversations don't work anymore. So, prove your loyalty to the right people, follow your strategy, hide and win!
You may also like: 15 Free 3D Action Games Android & iOS
back to menu ↑
Mafia Empire: City of Crime
Many people are captivated by the image of "City of Sin" movie, with all its spirit of darkness and brutality. Obviously, in real life you can't live like that but who prohibits playing games? You will definitely catch the spirit of the gangster era. discover your alter-ego, will test your abilities to be sly and agile.
This is a multiplayer real-time strategy game. Cooperate with other users to win more points. Strive in order to become the boss of Maria, who controls all the territory and money. You can develop your own mafia missions in cooperation with other players and organize mass fights. You will face random dangerous situations so you will have to play smart to adjust to unexpected events. Only the strongest will survive.
Not all the players will be your friends. It can happen that you are going to play against enemy groups, consisting of other players. With your own clan, you can form the most powerful syndicate in the city. Different gamers have different status. You should be mindful and take the best players and famous mafiosos in your time in order to win.
Don't you forget that you have to collect the necessary tools, emo, and cash to manage your maria effectively. Prove yourself in regular events to acquire even more resources so your influence in the city can grow even faster. You should also collect important rewards or drugs. Over time, your influence increases and your boarders are widened so keep your strategy on track.
back to menu ↑
Mafia Fake Family
This game is a little bit different from the previous one, though, it is never the less exciting. It is an RPG strategy where you will be playing for a character, Bob.
The plot of the game is the following: Bob comes out of the prison and decides to never return to his criminal past again. He doesn't want to deal with the mafia, but, apparently, the destiny has another plan. He decides to get involved in the last illegal adventure and then get done with all that criminal world. It turns out that adventure leads him straight to the core of the mafia criminal drama.
His friend, an advocate named Joe, who helpt Bob get out of prison 15 years earlier than he was supposed to, got stalked by a Mafia clan Salavani. They're blaming him on stealing 1 million dollars but they are willing to forgive him if he gets their leader out of the jail.
Joe begs Bob to help him with this problem. Bob cannot decide for sure, being between an honest life and the debt of friendship. What will he do? That you will see in the game. Cool 3D graphics will give you the spirit of a mafia town and the intricate plot will catch your attention until the end of the game. Mysteries, skimming, hiding, planning, striving – this is not even the full list of what you are going to do in this game. Enjoy this interesting mafia story!
back to menu ↑
City Mafia Gods
This is the strategy game, nevertheless, here you're paying in a single mode. The graphics are very realistic and help to pass the feeling and charm of the mafia-style town. You must always stay aware – of everyone – other mafia clans, police or other underground gangsters.
Plan extreme mobster escape missions in City Mafia Gods game. Explore the age of gangs in City Mafia Gods game for your fun crime career, sneak and theft the vehicles to rule the city. In fightings, if you have the best skills and weapons around, you will defeat your enemies and become the ruling mafia. In order to become the most popular mafia in the city, you need to complete all survival missions.
When you are just starting the game, play it wisely as a beginner, in order to complete survival missions. Be careful and try no to be caught by the police before you grow your clan to the peak. Live an action-packed mafia life gang war in a stealth mode like mafia legends in City Mafia Gods game. You will discover a bunch of interesting missions and challenges, which you are surely want to try, Time will pass by really quickly
.
back to menu ↑
Mafia Mystery
Do you remember all the fun playing Mafia with your friends? Guessing who is who was really fun, wasn't it? And at the end of the game, the mafia was the person you least expect – quite shocking, right? Someone was a regular citizen, someone was a doctor, someone – a policeman and somebody was lucky to be the Mafia!
So why don't we put this spirit into a phone game? This game is exactly the version of a classic game, loved by the people around the world. A leader hands the cards and then it starts… The town falls asleep… And on and on and on. After the town has wakened up – someone is dead and you have to find out who is the killer. Usually, you can never tell it from the first dight – you just trust your intuition (or the group instinct).
In this game, you can start your own investigation to find out the truth. When too many regular citizens get killed Mafia wins. So you have to plan in advance! Actually, with this app you won't need a narrator, you're just getting involved. You can play with around 16 players, different modes. What is more – the game has a unique 15 roles, so you will definitely get something interesting.
The length of the game is customizable. Comparing this app to the previous ones, it is more simple, ut it brings you that amazing spirit of a game you used to play.
back to menu ↑
Idle Mafia Tycoon
Opposite to the previous serious games, where you had to be smart and fast just to stay alive, this one game is made just for fun. In case you like anything dealing with mafia theme and you're tired after a long working day – just wanting to get distracted and cheered – this could be a good choice.
You can tell by the graphics that this cartoon animation is made to amuse you. You don't need to do anything – only tap on the screen and you're good to go. If you win, you can become the owner of the area and become the most popular mafia magnet. No one can predict how big are you going to grow, you are your own limitation.
First, you need to click and tap on the screen to pass the first levels. Then you can delegate your competencies to your friends to do the work. They will be collecting money for you and grow your capital. Make everyone surprised but your wealth which is indestructible at all times.
Combine your own income and incomes of your friends to create a super-power. It's funny that you can hire a crazy scientist for him to create unique bonuses for you and, thus, you will be the ultimate winner. Remember, the more people fear you, the more they respect you.  Make everyone talk about your extraordinary wealth and possibilities. You can share your achievements via social media so your friends can see your progress.
back to menu ↑
Gang War Mafia
In this game, you will have to fight in a war and it is much more brutal than previous games. Your ultimate goal will be the last one standing. Each gang has its own unique styles of combat and it's up to you to learn and using strategy out flank and outgun them. So if you're into shooters – this game can become your next thing to try out.
In the gaming process, you can share your current status on social media in order to synchronize with your friends' profiles. The game has a multiplayer system, so you can play all together and share our status in the world. Players are allowed to custom design their own personal gangster to fit their needs and send them out to cause mayhem and devastation.
For those who like shooter games, this would be a perfect choice. The range of the weapon is truly impressive and you can customize it according to your taste. You can, for example, choose different colors for it.
The graphics are also well-made and allows you not to miss even smaller details. The characters are easy to control and manipulate. Don't focus on technical issues, just stay involved in the action! Step into the atmosphere of the battle and show everyone what you are capable of.
You may also like: 15 Best turn-based strategy games for Android