[wpsm_box type="green" float="none" text_align="left"]
Do you often face a situation where you need to combine several small pieces of video into one video? A handy application that is able to combine videos will solve your problem! Today we will review simple and affordable video editors which you will learn to use today.
You may also like: 11 Best TikTok video editing apps (Android & iOS)
These programs allow you to combine videos recorded in different formats, create a single movie from photos and video files, equip it with unique filters and special effects, creative transitions, introductions, and titles.
[/wpsm_box]
Video Merger
Video Merger was created specifically for the fastest possible merging of videos. The developer released a free version and a version of Pro.
If we talk about the free version, then the creation of the clip is limited to adding just two videos. In a paid release, you can make a video from several videos. Video Merger also allows you to select the orientation of the video: portrait, rectangular, square. The free version will again limit you and will not present such a choice.
In addition to combining, you can use this application to add overlays to the edited video, as well as several special effects are available here for free.
With a few clicks, adding a few clips, you can select the music that will sound as a background. Video Merger will offer to download the video immediately on YouTube, put it in Instagram, send it by e-mail or save it to photo gallery.
Video Merger attracts with its simplicity of action, the lack of "troubles" and unnecessary options. If you like to experiment with combining videos on your smartphone, choose Video Merger!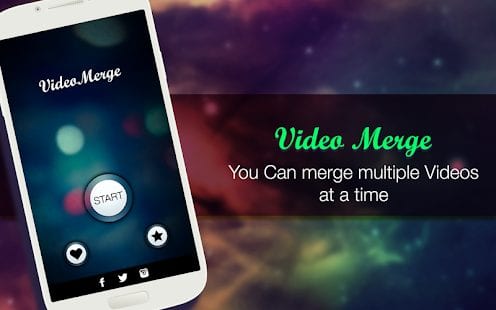 You may also like: 11 Best video compressor apps for Android & iOS
Movavi Clips
Conventional videos can turn into a stunning movie in minutes with the free video editor Movavi Clips.
Just add the video to the program, cut off unnecessary, add transitions, music – and this is done! It remains only to upload a mini-movie to the social network directly from the application and collect the likes, reading enthusiastic comments from friends.
Also in Movavi Clips, you can apply stickers and text, rotate and copy clips, and also cut them to within a frame. Convenient tools for working with audio will allow you to adjust the volume of the original sound, as well as superimposed music to achieve the best balance.
In Movavi Clip, you will not be distracted by anything from video editing: there is no advertising in the application, and the exported clips have no time limit.
Never processed a video before? No problem! Thanks to the tips in the application, you quickly master the basic tools and create your movie in just a few minutes.
With Movavi Clip, the creation of truly beautiful videos becomes a matter of minutes. Download the video editor for free and try it yourself!
VivaVideo
This is a very powerful video editor with which time will fly by. It is also available for free download, which is another advantage.
Both beginners and professionals in video editing will have a pleasant pastime using this application and its built-in interface.
Powerful built-in kernel, with the implementation of the mode of multi-capture and support for the PIP function.
Duplicating and multi-loading tracks, as well as support for animation headers.
More than 60 functional filters, various special effects.
Advanced tools for creating animated slide shows and photo compilations.
Ability to embed images into each other.
Ability to customize the control panels.
Convenient export of results to the internal gallery and social networks.
Regular updates and constant expansion of the functionality.
Its presence in more than 60 countries around the world means that you can trust the app to do quality editorial work.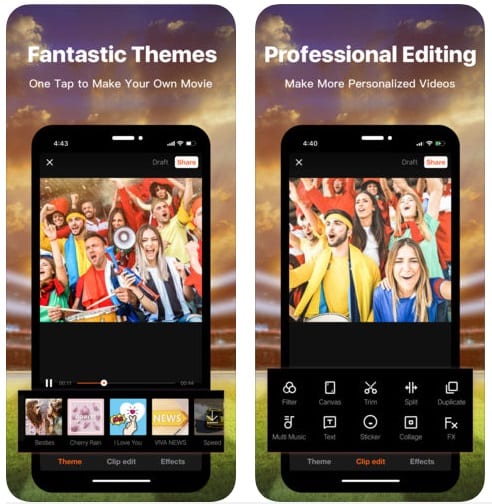 VideoShow
If you need an app that can combine videos, pay attention to VideoShow.This video editor is a great program for working with clips on Android and iOS. The design of the program is very funny, it's nice to see him in front of you. The interface is quite simple, but inexperienced users can have some difficulties.
All of them disappear without a trace after several minutes of studying the menu. The program has rich opportunities for editing, customizing, and creating a video. With this app to do interesting and special visuals is a matter of minutes.
Features:
Extended work with videos allows you to cut them as you like, combine several into one, or insert in the middle of playback. At the same time, the file format is not important, work with different formats is carried out as quickly and comfortably as with the same ones.
The integrated interface function allows the user to see the end result immediately on the screen. This is very convenient if you want to add several effects and scale the movie.
In the video, you can add a photo or text. Special restrictions are not present, from a photo it is possible even to mount a high-grade roller. Ideal for adding small parts and customizing stock video.
The program includes several interesting effects, which instantly give the creature a special appearance and underlined his strong features. Almost for each individual case, you can choose the right filter.
You can work with audio tracks. Adding sounds and music, its trimming is carried out literally a couple of tapes on the screen.
Export is possible both in a compressed state, respectively, with less weight, and in maximum quality. It should be remembered that with increasing quality, the file weight and processing time increase.
Directly from the program you can upload created masterpieces in popular social networks or Youtube.
VideoShow is an excellent tool, the functionality of which fully meets the needs of most users. This is a program from the category of those that must necessarily be present on the mobile gadget!
Magisto
This miracle video editor with the option to purchase a premium version is designed to make editing movies easier. This gives you the ability to select videos, photos, music, and effects, and then combine them all together to create your own edited video.
This is the most commonly downloaded video editing app in the Google Play Store, so what makes it the best? First of all, it is the offer of more opportunities:
You can share your videos on all social networking sites, and create your own albums on the Internet to put them on public display or share with friends and family.
At your service are face detection, image stabilization, filters, transitions, and effects.
You can use it both when shooting a camera built into the smartphone, and with previously saved videos, photos, and music.
This app really covers a lot of areas and specializes in combining all the features to make easy video editing. Plus, all these functions are free.
However, the free version limits you in actions – so, the premium version of the Magisto application offers more videos and photos to add, longer movies, and unlimited downloads.
For those who are looking for a simple application that can do all the hard work for you and create videos with excellent effects, Magisto will be the best choice.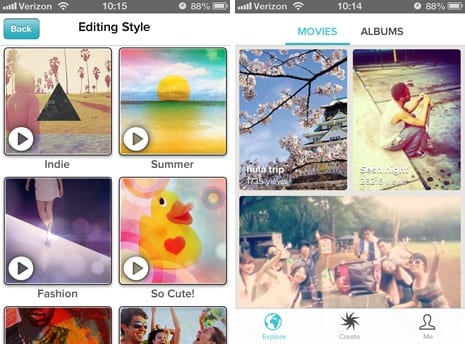 Videoshop
Videoshop is an excellent video editor for iOS and Android, which boasts a huge number of various filters and editing tools. With it, you can easily cut unnecessary moments from the video and "glue" several independent fragments (to combine several videos). In addition, the program includes advanced tools for changing the speed of the video and creating Slow Motion effects.
Like any other video editor, the application also allows users to manage color settings like brightness, contrast, white balance, and so on. During the installation of the clip, you can also add music to it and even impose your voice recorded on the built-in microphone. Before overlay, the recorded voice can also be edited in a separate section.
Another useful feature of Videoshop is the creation of beautiful animated subtitles and captions. For these purposes, the application has many ready-made templates and presets. Other advantages of the editor include the ability to work with high-definition video and sharing ready-made videos for a variety of hosting and social networks.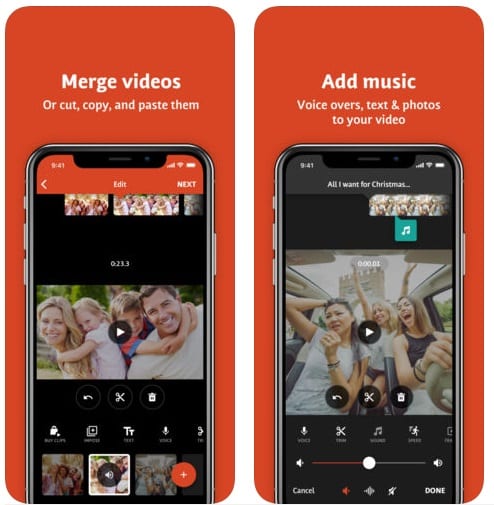 Vidstitch
Vidstitch is a program that helps you to merge your photos or video recordings into incredible collages that you can share with friends through Instagram. Choose funny frames, view materials with the possibility of editing them, add your own soundtracks, and share your creations on Instagram or on other social networks.
Features:
Simple and intuitive interface.
The ability to choose frames and their colors.
Ability to combine video and photos.
The ability to edit your photos and videos.
Ability to add multiple videos.
The ability to add your own music.
Opportunity Preview before saving a collage.
Possibility to post a collage on Instagram, Facebook, or Twitter.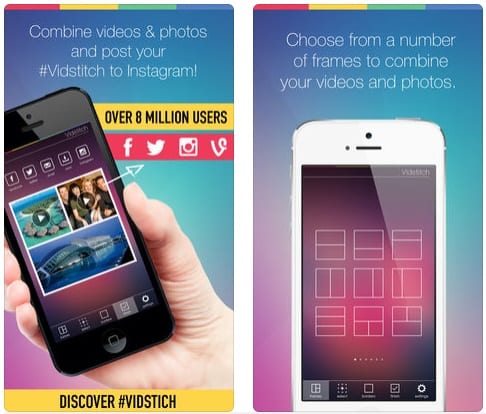 Cute CUT
Cute CUT – a simple video editor for iOS and Android, which allows you to trim clips, combine videos, perform simple video editing, and even work with audio tracks and subtitle tracks.
The application allows you to add and move multimedia files by simply dragging and dropping your fingers. Before you start, though, all the necessary content should be added to the internal memory of the video editor.
Understanding how to do this, in general, is quite easy. In addition, when you first start Cute CUT, offer you a detailed guide to using the editor and even give out a few examples of already ready-made videos.
You can work with the program in both landscape and portrait mode. The interface of the application is designed in such a way that it will be convenient and ergonomic both on iPhone screens and on the iPad.
After you install all movie clips in the correct order, add a soundtrack and captions, apply filters and so on, you can save the resulting video to the device's memory. Cute CUT allows you to save files in both SD and HD format. Another nice point is that the app is completely free.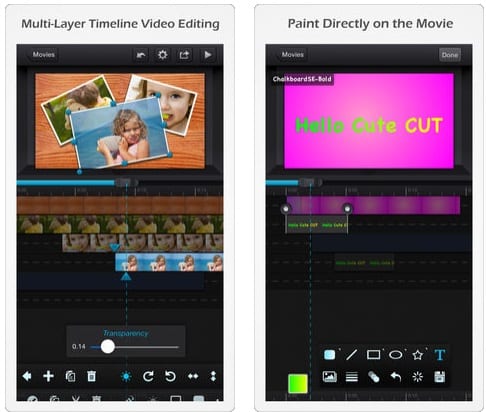 You may also like: 9 Best apps to create vintage videos on Android & iOS
VidTrim
You will enjoy the use of a variety of editing options, which include combining, clippings, audio extraction, and frame capture among everything else.
The application is free, but there are many functions available in the full version:
Ability to convert video files to MP3 audio.
Several ways to share your video, add music to it, and various interesting effects.
The ability to convert video to MP4, resize and compress video to take up less memory.
Although the application is very easy to use, it seems more professional due to the features that the analogs don't have. The premium version offers you the most interesting features (adding music, resizing, and effects, etc.)
If you don't need an application capable of doing all the work yourself, but want to take a direct part in the creative process of creating movies, then VidTrim will be an excellent choice.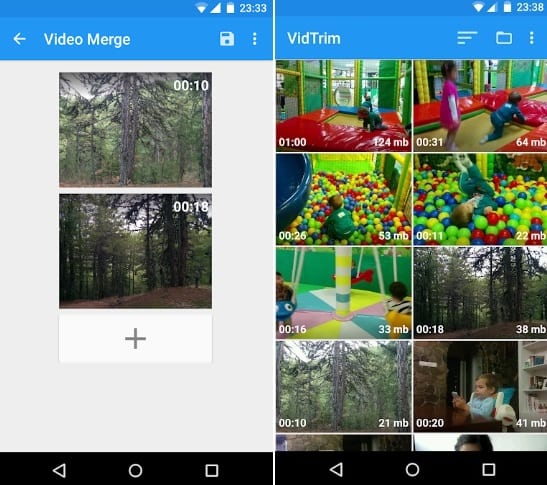 PicPlayPost
This is the video editing app that was developed especially for social networks. PicPlayPost has been on the market for some time already and it has recommended itself as a nice movie-making app. It allows us to combine videos as well. Actually, the set of the things that you can do on this app is quite impressive – you can create slideshows, GIFs, videos, and just edit photos.
The video length can be up to 30 minutes which is pretty rare for such programs. The interface is easy in usage and allows the quick-video editing – so you take a video, quickly layer filters, and post it on your social network profiles. One curious feature of PicPlayPost that makes it stands out from the other apps on the list is that it allows to add your own watermark on the videos.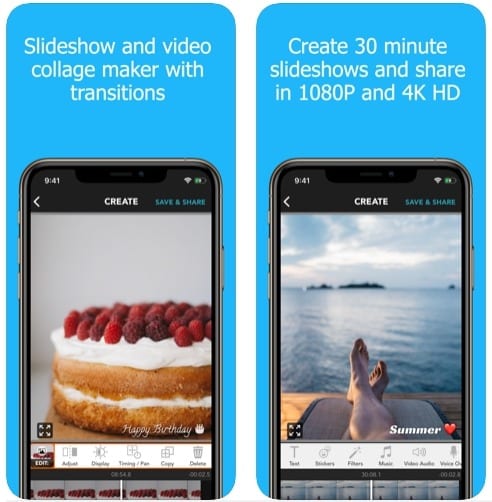 LumaFusion
LumaFusion is more a professional video editing app and it differs from all the other apps on this list. If you are looking for quick video editing, easy interface, and simple tools, this is not the choice for you. However, since LumaFusion is more elaborate in usage it gives a more impressive effect at the end.
Considering emerging and cutting videos 0 LumaFusion can suggest to you the detailed editing, a precise timeline with convenient tools for inserting different shots from one video to another, several timelines for the video, music and text, a special section for effects and many more.
The only disadvantage one LumaFusion is how the majority of the most professional video editing software it is not free. However, those users who have serious intentions and looking for a commercial editing program will probably appreciate this one.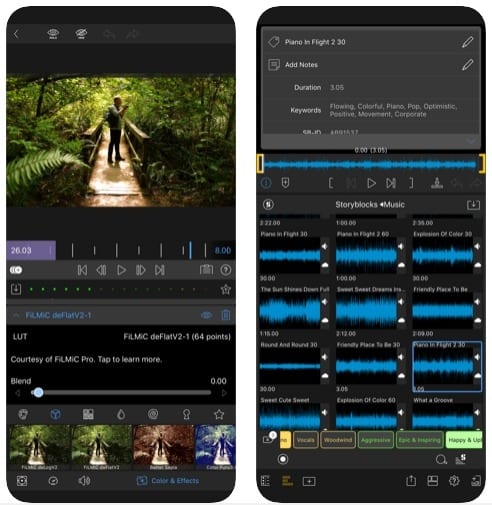 Splice
One more video editor that is trending at the moment. Continuing the modern trend of simplifying photo and video editors, developers of Splice tried to make this one app at maximum convenient for users, so they could quickly edit videos for their social networks and post them.
The interface here is super simple, however, it is not obsolete. The timeline is done really well that it allows you to control all the editing up to a fraction of seconds. You can trim one video, then add another one, apply filters, layer on music, and so on. The ending videos don't have any watermarks which are also really cool.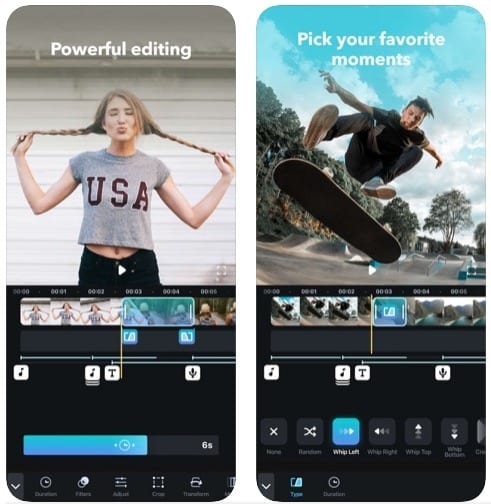 WeVideo Movie & Video Editor
Even though the interface of this app might seem a little bit obsolete it doesn't diminish its functionality. Actually, the interface of iMovie is quite similar to this one, however, it doesn't turn the users away from that app, right? Moreover, simplicity is the key here.
Developers of WeVideo knew that an average person doesn't possess the Quarantino editing techniques, and that's why the simplified this process as much as possible, no now you can easily combine and edit videos, creating movies. The only thing, in the free version of this app there will always be a watermark.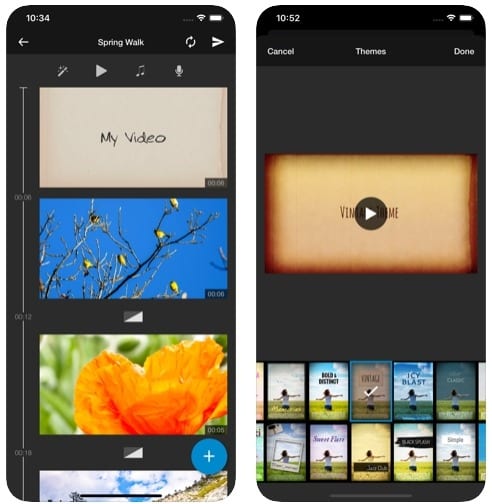 Quik
Another cool video editing app that allows you to combine quickly the videos from your GoPro camera. The idea here is the same – to create the video that you need in a few taps. All you need is to upload the files into Quick and merge them or edit – how you like.
There are no complicated features or the excessive amount of effects and filters that you are never going to use. Because this is the app is quite lightweight and doesn't occupy much of the memory space. By the way, here you can add up to 200 photos and videos to one project.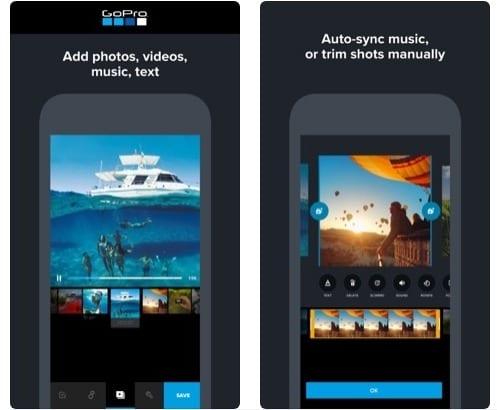 You may also like: 7 Best Video Converter Apps for Android
GlitchCam
Seriously, who wants to edit videos for Instagram for hours nowadays? The time of the meticulous editing, cutting videos in short pieces, layering effects in several attempts is gone. Today the efficiency and speed are the main factors that make a good video editing app.
GlitchCam is exactly that new representative of a new generation of video editing apps. Here you can easily combine video, by adding as many clips to a project as you need, trim and crop them, then add filters, effects and themes and all of that can be done literally in 5 minutes because of the mega convenient interface.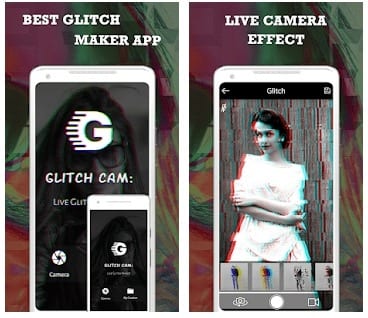 [wpsm_divider top="20px" bottom="20px" style="solid"]
You can first make sure that the above-described applications for combining videos don't require you to have professional knowledge in the field of directing and editing. Create your own movies today! Turn a dull family chronicle into movies with spectacular special effects, and boring reports, filled with a chancery, – into full-fledged projects. Share your videos on the Internet and save "likes".