Any more or less complicated home device has a remote control, but when it is lost, or the batteries are off, this is the end of the world, only in miniature. In this case, you can use the mobile application, which can replace almost any remote control. In this article, we present the best DVD remote apps for Android and iOS:
ZaZa Remote
The developers of ZaZaRemote released not only a mobile application but also a special device that expands the capabilities of a smartphone or tablet.
The first time ZaZaRemote is launched, we are offered to add the console to the application. And here everything is done, perfectly, that is, we have the most popular categories, there is a search for brands and models, as well as very convenient navigation by manufacturers.
After selecting the device, we alternately will be offered to press certain buttons to determine the model of the device and select the correct remote control. Now the remote control is at our disposal, and we can use most of its functions, but not all.
If you make a swipe to the left, the screen will display information about the device manufacturer that we are using. We can also manage the technology through a special panel in the "status bar". It will allow you to quickly turn on/off this or that device and go to the parameters.
Another important feature of the ZaZaRemote application is that we can group the consoles by rooms. It will be useful for those who brought all their home appliances into the program and wants to use it comfortably from a smartphone.
But there are unfortunately no settings in this application. Separately, only two parameters are rendered – themes and IR signal reading. There are only two theme parameters in ZaZaRemote: white and dark.
In the description of the application, it is said that ZaZaRemote supports more than 6 000 appliances of various brands and contains 250 000 remote consoles. Numbers inspiring!
ZaZaRemote is a balanced mobile program for managing home appliances. It is both beautiful and functional, and can even add support for the infrared port to where it doesn't exist. Of course, for this, we need the appropriate device of the same company.
Among other advantages, we note that the utility is completely free and does not contain advertising.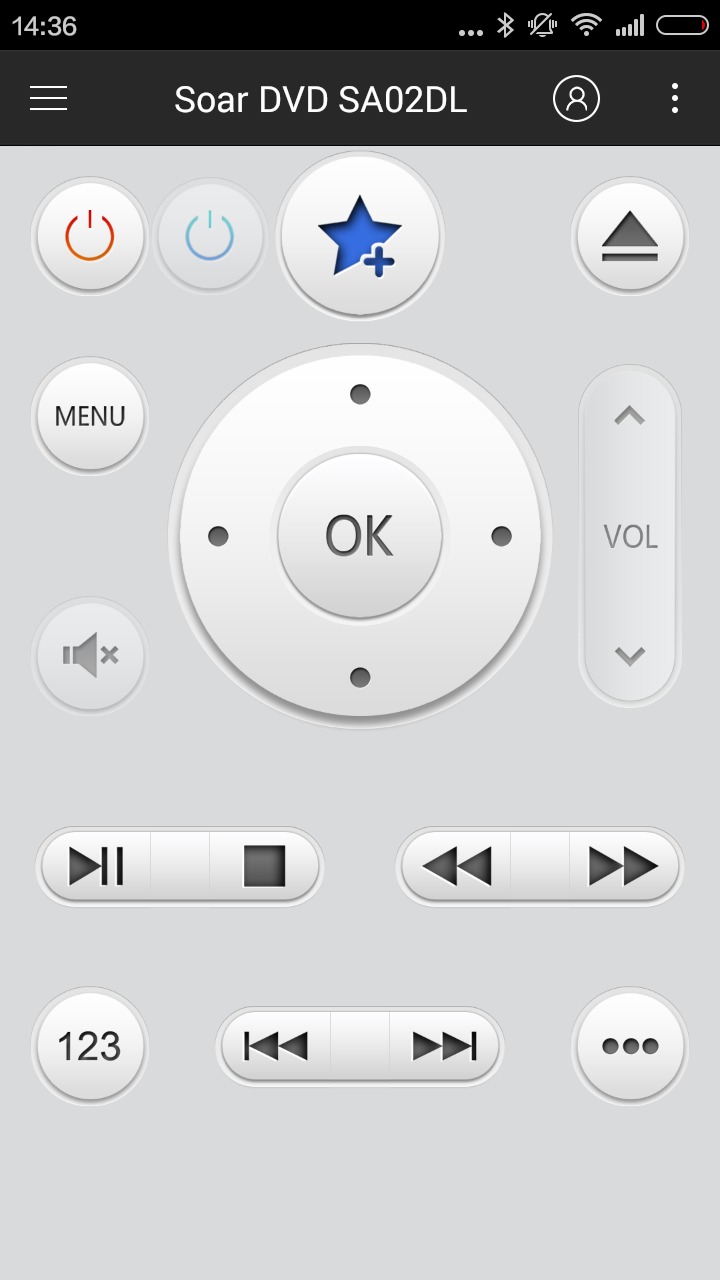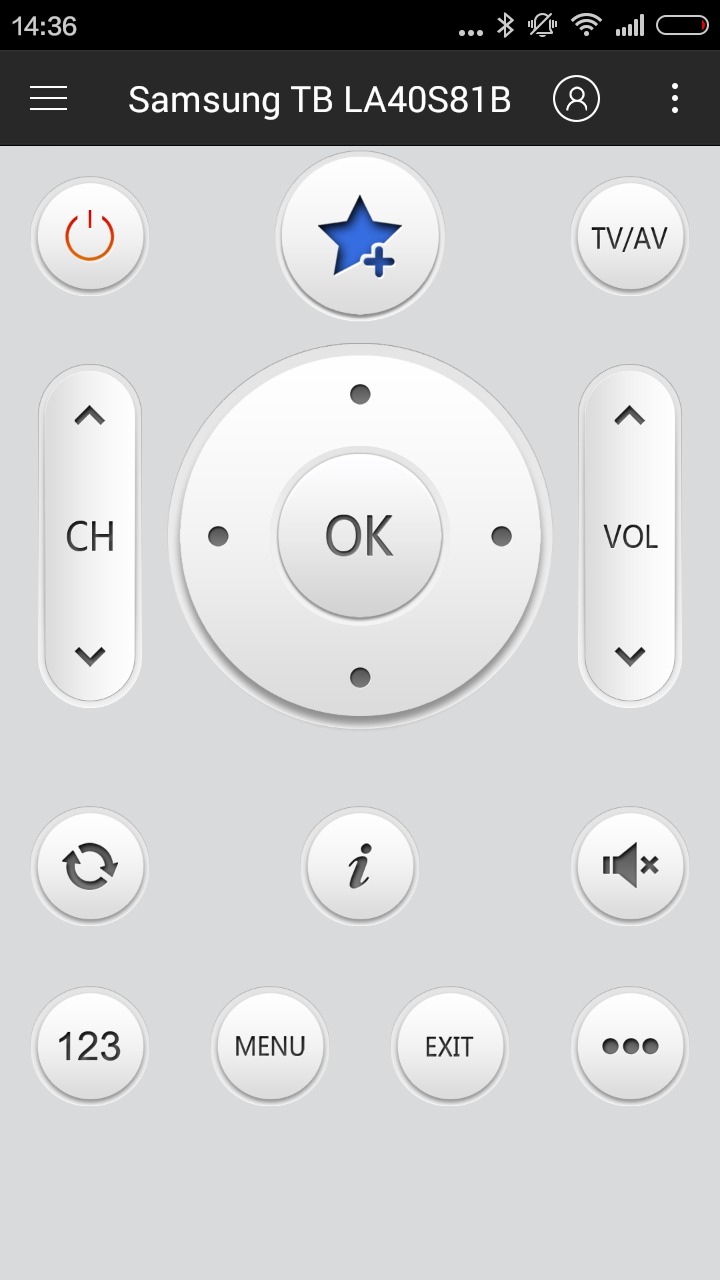 You may also like: 25 Free Trial Cable TV Apps & Websites
Universal Remote for Smart TVs
Universal Remote is a convenient app that allows you to make your mobile gadget a full-fledged and universal remote control for smart TV. With its help, you can easily control your TV, change channels, adjust the volume, and other parameters.
To start using the remote, you will only need to select your smartphone from the list on the TV and activate its connection. After that, you will be able to remotely control your TV with the virtual remote. If your device is not on the list, you will be able to add its settings to the app yourself.
The program supports a large number of TV models and brands. Besides, it is also compatible with many other devices, which makes it universal and convenient for all users.
The app has a simple and clear interface, which makes it easy to use. The main control buttons are presented on the main screen, and you can change their location and size according to your preferences. Also, the app has the same buttons as the classic remote control.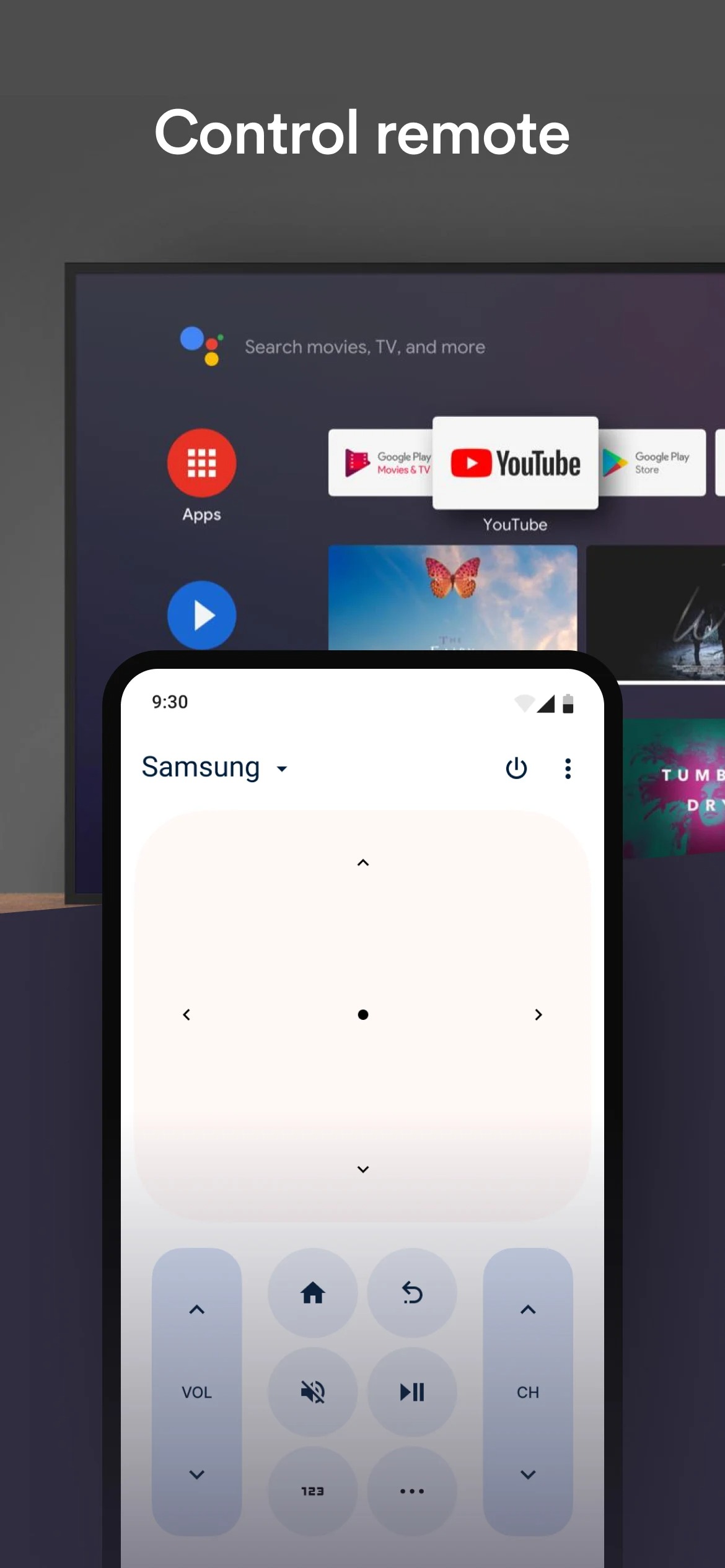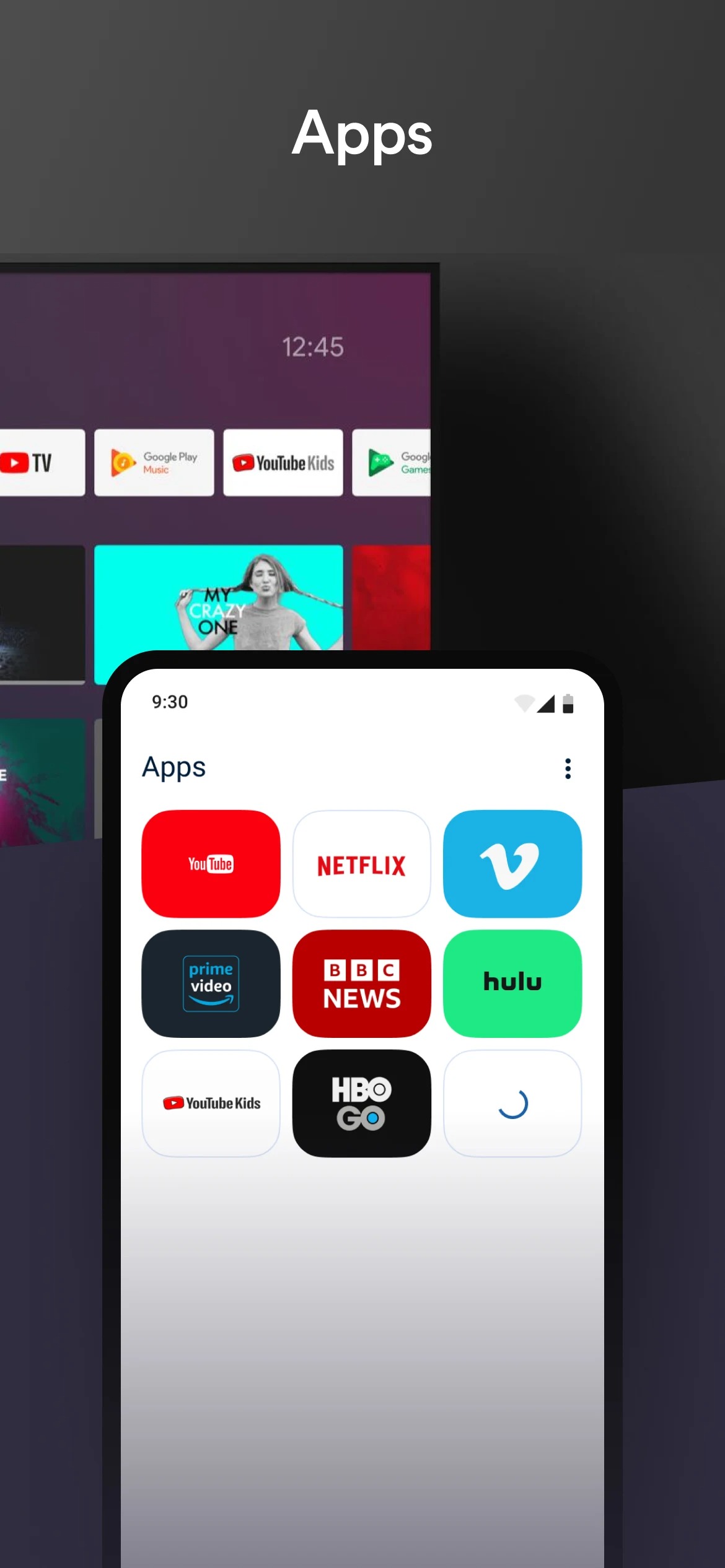 SURE Universal Smart TV Remote Control
When you first start the application, SURE Universal Remote tells us: "Manage everything and make life easier." And then we are shown how to add the device and transfer the use of the program to our hands.
The process of adding a new console can be divided into four stages: selecting a device category (connection), selecting a device type, selecting the device manufacturer, and testing the remote.
The whole setup process is as simple as possible. Here the developers showed their imagination and made the program interface more interesting, at least in comparison with competitors.
SURE Universal Remote almost doesn't have any parameters, much less "smart" functions. All that we can do is turn on/off vibration, sound message, two graphic themes, backup.
SURE Universal Remote works pretty well with home appliances, which is on its lists. However, it isn't wide. Not even all Wi-Fi-connected devices are supported, so you should not expect anything supernatural from the application.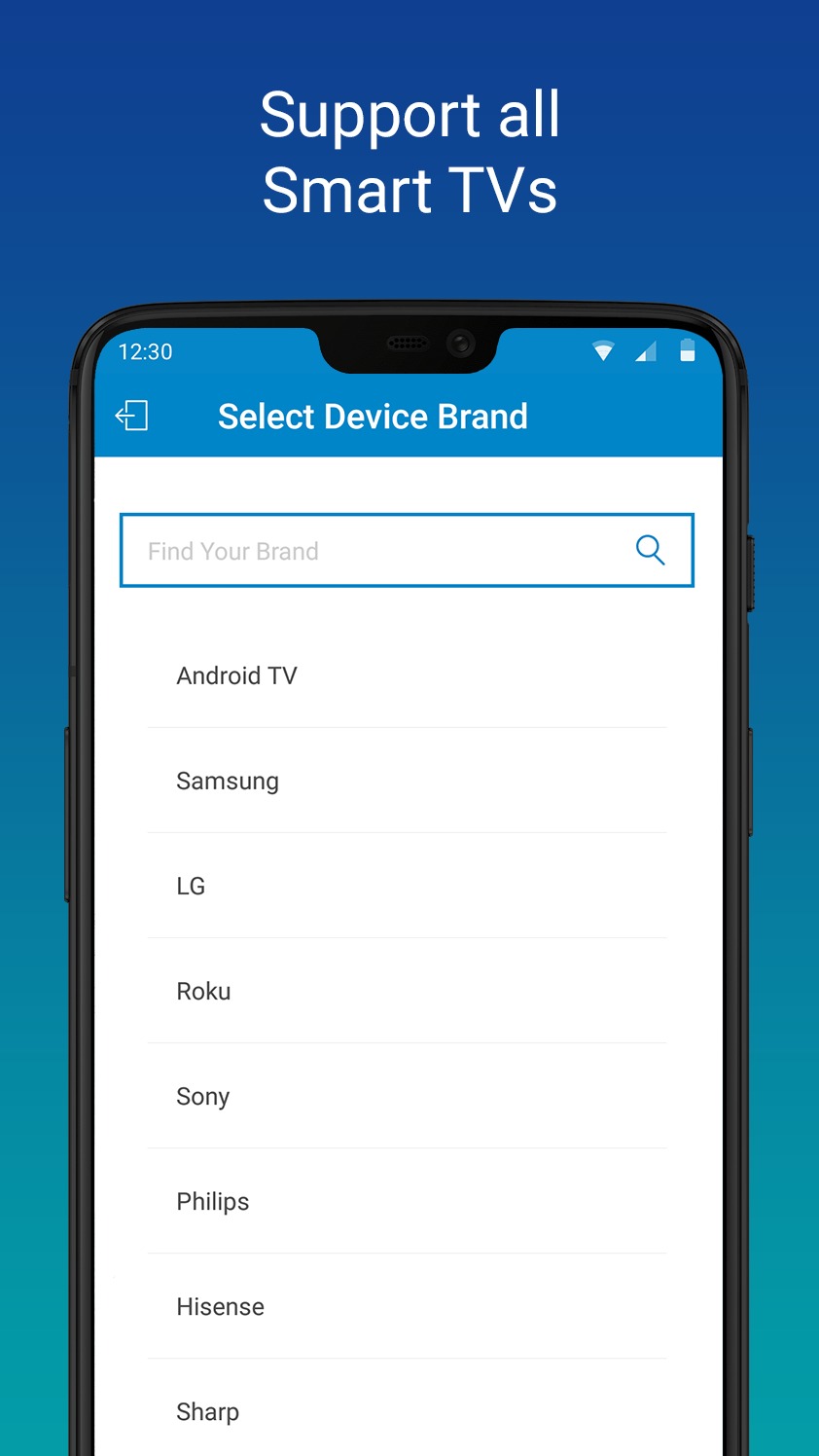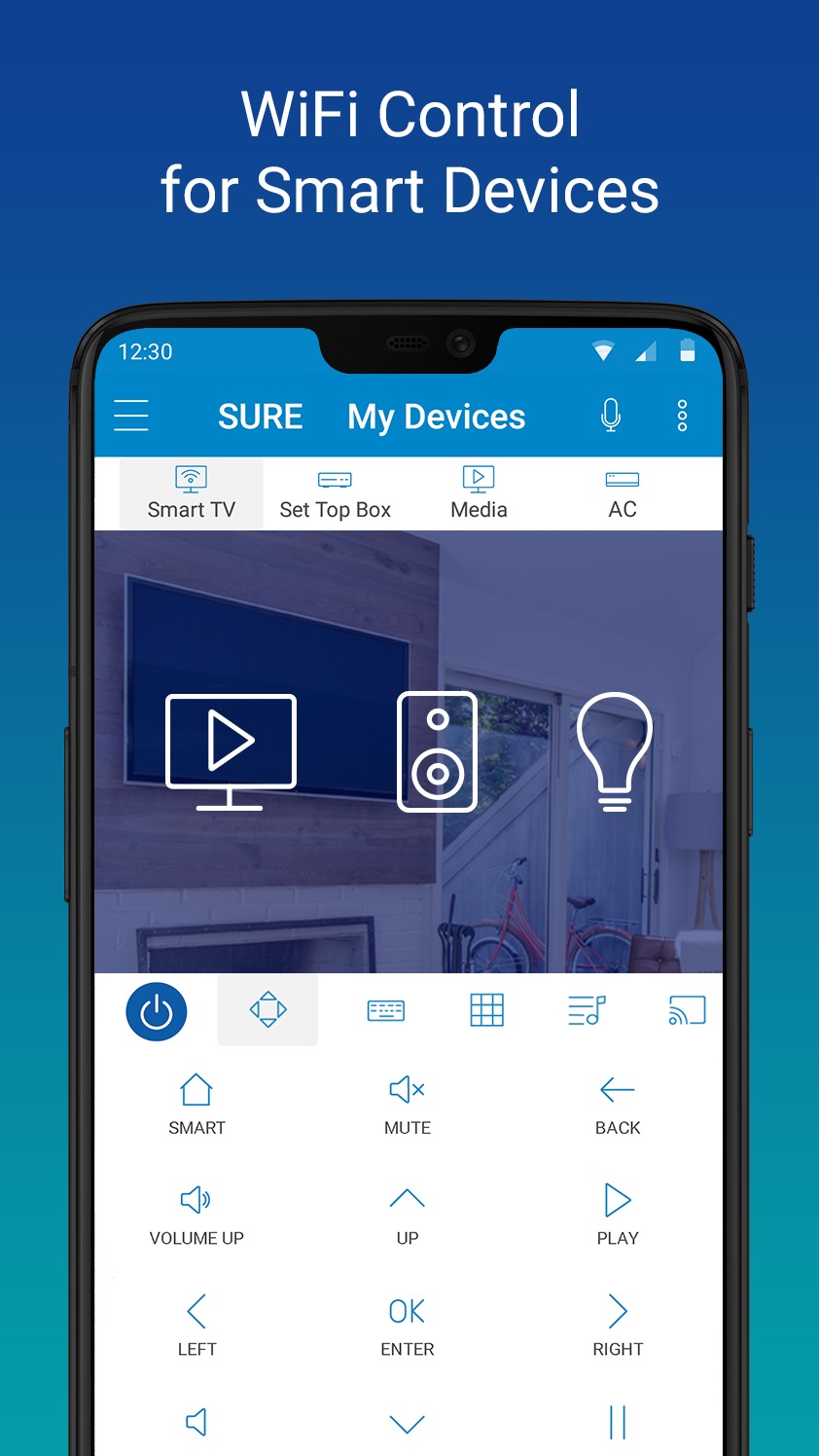 Universal Remote Control
No more wires and extra devices you will not need because now you can download this remote and control all the equipment of your home, which supports such a function.
Now all Android users can take advantage of the new modern technology. Absolutely free service will allow you to control all the technical devices that are in your house.
The remote control will replace a bunch of gadgets for you. You will also be able to use the remote without problems to replace the usual one if it is lost or runs out of batteries.
Thanks to the app, your smart TV or vacuum cleaner can be started at the touch of a button. Now you won't have to look for the remote control and get out of bed to do it, because it will be in your smartphone and always at hand.
The simple and clear app will make watching movies, and controlling appliances, and other devices more convenient and comfortable.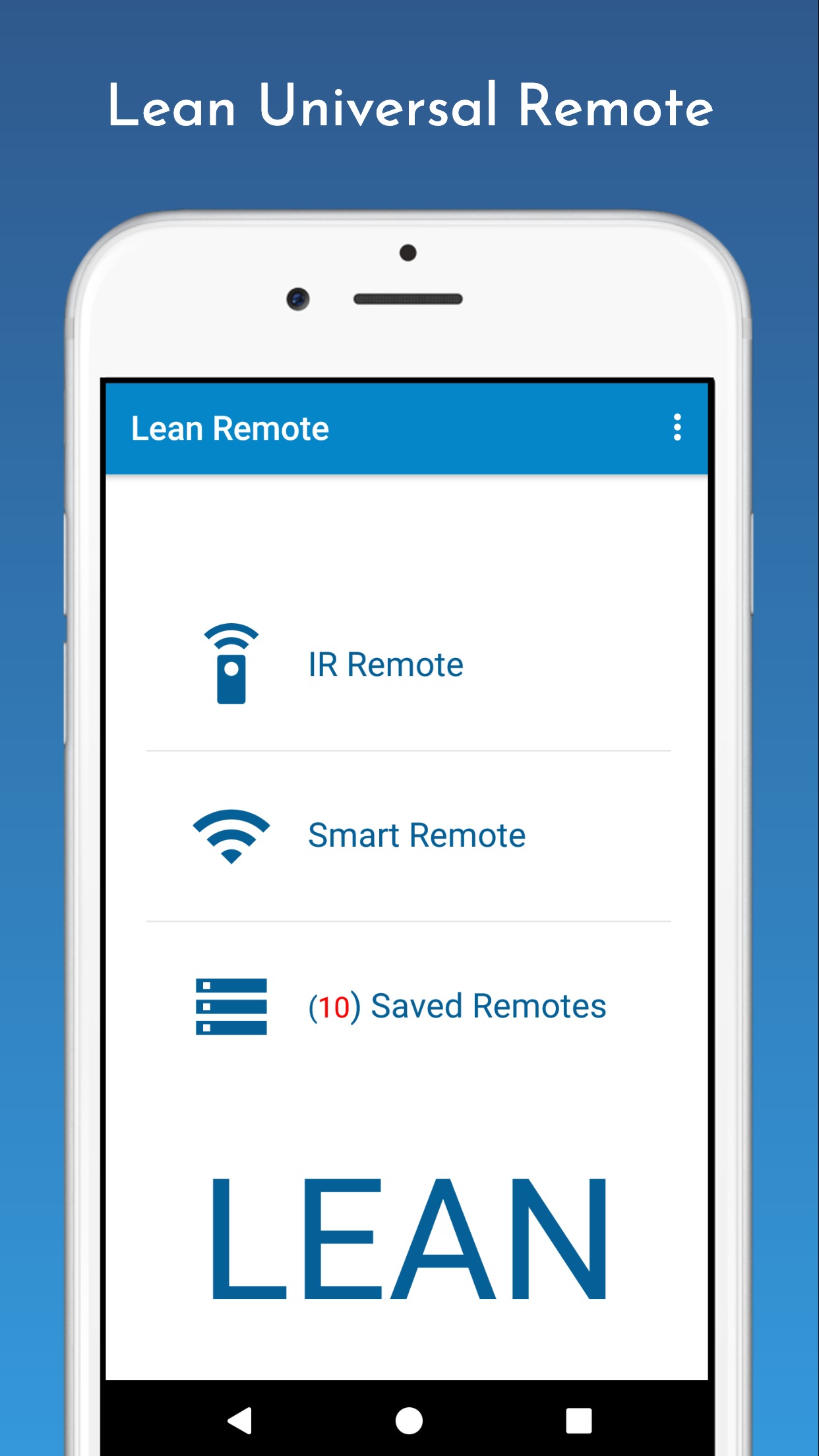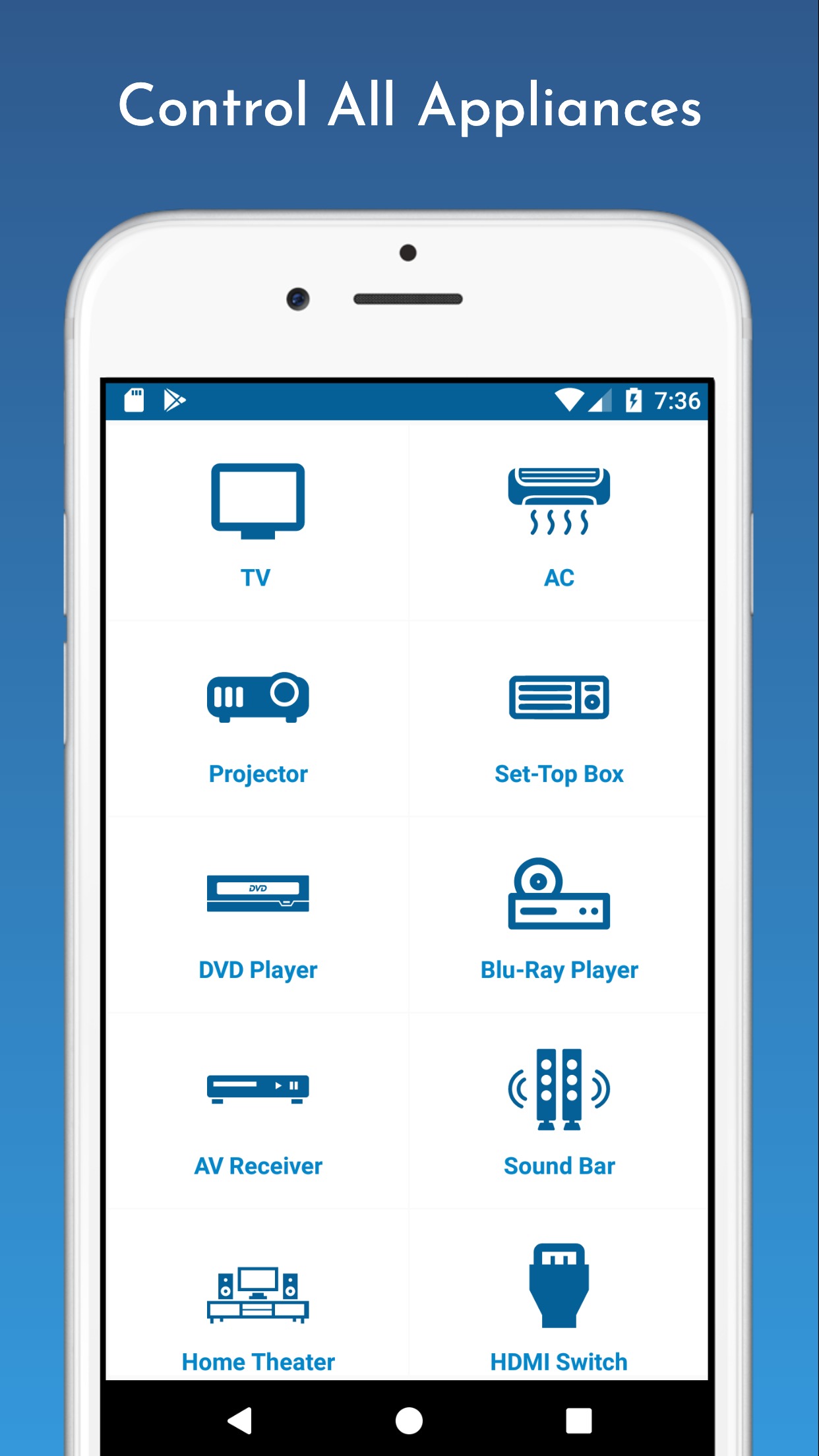 Mi Remote controller
Mi Remote controller is a simple application that allows you to manage smart technology in your home using your phone. Here it is worth noting that your smartphone should have an infrared port.
Run this application and click on the "+" icon in the right corner of the screen. Here you will be asked to choose the brand of the technology that you are going to manage. Choose for example Philips, or some other brand. Now you will be asked to choose the type of device: TV, air conditioning, DVD-player and so on.
On the main screen of the application on/off button appears, you need to direct your smartphone to the equipment and click on the button. Press until the device turns on/off, this will mean that you have selected the correct settings. Do the same with the other buttons suggested.
It can control most devices using the infrared remote control, for example, TVs, air conditioners, air fans, and projectors. If the device is controlled using Bluetooth wireless or remote control, it will not be supported by the Mi Remote App.
An Internet connection is required only when we want to connect to a new device. After saving the device, we can use this application in offline mode.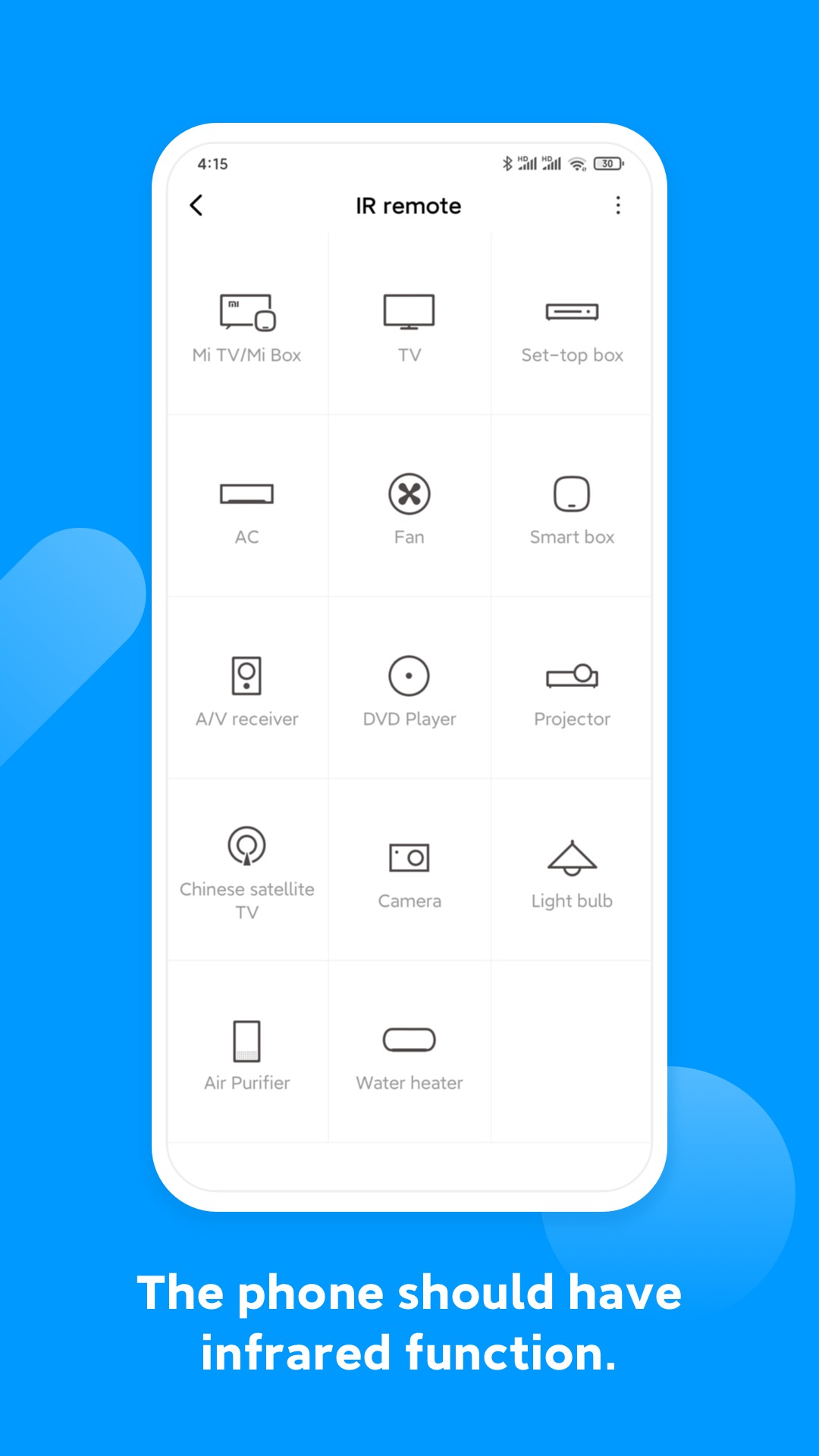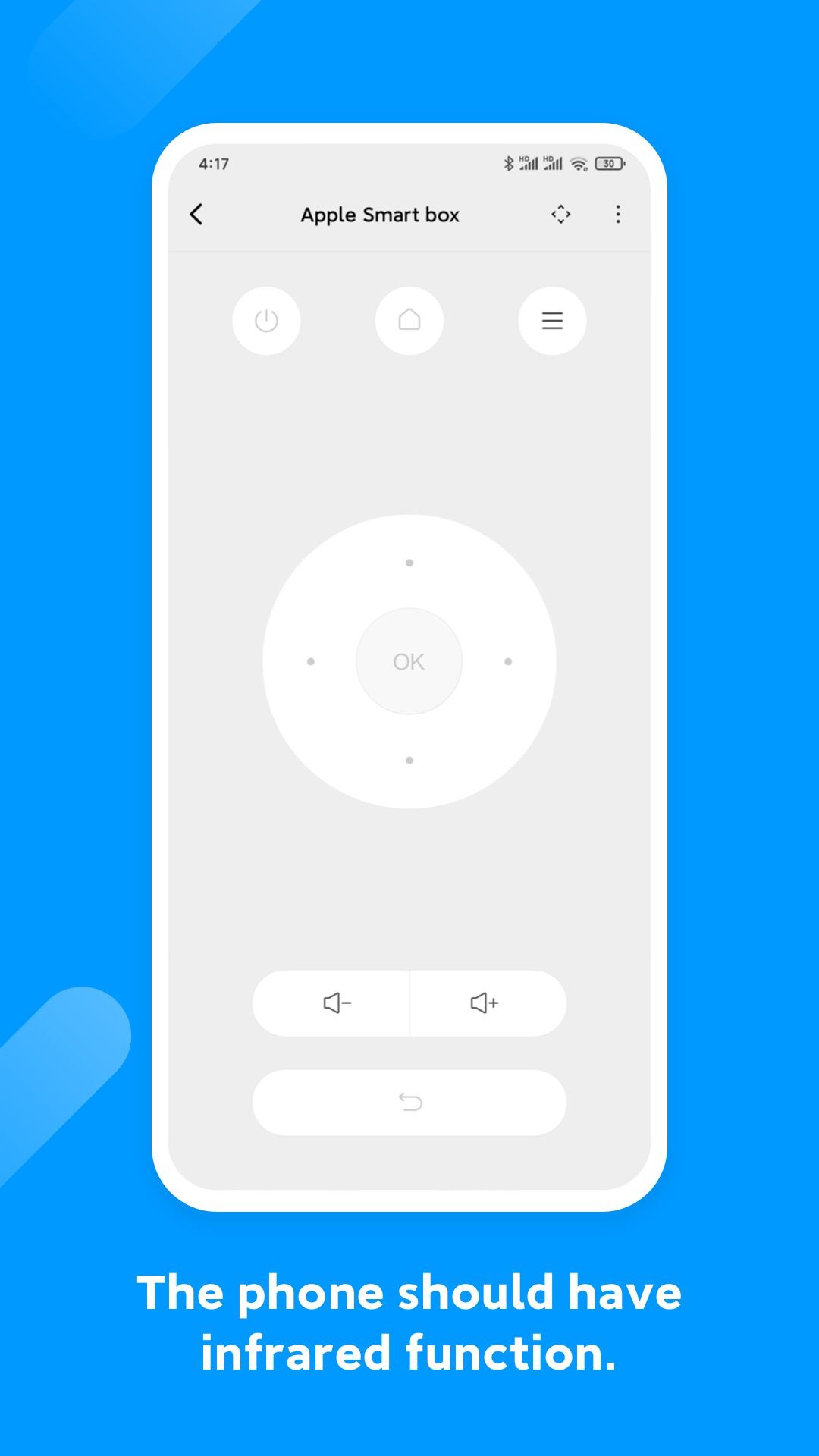 Universal DVD Remote Control
If you use a DVD system, then you will definitely enjoy this app, which presents a special remote control. Now you can easily switch from one movie to another with your smartphone.
The remote does not require charging, so you will be able to perform any action with the rest of your DVD-enabled devices from the comfort of your couch.
No more need to look for working batteries or go to the store for a new remote in case of its loss, or breakage. Everything will be available in your nearest smartphone gadget.
With this service, you can sort out really quickly, because the interface is most convenient and easy to manage.
The app is suitable even for those who have never used modern technology and developments. The program is absolutely free, so everyone can take advantage of its available functionality.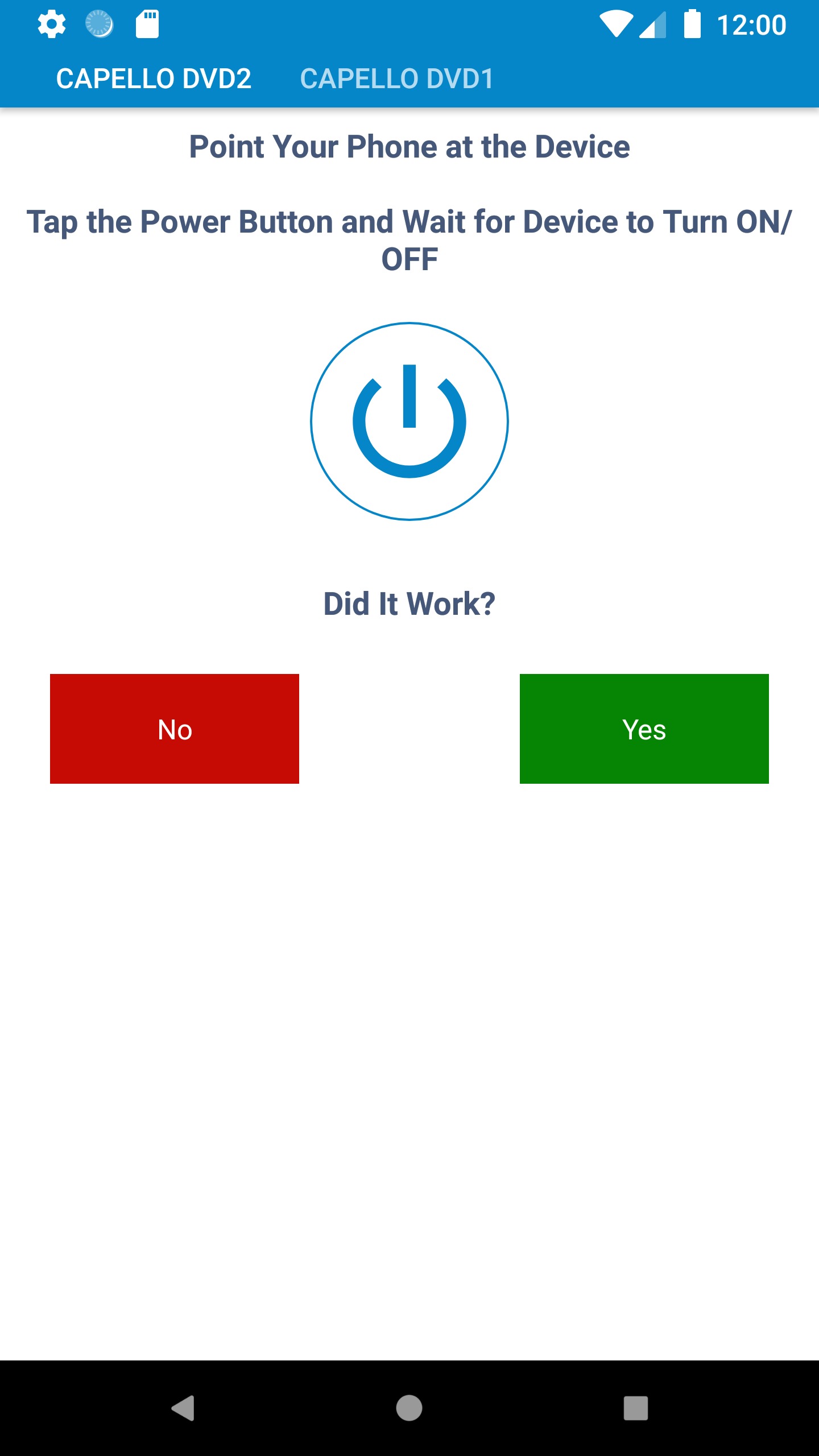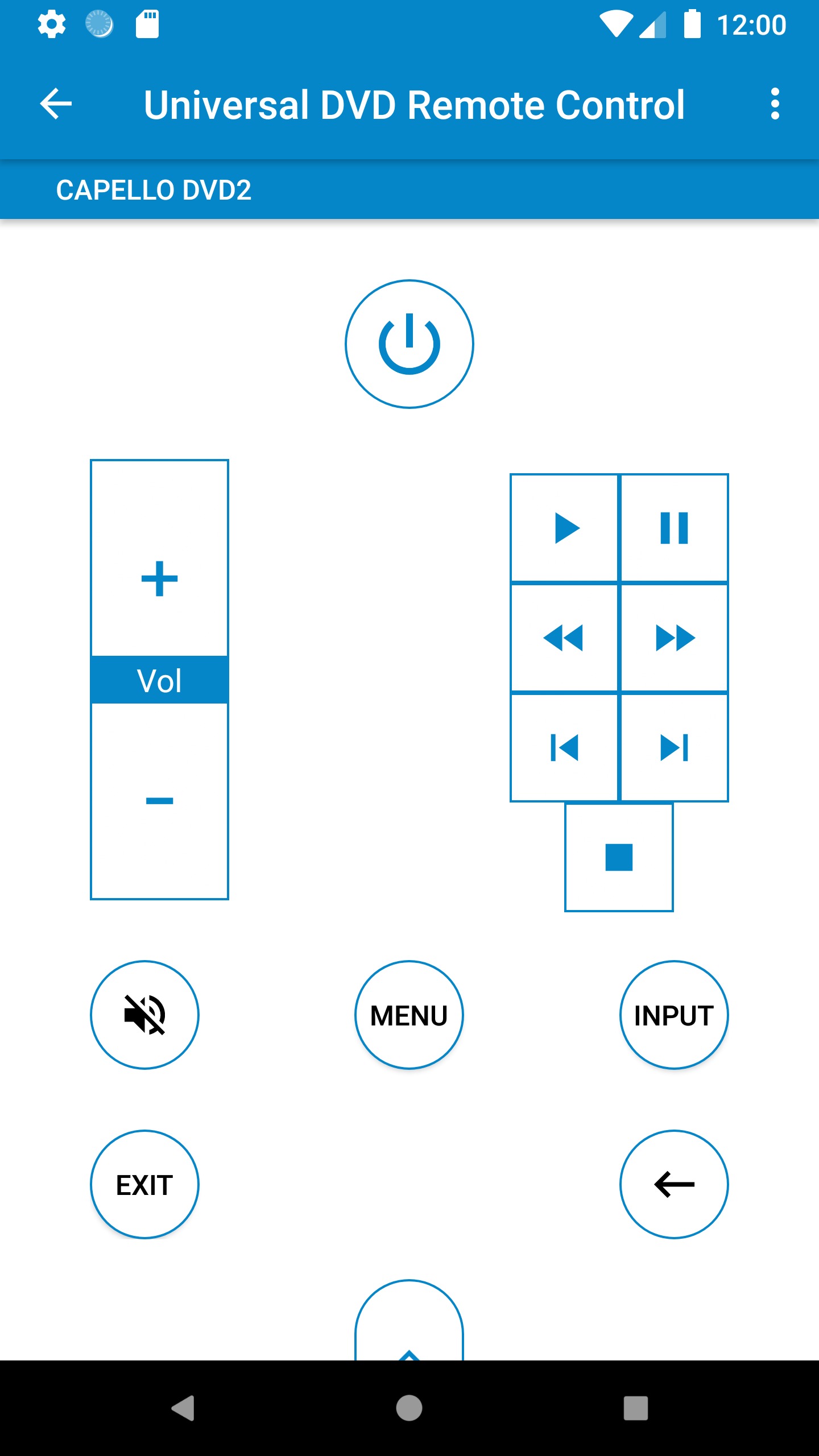 You may also like: 15 Best apps to watch TV shows for free on Android and iOS
Universal Remote Control
Power Universal Remote Control is an application that turns your Android mobile device into a remote control for a DVD. To do this, it is extremely important that your Android phone or tablet has an infrared port. If there is no infrared port, then the application will be completely useless. That is if you installed this application, and it doesn't work, then most likely the application doesn't support your mobile device.
If you have a mobile device with an infrared port, then you can install Power Universal Remote Control, and then configure it. All you need to do is select the model of your DVD, and after a few seconds,s you will be able to use it.
The most popular Android-devices that are compatible with the application are Samsung Galaxy S4, S5, S6, Note 3, 4, LG G3, G4, and HTC One.
Power Universal Remote Control is an interesting application for everyone who regularly uses DVDs and has a mobile device that supports the corresponding functions.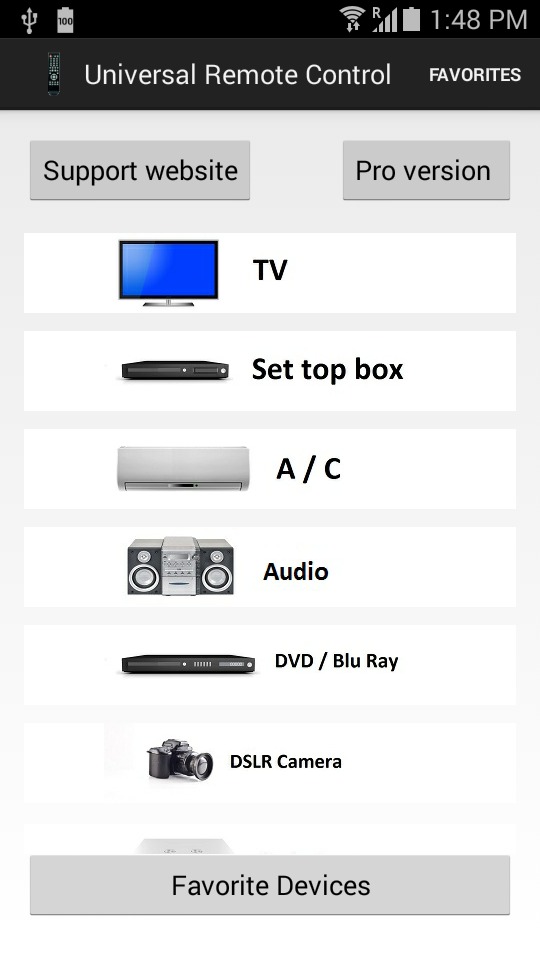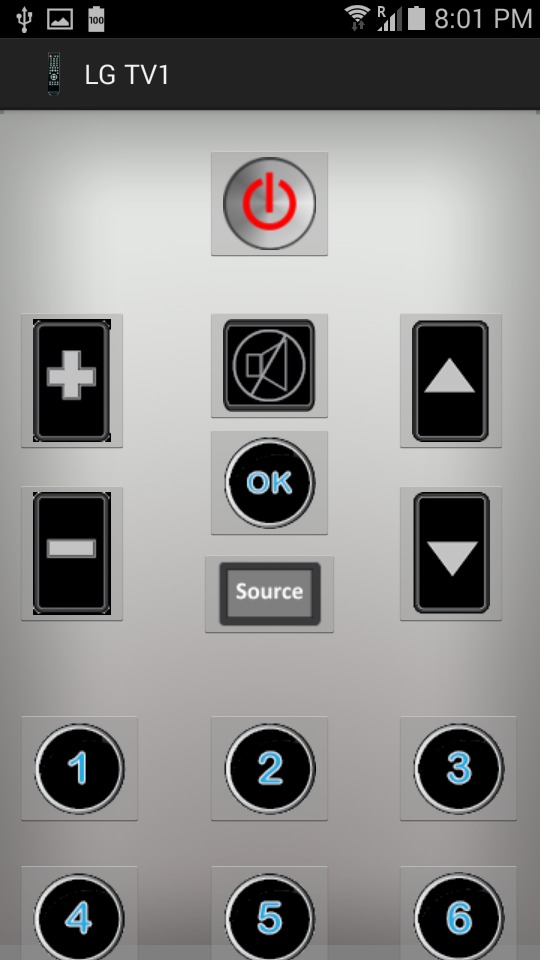 ASmart Remote IR
Want to easily manage your DVD with your mobile device? To do this, you need a gadget with an infrared port and a special application, for example, ASmart Remote IR.
ASmart Remote IR supports the following types of devices:
Televisions;
Smart boxes and streaming gadgets;
Air-conditioners;
Digital cameras;
DVD / Blu-ray players;
Projectors.
At first, the ASmart Remote IR application informs us that we do not have remote control and offers to add it. We agree with the application and add a new console. Next, we are offered to choose a device brand from the list or use the search.
After that, the console and possible configurations for control appear. We need to test all the functions and select the console. If something doesn't work, then go to another configuration and again check the operation of the remote control.
Externally, the ASmart Remote IR remote control is stylized as a real console, that is, the buttons, all kinds of arrows, and controls are displayed on the screen. The truth is it's not very convenient since the buttons are rather small and it's difficult to use them, especially if the device has a small screen diagonal.
In ASmart Remote IR you can create an unlimited number of rooms and fill them with appliances. ASmart Remote IR is designed for beginners or not very demanding users who already use ready-made and customized solutions.
Actually, if initially, we choose the right preset, 100% compatible with our device, then we will not have any problems using the application. The ASmart Remote IR program is simple, and no permissions for its operation are required.
ASmart Remote IR application is the most realistic remote for home TV, DVD, air conditioner, digital camera, and other devices. The program is very easy, quickly launched, not overloaded with various functions.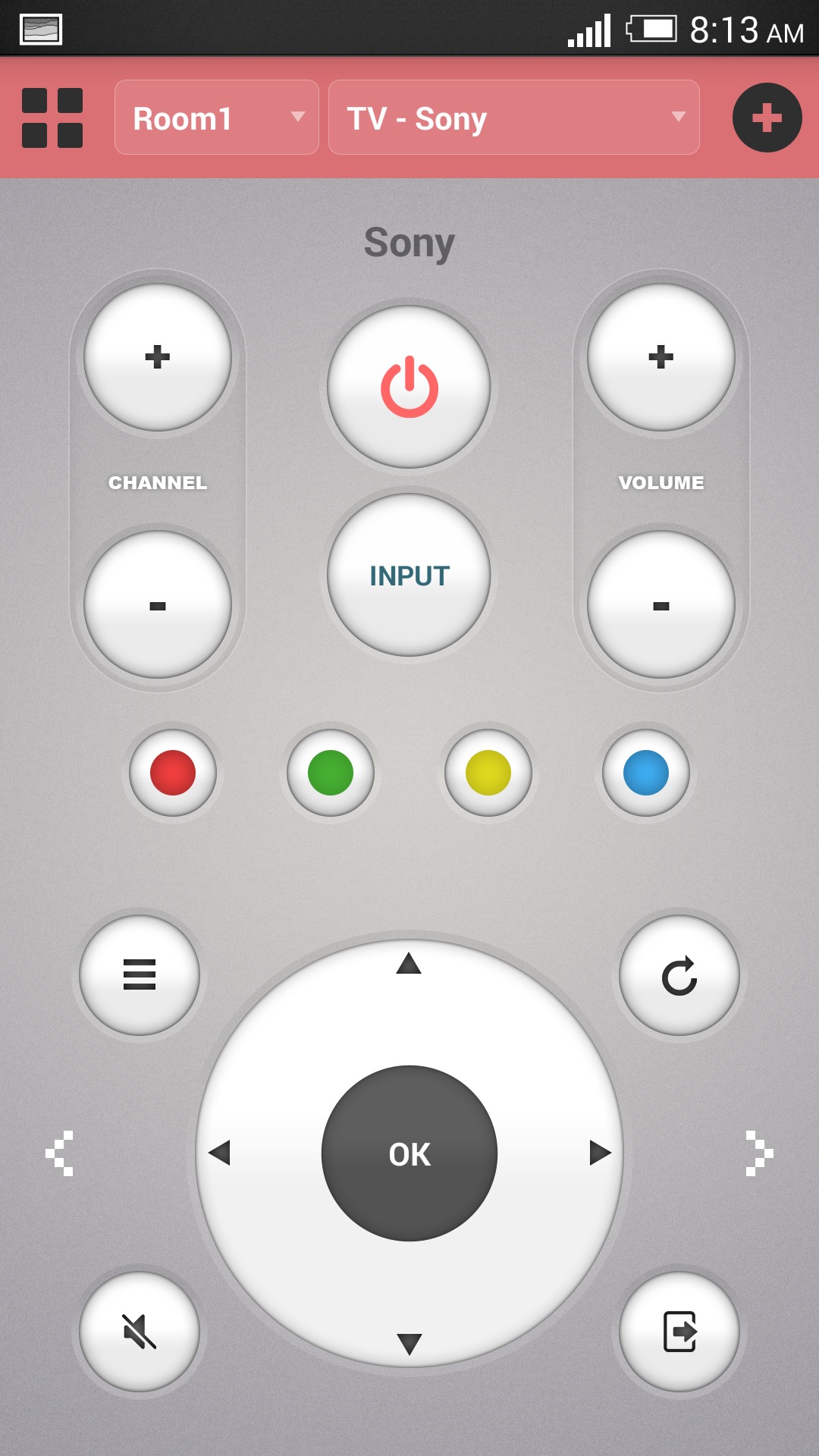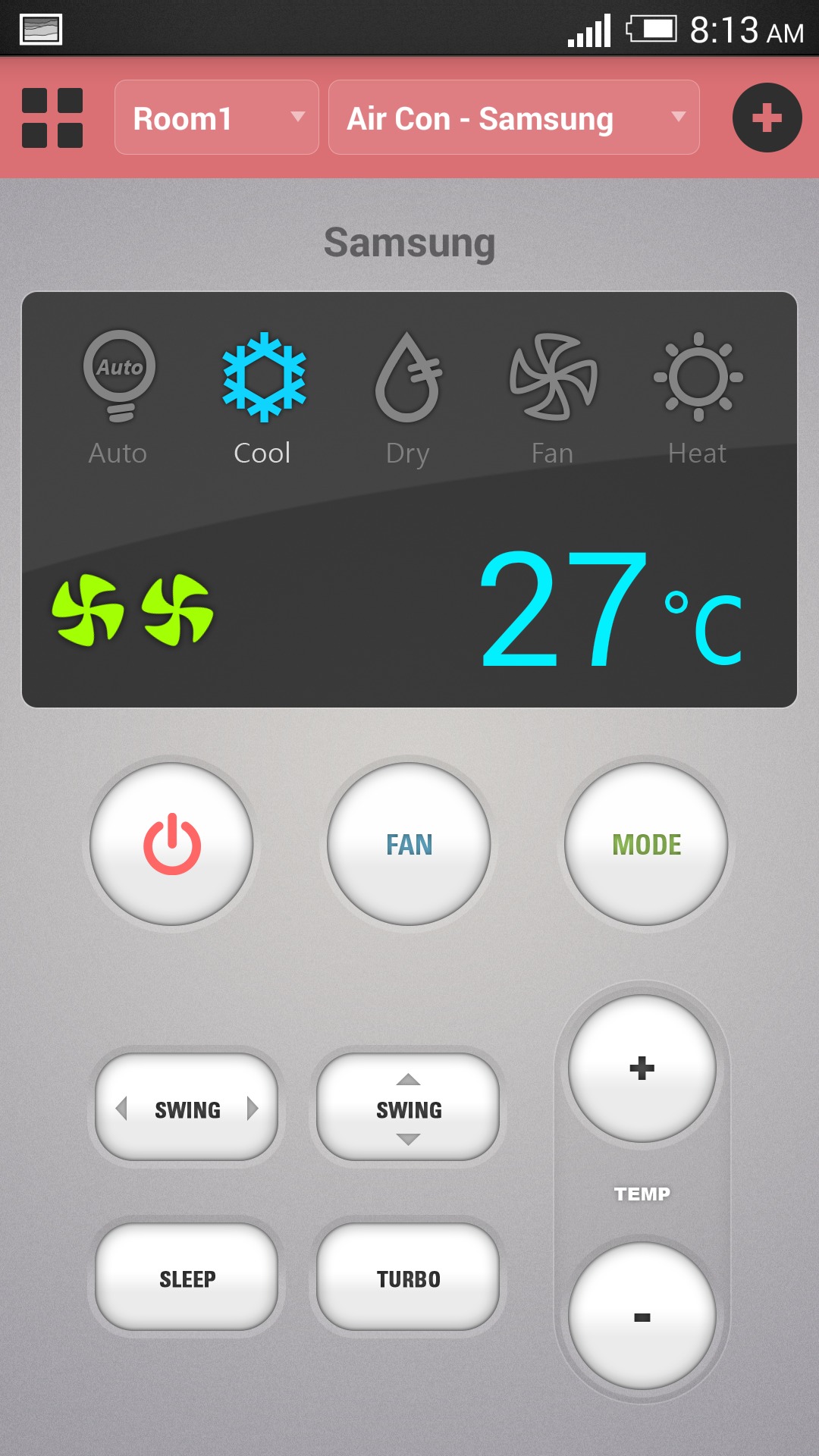 IR Universal TV Remote
If you are tired of a diverse set of remotes, for example, for TV and related devices, do not rush to "google" for a universal console on the Internet. Perhaps, you already have such a device, but you simply do not know how to reveal its potential. And for this, you just need to install a simple IR Universal Remote application.
To add a new console, we need to open the sidebar and click on the corresponding button, then the menu with device categories opens. Next, you act by analogy with similar applications. Almost all of them offer a similar architecture and similar design that doesn't allow them to stand out from the crowd of analogs.
When choosing a technique, we don't have a search, no sorting by manufacturers. Everything has to be done manually, scrolling through the largest lists in search of a specific model of the device. Then we will have to test the efficiency of our virtual console, and the remote control is ready!
The developers of IR Universal Remote did not bother to make the design of the remotes perfect, but simply divided the screen into rectangles and fixed certain actions for them. We can not say that it is very beautiful, but it is as convenient and strict as possible.
By the way, if desired, the console can be duplicated. Yes, this is possible and it is really convenient, especially when you need to quickly switch the channel, reduce the temperature or perform some other elementary action. A similar view and functionality are offered by the widget for the desktop.
Not surprisingly, for such quality product developers get a lot of flattering reviews. The program is excellent, and the only thing that it lacks is some cool features and a little better design of consoles.
It is free and does not contain any limitations in terms of functionality.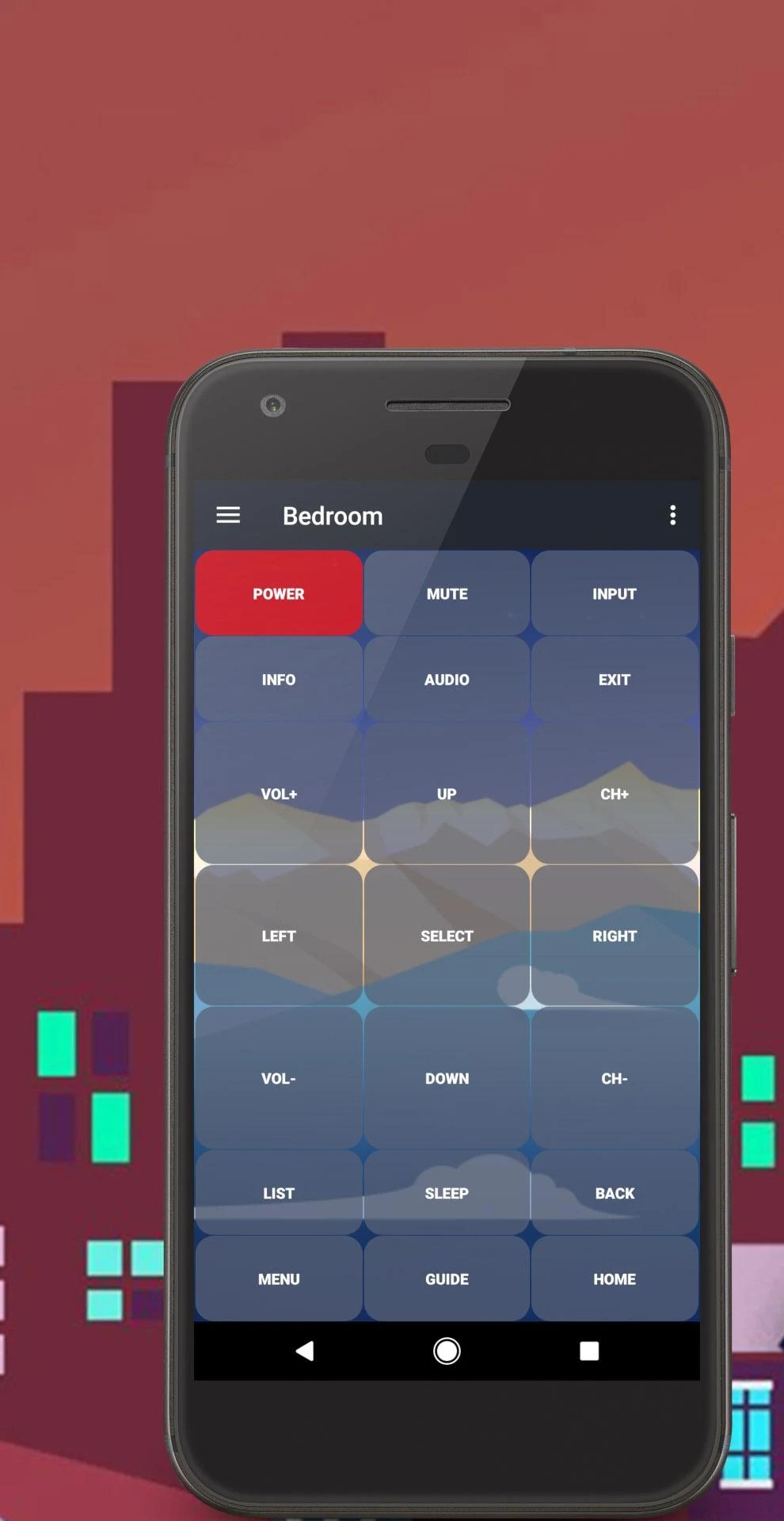 Control It – Remotes Unified!
It is said that a mobile device with a special IR port can replace the control panel, but it's worth starting with the appearance. And in this case, the application itself should look like a remote controller. This is how it is implemented in the Control It program.
Key features of Control It:
A realistic image of the consoles: now it's more than just buttons. Accurate images of real remotes are now on your phone;
Synchronizing the operation of several consoles: combine the cable and satellite TV consoles with your phone;
A user-friendly application interface consisting of layers: just select the desired console and go to it;
Timer function: set the timer to turn on the devices at the specified time;
Add your console: in case you do not find the desired remote control in the list, just send its image to developers, and they will update the application as soon as possible;
New remotes are added every day.
Features of the paid version of the application Control It:
Unlimited number of devices: in the free version of the application, you can work with three consoles simultaneously;
No advertising: nothing distracts from working with the application;
Groups: Combine consoles and devices in different groups as you like.
When the Control It program is launched for the first time, we must accept the license agreement and choose the display option for the remotes. We have a choice of a more visible option and a practical one. They differ in the number of simultaneously displayed consoles.
After that, we get into the menu and can add any supported console to your application. Control It supports a large number of devices, including various heating and cooling systems, split-systems, DVDs, digital cameras, radio, and other.
The most interesting part of the utility is that we choose not the device controlled by the console, namely the remote! Accordingly, we see a huge number of models and their level of efficiency in the form of a rating. Everything is beautiful, obvious, and will be useful if you do not know the model of the device, but you see or remember how its console looks like.
By the way, to use the application, or rather adding the console, we must have an Internet connection. After all, each console is loaded separately. But the design and quality of the original remotes are high. And right after installing the remote, you can use it without any problems.
The only drawback of Control It is that we can use only up to three consoles. In addition, you can buy two more or purchase an extended version of the utility without any limitations of functionality, the number of plug-in consoles, and advertising.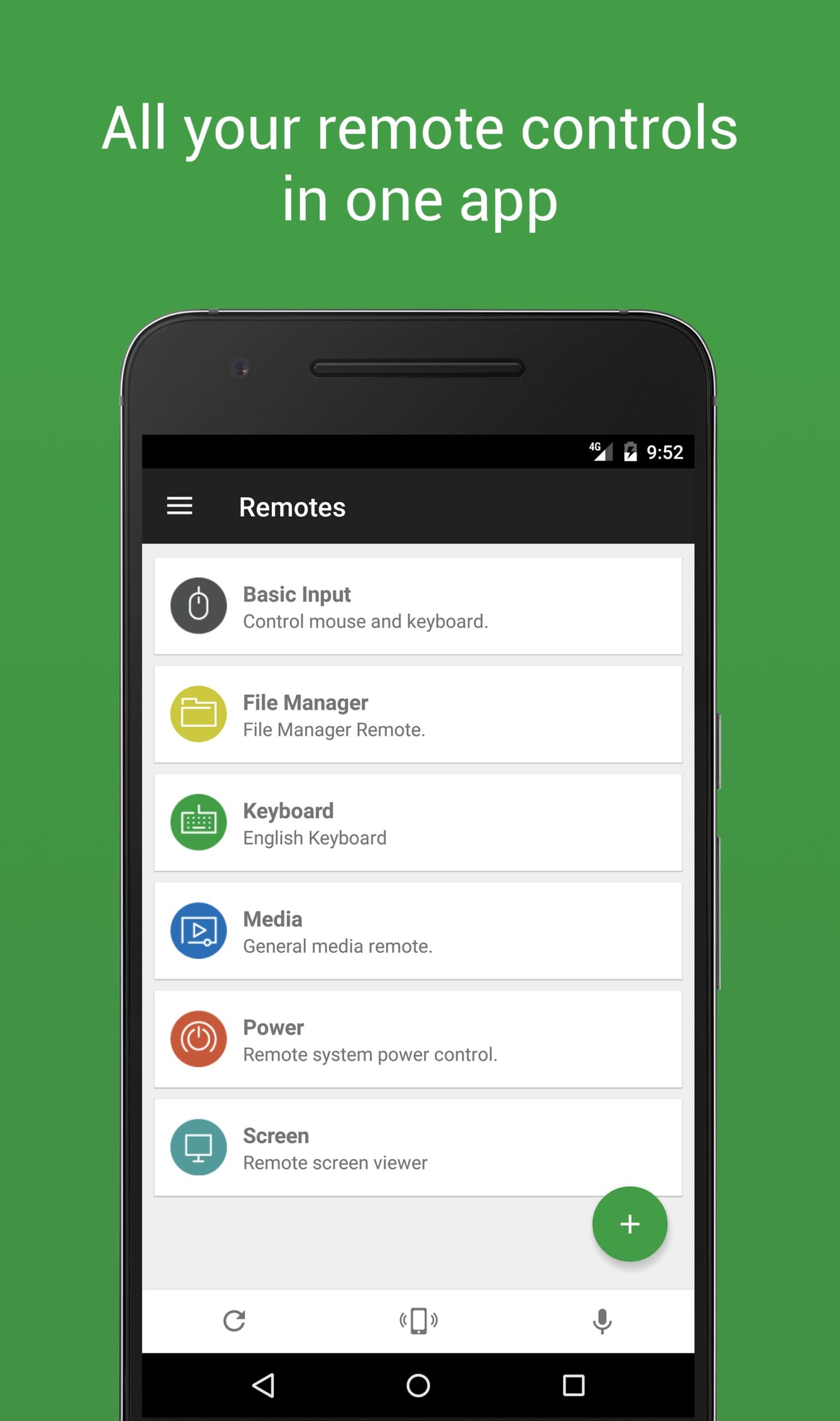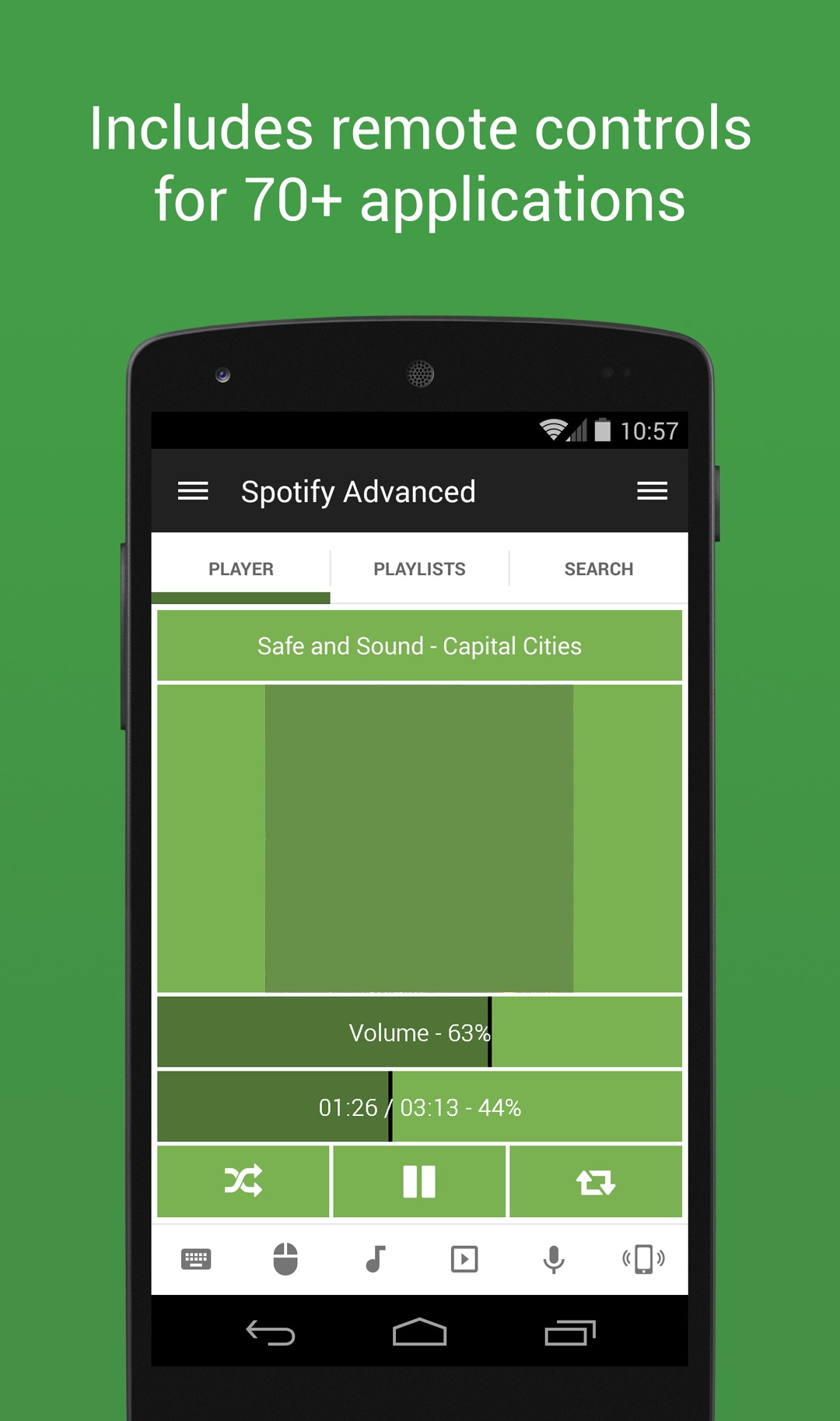 Remote Control for TV
Remote Control for TV is an app that allows you to simulate the remote control of your TV on your phone. Changing channels, turning on or off – you can do it all in the app from your gadget. No extra tools are required – everything works from a single app.
To start managing your own TV set, you need to enter the settings, set the contact with the TV, and then synchronize the devices. On the smartphone, the IR sensor is activated, which allows the remote control to work.
That is, turning on or off, switching channels, as well as changing the volume with calling different menus – all this works without any problems. In general, after a brief setup, you will forget about finding the remote control.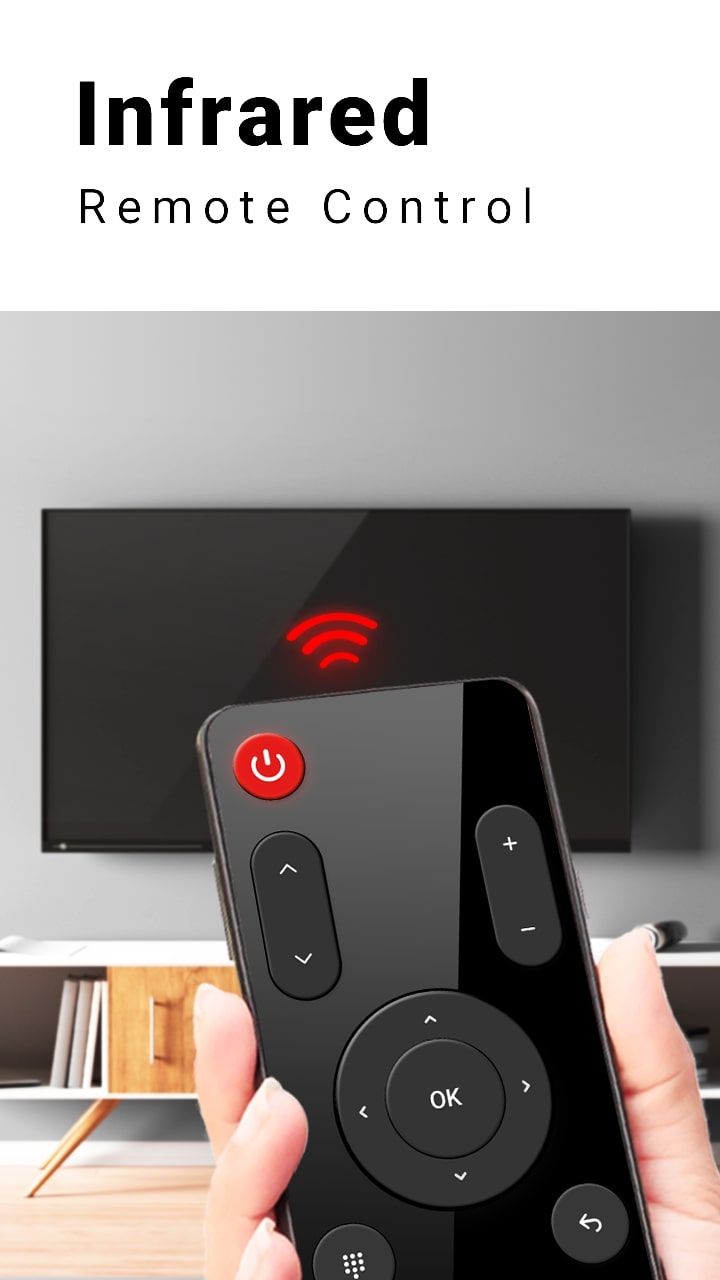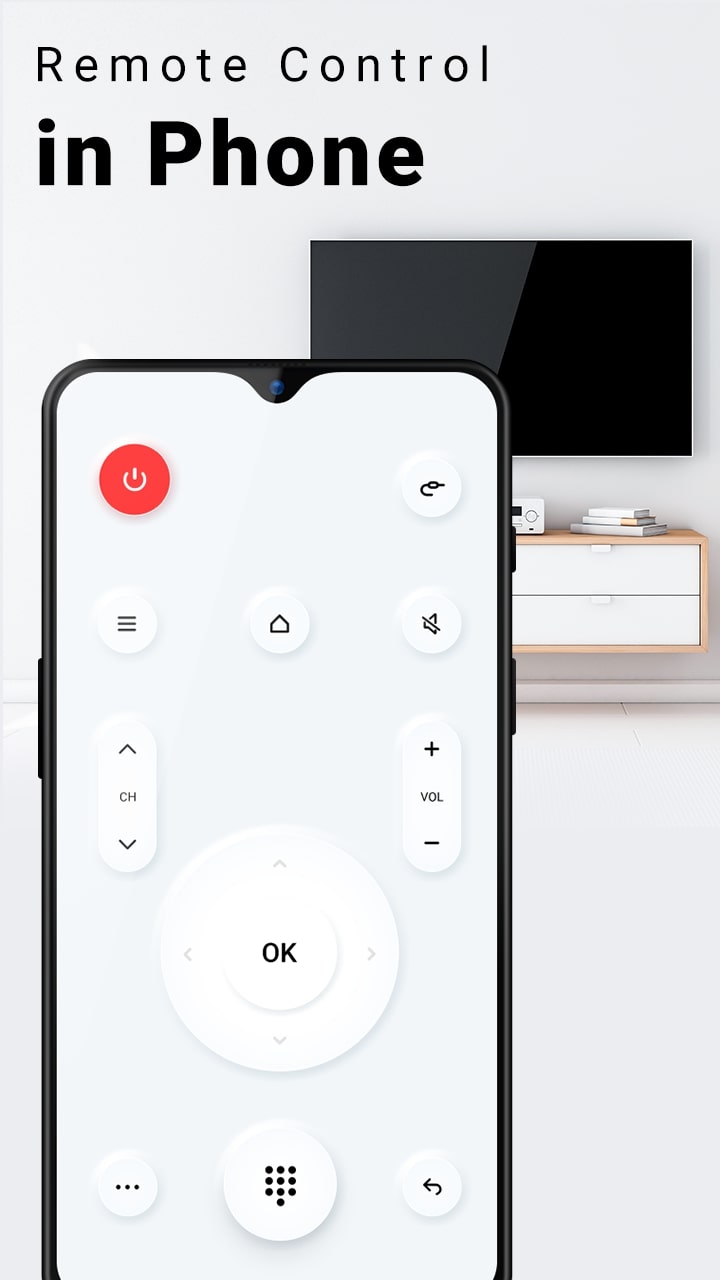 MyRem
MyRem is an app that allows you to seamlessly use your mobile device as a remote control. The program has many supported TV models.
A special app has been created to protect users from pressing problems related to the functioning of the controller. It simulates the look and all the necessary functions of an analog device.
Besides, with the advent of the universal remote control, fans of TV shows are excluded from the necessary care of the physical device. For example, wiping the buttons from accumulated dust, replacing the damaged case, or the batteries to work as intended.
There is a useful feature to save the most frequent command chains entered to save time. This will help in creating a cozy environment for watching your favorite TV shows.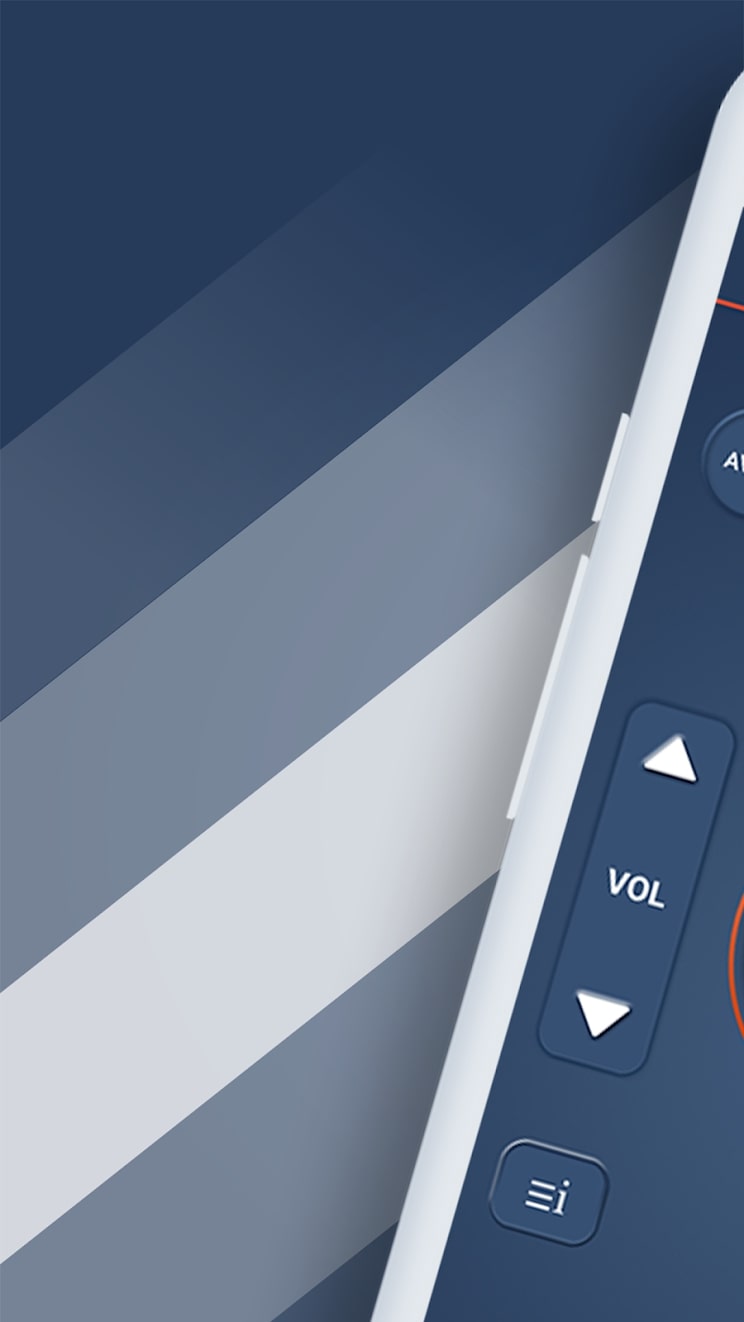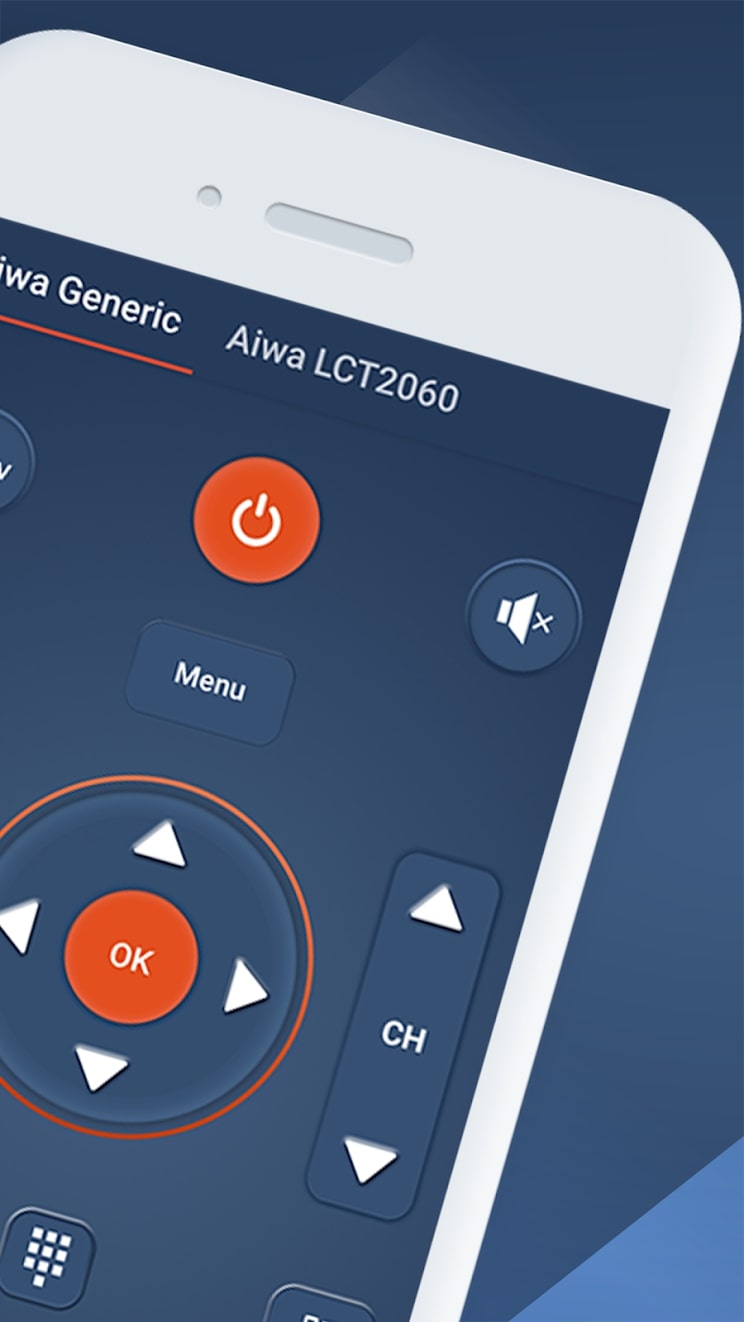 You may also like: 11 Best IPTV apps for Android & iOS
DVD Remote Control for All DVD
This is a handy app for controlling all DVD devices designed for Android smartphones. It allows the user to control various DVD players and video systems from their mobile device. Thanks to its user-friendly and clear interface, every user can quickly learn how to use this remote control.
Since the app is compatible with many brands of appliances, it will be a universal assistant for all users. This program allows you to control such functions as play, pause, fast-forward and rewind, adjust the volume, select the language of the track, and much more.
A kind of remote control has the same buttons as the real one. Thus, it is easy and convenient to use for your devices.
The app also has an automatic detection function for the connected DVD device. It independently searches for available devices in the home network, allowing the user to quickly and easily set up a connection and start using the remote.
The connection takes literally a couple of minutes over the wireless internet network. You can also save devices so that you can connect to them even faster in the future.