Looking to create some AI-generated nude images for your artwork or personal projects? We can present free AI nude generators to create fake nudes that can help you bring your creative visions to life. These tools offer a range of features, from customizable body types and anime girls to diverse skin tones and realistic art – but make sure you use the results responsibly and ethically!
And before you start, you can also check free AI avatar creator apps.
Sexy AI Art Generator
Sexy AI Art Generator is the first app I chose to review, because its name speaks for itself – plus, the ratings are fairly high.
Using this tool it pretty straightforward, much like any other AI art app: you toss in a prompt, pick an art style, and the generator brings your idea to life in seconds. Styles are diverse: you can create an oil painting, a steampunk work, a comic character, and a few other options. The app claims it can turn text into any image you want, from movie posters to star signs.
The free version of the app, predictably, has a limit of 10 pictures a day. After that, there are a few subscription options, or you could pay for a certain number of credits. To me, 10 images were quite enough to get the taste of what the app has to offer.
As for the interface, it's generally okay, although seemed a bit cluttered to me. In terms of downsides, I found a slight glitch with bodies and faces being somewhat deformed and asymmetrical, however, updating the app helped with this issue.
My verdict is, this app is not a bad choice for creating sexy art, and the pics it generates are actually pretty. Just don't expect the free version to cover all your needs.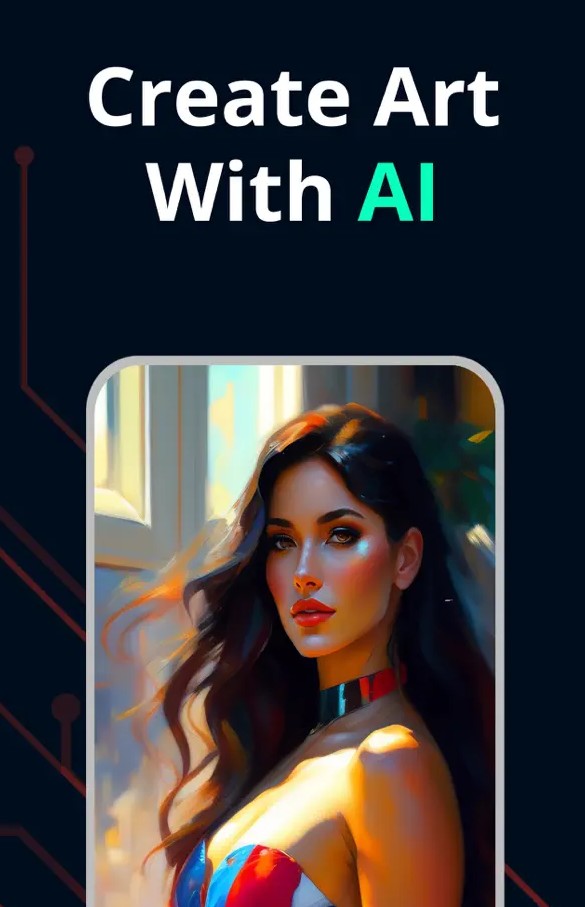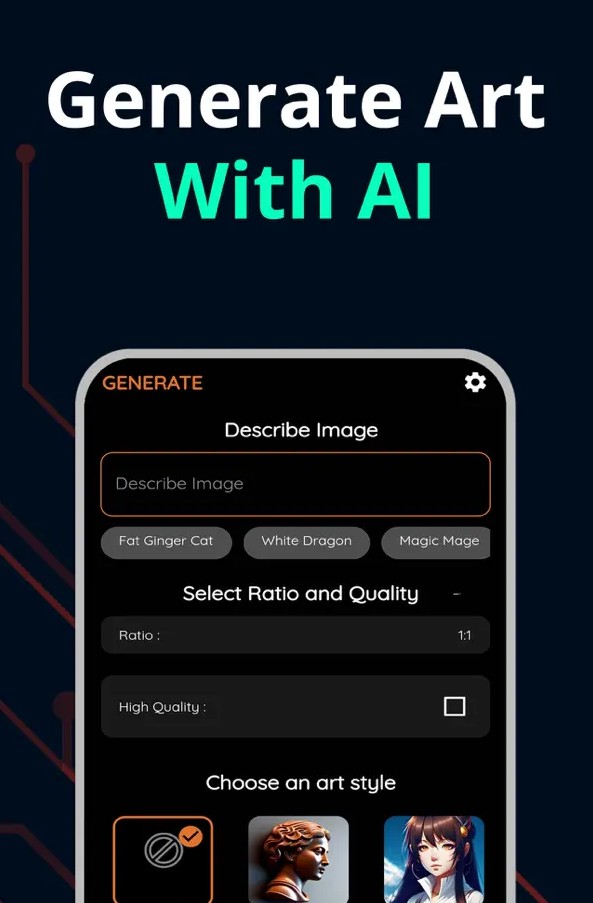 You may also like: 7 Best Virtual Dressing Room Apps for Android & iOS
SexyAI – Incredible Creation
SexyAI is another art picture generator that promises to unleash the artistic genius in you, and claims to be a haven for photographers, artists, or anyone with an artistic potential. SexyAI boasts a multitude of artistic styles – oil painting, watercolour, sketching, cartoons, and others. It uses MJ and SDXL AI infrastructure.
The app's popularity status is not too high. It seems like it's carving a niche in the segment of apps that turn your photos into AI-driven works of art.
The developers stress that SexyAI values your privacy: they promise that all your uploaded photos will be securely protected and won't be used for any nefarious purposes.
Regarding usability, the interface is hailed as simple and intuitive. You just need a few taps to transform your everyday photos into artworks. Select a style, or copy one from an existing picture. I, for one, had some fun generating what the app calls an "AI girlfriend" and modifying her appearance.
The app allows to share your works on social media, too.
While the basic functionality is free to use, there are paid membership options: weekly, monthly, and annual. As for me, I decided to do more research and continue exploring AI art generators.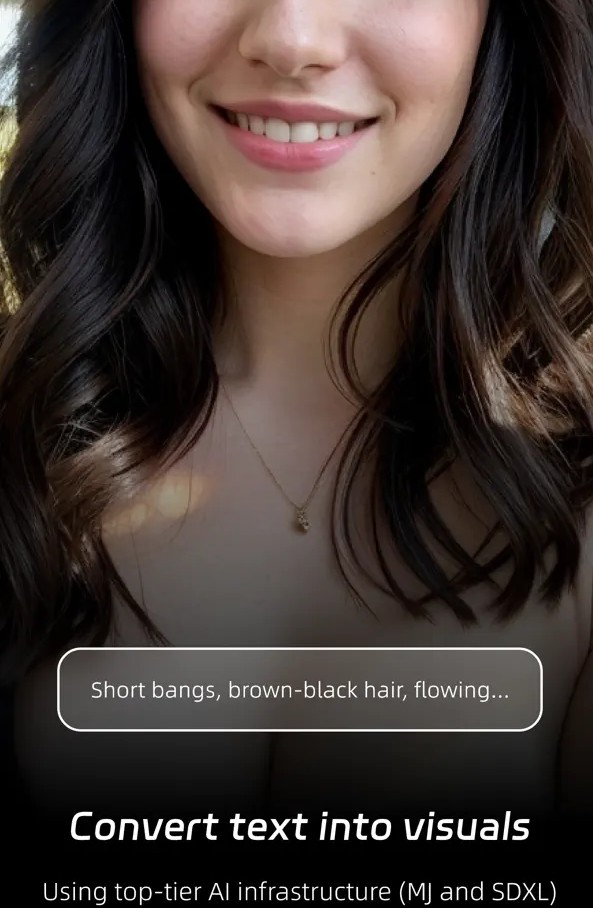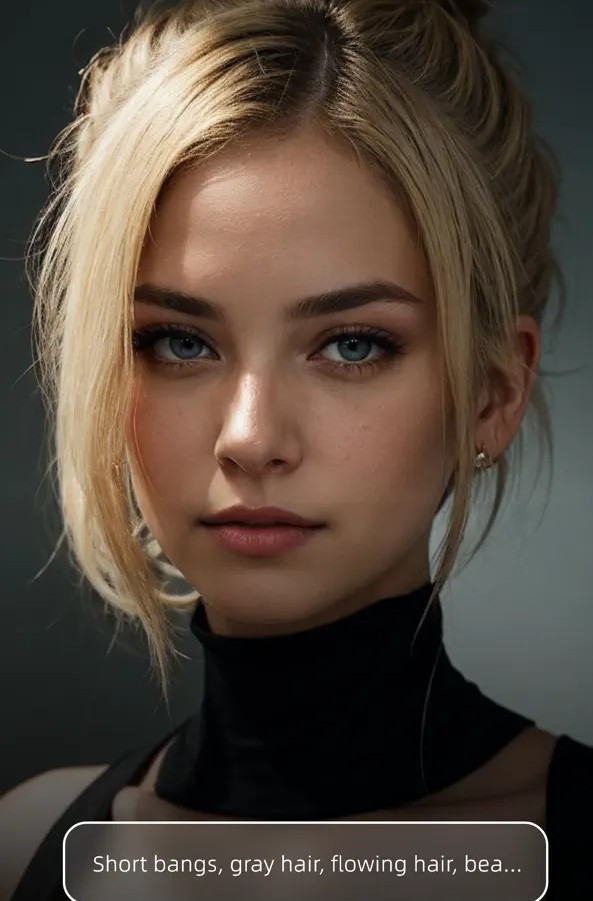 Waifu Art – AI Anime Girl
Waifu Art promises to revolutionize your artistic endeavours by drawing high-resolution anime characters – mainly girls, of course, hence the name.
You get to choose from a vast library of pre-defined anime styles or create your own unique look. Based on your preferred style and custom prompts, the tool churns out anime artwork that is unique and personalised just for you. Plus, you can share your AI-generated anime artwork on social media, be it Instagram, Twitter, or Facebook.
Now, the app boasts some truly glowing reviews. Users are praising the graphics, the opportunity to add any detail you want, and accuracy of the artificial intelligence. Yet there's a drawback in the form of ads – the free version of the app comes with those. Alternatively, there are a few subscription options.
In my experience, the app is one of the better ones. It doesn't distort features and limbs, and the results are genuinely nice. A wider and more diverse range of characters would be really great, but even now it's quite an enjoyable app.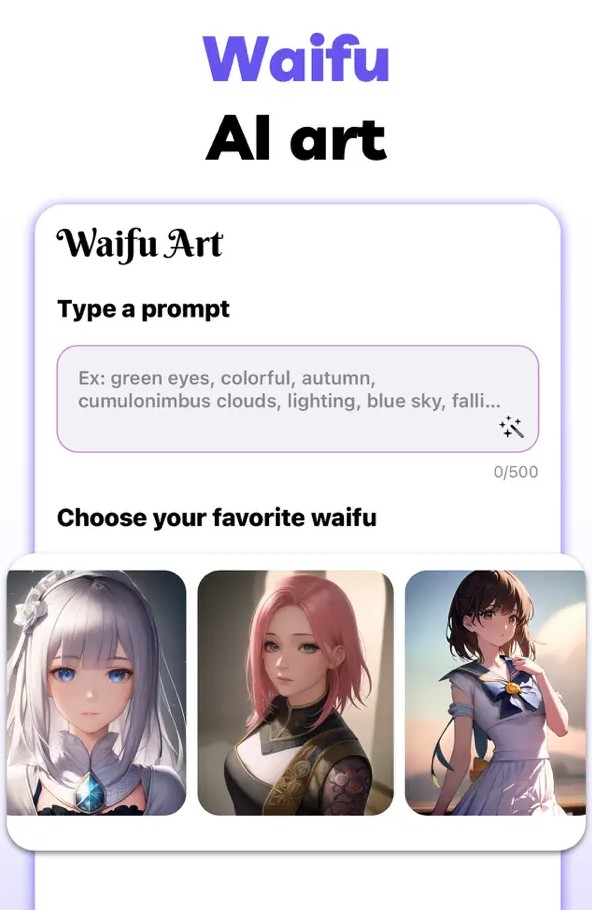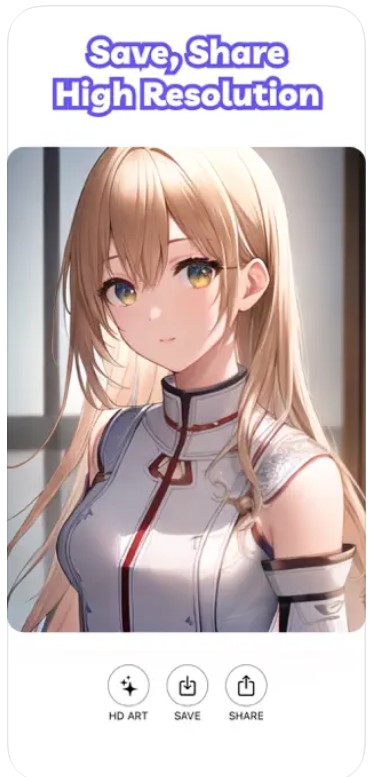 SoulGen – AI Girl Generator
Next on our list is SoulGen – an AI that, apparently, can create your perfect soulmate. Like other similar tools, this one can whip up a real or anime image from a text prompt.
What's more, you can make your AI-generated character look like a celebrity or even your friend. Upload a reference photo, and ask the AI to craft an anime or photorealistic girl with a face that looks similar to whoever you want. Of course, the results are totally customisable.
Additionally, SoulGen lets you edit your image with simple text prompts. You can add, extend, or remove content from your images. It can create an image in just three clicks. Plus, it offers to explore never-ending images with a feature called AI Outpainting that allows to resize an image, throw in a text prompt, and watch as new elements appear.
As for the interface, the app is easy-to-use. It's not very heavyweight either, and never glitched on me.
Obviously, the free features are severely limited, so you might want to shell out if you want to exploit the whole potential of this app.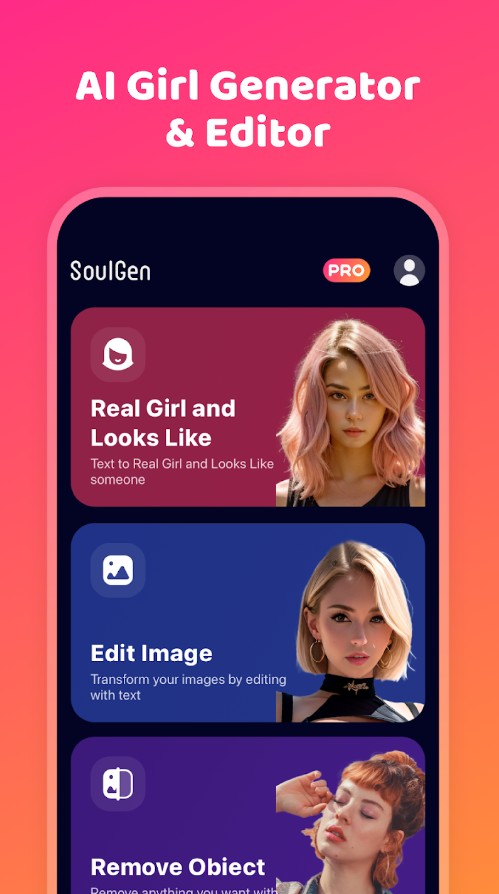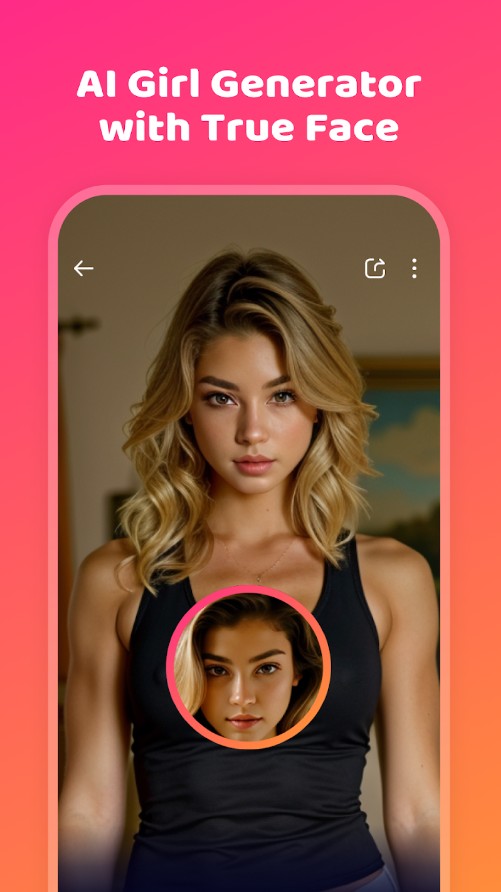 Yodayo
This highly rated app presents itself as the ultimate social hub for anime fans, allowing the users to create fan art of anime characters, as well as chat with them. In seconds, you can create and tweak your own art, from over 10,000 styles available. Then, there is an opportunity to personalize your chatbot, and start a conversation with it.
The use reviews are overly positive. Although some note it might glitch when you're trying to retrieve images from your history, but this seems like a minor issue.
Otherwise, the app functions rather smoothly, and I had a chance to prove it. It also has the ability to generate images by combining text prompts with images, which is handy.
On the positive side, I enjoyed the generosity of the free version, especially when compared with some other apps on this list. And since the art it generates is really impressive, I feel like this one could be worth paying for a premium version.
In conclusion, Yodayo is a lovely little app for anime enthusiasts who want to create fan art and socialise with their creations.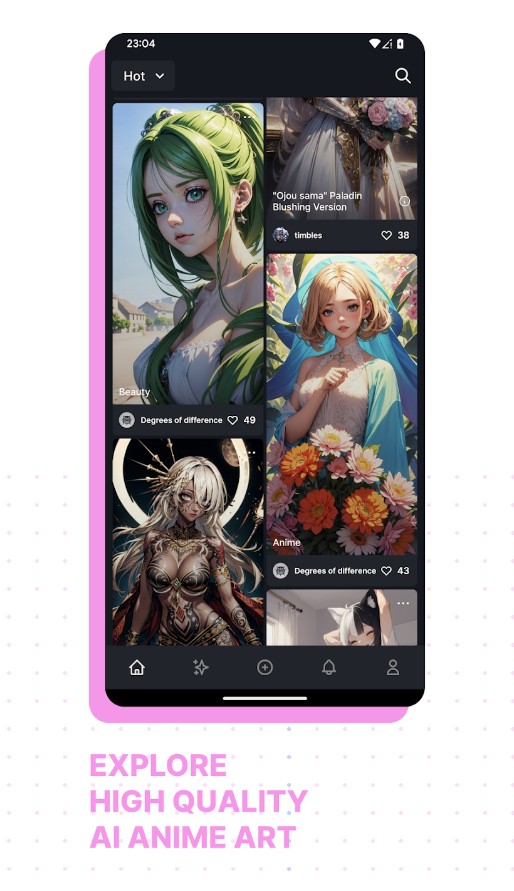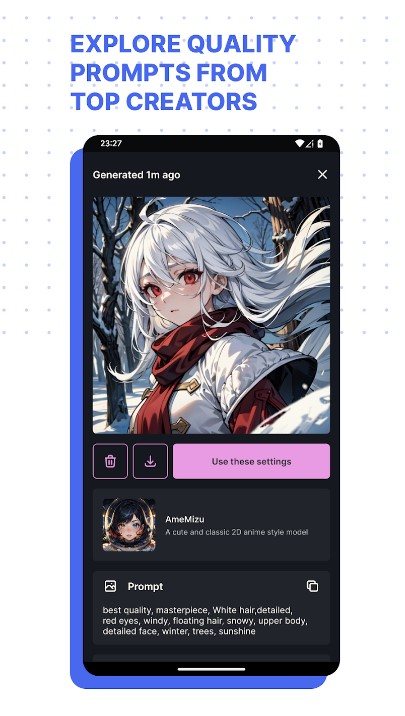 PixAI.Art – AI Art Generator
According to the app, it's a fantastic AI-powered image generator with an extensive Model Market to draw upon. You can explore popular ones or the ones exclusive to this app, like LoRA. The app offers the option to create original characters from scratch, or if you're not feeling too creative, you could use some existing artwork as a reference.
The app is easy to use and well-organised. It features powerful editing tools that allow you to inpaint or outpaint, add or remove background, and generally alter your images as you wish. You can specify poses, add a range of effects, and enhance image quality. Plus, you can also extract keywords from provided images for later use.
Additionally, there is a marketplace and gallery where you can immerse yourself in an artist community and gain inspiration from fellow virtual artists. And if you're feeling competitive, they have events and competitions. These are also handy when you need extra credits. In this regard, the free version is not too bad, while there is also a paid membership option.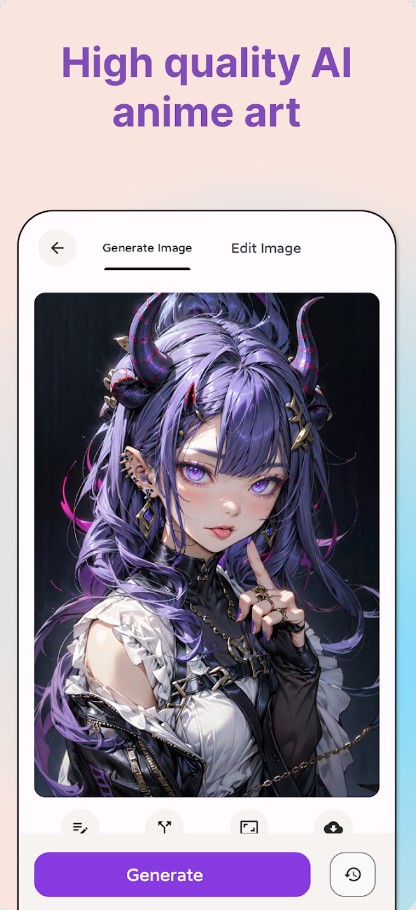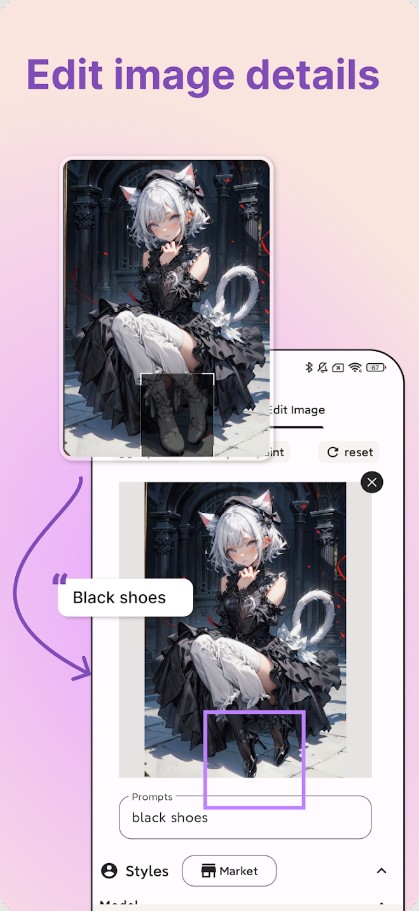 You may also like: 14 Best Virtual Girlfriend Apps (Android & iOS)
PicSo – Customize Your AI Girl
From anime characters to AI girlfriends, this is another app that has got you covered with most of your artistic endeavours. It even covers pets, giving you the opportunity to turn them into cartoons with just a snap.
The tool lets you create art based on fantasy and dystopian sci-fi scenes. To be fair, girls are its main focus, as the name of the app suggests: you can go realistic or anime-style, and customise everything from hair and eyes to clothing and accessories.
There is a text-to image option, similar to many AI aet apps. If you're feeling particularly lazy, you can just convert your pictures into cartoons. Or you could even use video footage or movie clips and turn them into animation, which I think it pretty neat. The app matches pictures with descriptions quite well. However, the video feature needs a bit of work, in my view.
The reviews say the images are high quality and the results are fast. However, quite predictably, the free version is limited, and the premium features are relatively expensive in comparison with some other apps from this list.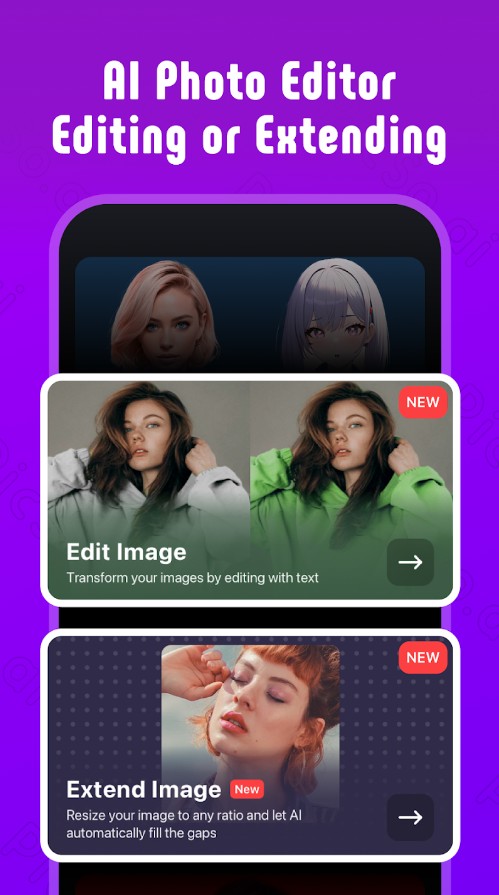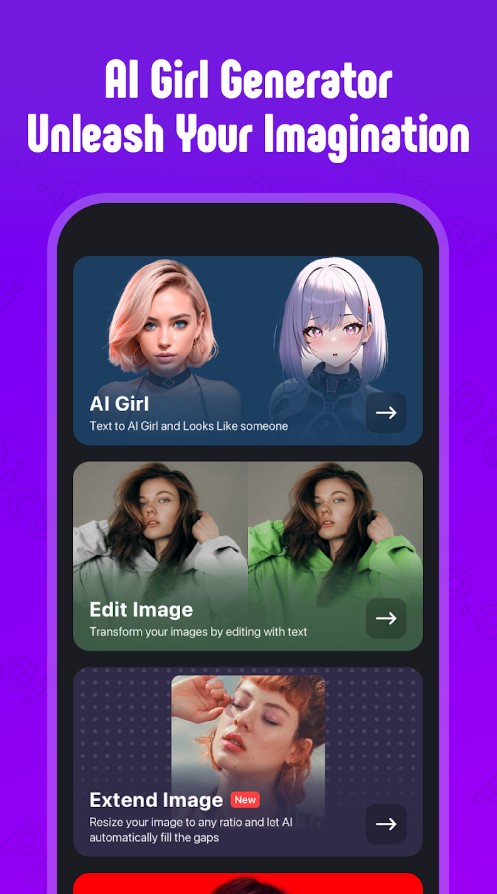 Anime AI Art – Girl Generator
This app is like another virtual anime art studio. Its main purpose is to allow you create your dream anime girls, and by create, I mean pick and choose from their options. It doesn't really give you any opportunity to create the images from scratch, offering its own styles and suggestions instead.
The app promises seamless AI integration: it learns from your choices, making each creation more personalized over time. There's also an inspiration gallery if you wish to explore other users' creations from around the globe.
Anime Transformation feature implies that you can take any picture, and turn it into an anime piece. Plus, you can save and export the results of your work.
Visually, the app is vibrant and dramatic, and quite well organised. It didn't take me a long time to figure out how to use it.
It is not exactly lightweight, though. Plus, the free app comes with limitations, and to overcome those, you need to make in-app purchases.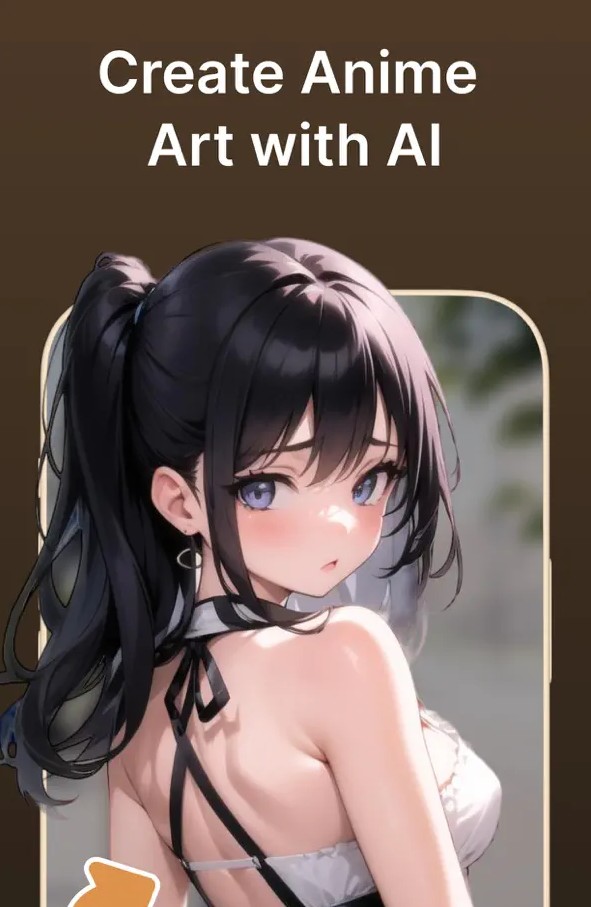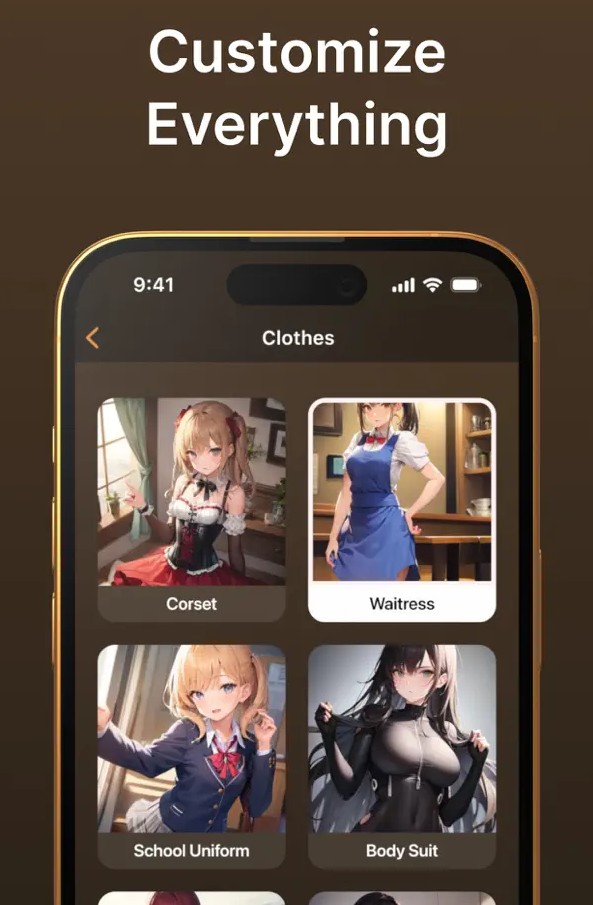 Dream Girlfriend
The app lets you play with your Dream Girlfriend: customise her appearance, change outfits, hairstyles, accessories, and play fashion designer. Additionally, you get her to study and sleep, walk and talk – and you can actually chat with her and even see her react to your taps on the screen. As you educate your creation, it evolves and so does its personality.
Generally, the game claims to offer a unique dating simulator experience with the help of Live2D technology and Motion Rare outfits.
The reviews are quite positive overall. People seem to find the game cute and enjoy customizing their digital companions. Yet there are a few complaints too. Free players don't get a lot of cool stuff, apparently. Also, the game seems to be somewhat glitchy on iPads and tablets. Although the app itself is not particularly heavyweight.
Like you would expect, there are a few subscription options to get access to premium features such as extra outfits and other stuff.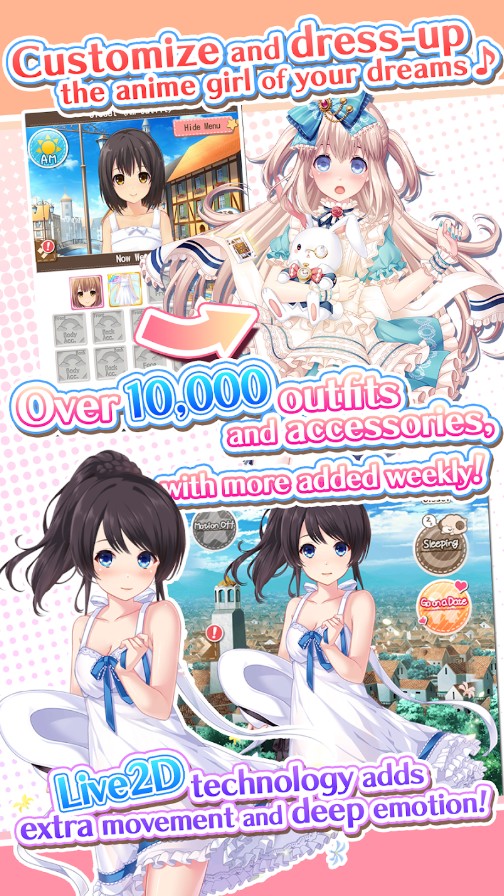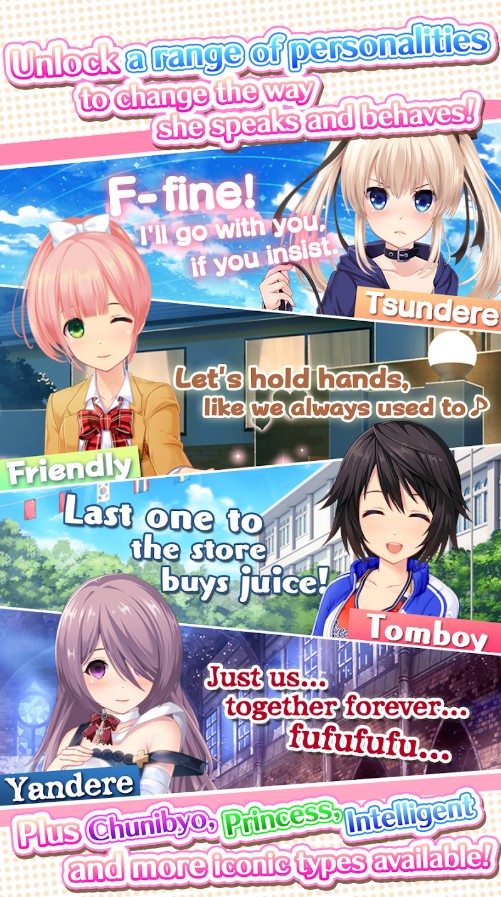 Dream Boyfriend -Astral Days-
Apps that allow to construct your own companion are predominantly about girls – but imaginary boyfriends should also get a chance, in my view.
This is, in fact, a sibling app of Dream Girlfriend. It also offers an impressive level of customisation where you can change pretty much anything clothes, face, hairstyle, height, and even personality. In fact, you can choose between 8 personalities and select how he walks, talks, and behaves.
Thanks to Live2D's Motion Technology, they react to your conversations, touches, and even virtual kisses. The avatars are on point and up-to-date with the latest anime-style fashion trends. You can dress your dream guy based on seasons, themes, or maybe just your whims. Plus, you can go on dates, chat, and touch the guy.
There are a few downsides too. The app can be a bit buggy, and it did crash a few times in my experience. I noticed a couple of translation errors as well. Repetitive chats and unclear interactions are another issue: occasionally, the conversations seem a bit too robotic.
Smooth animations and detailed motion rare outfits receive a lot of praise, though. So this digital boyfriend is at least not too shabby, and quite original.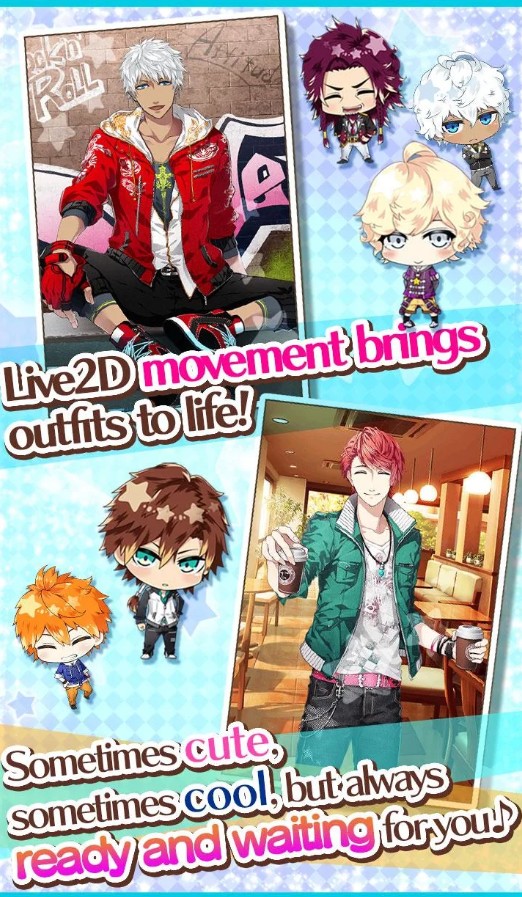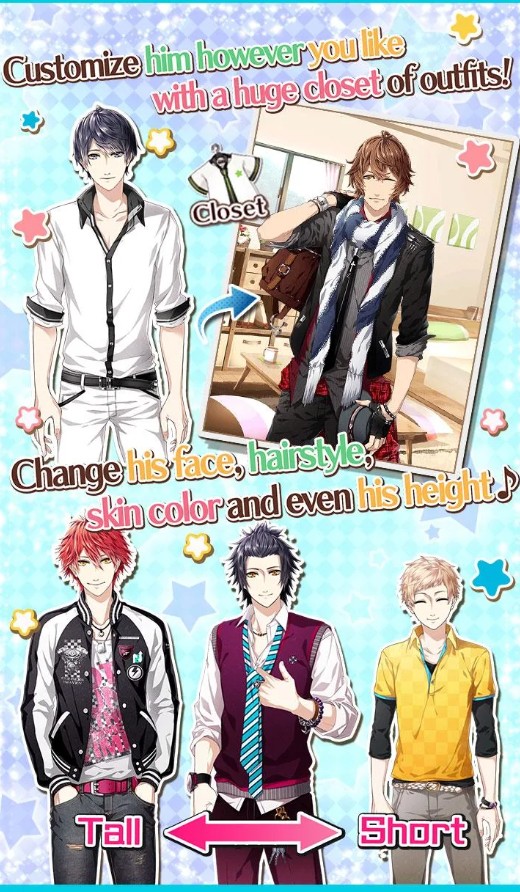 You may also like: 13 Best Virtual Boyfriend Apps for iOS & Android
Anime-AI-Generator – Art-Maker
Finally, there is the Anime-AI-Generator app, and the name is probably self-explanatory. With this tool, you can generate anime characters from your own photos or text prompts, and customize every little detail, from hair to clothing. They promise multiple anime styles – classic to contemporary.
There are over 70 styles to choose from. Plus, you can reimagine famous anime characters who can strike any pose you desire. The inpainting feature lets you modify the details seamlessly and make your creations come to life.
The app is easy to operate and visually appealing. In addition to image generation, it allows to create collections and share them on social media.
In my view, the resulting artworks are actually quite beautiful. The AI follows prompts accurately. Overall, the app is quite a nifty tool compared to a few others. Even the free version is not too bad, with just one ad to watch per generation. Plus, the creations look like actual humans and anime characters.