We all got some stuff that is not meant to be seen by others' eyes. But do you know someone who has never faced the problem of keeping the privacy on their phones?
It happens very frequently that when we are handover our device, for instance, to parents for them to watch only the photos from our vacations they start looking for more than they initially planned, randomly scrolling pictures.
You may also like: 11 Free Malware Removal Apps for Android & iOS
Then you are starting getting nervous because there is something you don't want them to see. Or your friends asked your phone to test a file. You are polite and you don't want to take your phone away from them just because you don't want them to see your private stuff, but on the other hand, you don't wanna face an awkward situation.
Well, with this list of apps the solution will be found quickly! Forget your worries about your private files, just hide them with the help of the apps listed below.
Calculator Vault: App Hider – Hide Apps
Calculator Vault is a favorite app for those who want to hide their apps without any traces.
First of all, Calculator Vault doesn't require rooting – you just install the app, open it and choose which apps you want to "mask" on the home screen. Moreover, Vault will not only hide your app but will set up a special PIN code to guarantee no one is going to access it without your permission.
In addition, the app is useful not only to hide apps but notifications as well. There are 3 various modes of hiding the notifications- you can choose whether you want to receive the notifications by messengers, by phone numbers, or nothing of that.
It's extremely convenient to hide pics on your phone with Vault. Just select the "Gallery Module" in the app and then create a new folder. Then, you can save all your secret pictures to that folder. And if you decide that you don't want to hide this app anymore, you can just drag an app out of the folder and maybe delete it.
There is also a possibility to hide videos.
Overall, Calculator Vault is a great lightweight app that truly can hide all the necessary apps on your home screen, the only drawback of it is that it includes lots of ads.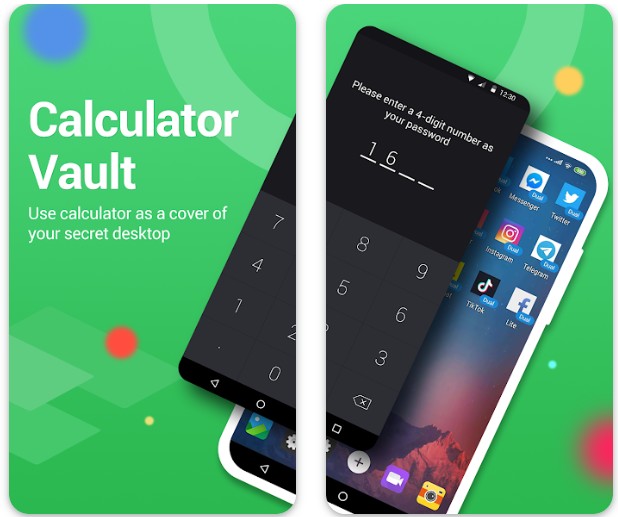 Secret Photo Vault – Keepsafe
It's a familiar feeling of anxiety when someone grabs your phone without any permission and starts looking for something there.
Some people just have no clue that you can keep private stuff in there which is not meant to be seen. Especially photos and videos. In order to avoid a situation like this and stay calm the next time, you can download this app.
Millions of users have already trusted Keepsafe taking care of their photos' security. It's the most popular photo locker and album vault app.
This is perfect for a case when you don't want to lock your phone down with a fingerprint or a password, but you want to do it with your photos. You can block the access with PIN protection, fingerprint touch ID, and military-grade encryption.
Moreover, it helps to protect your valuable memories from deleting or damaging. Its security methods were chosen by more than 70 million users which says that many people have a concern about their privacy.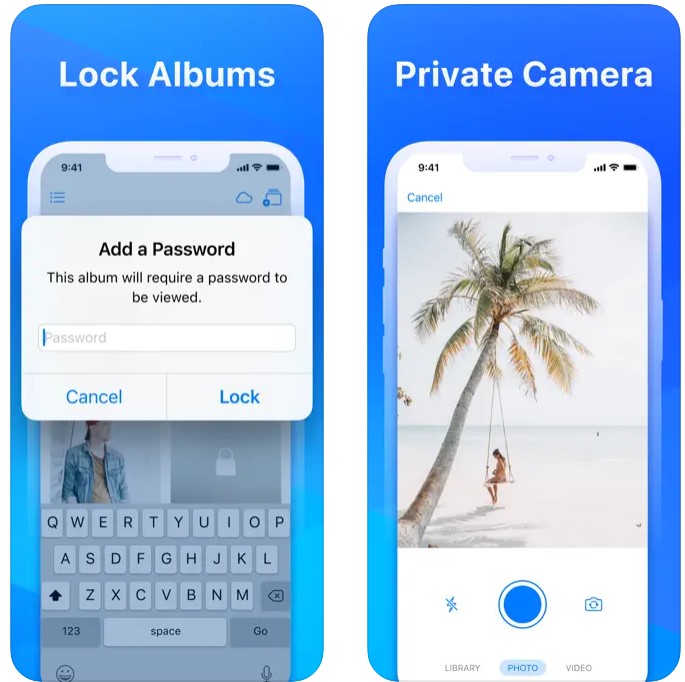 You may also like: 11 Best Private browser apps for Android & iOS
Hide Pictures & Videos – Vaulty
Has it ever happen to you that someone took your phone and accidentally (or not) deleted all the media from it? Remember how cases like this were making us turn off the phone when we were not using it.
Now you don't need to be that desperate because most of the phones are locked with a fingerprint or a password. But still, extra security measures are never too extra.
You need first to open the app and press the lock icon at the top. Then tap on the album that you wish to lockdown. Then, tap thumbnails to select files, then tap the lock at the top to hide them. Did you have to use another app to take a photo or video? Then just select "share" on it and choose Vaulty. The photo you choose will be hidden.
You can use a PIN code or a password to protect your photos from intruders. Even if your phone is broken or lost you can still save your hidden media. If someone tries to log in to the gallery, the app will take a photo of an intruder.
Vaulty can play any video your device can handle and if there's a format your phone can't handle natively, Vaulty can securely display your video in third-party apps.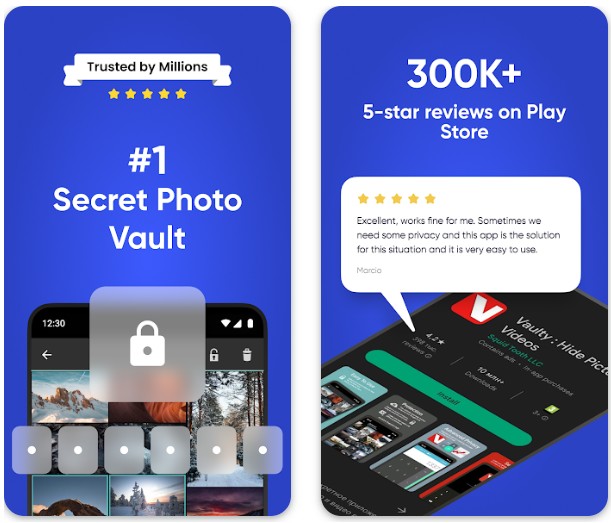 Vault
Security is one of the biggest issues today. There were a lot of scandals concerning personal security on digital devices.
Have you ever noticed that even after you mentioned something, later you see a popping add about the subject you talked about? It is really intrusive and illegal. Well, you can protect at least your photo gallery and personal calls and contacts from being seen. That's how you do it.
Now more than 100 million users are using this app. Protect your mobile confidentiality with functions of app blocking, saved pages, browser's confidentiality, cloud services, and many others. The main function stays the hiding of photos and videos. Protect your stuff from leaking.
You can also block access to your social media so no one could read your personal messages on Facebook or Instagram. The confidential browser will leave to trace of you using the Internet and will help you to stay anonymous.
Reserve your calls, SMS, video, and photos in the cloud so you don't lose anything. If you are concerned about losing the passwords you can always tie this app to your personal email and send passwords there.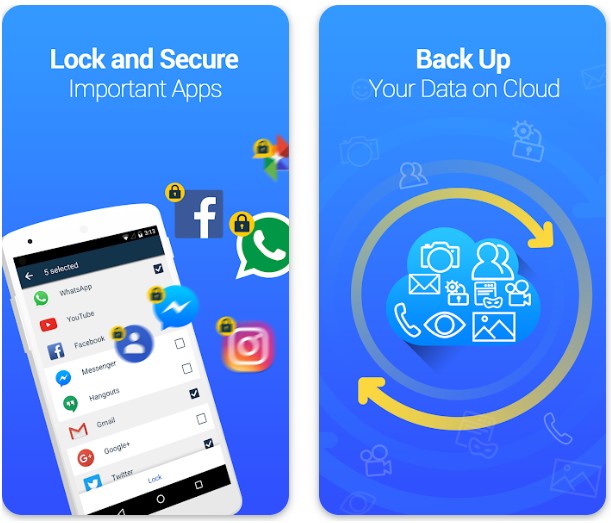 Hide Photos Video – Hide it Pro
As we can see from the previous apps – photos and videos are still the most valuable data we would like to protect. Well, it's not a surprise – everything now is graphical.
We download pictures, schedules, tickets, we make screenshots with useful information. Or we share our pictures from parties on conversations and we don't want all this stuff to be seen by people who are not supposed to see it.
You can apply extra measures by installing this app. It gives you the ability to create different albums and secure them with passwords. The app supports GIF files as well. Customize the album by changing its name or thumbnail. Later on, you will still be able to add photos and videos to that album.
You can emails photos and videos from inside the app. Or there is always an option to expose these photos back. Export all your files from inside the app in one tap with USB export. Every time you exit the app it locks down automatically. Enable disguise screen to disguise the app as if it is crashed when anyone tries to access it.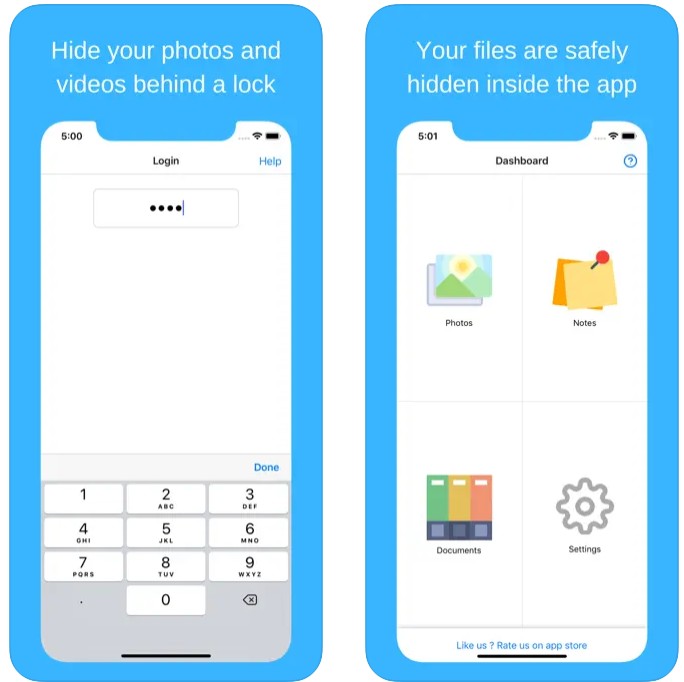 App Hider – Hide Apps Hide Photos Multiple Accounts
Some people working for big corporations may face a lot of confidential files during their working process.
Situations, when they are unable to have enough level of security on their devices to use it for professional purposes as well, are not comfortable. On the other hand, they cannot let the important data leak.
They probably will need an app like this. Protect all your messengers an social media apps, such as Instagram or Facebook by using App Hider. You will be able to access multiple accounts from one device.
In order to hide something, you need to import an app inside App Hider. Don't worry, this is not problematic since the app is adopted to What's Up, Facebook Messenger, Instagram, Telegram, and so on.
App Hider can turn itself into a Calculator Vault to protect your privacy in App Hider. When you access the app, you will actually have to put a number (which will be your password) inside it and then you can access all the hidden apps. Those copies which will be stored on your home screen or menu will be just copies.
You can set notifications in the app so you don't miss anything important coming from your apps. App Hider turns into a calculator in several minutes after you copied an app there and set the password.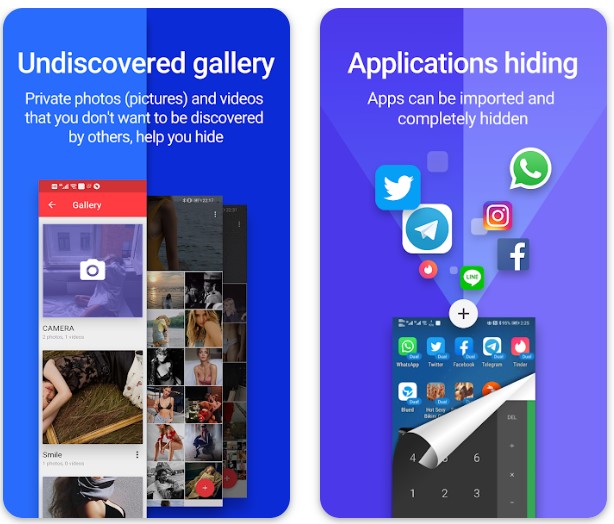 Pic Safe
Keep the shamelessly curious eyes of others away from your photos. If you are tired of explaining to your friends that your personal stuff is your personal stuff then you should finally start protecting your phone gallery somehow.
Millions of people would understand you and that's why they are using Pic Safe all round the world. The app is one of the best apps in such countries as the USA, Korea, Japan, Taiwan, India, Italy, Finland, the UK, South Africa, Egypt, Mexico, Malaysia, Australia, Hong Kong, France, Ireland, Germany, and many more countries.
Now you can set the password for your photo gallery or a PIN code. There are other comfortable options: dart code and fingerprint. When someone will try to break into your gallery again, the app will take a pic of them and send you a GPS location.
Right in the app you can create albums, import and export photos, and synchronize it with iTunes. The app has an intuitive interface just like a regular photo app so you won't have to waste your time understanding how it works.
Moreover, in Pic Safe you will find a private browser that lets you surf the Internet without worrying your data can be stolen.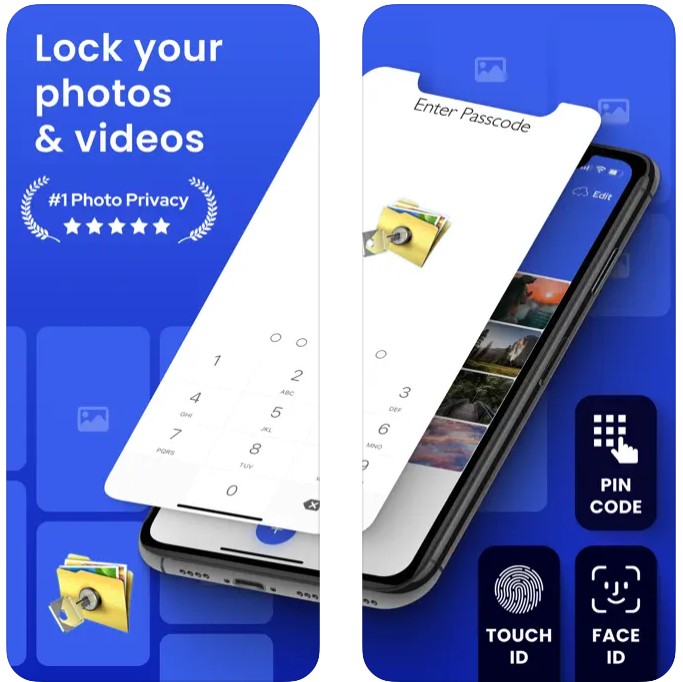 Clock – The Vault: Secret Photo Video Locker
Actually, some people are maniacs of security and privacy. They lock and hide every single thing even though there is no obvious reason for that. Though it doesn't seem like they have something really private on their phones. Well, this app will help them stay calm about their devices.
First, you need to lunch the app and press on the clock. Then, set the desired time password by moving the hour and minute hands and press the middle button of the clock. Repeat the password to accomplish the confirmation. Do not uninstall this app before restoring your personal files otherwise, it will be lost forever.
Just choose photos from the gallery which you would like to hide and then conceal them. The same works for videos. Social media can be protected as well, so apply it for Messenger, Gallery, Browser, Contacts, Email or any other apps you choose. To unlock your secret clock you can use a fingerprint.
What is more, you can even lock Bluetooth, WiFi, and recent tasks. While hiding other apps, just replace your Clock Icon with other icons like Vault Calculator, Weather, Music, Calculator Lock, Calculator Vault etc for better disguise Vault.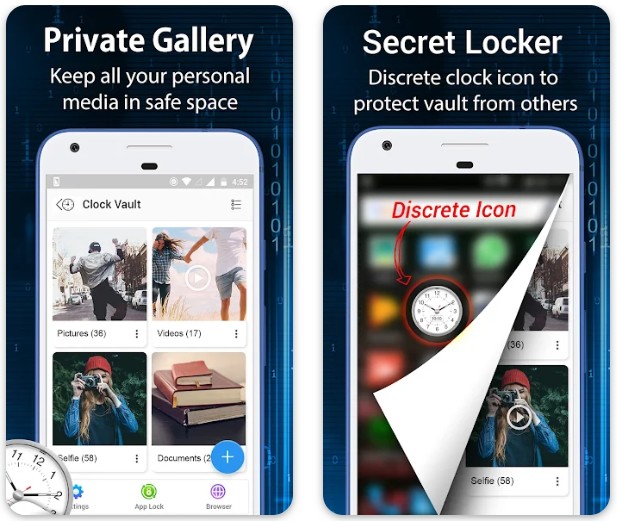 Hide App, App Hider Premium
Camouflage your apps and make them look like a calculator because it's impossible to explain to some people that you can have some private stuff. Or your parents can look through your photo gallery and see what they are not supposed to see.
It's remarkable to say that in this app after you hide a program you can't run it anymore. It doesn't run even in the background. It is all made to save your battery and memory of your phone. Another thing is that this app is only for rooted devices. You can restore apps for a hidden list and put security with PIN code using a fake calculator icon.
In general, this is a very simple app. It serves two main functions – to hide apps and to save your phone's battery. It can be quite useful even in the case when you try to hold yourself back from using a certain social media app, like Instagram, but you forget all the time and do that automatically.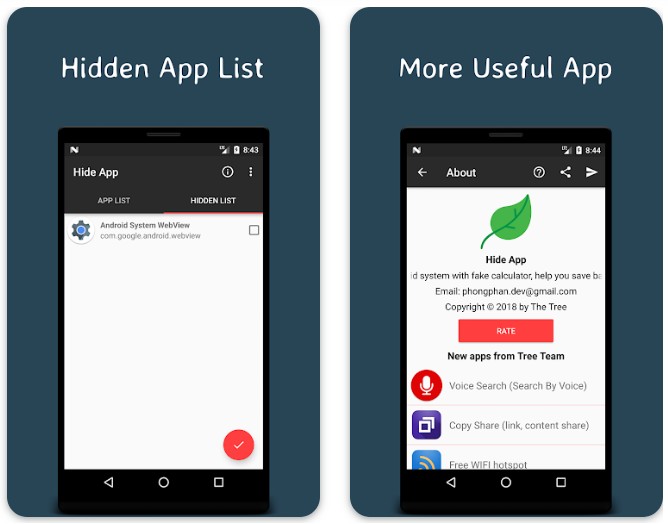 You may also like: 11 Best missed call alert apps 2020 (Android & iOS)
Clock Secret Vault
Having various apps can be useful for us but it also may be problematic since it brings us more stuff to care about. Sometimes we can even forget that we had a confidential file in a particular app and therefore expose it to our friends or colleagues getting in an awkward situation.
Hide sensitive apps, freeze rogue apps, protect app privacy, save power, and increase the speed of mobile phones. This app will be your great helper in that – it will hide all your photos, sensitive apps, messages, and everything else. There is a local and the cloud storage so you can choose where you want to hide your files.
By the way, it is important to remember here not to delete this app before you want to restore some personal data, otherwise, that data will be lost. You also probably wonder about why does this app has such a name? The password that you will set for protecting your apps will be consisting of the time-arrows combination.
Create your own combination to protect your files. If someone tries to break into your phone or get access to the hidden materials the app will take pictures of him/her. The developers claim that the app has an elegant design, but to be honest, it looks quite simple – just all the necessary features.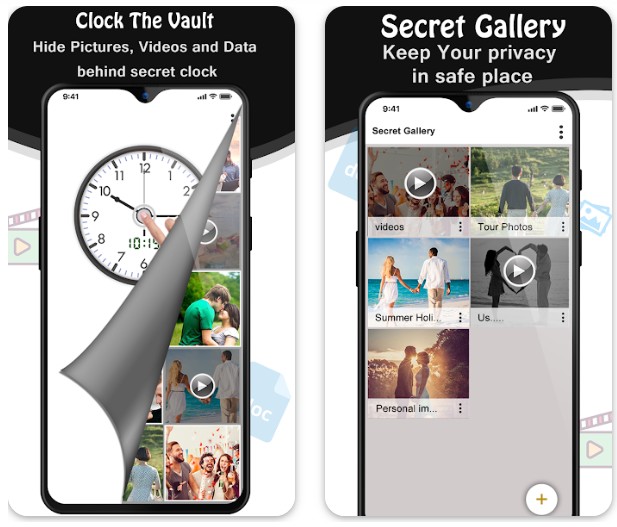 You may also like: 11 Best Private Messages Apps for Android & iOS
Apex Launcher
It is a known fact that Android is a more vulnerable system and there are more apps for this OS than for iOS. The problem is iOS is not that easy to manipulate, as Android. However, isn't it a reason to have a little fun?
Apex Launcher is a multi-functional app that allows not only to hide pictures on your phone but also set the passwords on apps, choose the theme for the phone, and so on. It is a multi-functional tool that helps you to secure all the information on your phone and hide all the apps you want to hide.
And unlike some apps on this list, Apex Launcher is truly comfortable in usage. It sorts all the apps that you decided to hide according to the categories, therefore, it is more convenient for you to hide them later. Now you can either hide or block all the social network apps, such as Instagram, Facebook, Twitter, and, of course, your phone's gallery.