There are situations when people need to change voices and make it creepy to prank friends. But how to have fun experimenting with the voice, if from birth it is like a cartoon princess? Here is a list of the best scary voice changer apps that will help with this problem.
And more fun apps you will find in the article about the best scream voice changer apps.
Voice Changer With Effects
This time, the developers decided to continue following the common tradition and not bother much with the name. They didn't even add "scary" or "creepy". Minimalism was used.
Just the Voice Changer With Effects. Art is in simplicity and laconicism!
It includes more than 40 different effects. Although not all of them fit the description of "frightening", nevertheless, users will still find something to impress their buddies with.
When users get bored of just recording a voice and sending funny threats to friends, they can try to overlay the sound on the picture. Just choose a scary enough one, something dark and definitely with monsters.
The developers have added the opportunity for users to compose and use a piano melody to record themselves.
Advantages:
It is possible to voice the text.
Can also set a record not only as a ringtone but also as a notification sound.
There is even a small piano to add musical accompaniment to the recording.
Ad-free app.
Drawbacks:
There are a few creepy voice-changing modes.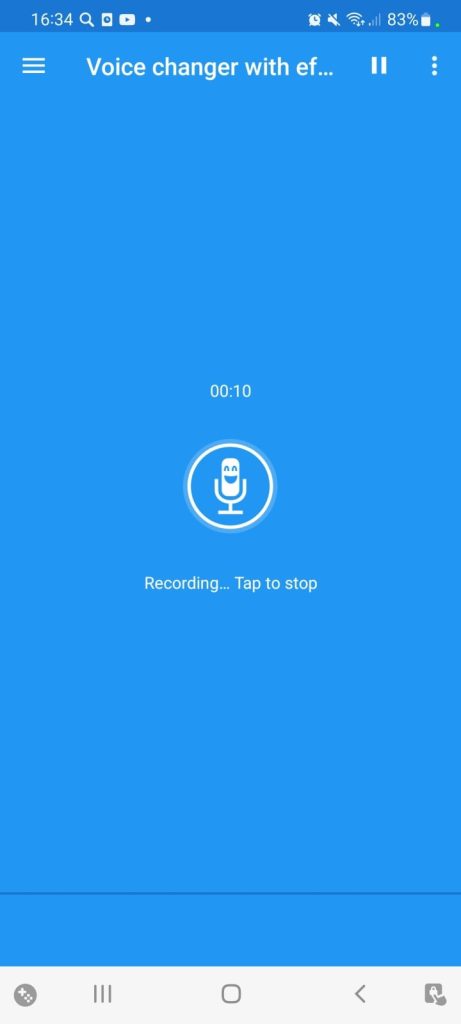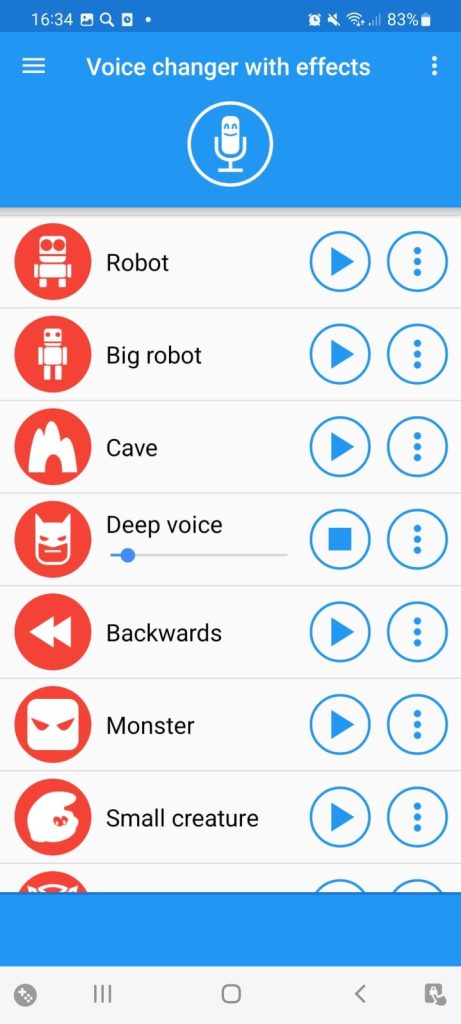 Demon Voice Changer
This simple and minimalistic app transforms the voice into a demonic curse.
Be careful and choose your words carefully, otherwise, you will make your friends panic by experimenting with such tricks.
The app has only two modes to sound like monsters from paranormal movies – Demonic Voice 1 and Demonic Voice 2. With such a "large" range, users are hard to think for a long time about which effect is better.
After recording the voice, the new audio should be sent to friends and see their reactions.
Advantages:
It is an easy-to-use voice changer.
Drawbacks: There are a few filters to try.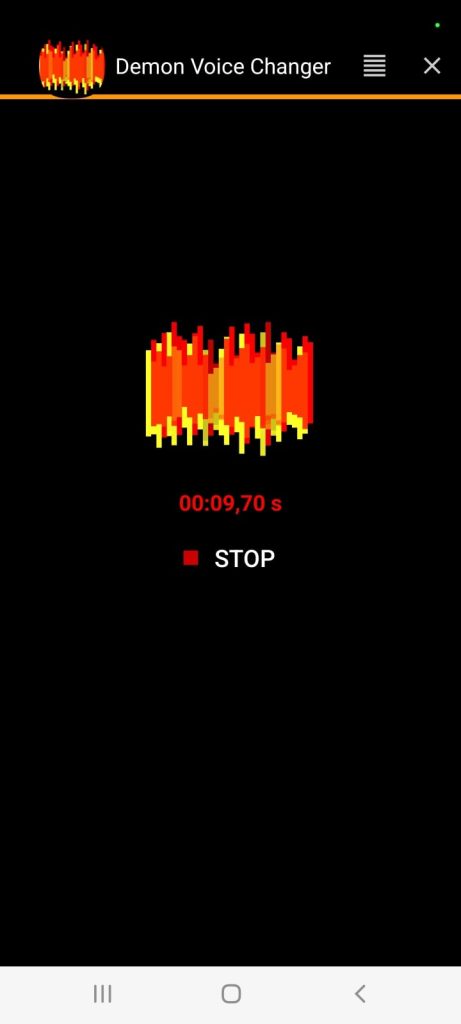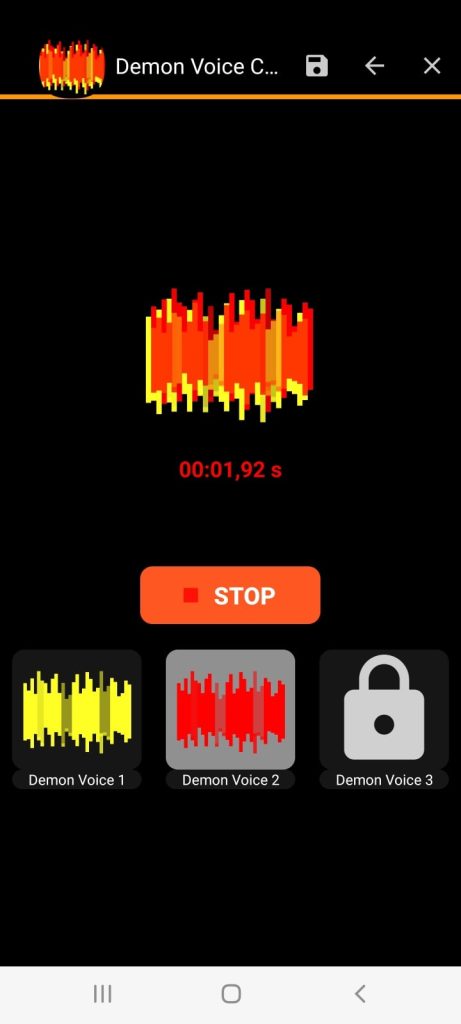 Scary Voice Changer and Recorder
By installing this app, one can be sure that everyone around will surely shiver – the voice turns out to be scary.
The voice changer allows users to make a recording and then process it. The app imposes various effects that will eventually change the user's voice.
Also, the developers have added the opportunity to edit the audio recording. The functionality is quite large, which allows you to play with various effects and find suitable creepy sounds.
If users don't want to waste time editing their records, they can just choose one of the already suggested options. Each mode matches a character from famous horror movies, but not all of them will make the voice sounds like theirs.
The design of the app is quite dark, with creepy pictures. This will make the atmosphere for users more suitable for their new voices.
Advantages:
The voice gets scary.
It is possible to edit the voice using the settings.
The voices of popular scary heroes are available to users.
The ready record can be shared with friends.
The design of the app looks by its task – gloomy and frightening.
Drawbacks:
The voices of horror characters are not similar enough to the original ones.
It is not possible to edit records made not in the app.
Users cannot download the received recordings.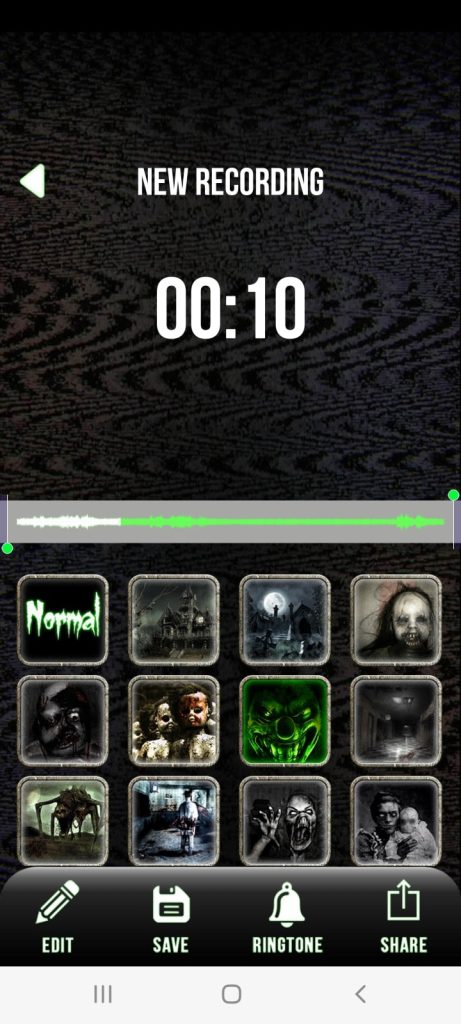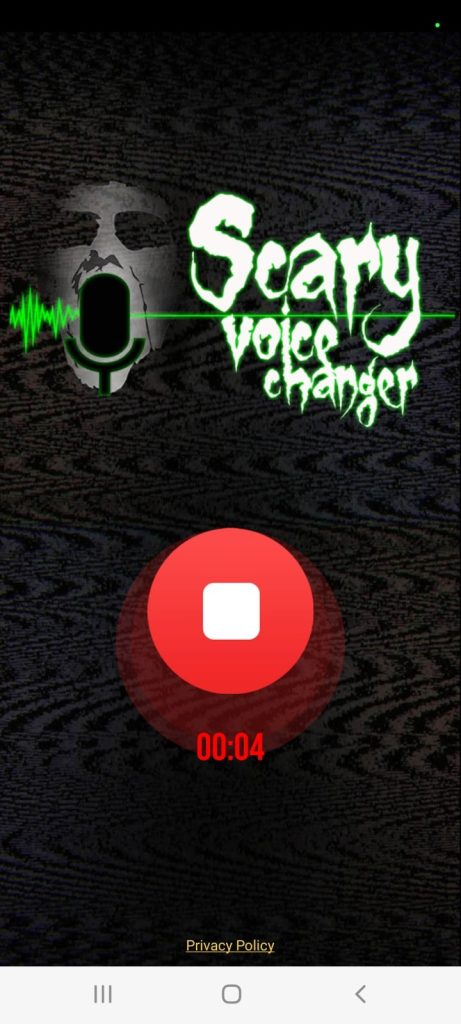 You may also like: 5 Best Voice Changer Apps During the Call (Android & iOS)
Creepy Voice Changer
This voice modulator will turn users into a ghost, aliens, or monsters. Just a couple of taps on the screen and they are no longer human. At least on the record.
Most probably, a user will not be satisfied with the choice of ready-made effects because there are not many of them and they are not so creepy. That's why it's worth taking a look at the part with the audio editing option.
Change the pitch and tone of your voice, add effects, hiss, echo, and much more. Friends will never recognize the voice and will most likely be scared, their hearts will jump into their throats.
Unfortunately, all this can be done only if users have enough patience to endure advertising, which is found literally at every step.
Advantages:
There is a wide functionality to edit a recording with a voice.
The recording can be sent to friends or even put as a call.
The recording can be downloaded on users' phones.
Drawbacks:
Annoying ads appear all the time.
Users complain that the app is often buggy.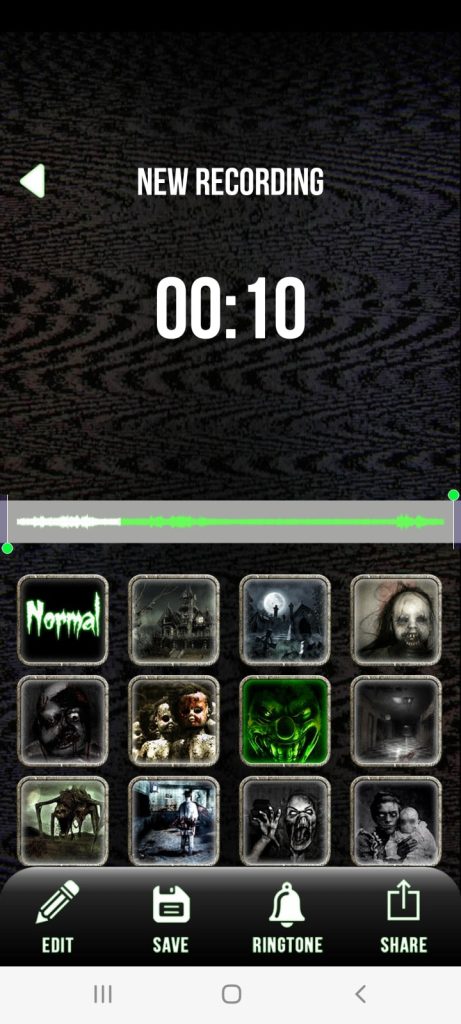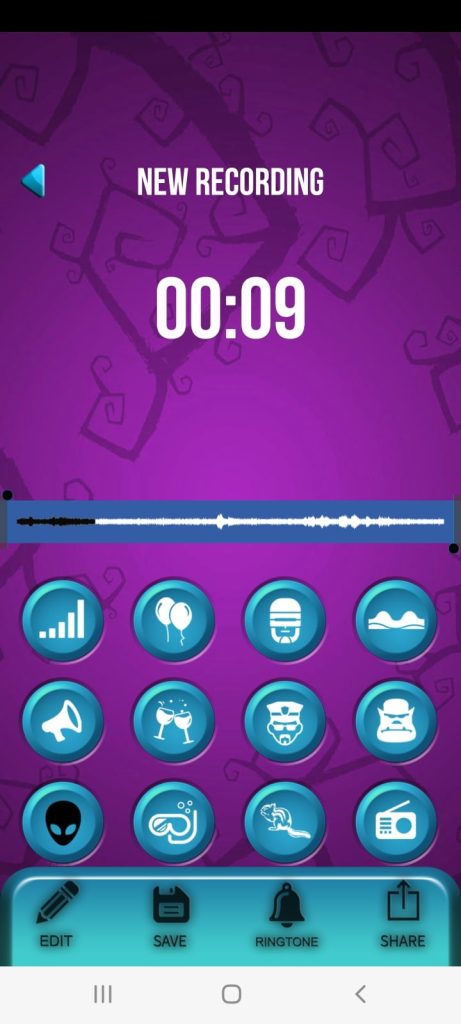 Scary Voice Changer App
It is very interesting to find out why developers have problems with imagination. They only change one word in the name of their apps.
This voice changer will help users sound like a monster and frighten their friends. It doesn't matter what the occasion is – Halloween, a party, or just a desire to make friends tremble with fear.
Record your voice right in the app, choose the desired mode, or experiment with voice settings.
There are quite a lot of ready-made options for changing the voice. Each of them is marked with a picture of a ghost, a monster, or a demon. They're all pretty creepy, it's better not to open this app at night.
Or use it right at midnight to get more vivid impressions!
Advantages:
There are a large variety of effects to changing the voice.
Users can set the resulting recordings as a ringtone for the phone.
It is possible to share the record with other people or send it via SMS.
Drawbacks:
Users should prepare for the fact that the app is riddled with ads.
The voice doesn't always change and becomes scary.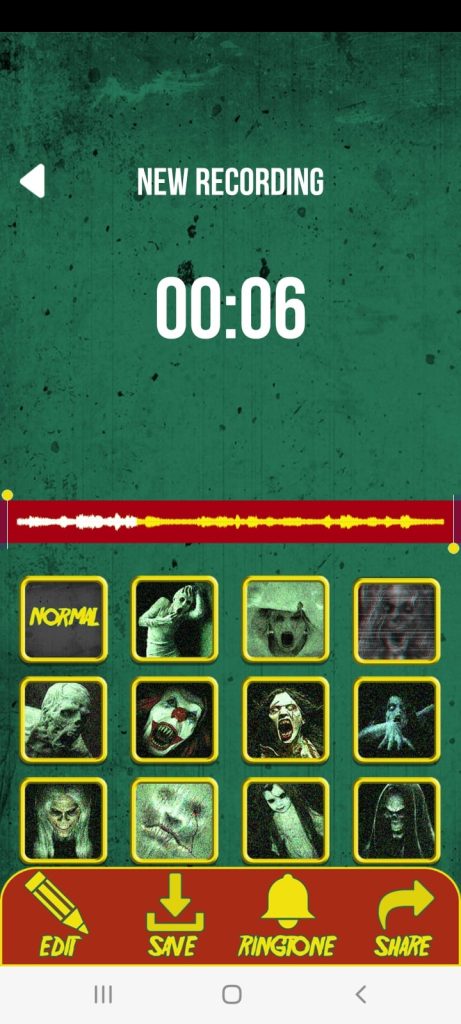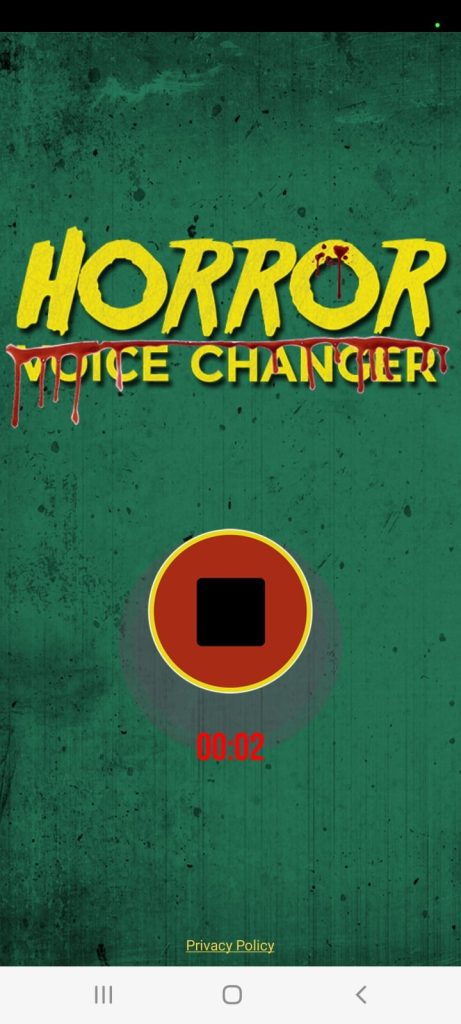 Zombie Voice Changer
Dedicated to all zombie fans!
The weekend was wonderful because it was the best marathon of watching zombie horror movies. Friends are still impressed by screamers and creepy dead men. It's time to scare them with a message from one of these.
The instruction is no different from the apps described before. It is very easy. Record your voice, process it to your taste with various effects, or choose ready-made options.
Why don't users try it out and say good morning to their buddies with the voice of an angry and hungry zombie?
Advantages:
It is possible to change the voice with the help of effects – this, of course, adds a creepy atmosphere.
Users can send the recording to friends or save it to their phones.
Drawbacks: Ready-made options for changing the sound are not frightening at all.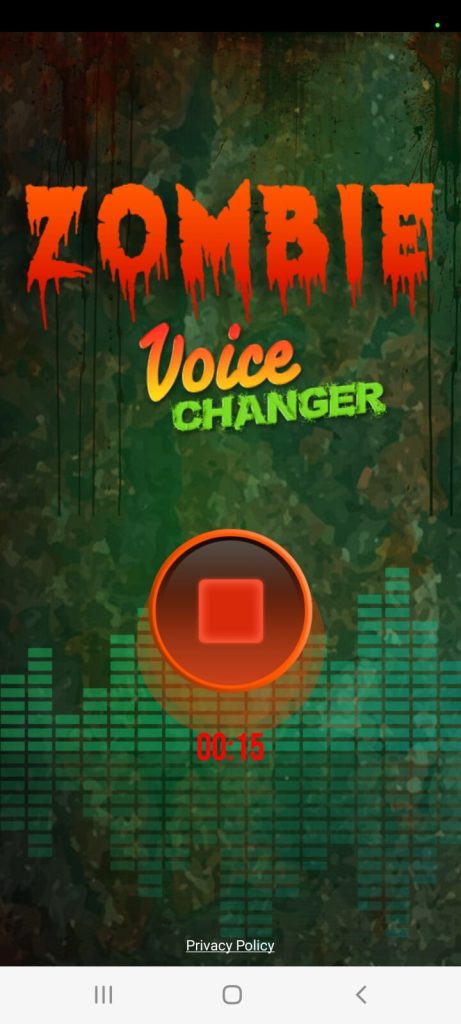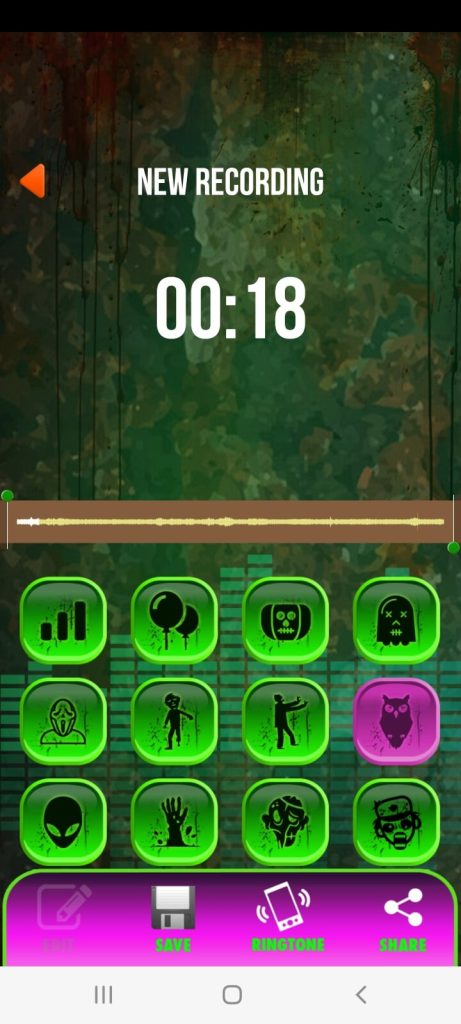 You may also like: 8 Best Female to Male Voice Changer Apps for Android & iOS
Voice Changer, Autotuner
This app is suitable for those who are not looking for easy ways. There is a basic set of options for changing voices, but all of them, unfortunately, do not make one afraid. Therefore, users will have to figure out the sound settings.
How lucky that the developers did not make the process of changing the voice long and complicated. Everything is very clear. Users can only read the titles of the options (pitch, volume, timbre of the voice), add noises or echoes, and so on.
This Voice Changer is different in that the recordings are of high quality, even professional. Put a little effort and the voice will be just like the demons from horror movies!
Advantages:
There is a wide range of audio settings.
The recordings are of high quality.
It is an easy-to-use service.
Users can share a record on social networks in just a few taps.
Drawbacks: There are few ready-made effects to make a scary voice.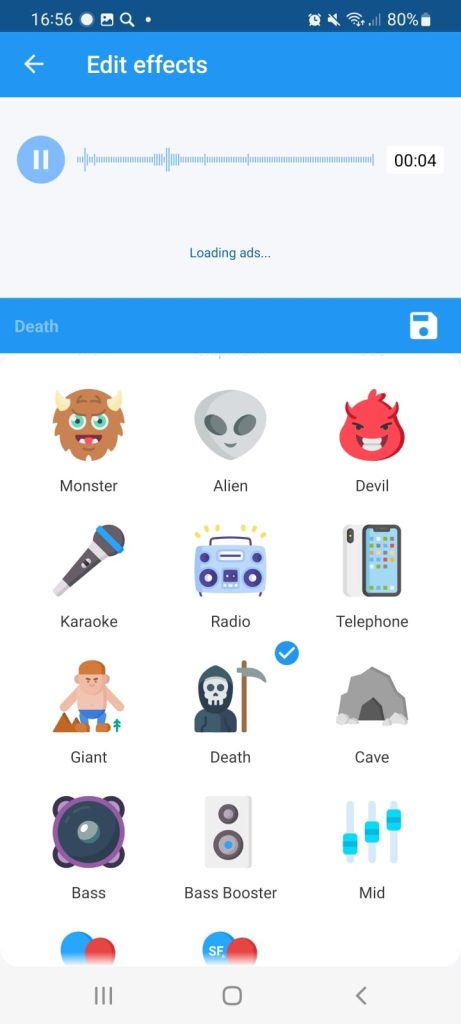 Scary Voice Changer
This is not a joke. This is a different app. And yes, they have the same names.
But despite this frustrating fact (are all developers so uncreative?), it offers users the opportunity to have fun with friends.
The blood-red design app has a standard set of features.
Voice recording, applying filters, or selecting from existing ones. It's all simple. But as you remember – art is in simplicity.
Let evil and mysticism fill the voice. Experiment with various effects to achieve maximum realism and surprise your buddies.
Advantages:
There are a large number of filters for changing the voice.
Users can share audio via social networks.
Drawbacks: The app sometimes crashes during loading.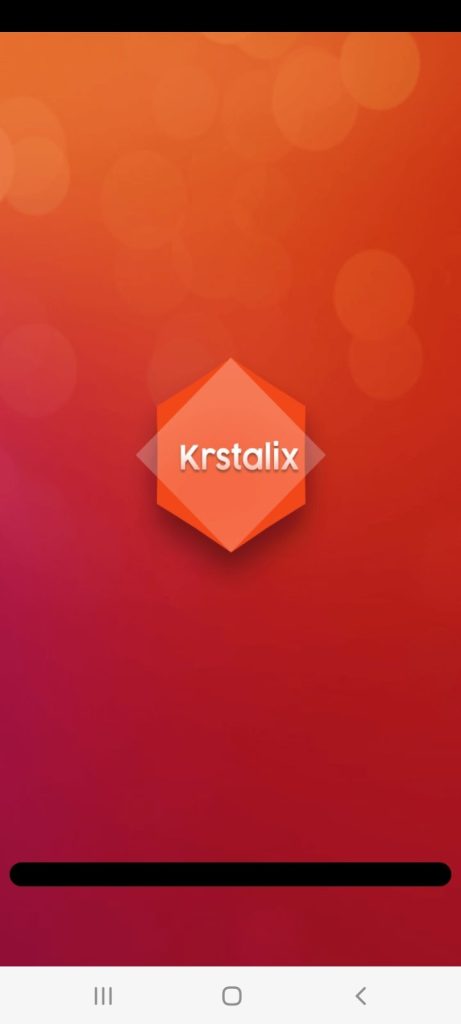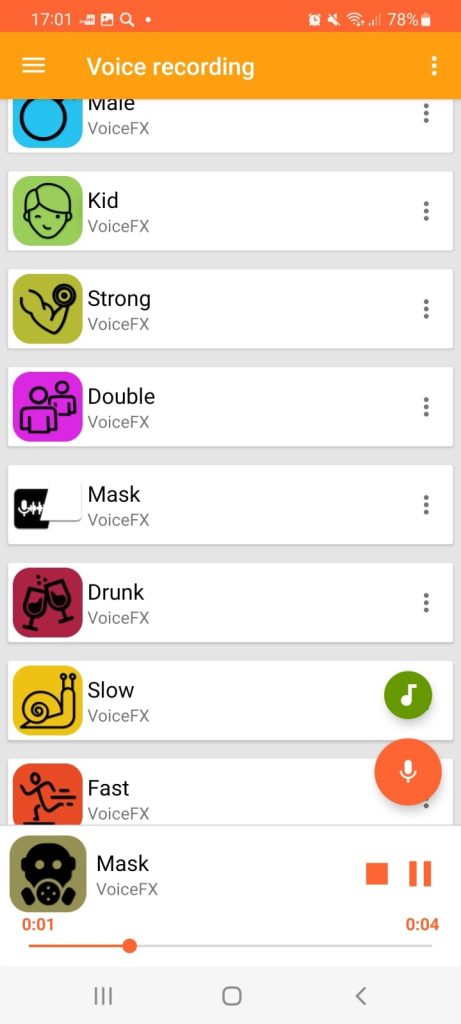 You may also like: 15 Best Voice Changer Apps for Android & iOS
Voice Changer – Audio Effects
The service offers to use a variety of filters or edit the voice recording using the settings.
While most of the ready-made voice options are not at all suitable for such an important and attention-demanding mission as scaring friends to the point of weakness in the knees, it is still possible to find fitting settings here.
The service has a pleasant and intuitive interface and this fact significantly simplifies the use of the app. One does not have to spend hours to find this or that function.
There are also a very large number of filters: echo, tone, tempo, voice pitch, various noises, and so on. Making a unique and creepy voice recording is easy.
Advantages:
This is an app with a great design.
There are many settings to edit voice recordings.
It is possible to send ready-made recordings to other people via the Internet.
Drawbacks: The service can't offer many frightening effects already created by developers.