20 Best apps to make money on Android & iOS
In our time it is difficult to find a person who does not have a mobile phone, even small children run around with heaped devices with a bunch of possibilities.
We spend a lot of money to buy new mobile devices, replenish the mobile account, pay for the use of mobile Internet, etc. Agree, it would be quite good if the mobile devices brought us at least some profit. Ironically, but the earnings on the mobile phone exist and it will be the topic of today's article.
You may also like: 11 Best tax manager apps in 2020 (Android & iOS)
Big time
Big Time – Make Money is an Android and iOS game, through which you are able to get real money. Your task will be to play various mini-games presented in this game and collect coins, the more coins you have, the more chance to win money.
Collect coins and get tickets with your name, many tickets are more likely to win prizes. The developers decided to attract players by the fact that they will give cash prizes for the earned money from the game. Test your abilities by starting to play this game. Watch the news and do not miss the draw of prizes, maybe on one of the tickets there will be your name.
You may also like: 11 Best Cashback Apps 2020 (Android & iOS)
Make money
"After paying more than 500,000 on the Web we go Mobile!" This description begins the review of the application on Google Play. The list of partners inspires confidence: Google, Amazon, PayPal, Facebook, Minecraft, Hulu, and others.
Here you need not just watch ads, the job can be to install a specific game with the addition of a response to its page in the store, filling out surveys, testing services, and software, or maybe watching a video on YouTube.
Tasks in the Make Money application are mostly simple and they are of interest to the majority. For the fulfillment of tasks, you earn credits, which in the aftermath can be exchanged for real money! For the invitation of a friend, you may earn up to 0.6$.
CashApp
You may download games to your phone or view certain videos. Viewing a video is a bit cheaper than downloading an application. In addition to installing games, sometimes you need to reach a certain level in the game. There is also a nice bonus: when registering on the account balance, a small amount is charged.
Assignments are sponsored mainly by video bloggers, developers, and various software who want to increase the fame of their content. You may transfer money to PayPal, Bitcoin wallets. Also,  a transfer of accumulated money directly to the card is available.
DietBet
Do you feel like you need to lose some weight? Do you feel like you need some extra motivation? Have you actually thought of the fact that someone might pay you for doing that? You will be surprised, but DietBet actually pays its users when they do workouts and achieve their fitness goals.
The app works in the way that first you establish a goal for yourself. Then you form a group of people and you all are willing to lose some pounds. Each member invests a little money for the reward. At the end of your plan, if you achieve your goal, you receive up to $60. Great idea!
Gigwalk
An excellent application with a good salary, again for the fulfillment of assignments from companies and firms. You may be asked to take a picture of a place, distribute flyers, check the quality of service in a new cafe or taste a new product, or even act as an imaginary buyer.
You become the eyes and ears of your client, being in the right place at the right time. However, the payment is already hourly, and you can earn 10-15 $ in just 1 hour of work. Note that tasks can take more time.
App trailer
App Trailer was created to test new applications. What you need to do: browse trailers for apps and earn points. Aid application developers to perfect their applications by sharing with them a sincere opinion about what they need to append in order for the trailer to be full.
What you get: you may get the payment for every video you watch. For the fact that you will test the demo version of the application, you will get from 9 cents to 1 dollar. Registering with a friend's referral code will permit you to start with 50 points.

You may also like: 15 Best apps that pay you to walk (Android & iOS)
Survey Junkie
Do you know this joke that tells about people who are telling you their opinion even if no one asked them for it? Well, if you're not one of those people you might miss out because it turns out someone is going to pay for their opinion from now. For those who like taking part in the surveys – Survey Junkie is a great app to spend some quality time.
The principle of work of this app is amazingly simple – you just fill out the surveys, tell your opinion of things and get some points for doing that. Later you can convert these points into cash or coupons.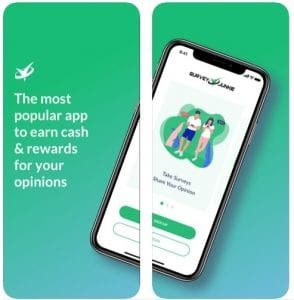 Slidejoy
One of the main problems of our society nowadays is that we tend to spend too much time on our phone literally doing nothing – just swiping. However, technologies have reached such a level that you can earn some cash already by simply swiping on the screen of your phone! Don't believe it? Try Slidejoy yourself!
The concept of the app lies in the fact that it pays you simply for checking out the promotion of various brands. You don't need to buy anything or even participate in challenges – just swipe and watch! For each swipe you're going to get a little money, but how many promotions can you see in a day?
In addition, you can choose if you want to be rewarded in cash or in gift cards. By the way, here by the fact that you are engaging with ads is not going to bring you more earnings – disclaimer. It is a no-hassle app.
CheckPoints
To earn with CheckPoints, you need to visit stores, cafes, and shopping centers, scan purchased goods from Coca-Cola, Vick's, and Olay, or invite friends to participate in the service. You can also watch videos, establish applications and games on your Android and iOS device. As a result of these mere actions, you will пуе points that can be exchanged for Amazon.com and Walmart gift cards, different gadgets, and games.
EasyShift
The mobile application perfectly suits students or even schoolchildren. All that is necessary is to find small jobs and carry them out. As a job, you may be asked to take a photo, go to the store, or for example find the organization number. In this program, there is no strict restriction of about 2 hours.
Moreover, the successful execution of several tasks will allow you to get an "increase" and switch to more highly paid jobs. There are no established payment frames.
Globus Mobile
The main direction of earning on Globus Mobile is to view promotional materials. You do not need any downloads or anything else. Advertising banners appear on the display of your smartphone for a few seconds, after viewing you can close them.
To start earning, you need to register on the site of the application, then install the application itself on the phone, which is present in the Google Play directory.
Also, available options for phones on iOS and Windows. The referral system has 7 levels, so with this application, it is possible to organize a decent passive income. The output is available from 50 cents.
Google Opinion Rewards
Google introduced users of the Android platform a new application Google Opinion Rewards, which will give everyone an opportunity to earn some money so that they can then spend it on the purchase of content on Google Play.
The new program is an additional type of earnings through participation in paid surveys. Typically, the standard survey includes up to ten questions, responding to which the user receives a reward of 0.25 to 1 to the Wallet electronic wallet, for the subsequent purchase of digital content on Google Play (applications, books, music, movies).
In addition to shopping on Google Play, you can pay for various in-game purchases. Moreover, the program Google Opinion Rewards will kindly inform the user about the appearance of a new poll via a message.
By the way, if the payment for a survey of 10 questions ranges from 0.25 to 1, and the cost of applications in American Google Play ranges from 0.99 to 200 it's a good way for teenagers to entertain themselves with benefit.
Foap
Who said that you cannot earn by selling pictures from your phone? It certainly was not the creators of the new Foap application, which permits you to do just that. The application is very simple to use: just load it from for free, throw your best pictures into it, add keywords so that you can easily find them, and confirm the operation.
After that, each photo must be manually approved by the moderator before it appears on the so-called "Foap Marketplace" at a price of 10 per shot, of which 5 falls on your own wallet.
The most interesting thing about the application, however, is that Foap does not welcome processing in the spirit of Instagram or any other. They warn in advance that they are not interested in buying heavily filtered or inserted images and, therefore, such pictures will not be approved by the moderator.
Perhaps someone will think that this is a step towards deteriorating the quality of images, showing confidence in the belief that one phone will be enough to make a good photo, while others will be happy to know that over-processed images are not sold.
Shopkick
And once again we have money earning app for shopping lovers! But, first of all, it is important to note here that is you are looking for an app that will be paying you pure cash – this one is not your choice. In Shoplick you can earn discount points (later you will be able to use those points up to buy things with a discount up to 100 percent).
Don't mistake Shopkick with a cashback app – here, to earn those points you don't actually have to buy anything, but just to complete daily challenges learning more and more points. So no initial investment is needed.
Later on, you can spend everything you collected on a new thing, let's say, from Zara – you are going to buy some clothes anyway, right? So, why don't you get a chance to save on it?
This is one of the most popular shopping apps on the market and its users have already earned more than $80 million by earning points. Moreover, Shopkick often has exclusive offers that you won't find in any other app – for such retailers, as, for example, Wallmart or Target.
Cash in those kicks for free gift cards to Starbucks, Best Buy, Target, Amazon, Lush, Sephora, plus many more! With some of our retail partners like TJ Maxx you can earn kicks and cashback for every dollar you spend. So, enjoy your shopping, but don't forget to spend smart.
Acorns
Investments have become a huge topic lately. Many people are talking about proving a stable financial future for yourself and about the necessity to save at least 10 percent of your earnings.
And if before, n order to invest your money, you would need to go to the bank or contact broker companies, then now you can become a private investor yourself, even if you don't have millions of $ like Bill Gates. That's right – nowadays investments are possible to be done in the app.
Some skeptics might say, that it is not the real way to earn money since you got to invest first, but the best thing here is those could be even $10.
You can, for example, buy a couple of shares of a company, that you see is going down, but promises to rise up one day soon (that happens mainly in times of crisis) and after a couple of months you sell those shares for $50. It might seem like a little money, but take into consideration that you get more than $40 out of the air! That's why the investment app has become so popular nowadays, and Acorns is the best among them all.
Why? First of all, because of its generous bonuses. If one of your friends already have Acorns, they can send you an invitation and you will receive $10 as the new user (see, you won't even have to pay).
There are many options for different types of investments in the app – you can become a long-term investor, receiving great dividends for your shares (Microsoft and Apple bring a really good income, or you can become a trader – it's up to you.
Userfeel
An app with a more simple user interface, but that doesn't mean it won't let you earn some money as well. The best part of it is that you can use it from any country in the world, and, basically, fill out the surveys in every language possible.
By the way, another important aspect here is that this app is meant for testing the new websites and apps – not physical products. So, all the shopaholics, this is not your choice. At the same time, the app will be interesting for IT guys, and all the people who are fond of web-design and innovations.
Rakuten Ebates: Coupons & more
Do you feel like you are failing to save any money because you are shopping waaay too much? Well, don't worry, today there are millions of ways to earn money – and even those allowed to do that even by spending that money. All you need to do is to shop via Rakuten Ebates and get a decent cashback for future purchases.
Some people might get skeptical at this point, but hey, can you imagine how much money could you get back if you would use this app each time? Because more or less, you are still buying something each month. So why don't you combine pleasure with benefit?
Almost all the biggest retailers are presented here. Along with cashback, you can get coupons for future sales. By the way, for some good and retailers, the cashback can be up to 40 percent!
FeaturePoints
Continuing the most popular topic of this article – in FeaturePoints you can earn money by compiling fashion surveys. It is important to note that this is a popular and reliable app, that has already paid around 6 million dollars to its users.
Here you will find almost all the brands of big retailers – you will need to fill out the surveys about the products that provide. After each survey you will get a fixed sum of money. Easy!
Mobee
Mobee is similar to Gigwalk. It is exciting in the way that you have to find "missions" where you have to become a secret buyer, complete the task, and earn some cash. Moreover, as a bonus you can search if your favorite store is participating and work for it as well!
And you don't just earn cash completing all the challenges – you earn points – these points determine your reputation and over time allow you to go for more interesting and better paid "mini-jobs". After your task is done you will receive the payment in 3 days.
You may also like: 15 Best reseller apps to earn money online (Android & iOS)
Field Agent
Do you have some free time to spare? Who don't you start to make money while having fun! This is all that this app is about. The main goal of the Field Agent is to help all people to make some money on a daily basis. Here you will be earning the real cash, no bulls*it.
What you mainly will have to do is to take parts in the consumer surveys. But that doesn't mean you will have to go through all those boring polls and express a fake positive opinion. On the opposite – you will get a chance to try new products and share your real and honest feedback on social media and stores' websites.
The first thing that you need to do is to register in the app and start looking for a "job". Usually, this part is not difficult because there are tons of offers each new day. When you found an offer that possibly matches your preferences, then you get a task and a limited amount of time to fill the form.
After the task is completed, when money will be transferred to your PayPal.
Earnings on all of the above projects, most of it will consist of downloading and testing a variety of applications, watching videos, or performing any other tasks.
Also, on these projects, there are partner programs. That is, for each new invited participant, you will be credited to your balance.
To be honest, earning money on a mobile phone will not bring so much profit to become your main source of income. But to cover the cost of replenishing a mobile account or paying the Internet, there will be no problems.