Do you love dancing K-POP? Then you might be looking for a good application to learn how to dance. In this article, you will see the best tools for self-learning.
By the way, if you were looking for some apps to try Kizomba, you should check the 5 Best Kizomba Dance & Music Apps.
In this article, you will see the best K-POP Dance learning apps. There are great options for iOS, as well as Android users.
STEEZY – Learn how to dance
If you have never tried dancing but if you want to start from scratch, then STEEZY is the best option. There are great lessons where you can see step-by-step tutorials.
STEEZY is one of the best dance applications. It has a friendly interface and a smart design.
The app is packed with a huge number of features. Let's see what functions you will get in STEEZY:
Learn various dance styles

, including Jazz, K-POP, Hip-Hop, Breaking, Krump, Heels, and many others. It doesn't matter what style you're gonna pick, there are great videos to learn. Watch them and try to copy the movies.

The app is compatible with many devices, not only with your tablet or computer. For instance, you can use your TV. This will help you to clearly see the dance moves and copy them.
The app is free with its basic functions. In this case, you will see some ads. To remove them, you have to go premium. It will cost you $19.99 per month.
However, if you plan to use the app for a long time, we recommend that you go for a yearly subscription that will cost you $149.99.
Another nice thing is that STEEZY has a small size. You will need about 116 MB to install this cool app.
You can the app on the App Store or Google Play.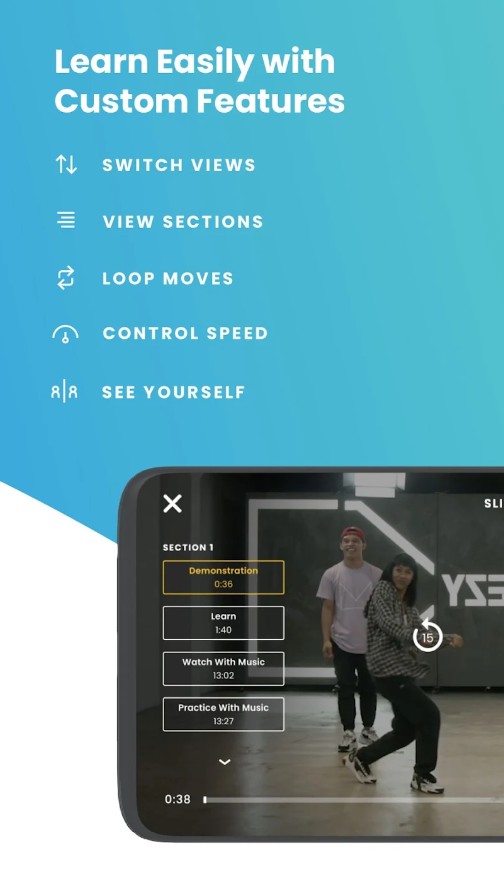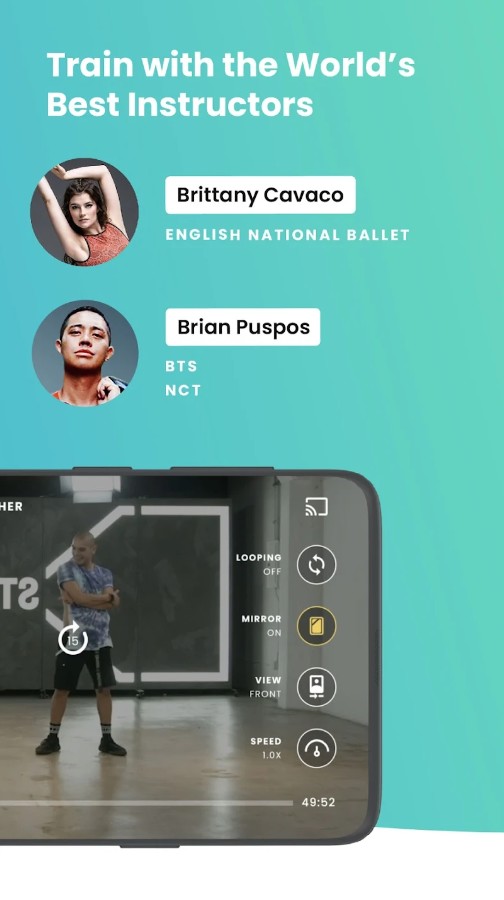 You may also like: 9 Best Tap Dance Apps
JustMove: Kpop Dance Practice
Here comes another great app to learn K-POP dance moves. The principle of the app is quite simple. You will be shown a video displaying the moves of K-POP. What you need to do is to watch it attentively and then try to copy them.
The camera needs to be turned on so that it can capture a video. Then you can watch it one more time and see if you are doing things correctly.
If you aren't satisfied with the result, feel free to do it one more time until your skills get better. The app is super small.
You can download the JustMove app even on an old device, as its size is 12 MB only. Unfortunately, the app is available for Android users only.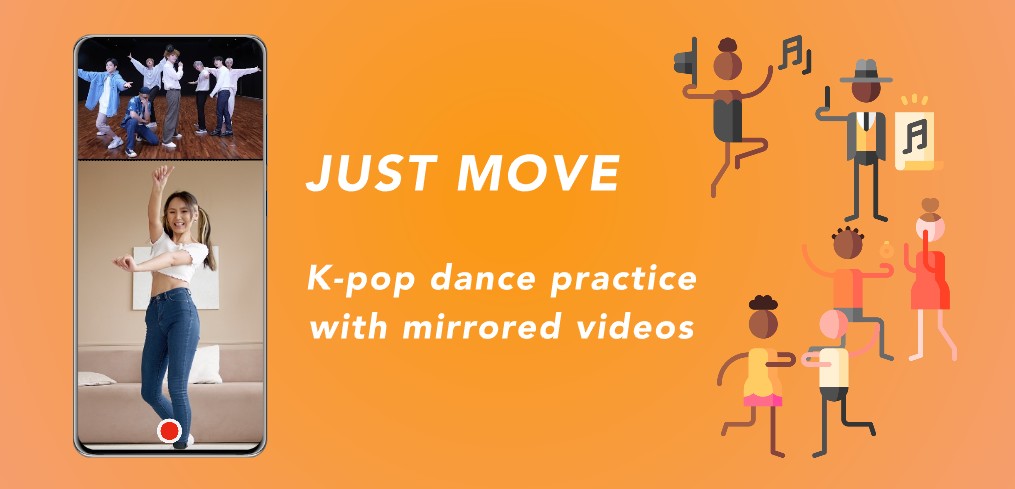 K-POP TV : idols in one place
If you are a true fan of Kpop culture, this is a good app to try. It has all the things you might need in one place. This also includes dance videos.
This app has a minimalist interface and simple functions. To start, you don't even need to create an account. However, if you do, you will get more cool features.
Let's take a look at the most striking features of K-Pop TV:
Watch your favorite video clips and listen to the best albums. You can easily find what you need by searching for the name of your idol group or a single song.
Download content. Sometimes you would like to watch a video or listen to a song everywhere you go. In this case, you will bring your content with you.
All the content is divided into at least two groups – boys and girls. If you wanna look for a boys band, you know what to do.
Use the app as a TV. It can function just like a TV set. The only exception is that there is only K-Pop content so you won't have to sort the information.
This is a small app. Having 13 MB of memory is enough to install K-POP TV. The app is free with ads and in-app purchases.
You can get K-Pop TV on Google Play and dive into the world of Korean music.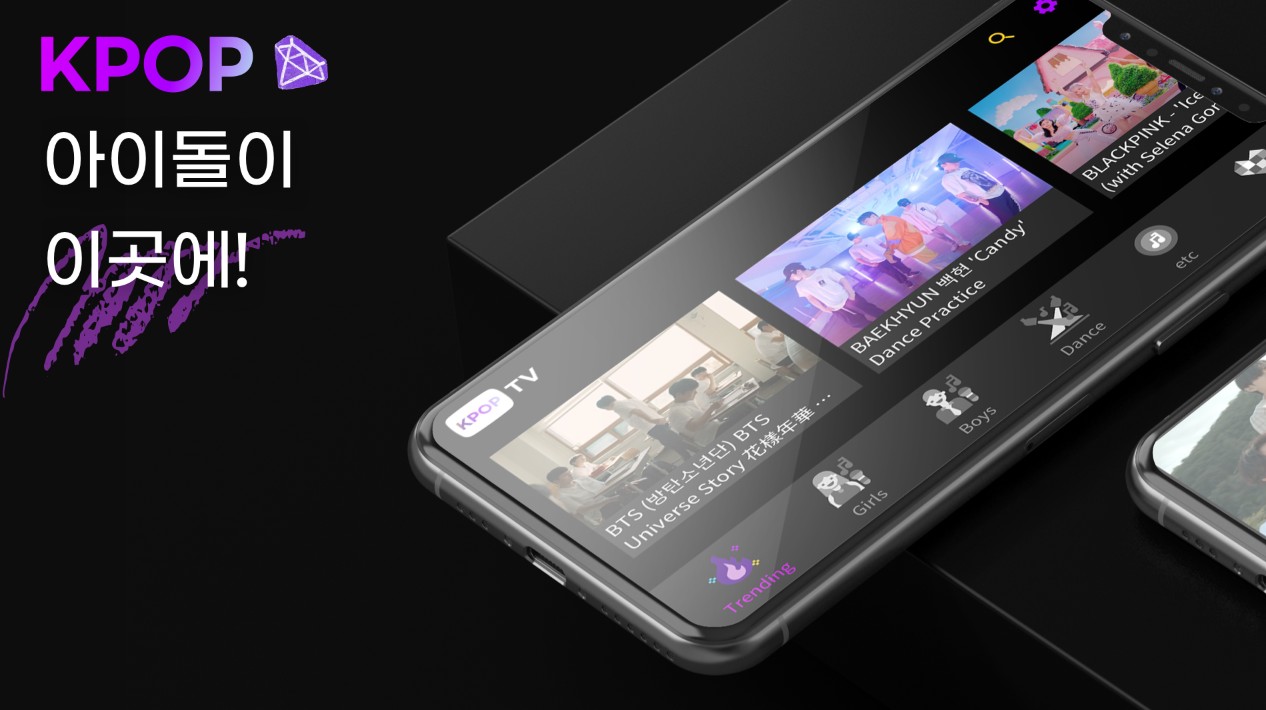 KDANCE : KPOP Dance Practice Video
If you want to practice your dancing skills, this app is a must. It will take you a few days to learn how to do the most popular moves from K-POP.
This is a super easy app rich in dancing lessons that are simple to understand.
This is a truly simple and fun app for beginners. Let's check which functions you can enjoy in KDANCE:
Explore about 100 K-pop groups and learn their dances. To find what you need, use search. You can search by the group name or their songs and albums. You will find BTS, TWICE, BerryGood there.
Repeat after the video. If you feel it's to fast to follow the instructions, you can slow the speed of your video down.
Add the best videos to your favorites. This is an album where you can store what you like most of all. This will help you to store all the best files in one place.
The size of the app is 13 MB, which enables you to download it even on the slowest and oldest devices.
By the way, if would like to go for the pole dance lessons, you can't do without the 7 Best Pole Dance apps
The app is available on Google Play at no cost.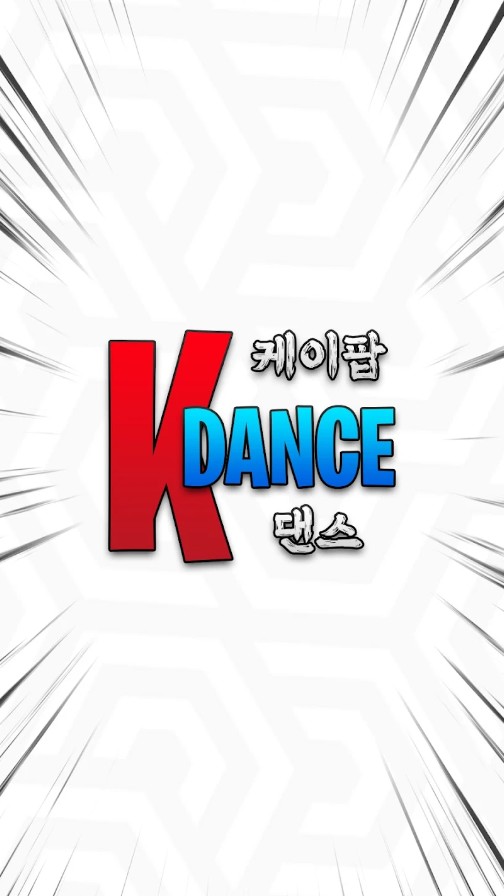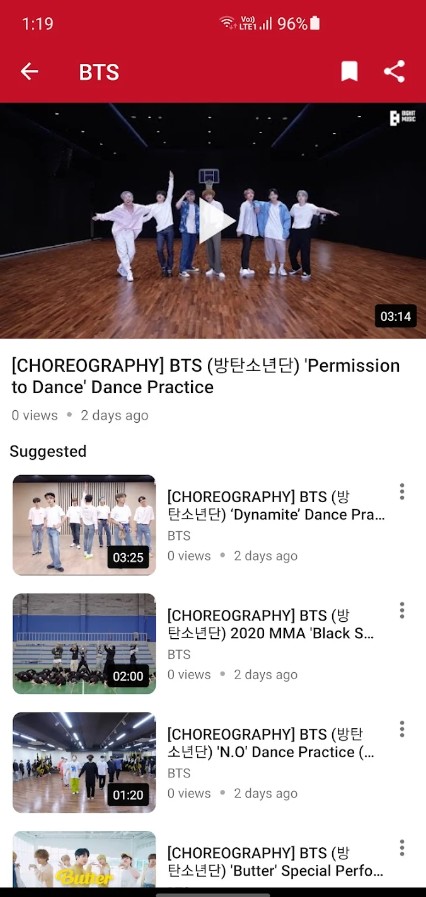 1MILLION Dance Studio
This app is a one-stop destination for dance enthusiasts looking to groove like their K-Pop idols.
With the 1MILLION Dance Studio app, you gain access to a vast library of dance tutorials that cover a wide range of popular K-Pop groups.
Main features:
Extensive dance library (BTS, BLACKPINK, EXO, and more)
Step-by-step lessons by professional dance instructors
Augmented reality (AR) experience that allows you to see your own avatar dancing to K-Pop songs and practice alongside it
Beginners can take their first steps into the world of K-Pop dance with easy-to-follow tutorials, while seasoned dancers can challenge themselves with more intricate routines.
Join a global community of K-Pop dance enthusiasts, share your progress, and connect with like-minded individuals through the app's social features. Showcase your talent, get inspired by others, and build lasting connections with fellow dancers from around the world.
In summary, the 1MILLION Dance Studio app is a great platform that brings the magic of K-Pop dance to your fingertips. So, if you're ready to move to the groove, download the app and let the K-Pop dance fever take over!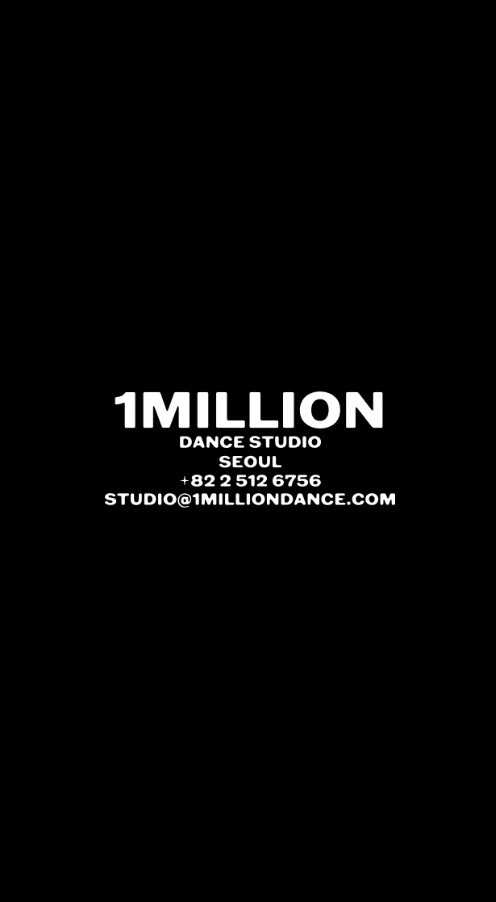 You may also like: 11 Best Dance Workout Apps
Mubeat for kpop Lovers
It is a great platform full of dance videos and Korean music. If your aim is to find new friends who love K-Pop and Korean culture, Mubeat is what you need to try. You can chat right in the application.
What can you do with the help of this app? Well, there is a great number of options:
Watch live concerts and videos with choreo. This isn't a typical learning app for dancers but still, you can use it for such a purpose. For instance, you can slow down the video and copy K-Pop dance moves.
Join a friendly community. You can always ask questions or just chat with people about your favorite Korean band.
Share info about your favorite artists. You can share links, articles, as well as photos, and videos.
Show how strong your fandoms are. For instance, if you love BTS, make sure you vote for the group in any survey. This is a truly exciting process to see the ratings changing.
These functions are free of charge. However, if you need more, you can go premium. In this case, you will be able to download as many videos as you need and see no ads at all.
However, you can easily do without them. If your aim is to study dance, you can do with the basic options.
You can get the app on Google Play and start learning and practicing K-Pop dancing.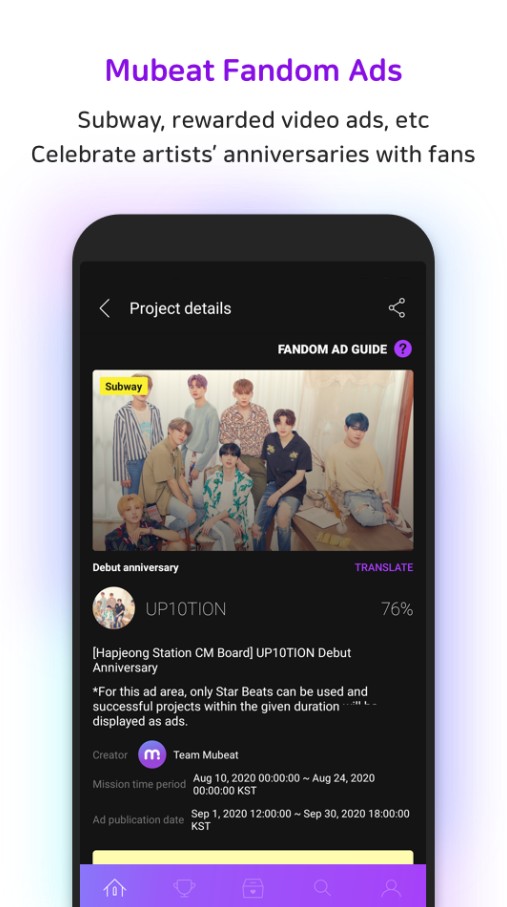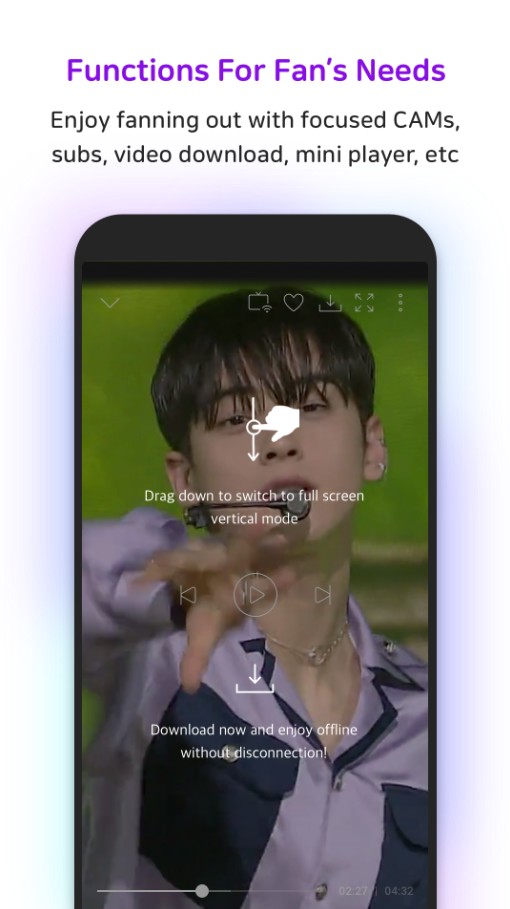 Everdance – Workout & Dance
Everdance – Workout & Dance is a dynamic and user-friendly dance learning app for dance enthusiasts of all skill levels. From beginners to experienced dancers, the app offers a diverse range of dance styles and routines to explore, practice, and master.
You can try such features like:
Different classes for different dances
You can learn and emulate the iconic dance moves of popular K-Pop groups with step-by-step tutorials taught by professional instructors
Download dance tutorials for offline learning
So, I can recommend you Everdance – Workout & Dance as it is able to teach you to dance like a real K-POP dancer.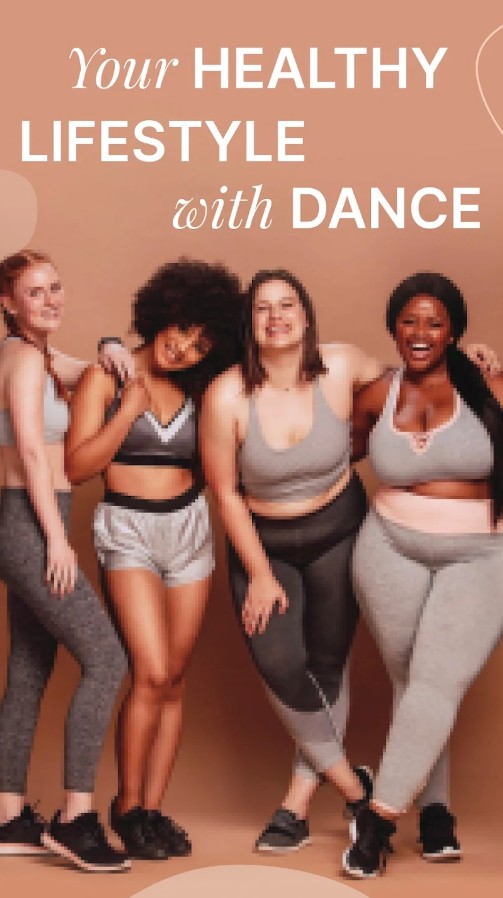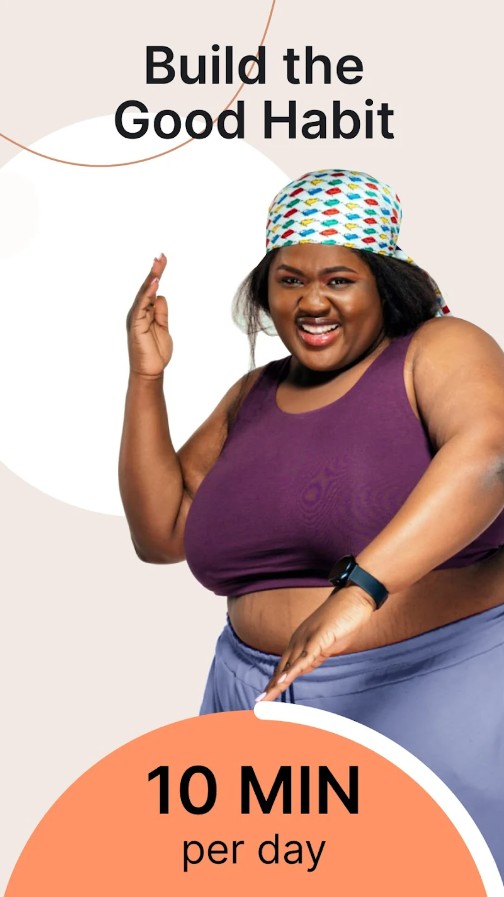 KPop Random Dance Challenge
If you love dancing and fun games, then you will totally love this app. This is a combination of cool dance challenges and great music.
What is especially cool, this app is multi-functional. Here are the best features you will explore in Kpop Random Dance:
Find over 300 cool songs and videos of the best K-Pop bands. If you are a fan of EXO, BTS, Twice, and others, this is the function you will love.
Learn the choreo. This is the best way of making your dance better. You can toggle between videos to study faster and practice more easily.
Create playlists. If you want to bring your music with you and divide it into topics, feel free to make playlists and share them with others.
Communicate with other K-Pop lovers. You can find new friends with similar interests and chat with them.
Enjoy random playlists and albums. This is a great option when you don't know what to listen to.
The app is quite small, it needs less than 10 MB to get it. KPop Random Dance Challenge is free of charge with all of its options.
Unfortunately, the app is available on the App Store only.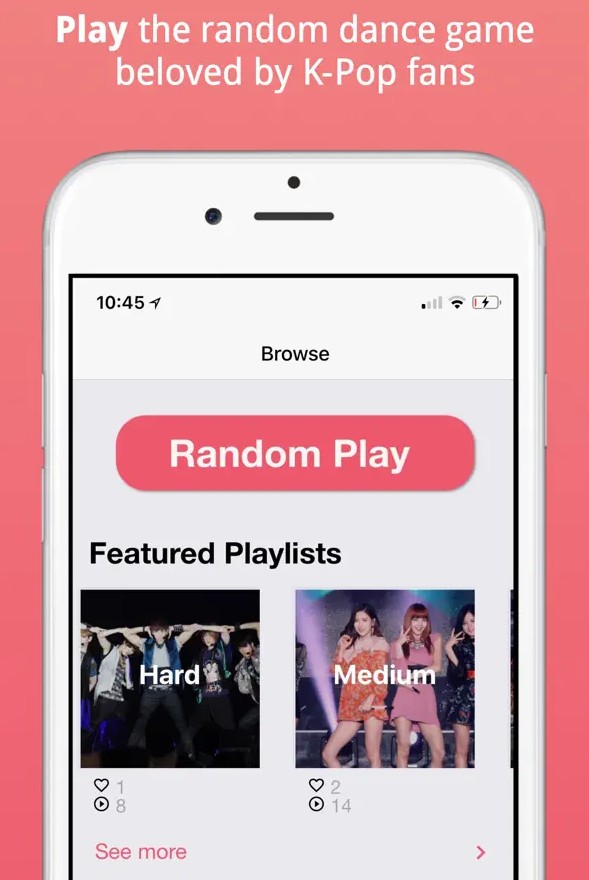 You can also check: 5 Free Ballroom Dance Apps
SPARKY – K-Pop Dance Game
SPARKY is a great app to learn and groove to the captivating dance moves of their favorite idol groups.
This service offers an extensive collection of dance tutorials from various K-Pop groups, spanning from the iconic classics to the latest chart-toppers. Whether you aspire to dance like BTS, BLACKPINK, EXO, TWICE, or any other beloved K-Pop group, SPARKY has got you covered.
Even beginners can easily follow along with step-by-step dance instructions and detailed breakdowns of each routine. From catchy choruses to intricate footwork, SPARKY takes you on a journey through the mesmerizing world of K-Pop dance.
The app provides an engaging and gamified experience, allowing users to score points and track their progress as they master each dance move.
To sum up, SPARKY can help you to become the best K-POP dancer as it provides you with plenty of useful classes and possibilities to study choreography.