Cats are amazing. These gentle, fun, and sometimes lazy creatures warm our hearts and make life much better.
However, sometimes you might need to identify which breed your cat belongs to. To do it, you need to be an expert in cat breeds. Or get a good application!
By the way, if you are interested in identifying mushrooms, you will like these best mushrooms identification apps.
In this article, you will find the best options for iOS and Android users.
Cat Scanner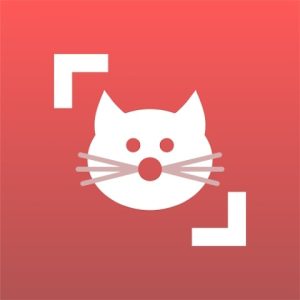 This is one of the best tools to identify various cats. You can use it for little kittens, as well as for big cats. The results would be equally precise.
What is more, the app will still come in handy if you have mixed breeds. In this case, the app will show you the percentage of breeds on a diagram.
Now let's take a look at the best features you will get in Cat Scanner:
Identify your cat's breed. This is the main function of the app. You can take a photo right from the app or upload it from your gallery.
Share your results with others. There is a big community of people who love cats. You can create a post with the picture of your pet and attach the identification results as well.
If you don't have a cat, it's not a problem at all. You can just scan your friends, relatives, or yourself by taking a selfie. The AI principles will analyze your photos and find the cat that looks just like you.
Go for a Gamification feature. This option will help you to become a true expert in cat breed. It works like a Pokémon Go. Make sure you try challenges and new tasks every day.
These were the features available at no cost. However, you can also go premium and get even more powerful things. For instance, the scanner will work much faster.
What is more, if you buy a premium subscription, you will also see any ads anymore. This will help you to focus on what matters.
Cat Scanner is available on the App Store, as well as Google Play.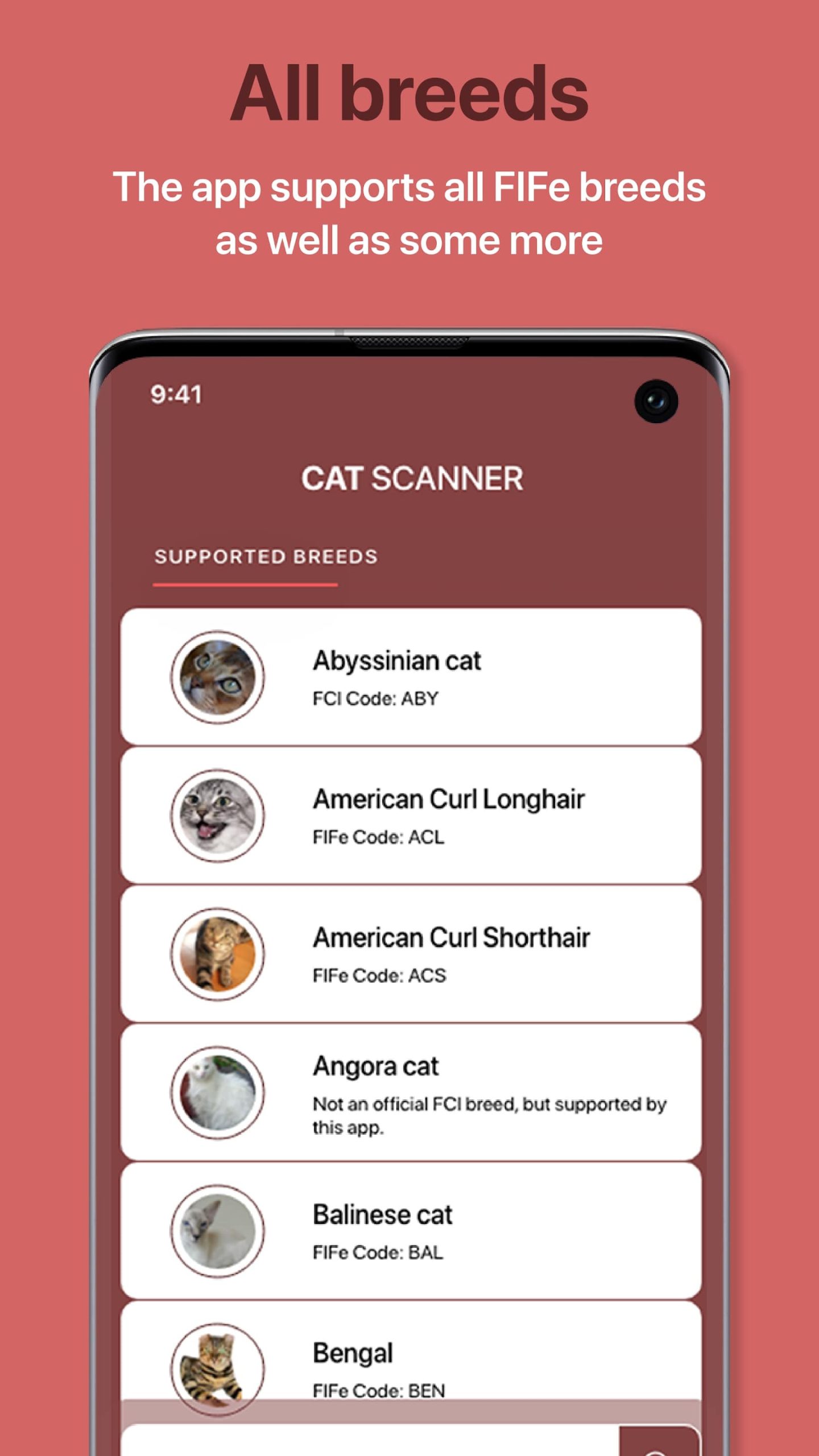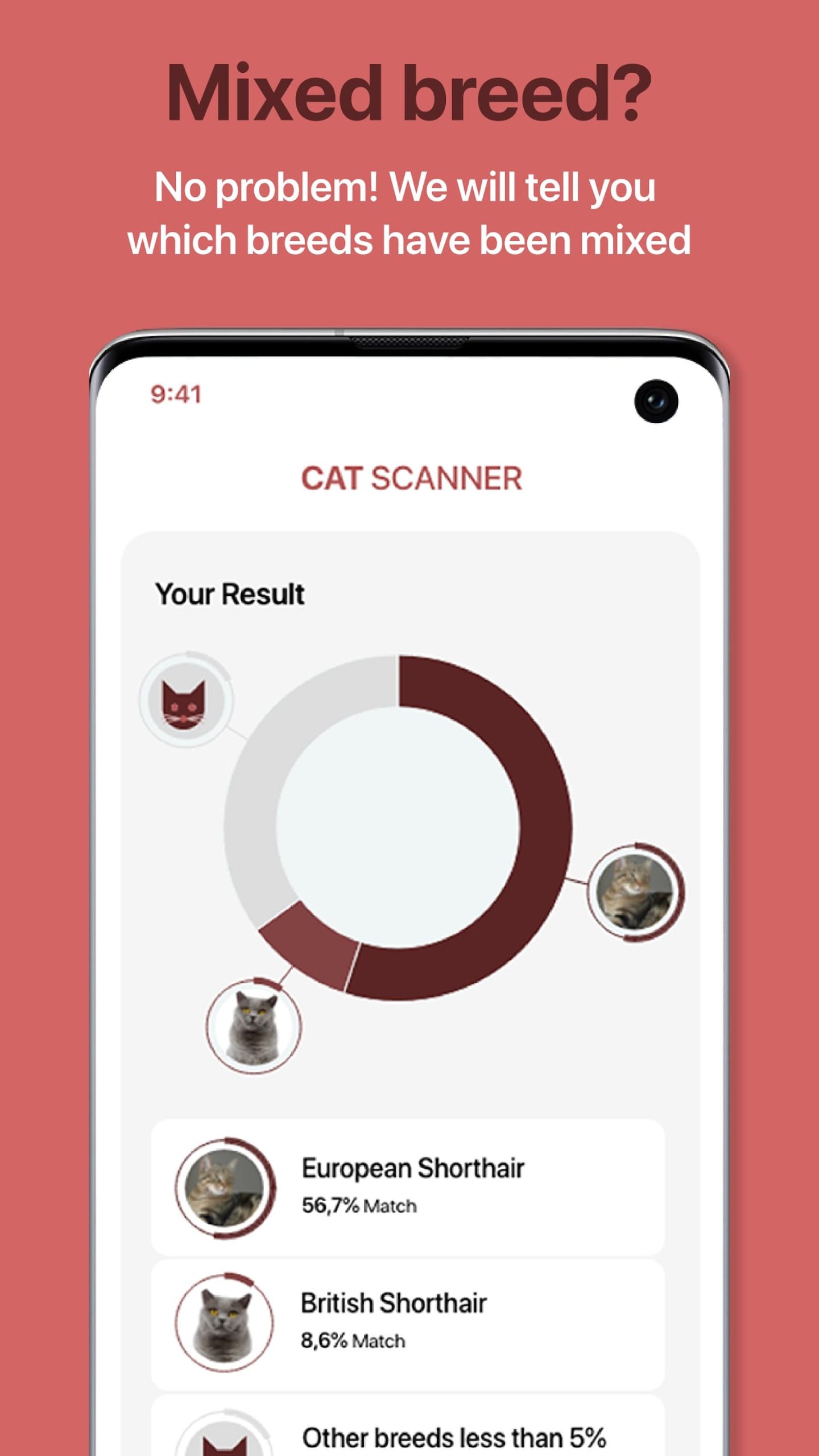 You may also like: 5 Free Flower Identification Apps
Cat Identifier: AI Cat Scanner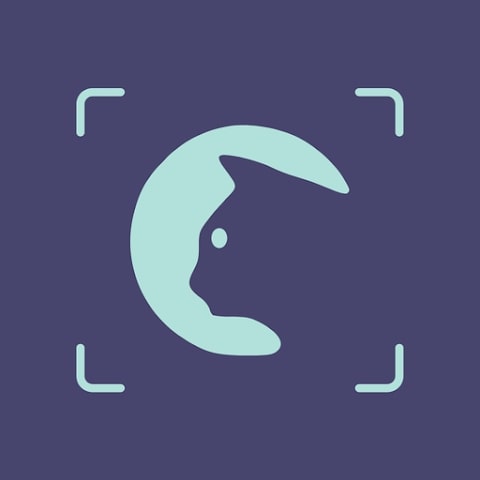 If you're still not sure what breed your cat is, get help from Cat Identifier. This scanning app allows you to find out the truth about your pet's pedigree in seconds.
For this space, take a photo or video of the pet and upload it to the app. Artificial intelligence allows for quick and error-free identification. You will recognize not only the breed of the cat but also the characteristics of this species.
Many breeds differ in health, behavior, and temperament. The built-in guide will help you understand your pet's character and improve its care. You will learn the history of the origin of the breed, the main characteristics, and nuances. More than 70 breeds are detailed and available for review.
Cat Identifier helps you find the pet you want. You need to take a small survey. Specify the amount of free time, financial possibilities, and knowledge in animal care. The app will select a specific breed for you based on your answers.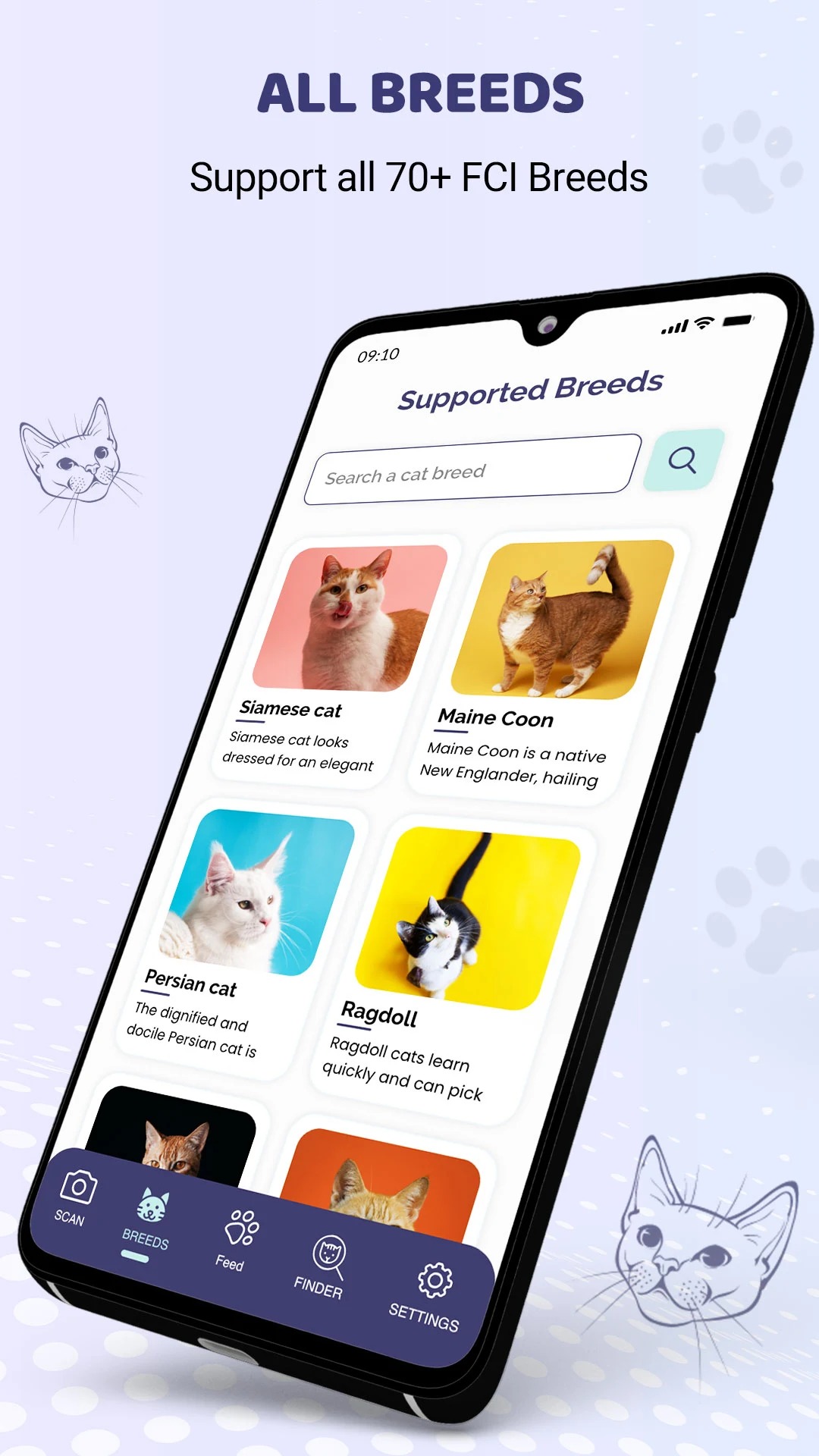 Cat breeds – Smart Identifier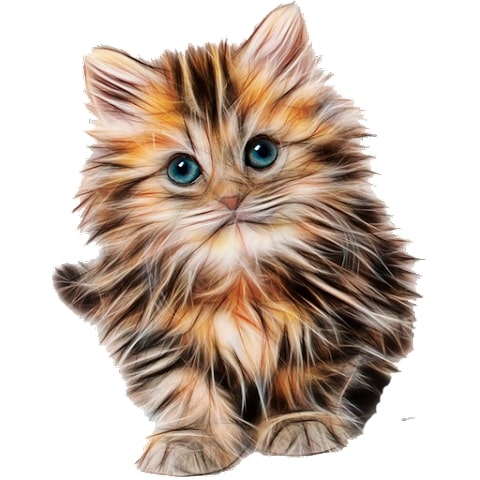 If you want to know more about cats, install the Cat Breeds app. It has the most up-to-date information on the most common breeds.
You will find out why your pet is acting so strangely, and what their food and lifestyle preferences are. You'll be able to choose a cat that's great for families with young children. Or an animal that can easily tolerate frequent solitude.
The smart identifier will give you answers to your questions: how many hundreds of years old is this breed, what health problems appear most often, and what is the average life expectancy of representatives of the selected breed? More than 200 breeds are described on the pages of the app.
Here you will find both ancient species and modern breeds. Load your pet's photo into the scanner and wait for the results. Use voice dialing if necessary.
No internet connection is required to read the information. If you buy the Premium version, you will get full identification without internet and ads. You can also delete your search history.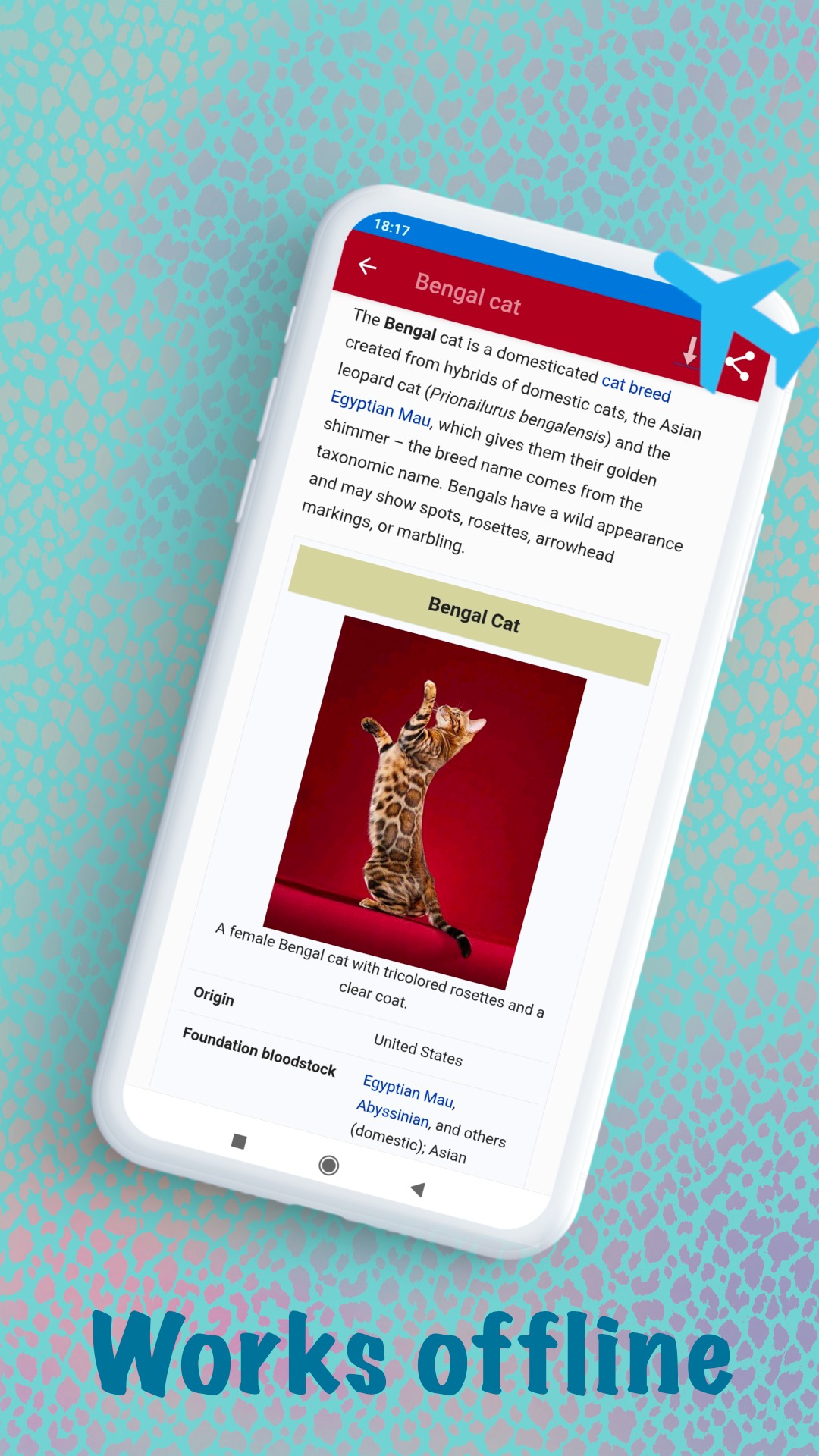 Cat Breed Identifier: Pet Scan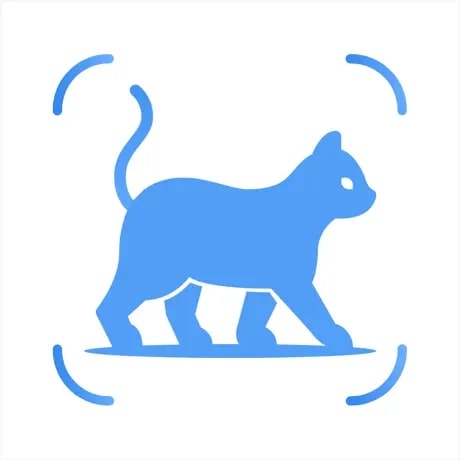 If you are choosing a new pet, use this Cat Breed Identifier. The app allows you to get data about the breed of a cat based on its image.
Just 1 photo is enough to be sure of the authenticity of the seller's words. The higher the quality of the photo, the more reliable the result.
The probability of accurate identification is more than 85%. Some breeds are quite expensive, so make preparations before buying. You have access to more than 80 breeds from all over the world. Get an idea of how old the breed is, where it originated, and what is notable about it today.
Get comprehensive information on the breed's health levels and weaknesses. Find out what nutritional and lifestyle traits your pet has.
Cat Breed Identifier requires a paid subscription. You can choose your own subscription period: weekly, monthly, or yearly. Use the knowledge of professionals for the benefit of your pets.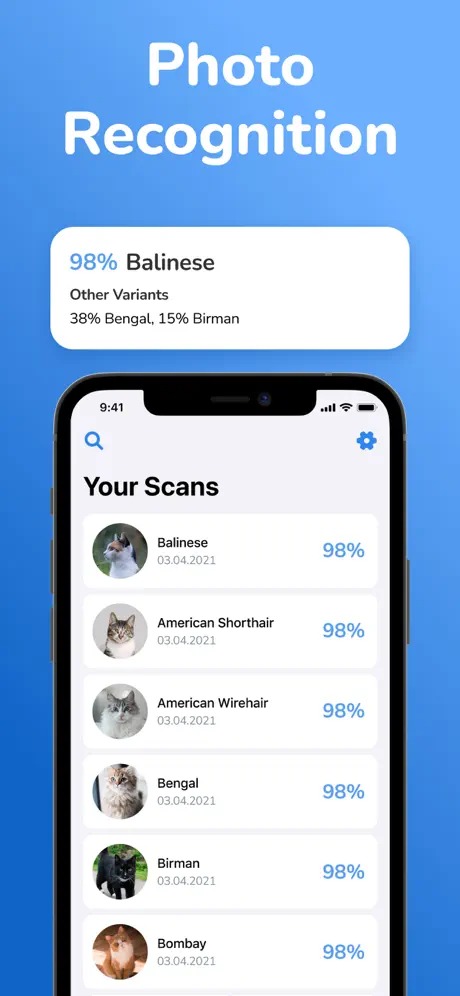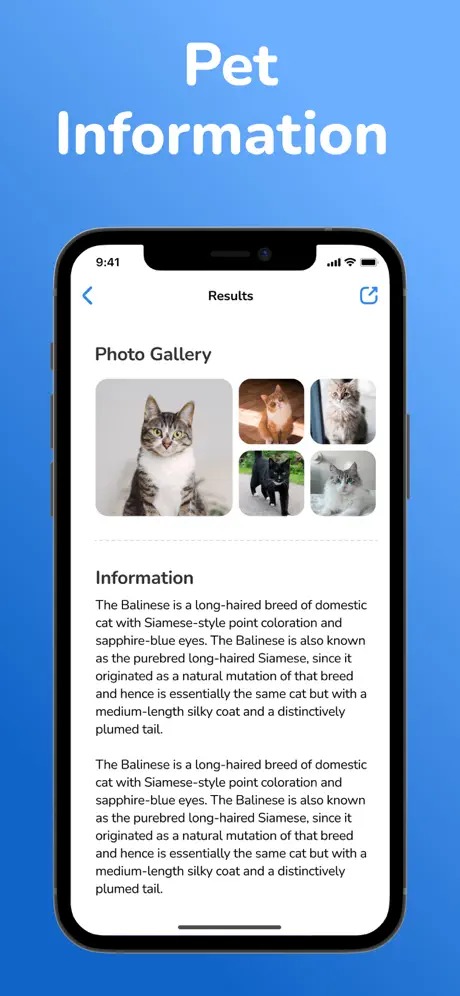 By the way, if you need to identify animals, make sure you check these best animal identification apps.
Cat Breed Auto Identify Photo by Nikas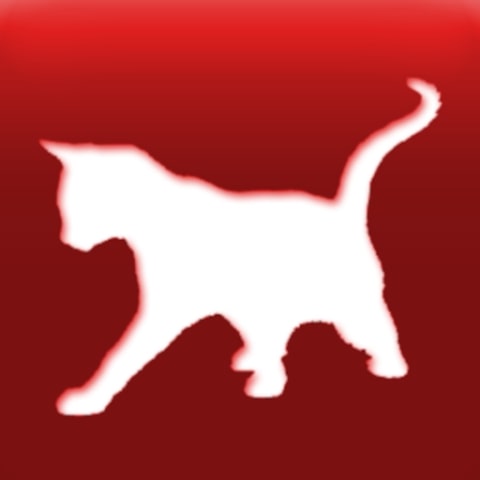 This app is an awesome digital cat expert. To find out what breed your cat belongs to, just upload any photo of your pet.
The image can also be taken from the Internet. The neural network compares the photo with a large number of similar variants and suggests the most probable variant.
Thanks to automatic scanning and a huge database, the risk of error is minimized. To get an accurate result, it is necessary to use realistic photos and pictures. Painted and cartoon cats are not suitable for this purpose.
There are 62 breeds in total. The probability of a correct answer is more than 86%. The neural network was trained on 13 thousand photos of different angles and resolutions. The uploaded photos are also used to train the artificial intelligence.
You can upload any number of photos to test the identifier. You only need 11.12 MB to install the identifier.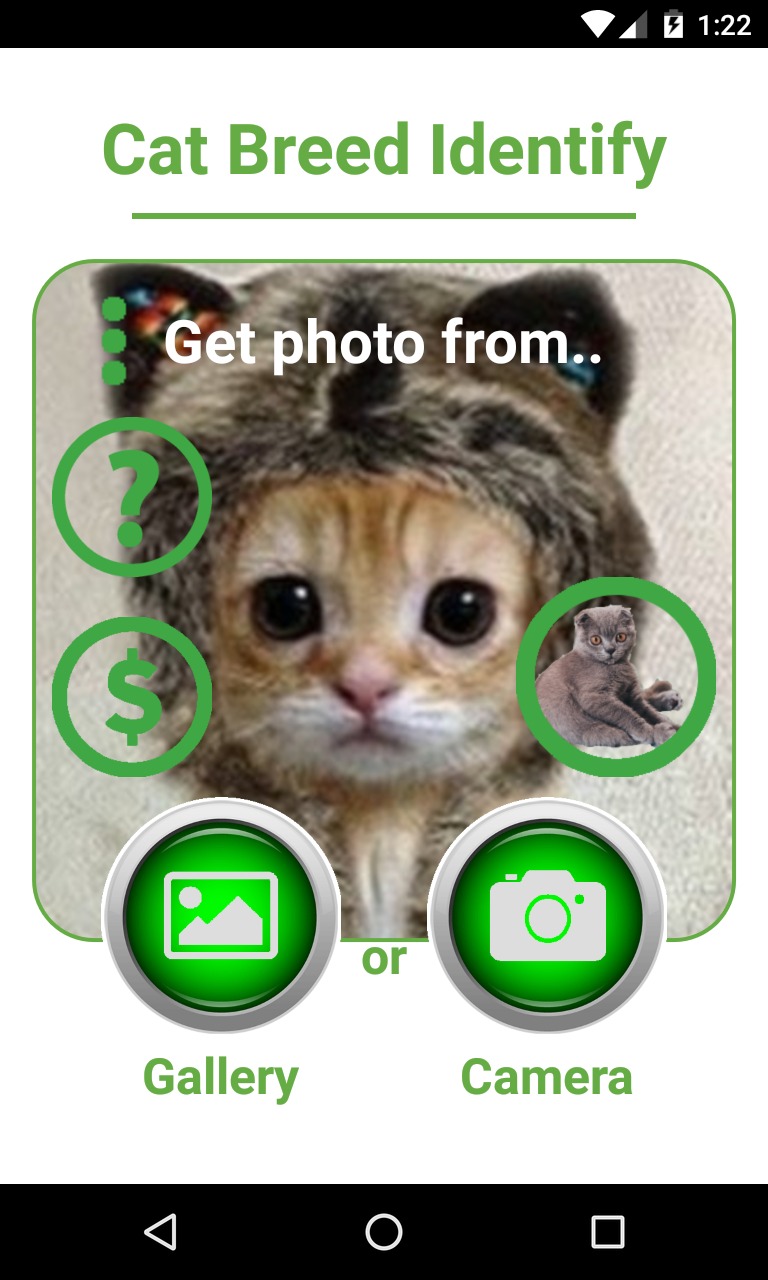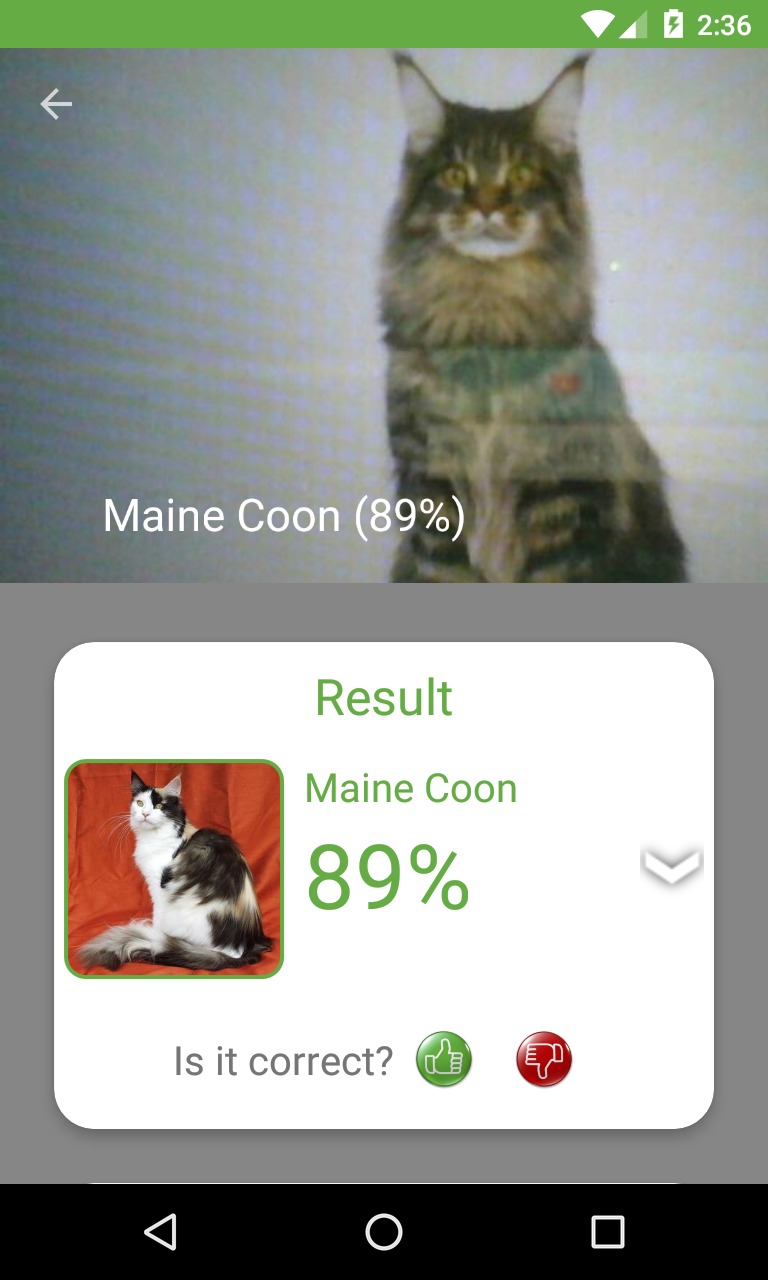 Cat Identifier – Cat Scanner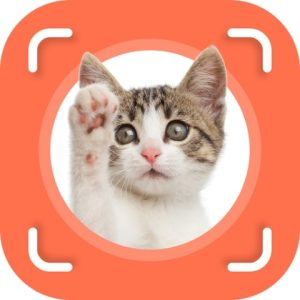 If you were looking for a quick and simple cat identifier for Android, this is a must. Focused on cat recognition, it has no extra options that might distract you. The UI is also cool and minimalist.
Here is what you can do with the help of Cat Scanner:
Recognize the breed

of your cat. To do it, use the camera (don't forget to give the app this permission) or import the image from your gallery.

Learn

additional info about cats

. If you are a cat owner or just going to buy a cat, this is a great option. You can learn about habits, the food you need to give to your pet, and staff like that.

Create a journal

with your favorite cat breeds. It will serve you as

a digital collection

that will always be there with you.
To use the tools listed here, you need to be connected to the Internet.
What is cool, the database of cat breeds is being updated all the time, meaning it is enriched with every single update.
Cat Identifier (with its basic functions) is available on Google Play for free.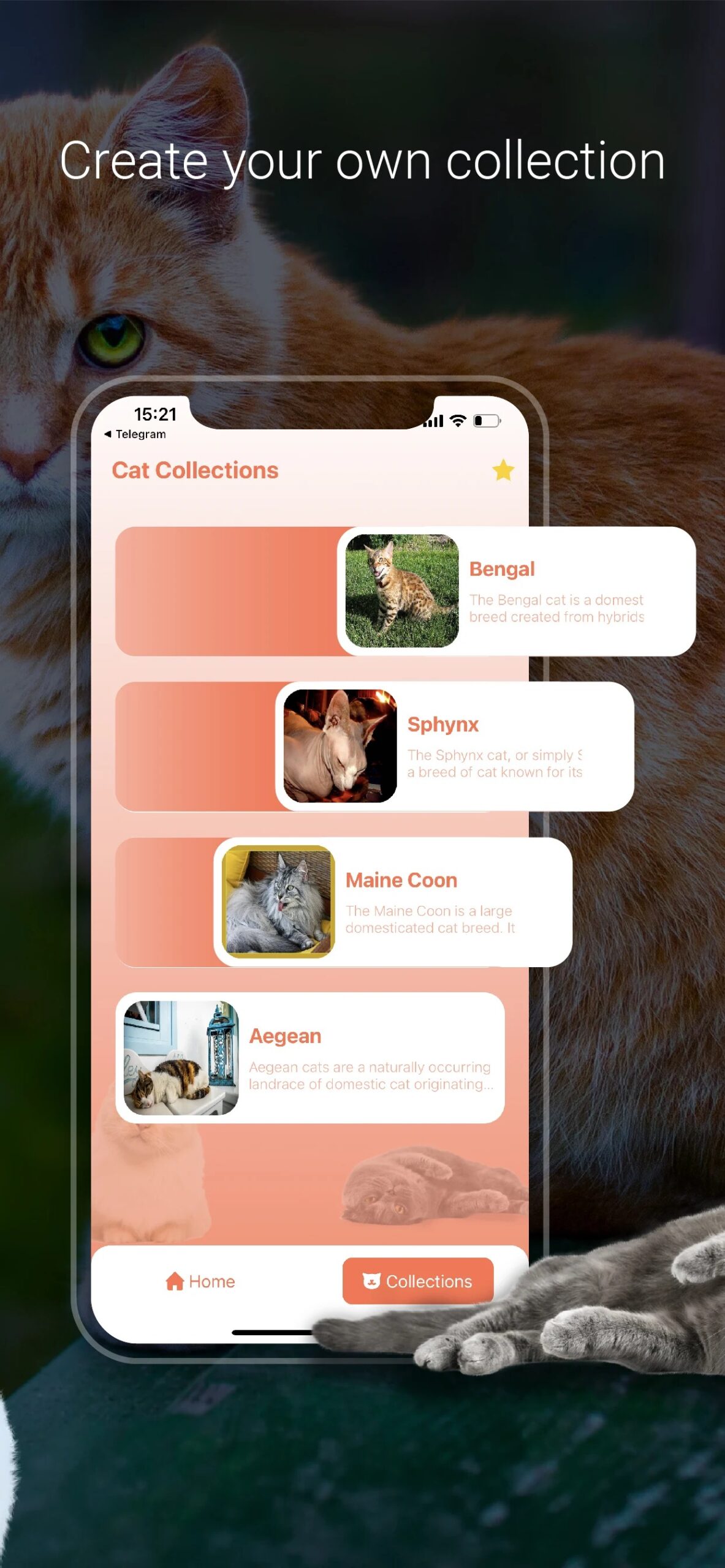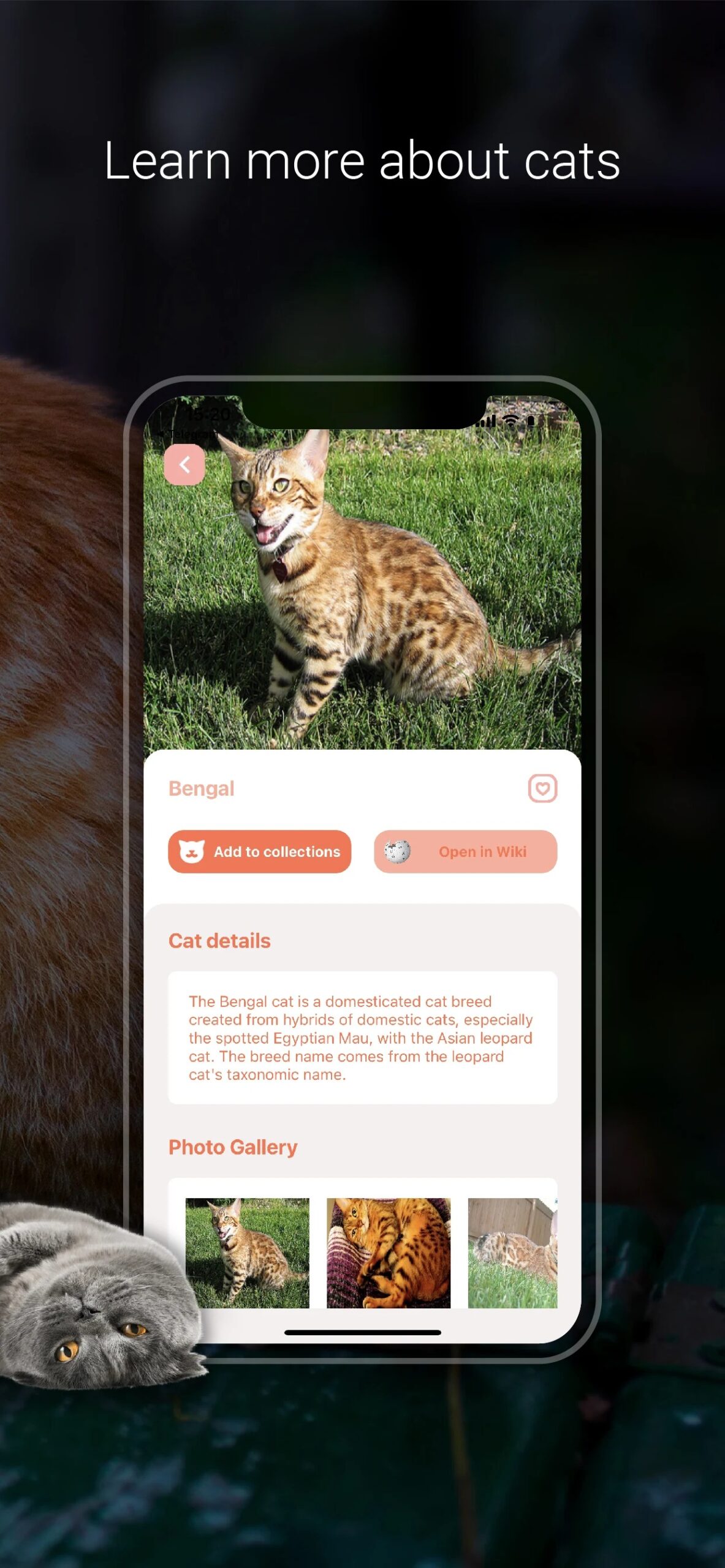 Cat breed identifier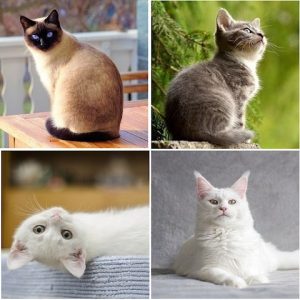 This is a new cat identification app you can try. It has a big database, as well as a nice and friendly UI.
The best thing about the app is that it has only one option – cat breed recognition. No extra options at all!
How can you recognize your cat's breed? There are two options:
Take a photo from the application

. This is the fastest way of recognition.

Upload a picture

from your gallery. If you already have a photo or you need to identify a cat you have seen on the Internet, this is the best option.
What is more, you can get more info by clicking on a link that will lead you to a site on the Internet.
All the options you will explore are free of charge. Get the app now on Google Play.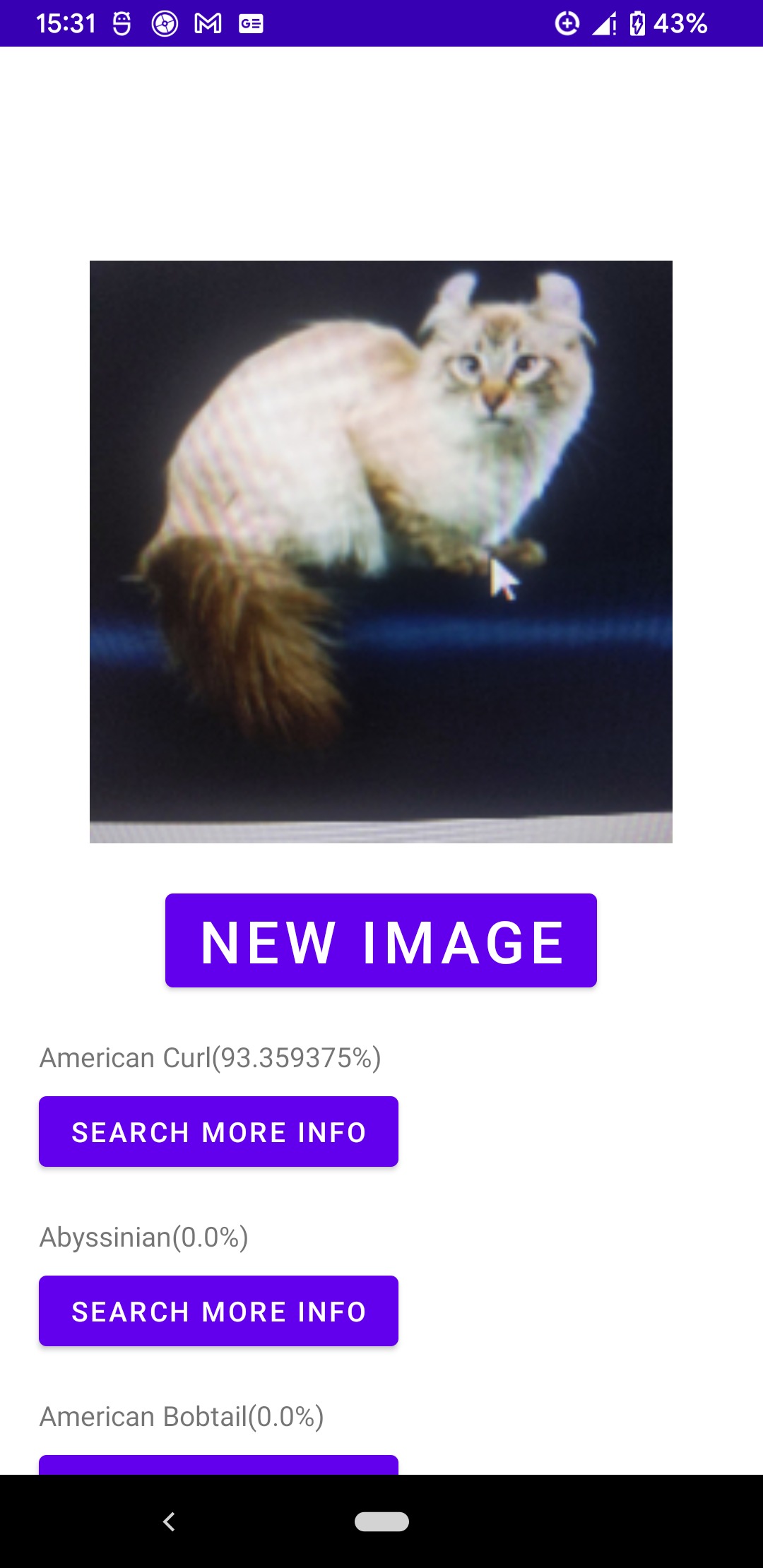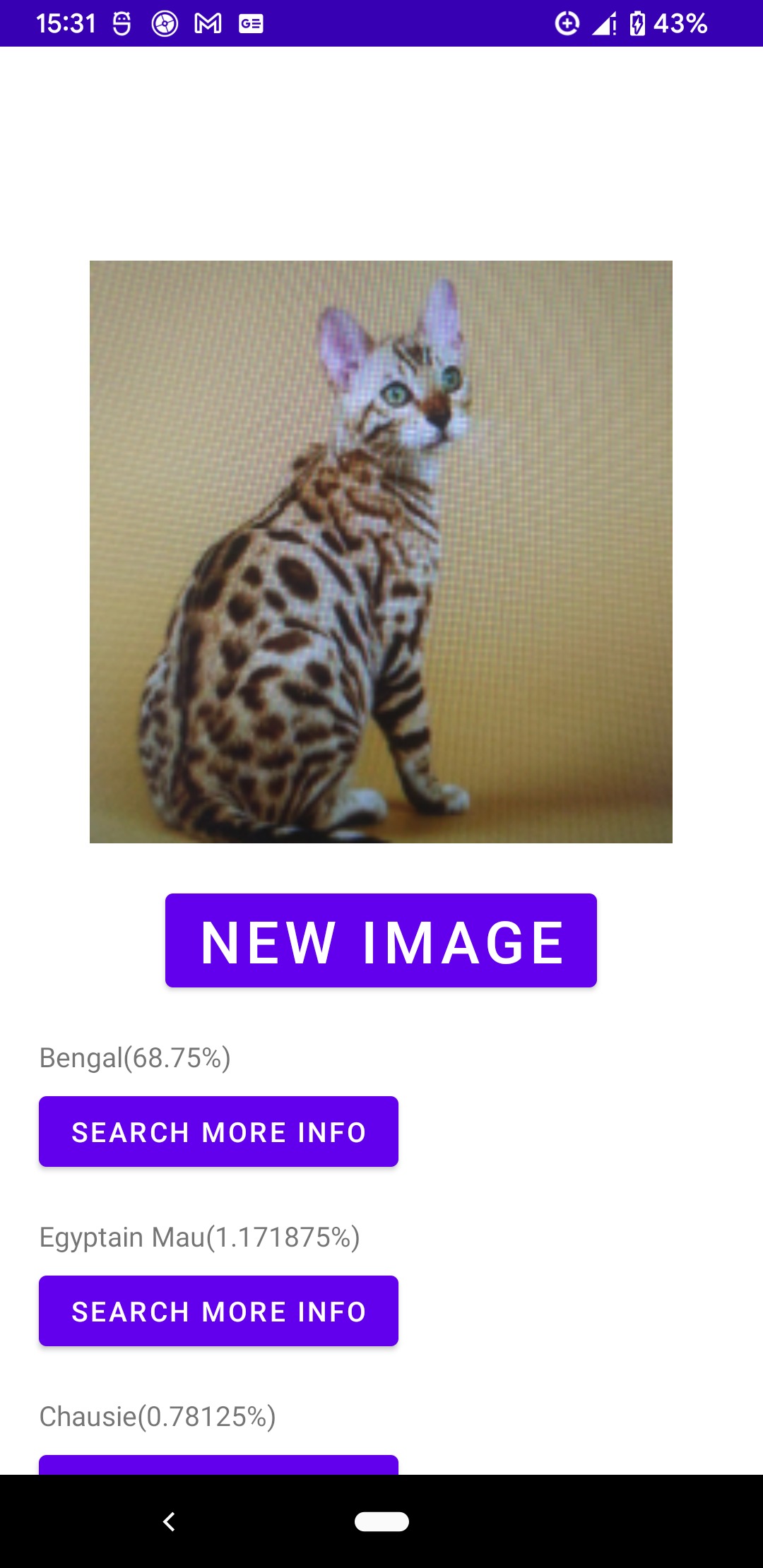 You may also like: 7 Best Bird Identification Apps
Cats Pedia: Breed identifier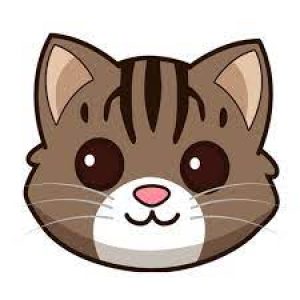 Here comes a great app for iOS users who have cats and need to identify their breed. It works fast and accurately so you can fully rely on the results.
How does the app work? It is simple, let's take a look at the most famous options:
Explore the breed cards

. Each card contains a short description of a breed, its main traces of character, the food it can eat, as well as many other interesting facts.

All the content is divided into sections

. For instance, if you know for sure that the cat's breed belongs to England, choose this section and save your time.

If you have some ideas about what the name of the breed might be, feel free to

use the search line

. It works just like a browser.
Another nice thing is that you will need about 30 MB of memory to install and use the app.
Please note the app will collect some data about you, such as your location, usage data, identifiers, and some other things. It will be used to track you.
Cats Pedia is free of charge. You can get it now on the App Store.