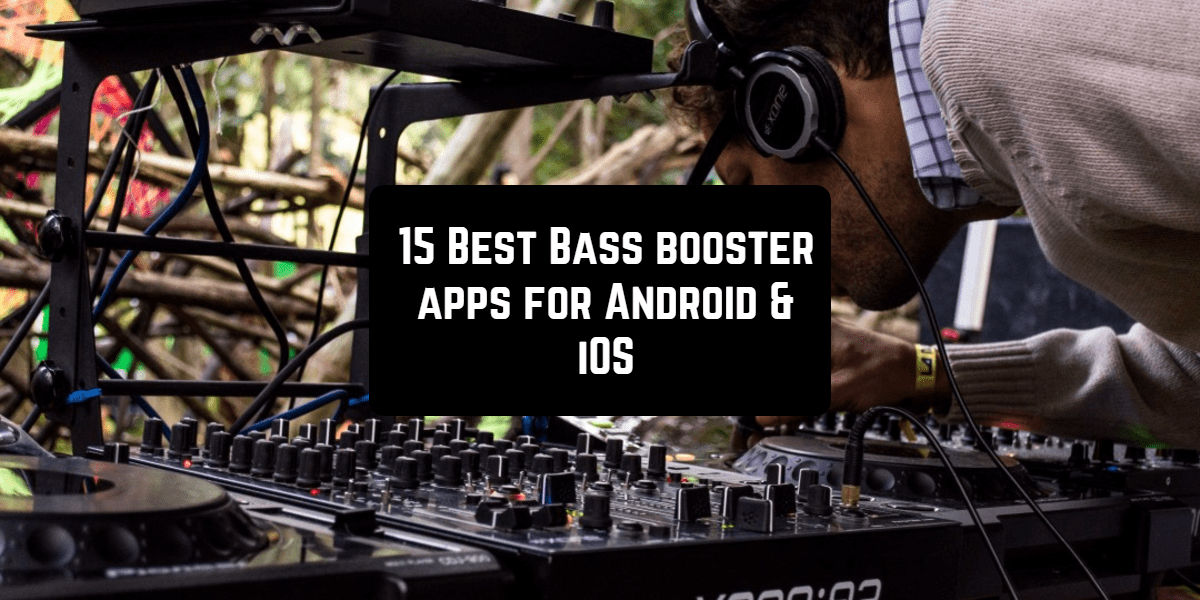 Though music is an inseparable part of our entertainment lives today, the quality of it stays questionable. Not everyone can listen to music using streaming services or iTunes, so they don't always get high-quality sound. And, on the opposite, those who download their tracks from official stores wish their sound had more color and expression. Especially if you are throwing a party you need a tool which would make the bass pop.
Here we have 15 best bass booster app which will make you chill as soon as you listen to a song with them.
Bass Booster
This is a multi-tasking bass booster which will create any kind of a sound you want. If you feel that your music sounds not in the way you would like it to sound then you need to try it. When you will start using it you'll be surprised how powerful it is, and that it suits all the music lovers out there. It has the 5-level equalizer, it includes 20 sets in advance.
You can choose the setting in the way you like, the app also has a widget, a plugin for tasks, virtualizer. It can be applied to every music genre, such as pop, rock, country, techno, EDC, Latina, jazz and others. Along with that, you will discover a number of useful functions, which will give you an opportunity to upgrade the sound to the next level.
You can regulate the frequency of the sound, the deep sounds, even separate instruments. The app also has 4 styles of themes.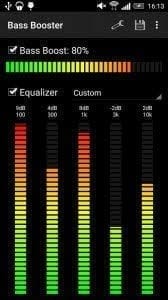 back to menu ↑
Bass Booster – Volume Power Amp and mp3 Music Play
Bass Booster will amplify your bass at a maximum and provide you with a better sound quality wherever you are! With this app, you can just pick up a track from your iTunes library and play it with all the settings and benefits which this app brings to your music.
If you want to adjust the bass level you can click on the speaker's icon. You will notice the difference immediately after you did it and will get more quality sound, deeper and volumized.
With this app you can listen to the updated music via headphones or speakers – there is no really a big difference. Add some extra effects if you want. Put on headphones and enjoy the best quality music – that is why this app is recommended by many users. You can also change the frequencies of your music. The Dooper effect allows to speed up or slow down the music. The interface is intuitive and made to achieve the best quality of sound in any case.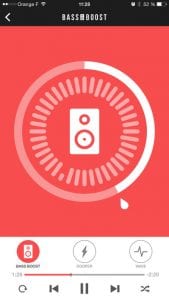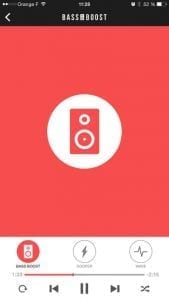 back to menu ↑
Equalizer & Bass Booster
This equalizer can elevate the frequencies of your music player and lower the bass in order to achieve the 3D sound effect. You will hear that now your device sounds just perfect. Still, the sound effects are better when you are wearing headphones. This works even for the video files, not only for the music. All you have to do is to open a video and tap "to adjust the volume" and let your player work at the inner interface.
The equalizer has 5 levels of frequencies and it has 10 functions for its setting. Plus here you will find 4 fantastic specters of frequencies. The app has 4 different widgets on the main screen.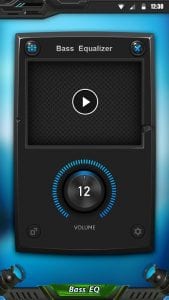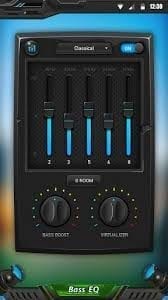 back to menu ↑
Equalizer Fx: Bass Booster App
Are you tired of hearing the low-quality music? Has your phone weak sensors to play high-quality music? Well, here is the solution. Apply equalizer presets based on music genre, or quickly create your own custom preset with the 5 band equalizer controller.
The app includes such features as repeat and shuffle. There is a chance to play the music in the background (in modern devices this is a necessary function). Moreover, you can control the playback even from the lock screen. You can create and manage your own playlists. Add bass boost effect or virtualizer effect and you will experience the new world of a track.
The app includes the following types of settings: Acoustic, Bass Booster, Bass Reducer, Flat, Classical, Hip Hop, Rock, Latin, Pop, and many others. The stylish and bright interface will enhance your impression from this app and from its operating. Here you can listen to music from the various sources, including iCloud and iTunes.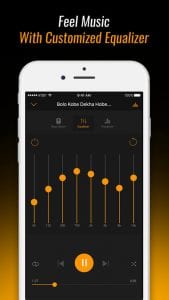 back to menu ↑
Volume Booster and Bass Booster
Upgrade the music on your phone to the maximum with this app. It will help to unleash all the effects and sounds of your tracks which you have never heard before. There are 3 different modes that you can choose from: Music, System, and Alarm.
There is also a banner which allows to stop and play music and also set the timer. However, keep in mind that this app is quite heavy comparing it to other apps like this. If you think your device has only limited sound possibilities, this booster will turn your world upside down. It will increase any sound and volume.
And this is applying not only to the music. If you are watching videos or playing video games you can co-launch Volume Booster along with other apps and the latter will enhance the sound system for it. There are also "hot" buttons supported for a quick start of the app. As always, you will find an equalizer which will help you to improve the volume and get more decent sound from the speakers.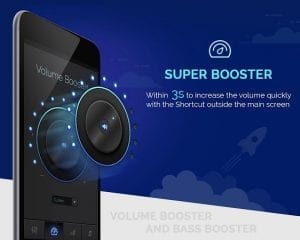 back to menu ↑
Equalizer+ Bass booster
Equalizer+ is an all-in-one music player – equalizer – bass booster that offers brilliant sound quality, automatically optimized depending on the headphones used. Now you can play music from anywhere –  iTunes, Google Drive, and Dropbox, even when you have no Internet! The main goal of this app is to help you to get the best sound from your device.
With this app you can be creative and achieve the most power of your music, you can mix, edit and customize the sound of your tracks to ensure an optimal music listening experience. We all know situations when a track has low-quality bass or other frequencies don't sound how they supposed to.
You can add more depth to your tracks, compile playlists like Dj, watch your sound pulse to the beat of the music. With this app, you will really feel like you are in total control of the sound! All the tracks that you have in your iTunes will automatically be synchronized with the Equalizer +. The app has 7-band equalizer to tailor your songs according to your tastes. Also, there are 10 equalizer presets which are based on music genres and work according to those. After you have edited a track you can save changes to your library.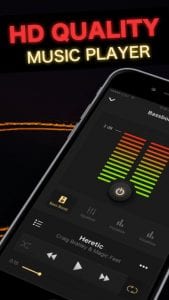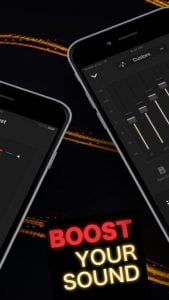 back to menu ↑
jetAudio HD Music Player
This is one of the most popular apps which allow to upgrade your music and boost the bass. It can read all the types of files, such as .wav, .mp3, .ogg, .flac, .m4a, .mpc, .tta, .wv, .ape, .mod, .spx, .opus, .wma*, .mid, which is really beneficial for Android platforms. What is more, jetAudio has high-quality sound and offers special effects, such as stereo base extension, reverb, and low-frequencies boost. In addition to that, the app suggests 32 modes for the equalizer, which will help its users to achieve any type of sound they want.
For those who want to create something really specific, there are 10 and 20-leveled graphic equalizers and also additional option such as speed controller or gradient transistor. The program has AM3D Audio Enhancer, pitch shifter, 14 widgets, last.FM link, extended memory for notifications and MIDI support.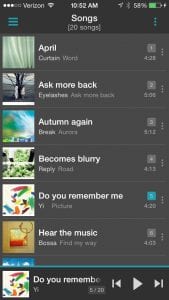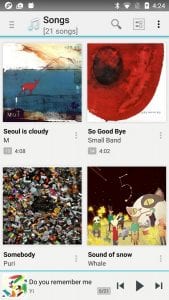 back to menu ↑
Equalizer + Bass Booster and Audio Visualizer
This app is claimed to be a new generation of boosters that will significantly improve the sound of your music. All you have to do is to choose a track from your iTunes library, SoundCloud or Spotify account and you can upgrade it and enjoy the sound.
In this app, you will find such options as a bass booster, vocal booster, treble booster, bass reducer, small speakers, spoken world, tools for acoustic, classical, dance, deep, electronic, Hip-Hop, jazz, Latin, loudness, lounge, piano, pop, R&B and rock music genres. The app also has a very nice interface that itself only is worth your attention.
You can also find out the most popular tracks at the moment as a bonus in this app. It is also possible to optimize tracks automatically because the app can recognize the type of music and its flaws and fix it in its smart function.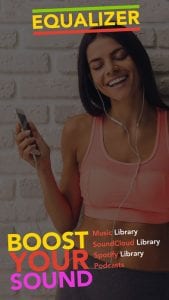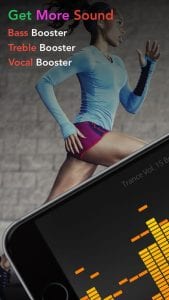 back to menu ↑
Subwoofer Bass Booster
This is a cool app which will allow you to control the power of the bass on your device. All you have to do is just to tap on the screen, regulate the volume and enjoy deeper and better bass. In order to achieve a more impressive effect, plug into the speakers or headphones.
However, keep in mind that before using Subwoofer Bass Booster you need to turn off all the equalizer apps working on your device. Otherwise, this app will not work. In general, this app will be a perfect match for those who want a simple app just boosting the bass and nothing extra.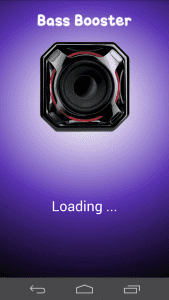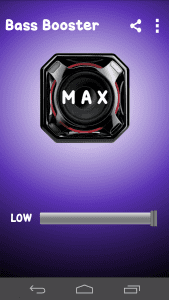 back to menu ↑
n7player Music Player
n7player is a supreme music player with an innovative user interface and powerful audio processing. Besides the main settings of sounds and track correcting, it will sort your music according to tags, album covers or other information which it contains. The app has the function of the quick access to the music playing at the moment, so you are always in total control of this music player. The dynamic equalizer significantly improves sound experience.
This app will be a perfect match for any kind of user – from a beginner with its simple and convenient options, to a pro, with its cool and outstanding effect and possibilities to upgrade music.
It can play any type of format so you can forget the times when you had to adjust the song to your phone. It has 10-band Equalizer with Preamp, lots of built-in preset and ability to add an unlimited number of custom ones. bass and treble control will give you a chance to pump the bass insanely and hear the full power of a track. You can also create your playlists in the app. The interface can be also controlled with the gestures.
back to menu ↑
Bass Booster
Another app for Android which will give you a chance to turn up your bass to the highest level! Just tap on the power button, set Bass level slider and enjoy clearer and stronger Bass. As always, if you want to achieve the better sound you should plug into speakers or turn on headphones.
What this app does is that it increases the low frequencies of your Android equalizer. However, keep in mind that if other music app work at the same time as this one, the app will not work. You need to turn everything down before launching.
In general, this app is not for those who want to turn their gadgets into Dj's improvised studios – it is mainly simple, but it weights less and made specifically for the cases when all you need to do is only boost the bass.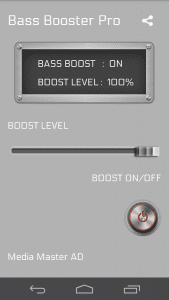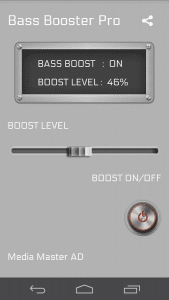 back to menu ↑
Boom: Music Player & Equalizer
For those people who are still looking for their perfect bass booster and equalizer, this app may become a final solution. Don't be greedy and let your ears enjoy all the effects of 3D sounds using Boom. It's no secret nowadays that most of the young (and not really) people adore music and listen to it every day, everywhere. And this process now is unimaginable without the decent music player which could play all the sounds properly. Many users of this app respond that it really unleashes all the depth and power of tracks and literally transfers you to another world, the world of perfect music.
It allows every subtle note of your favorite tracks to express itself vividly and give you a realistic feel — just like you'd hear them in a concert. Moreover, you are in total control of your equalizer and your music libraries. There should be no end to your music and so we enable you to access your music not only from the phone's library but also from Dropbox and Google Drive. You can even download tracks to store on your phone and enjoy at will.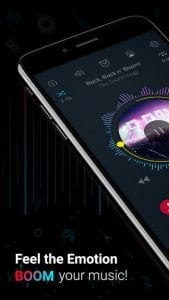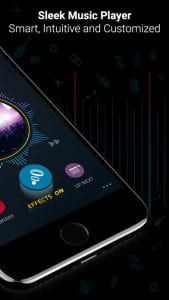 back to menu ↑
KaiserTone Audio Player +HiRes
For those of you who like to enjoy the clear sound, you should take a closer look at the KaiserTone app. The developers promise you the highest quality of sound, obtained with the help of Sound Engine AQS-XI.
One of its main characteristics is the creation of surround sound, noise reduction, crossfader, as well as a convenient dynamic equalizer. Now your favorite music will sound only in the highest quality.
A total of 5 types of EQ are supported. You can choose any of them – the one that will be most convenient and clear. KaiserTone has a melody spectrum analyzer, so you can adjust the stability and stereo decomposition of tracks. Each type of equalizer is designed for a certain level of users, and there are also automatically preset settings.
Tracks and music are played from your personal iTunes library. You can choose a genre, artist, or create your own playlist or queue up songs for your enjoyment.
Customize the look of the app for yourself. Choose a theme and color palette, which will also affect the appearance of the equalizer and histograms. KaiserTone will make your favorite tracks sound even better and take them to the next level.

back to menu ↑
Denon Audio
Designed to enhance the listening experience with Denon's new line of Music Mania headphones, the Denon Audio app is designed for the on-the-go audiophile. This is the premium audion player that will provide luxe sound to your ears. You can listen to your favorite songs from your library or listen to the radio. You will also find here the graphical equalizer that will syncronize to your iTunes library. There is a chance to choose from 1000 possible discrete bands and explore 10 built-in EQ Presets.
Unlike the other players, it reduces spacial distortion so you can have the clear sound. You can always see how the app interacts with the frequencies since there is a real-time spectrum analyzer.  The Denon Audio app features a customizable graphical equalizer that allows you to create your own sound by directly manipulating more than 1000 discrete bands of equalization without adding spatial distortion or decreasing sound quality. Pump up the bass, restore those highs, and start jamming!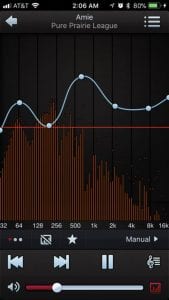 back to menu ↑
Dub music player
If you are tired of music players and want something multi-functional, yet simple, with crystal music and beautiful graphics and effects then you need this app. This is a new generation player, packed with powerful options and possibilities. Its equalizer will let you enjoy your favorite sounds and songs anywhere at any time.
It allows you to regulate the volume with its 5 level equalizer. it supports such music types as MP3, WAV, AAC, FLAC, 3GP, OGG, MIDI, and others. There is a technology of audio decoding, which will make the bass boost and the whole sound will become brighter. In general, you will get the full 3D sound effect with this app.