Drawing was interesting to people at all times. People visited exhibitions, drew themselves, bought portraits from artists. Nowadays, drawings began to take on special features. For example, if earlier cartoonists had to draw every frame on paper, today it can be accelerated and created with the help of technology.
Perhaps you are also interested and would like to try to do animation. But if you do not do it professionally, but also want to join the world of art, then you will come to the aid of an ordinary tablet.
Buying an easel, paints and brushes will leave a strong imprint on your budget and welfare. Also today there are many brands of graphic tablets, which are designed exclusively for creativity, animation, sketches and even drawings. But still the purchase of new equipment – it is expensive enough and it is possible that you can not afford to purchase a quality graphics tablet.
However, many people are now happy owners of iPads, which at first glance, are quite suitable for the role of a virtual easel. In order to make it easier for you to work, as well as to adapt to the new way of drawing and creating characters, we have selected for you the most convenient and modern applications. In total, we found 11 best apps that are perfect for animation on iPad.
Animation Creator HD
Price in App Store: $3.99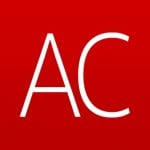 Exploring the different application tops in the App Store, in the entertainment category you may come across Animation Creator HD right away. This is one of the best paid applications that you can buy for drawing and animation. It is ideal for those who choose to draw, but do not yet have enough skills or talent.
In fact, Animation Creator has the simplest, yet most classic and powerful tools for drawing and storytelling. Plus, you can feel like a real director or editor – adjust everything from the sequence of frames to the frequency.
Not only can you create comic book or cartoon-style pictures, but you can also create real pictures in the style of painting and portraiture. You can then view the entire process of creating an image – both in reverse and in fast motion.
As you can already understand from the title, the images and animations created in Animation Creator are characterized by high resolution. The developers give you complete freedom, unlimited possibilities of animation and frame creation.
Drawing tools, as we have already said, are the simplest – brushes, aerosols and even a pencil for sketch or outline mode. The result can be exported to the gallery or sent via email or social media.
Also, Animation Creator works with Cineverse, a special platform where people can share their creative results and be inspired. The main thing is that your creation will be seen as soon as you finish your animation!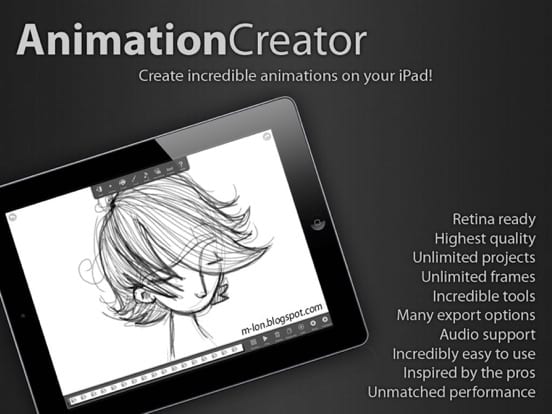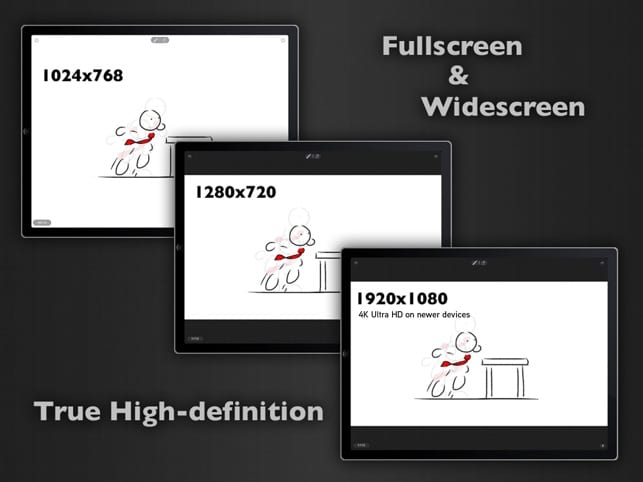 Animation Desk Classic
Price in App Store: $4.99
By drawing the elements manually, you become attached to the characters and everything you display in the animation itself. In Animation Desk Classic (note this very detail in the title), you can create a dynamic image or a whole video from your own drawing. You can create a real work of art – just believe in yourself and get started!
The app provides you with a set of the best and most convenient drawing tools. You can always find additional tools in the special tab, as well as directly from the widget move to other developer products. In general, Animation Desk Classic supports 3 levels of work with a picture, and also can copy and paste the elements you need. Also available are stickers, text and captions over the entire video order or in specific frames.
You can preview your project and decide if it is perfect enough. If you are satisfied with the result, you will be able to convert the record to PDF format, for example, as well as send it to social networks. There is also a special AniZone community that brings together enthusiasts working in Animation Desk Classic. So apart from the usual art, you will also be able to get to know a lot of creative people!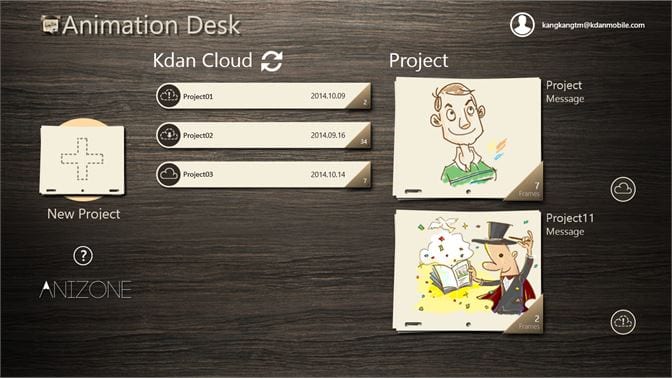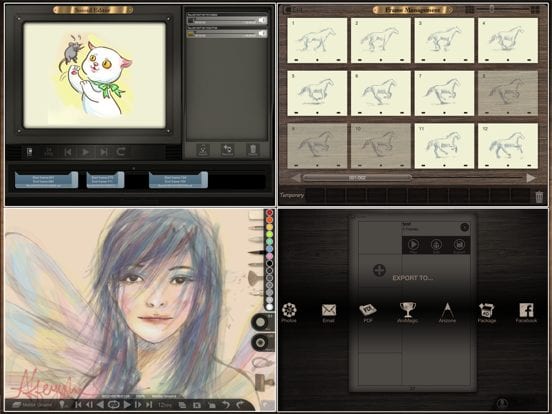 You may also like: 12 Best animation apps for Android & iOS
Animation Desk
Price in the App Store: free, with a subscription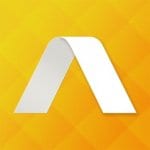 Unlike the Classic version, Animation Desk has even more functionality and capabilities. Because the application provides a paid subscription, you decide what features you need. You can import and export the result in various formats, as well as immediately send them to your other Apple devices.
You can work on 9 layers – it's much more convenient to develop a common frame plan, as well as make minor changes to the result. You have a huge number of tools at your disposal, including copying, about 50 brushes, as well as smart processing of image layers. Animation Desk supports Apple Pencil, Wacom and Adonit styluses for easy drawing. So you can choose the most convenient option.
For yourself in the project you can leave comments and notes for each frame. Of course, no one forces you to make a full-fledged cartoon at once. The application allows you to create simple GIF-animations. If you do decide to create a movie, you can add music or other sound effects to it.
Keep in mind that the functions in the app are divided by status. It is recommended to read them carefully after installation. Of course, there are some tools in the free version, but you may want to do the animation more professionally and you will need more complex details and tools to work with.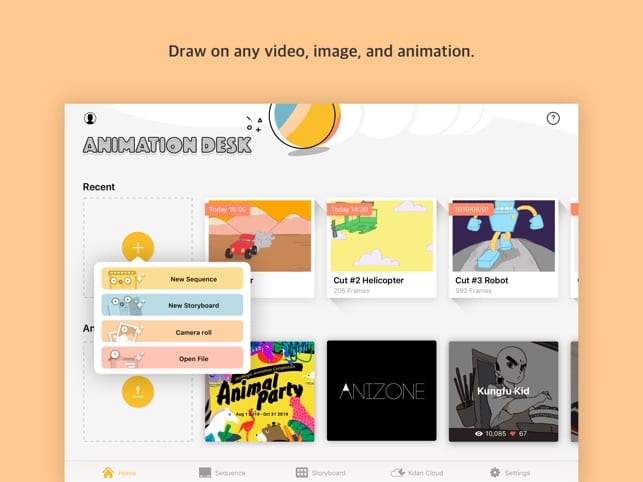 Animation & Drawing by Do Ink
Price in App Store: $4.99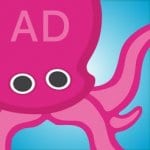 Vector graphics is one of the most popular trends in the visual arts, as well as in the creation of drawings and videos virtually. That is, to create a vector drawing you will need a device – for example, a tablet or computer, as well as the desire to draw. Animation & Drawing by Do Ink allows you to work directly with vector graphics, which may immediately interest you.
This is a great option if you want to involve your younger brothers and sisters or children in drawing and tell them about the basics of animation. Firstly, Animation & Drawing by Do Ink is easy to use and does not require any initial skills in drawing. Secondly, despite its simplicity, you have access to some sophisticated animation tools. For more experienced artists there are also more advanced features, but still the application is best suited to those who are just beginning to engage in animation.
Children can easily create their school presentations in Animation & Drawing by Do Ink or design projects and experiments. The flipbook presented in the application will be clear from the first use. You can highlight key frames or drag and drop them at the right moment in the video.
Children will simply work in the application, because it immediately has basic geometric shapes – stars, rectangles, circles, etc. Brush sets allow you to effectively draw by hand, and the eraser will help correct the flaws. For best results, you can work on different layers, scale items, or group them into one item.
Drawings can be saved to projects or rolls on the camera, which can then be easily mailed to other people or finished later. In general, Animation & Drawing by Do Ink is ideal for beginners and students, even according to teachers.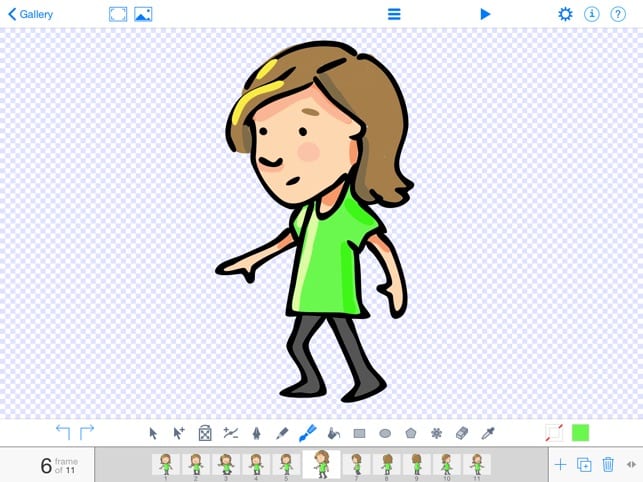 Stick Nodes Pro – Animator
Price in App Store: $2.99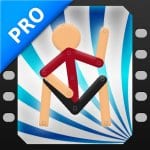 As the name suggests, you're basically working with stickers. Stick Nodes Pro was designed specifically for use on iPad. With the app, you can easily create real clips or even movies from regular stickers, and if you need a quick animation result, GIF animation is at your service. The video is stored in MP4 format, so you can easily play it on any device with a player.
Since the application is paid, you will not need to worry about watermarks, permanent advertising banners and other inconveniences. Add music and sounds, create real cartoons even with color inversion and overall color balance.
With Stick Nodes Pro, you'll be working with a virtual camera that lets you zoom in and out while you're working and changing designs. Even adding text or extracts with replicas can now be created using a standard template.
In addition to the footnotes, there are thousands of other stickers available, which are templates for your drawings. You can also edit these templates in the future, adding something new to them or changing them completely if you like.
Stick Nodes Pro's "business card" is made up of people whose animation is done in the nodes connecting parts of the limbs. The application has a whole community in which artists can share their results. Also, you can watch a huge number of videos on YouTube, which will give you fresh ideas.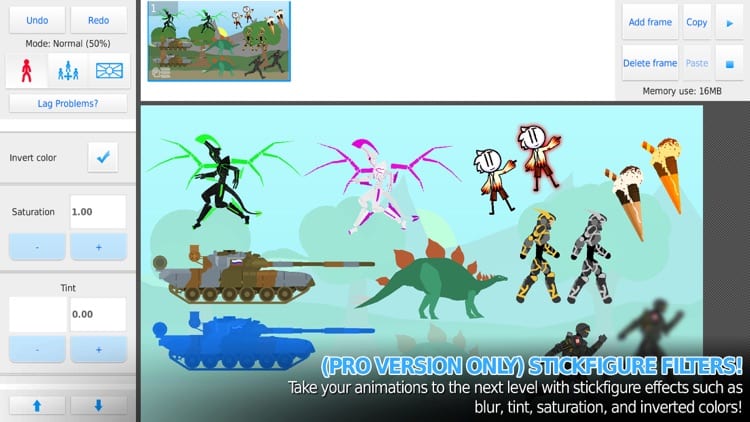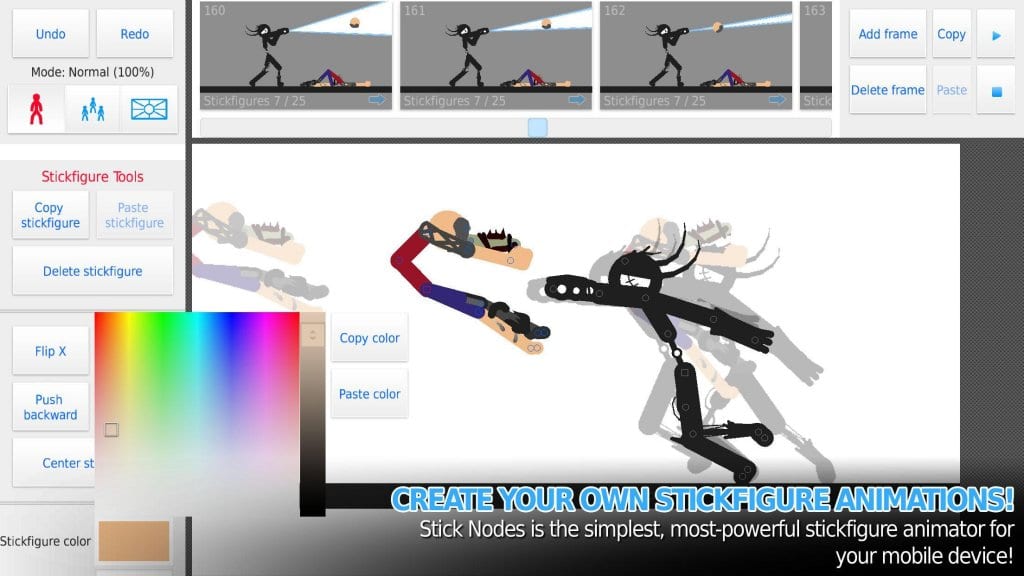 FlipaClip: Cartoon Animation
Price in the App Store: free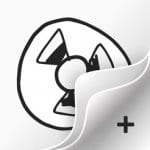 Most often such animation applications have basic standard sizes for work. Usually these resolutions correspond to the resolution of your screen in horizontal or vertical orientation. In FlipaClip you can set your own canvas sizes – up to 1920 at 1920!
You can either touch or draw with Apple Pencil. Use a variety of brushes, shapes, as well as tools to edit them – filling, eraser and so on. By the way, you can no longer worry about the problem of "thick fingers". After an error, you can fix it all with one click and it will not affect the result.
With Pro version you can work in 10 layers of the image at once – though, you should take into account the possibilities of your technique. If you exceed 6 layers, your tablet may begin to slow down or become a bit more difficult to work with.
You may want to make the image more realistic when you create the movies. FlipaClip can handle it! Manufacturers have created a facial skin control feature that will give you a clearer view of facial expressions or features. This feature will also be useful when you're voicing something.
You can add rothoscopes, upload audio and video files yourself. You can send the final result to your friends on TikTok, YouTube or even Twitter. GIF, MP4 and other formats – customize the result and get great animation.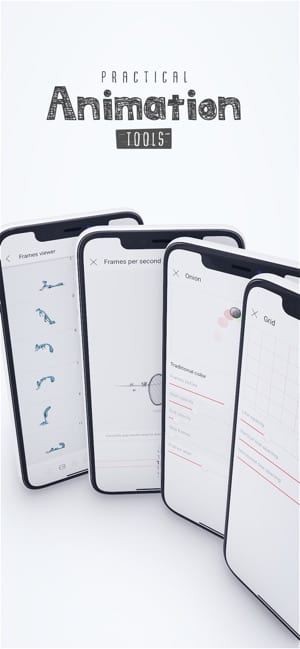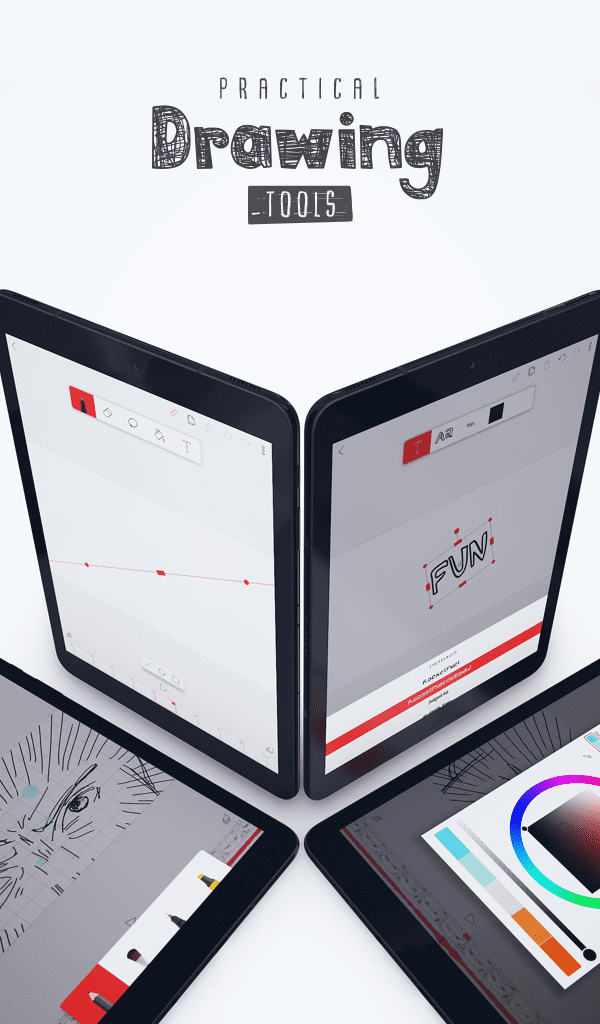 Animation Pro
Price in App Store: $9.99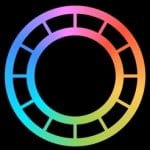 It is impossible to pay attention to professional resources for work. Animation Pro is designed for professionals in animation, who can create complex shapes and combinations of their own, as well as use many tools and effects on one detail. Scaling, deformation, lightening and darkening, as well as many other effects – all of them will help to create a perfect animation with proper skills.
It is the set of features and convenience of work developers determine the price of the application. As you may have noticed, Animation Pro is the most expensive application in our top, but it also has the most advanced functionality.
Using only your iPad, you can create a real multi-frame animation, as well as transfer it from other devices. You can preview your work instantly, so you can see all the problems right away – you might want to add a shadow or download a video as a background image somewhere.
Features aren't just limited to Animation Pro. You can create shapes and details in a number of built-in application services – this may be more convenient for spot work. Change details by color, outline and more.
For those people who are engaged in sounding, it will be interesting to synchronize the lips. Download your own audio, and Animation Pro can help you synchronize your movements in the frame with the sounds.
There are plenty of tools and built-in mechanisms available for you to use. If you're interested in professional animation, this is the best option for you.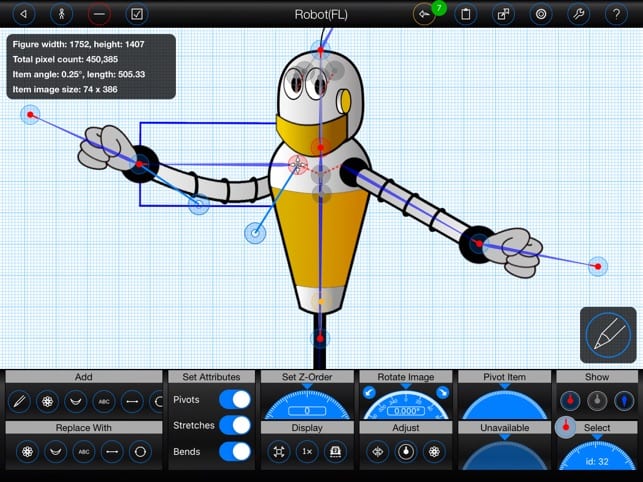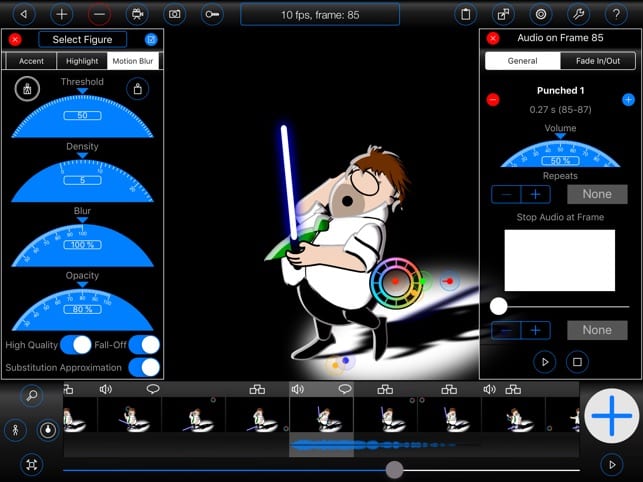 FrameFervor – Animation App
Price in the App Store: free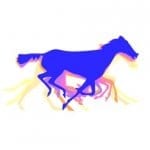 Sometimes we think hard that we need an application. Right now. At this second. In fact, you only need to do an action once, without going into the very essence of the application and its functionality. In this case, FrameFervor will be ideal for you – ease of use, easy understanding of the necessary actions will save you time and effort.
The most interesting and simple thing you can do in the application is to overlay animations, drawings and stickers on top of excerpts from movies or clips. You can create funny GIF-animations with videos you've filmed yourself – with your friends or pets. You'll have the simplest drawing tools at your fingertips – brushes, erasers and stamps.
You can upload your photos as a source file and turn them into GIF-animations. You can draw on canvas with your fingers as well as with a stylus. Of course, the stylus will make the drawing look neater, but in fact, the minimum thickness of the lines is such that you can easily cope without tools.
You can import your projects into different formats or save them in the gallery of the application itself. The main thing that you can receive from FrameFervor is rainbow unicorns. Only for their sake it is possible to already run to install the application at once (a joke, of course, but are there people who do not like unicorns?).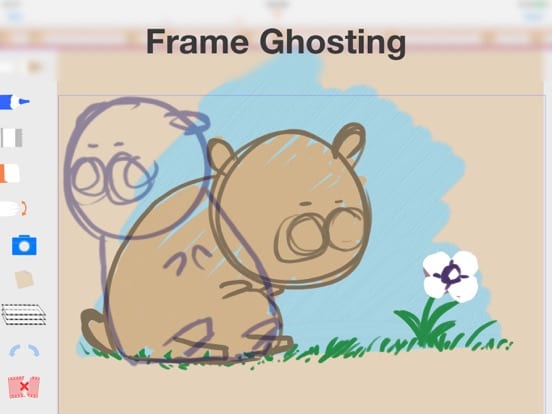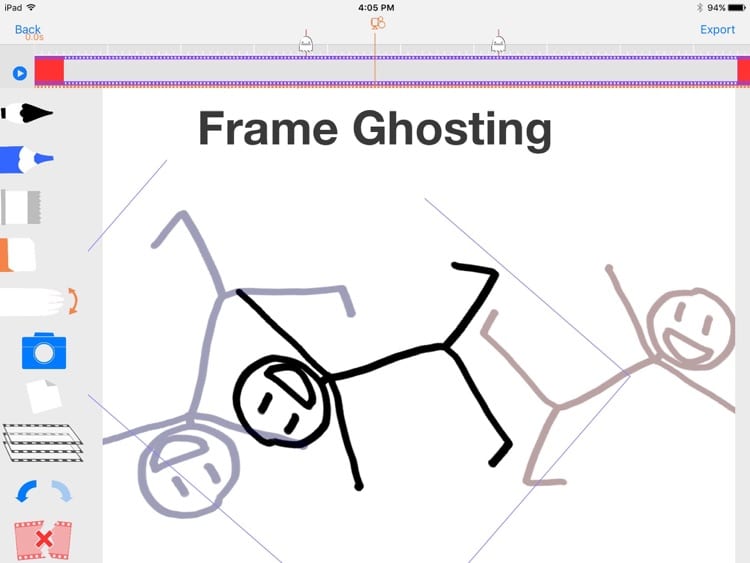 FrameCast – Online Animation Studio, create stop motion animated videos with sound
Price in the App Store: free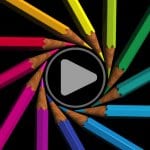 However, if you don't want to do cartoon drawing professionally, or if you don't have a very ambitious goal in mind, then FrameCast is a good way to get to know the process of animation, drawing and tablet work. Like many other creative platforms, FrameCast has its own community of creative people who freely exchange their animations.
In fact, you should be a little more careful when you put your work on display. Remember that there are always toxic people who can speak negatively about your work. You should not take such messages seriously.
Starting to talk specifically about the functionality of FrameCast, it is worth noting the speed of work. If you are used to applications that work instantly and without delays, it may not work for you.
Processing speed is not the best thing about FrameCast. But you can immediately record the sound in it for your animation and immediately adjust its overlay. You can also set up brushes – unlimited choice of colors, a collection of brushes and easy editing of drawn eraser.
Also FrameCast periodically organize contests and flash mobs, in which you can take part. Such events give you a new dose of inspiration and opportunities for further self-realization. Remember, all your success and progress depends only on you!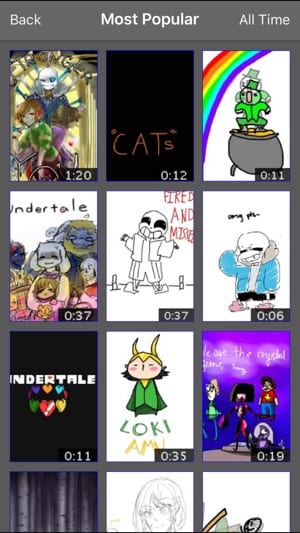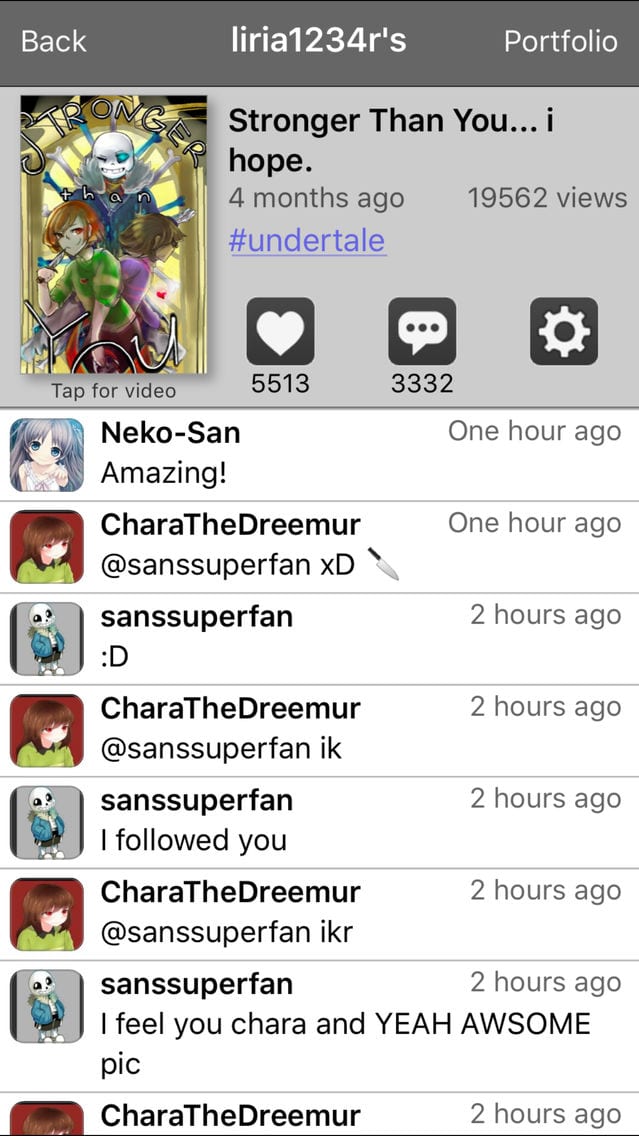 RoughAnimator – animation app
Price in App Store: $4.99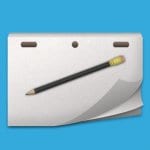 Only people who have worked with animation and drawing themselves can predict what real animators need. That's why RoughAnimator is considered to be one of the best applications for creating images and turning them into real GIFs or videos.
RoughAnimator can be considered powerful enough to work in it at a professional level, as well as simple for beginners. The intuitive interface allows even people far from drawing to quickly understand the functionality and tools of the utility.
Speaking of tools, it is possible to note that there are many of them and most likely, you will find among them all usual brushes. Drawing each frame, you will be able to control their frequency and resolution, as well as frame rate during playback.
You can also import an audio track – for example, to impose a sound for the cartoon and synchronize it with the lips of the character. You can customize the layers of frames as you like, and there are no limits to the number of frames you can set.
You can create pictures with Apple Pencil, Logitech Crayon and other Bluetooth stylus. This is convenient, especially if you're used to drawing with pens, pencils, and brushes in real life. Once you're done, you can import your project into other editors, such as your laptop, and convert it to video or GIF animation immediately. Animate without restrictions and wherever you are!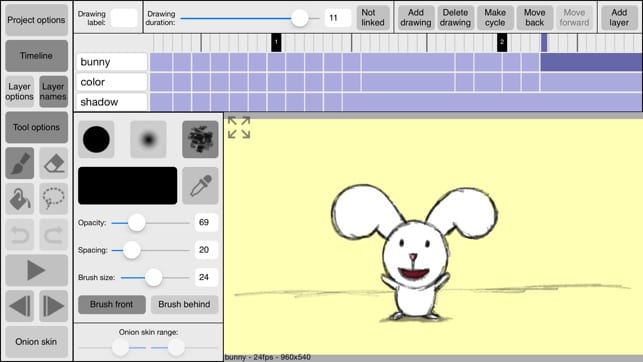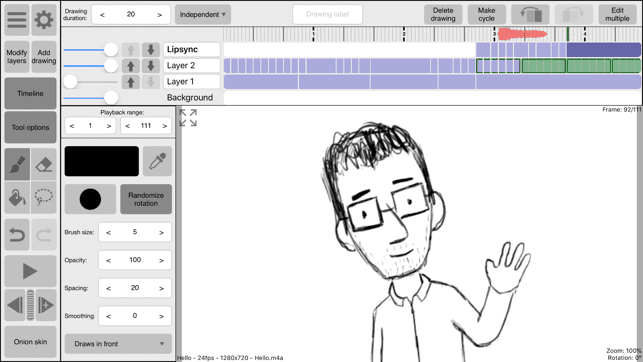 You may also like: Free 15 drawing apps for Android
Animatic by Inkboard
Price in App Store: $9.99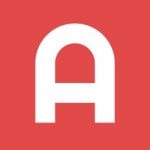 You can pursue different goals by downloading thumbnail and animation apps to your iPad. Perhaps you are a real life artist or illustrator, maybe it's just your hobby. In any case, if you don't like extra design hassle, unnecessary functionality or just like minimalism in the interface, Animatic will be a real find for you.
At first glance, the application does not seem to be anything special, and it is also very similar to the simplest tools for drawing on any platform. But with Animatic you will be able to work with PSDs as well as create them. This means that you can easily continue to work on your computer or make minor corrections already on your iPad. It's also perfect for beginners, as it makes it easy to create a sequence of frames.
This is achieved by ensuring that each subsequent frame has the imprint of the previous one. That is, to create single-frame cartoons, you can easily work with one frame – turning it into another, using only the eraser and brushes.
Editing Animatic frames is very easy. You don't have a limit on the maximum number of frames in your video or cartoon. It's also easy to create a basic Gif animation from a small set of frames. You can also copy already created sequences of frames or single images – you can even loop the animation. Of course, it's best to try Animatic on your own, so you'll appreciate its intuitive design and lack of tools.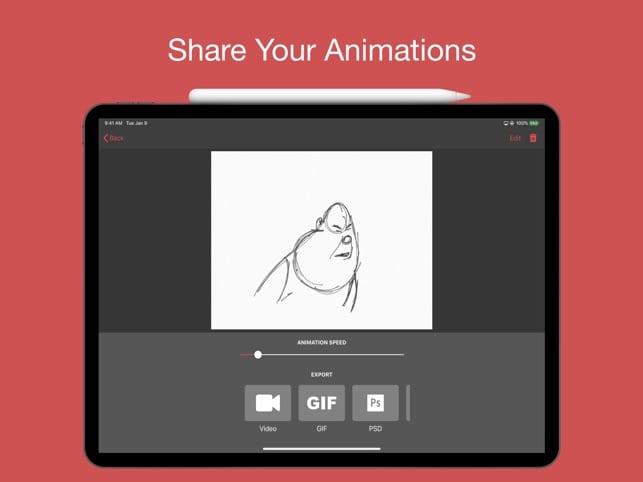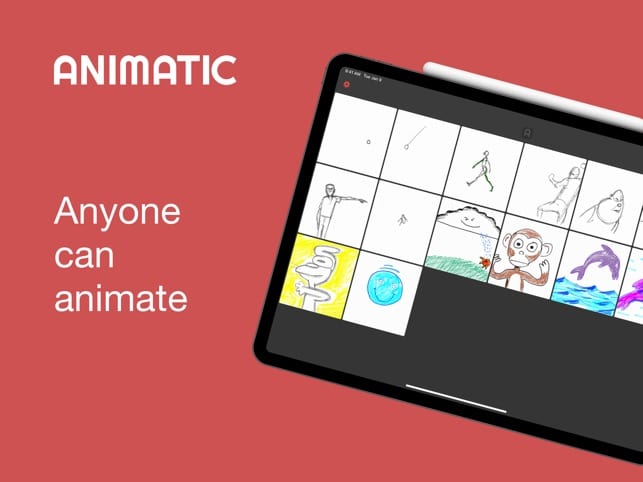 We hope that while reading this article you stopped wanting to try yourself as a real animator. Art can be expressed in absolutely different spheres. With the help of drawing you can throw out your emotions, desires and ideas.
All you have to do is just choose the application that interests you the most, which will be your assistant and companion in the world of animation. Do not hesitate – start right now, we have no doubt that you already have a lot of ideas!