Do you like sending SMS? Well, you probably do if you are reading this article. Sometimes you can hardly keep in mind all the things you have to do. In this case, a good SMS scheduler is a must.
This is why we decided to create such an article.
Here you can find a great number of Android apps, which can remind you to send important SMS on time. In this busy world, you have to manage your time and differentiate between vital things and little details that can be ignored.
By the way, if you want to manage your smartphone well, you should check 11 Best apps to change message background(Android & iOS).
All of the applications are free of charge or they have a trial period. The only thing you need to do is to download the scheduler and let it remember about all of your deadlines instead of you.
Scheduled – Plan text messages
This app is very convenient when users need to send a message, but for some reason, they can only do it in advance.
It is not difficult to start using this app. Just install it on your iPhone, log in and try all the features that the service offers.
It is possible to send messages not only via SMS but also via various social networks or messengers. Users have access to WhatsApp, Telegram, Twitter, and others, including even email.
Scheduled can send a ready-made message itself. All you need is to write a text, add a picture if necessary, and set the time of sending.
Users also can receive notifications that it's time to send messages to friends or colleagues. With this service, users will always be able to stay connected, even when they are busy.
It is essential for business people who always have a lot of work. Need to coordinate dozens of people?
Write all the necessary instructions and relax with your family, and your employees will receive a message at the appointed time and get to work.
Moreover, the service will warn you about upcoming birthdays. So you will never forget to congratulate your loved ones.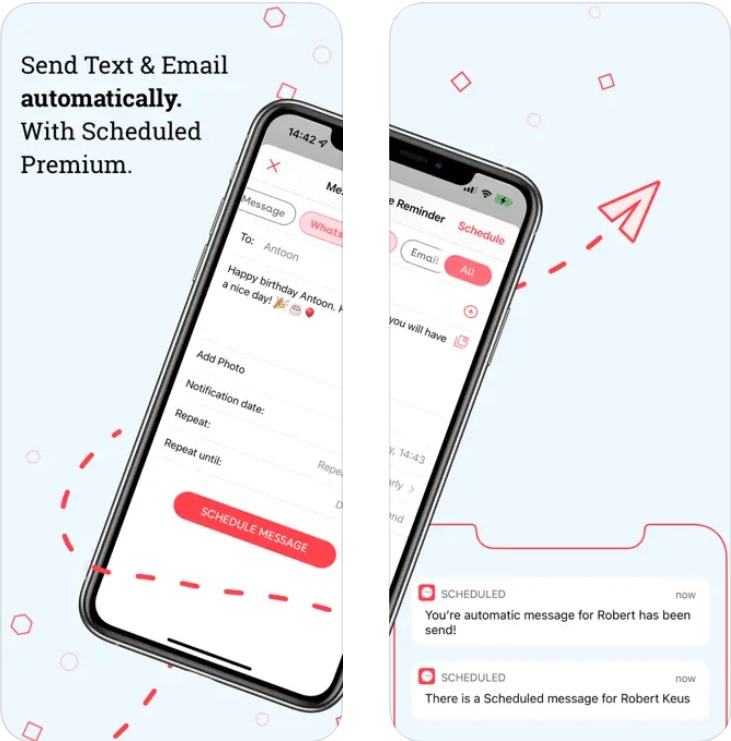 You may also like: 9 Free Auto Post Instagram Apps for Android & iOS
Do It Later
This app will be a perfect tool for those people who are keen on texting or who work in the sphere of marketing, HR, or management.
However, you can use Do It Later for your personal goals, it will be effective as well.
The app can boast of a huge number of cool features:
Automatic answers. Sometimes it is impossible to answer all the messages you have in your mailbox. You don't have to. With such a powerful tool, you can avoid typing typical "thank you" or "see you later" messages. Let the app help you with some routine tasks.
Recurring periods. Not only can you set the exact time in which the text will be sent but you can also create special recurring periods. This option will be great for those who plan to use this app for marketing campaigns.
Smart messages. Auto-reply is not created randomly, this is you who defines how the reply will look. You can create multiple messages for different people.

Incoming call simulator. This is a funny bonus function that can come in handy if you are tired of sitting in the meeting or doing something too boring. This fake call can be a good reason to leave the meeting and do what appeals to you most.

Voice Reminder. That's a good and smart option that can also be useful at times.
These are only basic features. You can see all of them on the official website of the Do It Later app.
There is plenty of positive comments from users.
There are some ads that keep the content free for you. However, they are not too frequent to appear.
The application is free of charge, the only thing you need to do is to download it and create an account.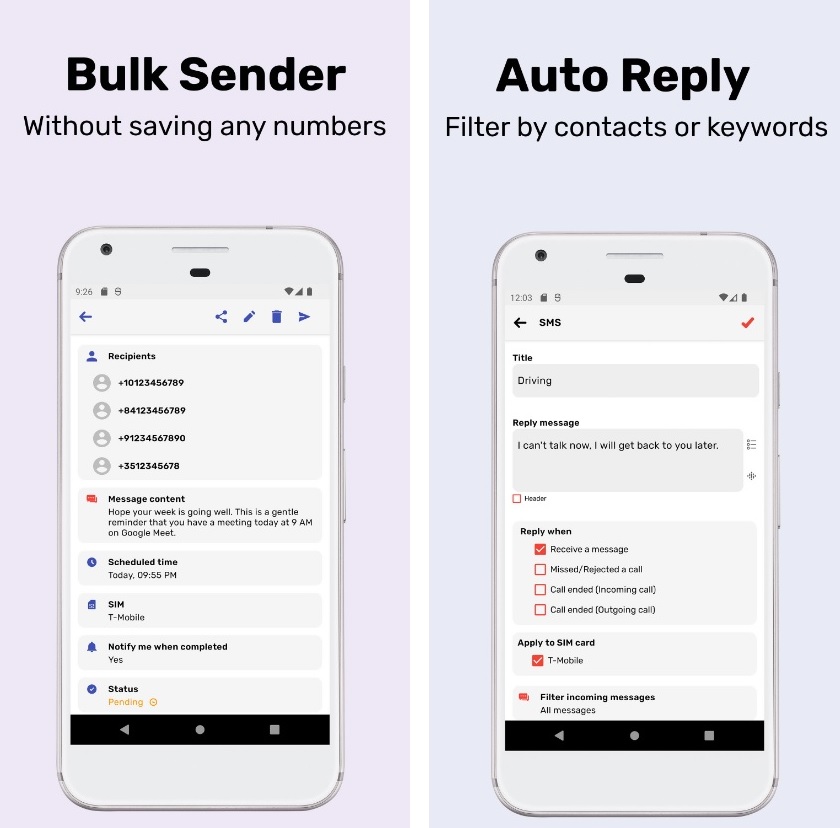 Textra SMS
If you are looking for a simple and fast Android SMS scheduling app, this one will be a perfect tool.
Textra SMS is famous for its easy-to-use interface and a big set of functions that will save you hours of your precious time.
First of all, the Textra SMS application has scheduled SMS and MMS. You can set your own timetable and schedule. You can also define, which text will be sent.
What is more, the app is very customizable. In other words, you can set many things, such as:
Design theme. It can be an image or a color that appeals to you.
21 different fonts. It will make your texts outstanding.
Quick SMS reply. You can answer to important messages at a click of a button, or by using your voice. The most important thing is to save your time.
Sounds. You can customize even little details.
Another cool option is message blocker. It is a powerful tool that will keep unpleasant people away from you. The best thing is that the blocked people will never know that they got blocked – the only thing they will see is that their message are not read.
The app is free of charge. You don't need to pay, as all the basic features are available right after the download.
The only disadvantage is a huge number of ads. You will have to put up with this if you want to avoid paying money. If you find the ads too irritating, you can always go premium and get rid of them.
Textra SMS is a powerful tool that will help you manage your time. Download the app and check it yourself!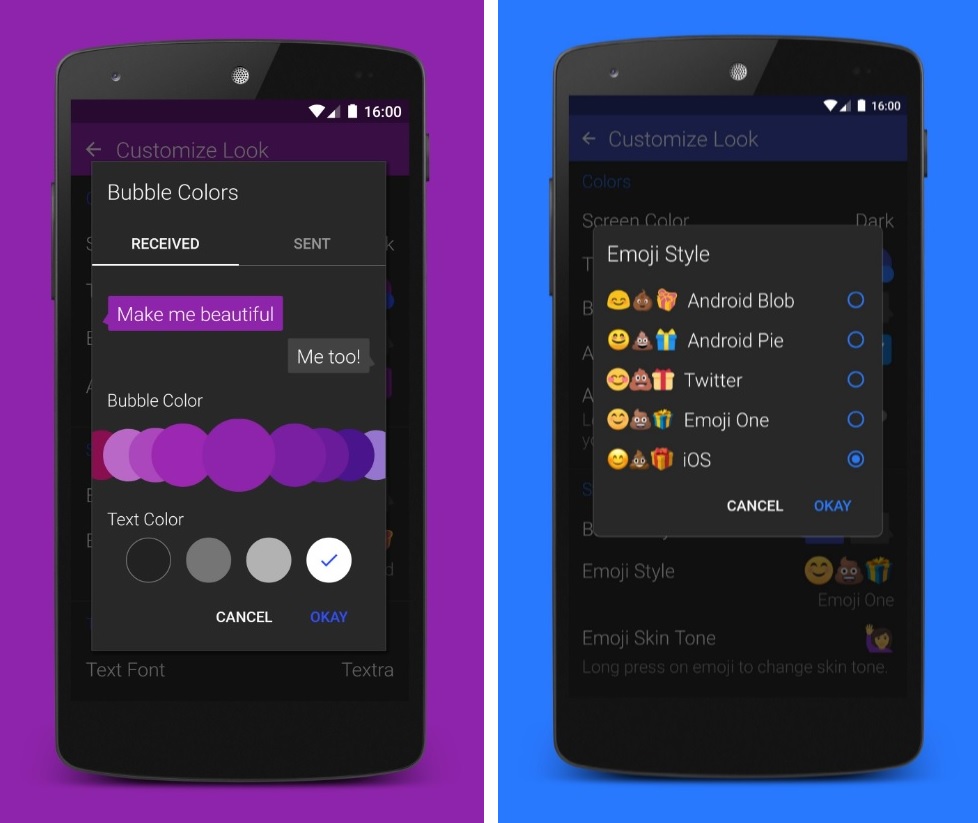 Auto Message
Here comes another great SMS scheduling application! Auto Message is aimed at helping you save your time.
This little application is packed with cool features.
Many options will come in handy if you tend to send a lot of messages or if you work in the sphere of marketing:
Auto response. Do you still type "thank you", "ok", or "see you later" messages? Well, you don't have to do it anymore. It's high time you forgot about doing things manually.
Auto answer call. This application can even deal with incoming calls when you are too busy.
Email Sending. Auto Message is a perfect tool not only for SMS but also foe emails. Try this function and get full control of your mailbox.
Volume and Wi-Fi control. When you are at the important meeting or you are just busy at work, you can set a special timetable. The app will turn on/off the volume, according to the timetable you created.
Alarms. This typical function will help you obtain control of your time.
It keeps getting positive feedback from users.
The app is free. The only thing you need is to give the app some permissions so that it can work with your device.
There are some ads that keep all the features free for you. They can easily be removed if you make some in-app purchases.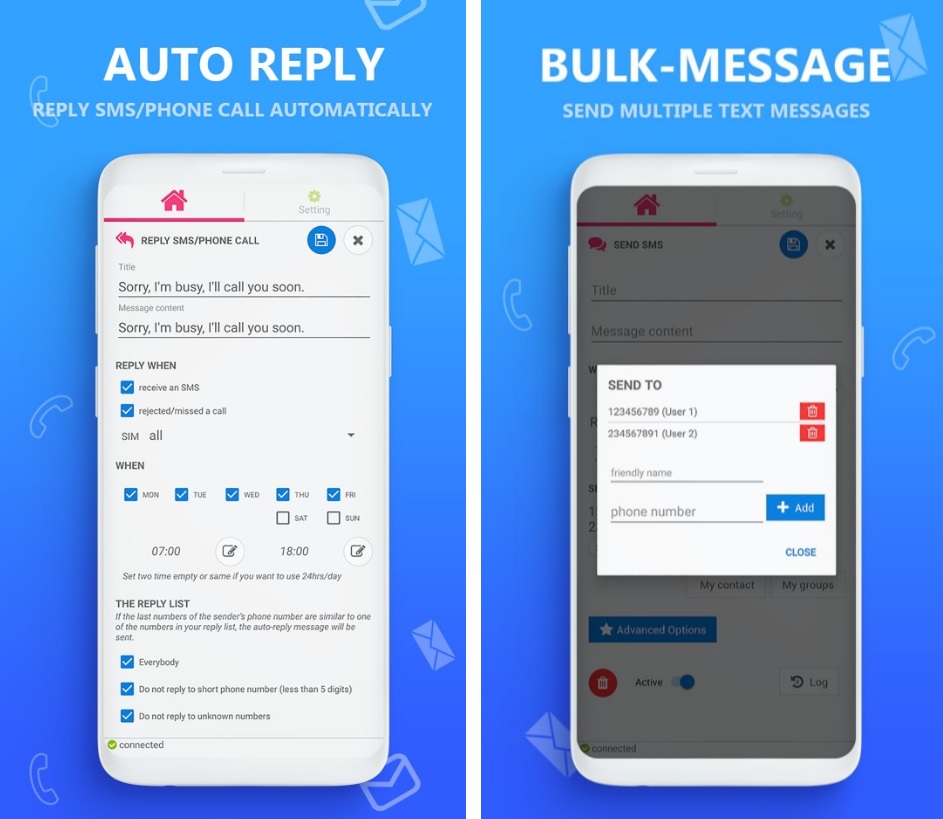 AutoText
AutoText is an app designed to make typing faster and easier. With this app, you can create custom shortcuts for frequently used phrases, sentences, and even entire paragraphs.
Main features:
Conveninent and beautifully designed interface
Helps you get rid of unnecessary monotonous work
So, instead of typing the same long message over and over again, you can just type in a short abbreviation and AutoText will automatically expand it to full text.
In addition to creating your own abbreviations, AutoText also comes with a large collection of ready-made abbreviations for popular phrases and emoticons. Plus, the app supports syncing your shortcuts across multiple devices, so you can use them on your phone, tablet, and computer.
But the app has crashes that take place from time to time. Some also found the interface cluttered and difficult to navigate. Despite all of that, many users still find AutoText a useful tool for streamlining typing and saving time.
Thus, AutoText is a handy app for those who frequently type the same phrases or sentences and want to send text messages and messages faster.
Thanks to this app, you can not only save yourself from an extra set of the same type of phrases, but also make a schedule for sending messages.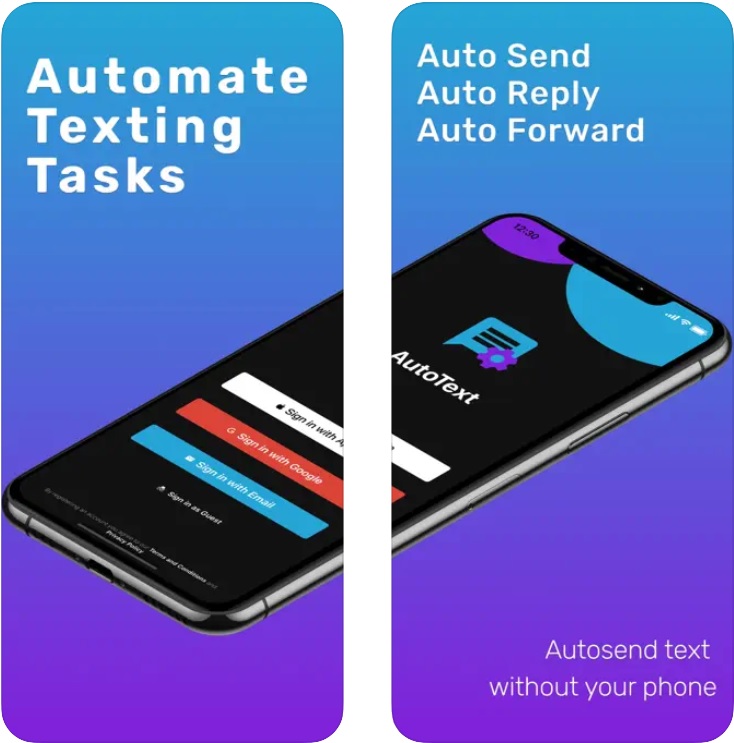 You may also like: 11 Free Fake Text Message Apps for Android & iOS
SMS Scheduler
Are you looking for a good and small application that can help you handle the stream of neverending messages? If yes, you have just found it. SMS Scheduler is packed with features and useful functions. At the same time, it's simple.
All the basic functions are available for free:
SMS Scheduler. This traditional option allows you to set the exact time when the message will be sent. You can define the text as well. What is more, you can create a big number of messages for different people.
Message blocker. Sometimes you don't feel like replying and that's normal. In this case, you can add a number to your blacklist. This measure will prevent you from getting annoying SMS. The blocked person will never know about it.
A big and detailed dashboard. It displays all the delivered, pending, and planned messages, which makes it easy to control your SMS "traffic".
The app is very small. It will be a great solution if you are trying to save your phone's memory.
The app is being updated regularly, the developer is trying to fix problems and bugs detected by users.
Another cool thing is the interface of the app. This minimalist interface will be great for those who don't like too many colors and animations.
The app is free of charge.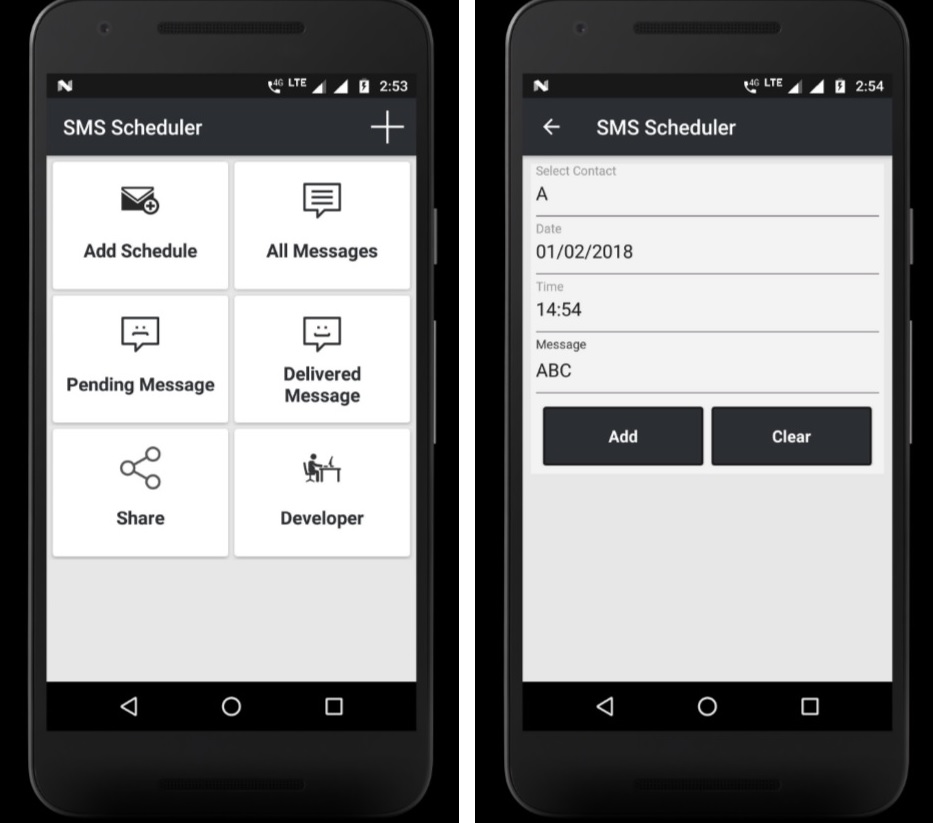 Pulse SMS
It's time to manage your messages properly! In the 21st century, you should not do routine tasks manually. Now there are various options that can deal with the stream of messages from your colleagues, friends, loved ones.
The application can boast of a huge number of features:
Typical scheduling functions. It isn't different from the same functions in the other apps listed here. So you just set the time and do the more important things.
Spam blocker. If you are tired of getting irritating ads, you can easily block the numbers you don't like. Add all of them to your blacklist and enjoy talking to people in real life.
Private conversations. If you are afraid of your device being hacked and the data being stolen, set a long and complicated password to protect it.
Pulse SMS takes security issues seriously. It will never reveal or sell your data to anyone. You can set passwords to all of your chats to make sure nobody sees your messages.
Smart reply. If you don't like texting short messages, let the app do it instead of you. Smart replier will analyze the SMS you get and create an answer that will perfectly fit the conversation.
The application supports two SIM-cards.
You can cancel the messages you have already sent if the other person hasn't read the message yet.
Customize the app so that it fits your tastes and preferences. Set the theme and fonts that appeal to you most of all.
All of the functions are available right after the download. You don't need to pay for the basics.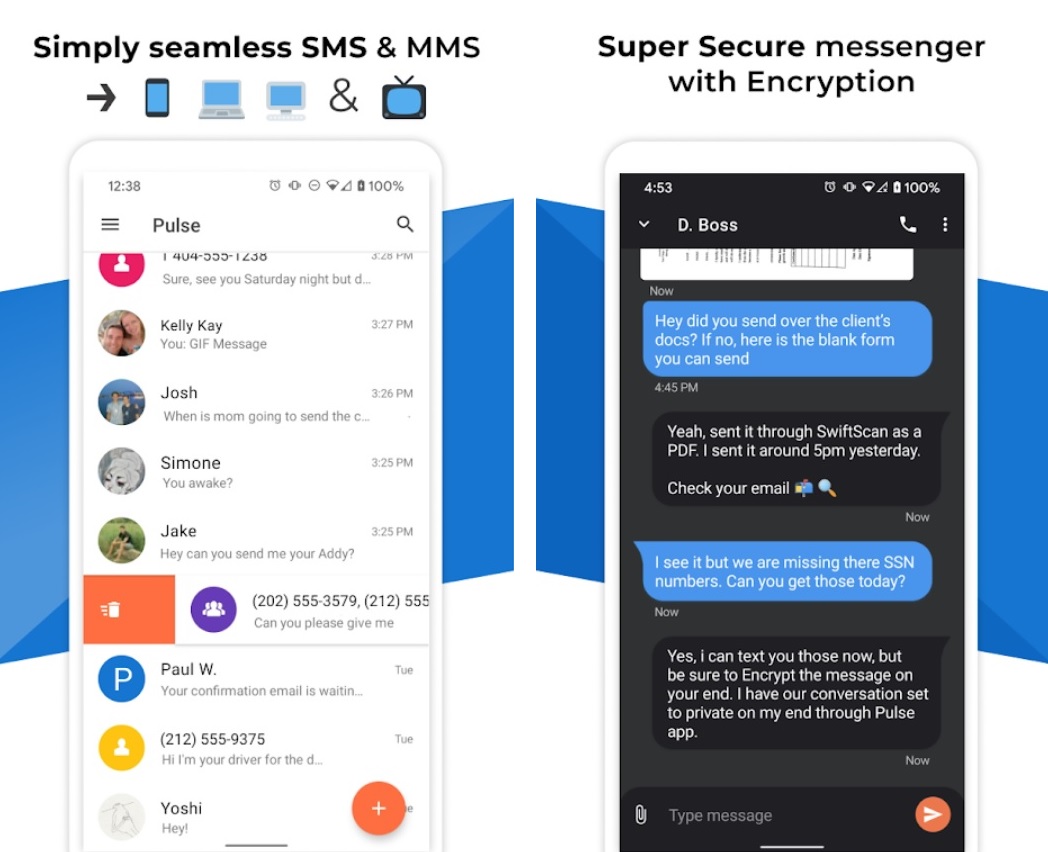 Wasavi
Wasavi is a cute and reliable app for scheduling your messages. This mobile application is not only a convenient application for sending messages, but also a unique mobile text editor.
Main features:
Supports various plugins
Unique mobile text editor
Wasavi provides the same features and keyboard shortcuts as Vi and Vim, allowing users to easily edit text on their devices.
Here you will discover suh features as syntax highlighting, customizable color themes, file management, support for multiple character encodings, etc. Wasavi also supports plugins and thy make itmore versatile.
But keep in mind that it doesn't support advanced features such as macros, regular expression search and replace, or multiple tabs. Moreover, some complain that the app often crashes and the user interface can be confusing for newbies.
Edit text, improve its grammar and appearance, and save yourself from the obligation to send messages, now the application can do it for you.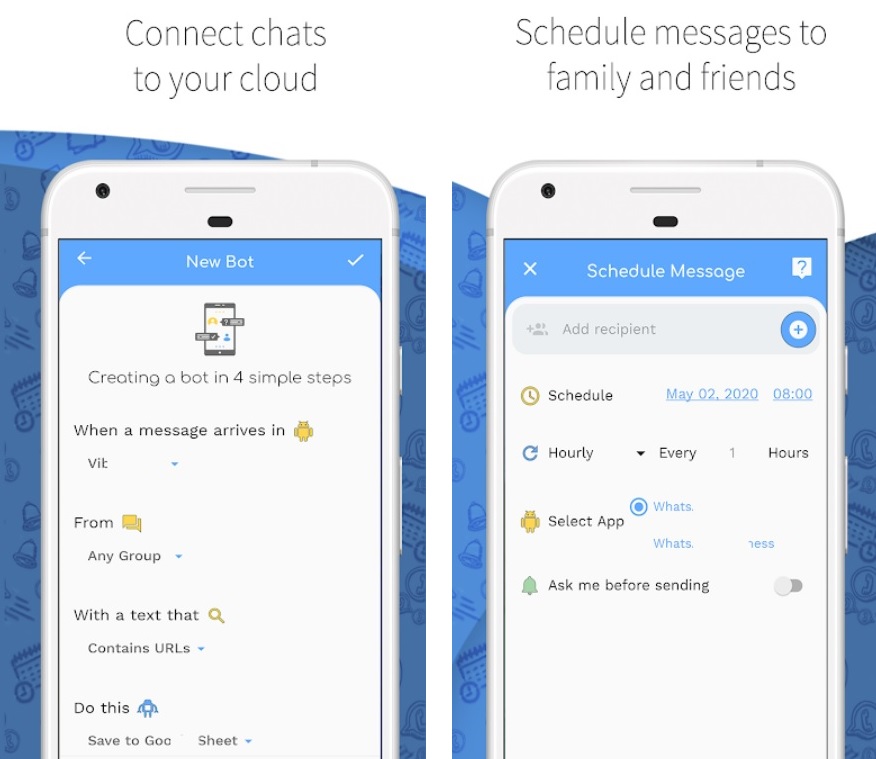 Choms SMS
Here is another app that can help you reply to messages at a click of a button and make a schedule of your future SMS and MMS.
This easy, smart, and elegant application can work with strong flows of information. It can ensure you reply to all the important messages in time.
There are many features available for free:
Reliable and flexible SMS and MMS scheduler. Set the time and wait for your messages to be sent by the app instead of typing them manually. You can edit your scheduler at any time.
You can always cancel or delay your messages if the other person hasn't read them yet.
Dark and light themes. Customize the app's interface according to your tastes. What's more, you can also customize fonts, screen color, animations, and other little details.
Choms SMS supports dual SIM cards.
SMS blocker. It's ok if you don't feel like talking to some people. Let Choms SMS help you with this. Create a blacklist and add the most irritating people there.
Synchronize between your devices to obtain full control of your messages.
Quick and smart auto-reply. Chomp SMS can analyze the messages you get and create a fast and smart response that fits the conversation. People will hardly understand that the reply was generated by artificial intelligence.
Chomp SMS tries to keep your data secure. You can fully trust it, the texts of your messages will never be revealed.
Chomp SMS is completely free. You don't need to create an account, just give the application all the necessary permissions.
There are some ads that keep the content free for you. You can go premium to get rid of them.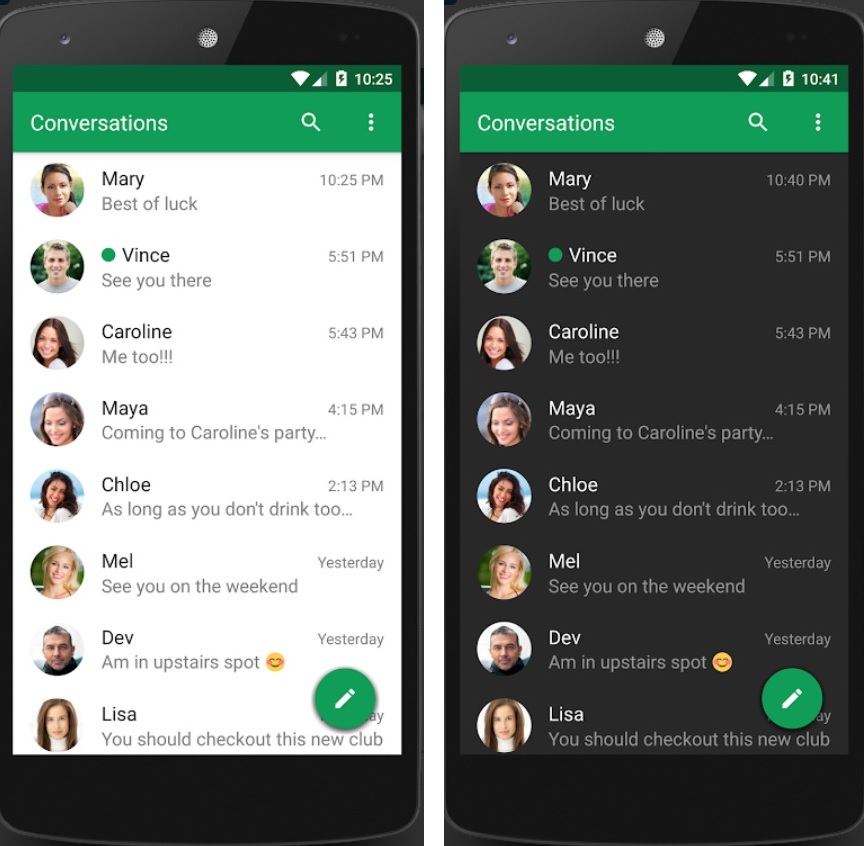 You may also like: 11 Best apps to change message background (Android & iOS)
Handcent Next SMS
This application will be a perfect solution if you like not only smartphones and tablets but also smartwatches. The app is aimed at busy people who can hardly reply to all of the incoming messages.
Handcent Next SMS will be a great replacement for your default messenger.
Here is the list of functions that are available for free:
Reliable and easy-to-use scheduler. Set the text and the time when it will be sent. That's it! It's high time you forgot about doing routine tasks like typing messages manually.
Cloud Backup. It helps you keep all the data. You also don't have to worry about long texts.

You can type messages from your computer. It is especially cool if you are working on your computer and have no time for your smartphone.

SMS blocker. Block the numbers you don't want to talk to.
A great number of cool stickers and animations. Use them to make your messages unique and interesting.

If you fail to understand how the application works, you can always check the guard and follow its detailed instructions. This is why you can be sure that it will be easy to start using the app.
The app is rated 4.3 out of 5. Handcent Next SMS keeps getting positive feedback from users.
The app is packed with ads. It is quite irritating and you have to put up with it if you don't want to pay money.
If you choose to go premium and get rid of the ads, it will cost you about 14$. Not only does it replace the ads but it also gives you some new features and options.
You don't have to get any type of subscription or create an account. Just give the app all the necessary permissions.