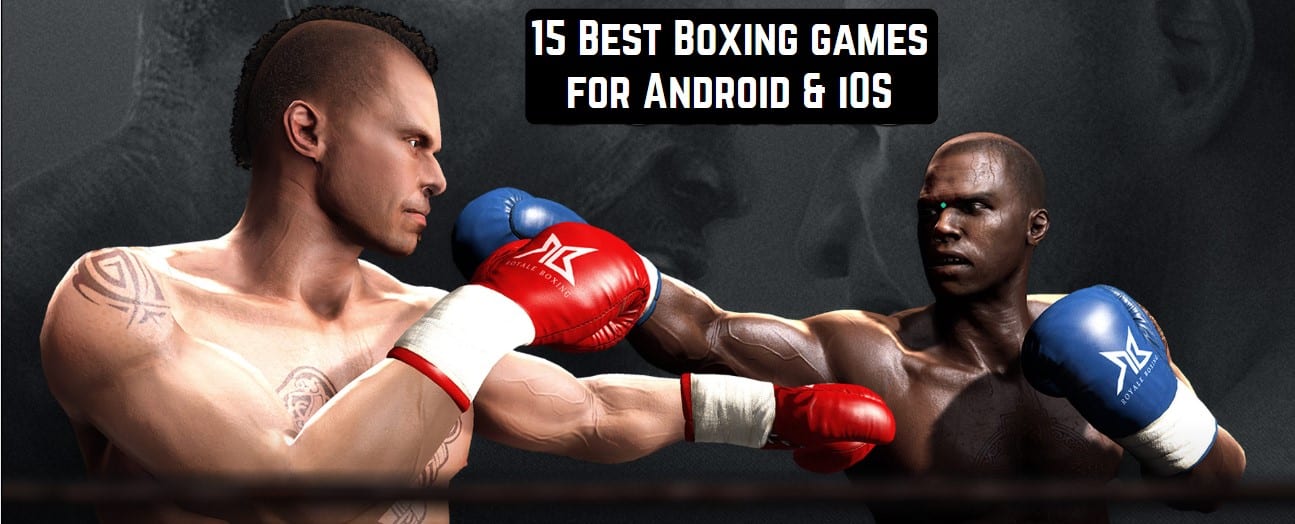 Not afraid to enter the ring? If you are ready for a real battle and boxing fights, then welcome! In this article, we have collected the most popular boxing games for Android and iOS. We guarantee that you will be able to find a cool application that will provide you with the maximum realism of the battle.
Check also 7 Free Fighting Games For Android & IOS
Real Boxing 2
Be fighters and take part in the game created on the basis of the movie! Take the training under the guidance of the legend of boxing Rocky Balboa and get the title!
Play as Creed and protect the honor of your name. Step into the ring as Adonis Johnson and show your legacy to the boxing elite. Experience the real drive from the battle and victory in the fighting game. Challenge the strongest players from around the world at any convenient time and in any game mode. Feel involved in an exciting action. Knock out opponents using classic and special hits. Fight invincible bosses. Take a chance to fight with a unique kind of opponents to select their special equipment.
Develop your own style of battle. It will be difficult to win the title without improving strength, endurance, dexterity and learning more effective techniques. Get access to a variety of useful items. At your disposal, there is unique equipment that improves the parameters of your fighter. Practice with friends. Find out who is better at boxing online.
Do not forget about mini-games. Box with Rocky Balboa and get a chance to win great prizes in the daily lottery. Rate the UNREAL ENGINE 4. technology. Become a member of realistic fights thanks to the excellent graphics.

Boxing Star
Get the status of a virtual star of boxing is quite real! To do this, you need to play the game Boxing Star, improve skills and win in fights against different opponents. Having won victories over weaker opponents, one can gradually acquire the right to exciting battles with professionals.
Boxing Star is an exciting game for your device. The player will surely enjoy the cool cartoon graphics. Here the most interesting fights, hard training, brilliant victories are possible.
Try to go from the usual street boxer to the world champion. Train your skills, get the best sports equipment and develop your own tactics of combat.
You will have to start with amateur fights in doorways and basements, but with proper perseverance, hard training and perseverance, you can get into the world of the elite and collect full halls with the best champions. Knock out opponents and get additional bonuses! Victories in battles will be a way to make money, will give the opportunity to raise the boxing level, to obtain various interesting things. For example, you can get a personal manager!
Features:
Hone your hooks, jabs, uppercuts, and moves away from the opponent's strikes to become the most dangerous and uncomfortable opponent in the ring.
Go all the way from the street fighter to the star of world boxing.
Join the clans.
Suck up your own skills and develop your own fighting style.
Fight against other players in League mode – prove that you are the best.
Choose your own manager.
Knock out opponents and get additional bonuses.

World Boxing Challenge
Boxing fans will not mind playing at the World Boxing Challenge sports manager, where everyone can develop their own boxers, training them and putting them into the ring.
Your athletes belong to three weight categories. Their daily activities are training in the virtual gym, where they eventually become more enduring and stronger. Only by training regularly can a fighter be able to stand in a duel with a serious opponent. To improve the results of training, you can use special amplifiers. Boxers can be sold and bought, and to find money to buy, you can bet on other fights.
Suck up the personal skills of the characters, pick up their talents, purchase equipment, play mini-games, which are also available in the World Boxing Challenge – and now it is close to money and fame! In order for the fighter's rating to grow, he needs to participate in world tournaments, as well as converge in the ring with boxers from their other halls. In the process of fighting, choose the best strategy for victory, and if it is difficult to navigate, then at the bottom of the screen you can always find hints. The fights themselves will definitely impress you, because they look no worse than boxing fights on the TV screen. Having won the cups and prizes, place them in the hall of fame – they will once again prove to you what an unsurpassed coach you are!

Prizefighters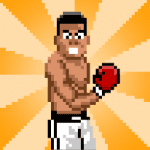 Prizefighters is an excellent sports game for your devices developed by the American studio Koality Game. In this entertaining toy, the user will have to learn such a difficult sport as boxing. We will be able to start an individual career as an athlete or take part in a random duel for money. Despite the seemingly weak visual style, executed in pixel format, the toy can not lose the dynamics of the gameplay.
You must become a professional fighter, fighting with the most famous boxers in the major world rings. Start training with small championships, go to the gym for training, pump over the indicators of your athlete; and then the doors of real rings with large fees and cool fighters will open before you.
Try to send your opponent to the knockout and achieve incredible results. In career mode, fight with 29 opponents and pump your boxer, receiving money as a reward. Coins are spent on changing the appearance of an athlete, on the purchase of equipment for training and other trifles. Experience points should be distributed more deliberately, spending them on strength, speed, energy, and types of strikes.
Collect experience and unlock new levels, and also give your hero one of 12 unique abilities to create your own unique battle style. Become the greatest fighter in the ring and show your qualities.

Real Steel World Robot Boxing
The game is a fairly high-quality and interesting fighting game in which the main warriors are not people, but powerful robots.
In Real Steel World Robot Boxing you only need to beat. In order to play and achieve any success, the user will need to defeat the opponent. And to win in the ring in one of the boxing matches. Only your ward is much more difficult to prepare for a fight than a living person, and even more to resist him in the ring. Each attack can break your machine; for this reason, you need to be very careful and think out tactics in just a second. And since any machine has its own crown attacks, and weaknesses, you will not be able to win one scenario each time.
The main characteristics of Real Steel World Robot Boxing:
Two dozen unique robots are available, including familiar characters from the film. Among these machines, players will be able to recognize Atom, Twin City, Neusi and the rest.
Four different game modes will help the player to test the strength of your hero to the fullest! You will be able to switch from championship mode to time fights, showdown fights, and regular battles.
In the new version, there is a multiplayer mode in which users can compete with real players!
The elaborate system of adjustments to the hero allows you to change the characteristics of the machine based on personal preferences.
In this universe, you will have to wait for the most amazing special effects, as well as dizzying attacks!
Only here you will be able to test in practice your own reaction, leadership qualities since any battle is not predictable and the outcome of the whole battle will depend on a single blow.
A very important role is played by graphics. It is here at a very high level!

Punch Club
Punch Club is an exciting strategy designed for use on smartphones, tablets, and similar gadgets. You should be embodied in the brave soldier capable to beat any dissatisfied individual. On the storyline, you will first become an eyewitness to an incredibly cruel and cold-blooded murder. Someone took the life of your character's father. For the last seconds of life, the man desperately asked that the son fought for a place under the sun and wasn't afraid to counteract the enemy. With age, having gone through the harsh school of life, the bewildered boy turned into a fighter, ready to fight his way to success and seek justice with sweat and blood. He swore that he would find the killer and get even with him.
The application is presented in the form of a manager of street boxers who must be led to win and leave the opponent in a knockout. It is up to you to determine the style and technique of warfare, as well as the development of the character, including the turtle, tiger, and monkey. Skills and characteristics depend on the chosen development branch. You can increase the strength to the detriment of dexterity, or increase the speed, sacrificing the power of punches and accuracy.
The graphics are very similar to pixel art, which was rampant and was at the peak of popularity in the nineties. A non-linear plot will add excitement and interest to the gameplay.

Real Boxing
Are you ready to fight in the professional ring? Then download the unique Real Boxing game, in which there are unique graphics and great gameplay. The realism of all the ongoing actions is the main difference of this game from many others in the modern market. The animation is at the highest level, as well as excellent soundtrack distinguish the boxer simulator from the rest. Feel the real part of adrenaline!
The possibilities of boxing are endless, open them. Use the beat combinations for the correct series. You need to go a long way, consisting of a novice career and a master. In the gaming application, weekly contests with real players take place, as a result of which you can win money. Having a difficult victory, you can enjoy the sweet prizes. In training mode, you can learn the right hooks left and right, surprising the opponent with his own skill.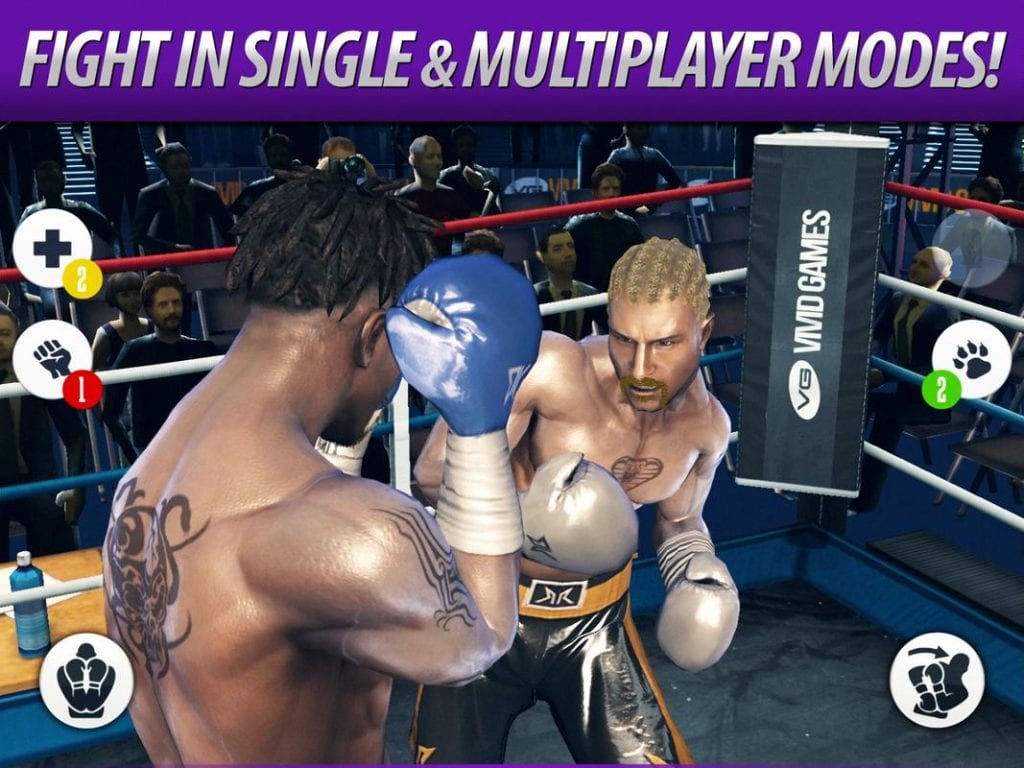 You will be able to meet face to face with the most popular people in the boxing industry. You also need to create your own style of battle, which later will emulate other players. Come to the game every day and get special bonus prizes.

Punch Hero
Another good simulator that will make you feel like a boxer. If you have a weakness for this harsh male sport, or you just want to come together in a fight with a dangerous opponent, then you should definitely play this game. Thanks to the bright and colorful picture, the game leaves behind the strongest and warmest impressions, there are no weighty flaws here. In addition, there are not so many similar toys at all; so for the sake of such uniqueness, download the game to your gadget.
In the game, you will have one goal, to win the title for yourself, and in order to achieve this goal, you will have to try hard. First of all, starting to play, you will need to come up with your character's name, and adjust the appearance to your tastes. He can even add his own face.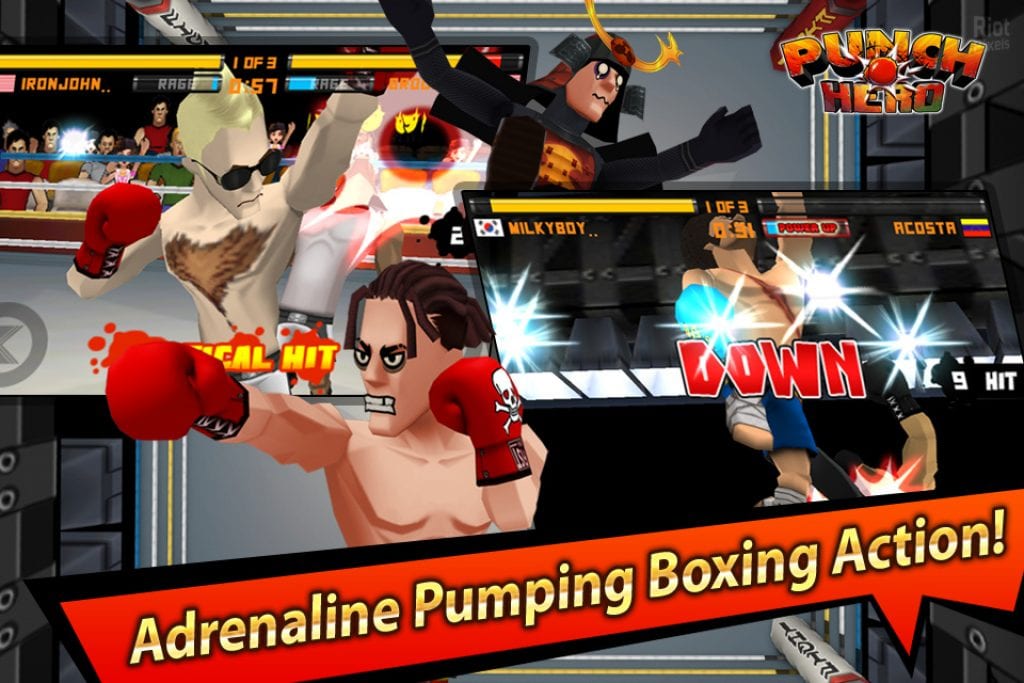 The fights here are tough and bloody, besides, you will need a lightning reaction in order to confidently defeat your opponents. Do not forget about the defense, because missed strikes can lead to your defeat. Protection here will also be far from the latest factor, it is foolish to underestimate it, and if you still underestimate, regret.
You can definitely download Punch Hero for your gadget. Here before you is quite a good game that pleases with its pleasant features and bright features.
Monkey Boxing
Monkey Boxing is a very fun, dynamic, and beautiful game. You have to enter into a fierce fight, which can only be between two charming monkeys.
Enter the monkey in the boxing ring, adjust its capabilities and win cups and medals. You will see the game with excellent volumetric quality graphics, and accurate lighting of the characters, with an unlimited number of levels and exciting gameplay. Train a monkey to grow an unsurpassed fighter out of it and ensure its participation in the best boxing fights.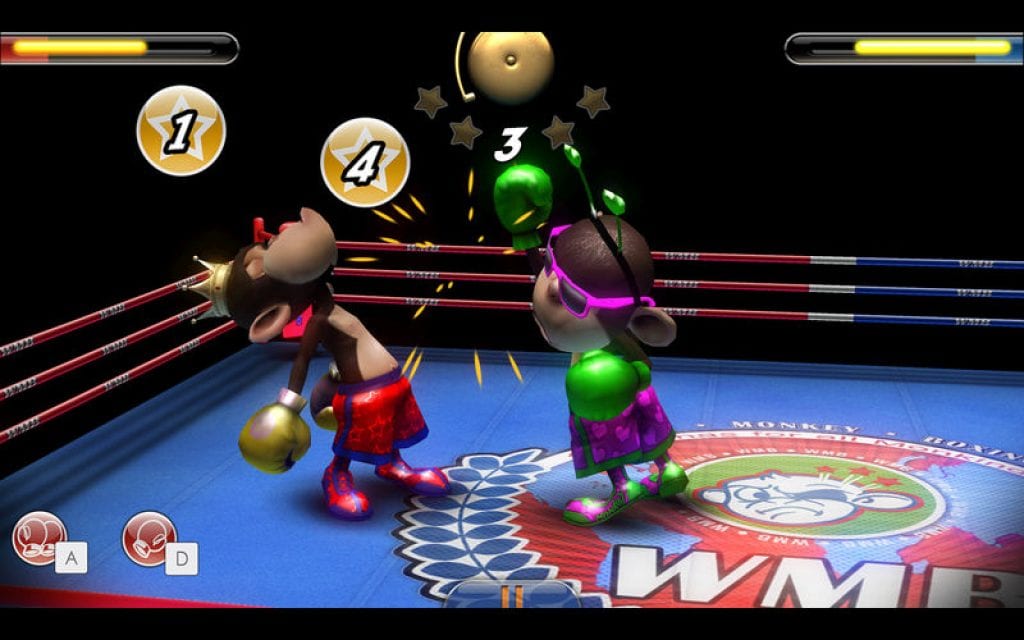 The game has amazing 3d graphics, the characters are drawn very carefully, the light and glare create a unique atmosphere for the game. The characters are very funny and beautiful, the physics of the battle at the highest level. There are no complaints about the visual component. You can create an image of your own monkey, using the famous details of professional boxers. Participate in the Cup, where you have to win 50 battles, and then you can just continue to fight, increasing their skills. And one more important option: you can fight with your friend on wi-fi. High-quality games with such an opportunity do not immediately come to mind.
Special features
animated 3D characters;
fast-paced, funny characters;
the ability to create your own monkey, choosing the color and props, creating countless options;
training your boxer;
50 first levels – on the WMB Cup, and then an infinite number of matches;
2 players on one device or a game via Wi-Fi;
multi-language support.

Tower Boxing
Tower Boxing is a bright and fun gaming application for Android and iOS devices. Fairly simple graphics of Tower Boxing does not deprive this program of attractiveness, but rather makes it even more interesting. The game has almost no analogs, is undemanding to the resources of the tablet or smartphone and is extremely easy to manage.
The graphics of the application are stylized as computer toys of the "eighties". Ten characters are represented as heroes, and there is no one here: a thug, a jock, a dragon, a golf lover, and so on. All of them are famous boxers and masterfully waving their fists. And these characters conceived to destroy the high-rise building.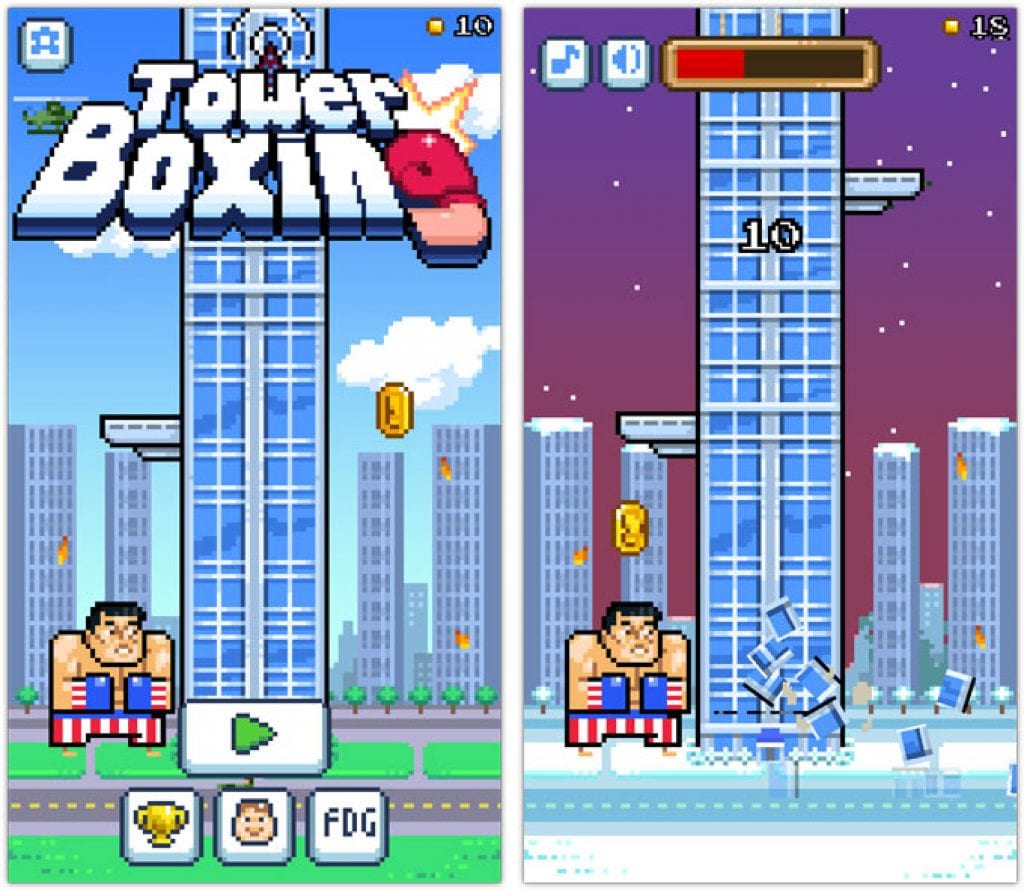 What do we have to do? Choose a hero you like and start striking the building and collecting coins. As a result, the lower floors are destroyed and the whole building sags. You need to be careful and dodge the balconies, that is, in time to run from one side of the tower to the other.
Features:
Bright graphic design stylized as a retro game.
Table of Records and Achievements.
Pleasant music.
Intuitive operation.
Character control is very simple. You will hear exciting soundtracks. The game will appeal to fans of arcades, gamers who love retro games, owners of tablets and smartphones who want to pass the time on the road. Manage funny characters, shoot down a skyscraper, collect coins and do it better than others!

Virtual Boxing 3D Game Fight
For boxing fans, a sports simulator has been specially released – Virtual Boxing 3D Game Fight. In the virtual ring, you will have access to the most colorful battles with strong opponents, as well as you can experience realistic 3D graphics to the full.
This game is designed for all mobile devices and tablets, as it is important for developers that boxing fans can play Virtual Boxing 3D Game Fight on various devices. After all, who of the male does not like boxing? Therefore, it is not necessary to delay for a long time and set yourself this game; and then spend the most exciting and interesting fights in the ring.
The gameplay is very easy to control and you can easily carry out attacking maneuvers, as well as block enemy strikes and dodge attacks. In the ring, you will be waited by strong opponents, but is it within your power to send any of them to the knockout?
In this game in the game plot, there is a very realistic graphics with a wonderful voice acting. Sound effects will help you to fully hear the sound of the blows and the noise of the stands, as well as the roar of how the enemy falls to the floor.
Step into the ring and prove to your opponent that today he is out of luck! Extra bonus: absolutely free download for all types of mobile devices based on Android and iOS.

Prison Life RPG
Prison Life RPG is a popular and humorous game for owners of Android and iOS devices. Surely you have repeatedly seen films about heroes who were imprisoned and forced to survive there. Now you can get to the place of such a character in multiplayer mode, which makes the game even more exciting! Who is the coolest? Who can get the right friends, build relationships with the guards and build the flow of material goods? Boxing fights among prisoners, humor, and excitement are waiting for you!
Find out if you can survive in harsh prison conditions. For survival, you must always be in shape, be healthy to have powerful friends, money. Not superfluous will be communication with the guards, which you can easily bribe. If you want fast money – take part in boxing fights.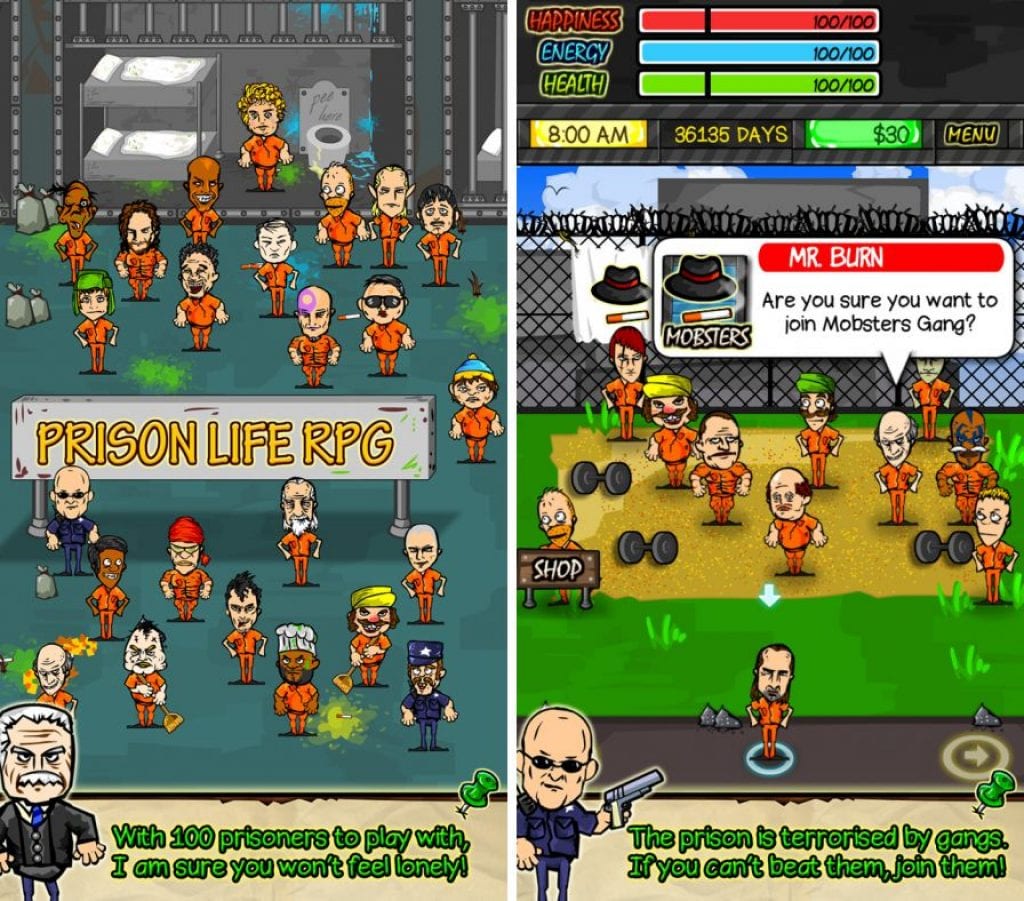 Real Boxing Manny Pacquiao

Everybody can become a Manny Pacquiao boxing star now. Well, if you do not, you can at least try on his role.
Real Boxing – one of the most famous boxing games, and presented in the application fighter – a famous athlete and a master of his craft. His combinations and blows impress not only the audience, but also opponents. Dynamism is his main rule, which Manny Pacquiao always follows.
You will be able to play not only for the great boxer, but also just trying on his equipment – it was made to individual standards only and to order. You can find opponents online and compare your playing skills in the ring. The best of you will determine the rating – try to rise as high as possible!
To fight Manny Pacquiao himself, you will need to pass 17 tests in his training hall. If you think that the way to the champion will be quick and easy – you are wrong! You have to set up and train your fighter to go through all the difficulties in the ring.
The range of skill enhancements will please you: improve your ability to pass the tests faster. Manny Pacquiao is already waiting for you in the ring – hurry up.

Punch Boxing 3D
Boxing is a cruel and even bloody sport, but very entertaining. Perhaps you have always dreamed of getting closer to it? Punch Boxing 3D will provide this opportunity. You will become a boxer who starts his career as a professional athlete. Choose its unique image, and in the future, you will be able to make changes to it for game currency. It, in turn, brings you victory in battles.
To get started you should take a course – you will understand what your character is capable of, understand the management, and evaluate what you have to deal with. A small educational program – and you are ready to enter the ring.
Rivals will come across different, but you should always strive to win. This will bring points and allow you to move towards the title. Develop your boxer, use different equipment, pump his skills and most importantly – let your opponents become equal in strength. Then the chances of winning will be equal, and if you win, you can successfully build a career. Win in the matches of the initial league, move on to finally join the most titled professional boxers!

Boxing – Road To Champion
Boxing – Road To Champion is designed specifically for fans of entertainment for real men, boxing. Only here you will be able to choose one of ten presented fighters and lead him to victory.
You have to show all your skills, strength and courage to defeat all opponents and become the best fighter in the world. At your disposal will be several types of attacks, combos, as well as special super-strikes, which from the first time can bring down the enemy to the ground.
But this app is not just a game in which to fight. No fight will end successfully without the right strategy. Watch your opponent carefully, notice its weak points and use your own advantages to win.
The game also includes many tasks of varying degrees of difficulty. Performing them you will receive not only the game progress, but also valuable prizes and useful craft which will help you to pump your character as quickly as possible.
The game Boxing – Road To Champion is distinguished by an intuitive interface, simple touch controls and realistic graphics and physics, which will not leave indifferent any boxing fan. In addition, the application is downloaded for free on all types of mobile devices, and additional paid content allows access to unlimited gaming opportunities.