New Year is a great time for gifts and surprises for your family, friends and relatives. That's why we prepared the best Christmas gift apps in the article down below. These apps are perfect for this magical holiday!
And before you are buying gifts make sure everyone has made their own wishlist. The best free wishlist apps & websites for your family we have gathered in this article.
Goody: Editor's Choice
This is one of the latest gift apps that caused a splash after collecting more than $13 million in the Series A fundraising round. Its purpose is to simplify the donation process as much as possible – you don't even need to specify the recipient's address or make an advance payment.
Just specify the name and phone number, and the application will send the recipient a text with a beautiful deployment, including your gift, card and message. Then they can enter their address to accept the gift, and then you can make a payment.
In addition, it also eliminates the need to look for great gifts on the Internet, offering a great selection of options for every taste. The only limitation is that the service is currently only available in the United States, and some restrictions may apply depending on the product.
However, try to make it a unique and easy gift. You can also buy your friends gifts for New Year and Christmas, collect various sets of sweets!
All users note the excellent quality of gifts and what they order. Everything comes on time, even sometimes earlier, there are no delays.
You can also get free giveaways there if you order over a certain amount or invite friends via a link. However, some foods and sweets can be a little expensive.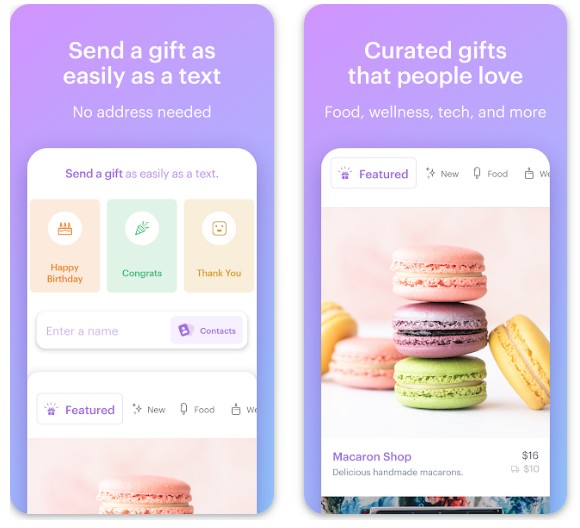 You may also like: 15 Best Free Wishlist Apps for Android and iOS
myWishBoard wishlists
Service with an intuitive interface. There is an opportunity to add photographs and links to online stores to the Christmas wish card. Lists are structured using tags.
You can also create a closed list that will be visible only to the user. Fulfilled wishes are ticked and placed in a separate section. The site can be used both as a wishlist and as a list of plans and goals.
It is comfortable that when creating a Christmas wish card, the site automatically selects similar ones from the database. For example, if you type in the name "green yoga mat", the service will offer ready-made goods that can be quickly included in the list.
You can see what wishes other users have left. Your ready-made gift list is easy to send to friends and acquaintances.
However, you will not be able to book a gift using the service. You will have to negotiate with each other on your own.
The online wishlist works adequately from both a computer and a mobile device. A little hindered by pop-up ads that close the navigation buttons.
Advantages:
intuitive interface, the site is adapted for both the computer and the phone, there is a ribbon of other people's desires for inspiration.
Disadvantages:
intrusive pop-up advertising, you can't book a gift from the list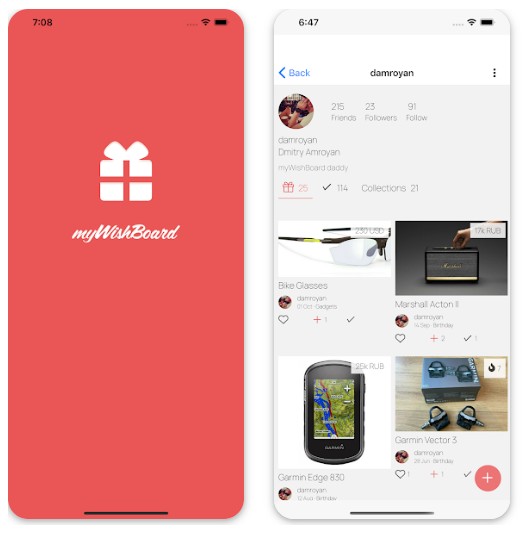 Wishlist by Giftbuster
The online wishlist is designed exclusively for mobile devices, there are applications for iOS and Android. There is a feed of ideas for Christmas with links to specific products. But links lead to foreign stores and often do not open at all.
It is very convenient to drive desires yourself: the application automatically uploads the overview and photograph from the attached link.
You can make several lists for different occasions. And also create closed lists that are not visible to other users. You can share entire wishlists or specific products with your friends.
But to book a gift, you will have to install the application. So if you are looking for a gifts for your family, friends or colleagues on Christmas, then this app is a really good choice.
Advantages:
there are applications for mobile devices, automatic filling of wish cards.
Disadvantages:
many links to products for inspiration do not work, registration is required to book gifts.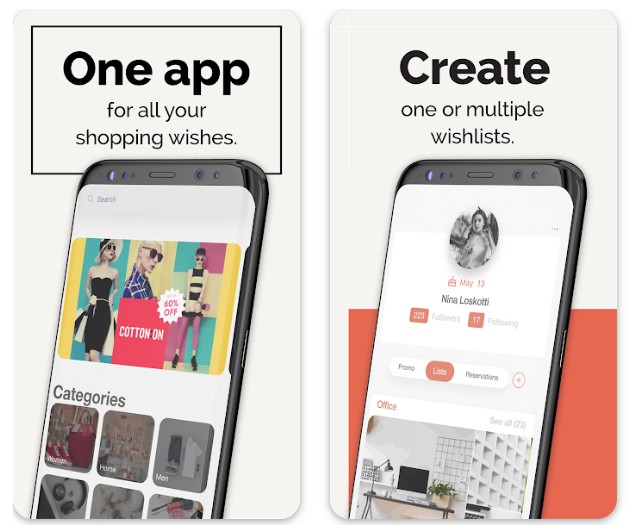 Secret Santa
Everyone has been familiar with such a game as "secret Santa" since childhood, when you give unexpected and unusual gifts to your friends.
So there is an application with the same name. If you are having a vast number of mates and before the New year you are thinking what to present them, then invite them to play this game.
So, this application helps to organize the whole process beautifully and interestingly. In this application, you can create your profile and add different people by category, such as family, work, friends.
That is, you can choose a gift for every taste and satisfy all preferences. Next, the application independently finds you a couple of those people with whom you decided to play anonymous Santa and directs all contacts about that person and all his wishes.
Therefore, after a while you form a gift yourself and give it to your partner! And wonderful emotions and a great mood for all holidays are provided!
Pros:
users really like the ease of use of this application, the application perfectly conveys the atmosphere of the holiday
Cons:
the application very often freezes and crashes after updating, some New Year's cards sometimes do not reach users at all (either they remain in spam, or they do not come at all).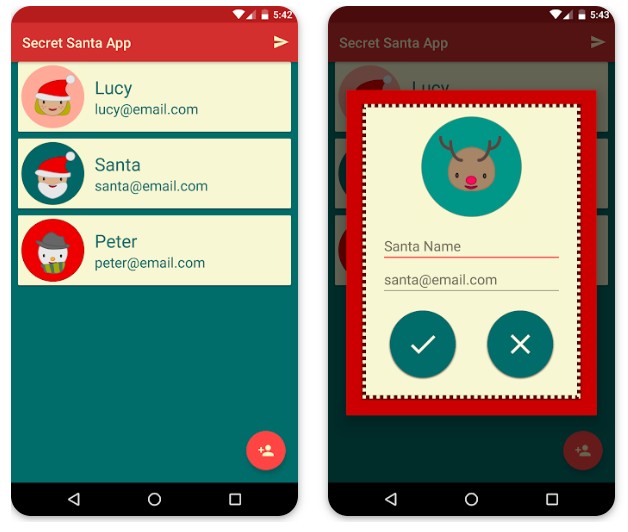 Manage Christmas – Christmas Gift List Manager
It is an excellent and the most convenient application for organizing your gifts. At the beginning, you have to write particular amount of money that you want to spend on gifts to your beloved people, then you form a list of your friends, relatives, colleagues and people that are close to you and indicate their interests so that the application puts forward optimal and inexpensive offers.
Next, you choose a surprise and the app itself reminds you where you can buy it, how much it costs and when you will need to pick up this gift. Also, you can keep here ideas with which you came up through the year, it is not a secret, that people tend to forget them.
In general, this application can be used not only on New Year's Eve, but throughout the year. In Manage Christmas, you can fix some gift ideas so as not to puzzle on the eve of the celebration. So this app will be the most useful if you are either having a lack of money, or ideas are not coming to your mind.
Another advantage is that it is completely free. Choose it if you do not want to disappoint your relatives or friends!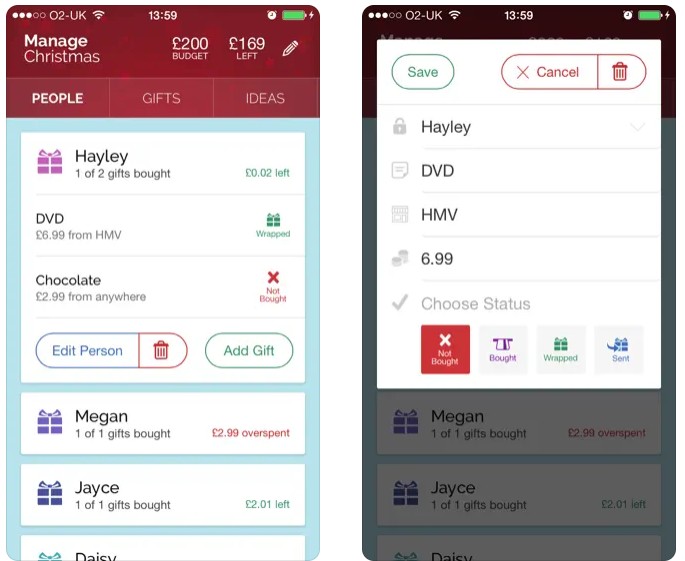 You may also like: 6 Merry Christmas Apps for Android & iPhone
1 Hour Photo: CVS Photo Prints
Print and post real vintage photos directly from your device – such a sign of attention will be much more original than the same type of holiday cards for New Year or Christmas. Postcards have always been considered something valuable and personal, so this is a good gift for the New Year!
Moreover, you can do it directly from your phone and share a postcard with your loved ones. Your family and friends will be very pleased to receive such a gift on the eve of the holidays. The application is best suited to simulate the technology of instant printing of photos of the 70s.
It is enough to select photos, and the curators of the application will print them in vintage format and send them by mail to anywhere in the world with delivery within just one business day!
Users really like this application due to the fact that there is nothing complicated to do, this postcard will be delivered very quickly to any place on our planet!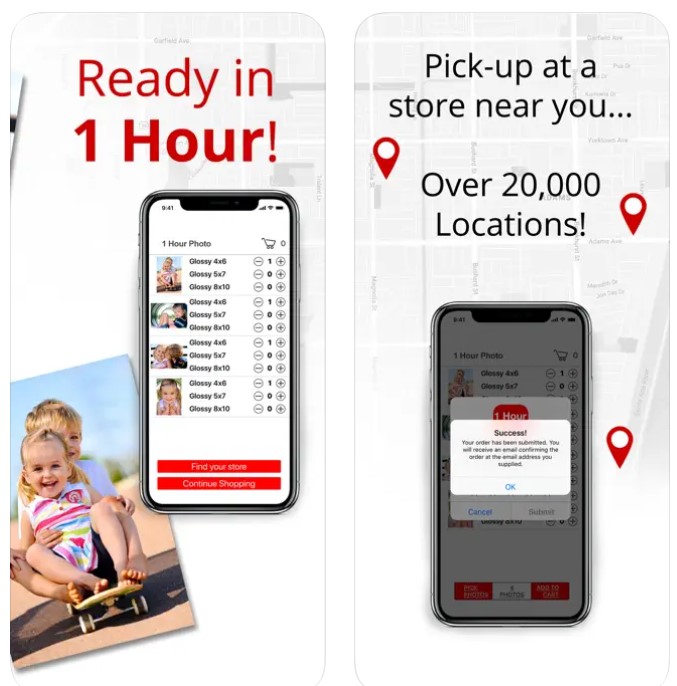 meHappy
Its key advantages: using a phone number as an account, having a chat for discussion, a reservation system and reminders. As mentioned above, authorization in the application takes place by phone number.
That is why the first thing the smartphone owner should do will be the indication of the phone number. After a few seconds, a message with a password will be sent to the entered number.
After the end of the authorization procedure, a gift lover will be waiting for a short instruction. Naturally, it contains a summary of the possibilities of meHappy. In general, the user should share his desires, study such friends, as well as make every effort to implement them.
The last component of the preparatory process will be to fill in the profile. Selecting a photo, specifying your name, last name and date of birth – you can now go directly to the application. The entire space is divided into 5 tabs.
The first one is designed to show gifts that friends want. If they don't know about the existence of meHappy yet, it's okay.
Here the second tab created specifically for sending invitations will come to the rescue. This is done directly from the phone book, and it's worth talking about in more detail.
It turns out that the idea of using a phone number as an authorization tool was suggested to developers by life itself. At one time, the designer of the team broke up with her boyfriend. Naturally, after parting, she didn't want to share details about gifts – it's not enough.
Is there a way out of this situation? Yes. In meHappy, gifts are visible only if people are in each other's notebook.
Thus, to hide your desires, it is enough just to clean your notebook. Simple and effective, isn't it?
Invitations have been sent, friends are slowly starting to share the desired gifts – what to do next? Of course, add your own. The package logo, located exactly in the middle of the display at its very bottom, will help with this.
Adding a gift is fast and intuitive. Users need to add the name of the product, its cost in the desired currency, the desired date of receipt of the gift, a site for purchase and a comment. That's all, all we have to do is wait for the kindness of friends.
You can speed up the wait by purchasing gifts to others, also you can either book it for self-purchase or offer to chip in to friends and can discuss the details of the purchase in a special chat.
Naturally, all this happens on condition of anonymity, and therefore the culprit of the celebration will not know about the executor of the order until the very end. You can also make an anonymous surprise for the New Year by collecting a beautiful gift and forging it into a New Year wrapper.
The app is distributed absolutely free of charge, but it has some in-app purchases. In particular, we are talking about lifting restrictions on a particular number of Christmas gifts.
In general, meHappy is a useful application that will not only suggest the right idea for a gift, but also help to please friends even more. Given that there are a lot of reasons for gifts, you can use the application all year round.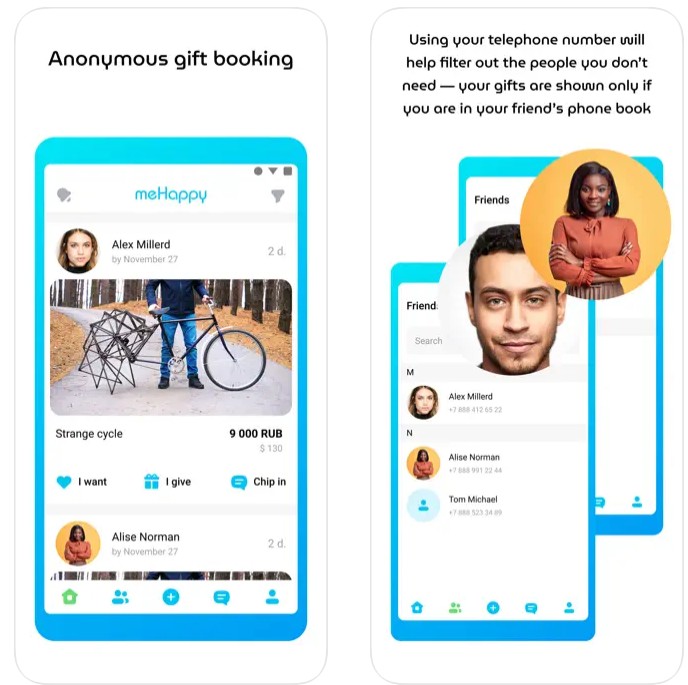 Giftagram: Gifting Made Easy
The gift program is a fairly popular application for finding unique gifts and packaging them. This application makes it possible to find absolutely different gifts for every taste for each of your friends, family or loved one.
You can choose a surprise from all the categories of interest, such as gadgets, sweets, clothes, home decorations and much more.
A huge advantage of this application is that all products are added and updated weekly, so each user has a huge selection of products. In addition, all product lists are checked by experts and specialized organizations.
Users have only positive reviews, they like the interface, ease of use, the presence of a large number of products and the absence of annoying advertising!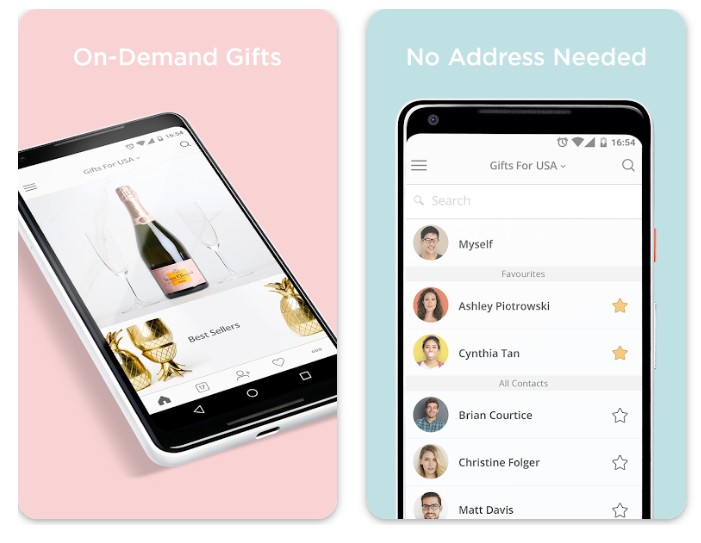 Giftata: Thoughtful Gift Ideas
Giftata is a powerful tool for finding and tracking gifts for your friends and family based on their characteristics. Just enter the age, gender, character of the person, the weather in the area where he lives, and also indicate how warmly you treat him.
Pros:
a huge database of gifts for New Year's Eve and for all any holidays, which works without an Internet connection,
each idea has a photograph, overview, approximate cost and much more,
the idea can be sent by SMS or email, as well as integration with Facebook, Twitter and Wikipedia,
in the section "People" you can include people for those to whom you are going to find a gift, there are push notifications.
This app helps you find any Christmas gifts for your relatives and friends, as well as track where your gift is!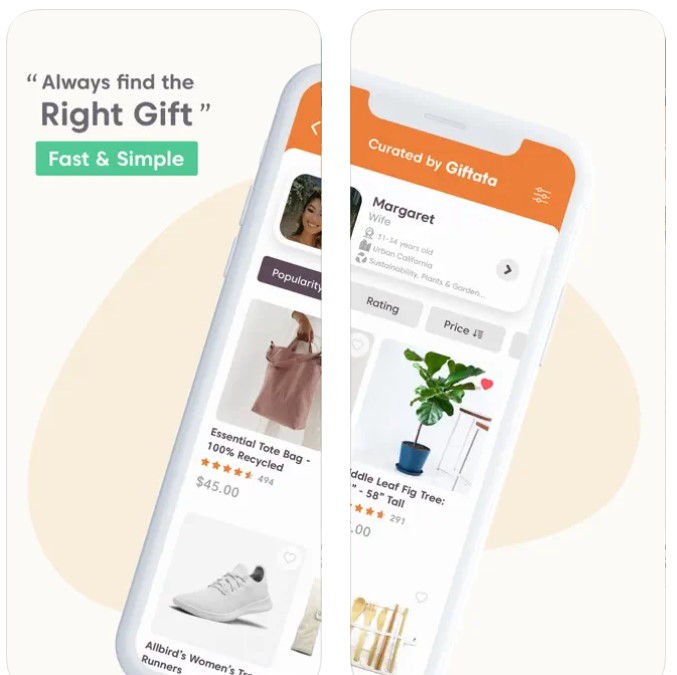 Wishlist & gifts by Listery
The Library application allows you to compose several lines – both for yourself and, for instance, for parents or children for the new year. It's very simple: save the image, overview, cost and link to the page with product, and then wait until someone orders a gift, and you will have it.
Thanks to reminders about the New Year, you can find out in advance what and where to buy, and not at the last moment to look for something remotely resembling a dream gift. Hidden lists and desires that only you can read will allow you to make a more thoughtful choice.
After all, it is often really difficult to navigate through a bunch of fashionable novelties, which, on the one hand, will brighten up life for a couple of weeks, and on the other hand, are not so necessary.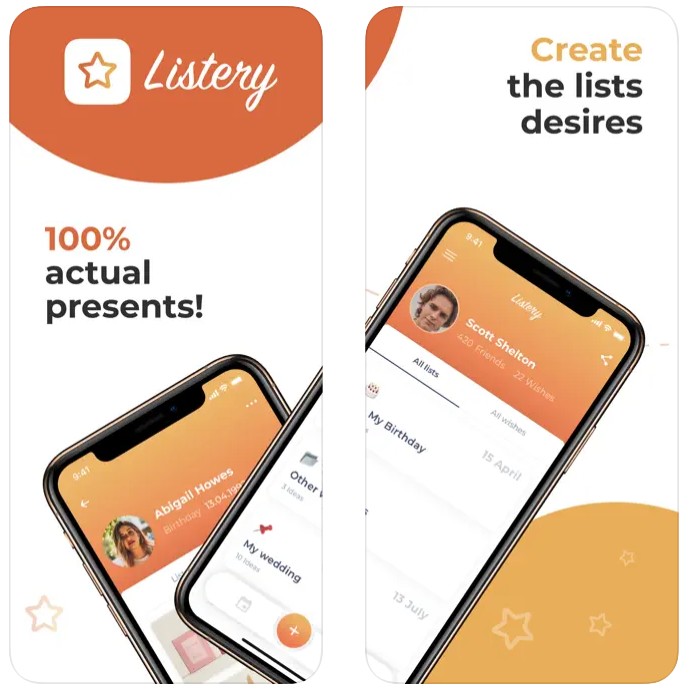 You may also like: 17 Best Online Shopping Apps for Android & iOS
Gifted
Gifted is an app where you can buy gift cards so you can use them as a present for Christmas for your friends and family. The app provides the wide selection of various gift cards.
You will find what you need in any price range: the section up to $ 25 is as rich in options as the selection of goods worth from 5 to 10 thousand dollars.
At the same time, since each item is selected by the editors, you can be absolutely sure that Gifted, covering design, culture, travel, fashion, food and technology, understands these areas "perfectly".
This is a great app to find there an interesting and useful gift for the New Year!