Whatsapp is one of the most popular messengers for personal and business communication. Many users take part in dozens of conversations simultaneously, among which you can get lost or forget to answer an important interlocutor.
To avoid these problems, you can use one or more of these free Whatsapp auto-reply apps for Android & iOS. They are proven and reliable services for automating communication in this messenger.
For all of the users who also chat through the other messengers, we recommend trying these best auto-reply text apps.
AutoText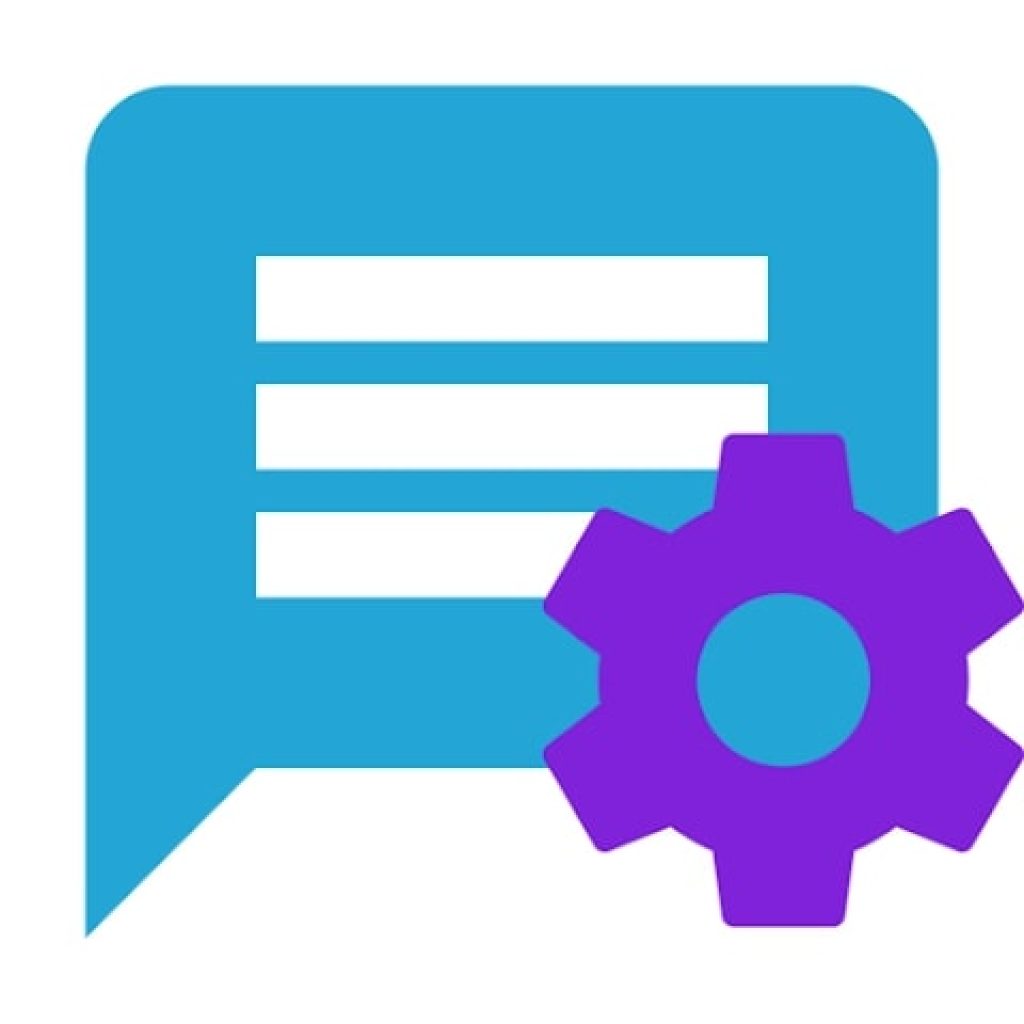 The AutoText mobile app will help you stay in touch even without a SIM card. To send or receive an SMS/MMS message, you only need to register in the general system.
After you successfully create your account, you will be able not only to send text messages but also to make phone calls. All of this is absolutely free. One account can be used by different electronic devices.
Now you don't have to depend on a SIM card. Even without one, your phone or tablet will receive and make calls, send messages and turn on the answering machine.
The app can be used not only in the U.S. and Canada. If you're outside of those countries, give your cell phone number when you sign up. You will receive a confirmation code there and you can use AutoText.
Besides basic functions, you have extra features. Create group newsletters so you won't miss a single participant. Set a distribution timer for a specific time so you won't forget to send a message.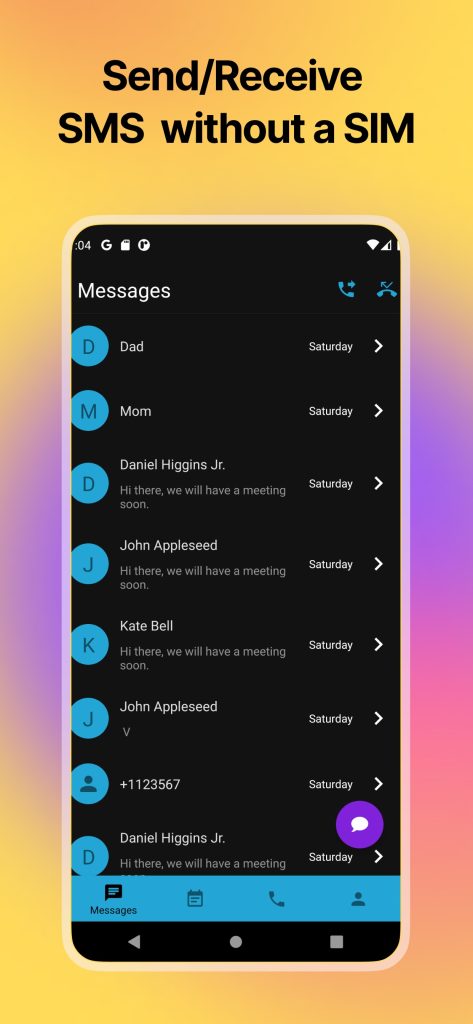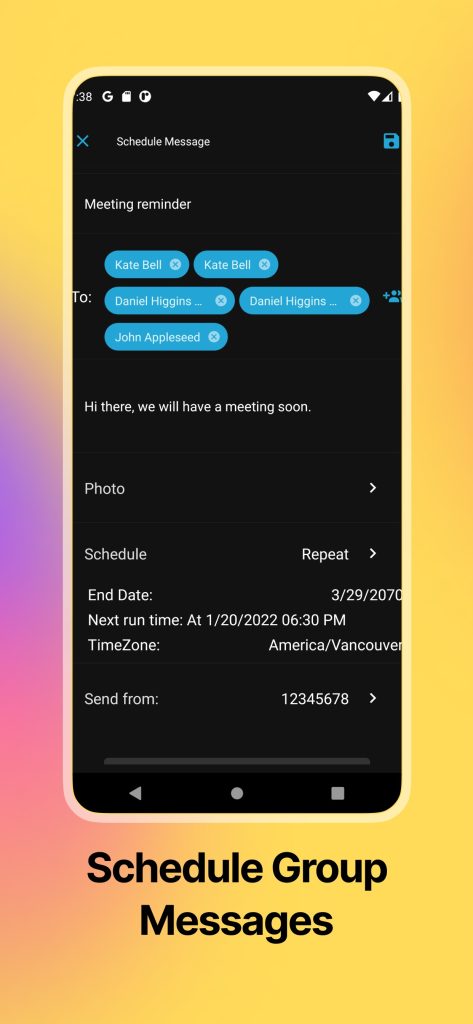 Create a task list and an up-to-date schedule. You'll receive a Push notification when the task is successfully completed. Cloud storage has no limitations, so feel free to use the app for both personal and business management.


You may also like: 10 Free SMS Scheduler Apps for Android & iOS
WhatAuto – Reply App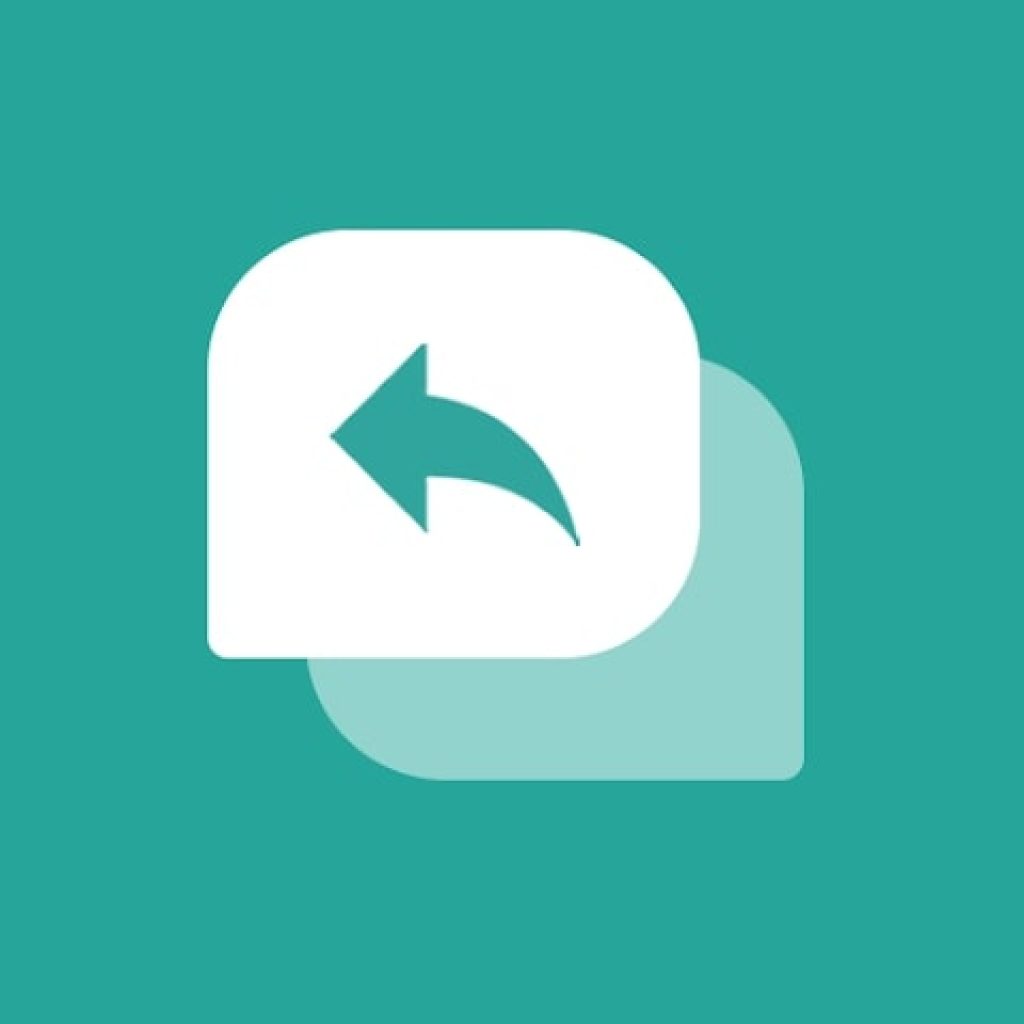 Are you busy and can't reply to an incoming message? The WhatsAuto mobile app helps you create an automatic reply to messages in messengers and popular social networks.
Don't be distracted by important business or a car ride. Set up an autoresponder and don't have to worry about a large number of incoming messages requiring an instant response.
WhatsAuto is simple and straightforward to use. Set the appropriate mode with a single tap. The app can send an automatic reply to specific users as well as to entire groups. Just tick this requirement in the settings.
The app is suitable for all popular social networks and messengers. It is designed as a bot that responds to messages on behalf of the user. Choose one of the existing response modes: single, delayed, or continuous. WhatsAuto is able to detect situations when the user is driving.
Thanks to the automatic backup, you won't have to worry about the possible loss of a large amount of information.
The app takes up 7.4 MB and doesn't negatively affect the phone battery. WhatsAuto is suitable for devices with Android 5.0 and newer. Keep yourself safe and comfortable with this smart answering machine.

AutoResponder for WhatsApp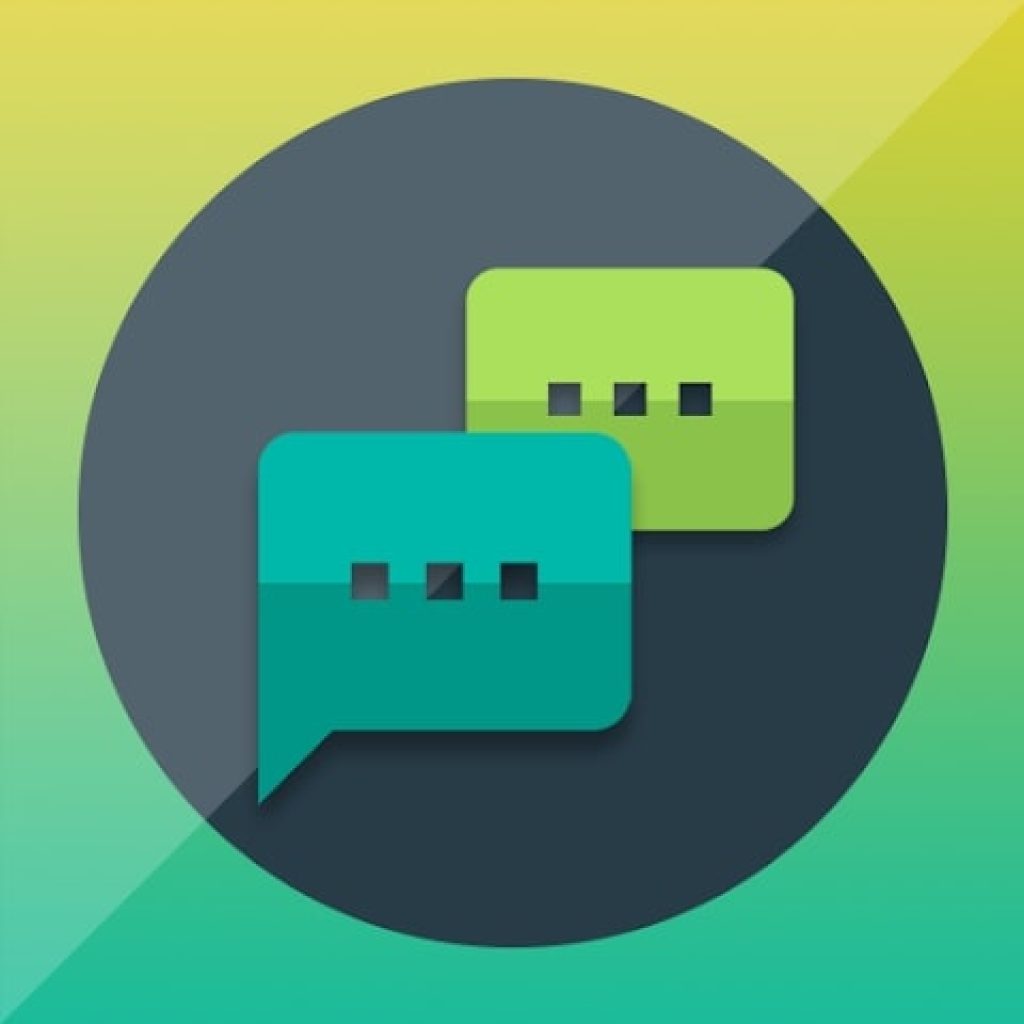 AutoResponder.ai offers you a state-of-the-art autoresponder designed specifically for WhatsApp and WA Business. Use it in situations when you can not or do not want to receive calls and messages in the messenger.
A large selection of settings for automatic answering allows you to choose the best option for each individual situation. Use the app when you're driving, on public transportation, or busy at work.
All features are free and available to residents of countries around the world.
You can choose to automatically reply to all incoming messages or messages from specific users. Create groups of contacts and set up an appropriate mode for each of them.
Select to work with unknown numbers. Besides, automatic greeting for new members helps in attracting new customers for your business.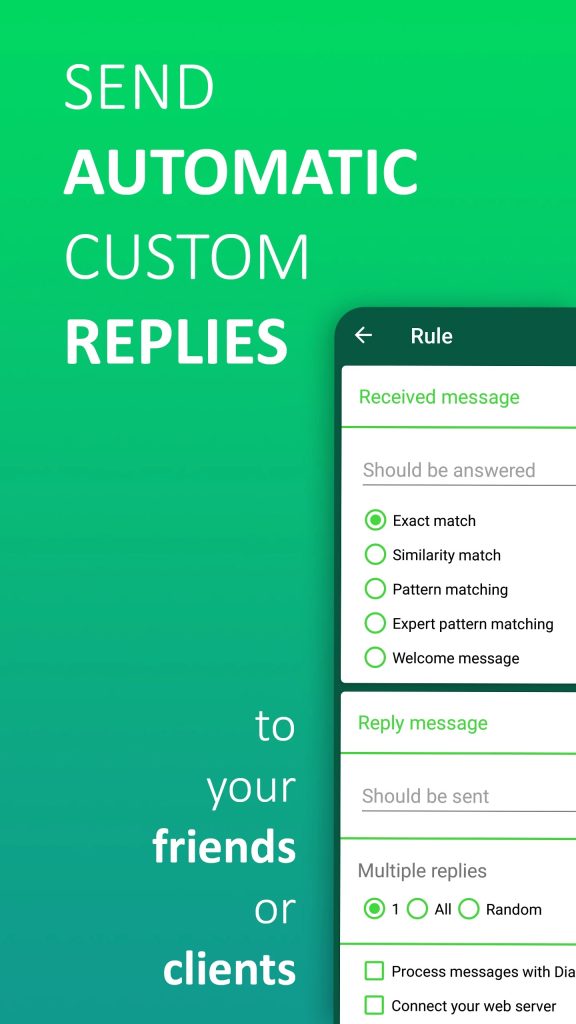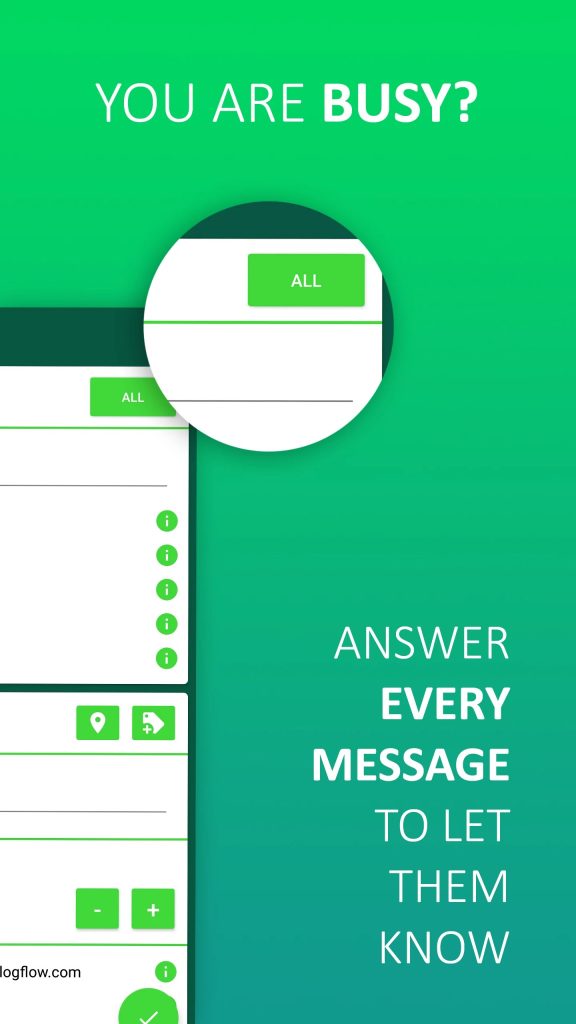 You can easily customize responses to all incoming messages or individual categories. Send time-delayed responses. You can quickly retrieve lost data from cloud storage if needed. Your pocket assistant will help you not to be distracted from important affairs and be in touch at the same time.

Auto Text: WhatsApp SMS Sender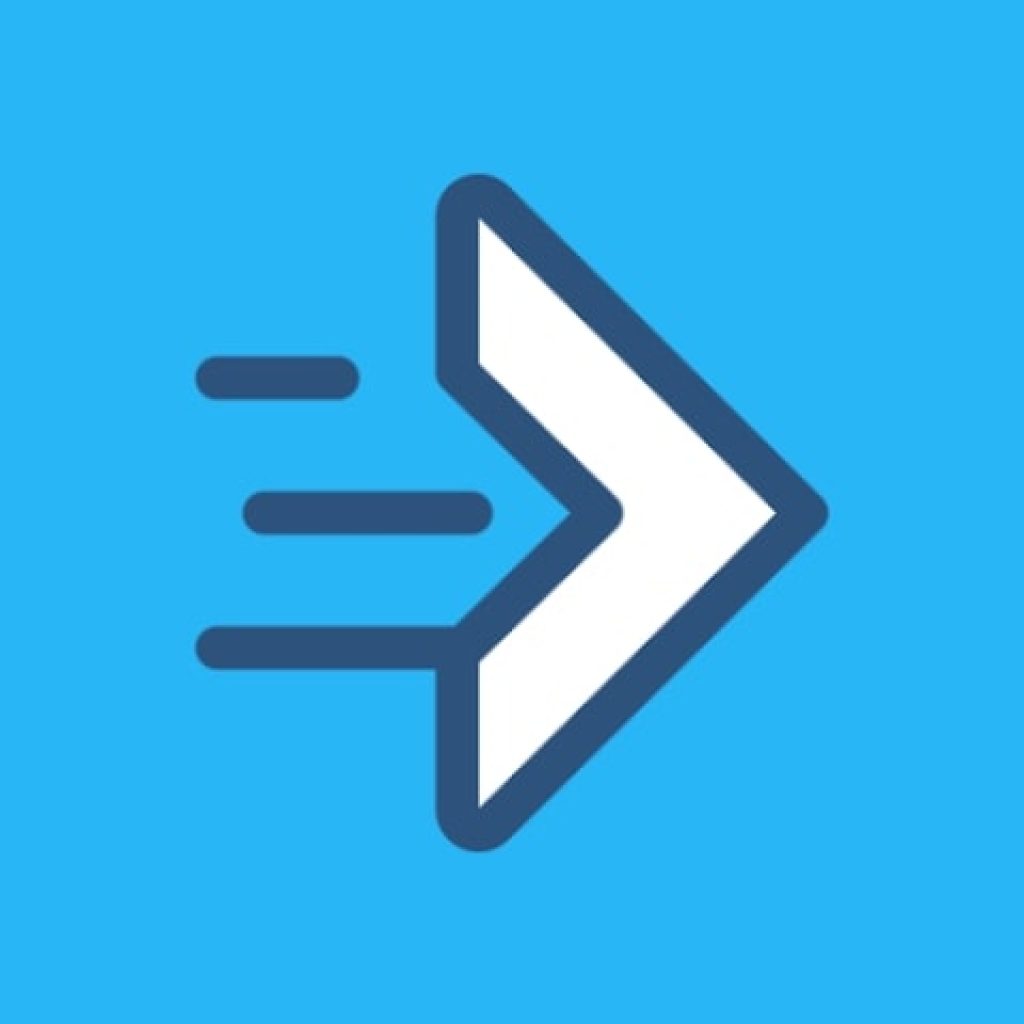 Need a pocket secretary for replying to messages in social networks and messengers? Kant's Auto Text will do the job with ease.
Send SMS messages to large groups. Schedule delayed messages and don't miss important replies to Whatsapp, Instagram, Viber, Skype, and more.
Manage your contacts and messages with one click. Set up your desired mode as quickly as possible to make communication more productive and comfortable.
Set up group New Year's Eve greeting mailings, automatically respond to incoming calls and messages without personal involvement, and send messages to unknown incoming numbers.
Group mailing becomes even easier and more convenient: set a time interval between sending repetitions. This way you can reach a larger audience without wasting personal time. Send an auto-reply with important information so you always know where to find it.
Set up automatic replies to incoming messages when you drive. Manage missed messages and calls. Mark your current location in your messages.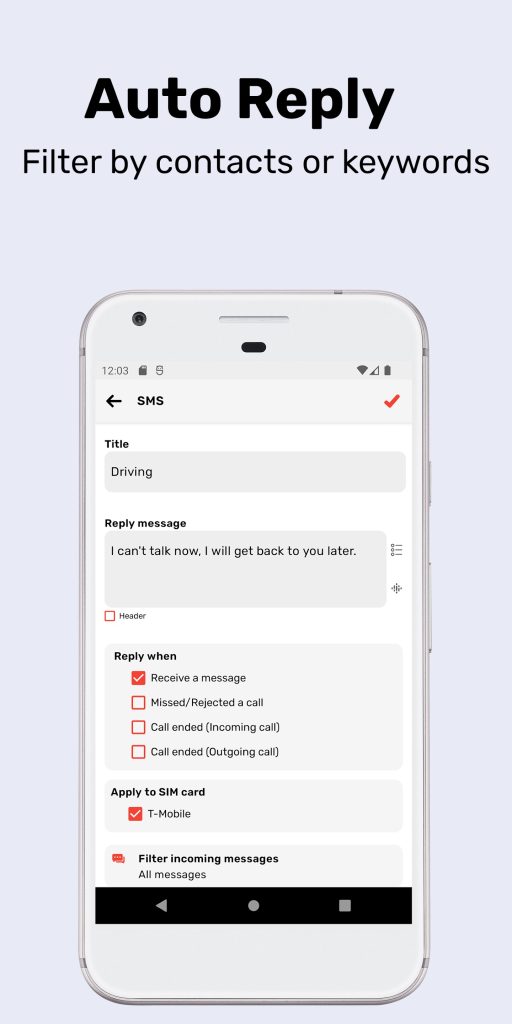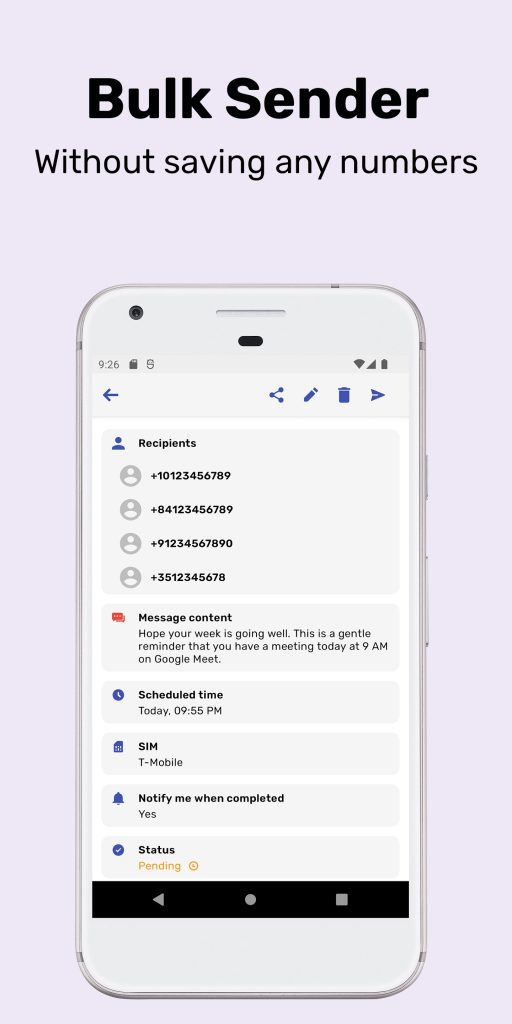 Create a voice reminder so you don't have to keep all the details in your head. Communicating via messengers and social networks is now even easier and more convenient.

You may also like: 11 Free Notifications Control Apps for Android & iOS
Auto Reply Chat Bot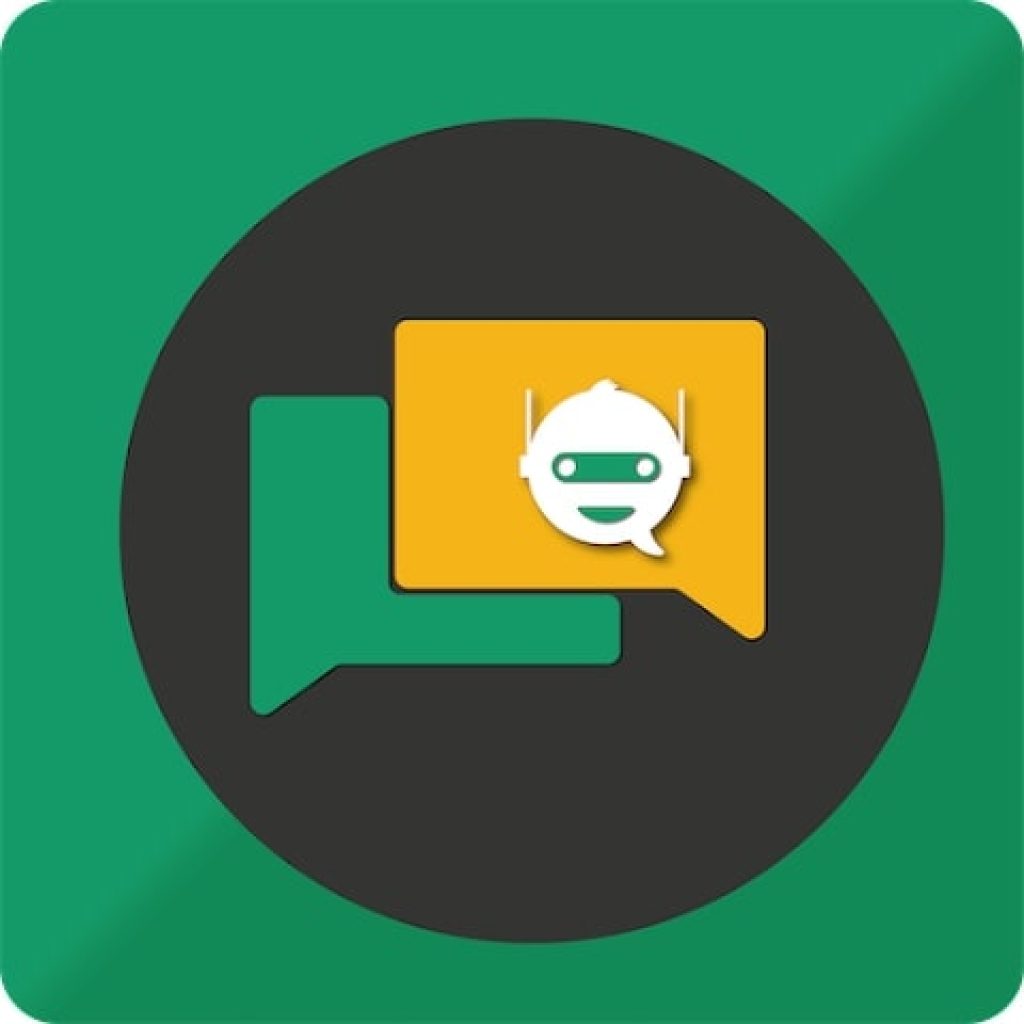 Artificial Intelligence app Auto Reply Chat Bot will allow you to reduce the number of routine actions when communicating in social networks and messengers.
Have personal conversations and solve work issues without disrupting important tasks. This automated answering machine can be trusted with even the most complex tasks.
The chatbot perfectly handles auto-mailing, group, and delayed mailing. Moreover, the app menu is designed in a simple and clear manner, which is a big advantage for older users.
Already from the first session, you will be able to set the necessary settings and simplify your life. You can use ready-made templates for answering incoming messages or create your own options.
Create different contact groups: quick reply, delayed message. Create a convenient schedule ahead of time so you don't get distracted by the app when you're really busy.
Use more than 55 variations of all kinds of fonts to give your message a distinctive shape. You can even check that your messages are written correctly according to the rules.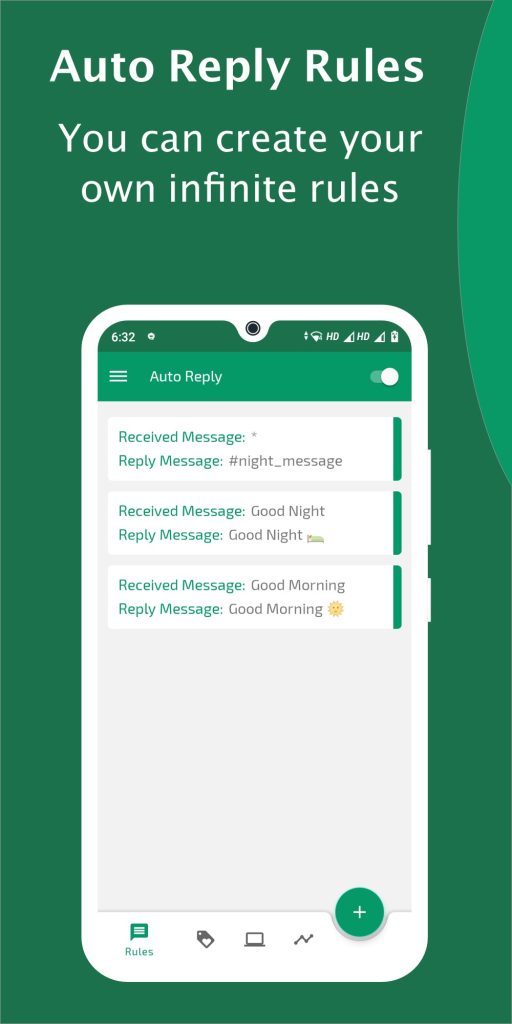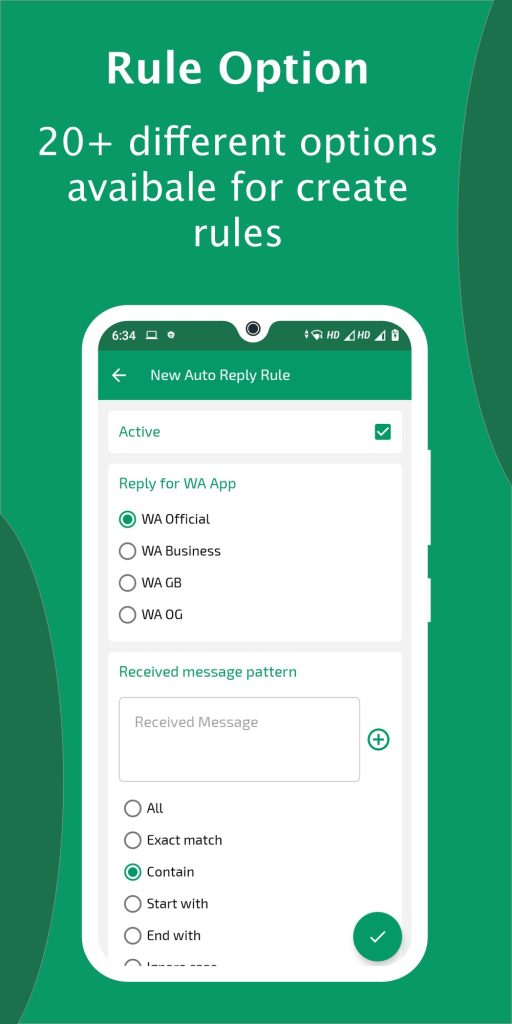 Auto Reply Chat Bot supports 8 languages, so it can be used by residents of any country. The app only takes up 15MB and can be installed on an electronic device with Android 5.0 or newer.

AUTO MESSAGE send & reply SMS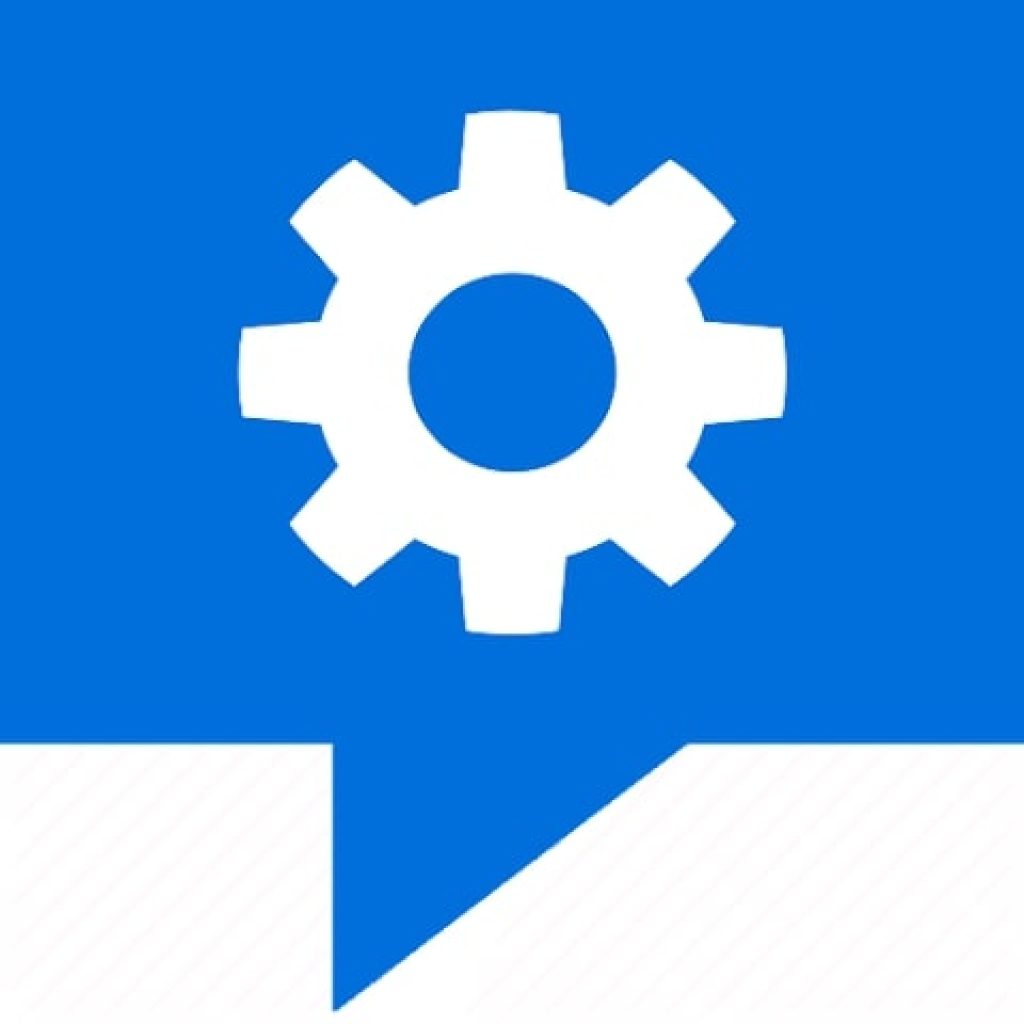 The AUTO SMS mobile app is great for answering incoming calls and messages without your personal control.
Just set the necessary settings and this chatbot will help you with sorting them. All functions are performed automatically, so you don't have to follow every step.
Send messages, create group mailings, and set an auto-responder for all or several contacts. You can set the time at which the automatic sending will take place. Plan your time and get maximum results.
It will take you minutes to set up the basic settings. The app has a clear interface so you won't have any problems using it. Save your time by automating routine daily activities. Take a rest, drive a car, or make a presentation while the artificial intelligence performs the task at hand.
Choose one of the offered options and enjoy comfortable communication. If a call is declined your contact will immediately receive an SMS notification.
You can also send messages via email and messenger WhatsApp. Install AUTO SMS on your cell phone and get a reliable assistant absolutely free.

You may also like: 15 Free Texting Apps for iOS and Android
SMS Auto Reply – Autoresponder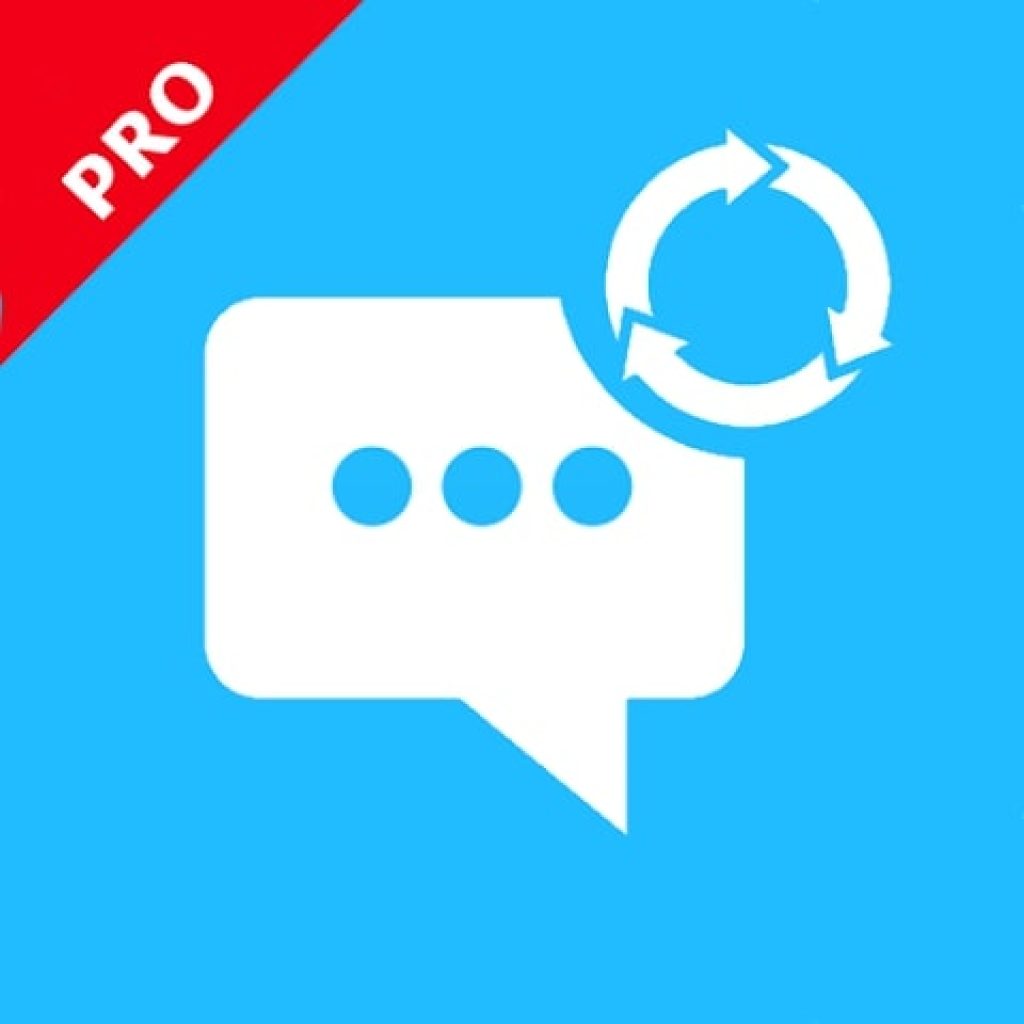 SMS autoresponder will help minimize the daily activities of receiving and sending text messages. Use it when you can't answer an incoming email.
The app will automatically send a reply message to an incoming message without your active participation. During this time, you can sleep, work, or study, and your phone will be in silent mode.
There is a special mode for each situation for maximum user comfort. Choose between driving, rest, and study modes.
In each mode, your cell phone will respond differently to incoming messages. For example, in sleep mode, the electronic device is completely silent so that you are not disturbed. Create an up-to-date schedule for the week, month or year so you don't waste time constantly adjusting settings.
You can create different groups of contacts. Reply with a text message to emails from a specified group, and ignore blacklist members and unknown numbers.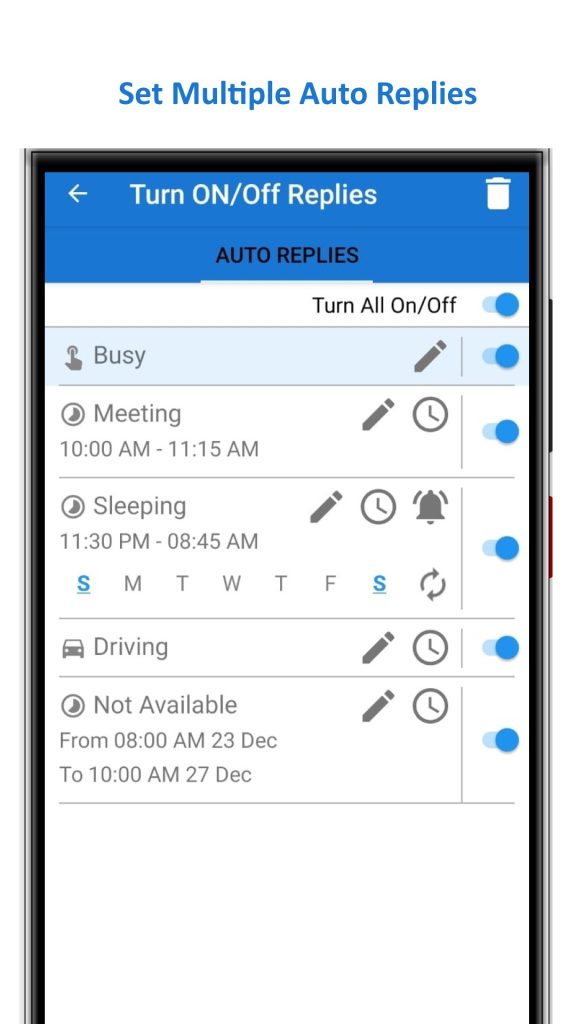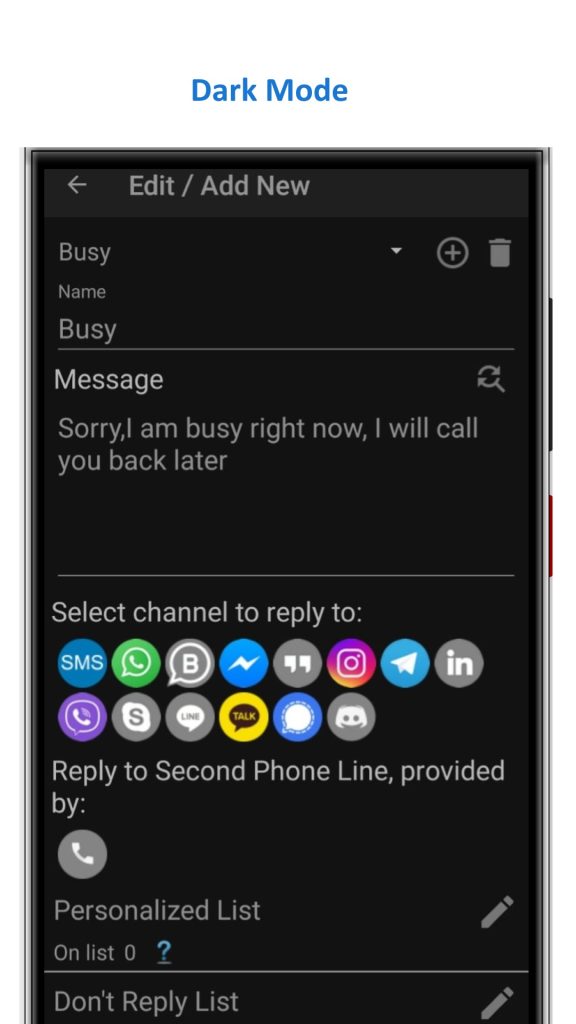 The app is compact and doesn't affect your device's performance. Use all the power of artificial intelligence with this app.