It's hard to doubt the importance of skincare. Smooth and fresh skin is always the best makeup. It's possible to detect some of the diseases that may progress in the body.
Now it's much simpler to find a perfect skincare routine and get help from the leading experts with the best dermatology apps. And in compliment to this article, you can also check out the article about the best dental monitoring apps.
Skin Check: Dermatology App
Are you trying to find a dermatologist on the go or a skin specialist to diagnose your skin condition? Here is the Skin Check: Find a Dermatologist application for you. With this service, you'll be able to seek out a dermatologist without having to wait for a doctor's appointment, everything happens automatically, easily, and fast.
The platform is growing in popularity as doctors become more accessible online. You don't need to have a real appointment to get a thorough consultation and early diagnostics of skin diseases. The explanation given by the doctors is detailed and contains effective recommendations.
To use this app, you simply have to take three photos of the skin problem.
You create a so-called case in the platform, individual for every problem you would like to discuss. Make sure the photos you take are clear and centered. Upload them to the system.
Then you will have to accompany the photos with some details by filling in a questionary. Virtual doctor service is available all the time, and you will have your result no later than 24 hours after. Depending on the results, if any additional checkups are necessary, the app will send you a notification.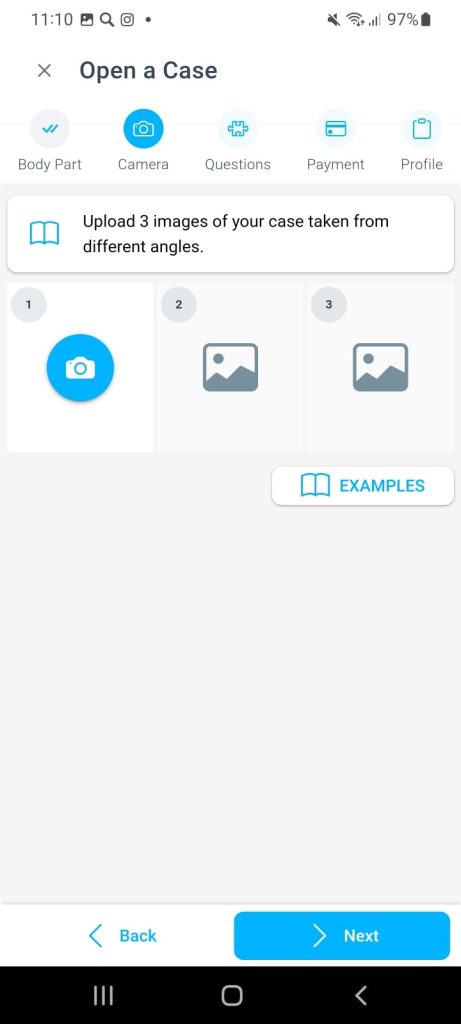 You may also like: 9 Best Food Allergy Scanner Apps (Android & iOS)
Model Dermatology – Skin Disease
In the previous app, we discussed the opportunity of consulting a doctor with no real appointment needed. Here we have an even more advanced version of a consulting service – Model Dermatology that uses Artificial Intelligence algorithms to identify the problem on the picture you upload.
Once you upload the photo, AI scans it and immediately performs an analysis. As a result, it gives you access to up-to-date medical data on the identified skin disease. The app also has a database of dermatology clinics, so it will find something suitable in the neighborhood.
The developers' team claims that AI implemented in the platform can recognize and classify one hundred and eighty-four skin disorders. The information is given in the form of an article with external links to other related topics and further recommendations to visit the hospital.
Of course, Model Dermatology is not a complete medical guide, but just a handy database of information with pictures.
In their reviews, people say it is generally a suitable start before an actual appointment at the doctor, as many of them just can't find time for a visit, and with Model Dermatology they have a handful of possible options that can help define further steps.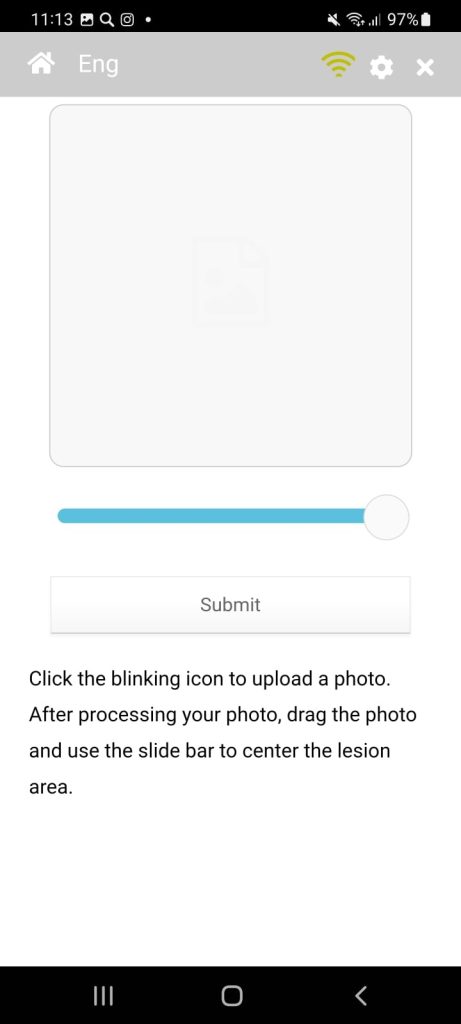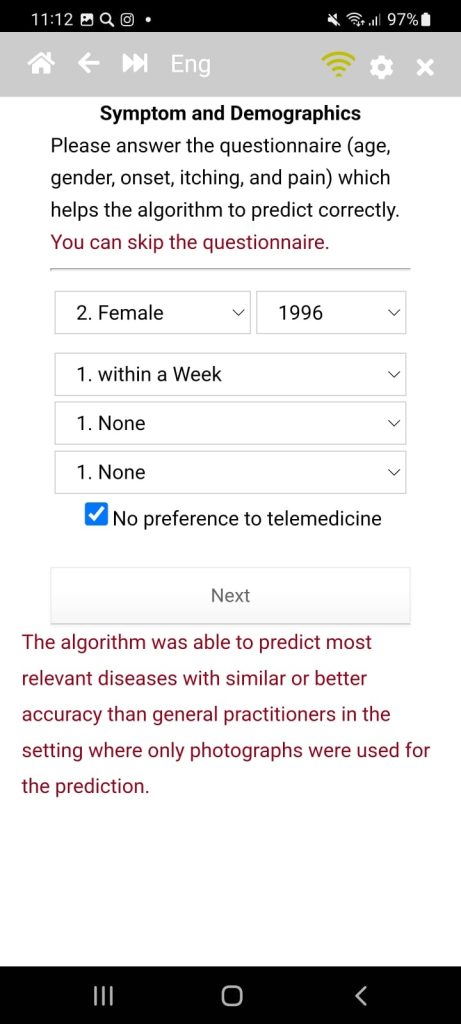 Dermatology Atlas & Skin Infec
If two previous apps concentrated mainly on providing medical services, this one aims at giving medical students and everybody else interested in dermatology as much detailed relevant information as possible.
Dermatology Atlas's name speaks for itself: it is a digital encyclopedia of dermatologic diseases with pictures. They are listed in the menu on the left side of the screen. Once the user chooses one of them, one can read a lot of information or opt for a picture section to see a full gallery of images.
To study the picture in detail, you can zoom it in or zoom out for a more general view. The information is displayed in a very convenient way. It is divided into paragraphs and subparagraphs, with key points and paragraphs' names highlighted in red.
Therefore the app is very convenient to use, especially if one is preparing for an exam at university.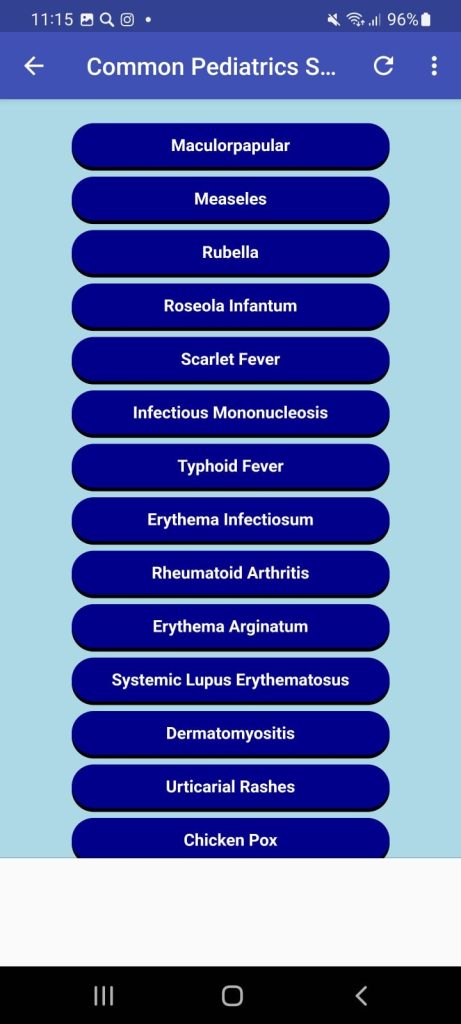 Medgic – AI Skin Analysis
Now let's return to AI scanning apps type. Here we have another example – Medgic, AI Skin Analysis.
If you have made it so far that you are here, then you probably already know what apps of the type are used for and how to extract the info you need. What you have to do is simply take a picture, upload it to the system and fill in a short form to get more accurate results.
This service focuses mainly on AI problem scanning, but it also performs some other useful functions. You can analyze the general state of your skin, whether it has any dehydration or inflammation. There's also a handful of useful tips on nutrition, fitness workouts, and sleep cycle to help you make your skin shine.
Remember that AI Skin Analysis and other apps of the type are not validated by a medical practitioner. It is just a database that comes in handy before an actual visit.
You can refer to it for curiosity reasons and also get some friendly advice, but before taking some treatment measures there's an obvious necessity to consult a doctor.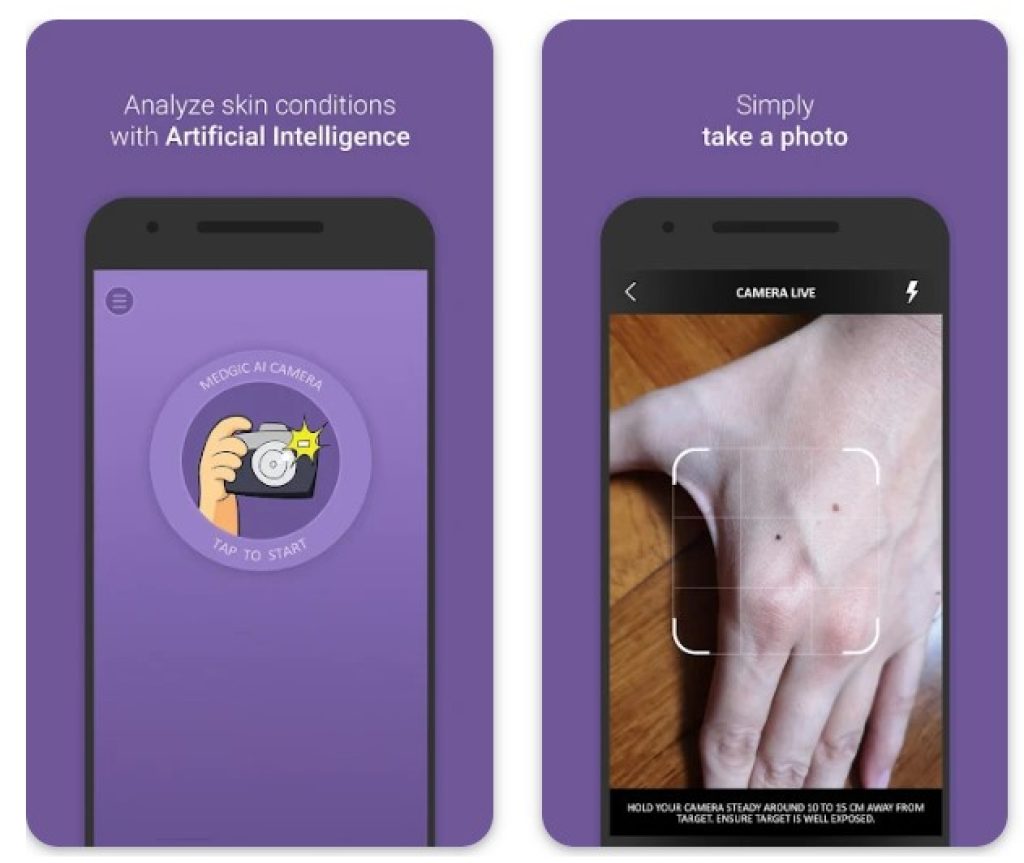 Miiskin Skin Tracker & eHealth
Tracking skin changes is in general a very useful measure. Whether there is some detected disease or not, all the phenomena happening require a thorough examination. That's why it is very convenient to have an app that gives you useful information and tracks the changes as well.
We have found such a platform – Miiskin Skin Tracker.
The app's team says Miiskin is the leading service to track skin changes and keep an eye on your skincare routine. It is endorsed by the Skin Health Alliance and has a partnership with leading organizations in the USA. Many respectful journals such as Forbes and Digital Health News mentioned the app on their pages.
As we can see, Miiskin has quite an impressive background. Does it mean it has a tool set as such? The answer is closer to 'Yes' since Miiskin uses AI to track the changes and to report if there are any new phenomena requiring attention.
There's an opportunity to examine the changes on the screen of a PC as well. To take care of your whole body, you can opt for an appropriate function in the service and it will take quality photos of you from different angles.
There's also a special section called FaceDiary. It is a notes section where you can outline the main steps of your skincare routine and see how it affects your skin through time.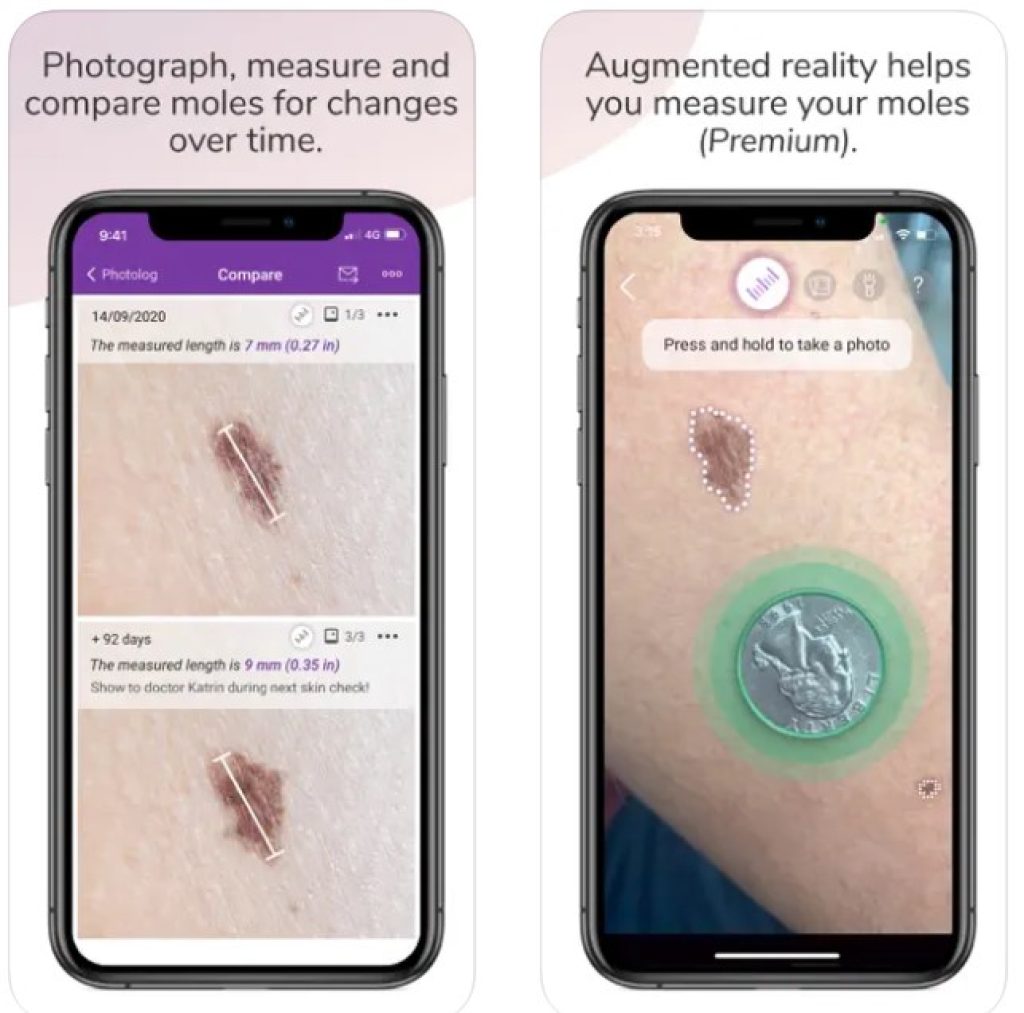 Aysa
Aysa stands in line with the apps that identify the problem or at least try to do so and afterward give access to a database of medical information. The service offers a library of more than 120,000 medical images of every skin type and color. It's said that there are more than 200 skin conditions, and you can see how they look at every stage with the help of Aysa.
The app takes the materials from various sources, such as research articles, leading textbooks, the WHO materials, those of the Infectious Society of America (IDSA), etc.
As for the rest and the consulting process itself, Aysa is very simple to use and has a convenient and user-friendly interface. After uploading a photo there's a summary of just four most important questions: if the user has the flu, if it itches, how long the observed phenomenon is taking place, and its location.
When one gets possible results, there's an opportunity to read a lot more general information and examine the pictures for better awareness and understanding.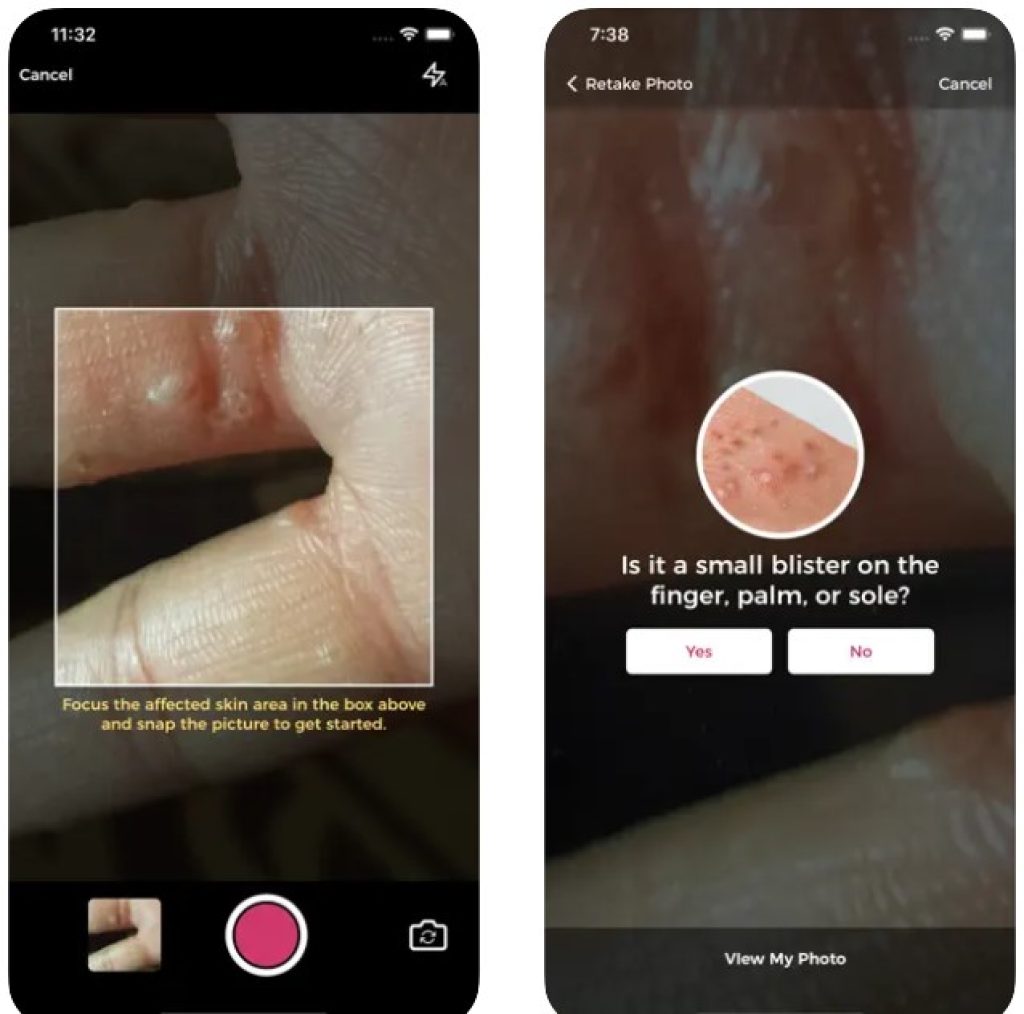 You may also like: 11 Best Apps for Physicians for Android and iOS
MDacne – Custom Acne Treatment
Skin is a very vast topic that includes many sub-points to discuss. One of them, of course, is acne treatment. Our next app – MDacne, Custom Acne Treatment – deals exactly with this kind of problem.
The app's motto is 'Ready for clear skin?', and after reading it you are taken on a five-minute journey to get, as it is said, a complete treatment set of tools personalized just for you!
It's high time you asked and we told you how it all works. All you have to do is to take a selfie and send it to the system.
It will analyze the picture immediately and craft a unique acne treatment kit for you. It will be delivered right to your doorstep.
Amazing, isn't it? All the products are supervised by dermatologists and are made with the help of natural ingredients that every skin needs. There's a tracking system to keep an eye on changes that happen to your skin during the treatment.
One more useful feature is a chat where you can access top dermatologists and get useful recommendations to always stay healthy and beautiful.
If you don't know what to start with, you can opt for an eight-week Academy Acne Treatment program and enjoy progressing with the community sharing results and giving support.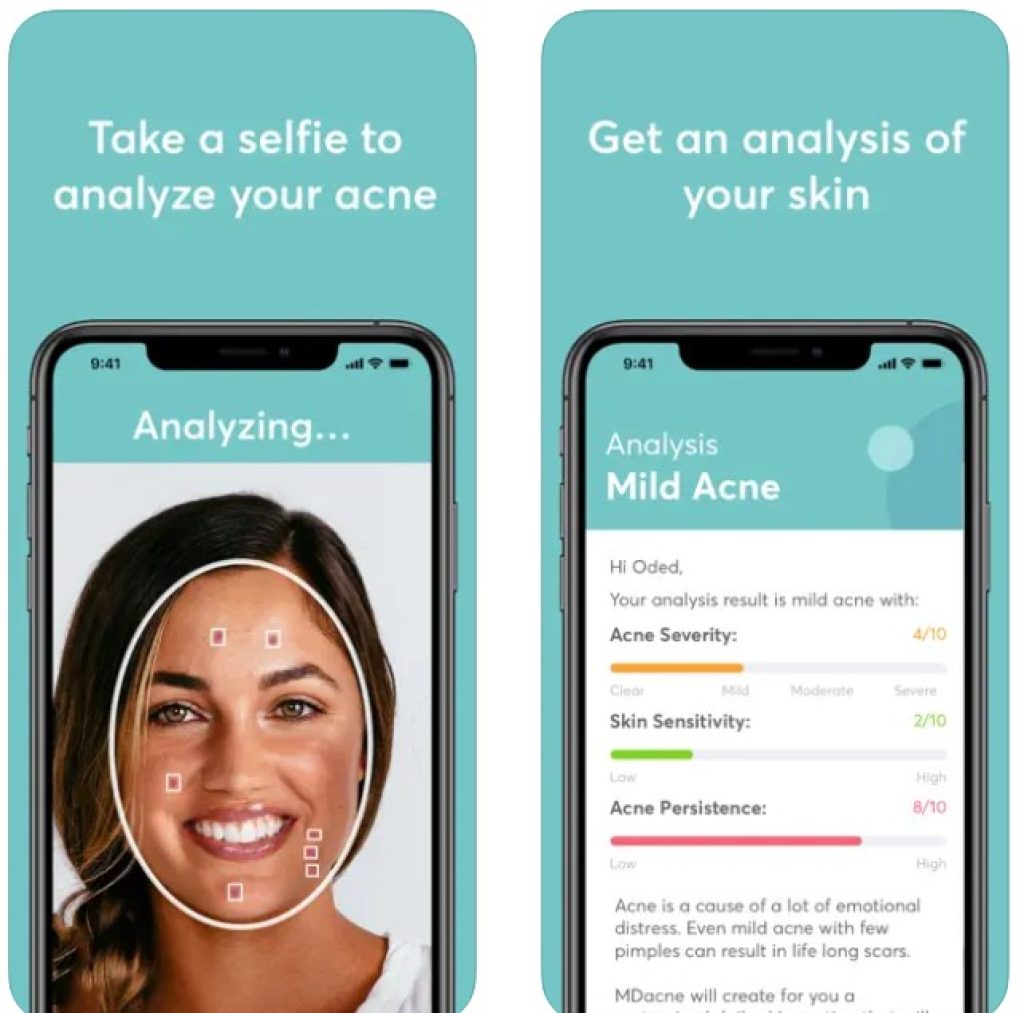 VisualDx
It's easy to get a bit tired of all those various visual reference tools since it's hard which one to choose. On the other hand, it's better to give some time to the process since a handy and solid encyclopedia you trust is always of great help.
VisualDx is another visual encyclopedia created mainly for medical purposes. It leverages Artificial Intelligence and has an extensive database of atlas images to be a helpful instrument for practitioners worldwide.
The app performs multiple functions. First things first, it helps build differentials across different spheres of medical practice such as internal medicine, dermatology, and pediatrics. Here one can consider such findings as the history of recent travels and allergies, which is important regarding the final result.
The service has a vast library of pictures as well as an extensive database of diagnoses. A user can examine more than 3,200 cases from all spheres of medicine. What is also worth paying attention to is that with the help of the platform you can earn 0.5 AMA PRA Category 1 Credit.
The system is used in more than two thousand hospitals, medical schools, and clinics, as well as by nurses, physicians, students, NPs, and PAs worldwide.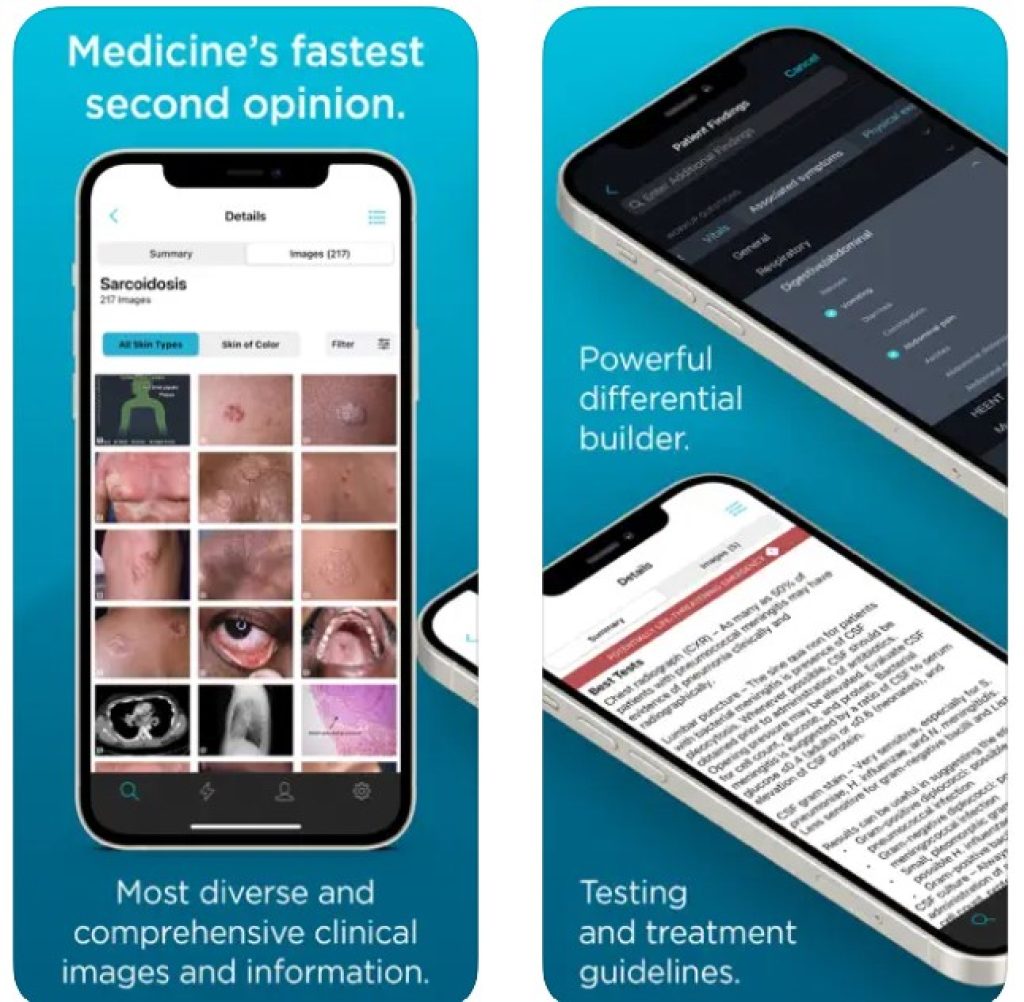 Medscape
Medscape is said to be one of the top online platforms for healthcare professionals of all types across the globe. The app's main target is to provide a custom experience and the latest news from the medical sphere.
If you are searching for a community part, you can opt for a section where leading experts give their comments and opinions on various issues under consideration.
The platform has a vast number of functions a practitioner, as well as a regular user can make use of. First, there are more than four hundred calculators designed especially for medical purposes. Not to get lost in such a variety, you can sort them out by specialty you need.
Next, there's a newsfeed section that you can customize and choose only the topics you would like to read. So, if you are interested in dermatology, you can find a lot of useful insights and articles on the topic.
The feed brings the most up-to-date news from medical conferences, late-breaking trial clinical information, and a lot more, To stay active within the community, you can track your progress with a special Activity Tracker based on CME/CE credits and ABIM MOC points.
To use the app and follow your progress you have to create an account and sign in. Medscape is available in dark mode. Care for one's eyes is as important as caring for one's skin.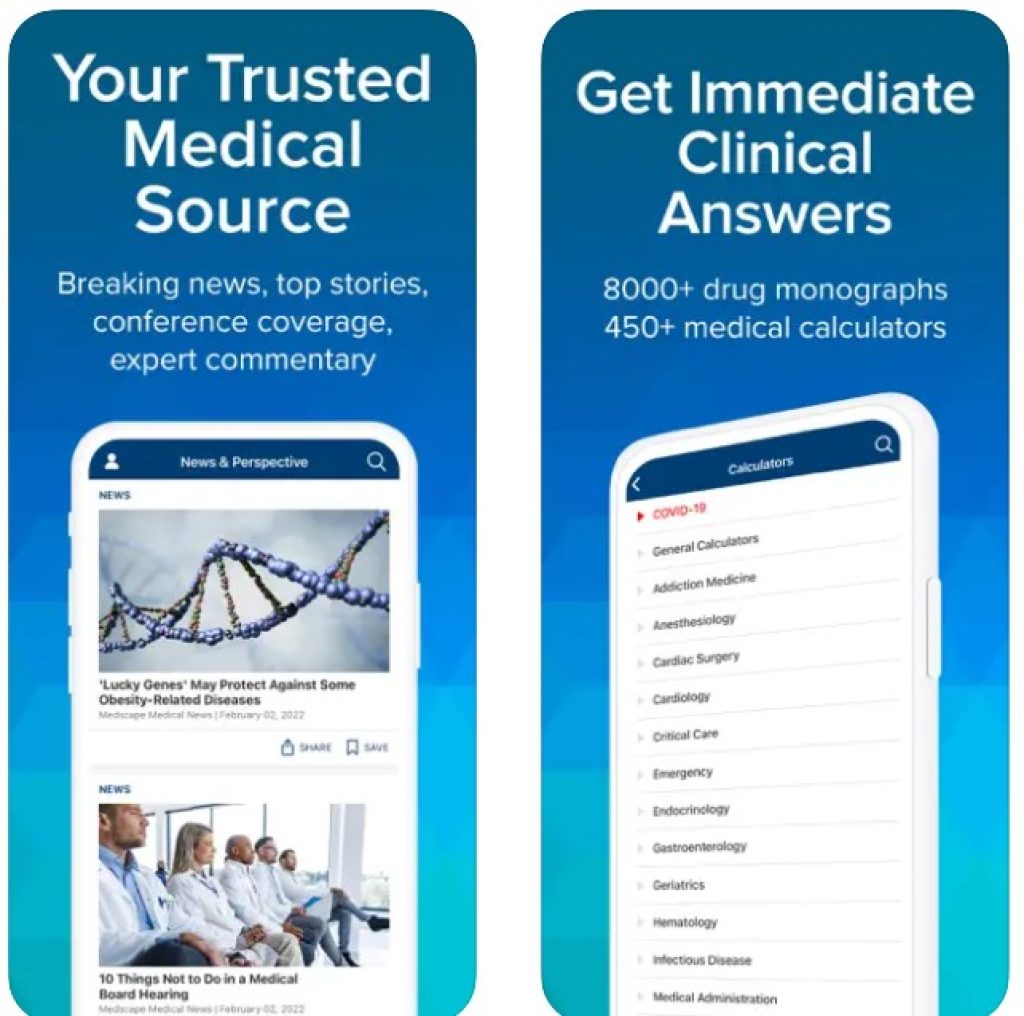 First Derm: Online Dermatology
First Derm is extremely popular among people since it has more than four hundred thousand users across the globe.
The dermatologists that give consultations and recommendations within the app are said to be certified and 'still better than any AI algorithm'. Well, AI certainly didn't spend that much time in medical school, so it seems to be true.
There are many reasons why so many people believe in First Derm. Firstly, it is backed by four peer-reviewed scientific papers. As for the response time, it is said you will get a guaranteed answer to your question within eight, twenty-four, or eighty-four hours.
If you have any additional questions on the go, you can feel free to ask a 24/8 online support service. The specialists that are engaged in First Derm are board-certified and have more than ten years of practice at top institutions.
What makes the difference is that in this app it is said that no signing up is required. The data is anonymous and encrypted, located on secured servers. What's more, you are to set a password to additionally protect it.
An experienced practitioner is better than Artificial Intelligence, and a real meeting with the specialist is certainly more effective than one online.
After online consultation users can arrange a face-to-face appointment through the app. The search algorithm will find a suitable local specialist, a dermatologist, pediatrician or pharmacy.
There's an interesting statistic provided: First Derm users visit a doctor two weeks faster than people in general do. So it's time to take thorough care of your health and opt for a necessary check-up.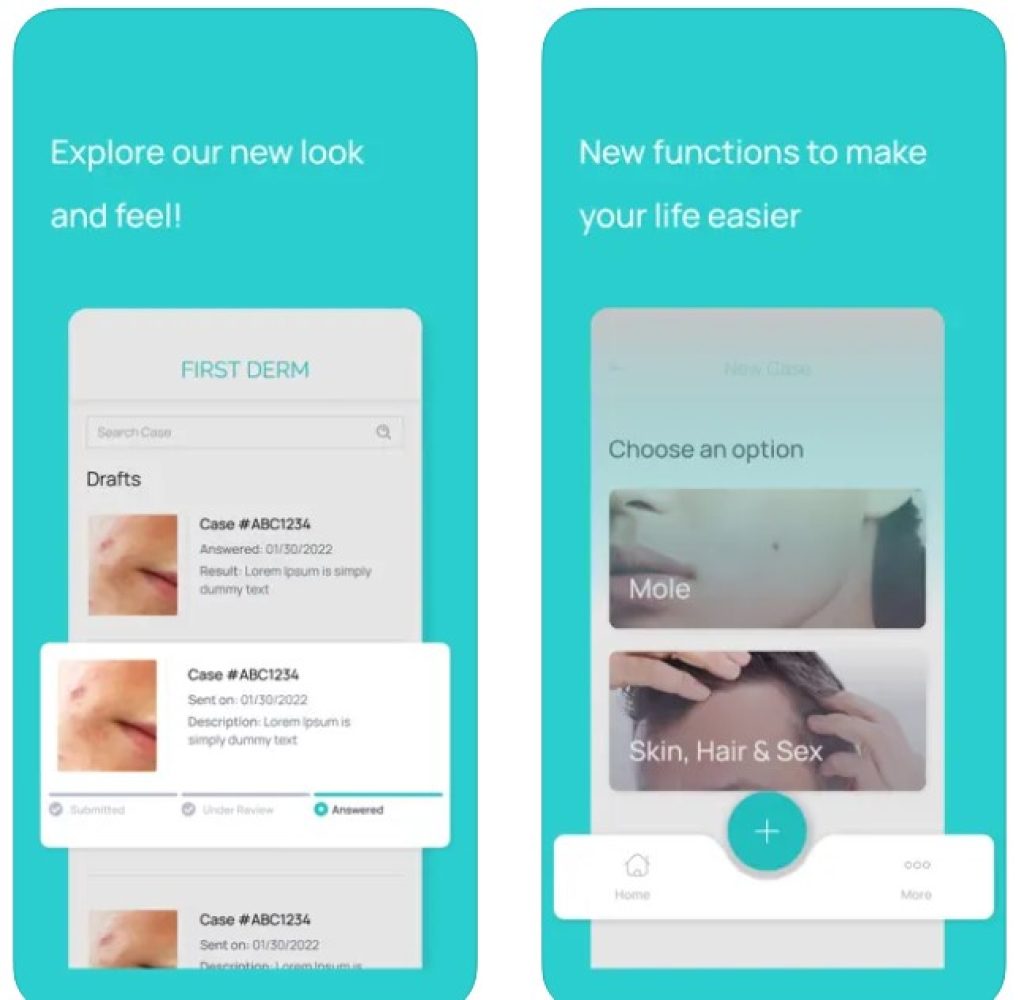 You may also like: 9 Best Online Medicine Shopping Apps for Android & iOS
Medical Student: Dermatology
The last app on the list is dedicated again mainly to young practitioners and medical students. Medical student was created in 2019 by the British Association of Dermatologists with the help of a vast community of experts in the sphere. This visual reference tool aims to make the material more accessible.
What makes it useful while preparing for the exam is that there's a series of puzzles and games that help learn the topics and achieve ingrained knowledge of the subject.
You can create a range of topics you specifically want to pay attention to and test yourself in random quiz mode. The app has a separate picture test mode since when dealing with dermatological problems it is extremely important to know how to diagnose them visually.