Check when the first snow comes and how much of it to expect! There are a lot of weather forecasting apps on the market for mobile software. But there are some apps that give only snow relate prognosis.
It may be useful for various reasons for those who are keen on winter sports like skiing or those who just need to plan the upcoming weekend. Should we expect a day off due to the upcoming freezing storms and skip the school day?
We have collected the best snow day calculators and forecast apps for Android and iOS that were made to help you. Check them out.
You may also like: 9 Funny Weather Apps to Watch Engaging Forecasts
Snow Report & Forecast
Snow Report & Forecast app informs about snowу weather and snowfalls for 7 days roughly and 3 days in detail for each hour. The forecast is provided for North America and Canada only but for each location that you can even spot on the map. Besides it provides information about rains, wind, and temperature.
Snow report includes the amount of snow, its load, the possibility of storms and blizzards. Definitely, such information can be useful an even life saving as it helps to chose the best day to travel to the country or mountains.
Weather forecast in this app is taken from NOAA and guarantee the truthful information. Lots of good reviews prove these facts as well as high ratings. The app costs $2.99 without ads and in-app purchases.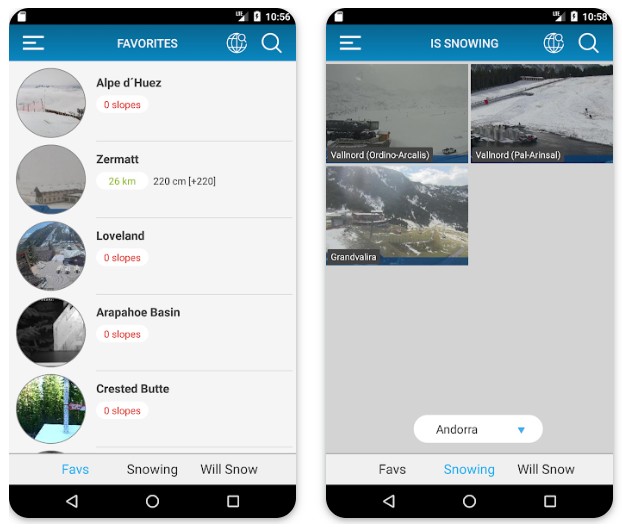 You may also like: 13 Best Severe Weather Alert Apps
Snow Day Calculator
Are you willing to know when the snow finally appears in your are? Or are you planning a holiday trip up to the mountains and need to know whether you will face a blizzard and the light snowing? The Snow Day Calculator will notify you about the next snowfall. Set a zip code of your area and it will be enough for this app to show you accurate predictions.
Predictions are displayed in a percentage without additional information about other conditions of the weather like wind, temperature, etc.
The app extracts the data from the National Weather Service which, though, also can be not accurate in its prognosis. The app will cost you at least $1 to try and then there are some in-app purchases.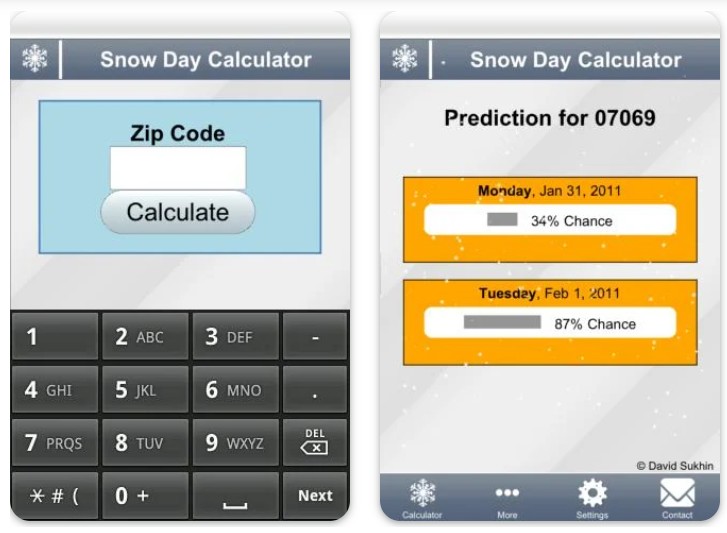 Snow Forecast
Snow forecast offers a detailed snow forecast that will provide you with a snow prognosis. Moreover, it will show the nearby places with the soonest possibility of snowfall.
Originally the app created with the aim to help professional and amateur skiers to plan their trip to the mountain to one of the ski resorts all over the world. The Snow Forecast app has data for all countries and provides a detailed plan of weather behavior.
Additionally, there is an option to set the snow alert to notify you about the soonest snowfall. The database consists of 3200 main resorts with some information related to it. For example, the date of the last snowfall and the chance of the snowfall in the nearest time with the amount in centimeters.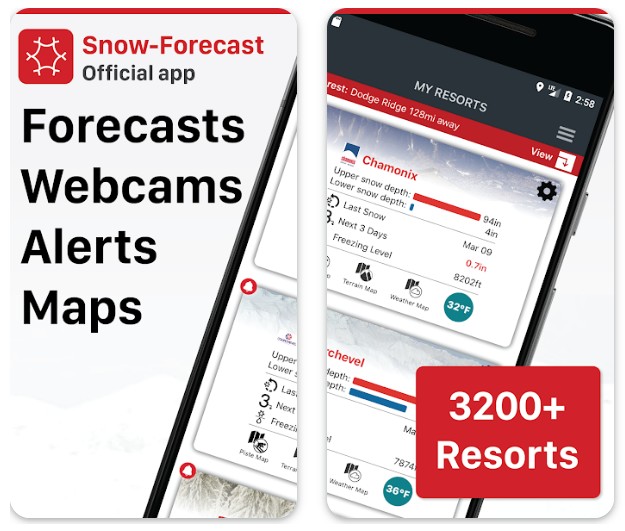 OpenSnow
Open Snow is yet another great app for skiers and winter sports fans. It displays the weather forecast for all the USA, Kanada, and Europe. The detailed hourly prognosis is given for three days while the short daily prognosis is provided for 10 days for better holiday planning.
The app is great when it's highly crucial to know the chance of snowfall and overall condition in order not to spoil your snowy weekends.
Moreover, it gives information about the road conditions as we know that heavy snowfall can block some of them. It helps to avoid being stuck in the middle of the snowy weather.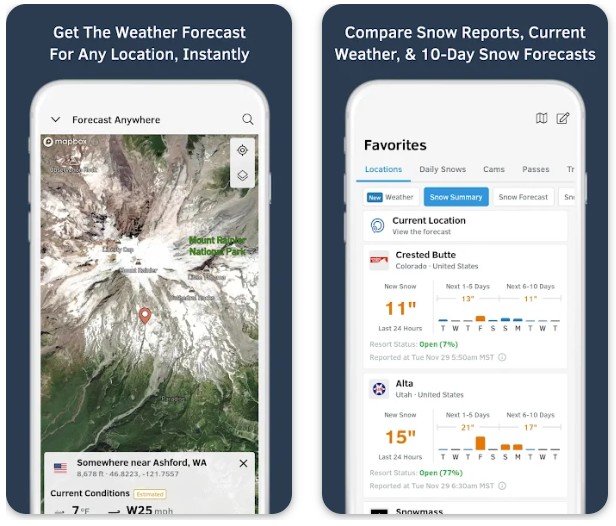 You may also like: 15 Best Weather Apps for iPhone
iSKI USA
The last app on our list is the guide for skiers and boarders. It has ski resorts information with maps and videos from installed cams. Additionally, the app provides weather forecast with snow prognosis as one of the most important aspects of skiing.
The snow forecast will be displayed on the map of the area. Places with predicted snowfalls will be spotted with cure icons of snowflakes on the yellow circles. Moreover, the app offers a detailed weather forecast with temperature degrees.
Apart from weather forecasting, the app has a lot of extra features for ski lovers as it displays a lot of information related to the most famous ski resorts, mountains, and slopes. What is more, skiers are able to track their activities and analyze their performance on skies.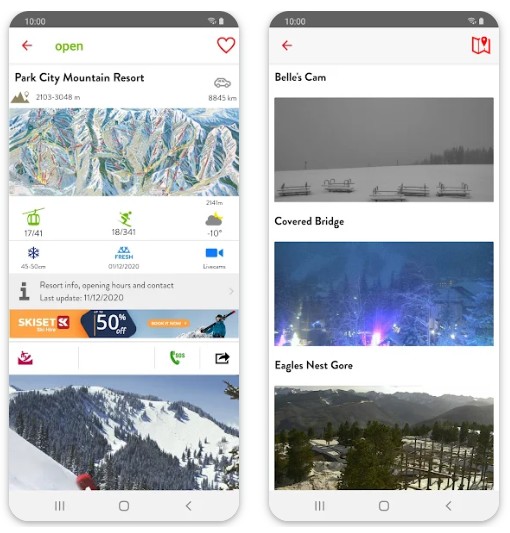 Snow Day Predictor Canada
Snow Day Predictor Canada is an application designed to let you know what the weather is like and whether there will be a snowy day.
The app works by collecting weather data from Environment Canada and using its own algorithm to determine the likelihood of school closures. You can search your school district or individual school to see if a snowy day is forecast.
The app has several features, including the ability to save multiple schools for quick access, view historical data for a specific location, and receive push notifications for when a school has been added to or removed from the list.
You can also leave feedback on the accuracy of the predictions, which helps improve the algorithm over time.
Some users have reported problems with the accuracy of forecasts, and some have stated that the app predicted a snowy day when there was none, or vice versa.
In addition, some users have criticized the app for not covering all regions of Canada and only focusing on school closures due to snow and no other weather events.
Snow Day Predictor Canada can be a useful tool for you if you want to plan ahead for possible school closures due to snow, but you should remember that forecasts may not always be accurate and should always refer to official sources for the latest information on school closures.
Application features:
Convenient way to predict a snowy day
Application cons:
Gives false information at times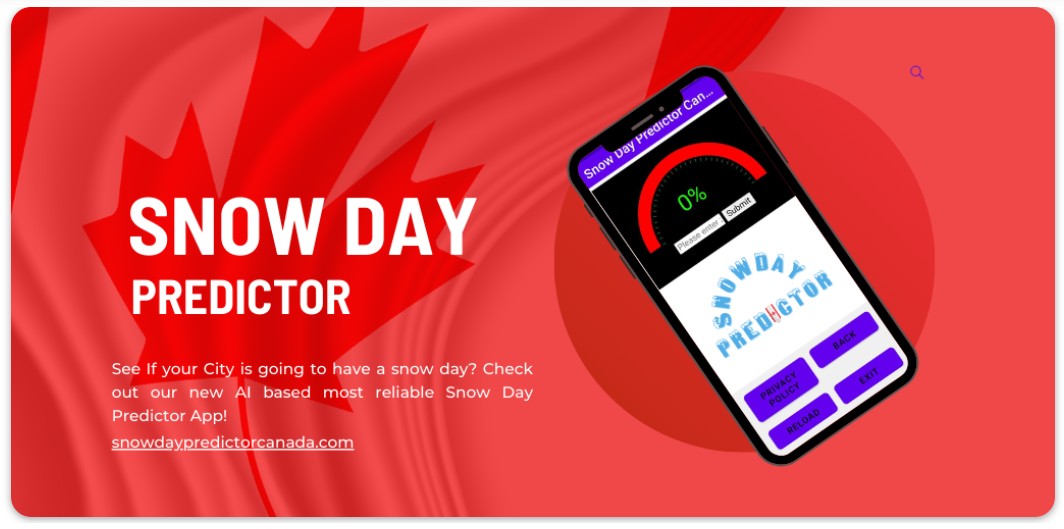 You may also like: 10 Best Weather Apps for Android
Know Snow
Know Snow is a mobile application that provides you with up-to-date snow conditions and weather forecasts for various ski resorts around the world.
Developed by Snowsports Industries America (SIA), Know Snow lets you access real-time snow depth, temperature, wind and other weather-related information that skiers and snowboarders need to know before hitting the slopes.
The application has an easy to use interface that allows you to search for ski resorts by name or location and provides detailed information about the conditions at each resort.
You can also set your favorite ski areas and get notified when conditions change or new information is available.
One of the major shortcomings of the app is that some users report bugs and glitches in the app that can lead to inaccurate information or difficulty accessing data.
Some users also report that the app's user interface is not very intuitive, making it difficult to navigate and find the information you need.
Know Snow is a useful application for you if you are a skier or snowboarder, or if you are planning to go on holiday in the mountains in various ski resorts around the world.
Despite some negative reviews, the app's features and functions provide users with valuable information to plan their trips and make informed decisions.
Application features:
Allows you to always stay up to date with the weather
Application cons:
Interruptions and inaccurate forecasts at times