A lot of people remember their favorite dice games since their childhood. Back then we had plenty of time to spend playing with our friends and family.
Now, in the modern world, it is really hard to find the time and stuff to play the real dice… However, our devices can solve this problem easily – just download the app. This review will help you to make the best choice – there are 15 best dice game apps.
Some of them are more classic and some of them are quite modern and innovative. You can try them all, anyway. Whatever the dice game you are trying to find – you better use this review.
You may also like: 11 Best Rummy card games for Android & iOS
Dice Dice
This game is perfect for those who would like to play a simple but exciting game to spend time while you are waiting for something.
The app offers several classic dice games, including Yahtzee, Farkle, and 10000. You need to get as many points as possible using dice. Hope that your luck is much better than that of your opponents.
You can either shake the phone, swipe the screen, or tap the dice to roll. This feature adds to the overall user experience and makes the game more interactive.
This app has a minimalistic design, with simple and easy-to-understand visuals.
However, there have been some complaints about ads that pop up frequently and interrupt the gameplay.
Dice Dice is worth using if you enjoy playing classic dice games. The app is user-friendly, with straightforward gameplay and a social aspect that allows you to play with friends or random players online.
Advantages:
Simple and easy-to-understand gameplay.
Offers various classic dice games.
Provides a social aspect to the game.
Drawbacks:
Technical issues were reported by some users.
Frequent ads that interrupt gameplay.

You may also like: 10 Best Monopoly apps for Android & iOS
3D Dice.
Remember how you were always losing the physical dice? Now you do not have to deal with this problem since you have the app 3D Dice. It allows you to play this game on your smartphone.
3DDice can simulate up to 15 dice. To throw them you need to shake your iPhone or you have to touch the screen. There are 3 types of dice and six different colors you can choose. You can choose different color and number.
Among other things, the app will be great for those who prefer simplicity and focusing on game process instead of background features. You will not have to waste a lot of time trying to understand how to use settings and play.
The whole game is played on the green background. In the lower part of the screen, you can see the sum of the points you got.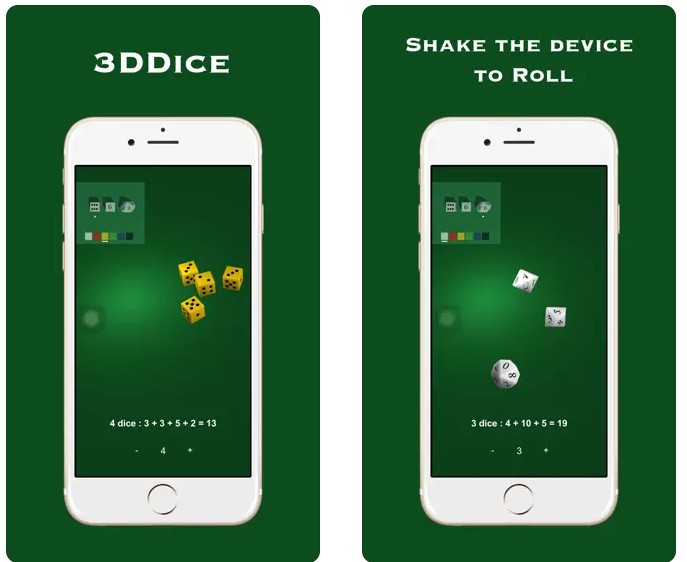 Dice
This is one of the most popular dice apps on Google Play. You can set your own background, you can shake your phone to roll the dice. In this app, you have a six-sided wooden dice model and you can choose the endless number of them to play.
The app also has such versions of dice as 4-sided to 20-sided model. Of course, you can choose any kind of color you want. You can also lock and release dice, use a draggable dice. When you shake your gadget or tap on the screen the dice rolls with the vibrating sound of collisions.
The total count is always displayed. For those who are extremely picky when it comes to gaming process there is a chance to chose the speed of rolling. The landscape is also supported and if you want to set your own picture for the background you have a possibility to do that.
Graphics are easier to read and there is also access to game history. Remember that locked dice excluded from the total score. And, lastly, there is dice images scale to allow more items to fit onto your screen.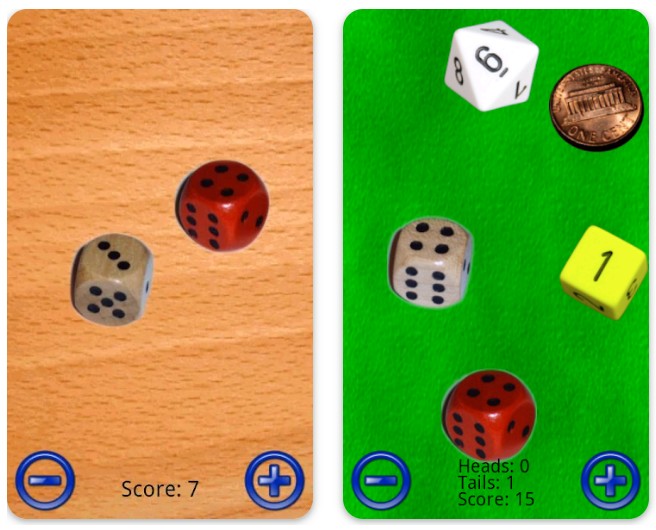 Dice Clubs
The feature that distinguishes this dice app among all the other similar ones is that this one is a social dice game. And it is obvious that such a concept was accepted quite well by the users – the game has around 3 million of downloads.
Dice Clubs is an all-time classic competitive dice game with simple rules. In this unique combination of luck, skill, and strategy game that you all know and love you can challenge your buddies or look for opponents online.
You all will be playing the classical dice game that you might know also as Yams, crag, balut, farkle, kismet, yamb, yacht, kockapóker, kostky, and so on. The aim of this Social Dice Game is that you collect as many diamonds as you can. In the end a person who has the biggest amount of them wins.
The game process itself is highly customizable – you can choose if you want to have the timing for the game or not, you can invite your friends or play with strangers, you can choose the design of the dice… Check this game out to see what else it has to offer to you!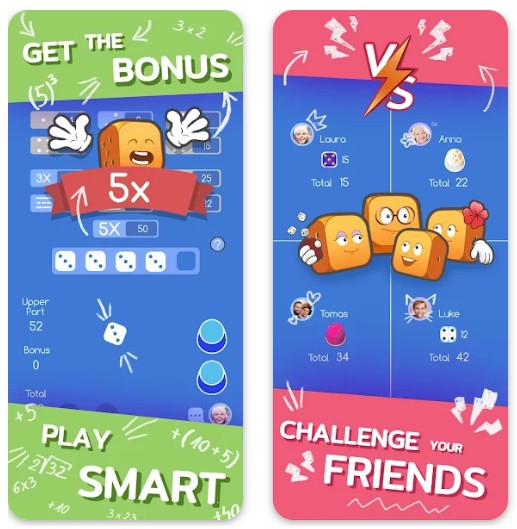 DnDice – 3D RPG Dice Roller
This app will make the dice game feel as real as possible. You will get any kind of dice you want. RPG players, Board gamers and D&D fans can use DnDice as a dice roller, just like in the real world.
There are several modes which you can choose in this game:
1) Dice Sum Mode – the final score depends on not only the sum of the dice but also on the modifier; 2) Number of Successes mode – the results of the game are built according to the priorities indicated in the initial settings.
You will also get the full set RPG dice: d2, d3, d4, d5, d6, d7, d8, d10, d12, d14, d16, d20, d24, d30, d100, FUDGE/FATE. You can move your dice by gadget shaking, touching the screen with your finger or double-tap. You can also tilt your device and the dice will also move (there is a customizable gravity strength).
There is also a possibility to pause and resume the simulation. If you want to block a die or to change its color then hold your finger on it. All the results of your throws will be saved in the game history.
Later you can share them on different social networks, such as Google+, Facebook, etc. The range of the dice set is huge – you can vary the color, style, opacity, number color and size. There are also many possibilities to chose the background. And the live wallpaper is possible to be added here.
Unlimited dice can be added, it depends on your device. Of course, there are sound effects when dice collide or when you get your results. Swipe up or down with two fingers to hide the upper and lower interface. So this game is a dream come true for all dice fans!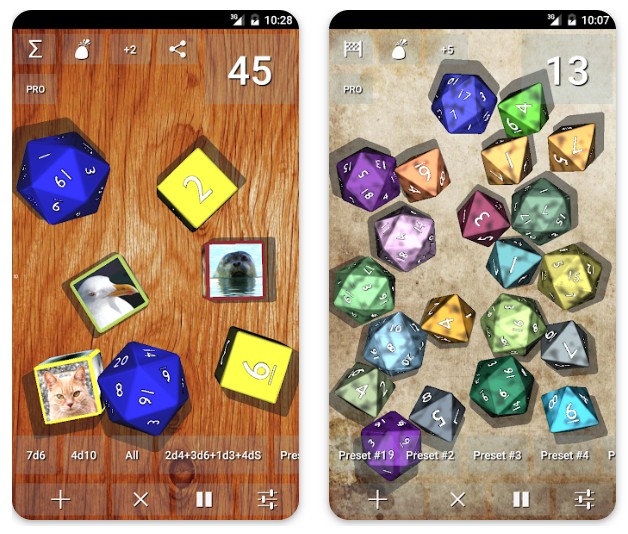 Dice & Dragons – RPG Dice Roller
A classic game which allows you to enjoy all the fun of tossing physical dice without all that pesky math and adds a few tricks of its own. The distinctive feature of this game is when you toss the dice it leaves a trail of fire, steam, etc.
All you have to do is to combine all of the dice needed, numerical bonuses, sounds, and other information into a single combo die that makes appropriate sound effects. When you throw it, it dissipates into the multiple dice. You have several options to create the dice from. As always there is a possibility to choose a color for a die.
You can make Attack Dice, Damage Dice, Bonuses, Defense which all will be hidden in one die in the beginning. Here you almost do not have limits while creating the dice of your dream, you can choose any features to personalize it as much as possible.
The app will make all the math actions for you. If you want to save your combo die then click on the Character List. The sound effects are classical and there is no limitation for the number of dice which can be thrown simultaneously.
What is more, the interface of the app is extremely good-looking and catches your eyes as you launch the app. 3D graphics are also amazing and when you play you have a sort of feeling that you are playing some adventure game, not just a dice game.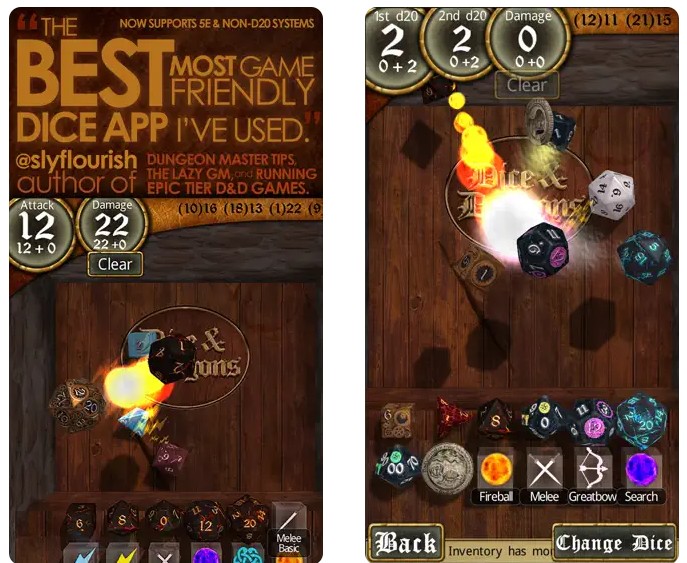 Dice With Buddies™ Free
This app will give you a chance to play dice with all your friends. Actually, not only friends – you can play with random people if you want and it does not matter if they are a thousand miles away from you.
The game process now has become awesome because of the improved interface, Biggest Winner events and premium tournaments! This free dice game consists of 13 rounds with the scorecard having 13 categories. You can roll the dice 3 times in each round and chose the way the scores will be defined.
If this way was used before it cannot be applied one more time. In order to win, the player has to roll 5 different kinds of dice and get 50 scores.
There are such combinations as the Full house, Three of a Kind, Four of a Kind, Small Straight, Large Straight which is similar to Poker Dice. Play the in-game scratchers to win bonus dice rolls and activate the bonus roll if you want some extra scores.
You also have a chat when you play with your friends and you also can place with them on Facebook. Level up your frame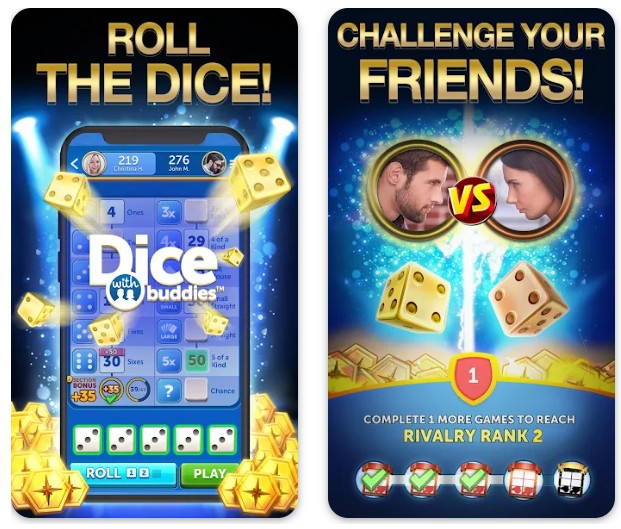 Random Dice: Defense
This is a game that can be both a great workout for your brain and a good way to relax.
This game involves players rolling dice to determine the outcome of battles against other players. The goal is to defeat all opponents and be the last player standing.
Players can unlock new characters, abilities, and game modes as they progress through the game.
Royal Dice has a stunning 2D design and the game is aesthetically pleasing. However, the graphics can be a bit simplistic compared to other games in the same genre.
One issue with Royal Dice is that it can be quite addictive. Some people have been spending hours playing the game without realizing how much time has passed. This can be frustrating for players who want to limit their gaming time.
In terms of flaws, the biggest issue with Royal Dice is that it can be difficult to progress without spending real money on in-app purchases.
Advantages:
Easy to pick up gameplay.
Good graphics.
Addictive gameplay.
Drawbacks:
Pay-to-win mechanics.
Can be time-consuming.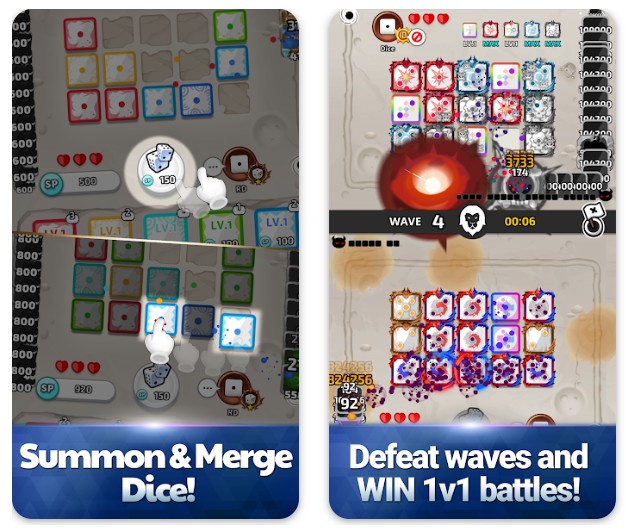 Yatzy Ultimate Free – Best Dice Game – roll & win
The most exciting dice game ever! Refresh your memories of childhood with this app and set it in the way you want. Yatzy, Maxi Yatzy and American Yatzy modes will capture you for long hours where you can play alone or with a team.
It is not a problem if you are new to this game – there are 3 levels of difficulty and also the notes, which will help you to make progress in this game. You can practice your skills playing in the learn mode or with other players from the different countries of the world.
If you like risks try Game IO mode. But if you prefer the calm game with your buddies then chose a Play&Wait mode and enjoy the game. This app is one of the most popular dice apps.
You can start your journey from the Noob Alley, play online games, stake, get IO scores, and soon you will be a Titan on the Passage of Titans. Compile your own list of friends, add there friends and family or meet new people all around the world. Your friends will support you on the way to victory.
There is also an online chat where you can hold discussions. You can also use Bluetooth to connect and play with your friends. Get everyday online bonuses and set the timers for online modes. You have access to the game history and the global board of achievements. If you want you can share your records on every social network and, moreover, the graphics and sound effects are quite decent.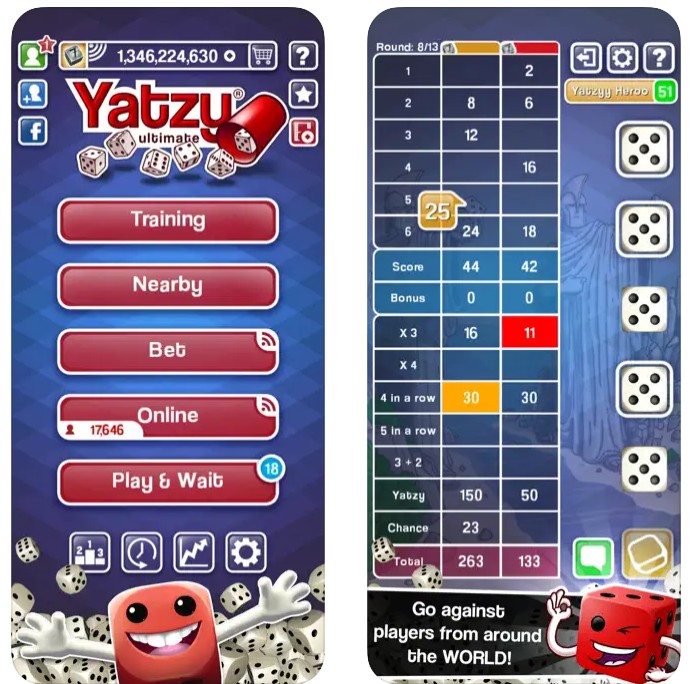 You may also like: 11 Best casino slot apps (Android & iOS)
Rento
The main thing about this dice game is that it is really similar to monopoly – so if you have been looking for this type, here you go. Here you need to roll the dice, then spin the wheel of fortune and see which actions they tell you to do. The ultimate goal is to acquire all the property on the map and create your own empire.
Rento can be fun to play since there is a multiplayer mode – compete with players from all around the globe! In addition to that, for better convenience, the game is available in more than 20 the most popular world languages.
Before you actually start a game, you can choose a budget that each of the players is going to get at the beginning and the difficulty of the game (if you are playing in the "solo" mode). After that you can choose among the various pitch designs – just choose the one you like more and play on it.
The rest of the game is quite simple – you just roll the dice again and again and hope that the wheel of fortune prepares something good for you. Thus, Rento is a cool and fun game to play together with your friends.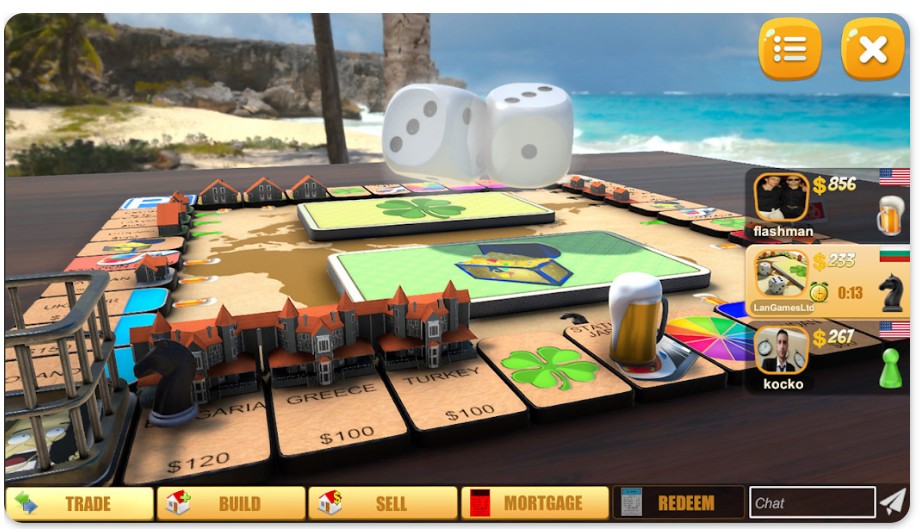 Merged!
This is not exactly a classic dice game, but still, it is a very captivating app. In this game, you have to use the dice to create blocks. Actually, this app is similar to that one with jewels where you have to put them together so you could remove them and gain scores.
As you launch the app you can see in the lower part of the screen you can see photos of the best players of Merged!. This is a quest where you have to arrange all the dice in the right position in order to make a block and win. To do that you need to place dice of the same color and number together.
It is possible to turn the dice. You can regulate the difficulty of the game – set the time limitations, chose immortality, etc. In general, it is an extremely simple game that will help you to distract from your problems and relax for a while. Or, if you want, it can be a competitive game – just in case if you want to limit yourself to time or play with other users.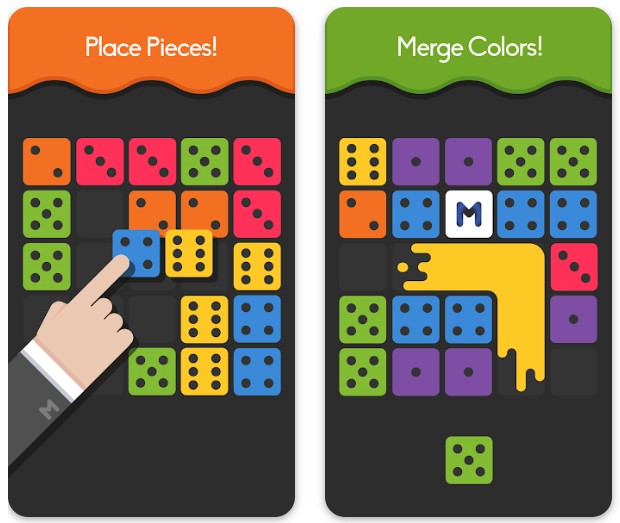 Dice Heroes
This is a curious app which, again, has nothing to do with the original dice game, but if you like the idea itself then you can probably like it. Dice Heroes is an RPG strategy where the main characters are dice!
The story is quite common: the dark times came to the land of dice and the dark dice conquered the land of Cubestria. But one by one, the representatives of the divided races have to unite in order to take the control back. You have to unite them into the resistance group.
The game includes 58 locations of the world of dice, there are different kinds of enemies and allies with their unique possibilities and powers. You can also use poisons and crafts. Of course, there will be battles with the enemies. But there is also a chance for planning your own strategy with the element of surprise.
If you want, you can always save your progress in the cloud. The graphics are made especially for this game so it has the pixel style in order to achieve an effect of the 90-s games. Your dice will be traveling around fighting the enemies and collecting bonuses. If you plan everything correct you can win and collect a huge quantity of rewards.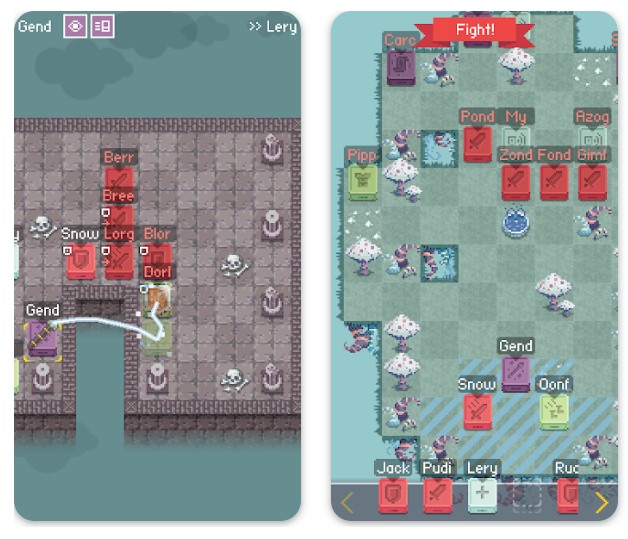 Dice World – 6 Dice Games!
This app combines 6 different games: Yatzy, Farkle, Pig, Threes, Balut, and 24, so you can choose anything you like and play without the necessity to switch between the applications. You can play the realistic 3D dice which is made according to all the rules of this classic game and works in accordance with the real physical laws.
No more random number generator to determine the dice results. You have 10 locations to play in. What is more, the game includes more than 100 new Trump's quotes spoken by a comedian J-L Cauvin during the gaming process in order to make it even more fun and interesting.
There is also a possibility to play against your friends. In another case, you can play with the computer, play tournaments, play however and whenever you want. The computer plays the role of Trump, by the way. You can use your social networks and invite your friends and followers to play with you, but you also can play against the random opponents.
Moreover, there is no need for both players to be online at the same time – another player can make his turn later. All your achievements are recorded and you also can see the list of the best words players.
The app has also a chat where you can ask your questions and a special mode for new players who start learning the gaming process. Besides, it is possible to control the Dice World app by the voice.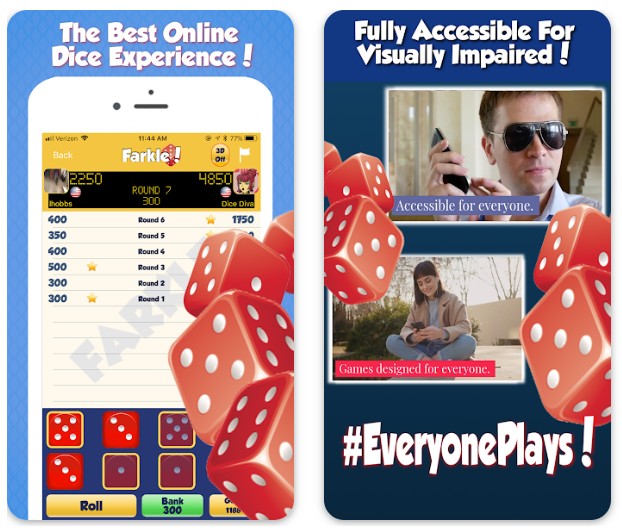 Yahtzee® with Buddies Dice
For those who are looking for a non-standard dice game and the app that would combine several dice games in one – Yahtzee is a good choice for you.
Here you can choose from the puzzle dice game, a poker dice game, a strategic dice game, and so on. Another remarkable feature of Yahtzee is its stylish and user-friendly interface – this is exactly the kind of design that you expect to see in an app like this.
What is more, this game is optimized in the best way so you could feel comfortable playing with several people at the same time – there is even a chat feature where you can text one to another, and, you can even send stickers in that chat.
Every day there is a new daily challenge in Yahtzee where you can compete with players from all around the world. One more cool feature here is that the more game you win, the more diversity of dice design you unlock. You can unlock up to dozens of them.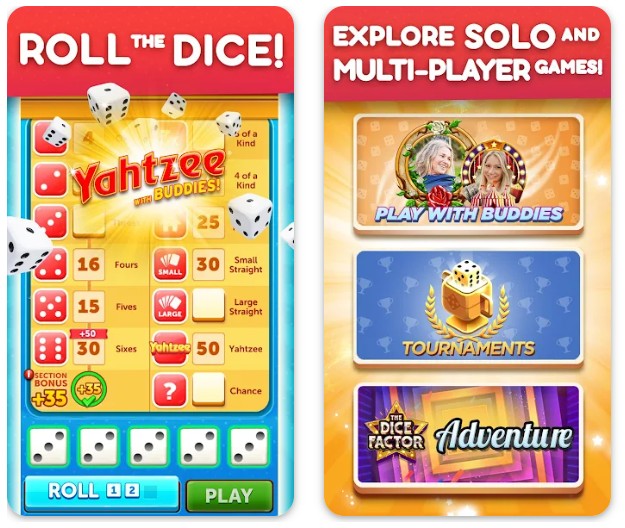 You may also like: 5 Best ludo game apps for Android & iOS
Ludo Club – Fun Dice Game
Super fun and easy game to play together with all your friends and have fun! This is a very classy dice game where all the members in your team roll the dice one by one and then do a number of steps on the game map according to the number that has appeared on the dice.
Another convenient element of Ludo Club is that you are choosing the mode of the game yourself. You can choose the online mode and play with 2 or more players at the same time, you can choose a single-mode and play against the bot in the app – it is up to you how you want to spend this game.
The squares on the map are marked with different colors – be careful with that because each color means a certain action. If you stepped on a colored square read in the instructions what does that mean. Usually, the ending aim of the game is to get to a final point, passing all the colored squares.
Ludo Club is a cool game for the whole family. By the way, it consumes a very little amount of data so you will always be able to play it – no matter if you have 2G, 3G, or 5G connection type.