In the digital age, information is being transferred more and more to autonomous media. This process
affected absolutely everything, including books. This article will present the best book summary apps in the current year.
And if you want to digitalize your books so you could also read them from your gadget, you can check out the article about the book scanner apps which will help you to do that.
Blinkist
If you want to see something truly time-tested and verified by a huge number of people, then this app is really what you were looking for. This program allows you to familiarize yourself with various educational books and podcasts in just a matter of minutes.
The most important function of this utility is what the developers themselves call blinks. This is often an extremely good guide in order to get acquainted with the ideas that the author wants to convey to us, or a kind of guide to the chapters of work.
It should be noted that most podcasts in this app are animated, which is undoubtedly a great advantage compared to other programs of this orientation.
As a pleasant bonus, it offers the ability to view books without an Internet connection. For authors of works, it is possible to send their books that have not yet been published to their loyal fans. Add synchronization of the most important components-and you get an almost perfect app.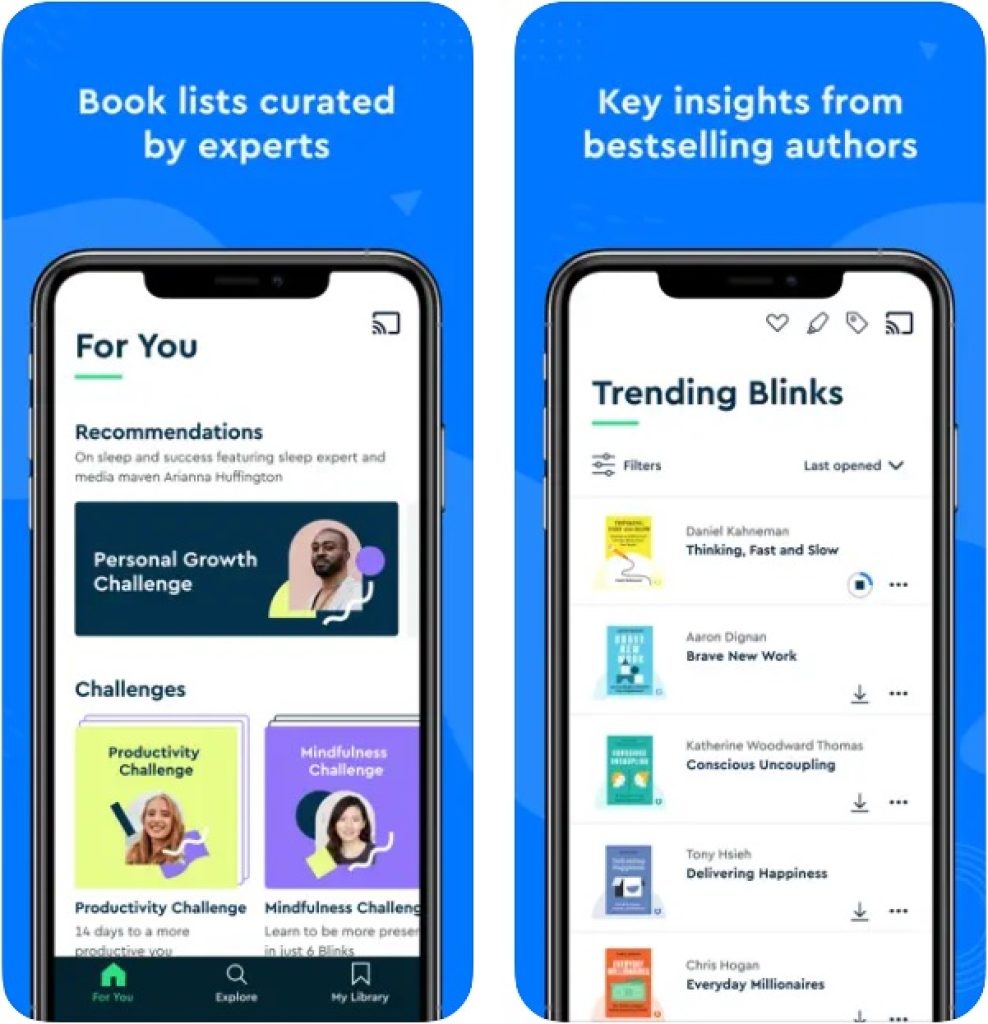 You may also like: 6 Free Audio Reader Apps for Android & iOS
Instaread– Insights from Books in Audio & Text
This program is a real find, which is based on the amount of content that is in it. Indeed, it is the app that is considered to be the richest in terms of choosing various works, as well as a huge number of professionally written books on various topics.
The most important advantage of the utility is the ability to choose in which format you will familiarize yourself with the material: text or audio.
Regardless of when you want to read: on the bus, on a break from work, at home, at a corporate party – just turn on the audio format and listen comfortably to what you think is interesting.
Thanks to the amazing author's language, you will educate yourself and become erudite in various fields of activity in just half an hour of daily reading or listening to various books. This knowledge can help you bring some interesting ideas to life or simply develop your horizons many times wider.

An important aspect is that you can upload your favorite works to your device so as not to lose them when you may need them. In addition, the ability to read or listen to your favorite books without an Internet connection will only improve the process of obtaining new knowledge and skills.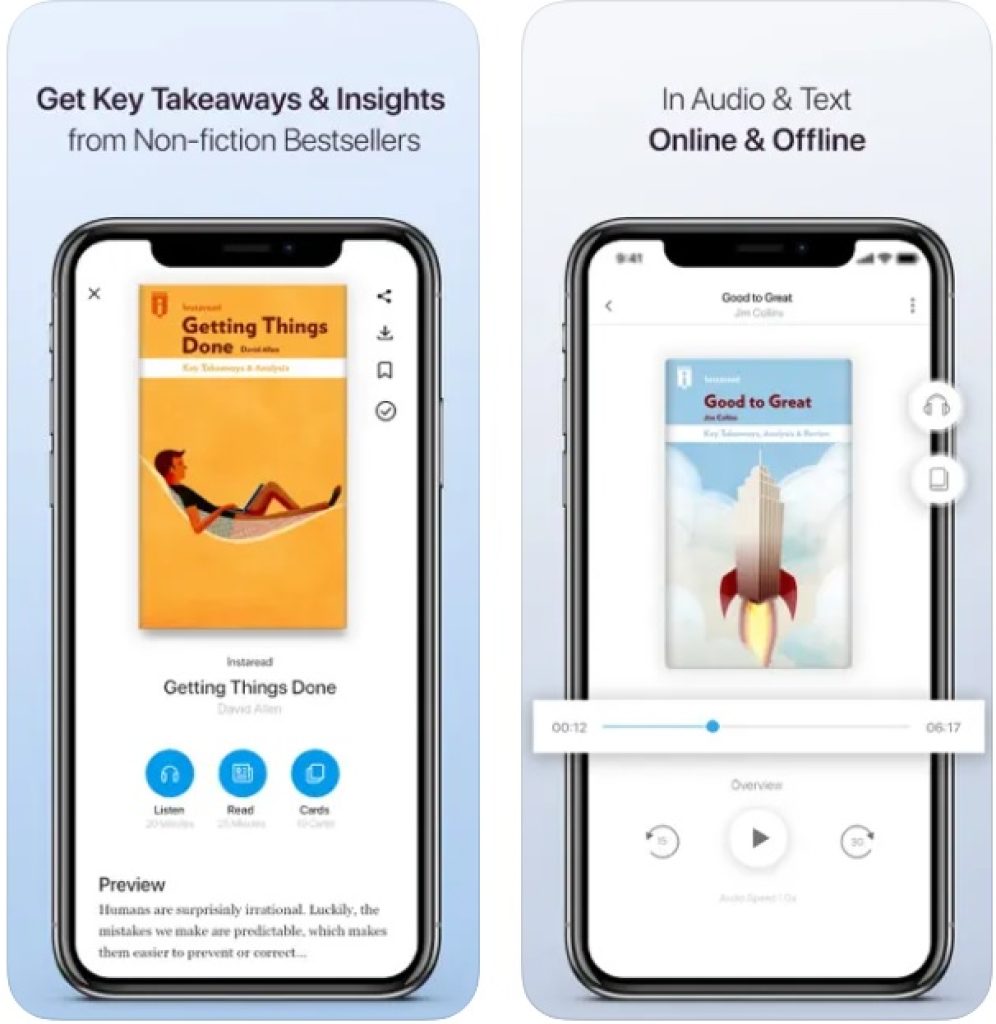 Mentorist – Skills From Books
Sometimes people ask themselves questions like "How can I become smarter than others?", looking for an answer for a big amount of time, but not always finding it. This app will be able to find a solution for your problem as simple and exciting as possible.
This program has the unique ability to select different materials individually for each user, which allows you to learn new skills and develop yourself very productively.
With all this, the utility pushes you to realize more and more in your interests by offering various opportunities and options with enviable constancy.
Mentorist contains more than hundreds of different books on business, planning, psychology, self-development, science fiction literature, and many other genres of the writing industry.
It should be noted that the program is constantly replenishing its list of new books, which can be considered really necessary for learning something new.

It should be added that reading summaries of books several times will be more advantageous in time than reading a full copy of the book, and in some cases – and more efficiently.
Sometimes after you read some of the books in this program, you will see how your mindset will change dramatically and become much more holistic.


StoryShorts: Book Summaries
According to Google, this app was recognized as one of the best programs on the topic of reading various books and audio podcasts. Still, the developers have done a tremendous amount of work to ensure that it gives users the full range of necessary materials for self-analysis and training.
The development company set itself the first priority to achieve the goal that absolutely all people can read books.
That is why they have created a huge number of different groups of books, audio podcasts, essays, abbreviated presentations, and other works on absolutely any topic, so there is no doubt that every user will find exactly what he needs in this utility.
Like all apps of this type, StoryShorts has a function such as audio spreading, that is, you can learn something new in the book by clicking on the "play" button and enjoy works from all over the world while doing something else.
If the user wishes, he can use infographics or animation to perceive information more fruitfully.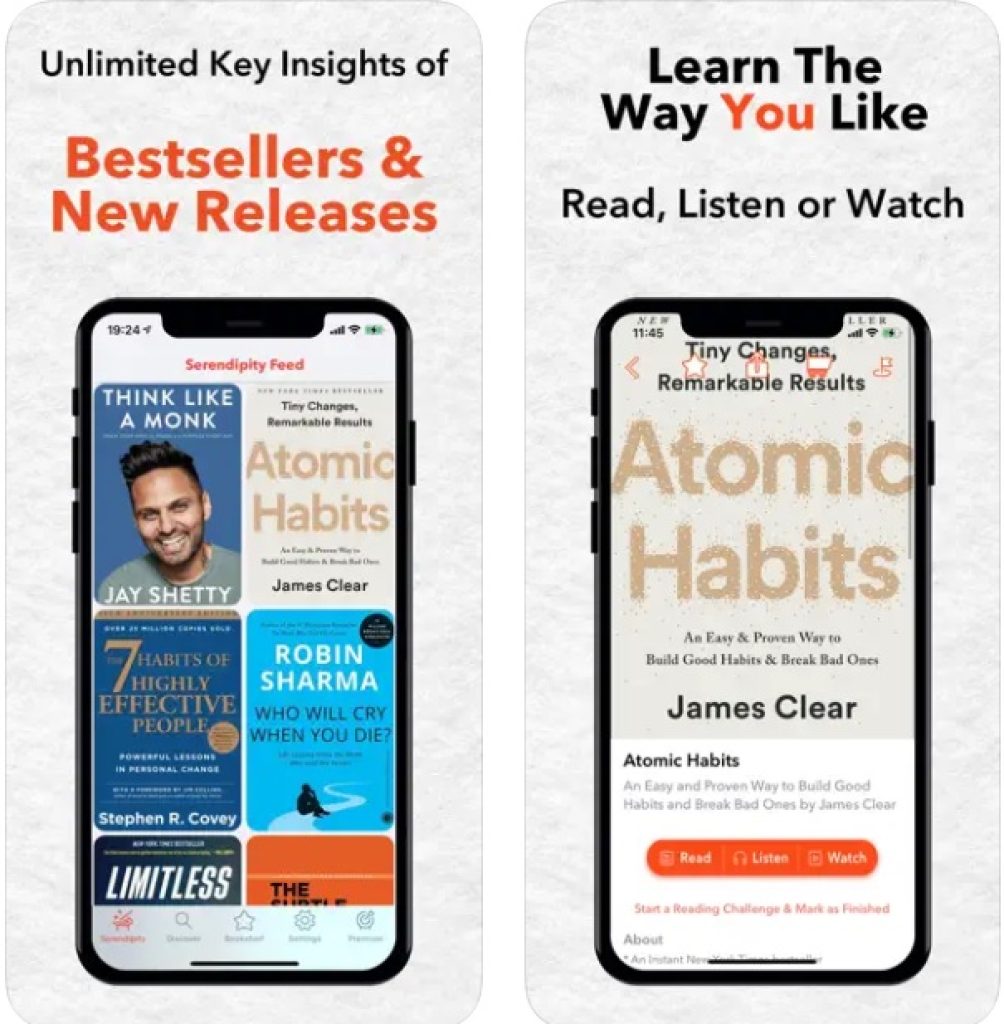 PocketBook Reader
All of us have ever heard the phrase: "I was looking for copper, but I found gold," but we have never really thought about its meaning. This utility is the real gold for those who revel in writing in the literal sense of the word.
This app offers us as many as 19 different reading formats, thus eliminating the need to convert a file from one format to another in order to get acquainted with some interesting work.
An additional advantage is that all books are protected by Adobe RDM, which allows authors to get rid of the unpleasant idea that their creations can be plagiarized by a third person.
The program has a service such as PocketBook Cloud, which allows you to sync all the books you like with the ability to read them on any of your devices.
Well, the Text-to-speech engine will only make it easier for you, allowing you to listen to saved text and audio files through headphones if reading is not convenient in any environment.

The fact, that also must be mentioned is that the app has two reading modes – night and day. In this way, it saves your vision so that you can develop yourself by eliminating the risk of health problems.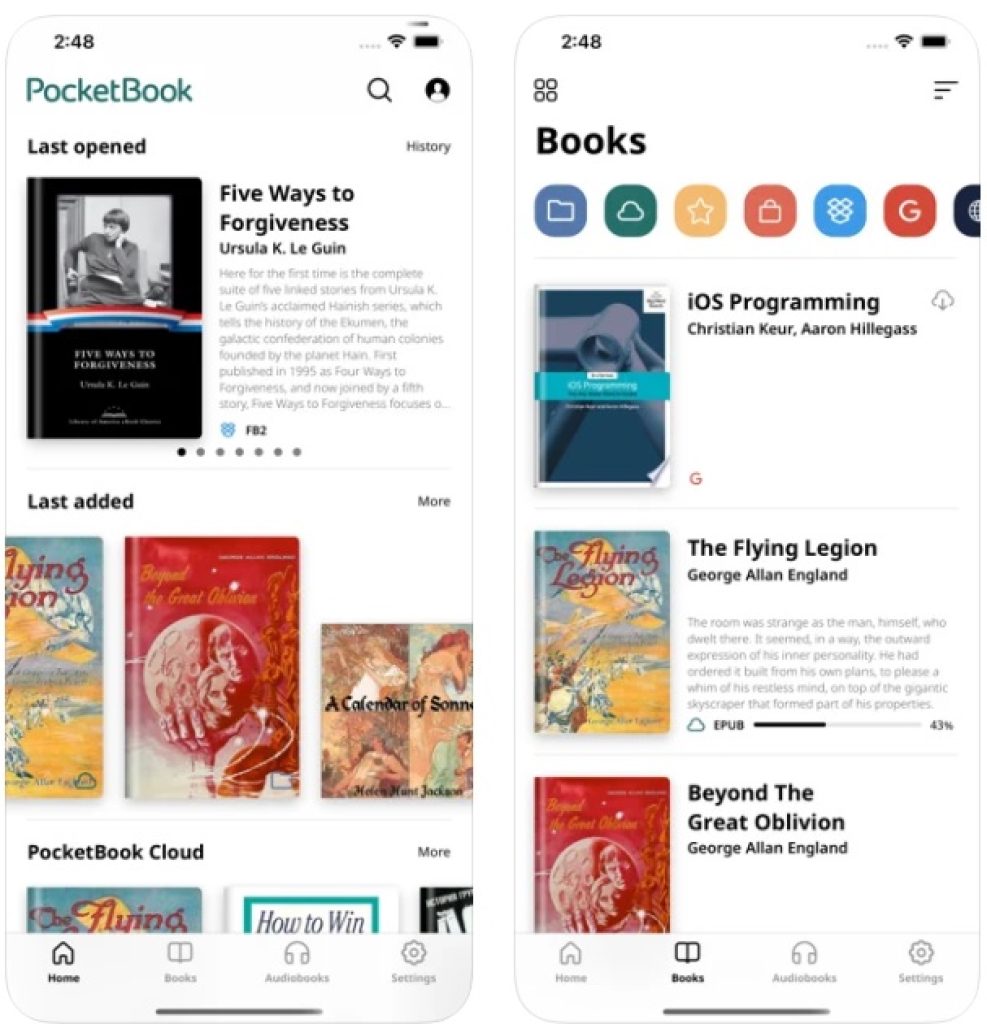 You may also like: 15 Free PDF Editor Apps for Android & iOS
Wattpad
Wattpad is exactly that app that will forever make you forget about such a feeling as boredom because a wide list of works of various directions will capture you headfirst. In addition, you can write your own creation and share it with other users who will undoubtedly appreciate it.
Thanks to the development company's own industry (Wattpad Studios), you can not only get clear criticism but also get a chance to find a job, because Wattpad Studios cooperates with international entertainment companies that are waiting for an influx of ambitious new specialists and will be happy to accept new talents.
The synchronization option is an additional advantage because it allows you to continue reading from where you left off, which utilities of this kind do not always have.
Unfortunately, this app has a very significant drawback, namely – the lack of the ability to reproduce stories in audio format, but despite this, the program still remains leading in the reading and writing sphere.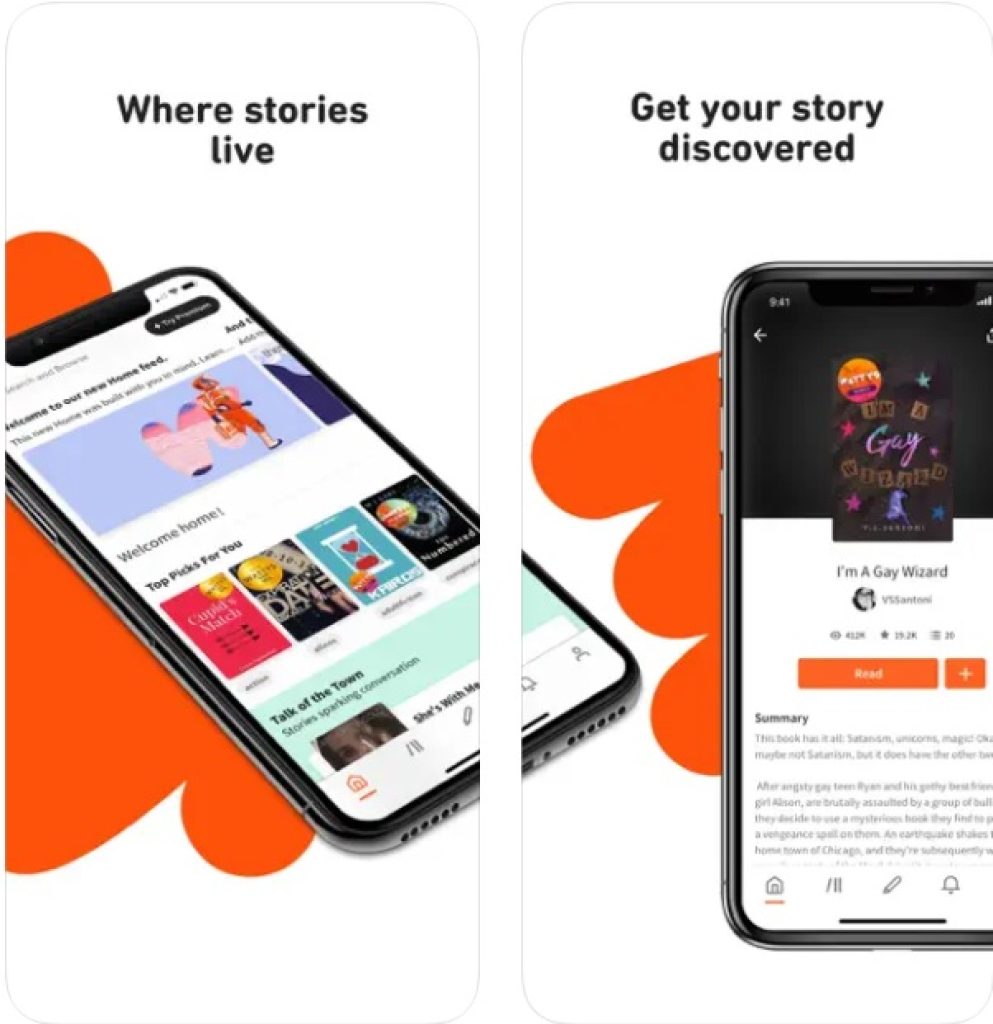 Bookmate
This app has a huge number of admirers from all over the world, and this is not surprising, because the convenient interface and ease of use, as well as the quality of all the functions performed, cannot leave even the pickiest user unconcerned.
The functionality of this app is truly diverse: from synchronizing a book to listening to it on any of your devices.
Bookmate has an incalculable variety of works in various genres: detective stories, novels, memoirs, epics, trilogies, and even some treatises.
An additional advantage is the multilingualism of the program, which allows users from all over the world to read their favorite creations in a language they understand.
The user can configure the utility so that he is as comfortable as possible to analyze all the material he needs. This includes adjusting the brightness, choosing the background and reading mode, font size and more.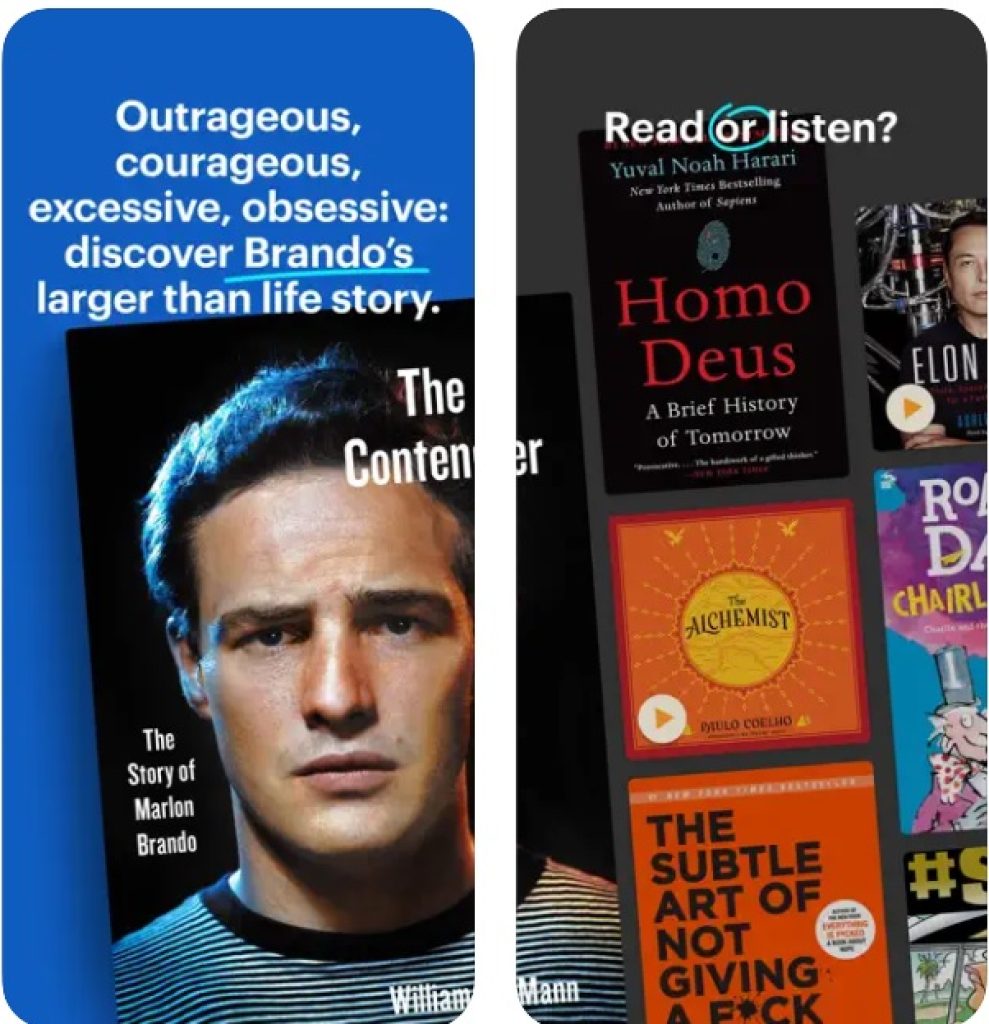 FBReader
If you were looking for a program for the most comfortable reading, FBReader would be suitable for you.
Convenient functionality, support for day and night mode, the most convenient and simple interface, and in addition to everything pleasant to the eye, graphic design will make you a complete immersion in the world of literature.
The app allows you to bookmark where you left off, which significantly saves you time in the event of the next reading session because you do not have to open the file and re-scroll to the desired place.
If you want to make the process of gaining knowledge even more convenient, you will use the hotkeys to set certain actions that will help you to carry out everything you need literally in the mood of your hand.
For aesthetics lovers, the developers have come up with a number of different styles that will help to delve more delicately into the essence of the ideas conveyed by the authors, as well as improve the perception of the beautiful in general.


You may also like: 11 Best Text to Speech Apps for Android & iOS
StoryGraph
StoryGraph will help you find work for absolutely any mood, be it sadness, longing, joy, upset, or disappointment. With the help of smart filters, this app will be able to find you the very ideal option that you need at the moment.
The artificial intelligence of the program very clearly monitors your interests and will constantly offer you various creations that can come to you in spirit, and will also give you the opportunity to study in more detail any specific fragment using the selection option.
It is important to note the fact that this app has a number of peculiar tests that are updated every week and stimulate the reader to develop feelings such as sophistication and erudition.