Wanna get the most out of your smart lighting? This article has you covered!
There are plenty of mood lighting apps for Android & iOS that lets you get immersive lighting exp. These apps cover multiple light scenes for every mood or occasion and some of them even sync with the music. Plus, you get to control an entire house filled with bulbs and not only one.
Need a tool to manage your smart home? Then check out this article: 9 Best home assistant apps for Android & iOS
Here's the list of the 7 best apps in that category you may try. Take a look!
OnSwitch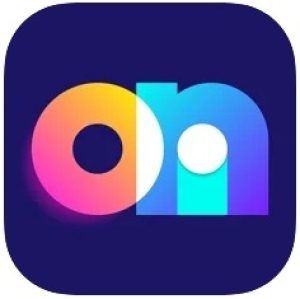 Let's start with the most used app for creative lighting.
What this app does is make your smart lights flash and glow in one tap. But there is more to that — the app covers dozens of lighting styles with animated effects that will blow your mind. To be more precise, there's a part style, sunset one, candle lighting, fireworks, and more. Thus, whether you're into calm or part lighting — this app has you covered.
In fact, new lighting styles come up every month and there are fun holiday options available as well. In case the name of the style doesn't give you a clear view of what it is, there are pics that show you what to expect. There are also syles inspired by actual lamps such as fluorescent tubes or antique lamps.
It needs to be said, the app recreates the look of lamps quite well with all the flickers and all that. You can also adjust the color by using a color wheel. As for the technical part, the app is compatible with Hue lamps (the most famous smart lighting product out there) and the LIFX bulbs as well.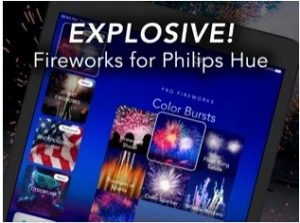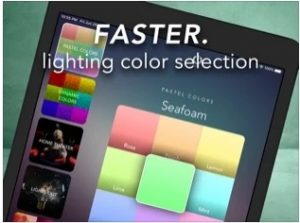 You may also like: 15 Best smart light apps for Android & iOS
Philips Hue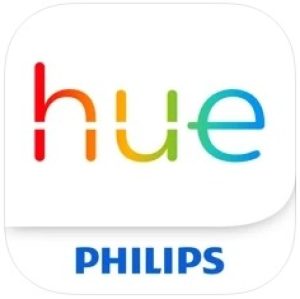 As you may see by the name, this is an official Philips Hue app that lets you get creative with our smart lighting.
This app originally runs on Hue Bridge but if you don't own one you can get a special Bluetooth app instead. This app not only works with one device — you can easily control your entire house with it. To cope with that, just group all your lights into rooms or zones and set them up individually. There are no limits for the number of groups or lights within it so no worries there.
As for the features, the app lets you regulate the color of your lamps, their temperature, brightness, and so on. Besides, there are various light scenes that will give your roe an entirely different atmosphere. The majority of the scenes recreate the light in different corners of the world such as a tropical twilight and all that.
There are also some moody scenes for more energy or calm before bed. Plus, you get to make your own color scheme with the wheel to match the lights to your mood. Herewith, if you own a Bridge it doesn't matter where you are — you can manage your lights from any place possible if you're connected to the web.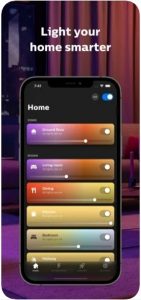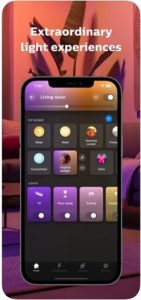 Huemote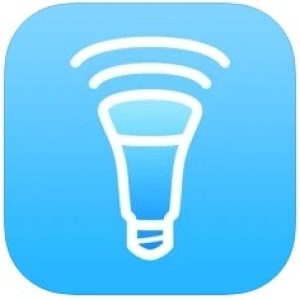 Next, we have another mood lighting remote with easy UI.
This app covers all the tools you may need while being incredibly easy to use. The controls are intuitive so the won't be any problems with that. Along with its sister apps, this one can cover various lights at the same time. In other words, if you filled your entire house with smart lights — this app has you covered.
You get to group your bulbs by rooms or zones (such as the 1st floor or whatever) and control them all with one click. Herewith, you have a limit of 16 zones maximum so choose wisely. Besides, you can ad each zone or individual bulb to your lock screen as a widget and control it without even unlocking your device.
Speaking of features, your get to set the brightness, the temp, the color, and more. You can pick the color by playing with a color wheel and you can mix different colors as well. Beyond that, you can set up gradients and save them as your personal scenes. The app syncs on all your drives and has no ads or paid tools which is nice.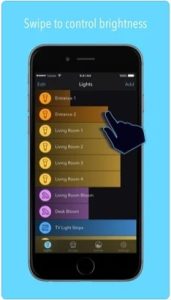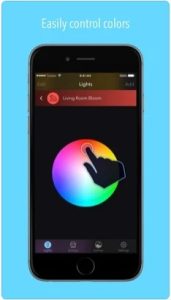 Check also: 15 Best Universal Remote Apps for Android & iOS
hueDynamic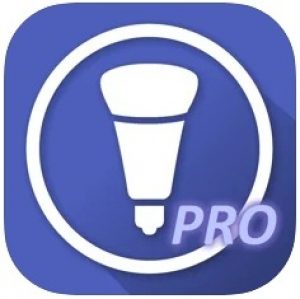 If you wanna get the most out of your Hue lighting you can't go wrong with this app.
At the first sign, this app covers all the basic tools but there's actually more to that. There are plenty of unique tools that will bring your exp to a whole new. For instance, the app is compatible with your cam and it also covers a screen grabber. Thus, you can point a cam at a TV and sync your bulbs with whatever you're watching — the lights will adjust to the content.
Beyond that, the app covers plenty of scenes for all the moods and occasions. Their scenes for relaxation, cheer up, coziness, party, and whatever else you may think of. Plus, new scenes come up every day so you always have something new to try. Herewith, you get to regulate the speed, the brightness, and more for it to match your prefs.
In case that's not enough for you — you can make a custom scene with your own shades and rhythm. The app also lets you manage multiple lamps and group them by sections. You can also use child control and restrict the control for specific rooms if needed. The best thing is, the app is not only worse with Philips lights — you can use any other one with TouchLink.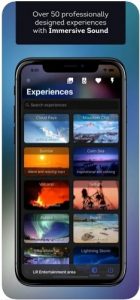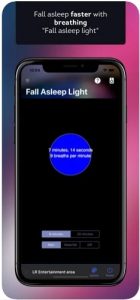 iConnectHue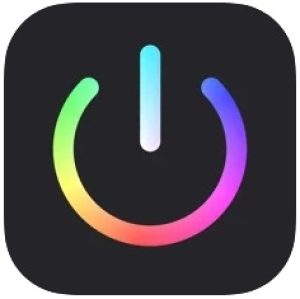 This app will help you bring your smart lights to life.
This app basically gathers together all the most needed tools in one place. First of all, you get to control various devices at the same time. In order to keep it organized you can group them by zones and regulate all of them individually. Plus, you get full control over the brightening, the temp, the tone, and all that.
The app even covers intellectual timers that turn on calming scenes before bed and the energizing ones in the morning. Speaking of scenes, there are plenty of pre-made ones for any occasion. Setting up a party and want the lighting to match? Easy — done! Wanna recreate the light from all corners of the world? As easy as pie!
You can also make custom scenes if needed. Additionally, the app can sync to the music you listen to and adjust to the beat. Herewith, you get to pick any scene or a plain color. You can even add individual switches to your lock screen for faster access. The app also covers family access so all your fam members get the control as well.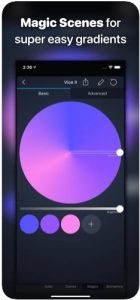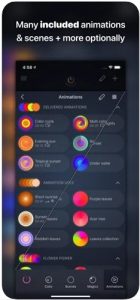 iLightShow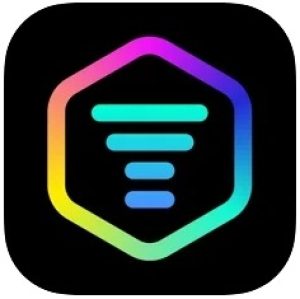 Here's another mood lighting app that will bring you an authentic immersive exp.
The main goal of this app is to help you create an atmosphere for every mood and occasion. Due to this, it covers various lighting scenes and styles for you to try. You can get party lighting, a calming one, or whatever else in a couple of clicks. The app can control various bulbs at the same time so you can manage your whole house.
Herewith, you can arrange the bulbs and sort them into groups by your will. The app also adjusts to the music by making animated effects along with the beat. Thus, you can listen to any playlist and have your lights accompany every song in it. it works the best with Spotify but it's compatible with its sister apps as well.
You may rather pick your own color scheme or let the app decide. Plus, you can add various light strokes and flashes if needed or turn them off if you're not into such stuff. There are no sub packs or ads so no worries about that. The app works with various brands of devices so make sure to check the whole list by the following link.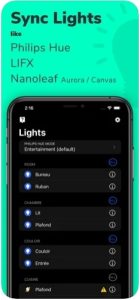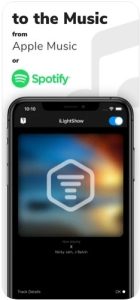 You may also check: 11 Best Home Security Apps for Android & iOS
Lighter for Philips Hue Lights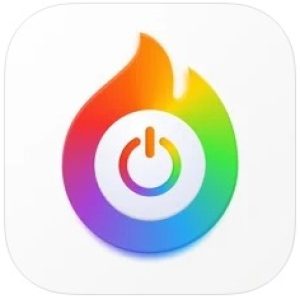 And lastly, we have an app for boosting up your mood lighting.
This app covers lots of light scenes for a possible mood. There's a scene for cheering up, energizing, relaxing, getting cozy, and so on. New ones come up every week so you won't run out of material. Along with that, you get to regulate the intensity of your lights, their temp, and the tone with the help of a color wheel.
Beyond that, you can set the timer to wake up to a miraculous golden sunrise or go to sleep surrounded by purple sunset colors. There are also styles that recreate some old lamps and bulbs with authentic flickers and all that.
You can also make custom styles and scenes if needed. The app can manage various bulbs at the same time so you can control your whole house. Herewith, you get to arrange the bulbs into groups by floors, rooms, or whatever else. You can also add a widget for individual lamps or groups to access it from a locked screen. The app is completely free with no ads or sub-packs.