7 Best Apps to Watch Korean Shows on Android & iOS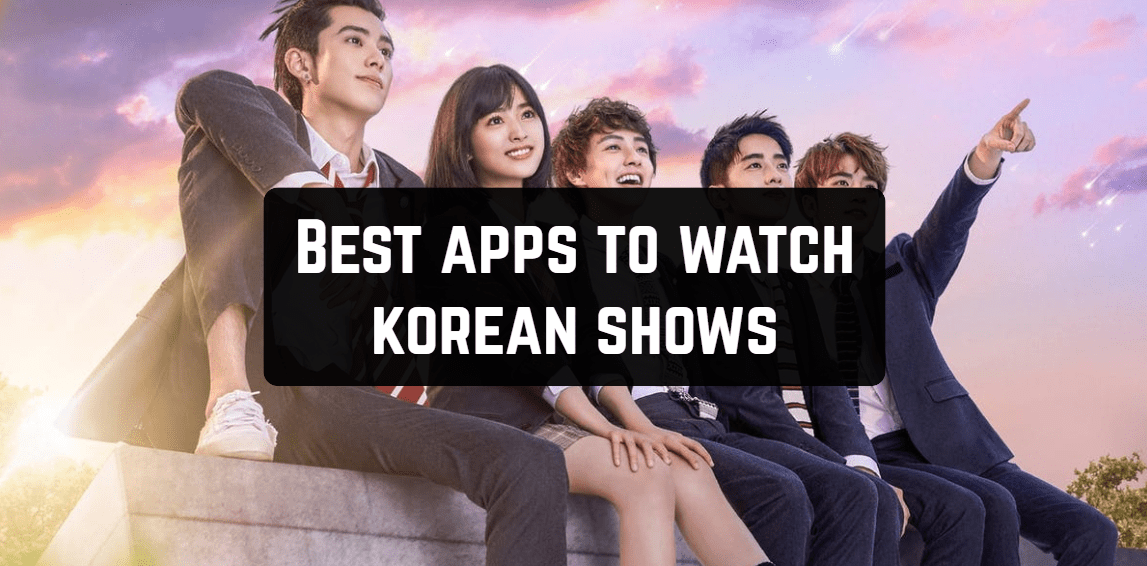 Every year the number of fans of Korean shows is not getting smaller. But Korean movies and TV series are becoming more popular. Every day new premieres come out, which for a long time attracted millions of fans of Asian TV shows to the screen. Everyone will find themselves the favorite genre.
After all, the genres of Korean shows are a great multitude. It includes romantic melodramas and youth comedies, colorful fantasy with a twisted plot, intricate detective stories, and criminal intrigues.
There is a Korean saying: "Laughter brings good luck." If you have something to laugh at, sadness and problems go away. Korean TV shows make viewers laugh all week, whether it be comedy programs or reality shows.
You may also like: 8 Best Legal Apps to Watch Anime Online
In recent years, Korean shows are gaining incredible popularity. Especially admired by young people. Around the world, people are watching their favorite Korean shows every day.
This list contains the best mobile apps that make it easy to find the most interesting Korean shows.
Netflix
Such an obvious app, but nowadays a Netflix is a giant corporation that produces each 2nd TV show and, to be honest, those movies and shows are extremely captivating. Nowadays this company decided to expand to the Asian market, and that's why you can find lots of brilliant korean movies and shows on Netflix.
If you are still not familiar with this streaming service you must be living in the stone age. Well, to get access, you need to download the app and create an account. After verifying your age and personality, the appwill suggest you to choose the subscritpion plan. It's especially beneficial to take a shared plan and divide it between friends or family, thus it costs almost nothing.
But even if you take a single person plan, you will get one month of Netflix for free. Take that time to explore the platfrom and find the most interesting Korean movies and shows. By the way, the recent Korean show that has broken all the records "Squid Game"is also produced by Netflix and can be found here.
You can search for movies and shows by typing the names into the search bar. After a while, the app will start making suggestions based on your preferences. While watching a movie or a show, you can choose the language of it (including the original one), add subtitles and choose the quality.
It's essential to note here that HD quality is only available if you get premium subscription. Unfortunately, Netflix discriminates in quality of the video those who just bought a regular subscription.
Overall, Netflix is a new thing for watching Korean movies and shows.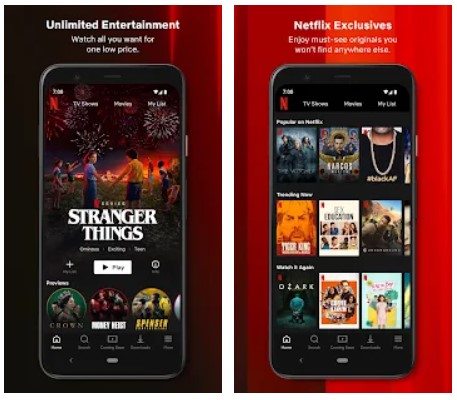 Viki: Korean Drama, Movies & Asian TV
If you are a fan of Korean shows, then the application Viki: Korean Drama, Movies & Asian TV is perfect for you. With this application, you will always have access to all your favorite shows.
Viki: Korean Drama, Movies & Asian TV is one of the largest online cinemas that broadcast Korean programs. Here you will get easy and convenient access to the collection of the best films and TV shows.
The application catalog contains all the major genres of Korean cinema. For example, you can watch your favorite drama or find a release of a music show. Content is updated every week.
A special application algorithm will help you to choose favorite movies and TV shows. Then you can add it to your collection. The search for the necessary content in the application is very convenient. You need only a few seconds to find the desired program.
The application is available on any device. Thus, you will be able to do the necessary things, not looking up from watching your favorite show. You can also add a video to the category "watch later". So you can return to viewing in your free time.
You can also download movies and TV shows to your device to watch them later without access to the Internet.
In this application, you will find a large collection of Korean TV shows and television shows. All videos are in excellent quality and are added immediately after the broadcast. Some shows can be seen even before the official release.
If you want to find something special, you can use the advanced settings feature. Subscribe to your favorite TV shows and shows. A subscription will allow you to receive notifications of new series and releases. You can also adjust the required video quality, depending on your traffic. It's free to download for iOS and Android users.
You can also check: 9 Cool games like Huniepop for Android & iOS
Korean TV
Korean TV is a special application that has thousands of high-quality Korean shows. There is no annoying advertising. Watch your favorite TV shows, TV shows, and movies with a choice of subtitles and video quality. Also in the application is available content downloads for viewing without the Internet.
The application has a handy system of recommendations. Watch movies, TV shows, and various shows and leave them a rating or review. This will help the program to create an interesting selection of videos for you. With the application of Korean TV, you will never miss your favorite TV show or the release of the series.
Registration in the application takes a couple of minutes. You need to specify the email address of your mail or enter the application using a social network. You can use your profile to view content from different devices.
Application has a category of "live" for those who want to keep abreast of the brightest events. Include exclusive live broadcasts of concerts and television shows. In the application of Korean TV, you will find exclusive videos and the latest news of Korean shows. The catalog is updated daily.
This application is dedicated only to Korean shows. Fans of this genre will certainly appreciate all the features of this program. There is nothing superfluous. The application takes into account all the needs and interests of Korean shows fans. Download the application on any device and enjoy using it for free.
KORTV
KORTV is a mobile application for those who love Korean shows. Thousands of movies, TV shows, and programs are collected here in high quality. Choose your favorite show and start watching.
In this application you can:
download video and watch it without an internet connection
start browsing on one device and continue on another
leave a rating and review for the show
add a video to the folder "see later"
The application stores the history of views. If you want to review your favorite show, this feature will help you. Besides, the application is a convenient division of TV shows, films, and shows by genre.
You can disable ads while watching video content. Some of the premier series can be seen before they begin broadcasting on Korean TV channels.
The application is available anywhere in the world, even where there is no Internet. Create your profile in the application. It will store your views and offer new videos based on your preferences. Here you will find Korean film premieres and original TV shows, the most awaited hits, and more.
KORTV includes:
many free shows, TV shows, and movies
live broadcasts of important programs
lack of advertising
excellent image and sound quality
movies and TV shows without internet access
ability to record live broadcasts
all the latest Korean cinema premieres
one account for all devices
The development team is always working on improving this application. Here all subscriptions are grouped by category. The design of the application and video playback are made at the highest level.
FluentU
Did you actually know that you can watch Korean TV series and movies not by just using the classical apps for that, but also using the language learning apps? It doesn't really matter if you want to learn the Korean language or you already speak Korean – you can use this FluentU anyway and enjoy your favorite content.
FluentU is currently one of the most popular apps for learning languages nowadays. The method that it promotes for learning the languages is by watching the videos and movies with native speakers with the subtitles or without.
Thus, it will be even better for those who only learn Korean, but still want to enjoy Korean dramas – in this app, you will get the English subtitles along with the video and will be easy to enjoy the episode. Moreover, the choice of videos here is truly wide and everyone will find something they like to watch.
Besides, another advantage that FluentU gives you in terms of learning the language while watching Korean videos, dramas, TV shows, and movies – you can stop the video any time, open the subtitles, and check out the word or a phrase that is unknown for you –  FluentU has the dictionary right under the videos.
In general, this is not the best app in terms of catching up with the latest content of Korean TV shows and movies, however, it still contains many media content from this country and, what is more, is helps you to learn the language.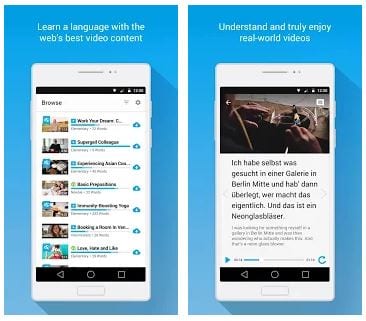 You may also like: 15 Best apps to watch TV shows for free on Android and iOS
OnDemandKorea
Don't be surprised that all the best apps for watching Korean TV shows and movies are for Android – eventually, this country is the manufacturer of Samsung – one of the most famous devices working on the Android platform. And here we have another excellent app for watching a Korean media production.
Fans will definitely appreciate the impressive range of Korean shows and movies that they will find here. The whole service is completely legal, moreover, you will discover a huge catalog of popular content from years past as well. As soon as any new content of any Korean TV shows emerges online or on TV.
Almost all the movies and shows are available both in English and Korean. By the way, if you want to have a chance to continue watching an episode right from the moment you left it every time you open the app again, you need to create an account for better convenience.
What is more, the app is accessible through a wide variety of devices such as your PC, a smartphone, Apple TV, Roku, and Chromecast. There are two types of membership – the regular one which is free and the premium one where you will get access to exclusive content.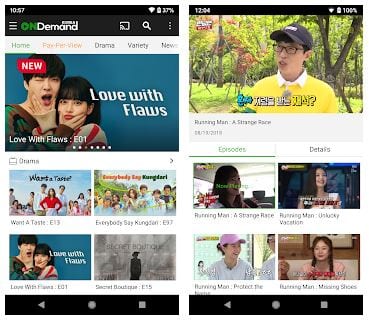 Check this: 11 Great Animeflavor alternatives
SBS
Are you looking for an app to watch Korean shows? Then the SBS is perfect for you. This is a universal service that has new Korean movies and TV shows. It also offers a wide selection of popular music programs, a variety of TV shows, and videos about life in Korea.
You can watch the video in original or with subtitles. Subtitles are available in more than 200 languages. Here you can chat with like-minded people. If you want, you can leave a review and rating of the watched show. The application has registered a huge number of users.
During registration, you need to specify a phone number or email address. Next, you fill in the profile form and state the programs and genres you are interested in. Based on your preferences, the program will select the best new videos for you.
Also, the application will help you to choose the appropriate program. It is based on your preferences. You can check the reviews and recommendations of other users who have already watched the chosen show.
There is also a selection of films and TV shows. You only need to select the most interesting topic. Then, the application will offer you several options. If you want to get rid of advertising, you will need to subscribe. This feature will also give you early access to new releases of your favorite shows.
You can save watched shows in a special tab. There is also a "watch later" function. You can add a video there and return to watching it at your convenience. At the same time, the application does not store user personal information. The application is free for both Android and iOS platforms through it has in-app purchases.