We all want to diversify the experience of our love and intimate life. One such way is to use foreplay. In the following article, we present to you the best foreplay apps for couples and parties that are definitely worth your attention.
And for more fun, we suggest you explore the best truth or dare apps for couples.
Game for Couples
Probably, this is the most popular app for foreplay and roleplay. Here the whole structure of the app and games is divided into several levels:
It's really convenient because you can choose the type of level which is appropriate for you both at the stage where you are and don't feel awkward. The user-friendly interface design allows you to quickly navigate the app and doesn't distract your attention from the more important things:)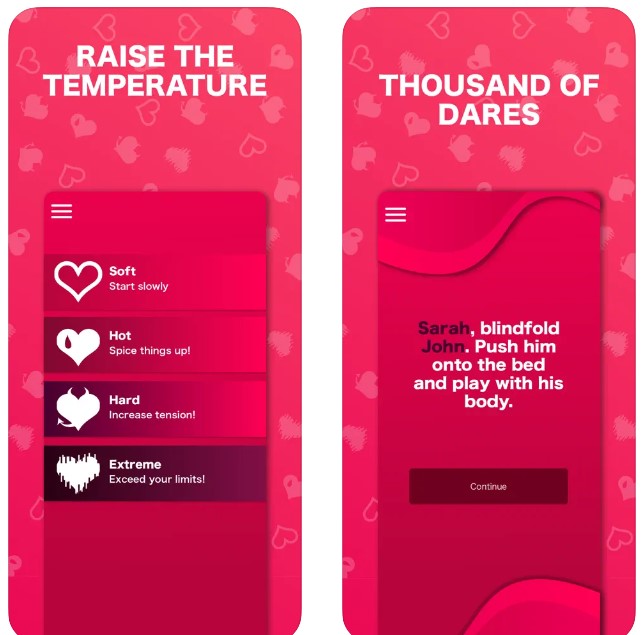 You may also like: 11 Free Android Games for Couples
Desire – Couples Game
Well, the interface design of this game is obsolete than in the case with all other previous cases, but you can still use it for your foreplay in couples. The developers say it will be suitable both for couples in long-term relationships and those who just started dating.
In general, the Desire app is quite simple. It contains a library of questions that you can ask your partner to get to know them better. So if you're not looking for anything hardcore for your role-playing – you can use this simple app.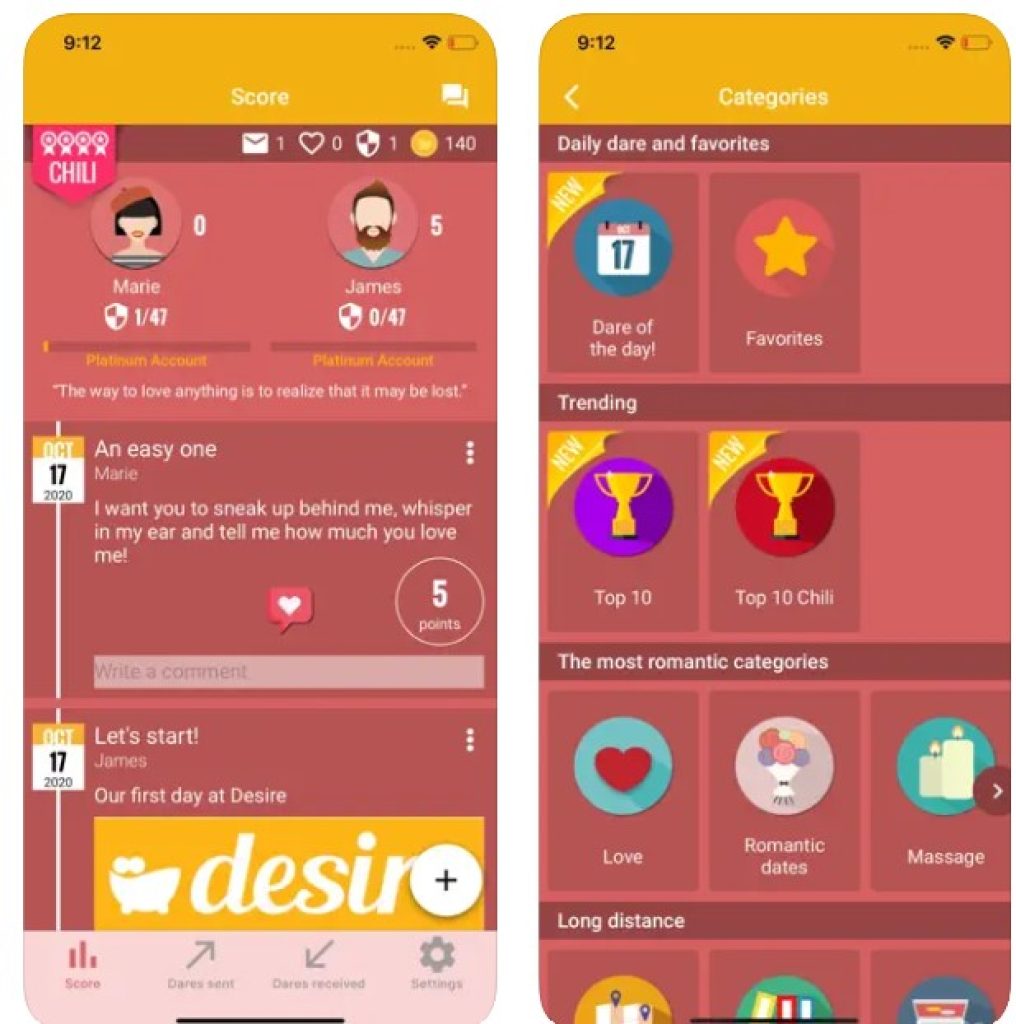 Foreplay scripts game for a couple
This is quite a compact, but a fun app for making your foreplay memorable and bright. Using the app is easy: you just open it and start doing the tasks.
You need to read the task on the screen and perform it in one minute. The timer is also placed on the screen. The developers promise you an unforgettable experience with this Foreplay Scripts app.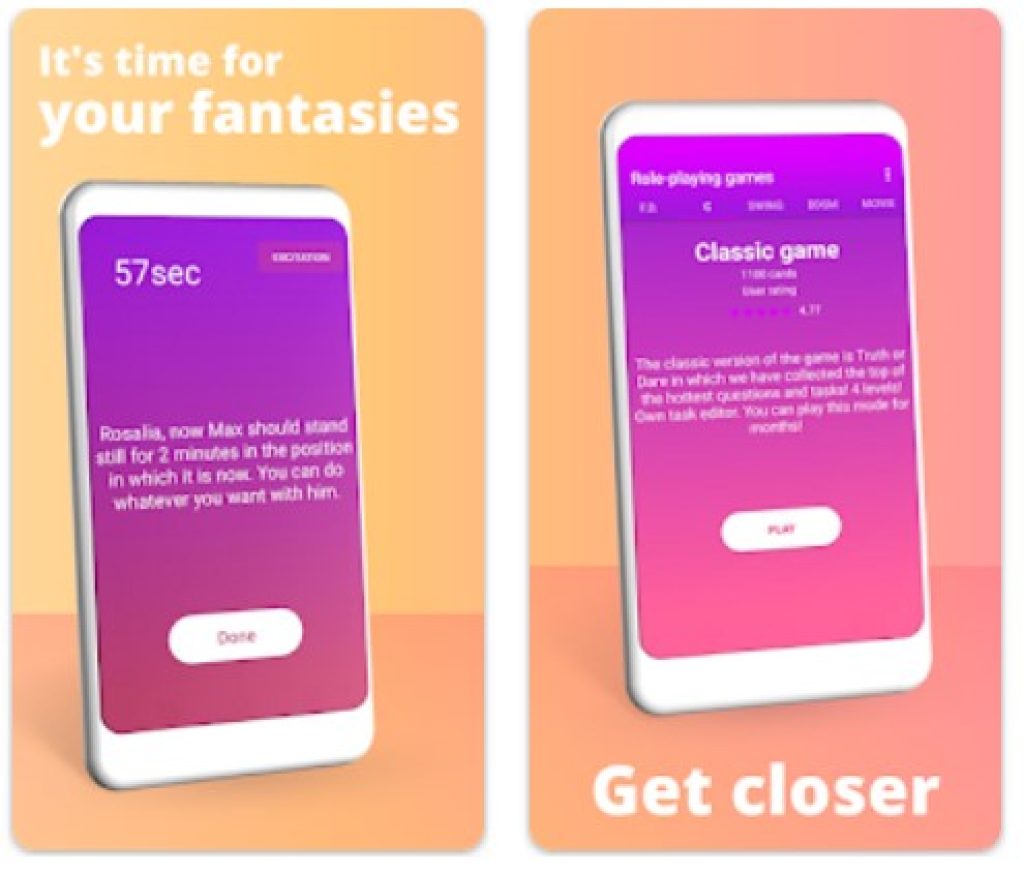 Frisky Foreplay Game
This app isn't free but it's a very good choice for iOS users. It's quite abundant for various scenarios and foreplay scripts.
In the main menu, you can choose the type of foreplay you want to explore. There is random foreplay, frisky foreplay, and others. You can also select the number of passes. When you run out of them, you have the right to stop the game.
This is an exciting dice game for lovers who have been in a while in a relationship already to fresh out of their sex life. Foreplay ideas include custom sets for a threesome, gay, lesbian, and bi-sexual players.
There are various levels in the game that you can use depending on what you are prepared for. Those foreplays also give various moods: loving, passionate, wild, explicit, and so on. In other words, this app will give you almost endless inspiration for all your upcoming foreplay.

iPassion Games for Couples
This is a different kind of app. This is not about something sexy – it's a fun quiz that is supposed to make the environment between you two more relaxed and warm so you could switch to something more interesting:)
Lots of questions involve the sensual ones that help you to explore your sexuality and the sexuality of your partner. Also, this game can be used in a way that you can find out what your partner likes and dislikes. If you win the questionnaire, you get a special reward. For more details download the app and explore.

You may also like: 15 Best apps for couples (Android & iOS)
PleaseMe – Game For Couples
Another app for your kinky journey! One distinctive feature of PleaseMe is that it is remarkable for its personalized experience. Before you start the game you need to choose the category that you want to play. There are more than 10 categories so it's fair enough to say that you won't run out anytime soon.
Oh, and we almost forgot to mention what the game is about. It's basically the "truth or dares" challenge but with the foreplay elements. Depending on which category you choose you will explore more sensual games and will find out much more about the desires of your partner.
Another cool aspect of the app is that it is constantly updated with new categories and new challenges. It's not something extremely erotic, but it allows you to do the foreplay with your partner on a deeper, spiritual level.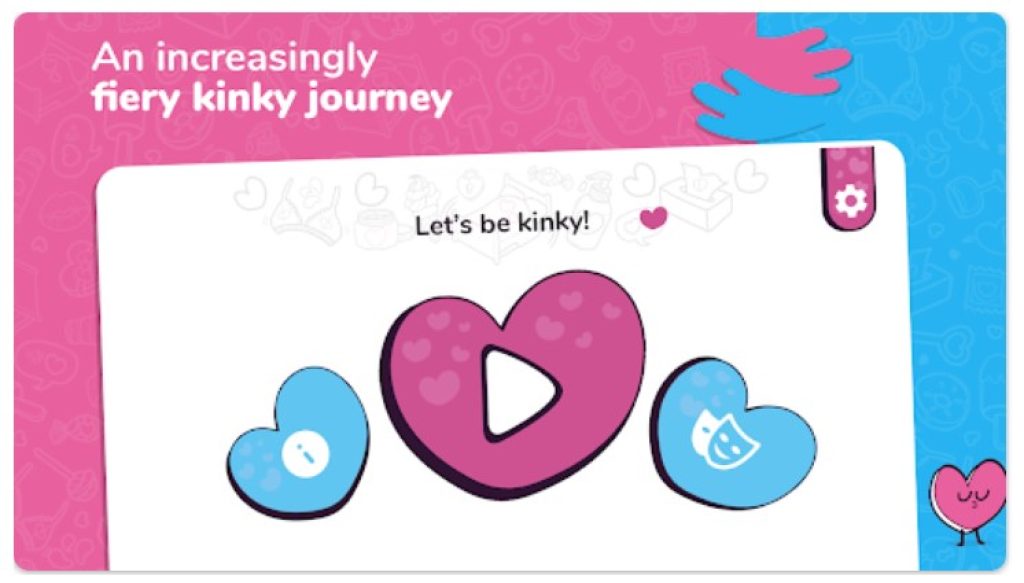 Kindu For Couples
If you're looking for something more practical and steamy hot, you should better go for another app. The main idea of Kindu for Couples is that it's oriented, first of all, to the achievement of the soul intimacy between the partners and only then transition to the foreplay.
In this app, you can create stories and jokes together. Just download the app and create a mutual account. The interface design is one of the best in this category in our humble opinion and allows you to quickly understand all the principles of the functionality of the app, unlike in many other cases.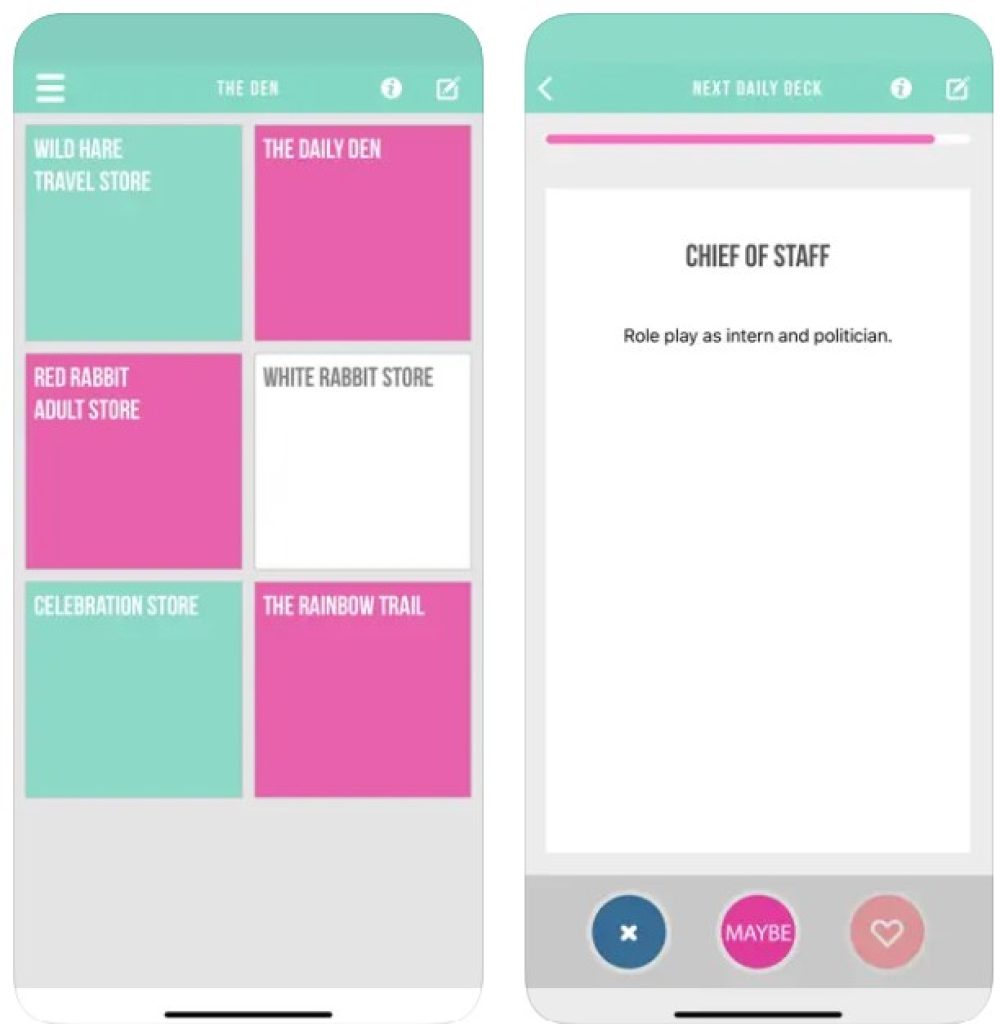 Naughty Couple Games
To be completely honest, this app wants to seem better than t actually is. It positions itself as an aggregator of exciting foreplay games when in reality it's just another truth or dare game for lovers. However, those users who have weaker Android devices can try this app.
Basically, there is nothing that negative about Naughty Couple Games. There are 3 levels of the game, starting with the basic one and ending with the advanced one, and you can slowly progress from one level to the next one.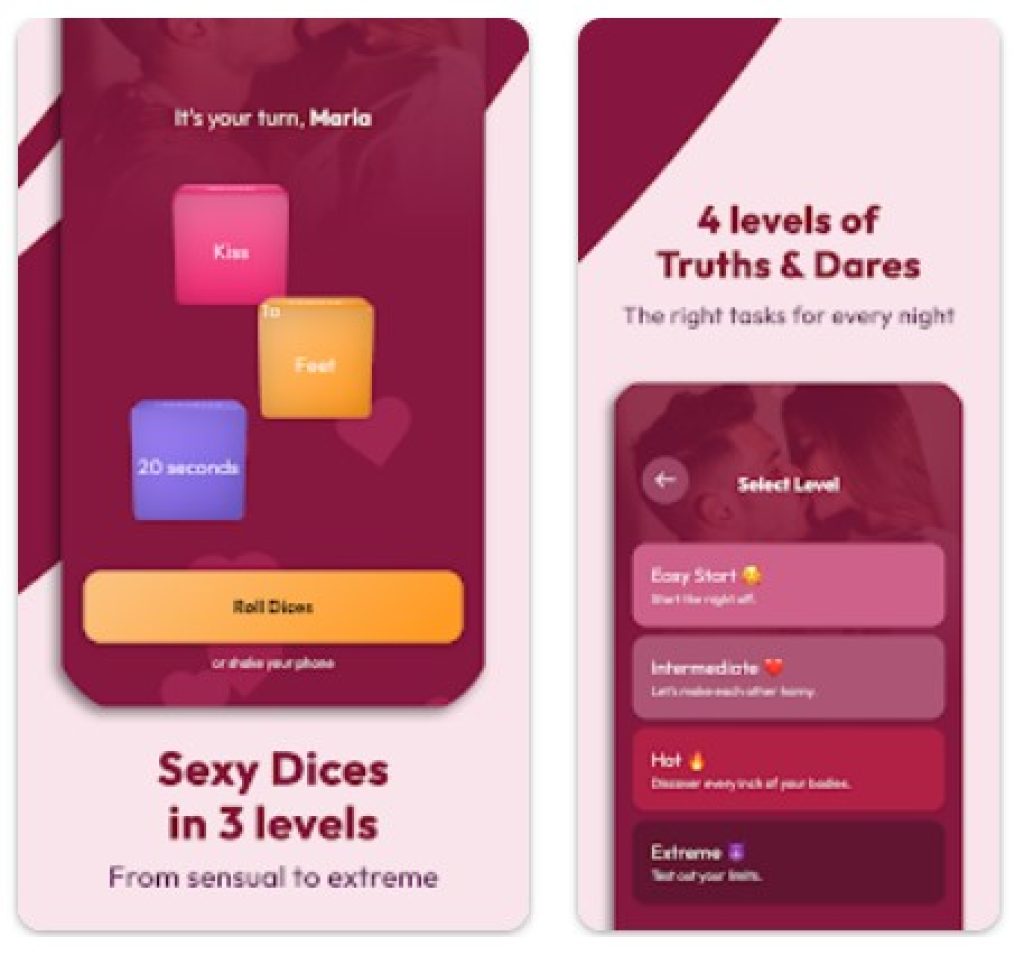 Connect Foreplay – The Game for Couples
This is quite an interesting and versatile app. It contains more than 850 challenges in the interactive game. You have to move the circles on the pitch and each time you open a new circle there is a certain challenge or question that you should do or ask. Therefore, you both can play it as a table game.
In the app, you will find the following categories of the game:
Romantic
Trivia
Dare
Fetishes
Sex Talk, Strip
As you pass through more challenges, the game is getting more intense and you are moving forward to the hotter topics. At first, the game might look a little bit confusing to understand how to play it, but you can watch a video tutorial the link to which is placed right in the app.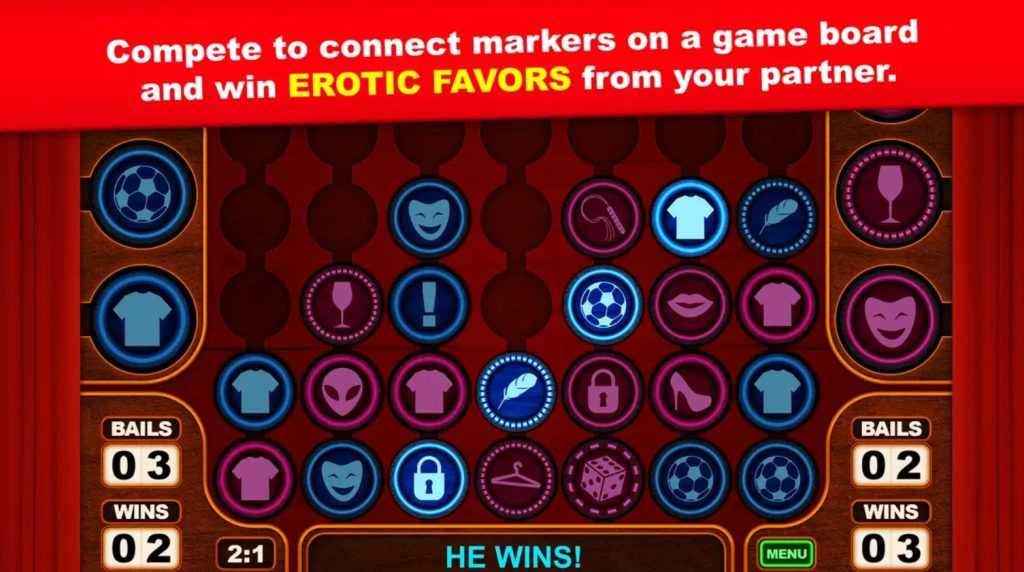 Love & Lust – Game for Couples
Another simple app for couples where you first need to create a mutual account for both. Then you and your partner are going to answer the hot questions that Love & Lust app will ask you. This will be a good test for your relationship and a nice start for foreplay.
Another noticeable element of Love & Lust is the interface design. Usually, in small apps of this type, it looks dim and mediocre, but here we can see that the developers put some effort into the good looks which is a pleasant surprise.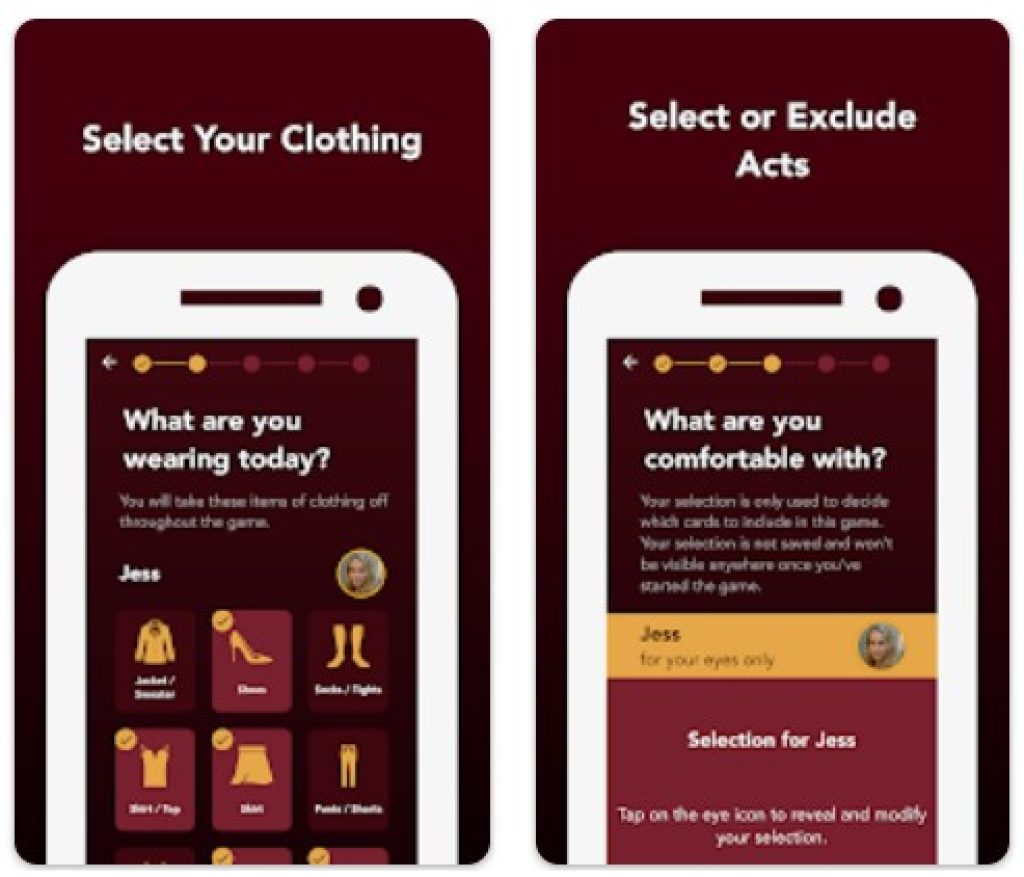 You may also like: 7 Free Couple Tracker Apps for Android & iOS
Hot Truth or Dare
This app used to be a top one… Somewhere 10 years ago. That's why we decided to place it last on our list – it's a nice one, but outdated.
And since it's quite old, everything is pretty simple here. You just need to choose the category of the challenge and the whole "challenge" will be consisting of small easy tasks for you both to get closer. Some of them are really sensual though.