The Internet is filled with files of different formats and sizes. Games and movies can weigh gigabytes, and operating programs can also take up large amounts of space.
In order to optimize the storage space and speed up the process of downloading and transmitting information, people have come up with utilities that allow for data compression. Files, folders, and information are re-encrypted, where large amounts of data are replaced by smaller but equivalent amounts.
You may also like: 7 Best stop optimizing apps for Android
Since we use smartphones all the time nowadays, you can use them to download these compressed files from the Internet. Special applications have been developed to allow your smartphone to compress or unpack these files itself.
For Android smartphones we have collected the best of them, which will solve your problem with unreadable archives in the phone memory.
Video Transcoder
Video Transcoder is an open-source application that is available even on Github. It makes it easy to compress your video without having to connect to the Internet or having to deal with annoying advertising.
If you need to process, compress, transcode, or extract an audio track, Video Transcoder can help. The app doesn't take up much space on your smartphone and doesn't steal your personal information.
When you select and download your video, you get full and detailed information about it. In the compression settings, you can change the FPS, video resolution, quality, bit rate, and even the audio track.
Of course, the whole process is more convenient and faster on your computer, but if necessary, your smartphone will help you out. Video Transcoder is even used to compress video on YouTube – so you shouldn't doubt the quality of its work.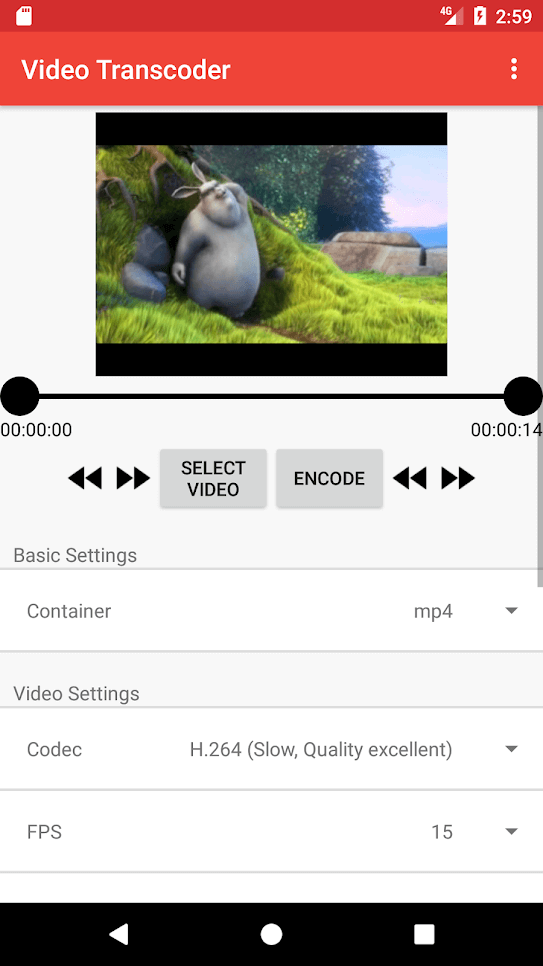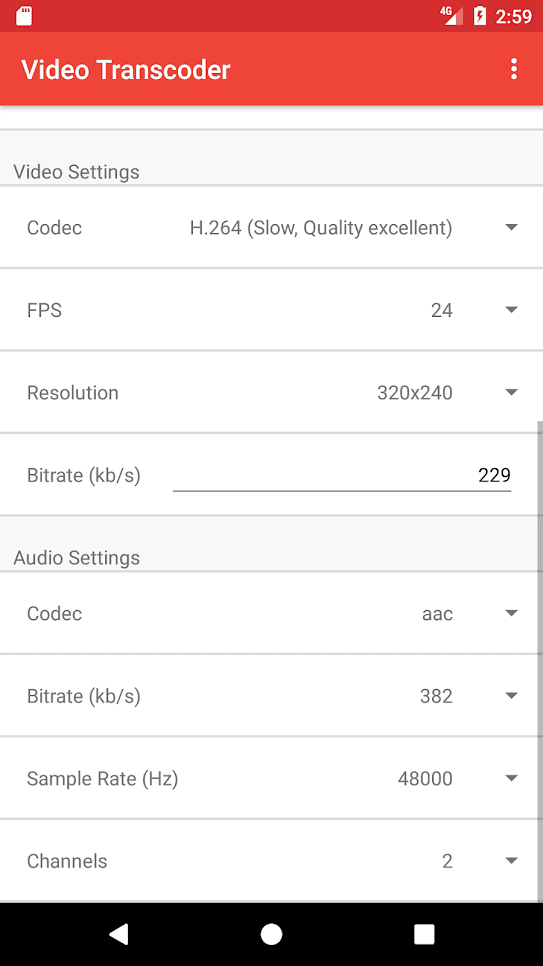 You may also like: 5 Best Battery Analyzer Apps for Android & iOS
WinZip – Zip UnZip Tool
WinZip is one of the most popular applications in the market of mobile developments in this field. By installing it, you can forget about the long wait for unpacking files, the constant lack of space in the phone memory, or errors when sending data. WinZip is guaranteed to simplify your work with Zip, Zipx, 7z, RAR files on your device.
The design of the application is made as a guide in the file space of the mobile phone. You have full access to all folders and files. That is, if you need to compress an entire folder with data – you can simply select it and get a compressed version right away.
You can also connect to your cloud storage – for example, Google Drive or DropBox. You can even archive files that are only in the cloud storage and download a compressed version to your device.
With WinZip, you can share videos, photos, and other files without compromising the quality. The ability to work with different data formats is an undeniable advantage.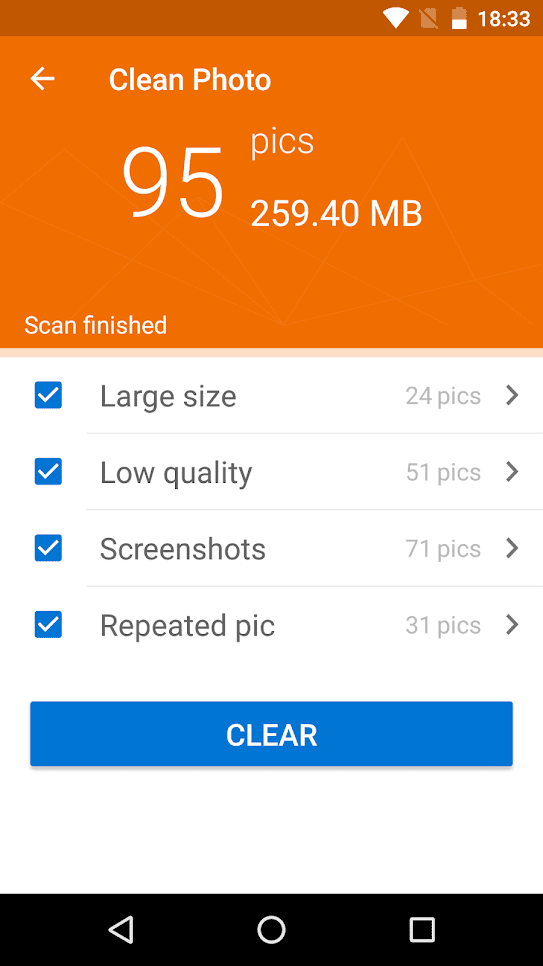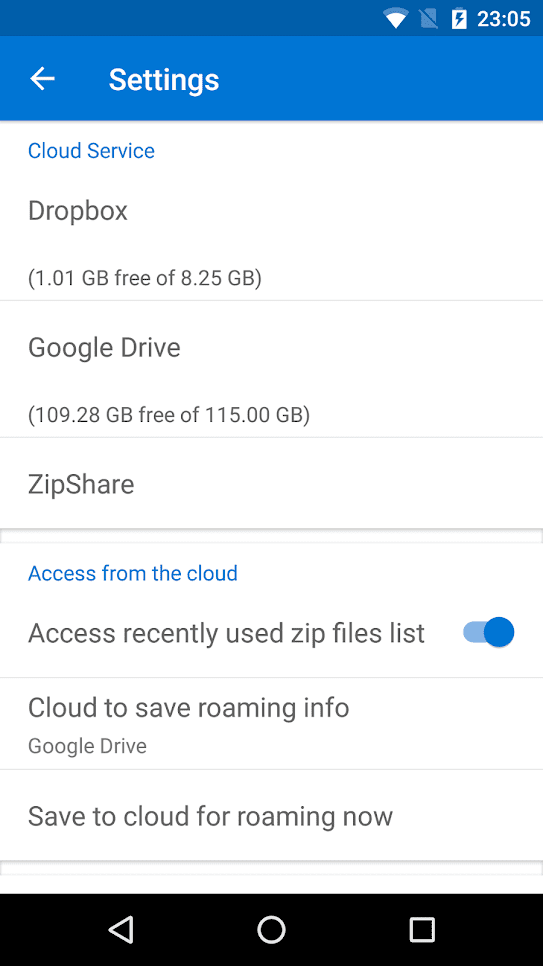 Zip File Extractor – File Compressor, Unzip, Unrar
The developers say that this is their best development for mobile phones. The application is incredibly functional and really convenient for compressing and unpacking files.
The peculiarity of Zip File Extractor is that it can work even with password-protected archives. This means that when you compress folders and data, you can easily put a password on them – just like on a computer. And if you download an archive that has a password, then enter it, and extracting the data will also be easy.
Fast compression just happens at lightning speed. This speed does not mean they lack of quality – the probability of an error or incorrect archiving is negligible. With the help of a tool, you can navigate in the memory of your phone and unpack and compress the folders you need.
Now you won't face such a problem as lack of memory space – Zip File Extractor will help you to free gigabytes for something more important and worthwhile without data loss.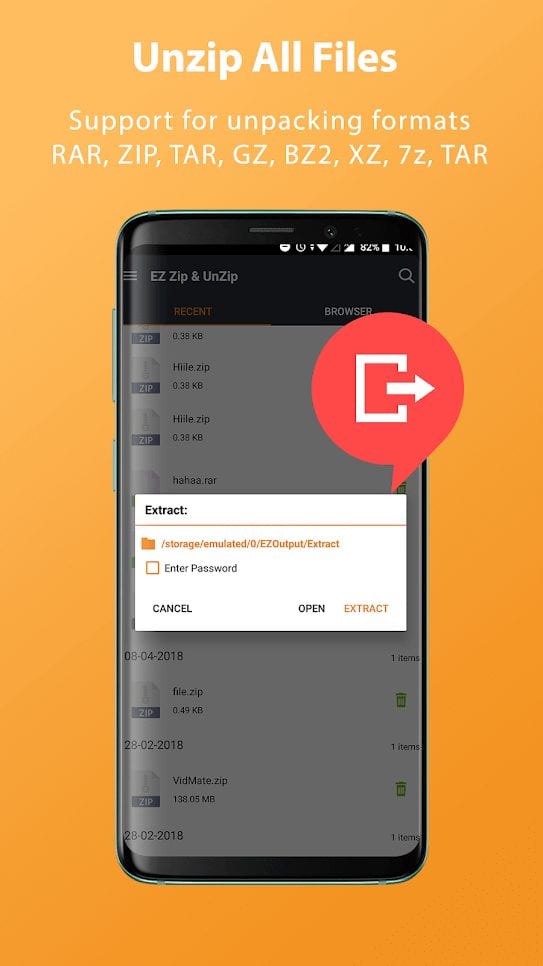 ALZip – File Manager & Unzip & Archive
The main purpose of ALZip is to compress and decompress files and large amounts of data. It would seem that the functionality of the application should be limited. But no: in fact, ALZip is also a file manager for your smartphone. The application easily selects, copies, cuts, and renames files – in general, it is an explorer.
ALZip can unpack and archive files of any format – zip, rar, jar, and many others. You will not have any problems reading these files.
The file manager will help you to group files by their format, for example, in the memory of your smartphone. You can view photos and pictures without even unpacking the archive – the preview is one of the main functions of ALZip.
There is also a little bit of entertainment: adjust the background in the archives at your will. It can be different pictures, photos, or just a certain color – it will help to raise the mood a little or at least smile.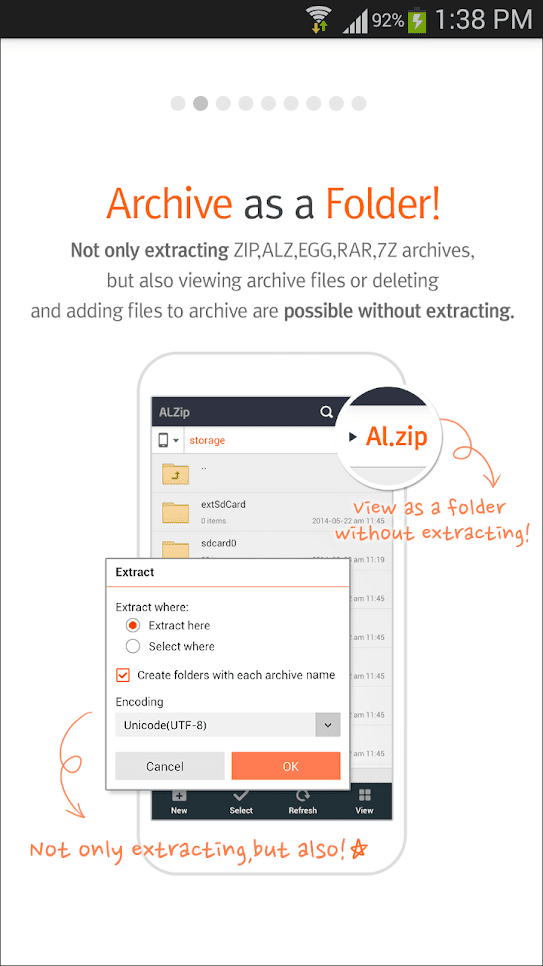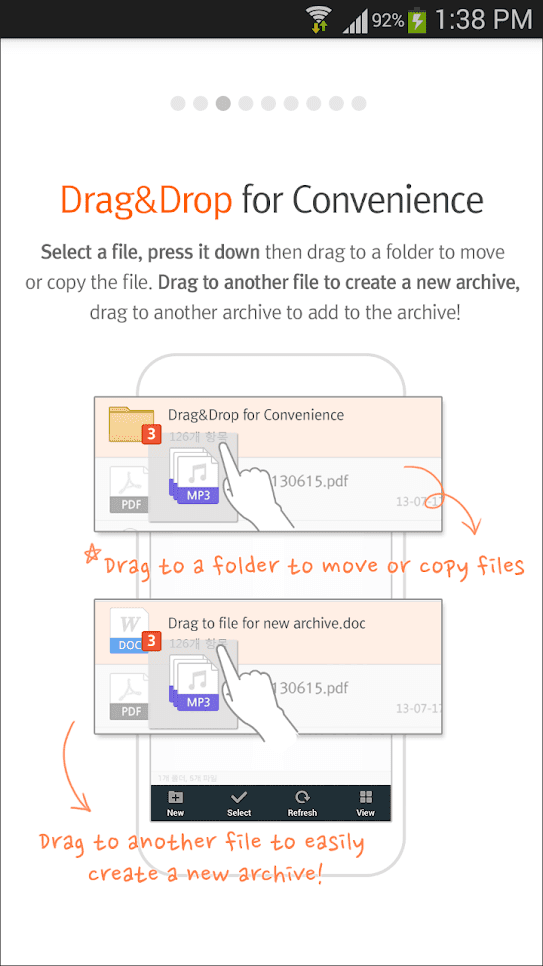 ZArchiver
ZArchiver is a multifunctional archive manager. It has a minimalist style and generally has no unnecessary design details.
ZArchiver is designed to create archives of different popular formats – 7z, gzip, tar, zip, and so on. You can even put the password on the entire folder or on individual files in it. Extraction is also available in different versions and formats. If desired, you can even unpack only parts of the archives or certain parts of them, which are attached to the emails.
ZArchiver also supports multithreading. You don't need to select and archive each file separately to select multiple files, just select all the files you need from the menu. All archive data will be saved in the same way as in computer compression – file types, dates, etc.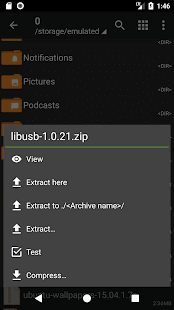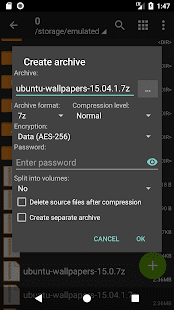 7Zipper 2.0
If you're looking not just for an app that is a file compressor but has a number of additional functions, then 7Zipper might be your perfect choice. The app is the extractor and compressor for all the known formats of the files: including rar, zip, and 7zip.
What is more, you can use 7Zipper 2.0 for various purposes: as image and text viewer, the flash viewer. It gives you the possibility to view system information, do task killing actions, transfer files between phones using wifi, photo gallery, and manage the default launcher.
7Zipper 2.0 also supports cloud services, for example, Dropbox or One Drive. The interface if this app is not the easiest one to handle, but considering all the options that it provides, everything can be forgiven. You can see that 7Zipper has great user reviews on Google Play.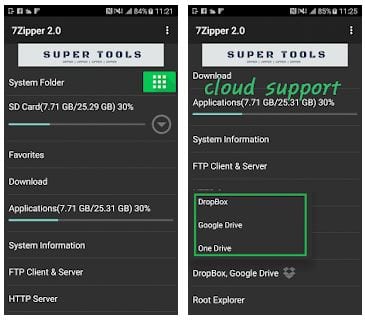 Zipper
You will notice that the Zipper is really similar to the app above. What is the reason? Well, to start with, all Android apps look more or less similar (and that's their main disadvantage), on the other hand, the design of the interface is not the crucial thing in the file compressor apps.
To start with, this app will be more suitable for the older versions of Android OS and smartphones in general. It can compress and extract from most of the popular formats of compression including zip, rar and 7zip.  Apart from the traditional file compression, Zipper includes such features as image, text and flash viewer, task killer, and some more.
Here you can also manage the default launcher, view system information, and SD card storage, manage default apps, transfer files via wi-fi or use it as photo calendar. And even though the app is made for the older models of smartphones, it still has more than a decent speed of work.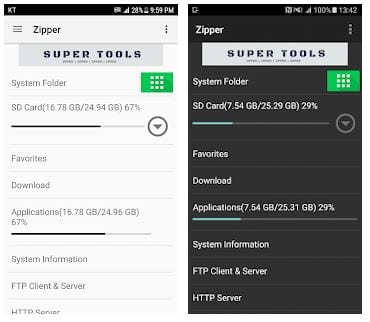 You may also like: 5 Best Battery Drainer Apps for Android
B1 Archiver zip rar unzip
Another application that is incredibly easy to use and understand. The interface of the B1 Archiver is the simplest and the least different from other applications like it. It is clear from the name that the key formats for unpacking and compressing files are B1, although other formats are easily supported (over 35 possible versions).
The B1 Archiver is supported in 30 world languages, which is an undeniable advantage, as most of the services are available in English only.
One of the main features of the application is the creation of "smart" archives using smart compression. You can create multi-volume archives, thus reducing the amount of space in the memory of your smartphone. Compression is incredibly fast, so you won't ever get bored.
To work with the B1 Archiver, you'll need to give it the standard permissions to read files from memory, write data and a few more nuances. In general, the application itself does not take up much space, but it also increases the amount of free space in memory.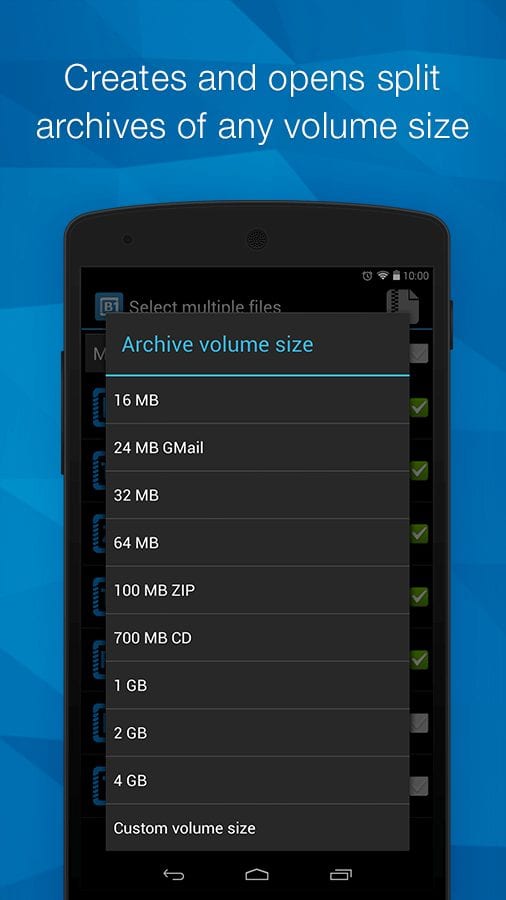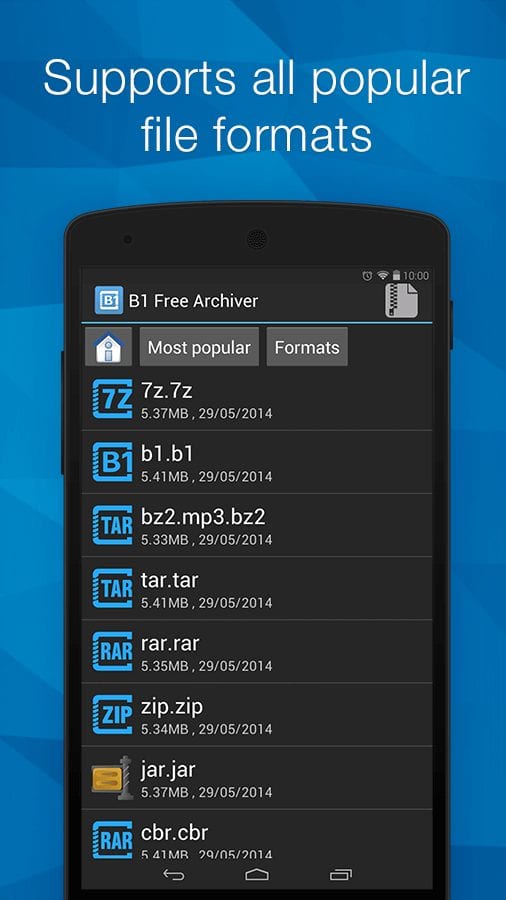 For iOS users, you may like to know How to open Zip files on iPhone
RAR
And of course, the most popular application for working with archives is RAR. It has millions of downloads, more than 700 thousand ratings in Google Play, good reviews, and high rating among users. We can conclude that RAR is the best application for compressing and unpacking files.
Among the functions we can mention the standard reading of simple archives with a password, compression of data into archives of a certain format – you can even split the amount of data into 2 archives.
What is unusual and amazing is that it is possible to recover damaged archives. Sometimes the mail receives data that cannot be read even in the unpacked form – perhaps, a part of the archive or a piece of data has not reached the Mailbox. RAR, on the other hand, allows you to restore this data and get the full information.
The free version of the application includes ads. If you want to get such a wide range of functionality and not see the ads, it is worth buying a paid version of RAR.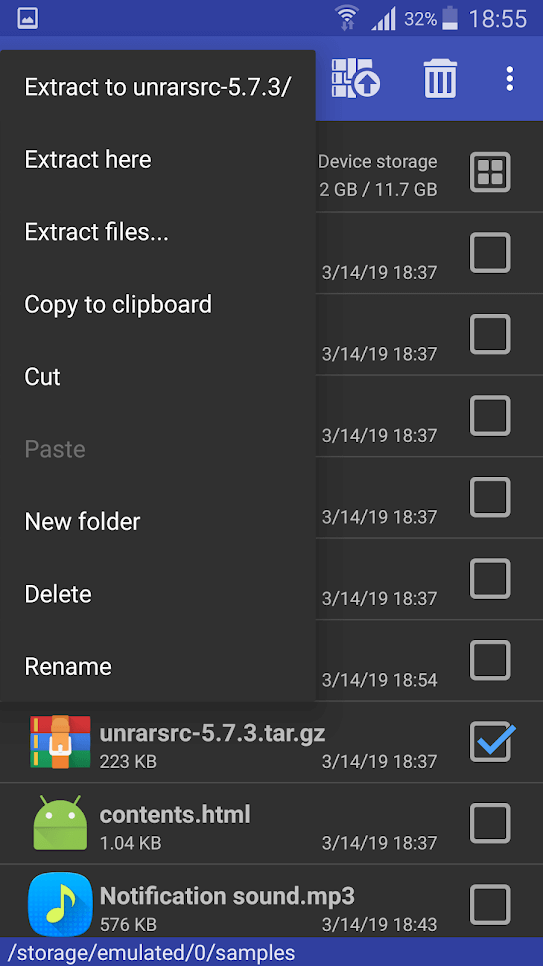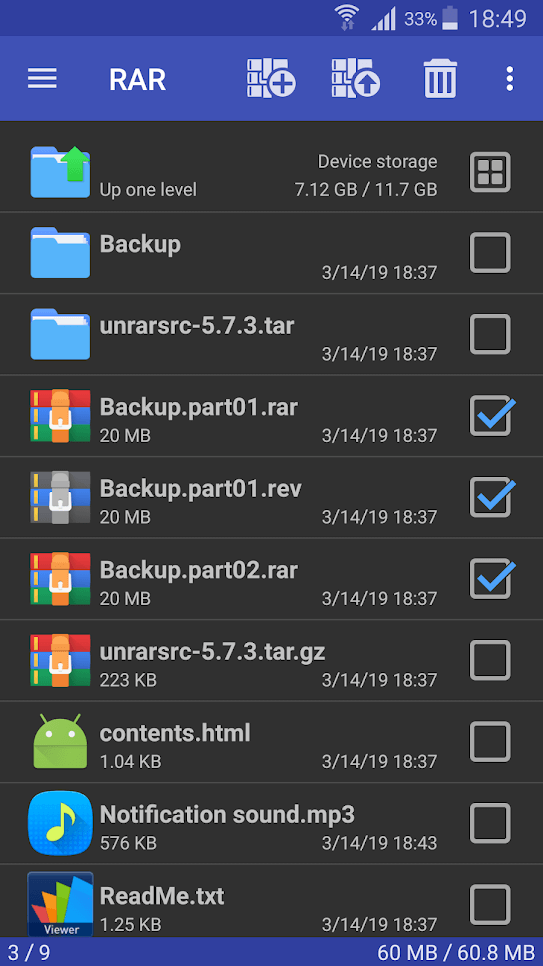 Memory saving is incredibly important nowadays. Work data, personal photos, and snapshots, even movies and clips on your smartphone take up a lot of space. Apps that require a lot of storage space can be installed as well.
In such cases, the archivers will help you. Compressing data is a great way to ensure that you don't lose the quality of your images and music and that your videos remain the same after unpacking.
Don't want to delete moments from your smartphone's memory? Do you use too much space for your games? Just download one of the apps, easily compress data without loss, and no longer face the problem of lack of memory.