Finding a good job is a challenge. You need to go through a big number of steps: creating and sending a resume, talking to recruiters, doing some test tasks, and solving cases.
However, it is even harder to find a good candidate for a job. You need to sort these people, finding and choosing the best ones.
By the way, if you are a teenager looking for your first job, you should read 7 Best Job Apps for Teens (13-17 Years Old).
In this list, you will find the apps to find jobs and workers, meaning this article will come in handy for both employers and employees.
There are apps for iOS and Android.
Fancy Hands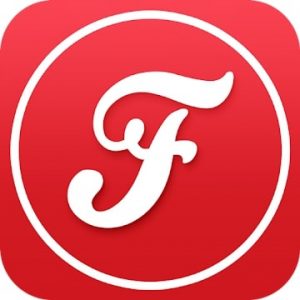 If you are running a business or you simply need people to help you with some tasks, Fancy Hands will be a perfect option. You will be able to post a job description and then wait for the users to reply.
The only thing you need to do is to sort these replies. Sounds simple, doesn't it?
Let's take a closer look at the functions provided by Fancy Hands:
Create a detailed description

of your task. This is a vitally important step as it will attract potential workers. Make sure you list all the key skills your future workers need to have. You can also test your workers before you hire them.

Chat with a person before he or she becomes your assistant. It will help you to study the candidate for a job better.

The app will analyze your behavior

. For example, if you are often looking for drivers, you will be recommended the same workers next time. It can be compared to target advertisements. The option will come in handy for those who tend to search for the same type of workers multiple times.

If you are

a worker looking for a job

, you can also use Fancy Hands. In this case, you have to create a profile and give the app some information regarding your skills and interests. This will help you to get the most relevant job recommendations. To sign in, use your Facebook or Goggle account.


Give the app access to your location

. This will help you to get job opportunities in your area if you don't want to spend long hours going to your office. If you are searching for remote work as a freelancer, add a filter, and Fancy Hands will try to find this type of work.
The app cares about your safety and privacy. This is why it will ask you to set a password. Don't skip it – this function will protect your data.
Fancy Hands is free of charge. If you use the basic version, there will be some ads but they aren't full-screen.
Both Android and iOS users can enjoy Fancy Hands. Download it on the App Store or Google Play.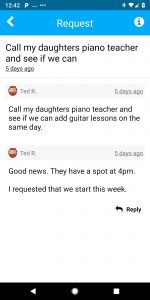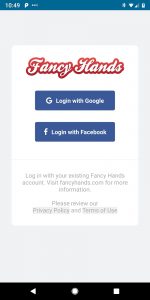 You may also like: 15 Best Reseller Apps to Earn Money Online (Android & iOS)
Upwork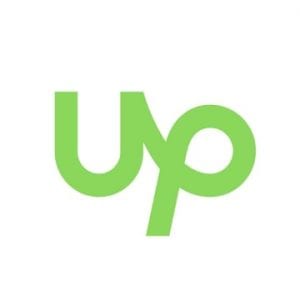 If you are a freelancer or you are looking for a person who will do some tasks for you, you should take a look at Upwork. It was designed for helping people make money easily, fast, and legally.
It doesn't matter if you are an employer or a freelancer – the algorithm of your actions will be more or less the same:
Study the market

. Before you apply for a job or post the job description, check what is already there on a market. This will help you to create the best text and find a perfect option for you.

Chat with a person before you start

working. Discuss all the details and terms of payment. The app doesn't guarantee that all the users will be fair so you need to double-check it yourself. For sure, if you face any problems, you have to report them to make the app a safer place.

The app is

aimed at freelancers

so if you are looking for a job offer in a big company, Upwork might be a bit irrelevant. Still, it doesn't mean that your work will be illegal. You can create and sign a contract with a person you will work with.

Decline and accept offers

easily. It will save you time and energy, as it is much faster than communicating via email.
Please note that the app collects some data about you. For example, your purchases and location will be linked to you.
Download Upwork and enjoy complete freedom. The app is available on the App Store, as well as Google Play.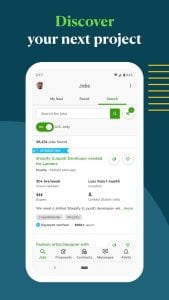 Freelancer – Hire and Find Jobs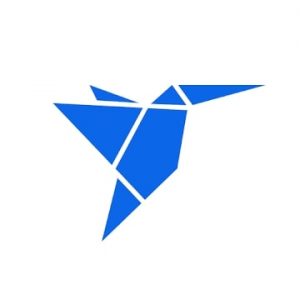 This is one of the most popular job-bidding applications. Here you can compete for jobs with other users.
It is famous for its simple interface. With Freelancer, you can start looking for some new work or search for good candidates online. Let's see how you can do it:
Download the app and create an account

. We recommend that you add your previous working experience and education. It usually increases your chances of getting a job. You may also add your interests so that you get relevant recommendations.

Freelancer is

a universal service

. It doesn't matter what type of job you are looking for, you will find what you need anyway. The most popular workers are programmers, marketing, and PR specialists. However, such professions as cleaners and drivers are also quite popular.

If you are looking for a good worker, make sure you

describe all the key skills

your worker needs to have. You can also set filters to sort the candidates. This will help you avoid talking to irrelevant people and waste your time.
Even though the app is packed with cool functions, its size is 23 MB only, meaning you can install it on any device.
The app collects some data about you, such as your purchases, location, contacts, and user info.
However, there is a pretty serious disadvantage – technical support doesn't always work quite well. It can take some time to get a response from them if you face any bugs and problems.
Freelancer is free with all of its functions and there are some ads as well.

Both Android and iOS users can enjoy this application at no cost.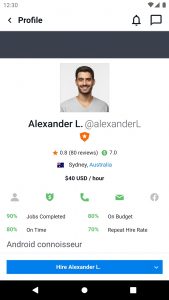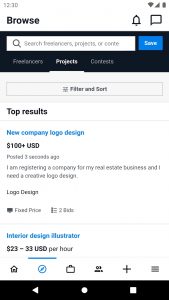 Thumbtack: Hire Pros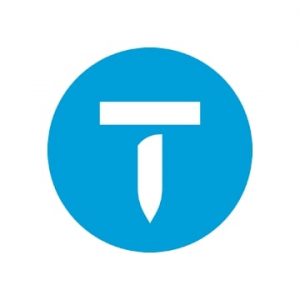 If you are looking for a part-time job or you simply want to make additional money, Thumbtack will be a perfect option for you.
However, please keep in mind that this app can't help you if you are a rare specialist or you work in IT.
Thumbtack is aimed at students who are struggling to find their first job or other people who just need extra money. Designers and programmers can hardly find anything fitting their expectations.
Here are some things you need to know about the app:
You need to

be at least 17 years

old to use the application.

Thumbtack

works with many spheres of work

. However, the most popular are babysitters, couriers, repair workers, and drivers. It doesn't impose any limitations on you as a hiring person. You can still post any job option and wait for the responses from candidates.

There are some

unique and creative tasks too

. For example, it can be taking part in a wedding ceremony or pranking someone.

Compare prices

. You can analyze the amount of money you will be given for different types of tasks.

See the rating

of workers before you hire them. It is vitally important to study all the comments so that you get to know the person well.

Give access to your location

. This will allow you to hire the best workers who live around. Still, many users complain this filter doesn't work quite well.
You will need at least 81 MB to install and use the application. It's not too big for such a huge network of people.
By the way, if you are looking for a job of a babysitter, you should take a look at 9 Best Babysitting Job Apps for Android & iOS.
The app is free of charge – just download and start looking for people.
Download the app now on the App Store or Google Play.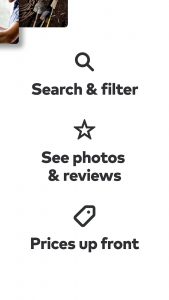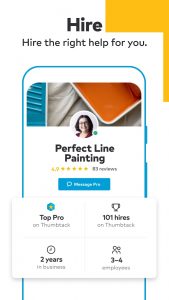 TaskRabbit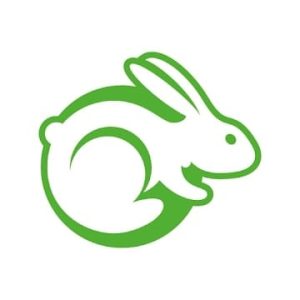 Do you consider yourself a busy person? Do you often lack time to do some important things at home? If yes, TaskRabbit is a must for you.
This application is a database of people whom you can trust. Their passports are checked and the system of ratings will help you understand if the person is worth working with.
There are four steps you need to take:
Download the app and tell it what task needs to be done

. Give a short description so that the people from the database can understand it.

TaskRabbit will form a list of candidates

. Just watch the profiles and choose the one who appeals to you most.

Wait for the task to be done. That's it!
Why should you trust and use TaskRabbit? Well, there are at least 3 strong reasons:
The search

won't take long

. You can find the person you are looking for in a few hours or even minutes.

Make your payments right in the app

. It is a secure and easy way of payment.

Chat with the people

you want to assign a task to right in the app by using chat. Don't skip this step as it will help you to get to know the person better.
The app will track some data about you and it will be linked to your identity. We mean your contacts, financial info, browsing history, and some other details.
You can download TaskRabbit on the App Store and Google Play and enjoy it for free.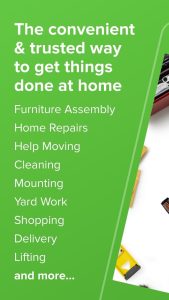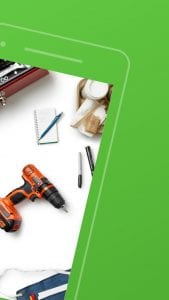 Fiverr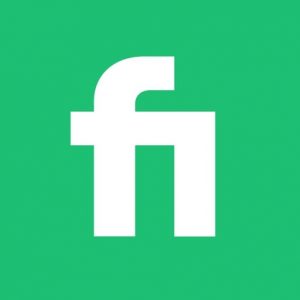 This app is considered to be one of the best job searching apps, however, it can also serve as a job bidding application. It brings the best projects and the most ambitious freelancers together.
Here are the most striking features you will discover in the app:
Tell the world about your project

, its aim, and budget. This will help you to attract the best freelancers. Don't forget to provide info about their tasks and payment detail. More people will trust you if you use the secure payment system that is built in the app.

Choose the category of worker

you are looking for. This will help you to avoid sorting the candidates manually, which is time-consuming. Here are these categories: IT, design, digital marketing, music, and video. You can also create your category if the listed ones don't help you.

Set filters to save time

. If you need some key skills, make sure you set these filters. This will automatically remove some options that are irrelevant to you.

Enjoy a simple and smart interface

. You won't have any difficulties thanks to its interface. However, if you have some questions check the tips.
The app has a pretty high rating – 4.9 out of 5. Most users love the app for its efficiency. Indeed, Fiverr will help you find the workers in a few hours, which is a super-fast speed.
You can get Fiverr for free on the App Store, as well as Google Play.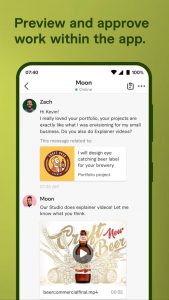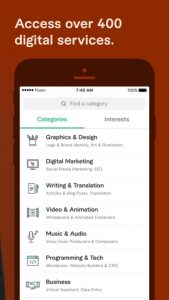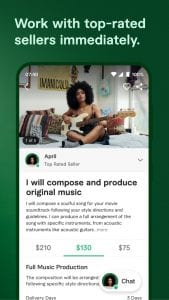 Truelancer: Job Search & Hire Freelancer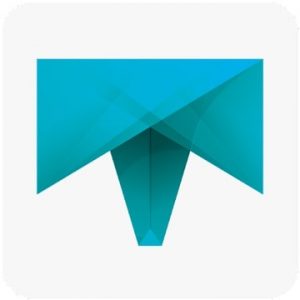 Let's take a look at one of the easiest and most effective apps for job search. It can be equally cool for freelancers and those who hire people. What is more, you don't need to pay for using the basic functions of Truelancer.
Let's see what you can do in this application as a freelancer:
Create your profile

, which will also serve you as a resume. You can also attach some of your works and projects so that your future partners can study your experience. This will increase your chances to receive a job offer.

Enjoy a

payment security system

. Many people worry that they can be deceived by others and get no money. In Truelancer, it is almost impossible to face such a situation. However, you still need to be attentive.

Chat right in the app

. It is a perfect way of communication. What is more, it is safer than going to messengers or email.
What can you do as a person who is looking for workers:
Describe the task

in detail. It will help the candidates to understand what needs to be done. That's why you need to spend some time to save more time later.

Pay online

. The candidates will trust you if you use this online payment system. It serves as a guarantee of payment.

Add the candidates

that appeal to you

to your favorite list

. This will help you to turn to them later when you need an assistant again.
Many users complain that the app tends to work quite slowly and sometimes crashes when they use Wi-Fi.
Truelancer is pretty small, though. It requires 43 MB of your phone space.
You can download Truelancer on Google Play and start looking for good job options or workers!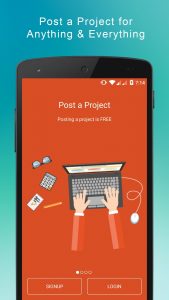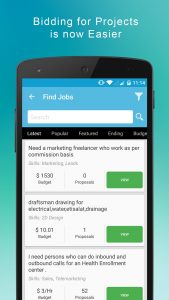 You can also check: 11 Best Job Search Apps for Android & iOS