Do you like mixtapes? Want to listen to your favorite music anytime? This is possible using your phone. Use the application data to access a large number of mixtapes. Here you will learn about the latest news, compose your playlists and get useful recommendations.
Find tracks from your favorite artists using easy search. You can also use filters by genre. All this is available in these applications. Many programs for drying music allow you to listen to it for free. Here are all the best applications with which you can enjoy your favorite music.
Listen to your favorite music offline using these best music caching apps.
DatPiff – Mixtapes & Music
The DatPiff – Mixtapes & Music app will give you access to the best mixtapes of the music industry. The program has offline support. You can mark an album or playlist available offline. The application will save them in the memory of your mobile device.
The application interface is very easy to use. There are various collections, convenient search, and various charts. The DatPiff – Mixtapes & Music application is also a fairly socially oriented service. Here you can subscribe to someone to follow his playlists and favorites.
The search in the application is very fast. You need to enter the name of the genre or the name of the author. You will get the result in just a few seconds.
There is an interesting feature for selecting tracks. It takes into account your interests and listening to music. If you don't like the music offered, then you can click the "No longer offer" button. So the application can take into account your tastes.
You can download your favorite tracks to the application library. This will allow you to listen to music without an internet connection. Besides, any audio recordings can be sent to your friends. this can be done via email or any social network.
This application contains the best mixtapes from world performers. Here you will definitely find what you like. A nice bonus is that the application DatPiff – Mixtapes & Music is absolutely free and has no built-in ads. All features are available without a paid subscription.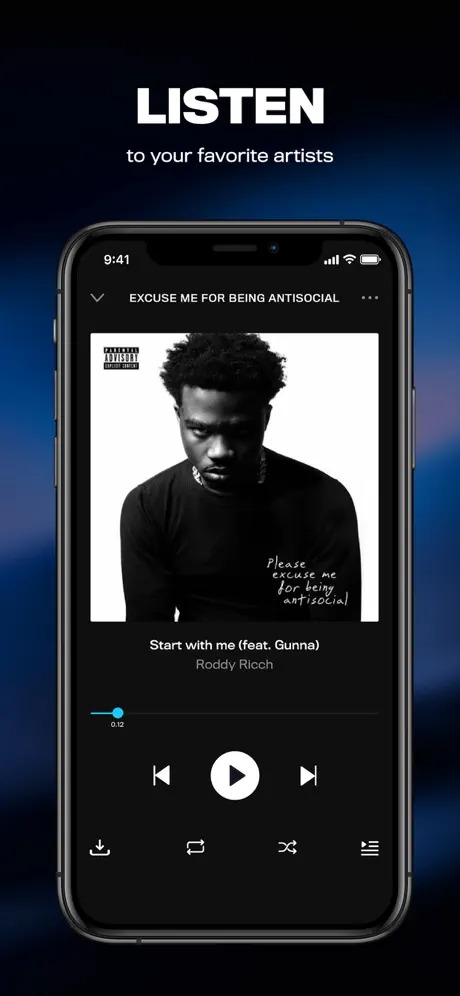 You may also like: 21 Best Offline Music Apps for Android & iOS
Spinrilla – Hip-Hop Mixtapes & Music
Listen to the best mixtapes from around the world with the beautiful Spinrilla – Hip-Hop Mixtapes & Music app. Here you get to the colossal music library. Millions of tracks in excellent quality, a selection of genres and individual artists. You can also synchronize tracks for offline listening.
The application interface is very nice. You will get rich functionality. On the main application window, you can open the main menu. Here you will have access to your music, mixtapes you like, and much more.
The application Spinrilla – Hip-Hop Mixtapes & Music has an algorithm for selecting similar artists. It will provide you with interesting recommendations and entertaining selections. They are the key advantages of this program.
If you want to listen to your favorite mixtapes offline, you can download sound files. You can subscribe to artists that you like. Then the app will inform you when new tracks from your favorite musicians appear.
Near tracks that have been fully downloaded to the device, a green arrow symbol will appear. If the arrow is gray, then the download is not yet complete.
Here you can mark the selected playlists and synchronize them with your device. It will also help you listen to them offline. During synchronization, you need to be on the network, but after its end, you can disconnect. This is a free application with no built-in ads. here you will find a large catalog of mixtapes that you will definitely like.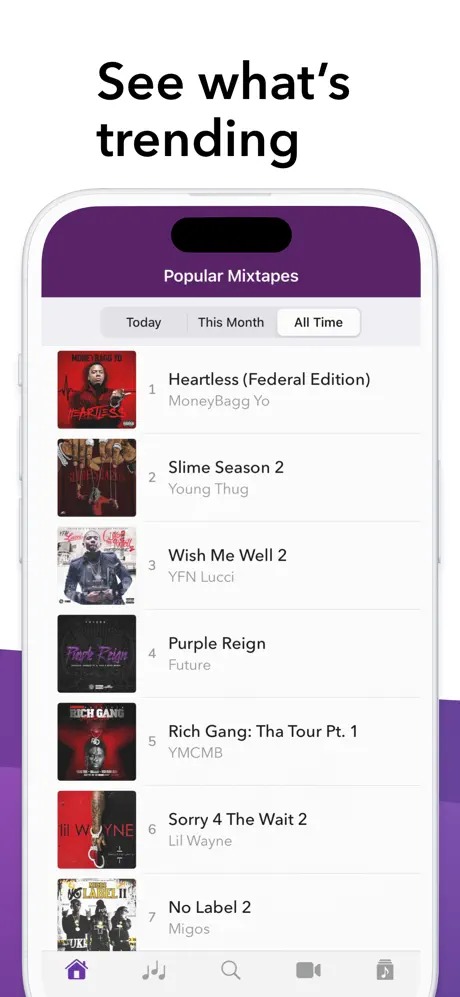 LiveMixtapes – Free Mixtapes
LiveMixtapes – Free Mixtapes is a social network where you can find mixtapes that you like. The authors here can show their tracks to a wide audience. Using the service, you can not only listen to the tracks but also download the ones you like.
The advantages include the uniqueness of compositions and filtering by popularity. There is also the opportunity to follow the work of famous artists.
Application LiveMixtapes – Free Mixtapes features:
Registration is required to download tracks.
Free download and listening to mixtapes. Creating playlists and favorite lists, subscribing to artists.
Here you'll get recommended playlists and a custom music rating. Browse user playlists, join groups and chat in the built-in messenger.
Filters: by genre, artist, mood, recommendations, and tags.
Extra features:
Offline mode.
Integration with Twitter, Facebook, Songkick, FourSquare.
Record sounds through the application. The ability to insert a comment into the sound recording.
Downloading private tracks.
Insert a track in a message.
Extended statistics. Showing countries and cities of listening, sites, and sites with an attached track.
Account activation is carried out through an account on a social network or email. You also need to specify the control data (login and password). Next, you need to confirm activation via the link from the letter. Fill out a profile and state musical preferences.
The system interface is very attractive. The top panel contains the main blocks and sections. In the menu section, you will find your downloads, popular tracks, and a list of authors. You can also create a personal selection of mixtapes.
Recently listened to mixtapes and saved artists albums are saved in the application LiveMixtapes – Free Mixtapes history. Also on the menu, you can open a tab with a list of downloads.
The main advantage of the service is the search for unique and little-known tracks. A large number of authors share their work daily. Most of the tracks are remixes and remakes.
All the benefits of the application LiveMixtapes – Free Mixtapes:
A large collection of mixtapes.
Convenient search and collections, updated daily.
Free listening.
Communication with users.
Install this free application on your phone and enjoy your favorite mixtapes.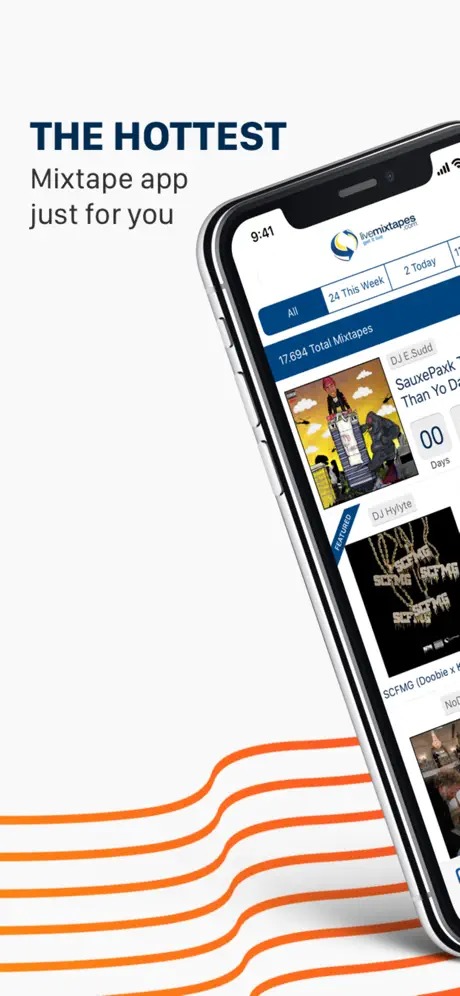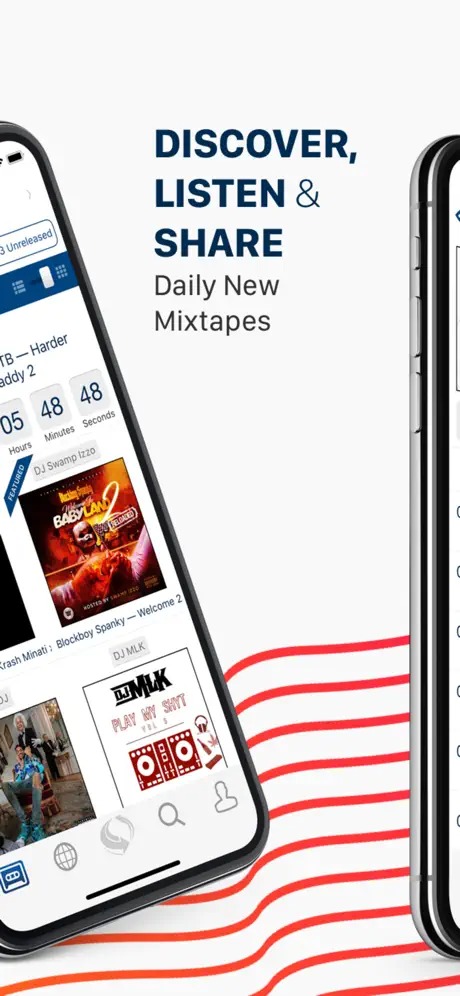 My Mixtapez
My Mixtapez is one of the most popular mixtape apps. This program has a special social network. It is presented in the Connect section. In it, performers can interact with fans and share exclusive material. For subscribers, it is possible to leave likes and comments under publications.
The application My Mixtapez has a user-friendly interface.
There are 5 tabs in the bottom corner of the screen:
Media Library. In this tab, you can find the music that you added earlier.
For you. Here are playlists and songs selected by the program to your personal preferences. Also, by default, playlists "My favorite tracks", "Music of friends" and "New music" will be added. Playlists are updated every day. Also in this tab themed playlists are collected.
When you open the tab for the first time, you can select your favorite genres and favorite artists.
With prolonged use, the service will be able to better select individual compositions.
In the "Overview" tab, you will see the latest music industry and the most popular clips and tracks. Music from this tab can be downloaded to your music library.
The Radio tab allows you to listen to various radio stations live.
The "Search" tab is designed to search for individual artists and songs.
When listening to music, the player is displayed in the lower corner of the screen. Each recording can be downloaded for the next offline playback. Downloading can be done with the application closed.
Application My Mixtapez benefits:
The application has exclusive round-the-clock radio stations. They work the best DJs in the world.
Ability to view the listened tracks.
Ability to manage preferences. This helps the service to better select individual music. It is also possible to put "likes" and "dislikes" to songs. Based on this, service offers will be formed.
Exclusive tracks and albums.
Regular updates.
In the application, it is possible to customize the start screen.
Find the best mixtapes and enjoy listening for free.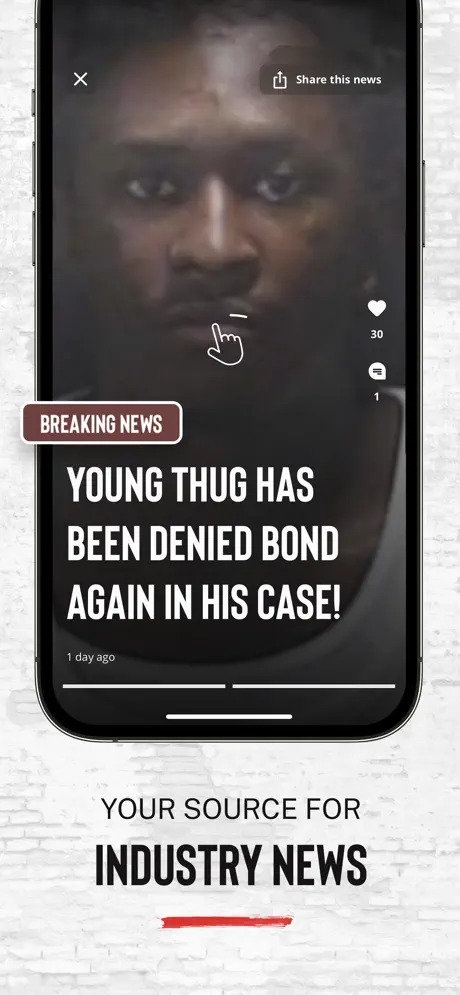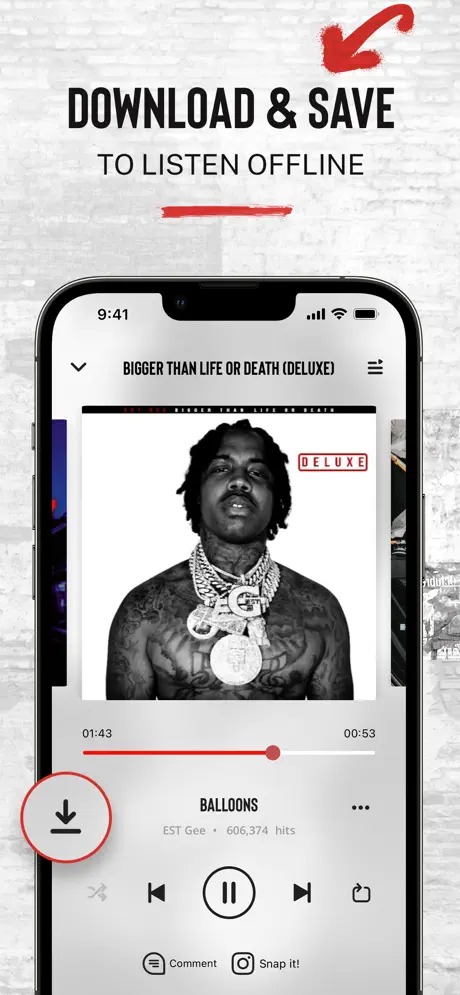 Worldstar Hip Hop & Rap News
Want to keep up with the latest news in the world of hip-hop industry? Keeping track of new music videos by your favorite artists? Worldstar Hip Hop & Rap News mobile app contains the most up-to-date information.
The convenient format of the app allows you to find the desired file in a few seconds. Be aware of which video has the maximum number of views on the Internet. Don't miss what's new from your favorite. Be the first to see trailers for the most anticipated movies of the year.
Here you will find not only the most popular performers, but also get acquainted with the work of emerging talents. Follow their careers on Worldstar.
For users to communicate with one another there are comments below each video. Share your impressions and laugh at the jokes of other participants.
This app gives you free daily access to the latest news, reviews, and videos. Choose the category you are interested in and start your journey through the pages of Worldstar.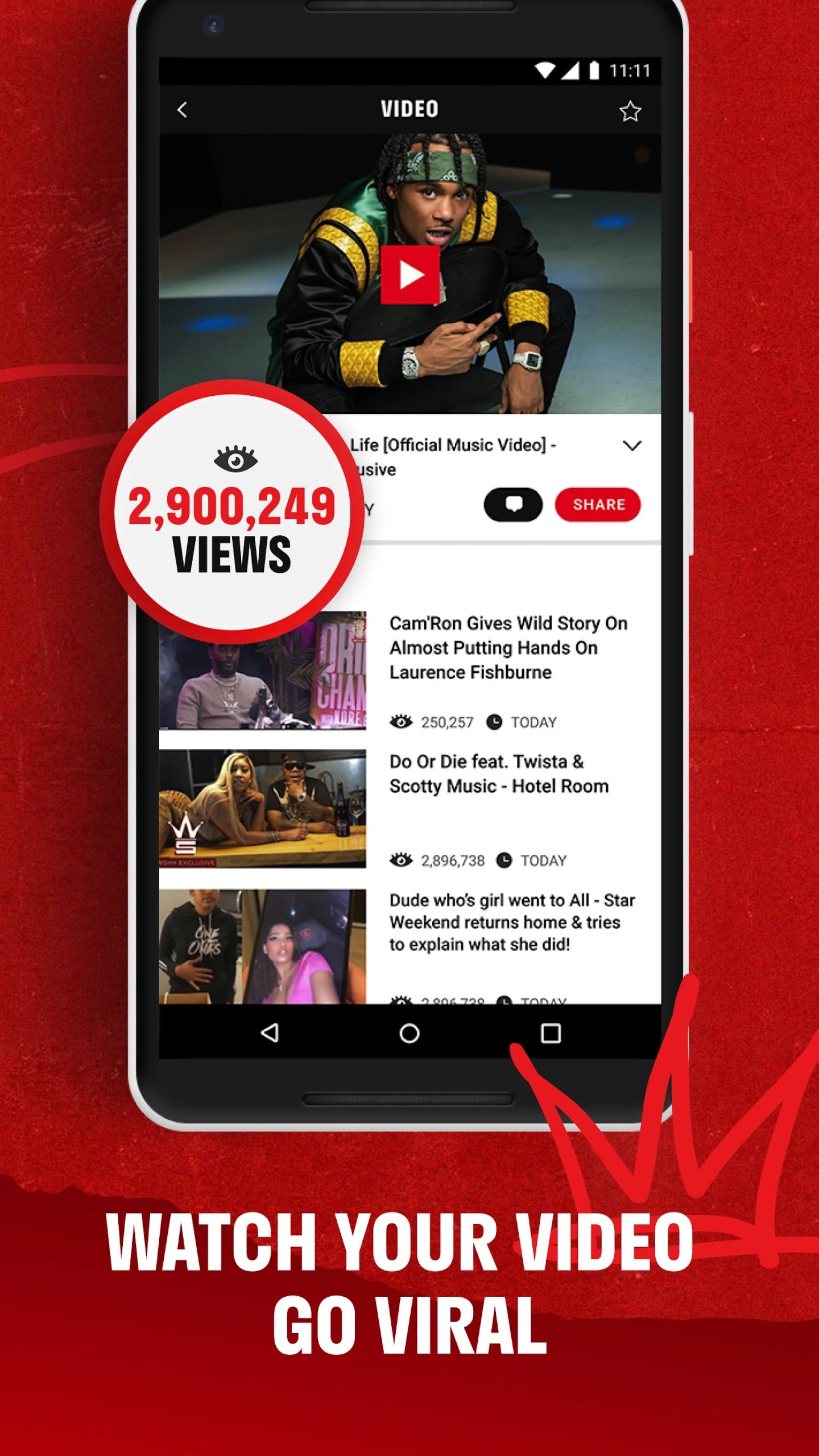 Audiomack | Download New Music & Mixtapes
The Audiomack | Download New Music & Mixtapes application allows you to find mixtapes and receive personalized recommendations. They are based on your musical tastes and the popularity of the content.
Here are collected all the best music tracks. You can hear and watch clips, singles and remixes. For searching, you need to specify what type of content you are interested in. On the main tab of the app, there are sections with new releases of artists, selected tracks. Besides, here you will find collections based on your preferences.
The Popular tab shows the newest songs. A hit parade of one hundred best songs, one hundred best, and 20 trend videos are also being formed. In the "Library" tab are sections with downloaded songs, albums, and favorite tracks.
You will get access to the entire music collection of the service. Listen to playlists arranged by genre and mood. Regular use will allow you to collect favorite tracks. Here you can hear those mixtapes that you will not find on other resources. These may not be very popular artists and bands. But they find their listeners.
The app Audiomack | Download New Music & Mixtapes makes recommendations based on your listening history. It also may offer similar tracks that you like. Recommendations are updated every minute.
The selection of recommendations should be included in browsing history. You can do this in the application settings. Search technology programs allow you to find music not only by name but also by text. This applies to English-language compositions.
Each artist has his own page with songs and clips, which you can subscribe to. If you like a song, you can share it with your friends. Send it to a social network, messenger or e-mail.
Application Audiomack | Download New Music & Mixtapes benefits:
A rich collection of mixtapes
Background and offline listening
System of personal recommendations and charts
Tracks not available on other resources
The ability to save Internet traffic
Use this free app to listen to the very best mixtapes.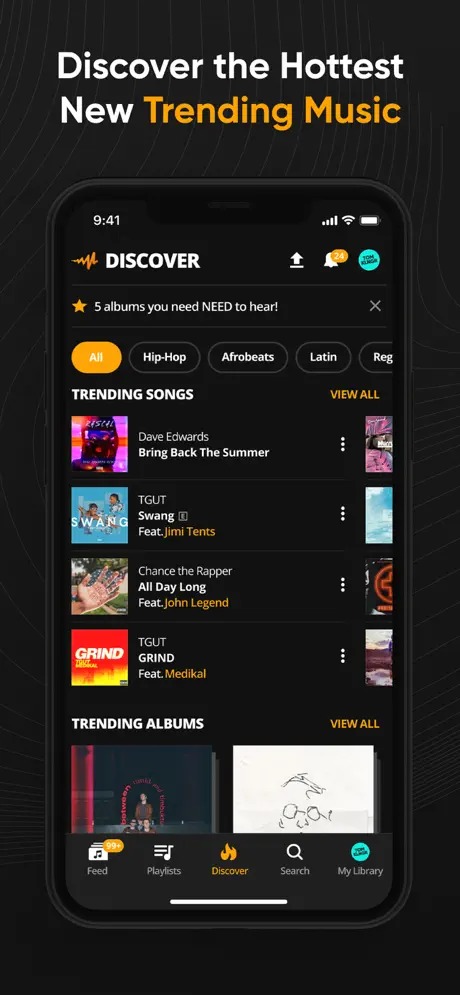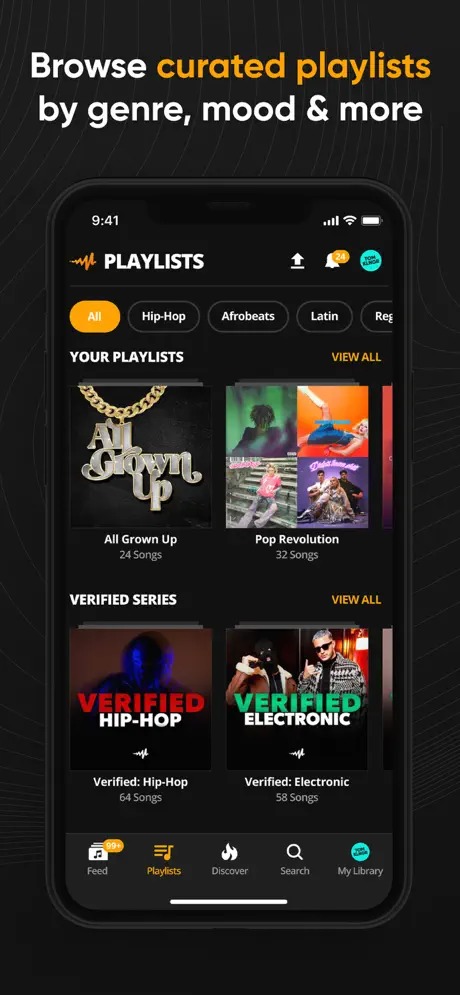 Pandora: Music & Podcasts
In the Pandora: Music & Podcasts application, you can listen to mixtapes. Read news and interesting publications about your favorite artists. The service has become known for its cloud features. Favorite songs can be downloaded to the cloud, which is synchronized with the phone. Thus, the music will be available offline.
The app Pandora: Music & Podcasts places a strong emphasis on well-known artists. Also, this program provides you with the ability to select the sound quality at boot. Not everyone has smartphones with high system requirements. In this case, loading with poor sound quality helps.
If you clear the cache in the application settings, you can improve its performance. The navigation menu also works very well. You can register in the application Pandora: Music & Podcasts. So you get more opportunities.
The application provides the ability to communicate with other users. You can take part in the discussion of news about your favorite artists. Listen to interesting music artists and much more.
Here you can listen to music and at the same time read information about the latest events. Leave comments and share links with friends. You can also do this using an email or account on any social network.
The application Pandora: Music & Podcasts has all the available functionality. Music albums, radio stations, publications, a news feed, and much more in one application. Listen to your favorite tracks and share them with your friends for free and without restrictions.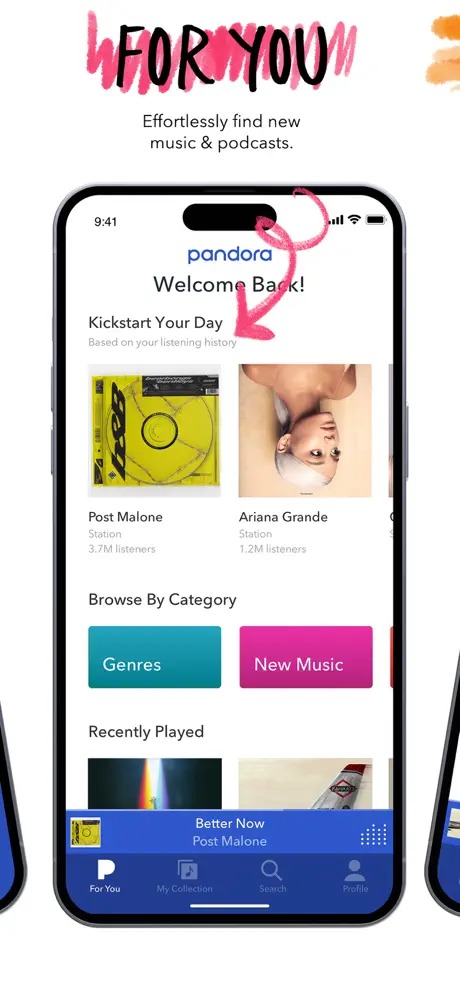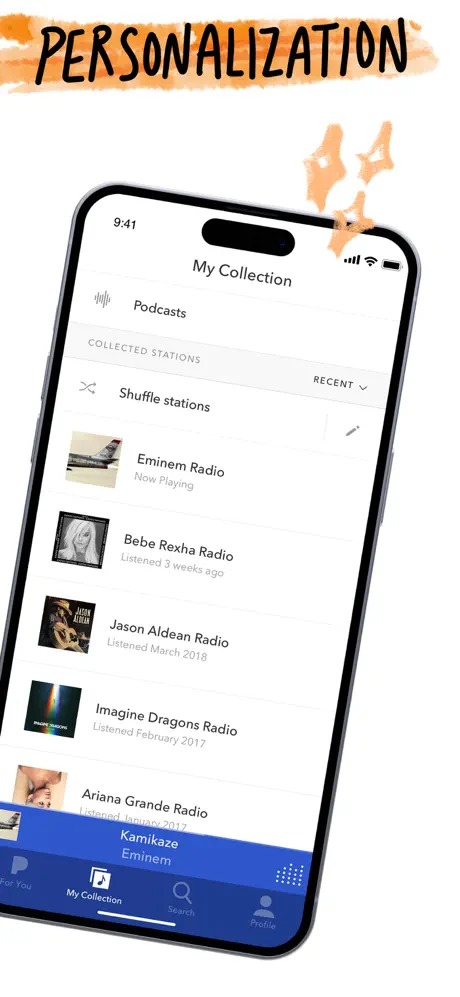 You may also like: 11 Best apps to connect your smartphone to car audio system
Next Hyype free Independent Music & Mixtapes
Listen to your favorite mixtapes in the Next Hyype free Independent Music & Mixtapes app. To start using the program you need to register. Registration is very simple. It takes about two minutes. To do this, you need to specify an email or bind a social network account.
Next, enter the username and password. Done! Now you can use all the features of the application. The main feature of the application is an interesting section. It contains the history of the creation of some tracks. So, you can listen to your favorite mixtapes and read interesting information. You can also listen to podcasts here.
The app Next Hyype free Independent Music & Mixtapes will recommend new music based on your preferences. Get playlists for any genre, theme, or mood. Recommendations often fall into the musical tastes of users.
There is a useful feature "Radio". Select a song, playlist, or album. Algorithms will put together an endless selection of something similar. The radio automatically turns on immediately after you listen to an album.
Besides, here you will find personalized weekly playlists that try to adapt to your taste. Every Monday, the application sends 30 tracks. According to the algorithms, you should like them.
Algorithms can be "taught." Listen to more music, like tracks, and remove from the collection those that you did not like. Over time, the playlist can turn into a great place to search for new artists or songs.
Every Friday, the app Next Hyype free Independent Music & Mixtapes sends a collection of songs from the releases of groups and artists that you like. Besides, you can use this application to listen to mixtapes without the Internet. To do this, click the special "Download" button near the track name. All music is saved to the application library.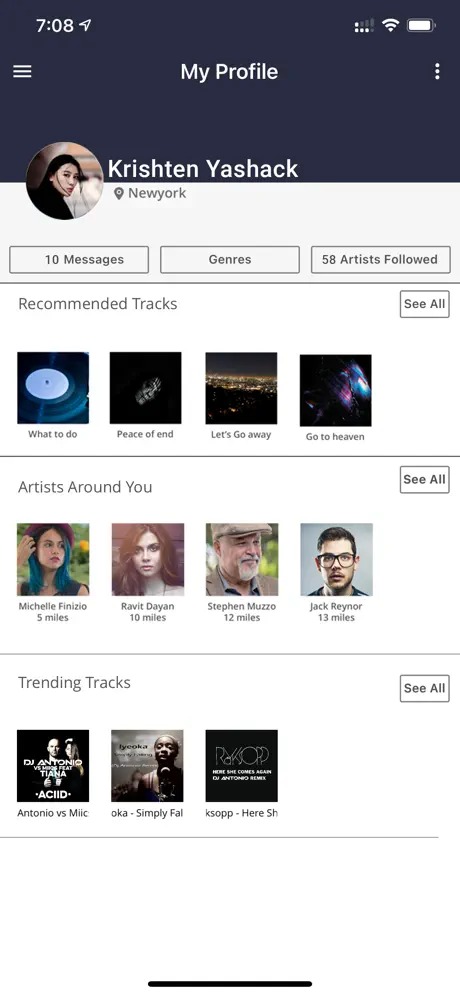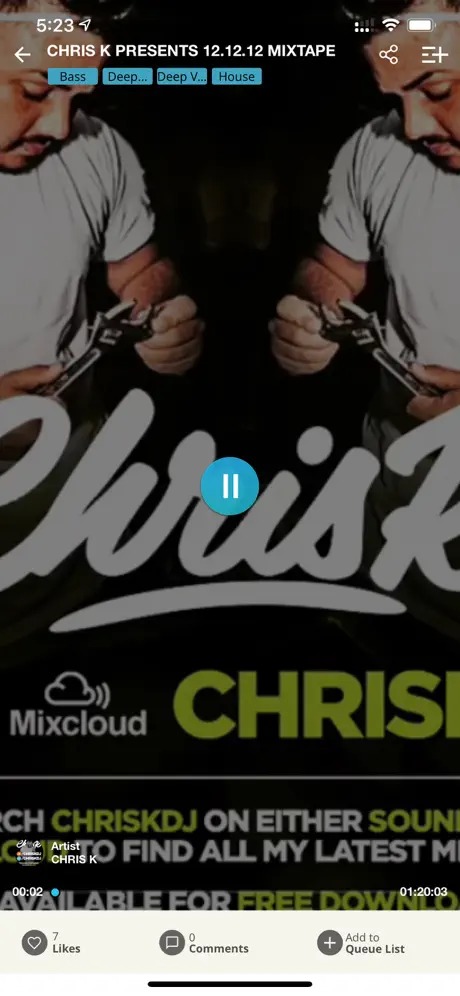 iEmpire – Empire State Mixtapes
In the iEmpire – Empire State Mixtapes application, you will receive recommendations and a catalog of mixtapes.
This program has an incredible amount of advantages:
Extensive media library.
In total, over 30 million tracks are available to you. Among them are a lot of artists of different genres, as well as exclusive releases. Even a music lover with specific tastes will find it easy to find any music.
Exact recommendations.
It is for good algorithms that the iEmpire – Empire State Mixtapes is so appreciated by millions of users around the world. In addition to customizing your preferences, the service offers a special playlist.
It is updated every Tuesday and contains recommended tracks. There is also a tab with dozens of popular and little-known artists. They are selected based on your tastes.
In addition to featured playlists, there are daily updated collections. They consist of favorite and new songs, divided by genre. Listening statistics are collected. At the end of the year, the service pleases with steep totals.
At the same time, the accuracy of recommendations can be improved with the help of likes and dislikes. They are available in all collections.
The mass of curated playlists.
If you just want to listen to music, there are great playlists for the mood and various activities.
Tracks marked with a heart are not taken into account in the recommendations. They are automatically saved in the Favorites list. Here you can listen to them or collect them in separate playlists.
Powerful radio.
Many ready-made stations are available here. You can also collect your own based on the artist or even a single song.
A large community.
A huge community of listeners with good taste is also a plus of the service. Here you can find on various collections with similar musical preferences.
Integration with other services.
The greatest flexibility of this app is manifested in the integration with services. The songs you like are easy to share on Facebook, Twitter, Telegram, Skype. Instagram even supports posting stories.
The quality of the application iEmpire – Empire State Mixtapes.
The program has a nice and intuitive interface. The service is very stable.
Lack of intrusive advertising.
Download this great app to listen to your favorite mixtapes.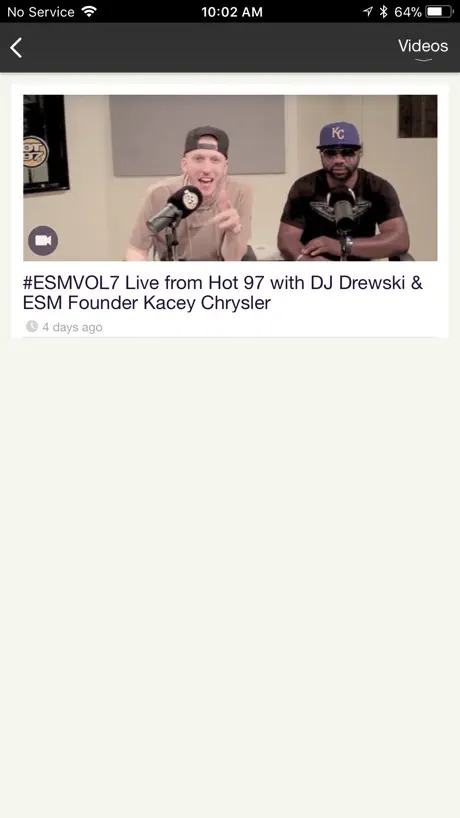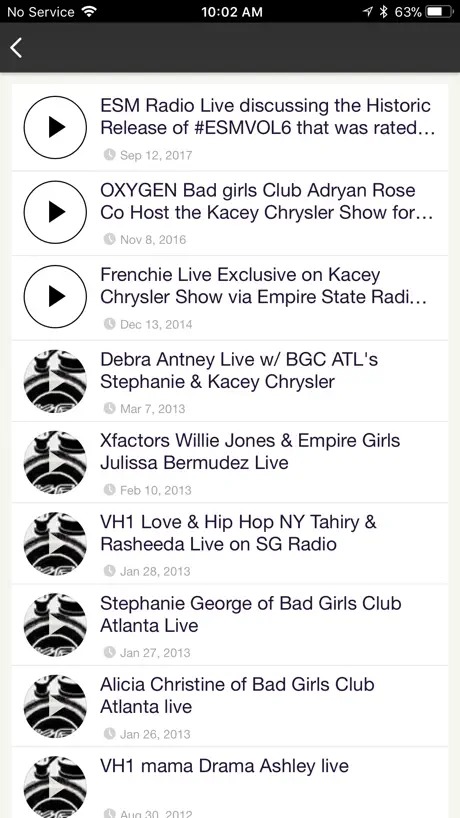 DaMixhub Mixtape & Music Downloader
Mixtapes are so old school and don't you want to feel like you're back in the 90s? Using this app, you can get the coolest mixtapes right to your phone and listen to them offline whenever you want. Or, you can stream any mixtape anywhere you want – the sleek music player that you will find in here provides the possibility to easily stream on the go.
You can create an unlimited number of playlists – and sync them between all your devices. In DaMixhun you will find the hottest mixtapes from such famous artists like Gucci Mane, Drake, Future, Kevin Gates, Chance The Rappe, and many others.
Considering the music genres, in this app, you will find DJ mixes, hip-hop, reggae, dancehall, electronic, R&B, and many more. By the way, one of the best features of this app is that it has absolutely no ads.
All the tracks are presented in the highest quality possible (320 kbps). In case you don't want to save the music right to your device you can use the cloud storage that you will also discover in DaMixhub.
In general, the app is really convenient in usage and everyone will find it is easy to orientate there. It works just like your regular music streaming app, except for the fact that this one contains cool mixtapes.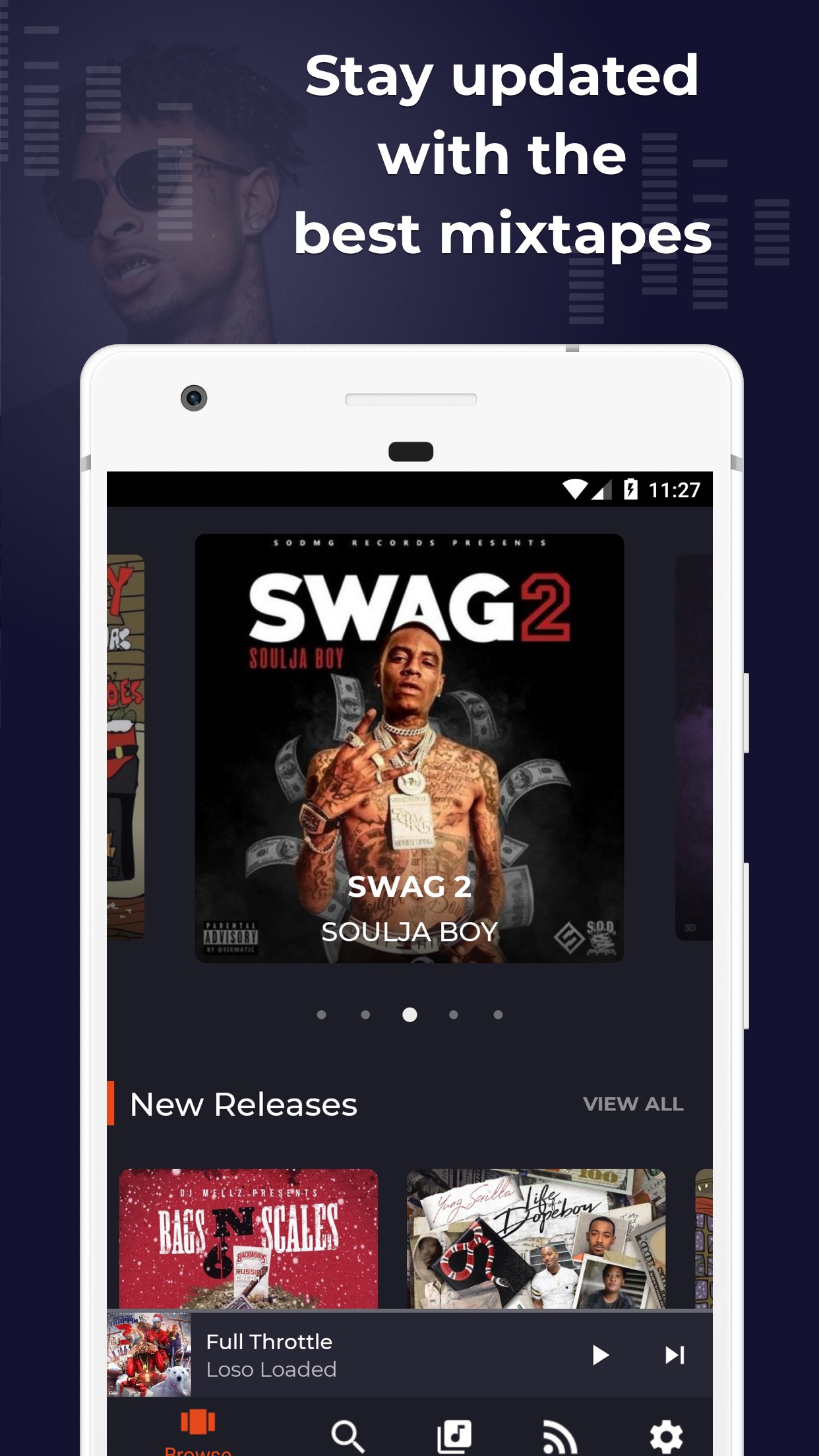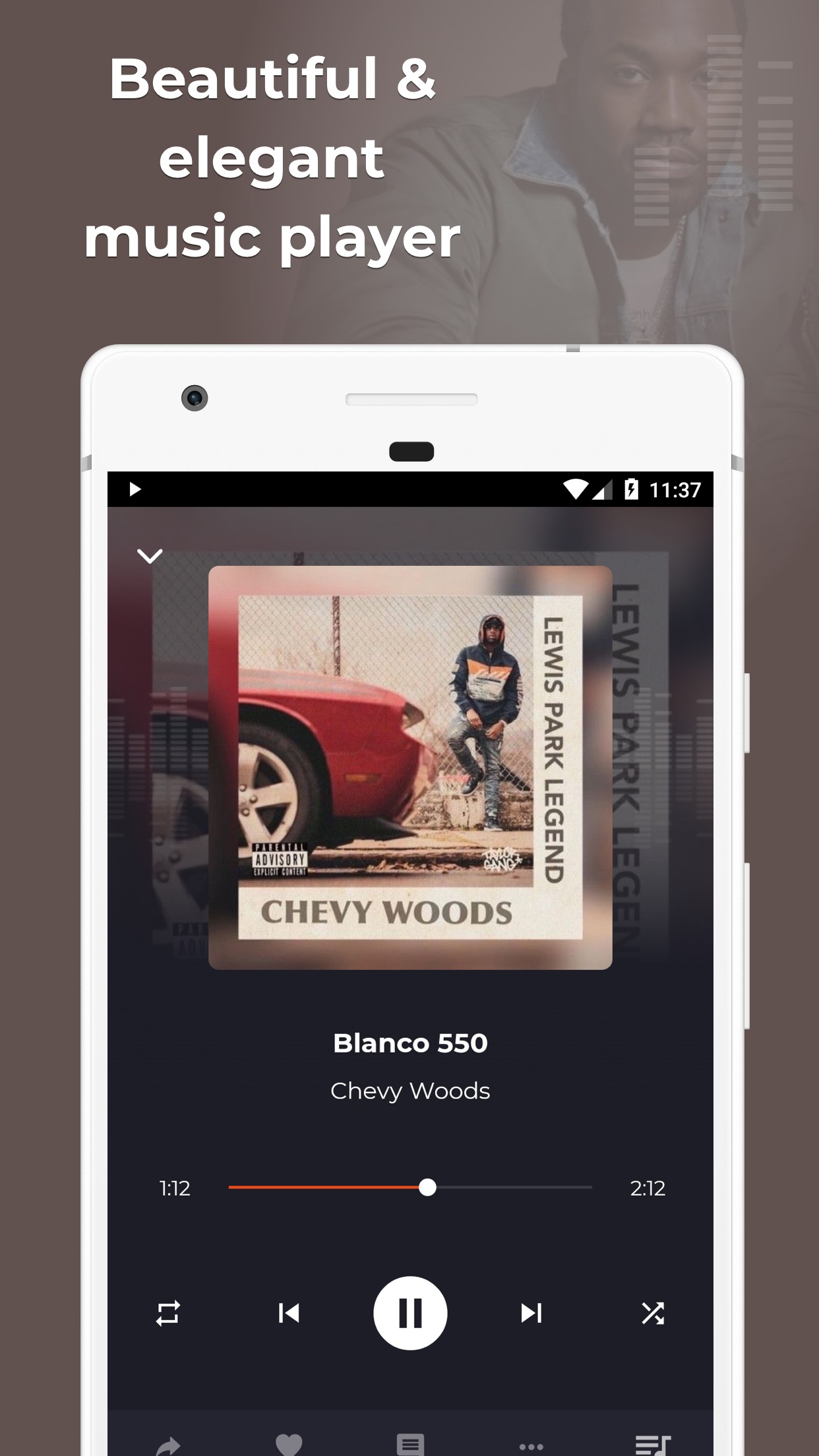 You may also like: 11 Best Hip Hop Music Apps for Android & iOS
Mix-Tape
A multifunctional app for mixing right on your phone. With Mix-Tape you'll be able to perform complex actions automatically, getting perfect results.
Create your own playlists from the most popular hits from Apple Music, Spotify, Twitter and Instagram. No more copying playlists from one app to another. Create unique playlists for cozy evenings at home, family gatherings, or romantic get-togethers.
Your playlist can be accompanied by an audio commentary of up to 1.5 minutes in length. Come up with a cover for your album to make it unique.
Use a ready-made list of songs for a road trip, share the finished version with your friends via messengers. You'll need an Apple Music subscription to use the app.