Manga and comics have many fans and people who like to read interesting and simple literature. At the moment it is not necessary to go to the bookstore and buy those books that might be interesting to you – everything can be easily found in digital format.
Of course, some reading services will offer you to buy interesting manga, but there are many other sites where you will read something interesting for yourself online. You may also need manga reader so head out to our 15 Best Manga Reader Apps for Android & iOS review and pick up the app you like.
MangaStream was the largest database of digital comics and manga where anyone could find something for themselves. There are various genres and authors, some of which could not be found anywhere else for free.
However, at the moment the MangaStream website is blocked without official reasons and explanations – even the Twitter account of the owners deleted all the content.
Most likely, the blocking was due to a complaint from the real owners and authors of manga, as most comics were published on the site for free and illegally.
Still, fans can find services to replace MangaStream in order not to spend money on buying paper versions. We have selected 13 Best Mangastream alternatives 2023 for you. Enjoy!
MangaOwl
WSJ fans know exactly about MangaOwl service. It is the administration of this site that releases the WSJ series before their official release, allowing people to be the first to know the novelty. The site also has a large collection of other types of manga, which is so loved by users.
All operation and selection for reading is organized very conveniently and easily, and the interface of the site will orient you in just a few seconds. MangaOwl also has other advantages that may interest you.
For example, if you do not know what to read, you can choose your favorite genre in categories. Next, you will be presented with a list of items that are available for reading right now. MangaOwl has a good rating system, which is compiled by users.
After reading it, you can rate what you've just seen – it's your rating that will help other people choose the most interesting manga for themselves. You can also stop at any time, and MangaOwl will give you the opportunity to continue where you left off next time.
Go to MangaOwl website.
You may also like: 11 Great Animeflavor Alternatives
MangaDex
MangaDex is a special website created for manga lovers. Here you will find various comics of different genres, as well as in different languages. In fact, the site offers translations into more than 20 different world languages – not only English but also German, Spanish, and others.
You can also find on MangaDex not only classic version for almost every manga series but also color version, alternative endings from active fans, official continuation of the series, and more.
In order that you can find like-minded people or hear the opinions of other users about certain series, you can go to the comments or forums. By the way, on MangaDex you can create separate groups and topics, in which something specific will be discussed.
This way you will get acquainted with the community of the site, as well as be able to find someone interesting or new friend. MangaDex is notable for the fact that the site is adapted for both the computer version and smartphones. You can easily continue reading in bed at night, turning the site into dark mode.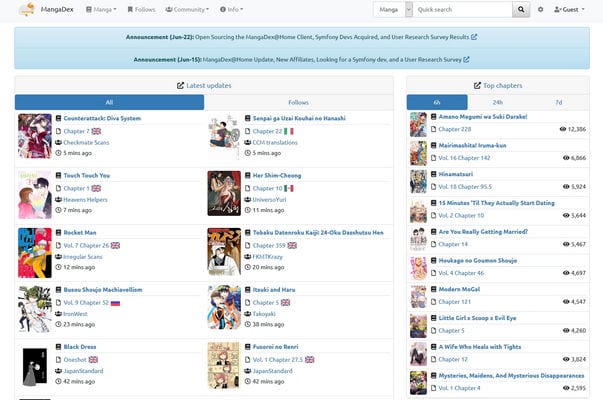 Go to MangaDex website.
MangaFox
Some manga reading services are so popular that other Internet users make copies under similar domains. MangaFox is one of these sites, which has several different clones. Each of the clones is much worse than the original version, so we recommend that you pay attention to the authenticity of the site.
The original site is made in a white-orange theme, as well as regular updates its library of comics. It should be noted that MangaFox also has an application, but it can be downloaded only from the site, not from official application stores.
All new comic book releases are released here on the same day as the originals. The most popular manga series can sometimes even appear a little earlier, which will please fans and other users.
MangaFox will not make you wait long for the update of the series. It is also worth telling a little about the mobile version. As we have already mentioned, the service has a rather handy application. It allows you to scale images from the manga, as well as read everything in a more convenient format.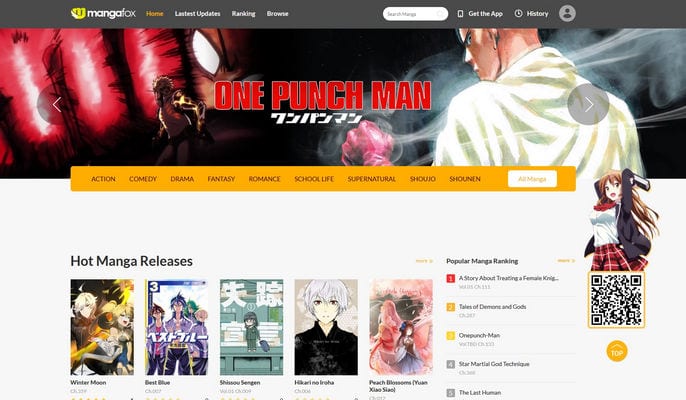 Go to MangaFox website.
MangaPark
A large collection of comic books, comfortable reading modes, and site navigation – all this you will find on MangaPark. This site is another great alternative to MangaStream, which has long been popular.
Here you will be able to read the manga just like real books – for example, bookmarks on the places you are interested in or return to reading at any convenient time. For those people who are not fans of erotic content, there is also a separate function to turn it off.
In MangaPark the reading process is really convenient. You can switch between dark and light colors, and for large enough monitors or tablets, it will be convenient to adjust the number of pages on your screen.
It should be noted that MangaPark can sometimes be blocked for copyright infringement, but in this case, it has alternatives. They have identical content and updates, but each site is available at any time for viewing – so even blocking will not protect you from the chapter of your favorite manga.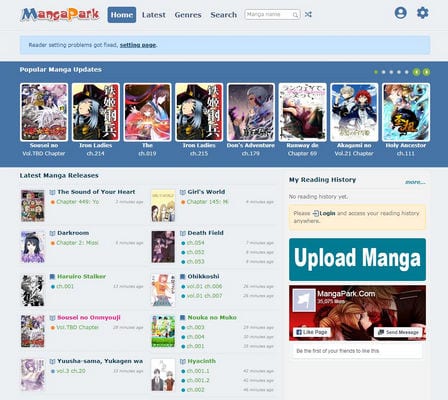 Go to Manganelo website.
Manganelo
Manganelo is one of the few sites where you won't find regular ads or videos and banners. Here everything is made for real manga lovers – an extensive collection of different genres, which is regularly updated with new features and additions.
You can use the site even on your smartphone without having any difficulties with reading and navigating through the site. On the right side of the site, Manganelo always provides you with some of the most popular mangas at the moment, which you can read further – so there will be no problems with interesting content.
It should be noted that Manganelo is also optimized for uploading images. If you go down in the subway or plan to disable mobile internet, you can immediately download all images of this chapter.
This will help you to continue reading manga even when there is no internet access for some time. The simple and intuitive functionality does not leave users indifferent, so many of them use Manganelo over and over again.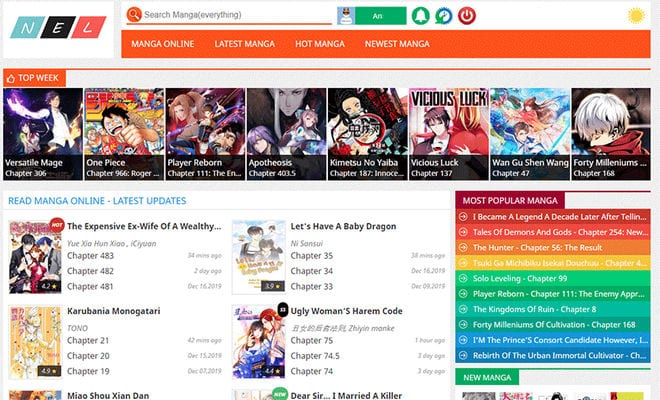 Go to Manganelo website.
MangaFreak
For those people who are used to download books for self-reading, the MangaFreak website is an excellent choice. Here you can not just read manga online – it can be downloaded to your smartphone, computer or tablet to enjoy the content even without an internet connection.
The site offers quite a lot of products in different genres, with images of scans of high quality. You can use most of the functionality even without registering on the site, which is very convenient.
MangaFreak is not the most popular service among users. Perhaps the reason for this lies in the advertisement that is placed on the site. Some ads may even overlap the images of manga pages, which of course is inconvenient.
To avoid such inconvenience, you can download manga, without giving a cent for it. MangaFreak also saves the history of your readings or downloads, so that you can always return to the right work from where you stopped last time or to go to the next part of the history.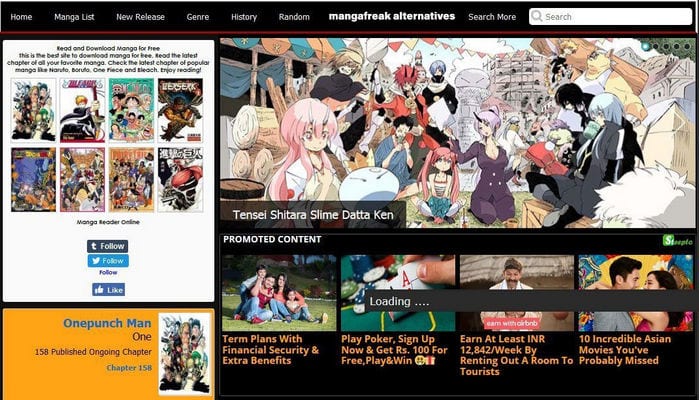 Go to MangaFreak website.
MangaHere
MangaHere is another great alternative to MangaStream with its extensive manga collection. The administration of the site already has more than 10 thousand different chapters and series in the catalog, as well as regularly downloads updates and releases.
This means that you can regularly read something new, not limited to the most popular and well-known genres of manga. The whole catalog is divided into different categories, where you can find modern comics. There is also a separate search on MangaHere, with which you can find your favorite series.
It is worth noting that this site is not the most convenient for reading, despite the extensive collection. A more convenient option may be a mobile application MangaHere, in which the pages of manga expand to the full screen, and you can enjoy the process.
There is also a separate tab for real fans – spoilers and news. There you will find various updates, rumors, and information about the further development of various subjects – the name of the tab itself already implies that there will be spoilers.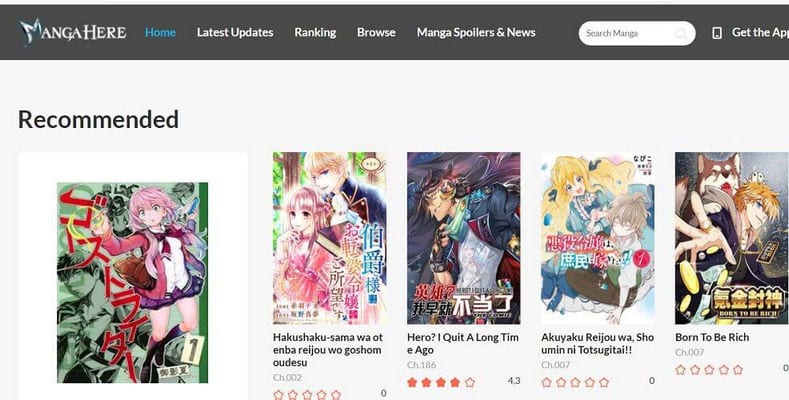 Go to MangaHere website.
You may also like: 10 Free Anime Drawing Apps for Android & iOS
TenManga
TenManga is one of the new manga reading sites that has not the biggest development history. But it already has a large number of different manga, divided into genres and categories, presented here.
If you have previously used MangaStream exclusively and have not encountered anything special, TenManga will be a real breath of fresh air for you. The friendly interface, convenient and quick search, as well as a variety of modern and classic manga, will conquer all fans and amateurs.
The site has no ads or annoying banners that appear during the reading. Unfortunately, TenManga is not designed to communicate between users and discuss new episodes – it's just a service for reading.
The site also presents even the rarest and most unpopular genres of manga, which have a limited audience – for example, Indie Manga. But you can be sure that on TenManga you will find even rare and strange creations that not all fans like.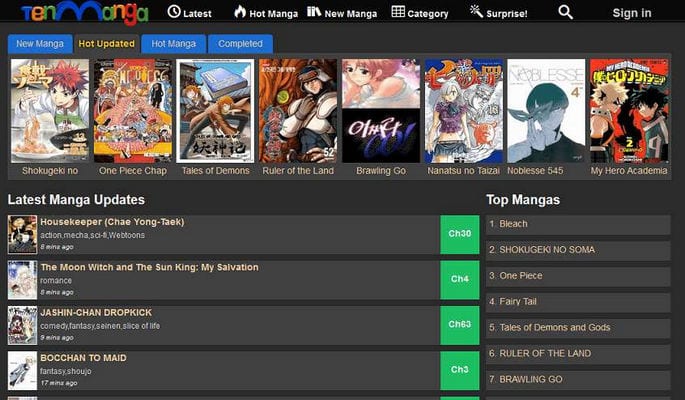 Go to TenManga website.
MangaPanda
You don't know what to read? The MangaPanda website, which has interesting features, can help you. For example, "Surprise Me". In this category, the site chooses what you want to read today – perhaps this way you will find your new favorite.
The main thing is that this search is based on your previous reading experience, i.e. MangaPanda filters manga by your favorite categories, series, and so on. There can be an adventure, romance, thrillers, and many other genres.
MangaPanda regularly updates its catalog of a manga by adding the latest manga updates and series. Besides reading, you can watch anime or movies here, but their collection is much less extensive than the manga.
The whole interface is convenient for users with different goals and interests, and you can always switch from one category to another.
Some people notice that the interface and functionality of MangaPanda is similar to the old MangaStream, which may be appealing to the supporters of the original site.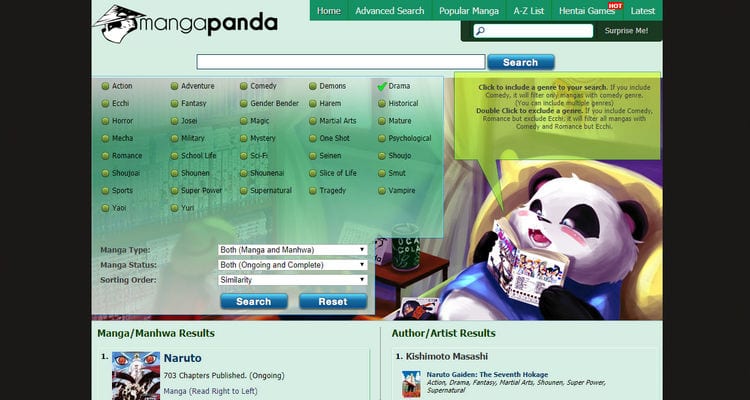 Go to MangaPanda website.
KissManga
Tons of different manga in different genres, old and classic releases, latest updates – all this can be found on KissManga. The site has more than 100 thousand comics, among which your favorite series will be presented exactly.
All updates are released according to the original release, just minutes after it was added. This will please those people who follow the release of modern series or read something that is not yet a complete manga.
KissManga offers you to receive regular alerts about new releases. You place a certain series in your favorites, and the service will automatically notify you when new content appears.
You should be more careful because it is possible that KissManga will drag you out and you will sit and read various comics 24 hours a day without interruption.
On the site you can also create your own list of selected series or categories, organizing your own space. You can even send links to your friends, so they can also read what you liked.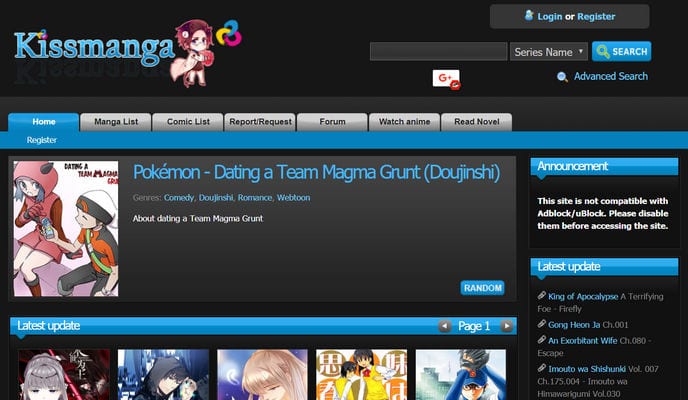 Go to KissManga website.
MangaEden
MangaEden is one of the simplest and easiest sites to read. It is aimed at an audience that speaks 2 languages – Italian and English. Manga is not translated into other languages on this site.
On MangaEden you will not find any special or hidden features – everything is very accessible and visible at a glance. You can collect your manga collection by simply adding it to your favorites after reading it. This way, the site will know which series to send you notifications about.
If you're worried about advertising, it's worth noting that MangaEden has almost none. On the mobile version of the site, advertising is presented in even smaller quantities and does not interfere with the process of reading.
Some features may become available only after you register on the site, but most comics can be read for free. In order to find the category you like, you have to do a lot of work.
MangaEden does not have many different genres of manga, and the categories themselves are not added. Basically, the new content of the service consists of updates to the already loaded series of manga or adding new works in certain genres.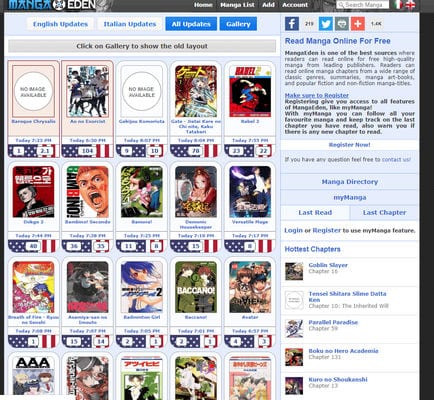 Go to MangaEden website.
Manhuaus
If you are interested in the latest and most popular series of manga, the Manhuaus website will be one of your favorites. Right on the home page, you will be shown the most popular comics at the moment.
You will also see the date of the last update, the number of chapters that have been released, and a little more information.
For more convenient use of the site, we recommend you to register immediately so that in the future there are no problems with the continuation of reading.
For easy reading on Manhuaus, there are separate settings. There are also comments on the site, where you can either express your opinion about what you have read, or see what other users think.
Of course, you can only leave them if you have an account. The administration of Manhuaus actively encourages users to help with donations or go to their discord, where you can also find communication and like-minded people. Each series of manga has its own tags, by going through which you can find more information.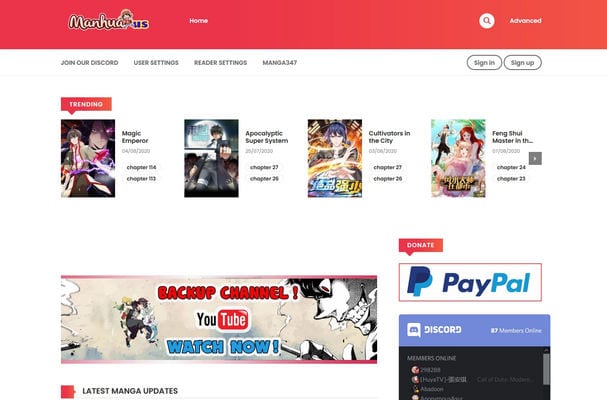 Go to Manhuaus website.
You may also like: 8 Best Legal Apps to Watch Anime Online
MangaTown
MangaTown is a well-organized and structured website that will help you quickly navigate through the genres and categories of the manga. You will easily find your favorite stories, as well as be able to filter the necessary and most interesting series.
After registration, you will also be able to receive notifications about the latest releases or upload to the site real hits. In your personal MangaTown account, you can find information about which series you have already finished reading, and which ones you just continue.
If you are interested not only in certain series, you can subscribe to the service accounts on social networks. There they constantly post information about updates and new genres added.
It should be noted that there is no annoying advertising on MangaTown, which users really like.
Among the huge number of the manga you can find classic series and new releases that are not yet available on other sites. Also, the new releases sometimes added a special review or a short description for preview.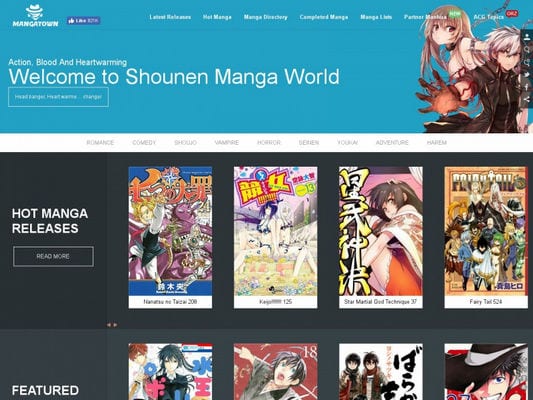 Go to MangaTown website.
It cannot be said that at least one of these sites is identical to MangaStream. Each of them has its own features, and maybe even advantages for users. Unfortunately, you won't be able to read your favorite comics on a familiar site, because MangaStream is lost again and again.
But we hope that you will find a convenient alternative for yourself from the ones we told you about. You will still enjoy the manga and your favorite characters, most often without paying for your reading.
Some of the presented sites even translate original stories so that users from any country can read them. We hope that our article has helped you, and the search was not in vain.