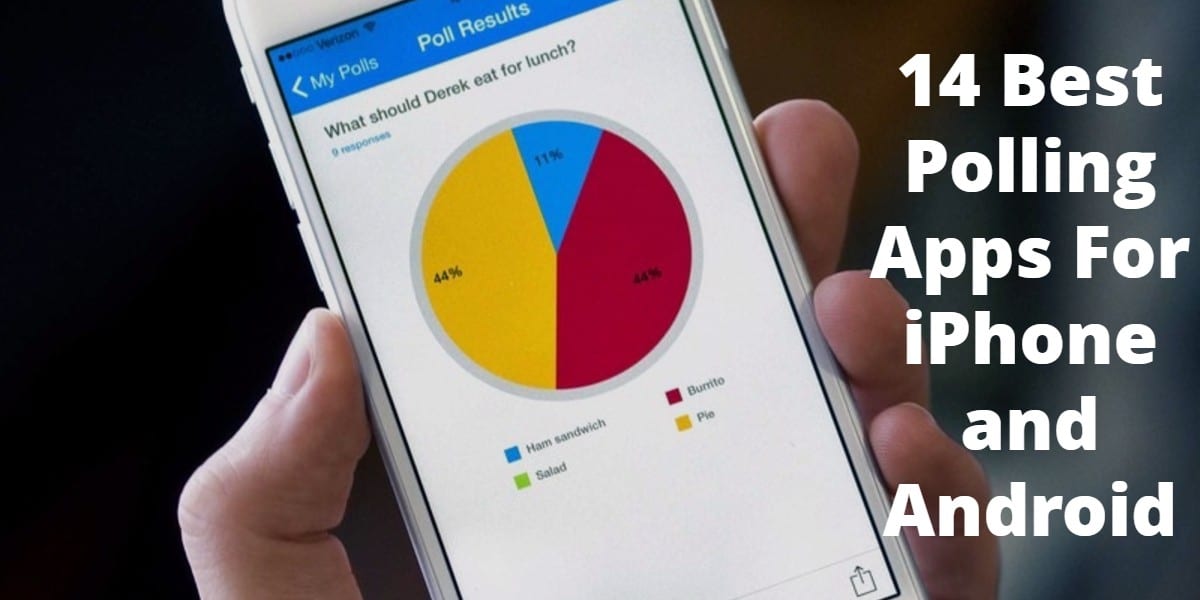 Ask the world your secret question and let people vote. How often are you doubt your filtered photo? Vote on it before posting to Instagram, Facebook, Snapchat and a lot of other social networks.
Or maybe you are a man who is on a date and you doubt the restaurant you' ve chosen for this event?Browse its photos, ask your question and let people share their thoughts about it, it' s service, prices, atmosphere and other aspects. And if you are a woman on a date, post a question about what dress will make him go out of his mind. You will find answers to all your questions.
The world can't go without polls and surveys. Online polls are the most powerful, cheap and fast ways to analyze thousands of opinions and preferences.
Our gadgets and devices are not used only for entertainment and fun. They are useful companions in a question of business and work in general too. For example, market research and customer's feedback are among the critical factors that determine the success of a company and brand. What should you do to get a better understanding of your customer's minds? Of course to carry out surveys and polls! Marketing,in turn, can't survey without some polls.
We prepare for you 14 online survey and polling apps to make your life easier and you will be able to become to people closer. Let' s go!
Poll Everywhere
Perfect app for responding to polls, presenting polls and clicking through PowerPoint presentations. You won't find as a simple app as Poll Everywhere.
It has several main features:
1.) Respond to polls: A target audience can use the app to respond to the presenter's questions live, using their devices and this app
2.) Poll audience: Presenters can ask the audience questions and display poll responses live.
3.) Navigate in Powerpoint: Presenters can control the flow of Powerpoint presentations using a smartphone as a wireless remote.
Participants
Audience members or students. Aside from the app, they can respond via browser, text message, or Twitter.
Professors, teachers or presenters can create and display questions on the fly, including Q&A and multiple choice polls.Next, they presented their polls directly from the web or embedded in a PowerPoint ( Microsoft office) or Keynote presentation. In turn, students can easily respond to polls or vote, true/false, agree or disagree, using the app on a smartphone or tablet. All Responses are displayed in real-time. Great for classroom participation, or gathering opinions from the audience.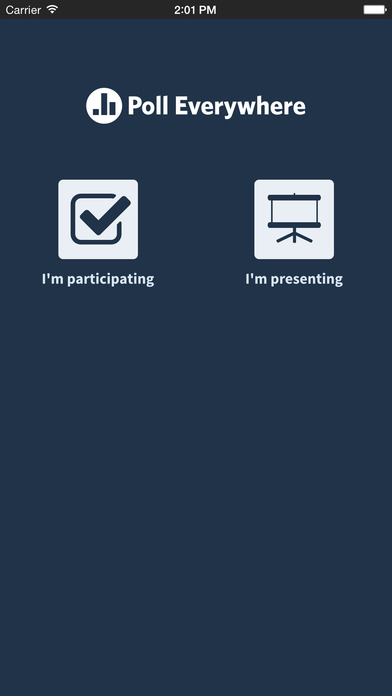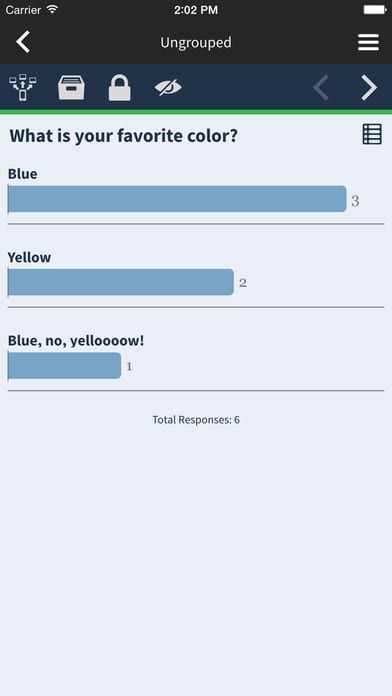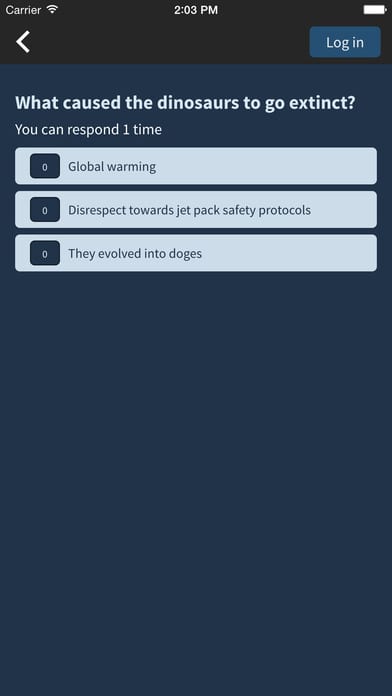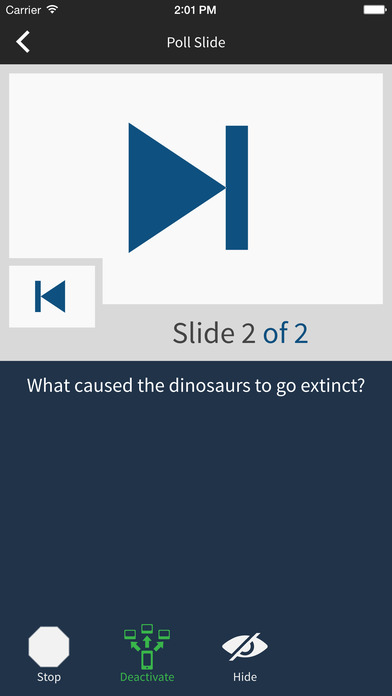 Wishbone – Compare Anything
Are you enjoy comparing people, taste, fashion shoes, songs, cars or clothes? With Wishbone you will be able to compare everything your heart desires. It is a new social network, where you can find your friends and ask them a question, posting images.
"You get a series of 14 pop culture-based questions with two distinct choices twice a day, you pick a side, then see how your friends voted right after! It's a quick fun way to learn about what's hot and what's not.
You can also vote on cards in the Community Feed where we feature some of the best Wishbones created by YOU! The feed gets updated 7 times a day, so be sure to check back often"- creators promise.
Have fun!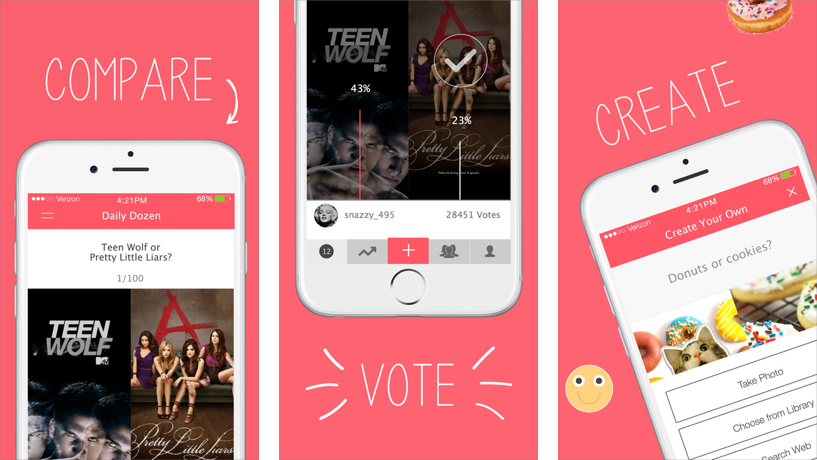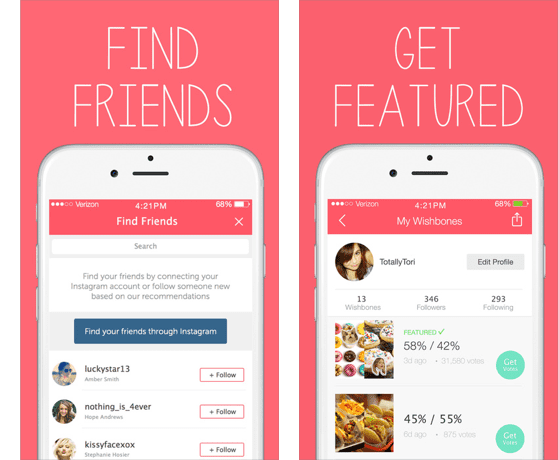 Three Cents- Create Polls, Get Opinions
Quickly create rich polls and receive answers and opinions instantly. Your friends can answer directly from Twitter, Facebook, SMS, or email without downloading the app.
Build polls with powerful content from iTunes, Yelp, TripAdvisor, Rotten Tomatoes, and more
Get opinions about what films are interesting to watch using Rotten Tomatoes Movies
Poll your friends about what are the most distant corners of the world should you visit, what hotel to stay at, or what attraction to visit using TripAdvisor Destination
Collect feedback about which outfit to wear using photos from your Camera or Bing Images
And watch the results roll in!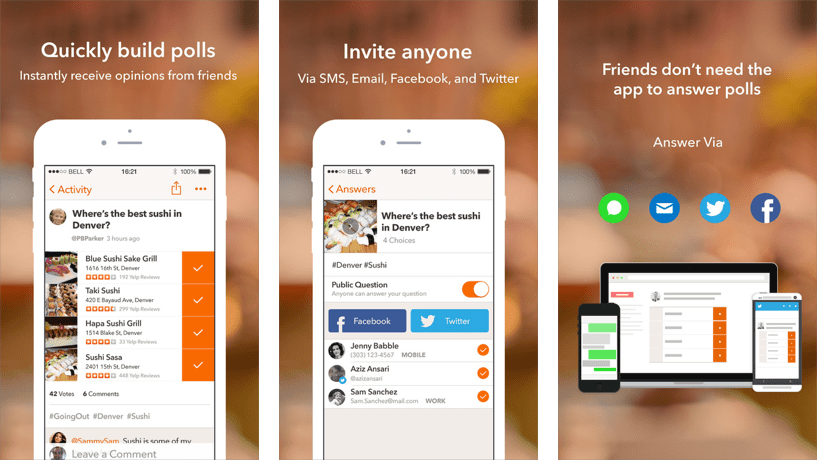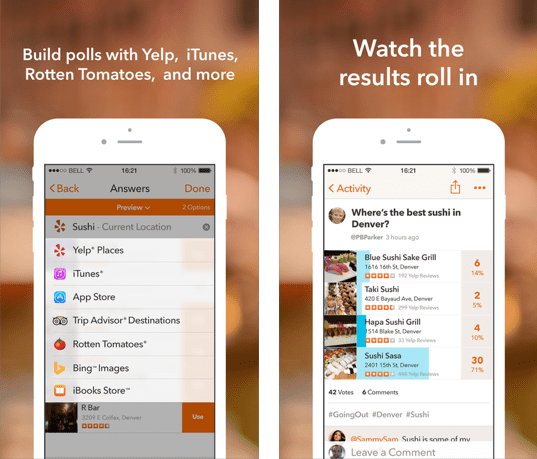 Conta- social opinions platform
Like in other apps there you can create a poll, adding images , and get a feedback from other users instantly. Find the most exciting topics and read questions and its answers, comment it on your way and give advice.
Contra has pretty simple rules.
Curious? Pose a two-sided topic.Ready to learn?
Browse through people's opinions (dubbed "contras").
Feel strongly? Publish your own contra.
Disagree? Partake in a debate with others.
Customize your profile with a profile photo, info, and notifications when somebody replies you .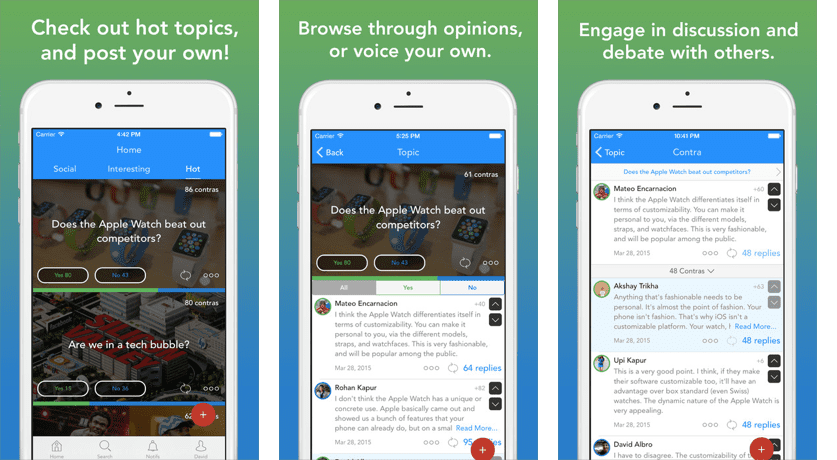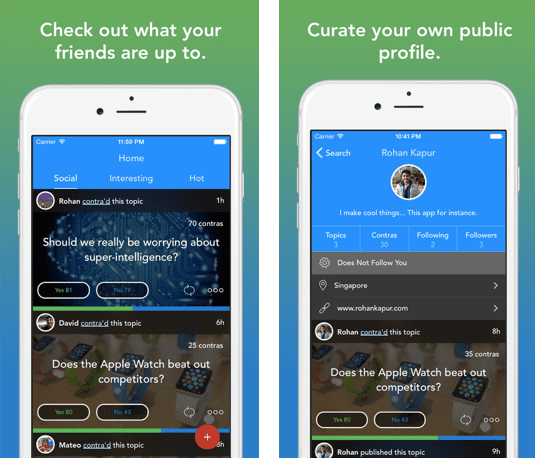 Flashtag – Get quick opinions
Flashtag makes it easy and fast to get feedback from your friends. The most user-friendly with a simple interface app to see what your friends approve and disapprove of. Quickly ask a life's difficult questions, add a picture, and share.See it? Friends can reply to each picture double-tap with a thumbs up or thumbs down vote.
A hashtag is a sign for other people so that they can find your Flashtags easier and faster.Share them to Twitter, Facebook, Instagram and other social networks.What is more, you can set a timer if you need responses quick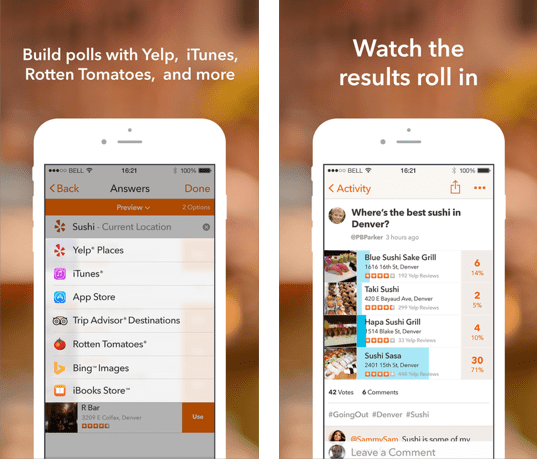 Surveys On The Go
The feature is that 500 companies worldwide, the entertainment industry and companies around the country need your opinions – and they'll pay you for them. There you ask simple questions in some categories like lifestyle, your entertainments , food preferences.Rate TV shows/movies, evaluate products and shopping experiences and others and get money .
It is unlike any other survey application on the market today because it pays in cash, not points. A few times per month the app notify you about paid surveys and you just need to ask questions. It takes only 5-10 minutes of your time.
"Surveys On The Go values and ensures your privacy. We'll never forward, sell or transfer your personal information. It's safe and protected – guaranteed" – creators promise.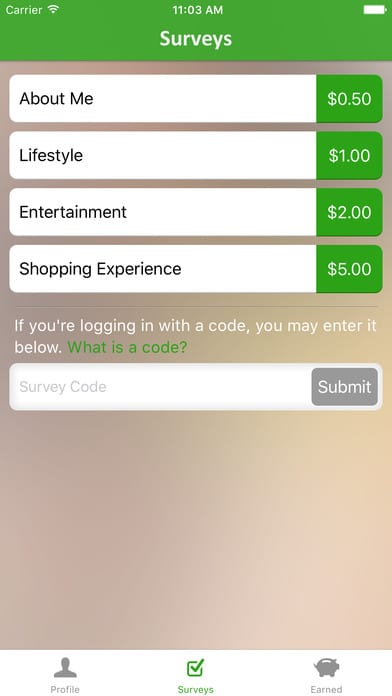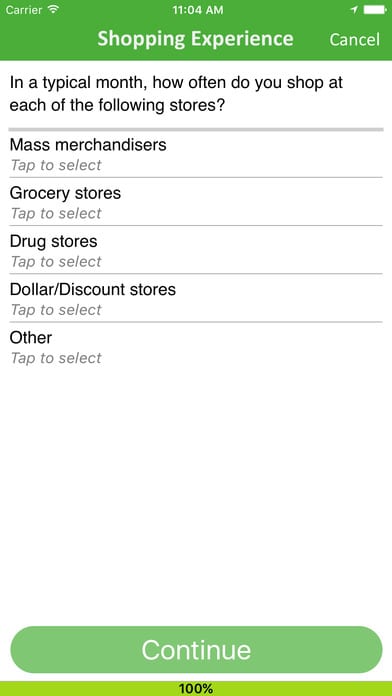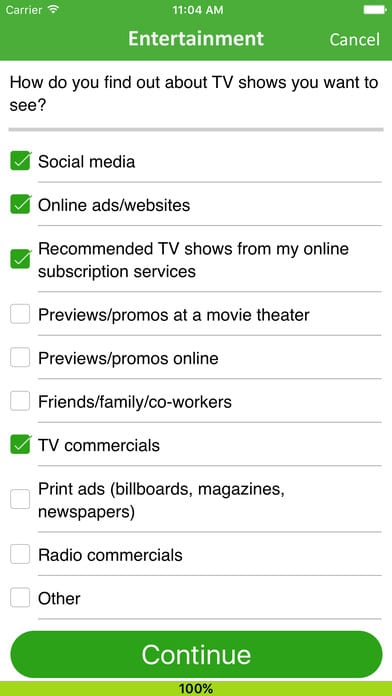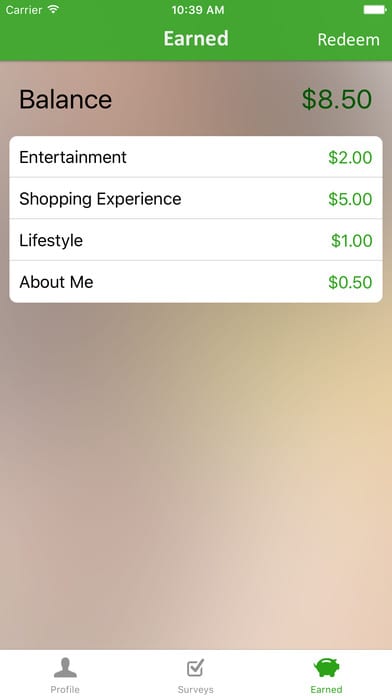 Questions – Ask and Answer
Have you ever imagined being able to hear and see what different people from different countries think about a question or topic you are interested in?
In turn, thousands of people around the world are equally curious about how you see the world. Questions is a compilation of people asking real questions and getting real replies from people all over the world.
It supports back and front camera. You simply ask a short ten-second video question, and everyone with the app sees it. Instantly, people begin to reply by sending in their answers, also in a form of ten-second video replies. Exciting ,isn't it?
There is an automatically save a copy of your 10-second video question or answer to your iPhone/iPad (camera roll) to review all your video questions.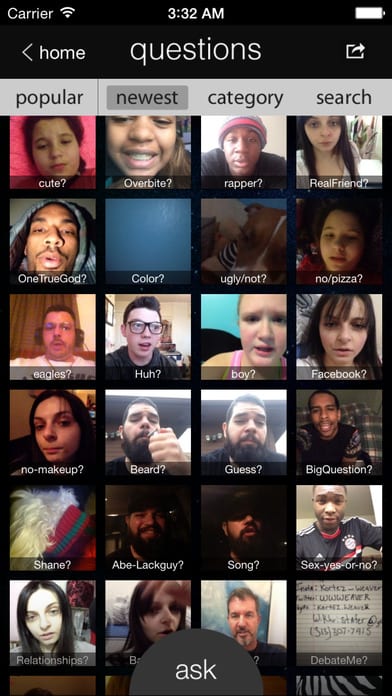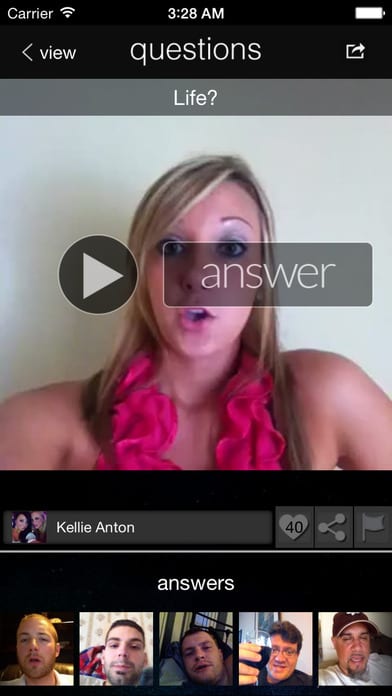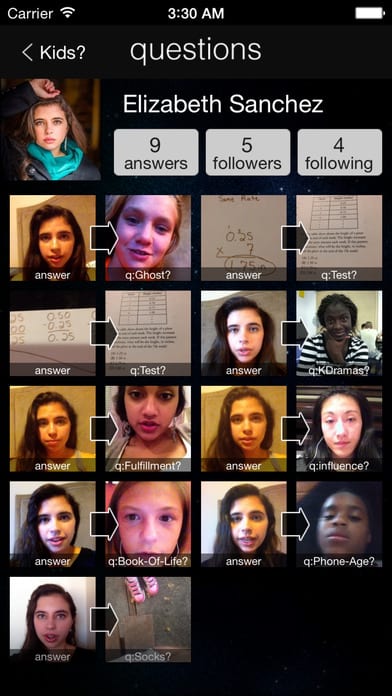 Votter
Polling is widely used in Psychology. For scientists, polls help to understand a person' s way of thinking, self- assessment level and learn social- psychological and personal effects.
The politics can't go without polls and surveys. A politician has to know, what people think about his election campaign. Will they vote for him? Who do they prefer?
Vote on polls in categories such as Politics, Fashion, Dating Advice, Fashion Advice, Sports, Technology, Selfies and more. You just need to ask a question, post images, share it to different networks you use every day. After all, add a Voter Code to your question and share it with your friends to get feedback from around the world!
The statistics will show answers by categories,language ,sex, and other aspects.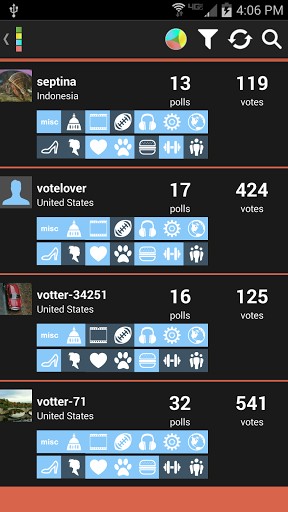 Vote
We were always dreaming about using social networks at lessons at school. Now all our dreams become true! The vote is a social network for schools and universities, which is based on polling.
The idea is the audience members ask each other different questions  and vote, commenting, agree or disagree. The plus is that you can create a reference group and post a question inside it.  In turn,only this group will vote on your question.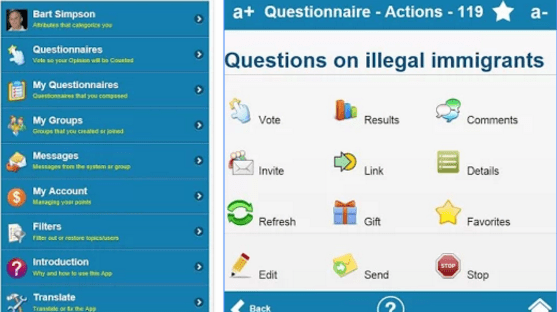 The results are displayed in pies and graphs with segmentation to specified sub-groups of users (and even for different countries).
Its Comments  system makes it a good platform for debates on different topics! Such games have a good effect on student's way of thinking and their mind.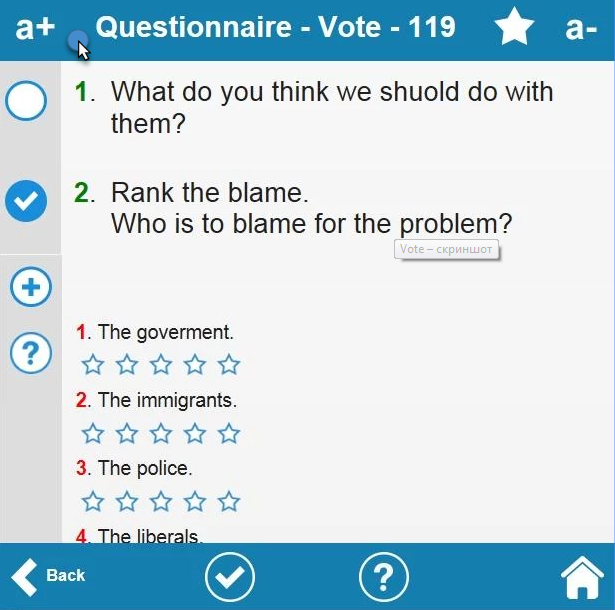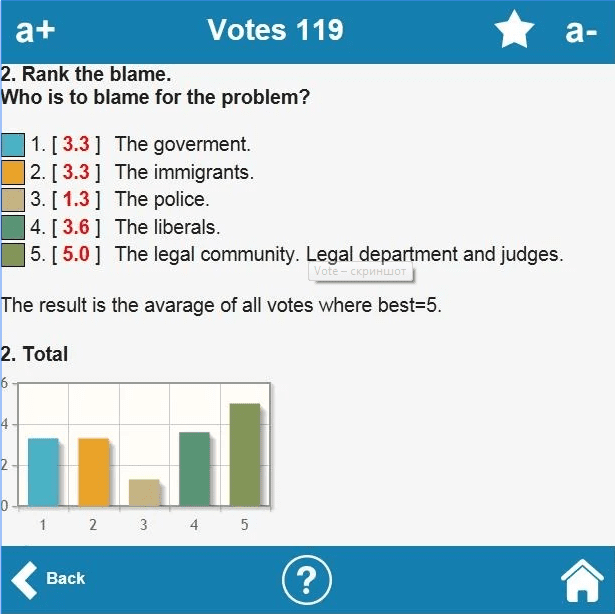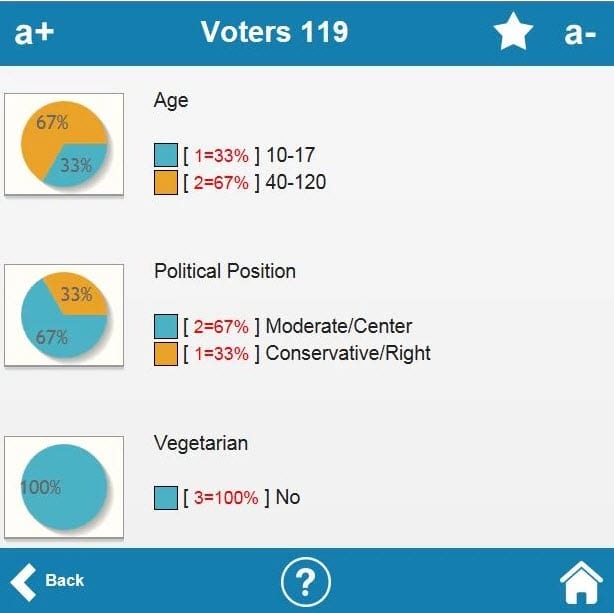 Vote!
Polling could never be easier than now. Vote! is an app with a simple and graceful interface which allows you not to lost among the app. This vote application brings group decision making on your device LIVE! You just need to create your poll, pass your iPhone to each one for a vote and get the result. For example, what restaurant or pub is better, the most convenient date and time for a meeting, which pair of shoes is more attention- grabbing and others instantly!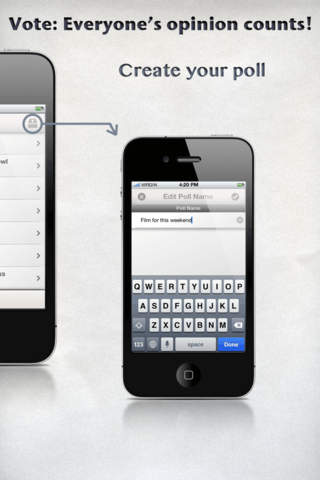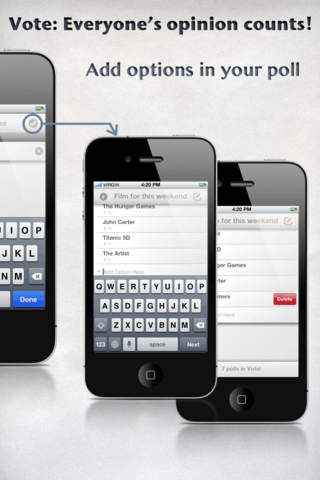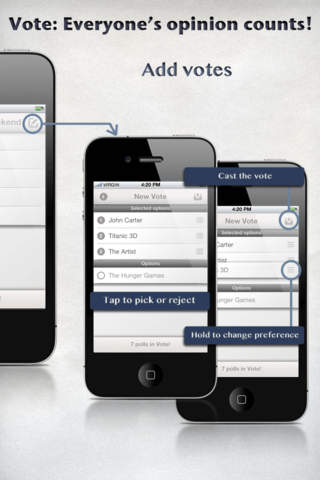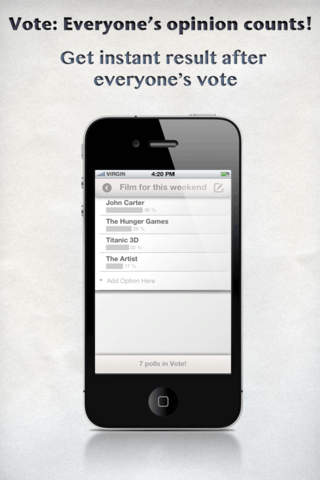 Moreover, you can share your poll to different social networks to let other people vote on your question.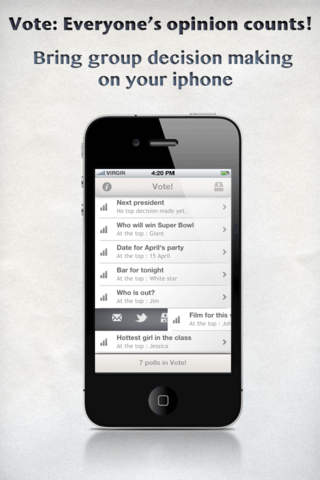 Voter – Matchmaking for Politics
This app is a little bit different from it' s predecessors. You answer a few simple questions and find out which politician truly has views and best interests in heart. In a question of elections, it makes your choice easier, because you will exactly know who should you support.
Your match scores will be displayed as a percentage, describing how closely your views align with each candidate. So you will see which politicians truly have your best interests at heart.
After all, we  help you to prepare for election day and make it easy: we show all places where you can vote for some candidate, the election day date and what you should bring with yourself.
Vote with confidence, knowing the candidate you support, supports you.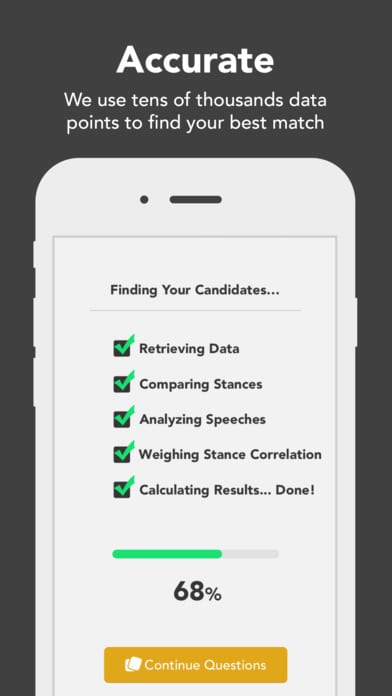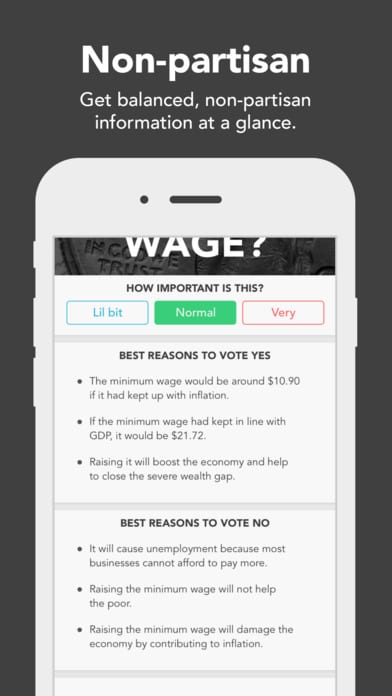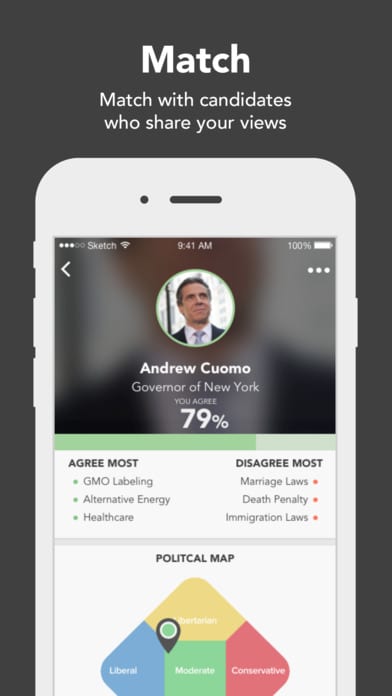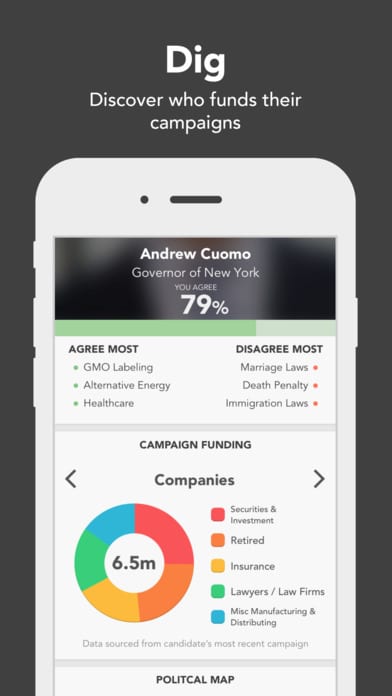 Bedloo Voting
Where else you can fast, easily and funny vote on two choice question with photos, videos ,and music. Voting on Bedloo is pretty simply like a piece of cake. Just sign in with Twitter, Facebook or Bedloo website . Your poll and votes are displayed instantly and available to share with your friends.
Customize your app! Choose personal interests and customize your feed. Vote on questions in different categories : from Fashion, Location to Politics and History. Enable privacy and allow only reference-group follow you and vote on your questions.
Also, you can customize notifications  someone votes, creates a poll or comments your question.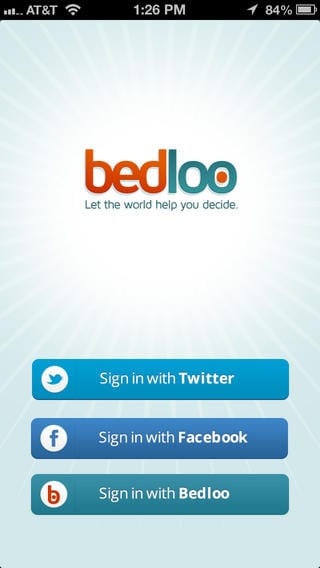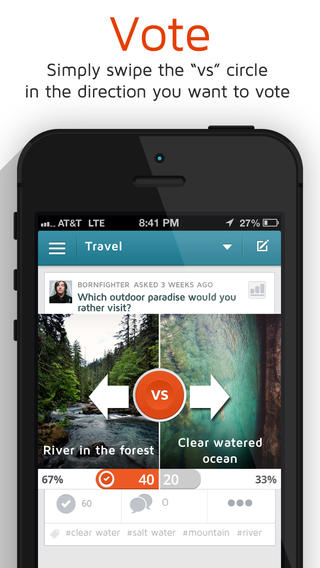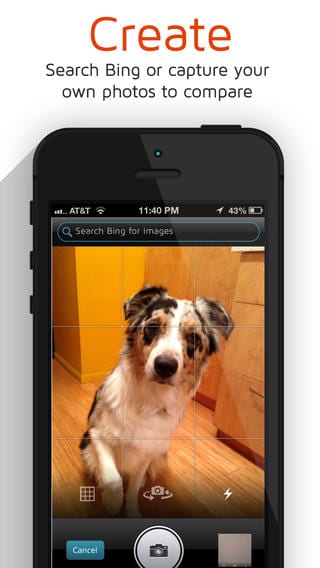 Response Poll and Photo Polls Here!
Some questions have stuck in our minds, we can't get them out of our heads,but we're afraid to ask them. The response will save your nerves! There you can find tons of exciting and provocative polls and questions from people like you.
The feature is there is no registration form. Now you can create a poll with your question or leave comments confidently. Express your true opinion, share it with other users and enjoy using this app.
Apart from, we' re very satisfied with the elegant design, which makes polling engrossing and pleasant.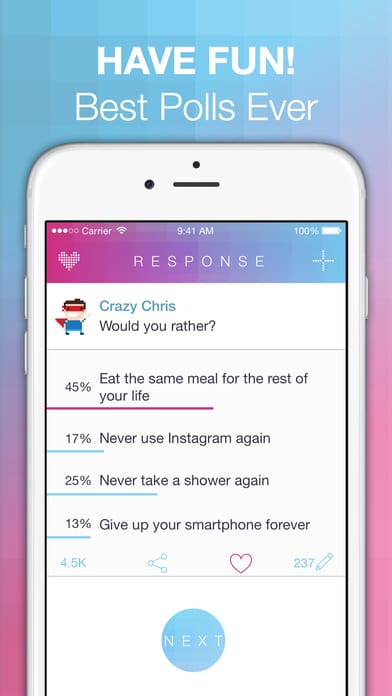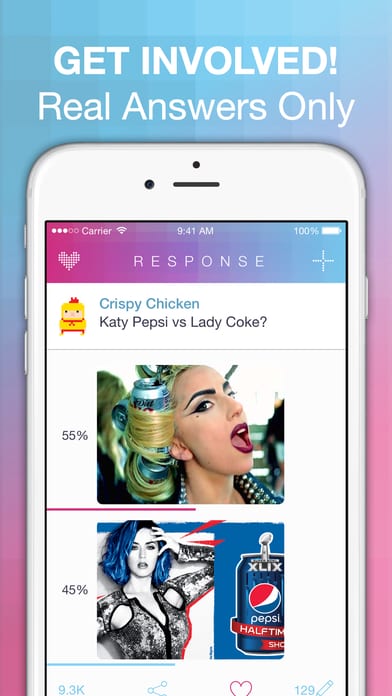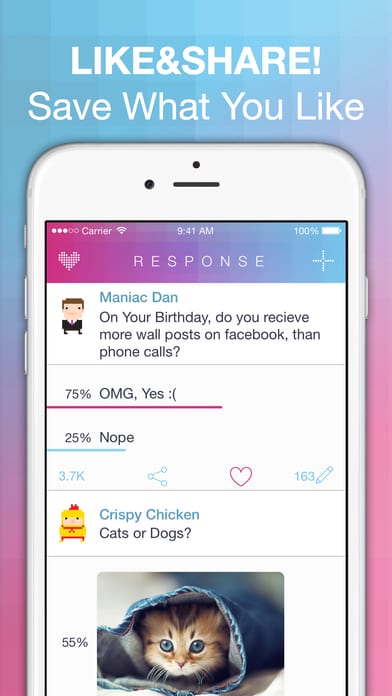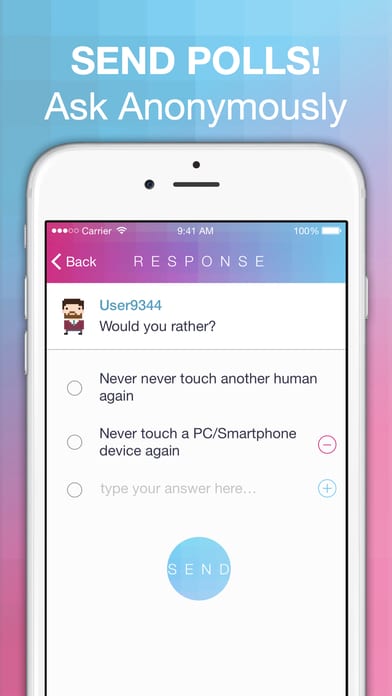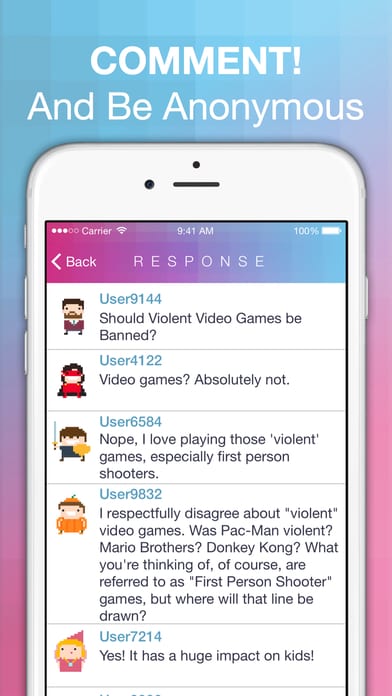 Pyne- Poll the World
There are some days when you don't have any inspiration, there are too many life's difficult questions. What should you do in this case? Ask the world! Pyne is a social network that allows you to share your thoughts and get other viewpoints, ask controversial questions and get answers to them due to polling.
"…combines the instant gratification of a Buzzfeed quiz with the flip-happy speed of a dating app like Tinder."– NY Times
A few words about its features:
Add picture to any question
Present to other users like you or simply Poll the world
After all, information will be shown in an interactive pie chart
Moreover, you can follow your favorite users, comment their polls to give more feedback and answer their questions. This app allows you to interact with other guys and girls and make friends.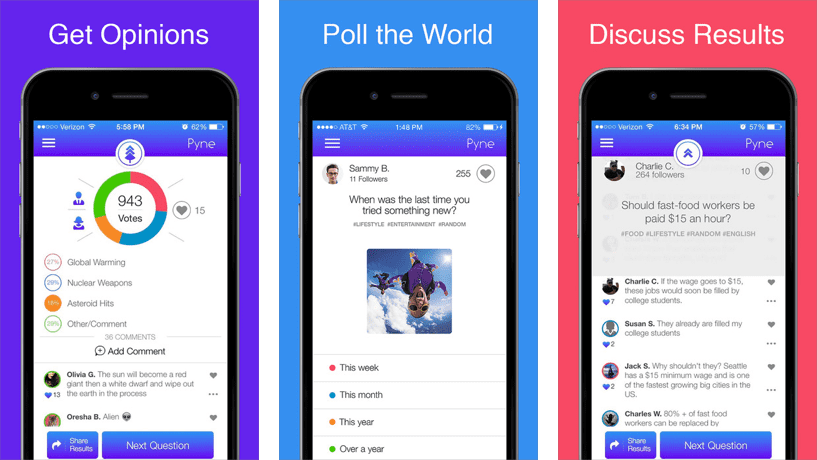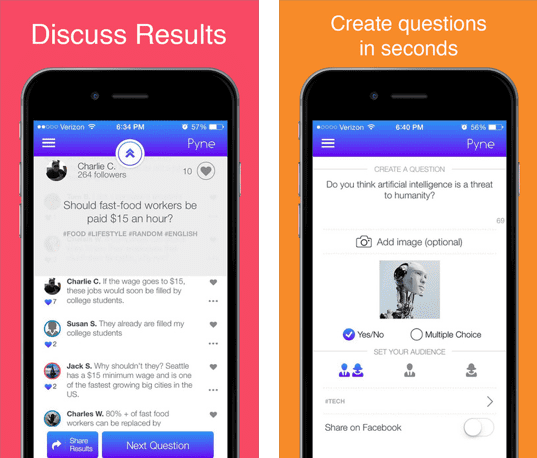 There we tried to assemble all friendly-used polling apps. Thank you for attention!