Have you ever seen the Masha and the Bear movie? If yes, you probably know how cute and fun it is. What about good games based on this story?
By the way, if your kid would like to cartoon himself, he or she might do it after reading 8 Best Cartoon Avatar Creator Apps for Android & iOS.
In this article, you will see the best Masha and the Bear games for kids. There are great options for iOS, as well as Android users. Most of the games are free with in-app purchases.
Masha and the Bear Games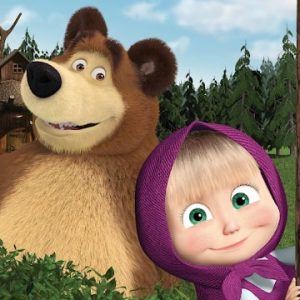 In this application, you will get access to a great number of educational tools. They are all different and not boring at all so you can easily give the device to your little kid.
They will spend time entertaining and educating themselves at the same time.
The main principle of the game is to go from one game to another, unlocking them one by one. The further you go, the harder it gets for you.
What can you do with the help of this application?
Work with colors and images. This is vitally important for little kids as they need to train their fingers, as well as their imagination.
Word search and writing. This function might come in quite handy if your child is older than 5. Reading and writing might seem a bit hard, especially at the very beginning.With Masha and the Bear games, it won't be a problem anymore. The kid has to look for hidden words.
Explore the world of sounds, musical instruments, and melodies. In this game, a kid will play various instruments and memorize them.
Solve difficult puzzles. A child has to solve hard tasks not only to develop their brain but also to train the ability to keep focused on one task. You will appreciate the results when the child goes to school and starts learning.
Discover the world of math. In this Masha and the Bear game, the child can learn numbers from 1 to 10 and simple operations with them.
These educational games are free with ads and in-app purchases. If you want to remove the ads and unlock all the games at once, you can do it for 8.99$.
The app is available on the App Store, as well as Google Play.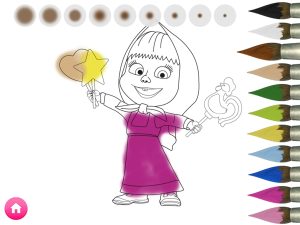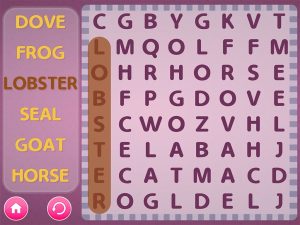 You may also check: 7 Best Family Simulation Games in 2022 (Android & iOS)
Masha and the Bear. Activities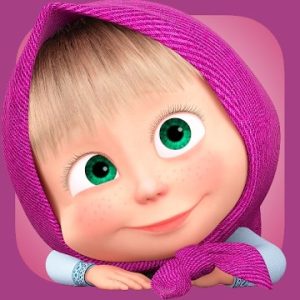 This is another strong and educational tool for children. This game is about professions. You probably know that it is truly hard to choose a profession for the future.
This is why it's important to show a kid a wide range of professions that exist in the world.
However, it's not about professions only. You may also explore various activities as well.Let's see what you can do:
Masha Chef. That's a brilliant memory game that can train the brain and entertain at the same time. The aim is to make pizza. You need to memorize the ingredients that are different for each pizza.
The Orchestra. This is a game about sounds. The kid has to listen to the sounds and recognize them. This will ensure the kid knows different musical instruments and the sounds they make.
There is a number of games connected to fruits and vegetables. In this game, you have to assist Masha when she'll be cutting the fruits. That's not that easy as you have to avoid bombs that can explode.
Painting games. It is essential for little kids to draw. It helps them to train their memory, use imagination, and be more attentive.
Masha the detective. In this mode, you have to look at the screen and find some objects. This will be a hard task as these things can be hidden well.
All the games are aimed at children who are up to eight years old. You can get the app on the App Store or Google Play.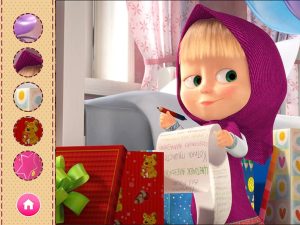 Masha and the Bear: Dentist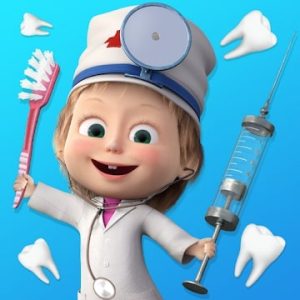 Do you know a lot about dentistry? Well, now you can learn many interesting facts from Masha and even practice operations.
Let's see what you can do with the help of this dentist game:
Become a real doctor!

Animals will come to you with problems and you have to decide what to do to help them. In this game, your kid will train his brain and learn to be attentive.

Memorize algorithms

. It might be hard at the very beginning as your kid has to remember how to treat pets. Different occasions – different solutions.
The app will collect some data about you, such as your usage data but it won't link it to you.
Please keep in mind the app need over 200 MB of your device's memory to be installed.
The app is free to download and use. There will be some ads though. However, if you go for a paid subscription, they will be removed. It will cost you 3.99$.
This cool educational game is available for iOS and Android users.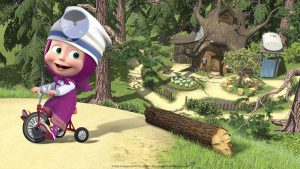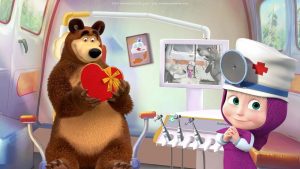 Masha and the Bear: Salon Game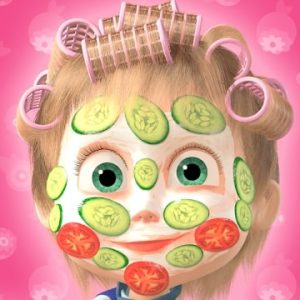 Salon games are popular nowadays. If your kids and you love Masha and the Bear and this type of game, here is a great mixture!
Your kid will learn a lot about beauty. What's more, he or she will train the memory.
In the game, your kid will learn how to make beautiful haircuts, shave beards, do brilliant makeup, and just see the beauty.
This game has a great number of functions typical for a beautiful salon game. This is why we would recommend this app for little girls.
Unfortunately, the app is quite packed with ads that might be distracting your kid from playing. The good news is that the ads can be removed from the app for 2.49$.
The application can be downloaded from the App Store, as well as Google Play.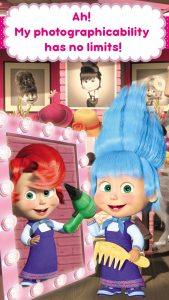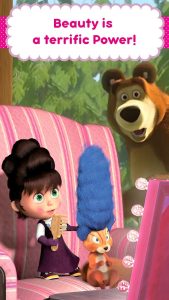 Masha and the Bear: UFO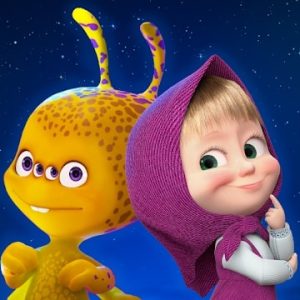 He comes another game based on Masha and the Bear cartoon! It is aimed at children aged 4-6. However, older kids might also find it quite exciting.
In this game, your kid can face aliens and fantastic creatures who live on other planets far from Earth.
Here are the best features you will see right after the download:
Great puzzle games

. They are super exciting and challenging at the same.

Enjoy

interactive games

. They all are based on the cartoon plot but contain some new details you haven't seen in Masha and the Bear, such as UFOs and aliens.

Try coloring

. This is a hard task for little ones. They need to color the details of a picture according to the numbers written on each piece.

Build powerful spaceships

. You can be as creative as you possibly can. There are many details you can build of, make sure you combine them all.
This cool game will be interesting both for boys and girls thanks to its wide range of features and mini-games.
To install the game on Android, you need to have at least 100 MB of memory. To get it on iOS, over 200 MB is needed.
The game is free with ads and in-app purchases. You can get it on the App Store, as well as Google Play.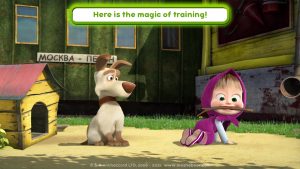 Masha and the Bear: Cooking Dash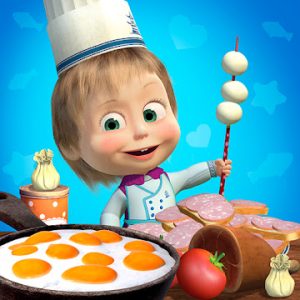 Are you fond of cooking? And what's about your child? To truly love cooking, you will have to learn how to cook well.
In this game, you need to cook dishes for all the forests full of hungry animals! You will need to play for Masha. Unfortunately, in this game, you can't play for any other character but her.
Here are the best functions provided by the application:
Play with 16 characters

, such as Bear, Panda, Rosie, and many others.

Explore about 30 different ingredients

and make sure you use them correctly. To find out if you are cooking right, check the recipes.

Feed others

. Cooking is hard but you will also need to deliver the food at times or feed your guests at your home. Both options will require fast reaction and attention.
The app contains some ads and in-app purchases. If you feel like removing them from the game, go premium at any time. It costs 3.99$.
Please note you will need about 250 Mb of free space on your device to get the game and play it.
The game can be downloaded on the App Store, as well as Google Play.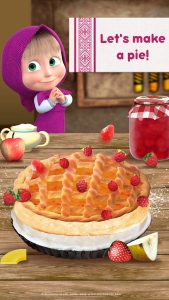 Masha and the Bear: Music Game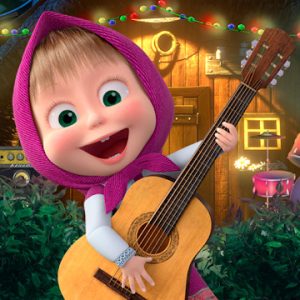 Learning music is hard but important for children. It might be torture for your kid to take music lessons. However, in the Masha and the Bear game, it is fun and easy!
This game will be a perfect option for kids aged 4-5 and a bit older. The game will gradually train their reading and listening skills.
What can your child do in this cool game?
Create music

. The most important and challenging thing is to make up a melody. Use all the tools given in the application. Try various musical instruments – drums, guitars, piano, and many others. There are electronic sounds as well.

Customize your character

by choosing stylish clothes and makeup.

Enjoy great graphics

. All the game looks like a cartoon Masha and the Bear.

Perform songs and play melodies

. Making up a new song is only one thing. Another is to perform well. You can become a real star!
The app supports a big number of foreign languages, such as Arabic, Polish, Russian, Portuguese, and Chinese. So you can switch languages to make your little kids learn languages if you want them to.
Please keep in mind that you'll need more than 200 MB of free space.
By the way, if you are interested in some other cool applications for little children, you need to take a look at 11 Best Dancing Apps for Kids (Android & iOS).
There are some ads and in-app purchases that might be irritating at times. To unlock all the levels and remove ads, you can go premium for 6.99$.
The app is available on the App Store and Google Play.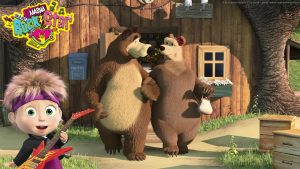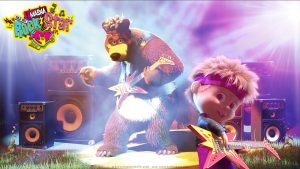 Masha and the Bear: Cleaning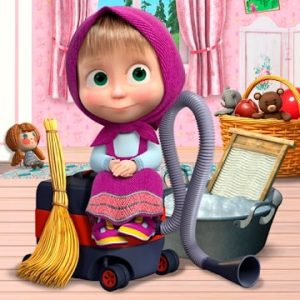 Children rarely like cleaning. It usually takes a long time to ask and persuade them to do it. However, it will be much easier if the kid learns cleaning while playing the game based on his favorite cartoon.
Let's take a closer look at the functions and features provided by the game:
Get rid of the trash!

This is a crucial part of the game. Children need to know what kind of things need to stay in the house and which ones should be thrown away at once. In this game, the kid has to look at the screen and find trash. The rest is to collect it and throw it away!

Learn

how to maintain a house

. Your kid will find out (at least in theory) how to clean the flor, iron clothes, wash the dishes, and do other useful stuff that will be needed in the future when they grow up.

Watch funny videos

that will entertain and teach your children how to clean the house. This will be much better than teaching them yourself.
The app will be great for children aged 4-5. It will be better to use a tablet as there will be little details your kid has to find on the screen.
You can install the application for free on the App Store, as well as Google Play.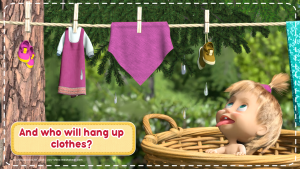 Masha and the Bear Pizza Maker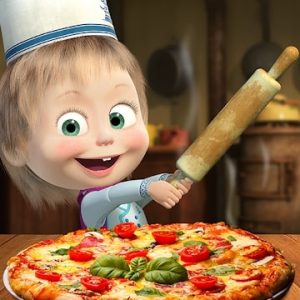 Everybody loves pizza. But eating is easy, can you make your own pizza yourself? It's high time your kids and you try to cook!
The game is aimed at children whose age is around 5 or a bit older. As you might have already understood, your kid will need to become a pizza maker for some time.
Here is what a player can do in the game?
Check the ingredients

. You need to have them all to make the best pizza and feed all the animals that live in the forest with you.

Invite guests

and give them everything you made before. You have to hurry up, there are 9 of them!

Explore 16 cool recipes

for pizza and

35 ingredients

. Combine them to make new pizza and surprise everyone in the forest.

Deliver pizza

. Some animals would like to have their pizza ordered to their houses. Make sure you can do it in time!
There are some ads that keep the content free for you. To remove them, go premium for 3.99$.
The app supports many foreign languages, such as Italian, French, French, Korean, and many others.
The size of the game might vary but it reaches up to 500 MB so take it in mind when you install the application.
You may get this app on the App Store or Google Play and entertain your kids at no cost.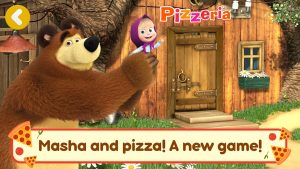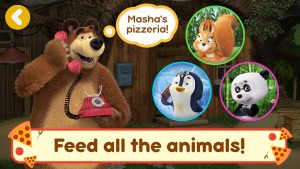 Masha and the Bear: Hospital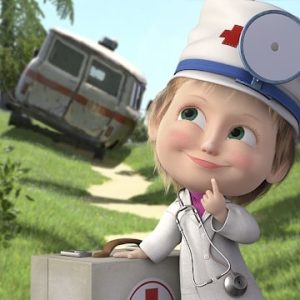 All of us can get sick at times. This is important for a kid to know what diseases exist and what hospital is. In this game, your kid will learn such things with Masha and the Bear.
The game is simple to understand. It will be the best option for the children aged 4-5.
What are the main features of the game? They are the following:
Help Masha be a good doctor

for the animals living in the forest. To do it, you need to study some info about the diseases and how to maintain a hospital.

Be fast!

There are many animals, and most of them are seriously ill so they might need urgent medical help.

However, you also need attention to give all the animals the right treatment.

Visit your patients at home. They might be in a very bad condition being unable to go to the hospital themselves so you might need to take a ride.
The more you play the game, the more toys you can get as a reward. However, if you want your child to have them all at once, you can get them for 7.99$. The access will remain forever.
The game is available on the App Store and Google Play for free.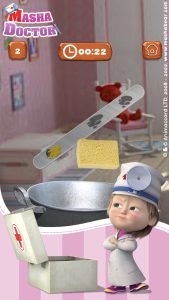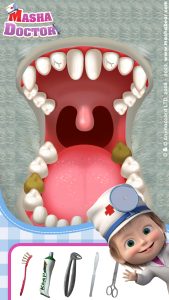 Masha and the Bear: Good Night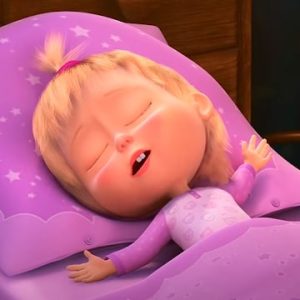 Is it easy to put your kids into bed? We don't think so! This is why you should try delegating this thing to a good application, a nice game.
The game is based on the Masha and the Bear cartoon. As you might remember, both characters live in the forest. There are some other animals living there as well. All of them need to do a list of things before they go to sleep.
Your kid needs to help all the animals go to sleep. He will need to turn off the lights, check the house, and finally go to bed and close their eyes. But it's not that simple!
What does the kid need to do?
Check if Masha and the Bear are following their evening routine properly. If they happen to skip some steps, he or she has to remind them.
Enjoy great bedtime stories! There are plenty of them to listen to and they are all different.
The game is family-friendly meaning all the family members can enjoy it together. But we would recommend the game for children aged 5-7.
There are ads and in-app purchases. You can remove them by going premium.
The app is available for Android and iOS users for free.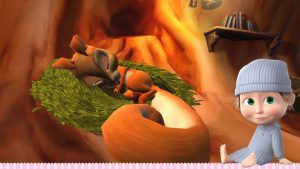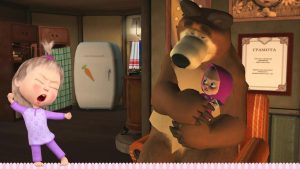 You may also like: 7 Best Moana Games for Android & iOS