When you are looking for a truly fun game for the party, look no further than the best acting games for adults. They help to express yourself and hours of fun are guaranteed!
However, if you are looking for something not so active, you can also try the best adult party card games which are also super captivating.
PartyPal
Positioned as an all-inclusive event companion, PartyPal sets out to cater to various occasions, from casual hangouts to themed parties.
Users can choose from an array of categories and topics that suit their gathering's theme. Players take turns as the app provides prompts for acting, miming, or answering quirky questions. The interface is simple yet engaging, making it suitable for diverse age groups.
Categories range from "Movie Magic" to "Brain Teasers," ensuring everyone finds a game that resonates. The main menu is intuitive, offering easy navigation to different game modes and categories.
Games:
Charades that never go out of style
Trivia to test your knowledge with intriguing questions and challenges
Dare party to step out of your comfort zone with fun and hilarious dares
Quickdraw to showcase your artistic skills in this high-energy drawing game
Main features:
Versatile game modes
Diverse categories (Movies, Music, Brain Teasers, and more)
Built-in timers
PartyPal doesn't stop at entertainment. It features built-in timers, score trackers, and customizable game options. This ensures seamless gameplay and adds a competitive edge to events.
Finally, this app can save your party if you do not know how to entertain your guests, I can be sure that all your friends will be satisfied with the games that PartyPal offers.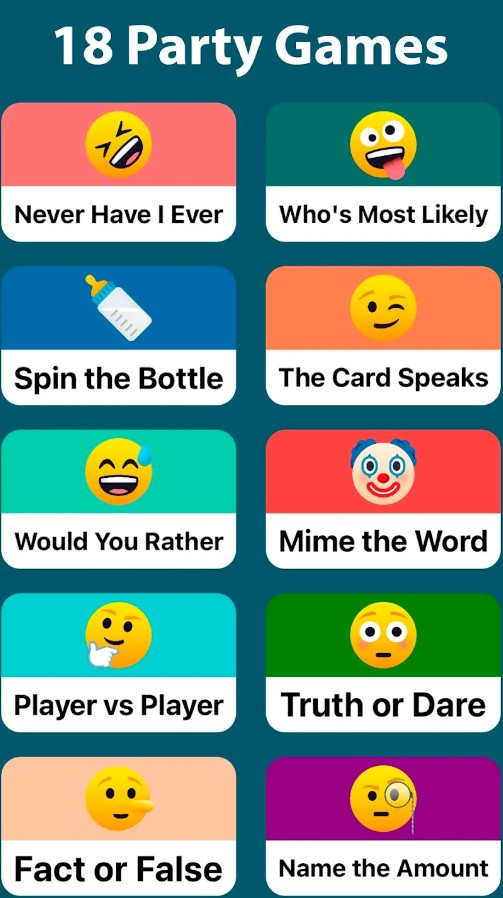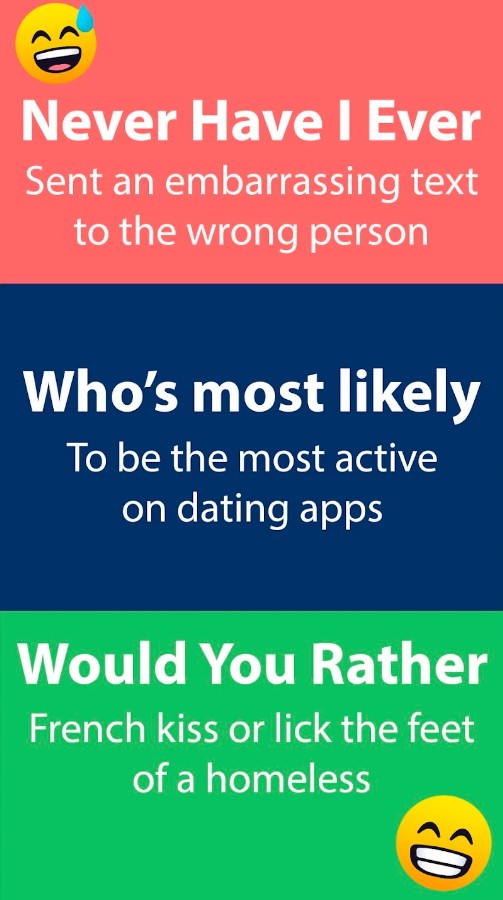 You may also like: 15 Best Team Buidling Games for Android & iOS
DAFUQ – Party Games
DAFUQ, short for "Daring and Funny Questions," lives up to its name as a good improvisational game. It sets itself apart by presenting players with unconventional scenarios, bizarre questions, and hilarious challenges.
One of the app's strengths lies in its clear and concise rule explanations. Even an average user can quickly grasp the mechanics, ensuring that the fun begins without any hitch. DAFUQ not only entertains but also offers an opportunity for players to enhance their improvisational skills.
The app is perfect for livening up parties, gatherings, or even just casual hangouts. Its lighthearted nature ensures that everyone, regardless of age or background, can participate and have a blast.
Main features:
Unconventional and hilarious questions and challenges
Easy-to-understand rules for quick immersion
Opportunities to enhance improvisational skills
Ample scenarios for endless gameplay
No limit to the number of players
The app offers both free and paid functions, with the latter providing access to additional content for those who want to take their laughter to the next level. DAFUQ supports multiple players simultaneously, making it a fantastic choice for larger groups seeking entertainment.
In conclusion, DAFUQ provides a good improvisational game experience. So, gather your friends, unleash your creativity, and let the hilarity of DAFUQ unfold!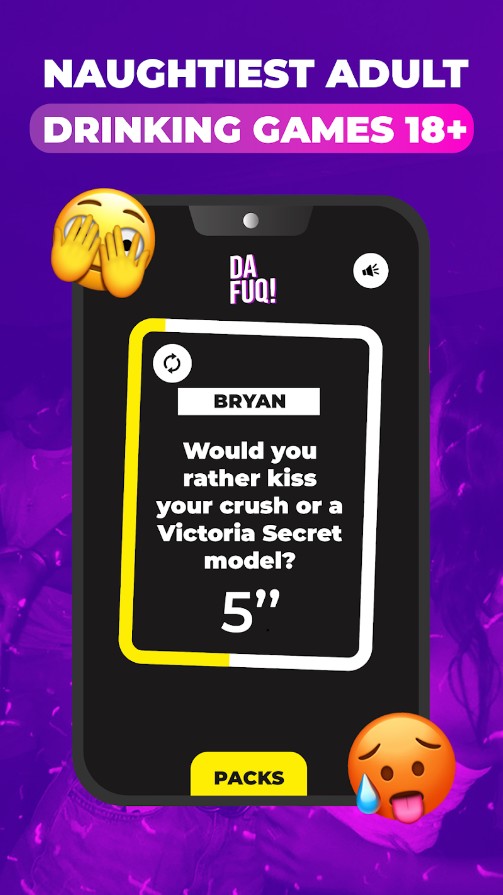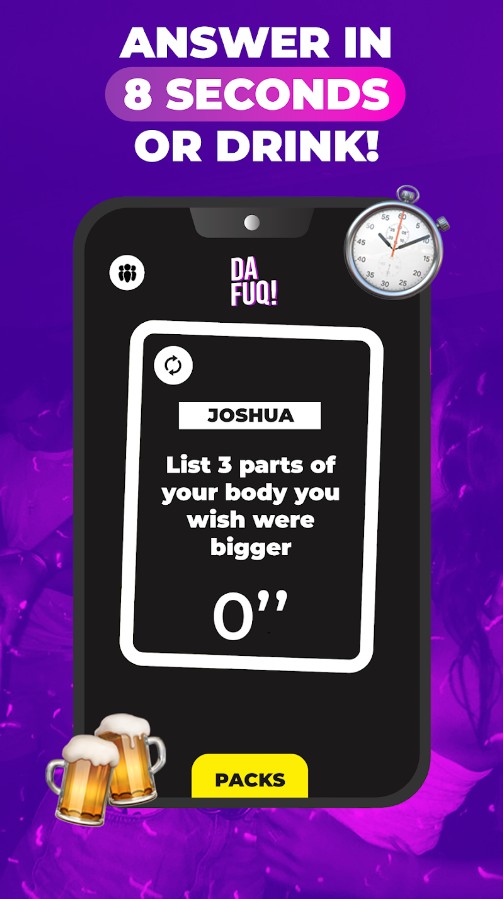 Charades!
Charades offers an exciting way to bring people together and test their acting prowess. The app boasts a significant user base, reflecting its appeal as a go-to choice for a good acting game.
Players can gather friends or family, forming teams if desired. The app provides a platform for participants to take turns acting out words or phrases without speaking, while their teammates try to guess the correct answer within a limited timeframe.
The main menu of the Charades app unveils an array of engaging sections. The game offers a diverse range of categories, ensuring that players of all ages and interests can find something that resonates with them.
Main features:
Diverse categories for a varied experience
Easy-to-use interface suitable for all ages
Customizable game settings for personalization
Option for timed rounds to add excitement
Multiplayer mode for group entertainment
One of the app's strengths lies in its accessibility – both in terms of usability and audience. While designed for all age groups, it particularly shines as an excellent choice for adults seeking an entertaining activity during gatherings, parties, or casual hangouts.
Overall, I find Charades a captivating choice for adults looking to engage in an amusing and memorable experience.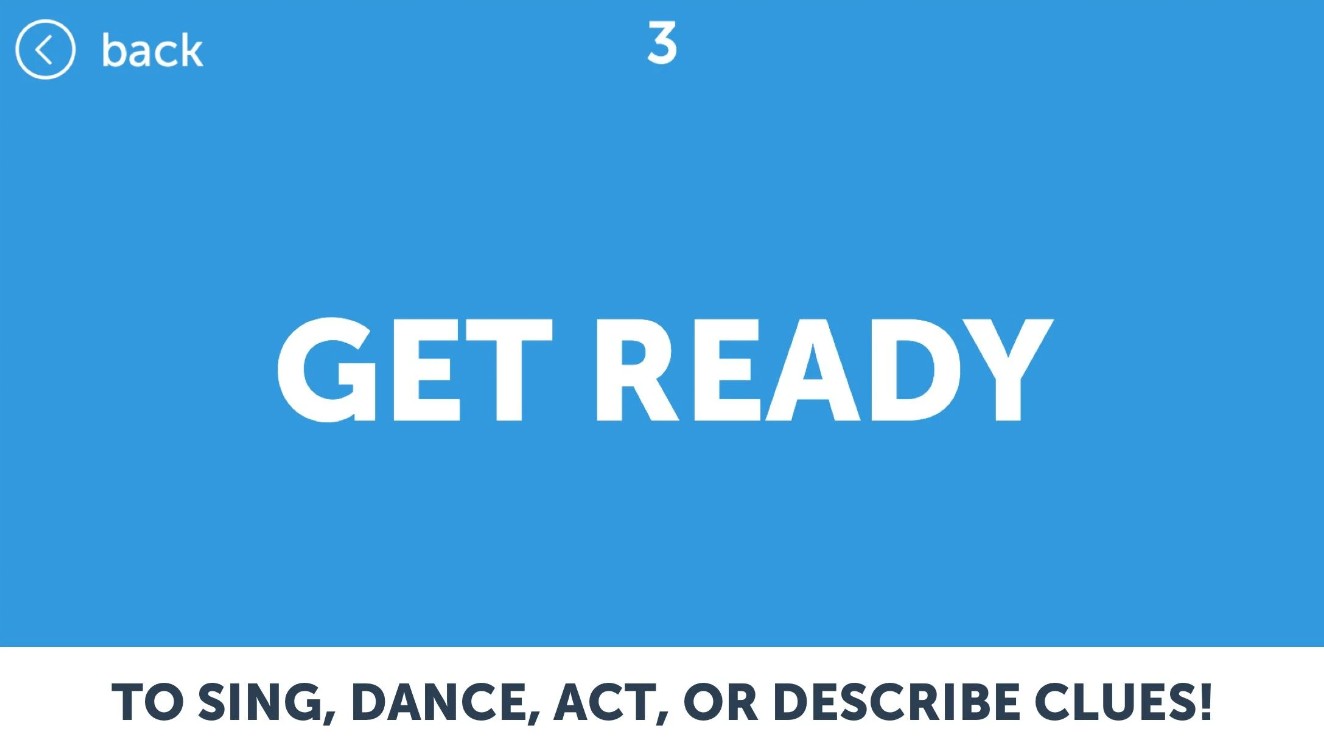 Show me
Show Me is another app to hang out with friends. It has a unique concept – a game that challenges participants to act out specific words or phrases without uttering a single word.
There is a diverse array of topics at hand, so players can showcase their acting prowess by miming actions, objects, and even famous movie scenes.
The app's main menu unfolds an array of captivating topics for acting, catering to a wide range of interests. From movies and music to daily activities and emotions, Show Me has something for everyone, making it suitable for various age groups.
Main features:
Diverse range of acting topics
User-friendly interface for seamless navigation
Option to play in teams for group entertainment
Adaptable difficulty levels to suit players' preferences
Ability to challenge creativity and communication skills
The rules of Show Me are not complicated, allowing players to jump into the action without any confusion. It's an ideal choice for gatherings, parties, and social events, offering a dynamic way to entertain and bond with friends and family.
In conclusion, Show Me offers an unforgettable acting adventure, so you can bravely download it on your phone.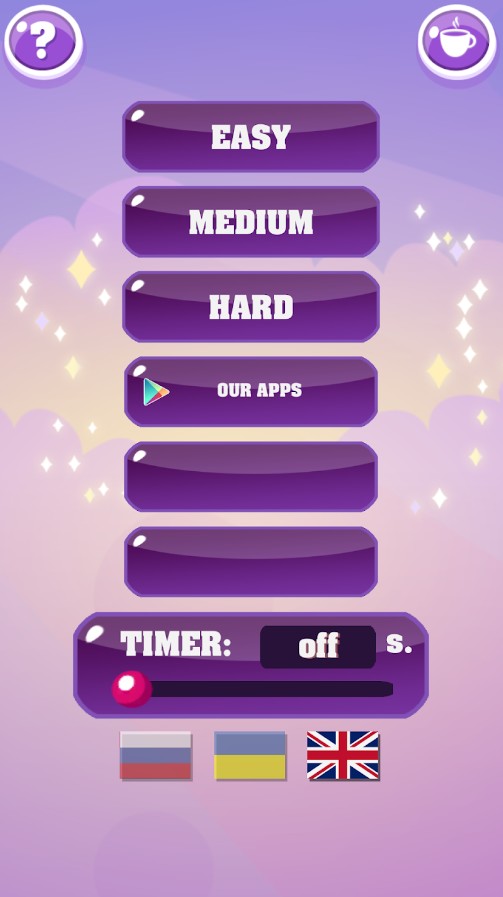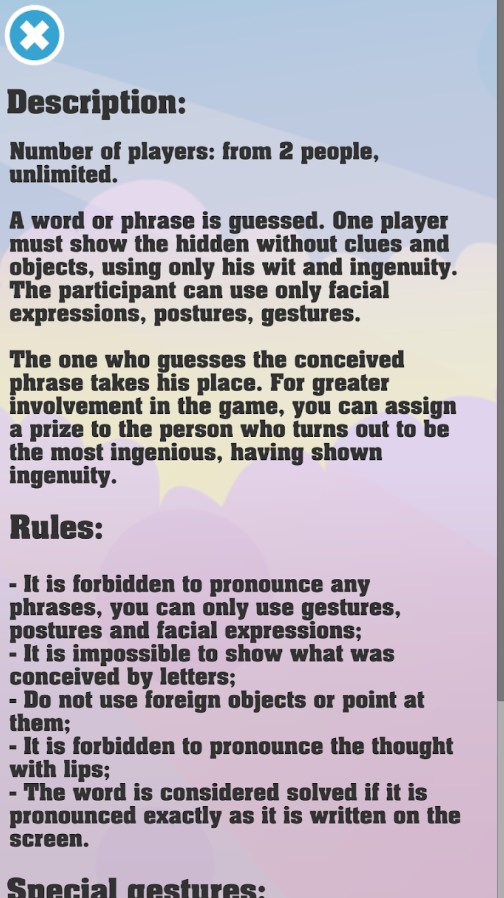 flamingo cards
Flamingo Cards, a rising star in the app world, offers users an opportunity to unleash their inner actor while honing their acting prowess.
Its popularity shines a light on its effectiveness as both an enjoyable pastime and an avenue for improving acting skills.
This is an acting game designed to spark creativity and enhance communication. Catering to a variety of age groups and skill levels, it challenges players to act out phrases or scenarios while others attempt to guess the correct answer.
Flamingo Cards serves as a training ground for both aspiring and experienced actors. It encourages users to think on their feet, embrace creative expression, and communicate non-verbally – an invaluable skill in the world of theater and entertainment.
Main features:
A lot of acting topics
User-friendly interface for seamless navigation
Customizable difficulty levels for tailored experiences
Option for solo or group play
Engaging challenges to improve acting skills
So, I can recommend you this app as it has a diverse range of topics, intuitive gameplay, and potential for growth.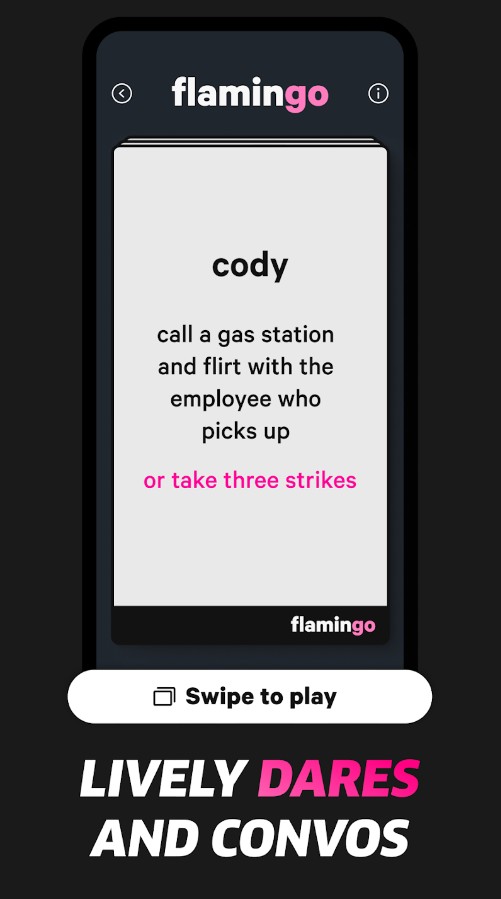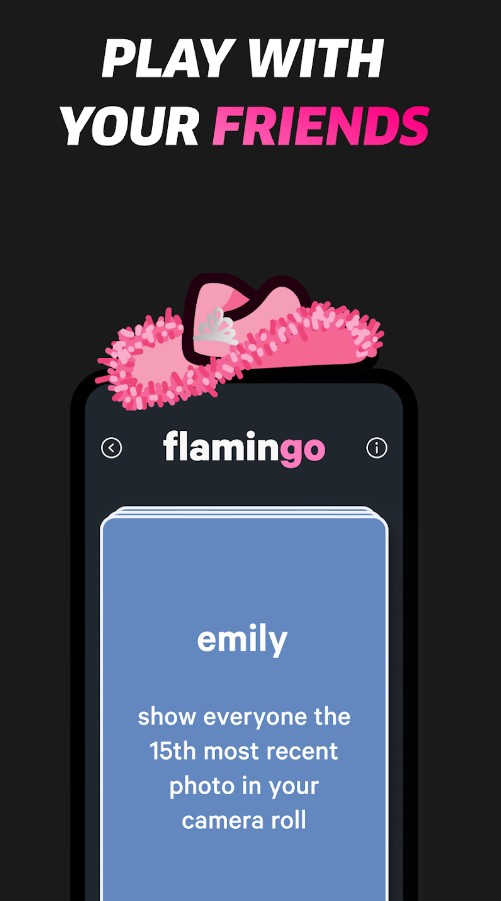 You may also like: 12 Free Mobile Party Games to Play with Friends (Android & iOS)
Grow Games & Icebreakers
Grow Games & Icebreakers is a hub for interactive games and activities tailored to spark creativity and encourage social interaction. The app primarily targets adults, offering a stimulating platform to break the ice, enhance group dynamics, and ignite conversations.
Upon launching the app, users are welcomed into a world of options, where games are categorized based on their nature and purpose. This ensures that players can select activities that resonate with the specific ambiance they aim to create.
Main features:
A wide array of game categories
User-friendly interface for easy navigation
Activities suitable for team building, parties, and gatherings
Creative challenges to boost imagination
Option for customization based on group size and preferences
While hailed for its innovative approach, the app does present some limitations. For instance, a more extensive pool of games and challenges could provide a richer experience. Additionally, occasional ads may disrupt the seamless flow of gameplay.
Apart from the array of games and icebreakers, the app also offers thought-provoking questions to stimulate discussions and debates. This feature not only diversifies the experience but also prompts users to reflect and engage in meaningful conversations.
Overall, I believe that Grow Games & Icebreakers invites adults to embrace their creativity and connect in a meaningful way.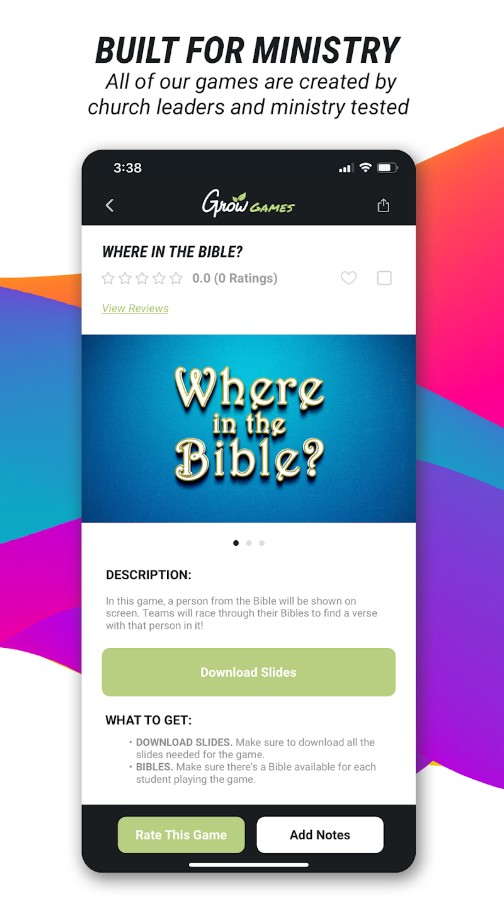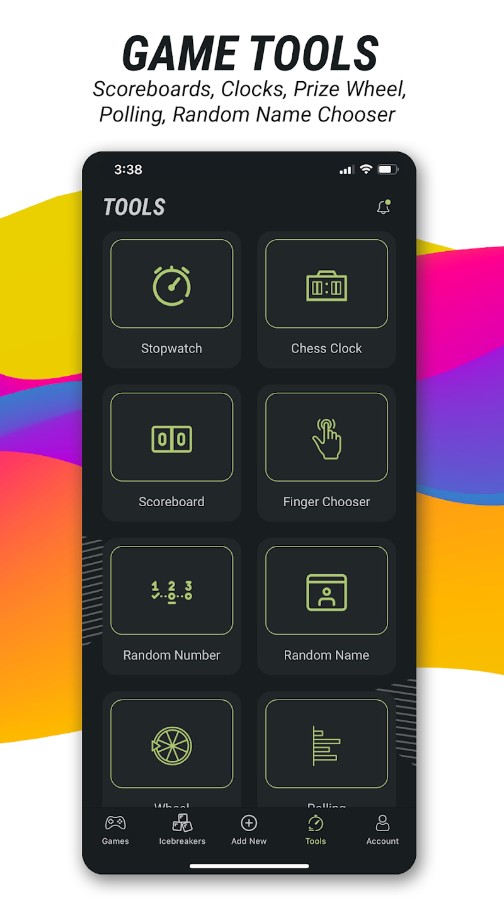 Party Roulette
Party Roulette has gained ground as a popular app, drawing in users with its unique proposition of blending entertainment with skill-building. Its popularity underscores its potential to infuse life into parties and gatherings.
Moreover, Party Roulette is more than just a game; it's a gateway to honing one's acting talents. This app boasts a range of benefits, with its interactive games serving as an unconventional yet effective tool for improving acting skills.
Participants can embrace various characters and scenarios, thereby enhancing their ability to think on their feet and embody roles.
The app serves up an enticing array of games, from classic charades to more creatively challenging options. This diversity ensures that individuals of all tastes and preferences can find an activity that resonates with them.
Main features:
A variety of interactive games
User-friendly interface
Option for customization based on group size
Opportunities to enhance acting skills
Engaging challenges for dynamic group interactions
In general, Party Roulette has all chances to make your party the best that guests have ever had, so with this app, you can be calm about the entertainment of your friends.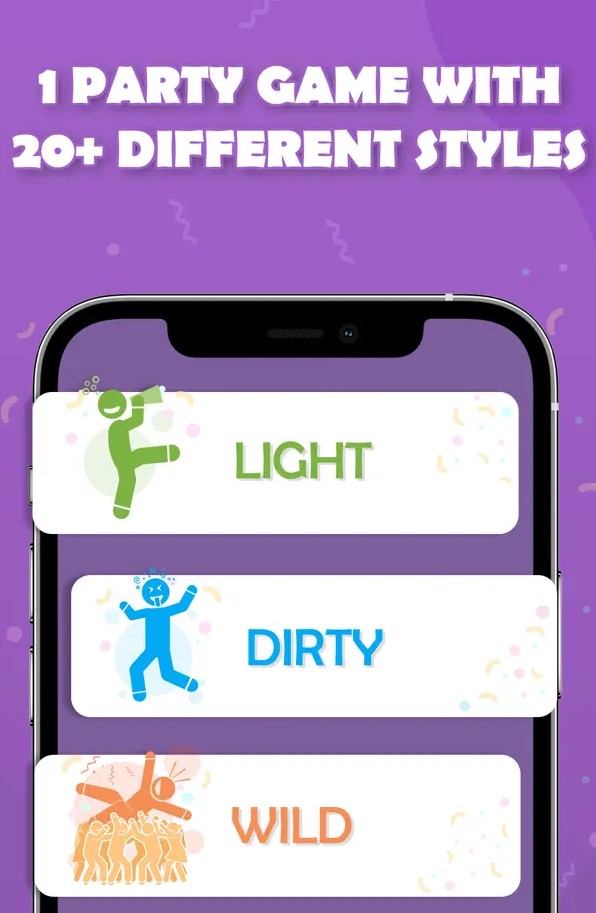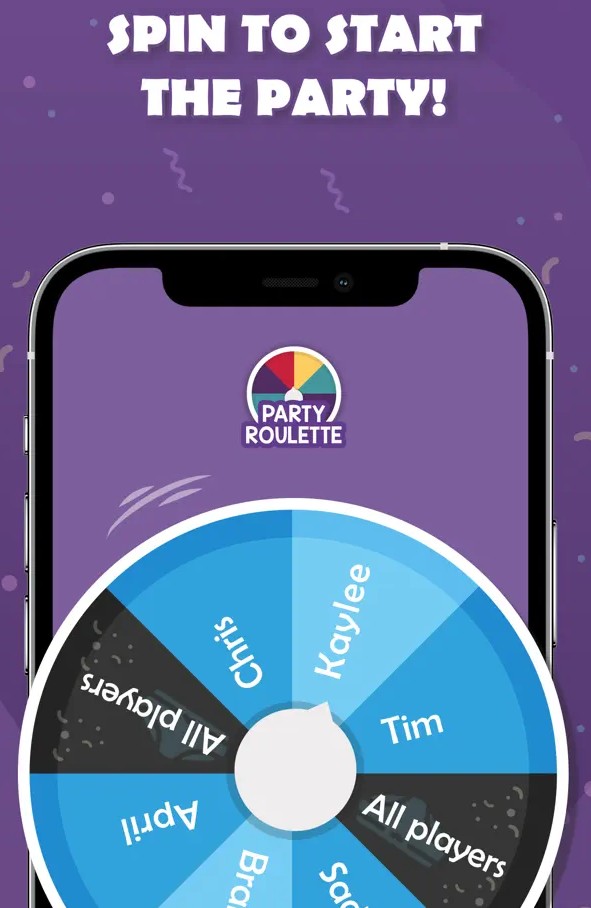 Charades – Guess Word
Charades – Guess Word finds itself nestled within a segment revered for its ability to foster social interaction and creative expression. In this landscape, where virtual experiences often substitute real-life connections, this app seeks to bridge the gap by engaging players in a communal guessing game.
Designed to be enjoyed by a wide demographic, Charades – Guess Word caters to social enthusiasts who relish the art of communication and problem-solving.
The app aims to facilitate moments of laughter and engagement, making it suitable for players of all ages, from family gatherings to friendly hangouts
The game greets users with an intuitive interface, presenting them with a word or phrase that they must depict through gestures, mimics, or drawings. The challenge lies in conveying the concept without the aid of spoken words, requiring players to rely solely on their imagination and creativity.
Main features:
A vast collection of words and phrases
Solo play option for individual enjoyment
Effortless navigation and user-friendly interface
Engaging gameplay for enhanced social interactions
Opportunity to unlock new categories and challenges
The app is bolstered by additional features, such as the ability to select categories that align with players' interests or moods. However, a potential drawback is the occasional appearance of ads, which can momentarily disrupt the seamless gaming experience.
Finally, download this game on your phone and enjoy the acting games that this app provides you with, I am sure that all your friends will like it.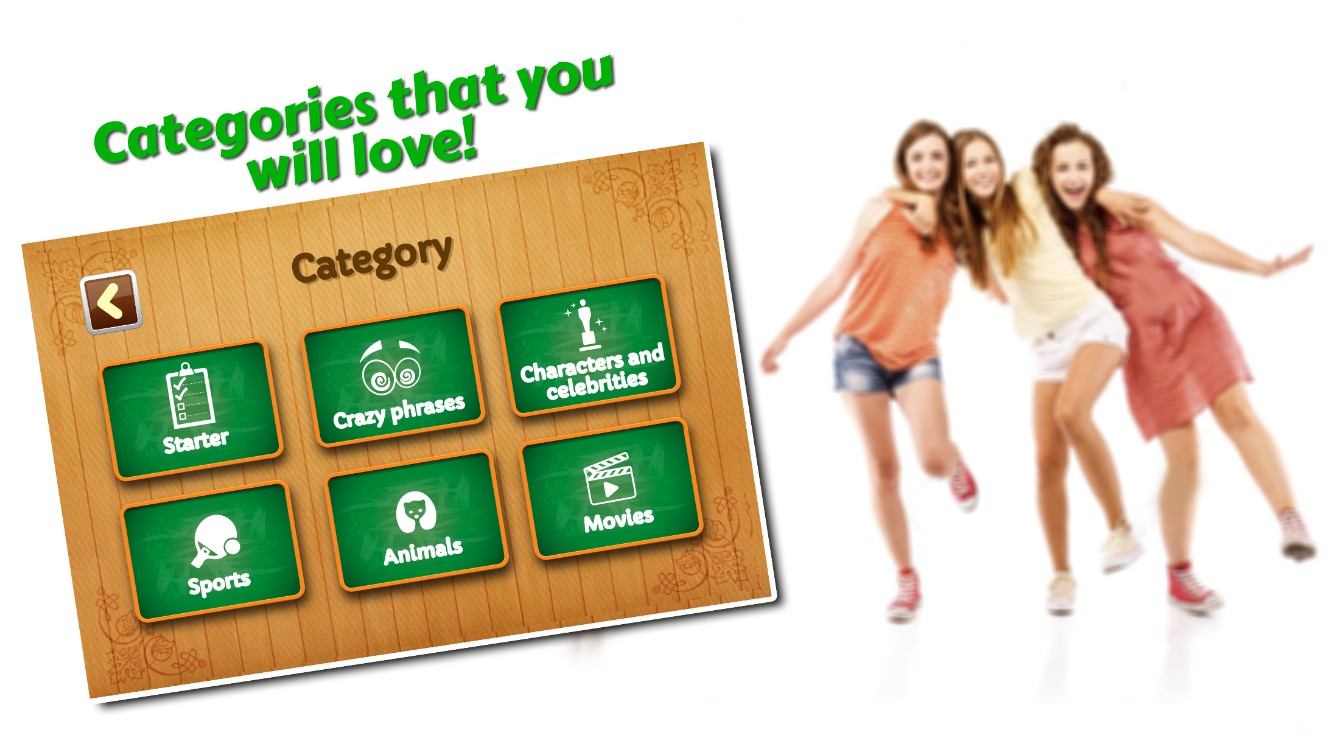 GuessUp
GuessUp takes its place as a notable contender within the charades genre, where creativity and social interaction collide.
The mechanics of GuessUp are elegantly simple. Players engage in a guessing game where one person enacts a word or phrase without using spoken language, while others try to deduce the answer.
But GuessUp goes beyond the traditional game by digitizing the experience and adding a host of categories to keep players engaged.
It sharpens cognitive skills by encouraging quick thinking and association. Additionally, it nurtures teamwork and communication, making it a popular choice for social gatherings, icebreakers, and team-building activities.
The app boasts a diverse range of topics and themes, ensuring there's something for everyone. From movies and music to science and geography, the app's vast array of categories adds depth to the gameplay, making it suitable for various preferences and age groups.
Main features:
An array of categories for diverse gameplay
In-game hints for added challenge
Customization options for personalized experiences
Timer for added excitement
Regular updates with fresh content
In conclusion, I can say that GuessUp gives you an opportunity to make your party unforgettable with all these features to play together with friends.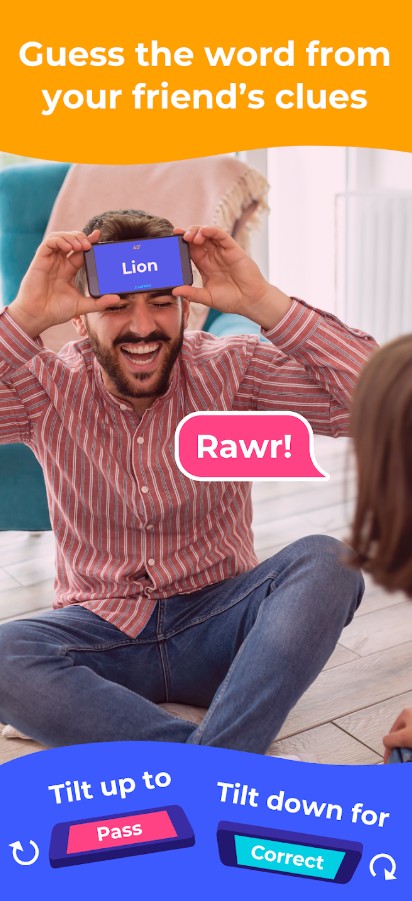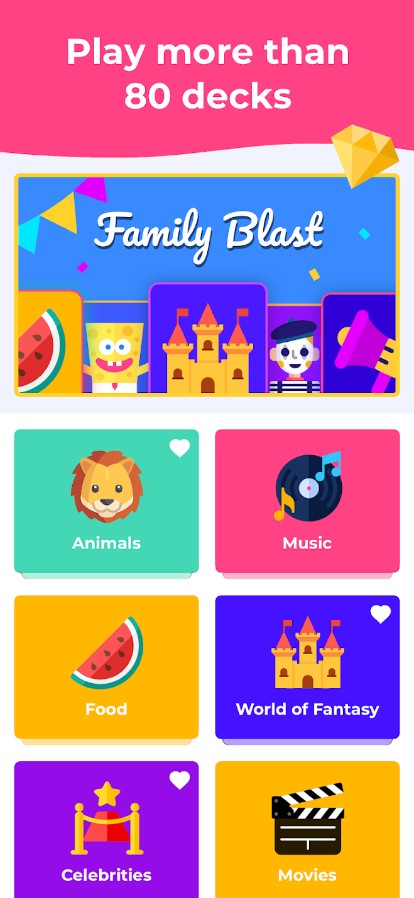 Mimics
Mimics carves its own niche in the gaming landscape by revitalizing the concept of acting and mimicry. This app boldly steps into the spotlight, catering specifically to adults who seek unique and engaging forms of entertainment.
Players select a word or phrase and mimic it while others attempt to guess the answer. What sets Mimics apart is its adaptability. Whether you're seeking a rollicking party game or a solo challenge, the app accommodates both scenarios, proving that entertainment knows no bounds.
Main features:
A huge library of words and phrases
Varied categories for diverse gameplay
Ability to create custom categories
Solo and multiplayer modes
Vibrant graphics and animations
Mimics caters to adults who seek a distinctive social activity that transcends conventional gaming. It's an ideal icebreaker for gatherings and an inventive way to elevate social interactions.
While Mimics thrives as an innovative app, it's not without its limitations. Some users have reported occasional glitches and bugs, slightly affecting the smooth flow of the game. Additionally, the free version may come with ads that, for some, might disrupt the otherwise immersive experience.
Mimics' user interface strikes a balance between aesthetics and functionality. The design is neither overly cluttered nor overly minimalistic, offering a comprehensive experience. However, a potential enhancement could involve refining navigation to ensure effortless movement between categories and settings.
So, Mimics is able to give you and your friends plenty of moments of laughter and connection.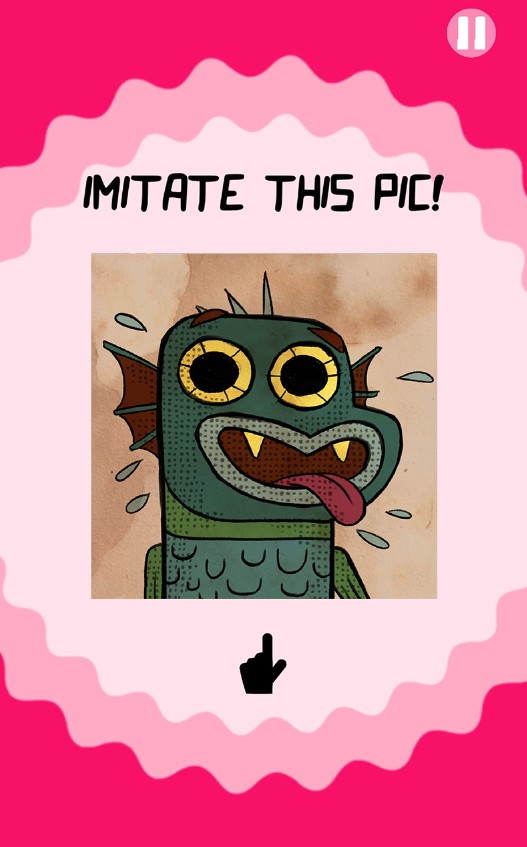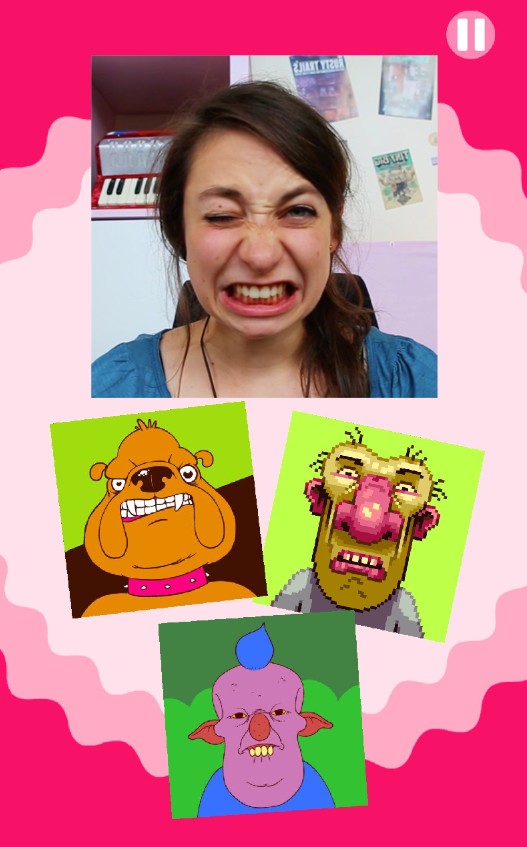 You may also like: 8 Free Websites to Play Online Card Games with Friends
Kabuki – Act it Out
Kabuki resurrects the age-old game of charades, reimagining it in the digital realm. The app's popularity surge underscores its appeal as a captivating and entertaining pastime, not only for gatherings but also for those moments of downtime.
The rules of the game are succinctly laid out within the app, making it accessible to both newcomers and seasoned charades enthusiasts. With an extensive library of words and phrases to act out, Kabuki offers a dynamic experience that keeps players engaged and eager for more.
Upon launching Kabuki, players are greeted by a user-friendly main menu that organizes the app's features efficiently. Players can easily navigate through categories, select difficulty levels, and even customize their own word lists, enhancing the experience according to their preferences.
It prompts players to think on their feet, conjure creative interpretations, and entertain through non-verbal communication. It's an ideal platform for enhancing cognitive skills, encouraging quick thinking, and boosting teamwork in a lively and entertaining manner.
Main features:
Diverse categories for varied gameplay
Adjustable difficulty levels
Custom word lists
Timed rounds for an added challenge
Engaging graphics and animations
Kabuki offers additional options beyond standard charades gameplay. The "Guess the Word" mode invites players to guess the correct word based on visual cues, adding a layer of variety to the app's offerings.
Overall, Kabuki is a good way to have fun with friends playing charades.