Pets are an integral part of most people's lives. They add joy and fun to every home and then become full-fledged family members. So, they need to be given enough attention to also fill their lives with happiness.
To do this, there are different ways to show your love, including various games and other fun activities. But with the advent of special apps, you can surprise your pet and even yourself. Try these best cartoon apps for dogs 2023 and have fun with your beloved pets.
Capture every moment with your four-legged friend using these best pet camera apps.
My Talking Pet
My Talking Pet is a great app to really have fun with your friends. Especially this program can come in handy if you have a pet.
Its essence is quite simple. All you need to do is to take a picture of your pet on the camera, and then upload the resulting image from the gallery to the program.
After that, you have a myriad of options. First of all, just record your voice on the recorder built into the app. After that, the program will create an effect as if the words are spoken by your pet.
You can easily upload all the created videos to your phone or share them on social networks with your friends or send them to someone by mail.
Yet, the program doesn't stop there. For example, you get to apply different costumes to your pet. It looks pretty funny and will go perfectly with the voiceover. But there is also another interesting feature.
With the updates, the developers are adding different effects. For example, your dog will be able to read the news, and the hamster will congratulate someone with flying confetti.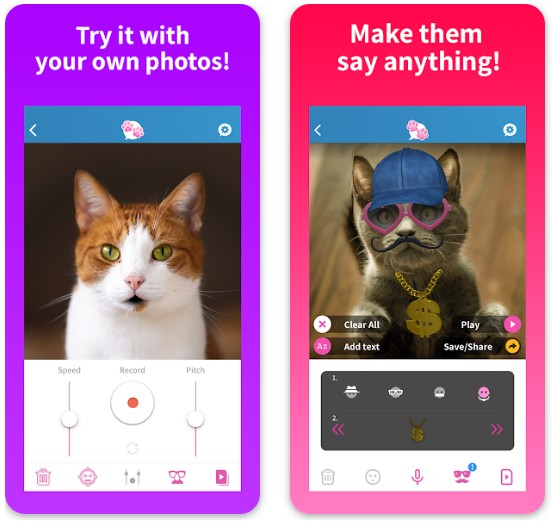 You may also like: 9 Best Animal Breeding Apps for Android & iOS
DogCam
Do you have pets of your own? If so, you've probably had some trouble photographing them. The DogCam app will solve all this perfectly.
The fact is that it's often difficult to take a picture of your dog. They are not really interested in looking directly into the camera, which can make the pictures not so interesting.
The developers of the app have come up with a quick and effective way to solve this issue once and for all. The thing is that with the installation of the program, you will have special sounds to attract the attention of your dog.
All you have to do is to open the app. You will get into a special interface that resembles the standard camera on your phone. Yet, you will find some differences there.
In addition to the usual button that you can press to take a picture, several more buttons will be added. With these buttons, you will be able to turn on a certain sound right before you are about to take a picture. This can be a whistle or another dog barking.
Your pet will instantly react to a familiar noise source and reflexively look directly into the camera. You can find the resulting image in your gallery to send to your friends or post on social networks.
The app is extremely easy to use but has all the functionality you need. Photographing your pet is easy with DogCam!


Talking Animals
Do you want to have fun with your favorite pets? If so, you should definitely pay attention to the Talking Animals app.
The developers have tried their best to give the program a huge number of functions, so you can be sure that you will spend many hours of your time in it.
As the name implies, one of the main functions of this app is the creation of talking animals. All you have to do is open the camera and take a couple of pictures of your pet. After that, you can open the app and upload a photo there.
You will then be prompted to select the area where your pet's eyes, nose, and mouth are located. After that, click on the recording icon and say something. The program will make your pet say these words, exactly reproducing the facial expressions in the picture.
You will then be able to edit the sound itself so that the result is more realistic. You can easily upload the result to your device and then share it with your friends. You can also share your video on social networking sites.
Yet, the functions of the app do not end there. There are various masks and effects available in the program. For example, you can apply different clothes or accessories to your pets.
If you do not have a pet, you can choose a photo in the app from those already uploaded by the developers.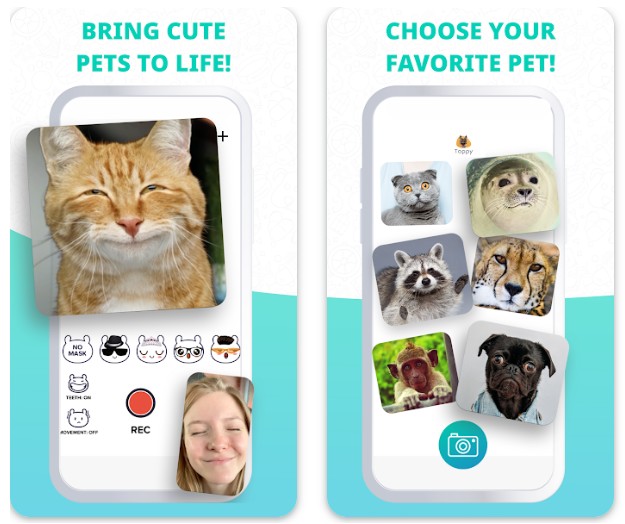 DOGTV
If you have a dog, you are definitely concerned about his or her health and leisure time. It may come as a bit of a surprise to learn that there are special mobile apps for dogs. One such is DOGTV.
The developers have made an app that contains a huge number of videos. All of them are designed specifically for dogs or for their owners.
In total, these videos can be divided into several basic types. The first is designed to soothe your pet. This is especially suitable if your dog suffers from anxiety for some reason. If not, these videos will simply help him or her recover and rest after an active day.
These videos contain various soothing sounds and scenes that will be pleasing to your dog in particular. The second category is stimulation videos. These are designed to get your pet active and set them up for an energetic day. Most often this is created with special dynamic animations.
The third category is designed to recreate a certain environment around the dog that would be familiar to him or her. There are cat sounds, doorbells, and street sounds.
Finally, the fourth category is videos for dog owners. You'll be able to learn relevant and useful information on caring for your pet right in this program. Already hundreds of thousands of dog owners have downloaded the app and appreciated all of its features.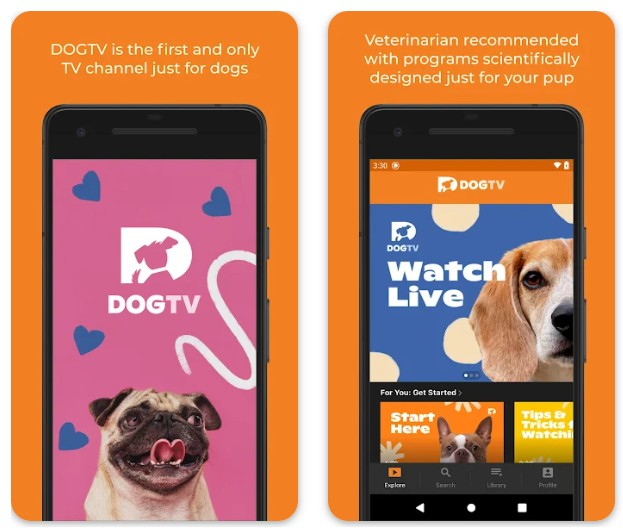 You may also like: 11 Best GPS Pet Trackers (Android & iOS)
PetStar
If you have any pets, you probably find it funny to see them in various comical situations. Then you will definitely be interested in the PetStar app. Thanks to this program, you can make your pet sing.
To do this, you will have to go through several steps. First, take a picture of your pet. The developers advise choosing the frame in such a way that the eyes are wide enough and the mouth is closed.
Once you're able to take a picture, upload it to the app. An intuitive interface guides you through all the features. The next thing you need to do is to highlight certain points in the photo, namely the location of the mouth, nose, and eyes.
After that, the app itself will animate all of your pet's facial expressions to a specific song. Now it's up to you to check if everything works correctly. Then you can already proceed to load your favorite song into the program and watch your pet sing it.
If you're happy with the result, you can upload it to your phone's gallery or send it to your friends on social networks.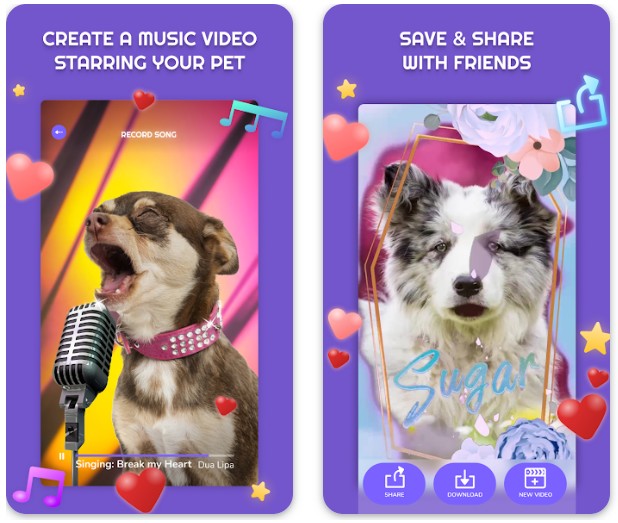 Dog Photo Editor
Dog Photo Editor is a mobile app that allows you to edit your photos with various dog related themes and elements. The app provides a fun and creative way to enhance your photos with different dog breeds, accessories and backgrounds.
The app has a simple and user-friendly interface that makes it easy to add and customize dog-related elements to your photos.
You can choose from a wide variety of dog breeds, including golden retrievers, pugs, bulldogs, and more, and add them to your photos in a variety of poses and positions. The application also includes various accessories such as hats, glasses and bows.
The principle of the app is to provide you with an easy and fun way to add dog-related elements to your photos, regardless of their editing skills.
The app's features are easy to navigate and use, making it accessible to anyone who wants to add some doggy fun to their photos.
The app is generally well-received by users, with some mentioning a few shortcomings. Some users have reported technical issues when trying to save or share edited photos.
Others noted that the application fully lives up to expectations
Application features:
An interesting way to diversify your photos
Large selection of features and materials for editing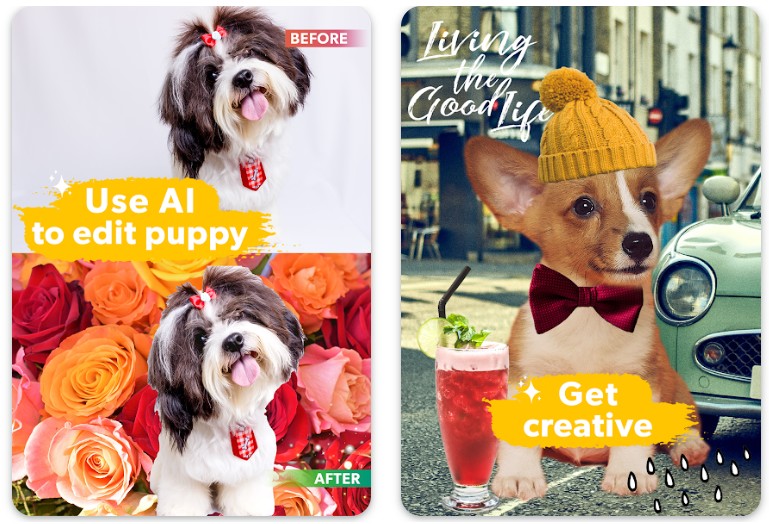 Cartoon Dog Prank Horror Video
A new level of pranks – now your friends and familiars may well be called by the cartoon dog and make them have a good laugh. Or make them scared to death.
To make a video call, just go to the app, select the right person in the contact list and wait for him or her to answer the call. But instead of you, they will see a creepy black dog.
During a video call, the cartoon dog (or other scary creature) will scare your friends in every possible way. It will stare at them terribly and will make frightening sounds and terrible barking.
What is more, it is also possible to make just a voice call. The effect should be the same – your friends will appreciate the joke.
In addition to the scary dog, you can choose a cartoon cat, the sound of a siren, and many other famous creepy characters. Add these scary sounds directly in the messenger when you are texting with friends or family members.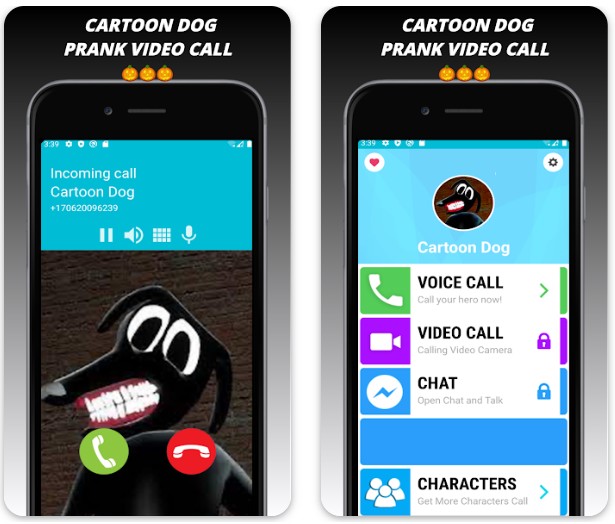 Dog Go Art: My Pet Emoji Maker
Dog Go Art: My Pet Emoji Maker is an app that will help you create your own emojis and funny pictures based on a photo of your pet. The app lets you upload a picture of your furry friend and then choose from a variety of customization options to create a unique emoji.
The app has many features, including the ability to choose from different breeds, add accessories such as glasses or hats, and adjust the size and position of various elements. You can also add text or stickers to your emoji to personalize them even more.
Some users have also reported issues with the application crashing or freezing, but such complaints are relatively rare. In addition, some users have expressed dissatisfaction with the limited set of customization options available.
Application features:
You can create unique emoji based on your pet
Large selection of editing features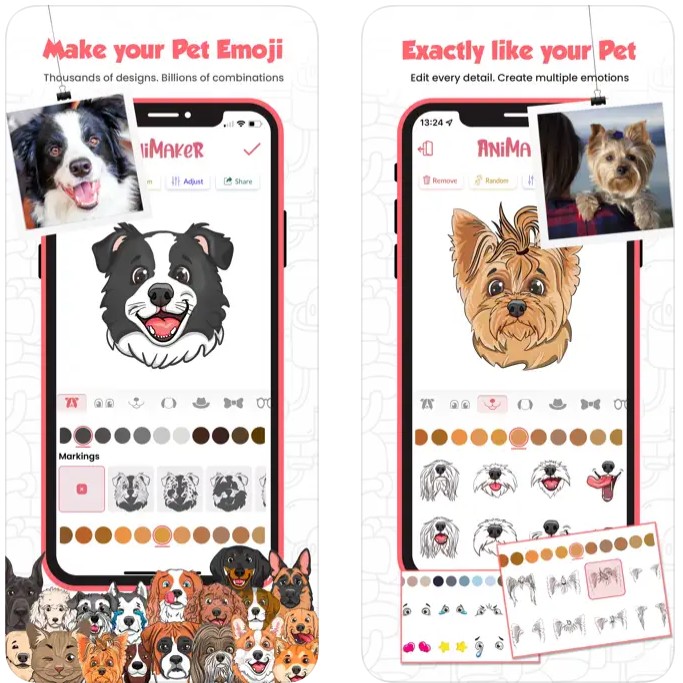 You may also like: 8 Free Dog Repellent Sound Apps for Android & iOS
Pet Cartoon Sticker Maker
Pet Cartoon Sticker Maker is an application with which you can make your own stickers with your pet. The app is designed to be user-friendly, with simple controls and a range of features that make it easy to create high quality stickers.
You can choose from a variety of pre-made templates or create your own unique designs. You can add text, change colors, adjust the size and position of elements, and more. The app also includes various backgrounds and stickers that you can add to your designs.
The app is perfect for those who want to express their love for their pets in a fun and creative way.
Some users of the application reported problems with application crashing or freezing, and some noted that the choice of ready-made templates is somewhat limited.
Despite the negative reviews about the app, most users are satisfied with its functionality and ease of use. Many noted the high quality of the stickers and the pleasure they got from making them.
Based on this, Pet Cartoon Sticker Maker is a great choice for pet owners who want to add some fun and creativity to their messaging and social media interactions.
Application features:
You can create unique emoji based on your pet
Large selection of editing features