Wedding is a great event for every person. You set a certain date in advance – a lot of couples plan the celebration a year before the event. Because of such advance planning, the perception of time is sometimes lost, and before you even have time to think back, the wedding day will come.
During the planning of the event, every minute is counted – you will need to decide on the list of guests, the place of the ceremony, clothing, style, and many other small issues. In order to properly allocate your time, you should always know how much work you have left and in what period of time it will be necessary to implement.
In such a situation, the wedding countdown – a special service, which will count the remaining days before the wedding for you, will help you.
The possibilities of some of these applications are not limited to counting only days – it is possible that your calculation will be in seconds, kisses, or hugs. We have selected for you 11 Free Wedding Countdown Apps for Android & iOS.
You may also like: 9 Best Epic Countdown Timer Apps for Android & iOS
Countdown Widget by Sevenlogics
In addition to the wedding, there may be many other dates in your relationship to which you attach special importance. These can be dates for your first kiss, first date, your children's birthday, and more.
Countdown Widget allows you to follow all these events, seeing how much time has passed since the important date. Also, the application can be used as a countdown for any holiday – for example, Christmas, Birthday, and many others.
Countdown Widget makes your countdown interesting, even if it is just a small event in your life. It can track, for example, anniversaries that you just can't keep track of in real life.
The application also has custom phrases and interfaces, which allow you to make the widget really special and unique. You can count down, by the way, anything you want. The counter can go not just on hours and minutes, but on heartbeats, kisses, and so on.
In Countdown Widget you can even set the special music, which will automatically start at the right moment. So you will be happy not only at the moment of the wedding itself but also while waiting for it.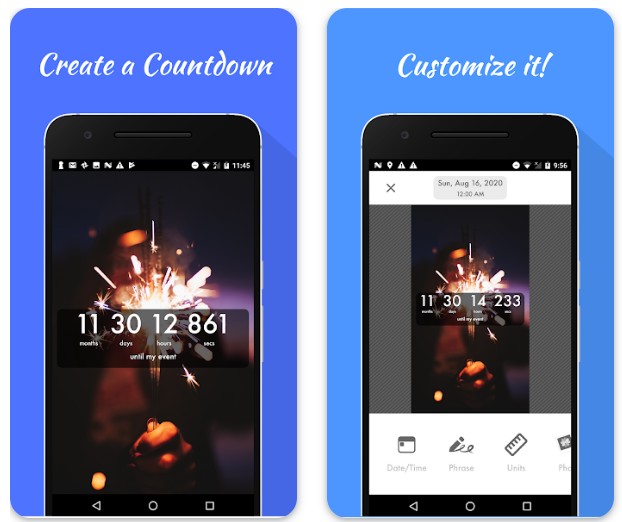 You may also like: 21 Best Countdown Apps for Android & iOS
MyWed Wedding Planner with Checklist and Budget
However, a wedding is a huge event in the life of every person. You can plan a huge number of invited guests and stars, gather relatives from all over the country and even call old school friends – it's true that all this has to be planned.
MyWed will be your personal planner, who will help you with the organization of the event at the right time and with the timing. In the application, you can plan all the things that you have to do and solve before the celebration begins.
Say "No" to the chaotic records in your diary and constant calls to the organizer. With the help of a special application, you will always know what exactly you should do at this moment.
Also MyWed allows you to plan your wedding budget to the last cent so that you do not have any financial misunderstandings and difficulties.
Of course, MyWed also organizes a countdown widget until the celebration – a colorful scoreboard on your smartphone desktop will not let you forget how long you officially become a husband or wife.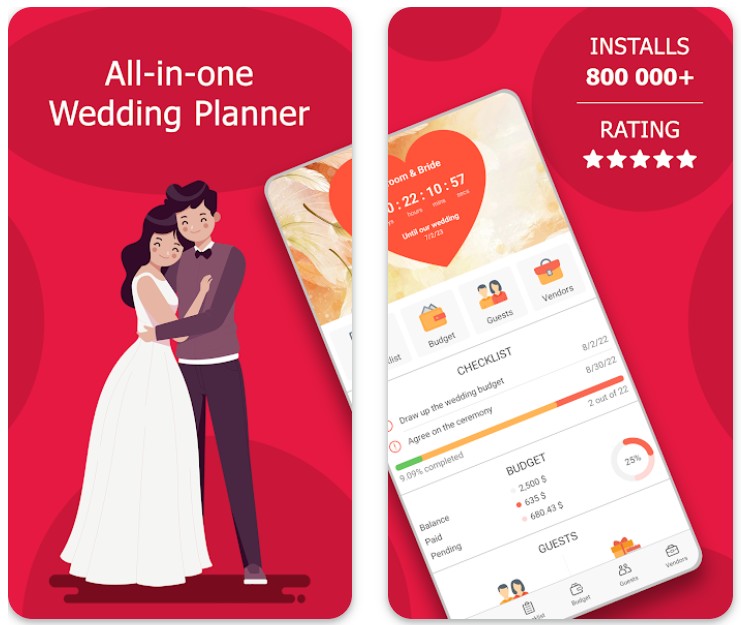 Wedding Countdown Boho Vintage Flower Widget
Stylish widgets look great on any desktop smartphone. You no longer need to cross out dates in your calendar, count the remaining days yourself or try to remember how much time is left.
Wedding Countdown is a great application, which will install a Boho style widget on your screen, and a beautiful flower arrangement will complement it. Your wedding theme can start with this widget, so you will be in the center of events from the very beginning.
There are several countdown designs available in the application of your choice, among which you will choose the best. By the way, Wedding Countdown also allows you to constantly change the design or change the date of the countdown – in case the celebration will be postponed.
Such a widget will give you the right and festive mood even when you get tired of all these wedding affairs – looking at it you can remember how much you want this moment.
Also in Wedding Countdown you can set the names of the groom and bride, to fully customize the countdown.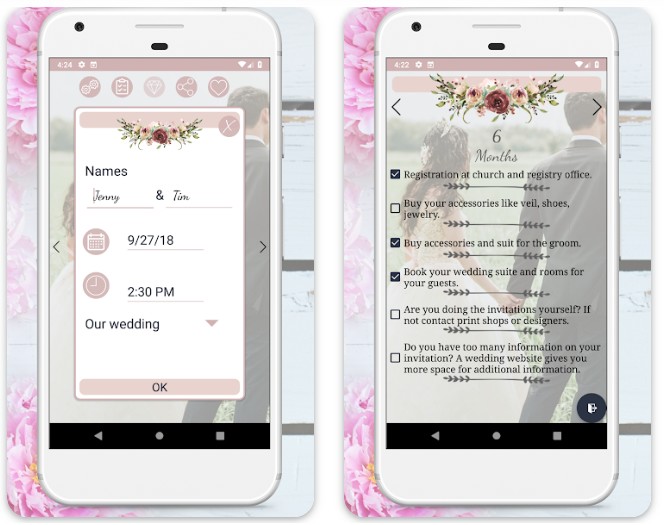 Wedding Planner by WeddingWire
Wedding Planner is a full-fledged wedding planner from WeddingWire developer, which will help you bring all your ideas to life. Of course, the service will not hire you an organizer and will not create the right decor, but you can do it yourself, correctly allocating your time.
The service will present you with a special countdown to the date of the celebration, during which you will have time to realize all your plans. For example, book a place to celebrate, timely try on a dress, and much more.
Wedding Planner also offers you to plan the budget of the event and perhaps even find the right sellers directly in the application. Many professionals in your region, who are ready to help you in the organization, cooperate with the service.
The application also contains a special wedding check sheet, which will help you understand what details you may have forgotten during the planning process. Keep track of the time you have left until the date of the celebration and are constantly in anticipation of a grand event – what could be better than a perfect wedding?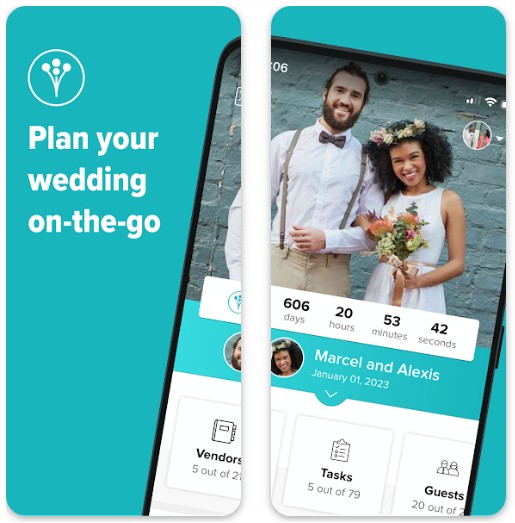 Wedding Countdown Widget by Sevenlogics
When is your wedding? Perhaps this is a question you hear regularly from your friends, relatives, or colleagues. With Wedding Countdown Widget you will be able to answer this question accurately, because you will know the time left before the event, with the accuracy of seconds.
Wedding Countdown Widget gives you the opportunity to count the time not in banal days and minutes, but in non-standard counting systems – for example, kisses or heartbeats. Such an original countdown will not only allow you to know the time but also will make you smile every time.
Wedding Countdown Widget can count down not only to a wedding celebration but also to anniversaries, birthdays, and other events. You choose the theme of the countdown, which will be presented on your screen.
You can also set your own photos on the background for countdown – it can be a theme picture or your photo with your loved one. By the way, every time you check the countdown, Wedding Countdown Widget can run the theme music, which you choose yourself.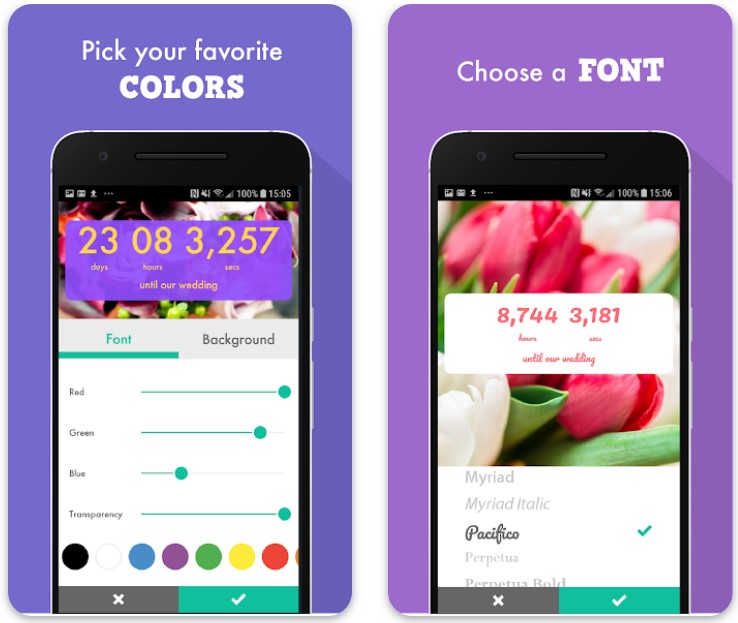 Wedding Countdown by Carolina Platti
Wedding can really be the most important day in your life. Favorite person, loved ones, the atmosphere of solemnity, and festivity … Every day the date will only get closer, and you can follow its approach in the application Wedding Countdown.
Here you will see how much time you have left to arrange everything perfectly and start a new stage in your life. You will also be able to see how much time you have to spend on all these pleasant troubles – for example, the choice of dress and suit, the organization of catering, and so on.
Wedding Countdown looks very beautiful on your smartphone screen, and the countdown will be yours personally. You customize its appearance by controlling even such details as background or font.
You can attach bright or cute stickers to the countdown, as well as take it to the home screen – so, every time the phone will be in your hands, you will remember the beautiful event.
Also, you will be able to complement the overall atmosphere on the smartphone screen with your photos. A reminder will allow you to get even more imbued with the atmosphere of the holiday and wait even harder.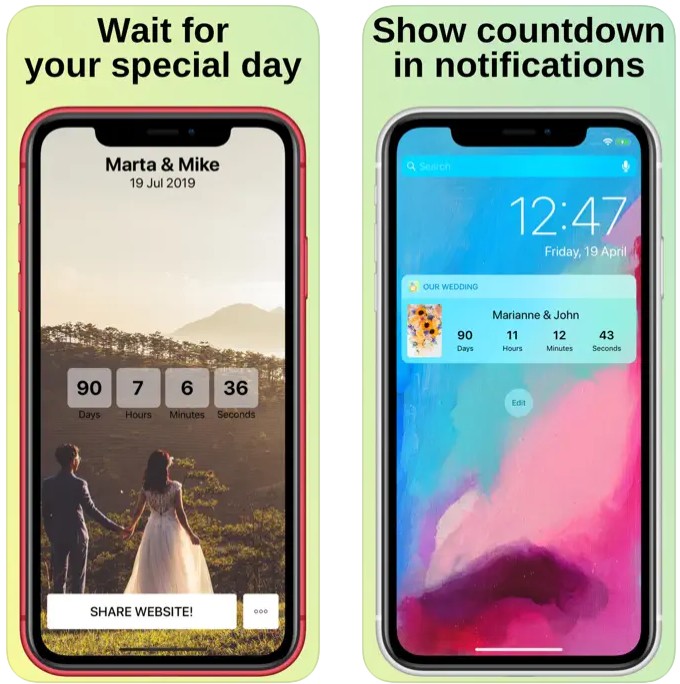 You may also like: 11 Best event planner apps for Android & iOS
The Big Day – Wedding Planner & Wedding Countdown
How often have you seen that weddings are held in an incredibly cute and romantic style? All the time! To immerse yourself in this style in advance, you can install on your smartphone application The Big Day.
It allows you to start planning your wedding in advance, as well as set a countdown timer. The application itself is made in an incredibly gentle and cute style, so you can immediately feel the atmosphere. Such pastel and muted tones can give you ideas for design or celebration.
In order to personalize the countdown, you are invited to install a special photo – for example, with the couples photo session. This way, you will see the person with whom you plan to connect your life every time.
The Big Day planning is not limited to the organization of the wedding: in the application, you can schedule the celebration itself so that each event and performance takes place at exactly the right time.
Budget planning can also help you so that you can distribute all your expenses wisely and can manage them. All you have to do is to relax and wait for the most decisive moment.


Appy Couple Wedding App
Appy Couple Wedding App is a real wedding center for organizing the whole celebration on your smartphone. Here you can create your own website for your celebration, choose the ideal design and style, invite guests and much more.
Agree, rarely anyone gets a chic wedding invitation by e-mail but you can do it. A stylish and modern wedding will be remembered by all guests, especially if you invite them in such an unusual way.
The Appy Couple Wedding App will allow you not to create your own website. In fact, you will work with a certain template, which will be adjusted to you. You can place a countdown to your wedding day on the site, so that not only you, but also your guests know what time the joyful event will take place.
You can also use the Appy Couple Wedding App to publish photos on the website after the celebration, which will be available to all guests. Everyone will be aware of the changes in the schedule and date, as well as will be able to understand what exactly you plan to do at the celebration itself.
In the Appy Couple Wedding App you can even communicate with your guests – it is very unusual, given that before the wedding there will still be some time left.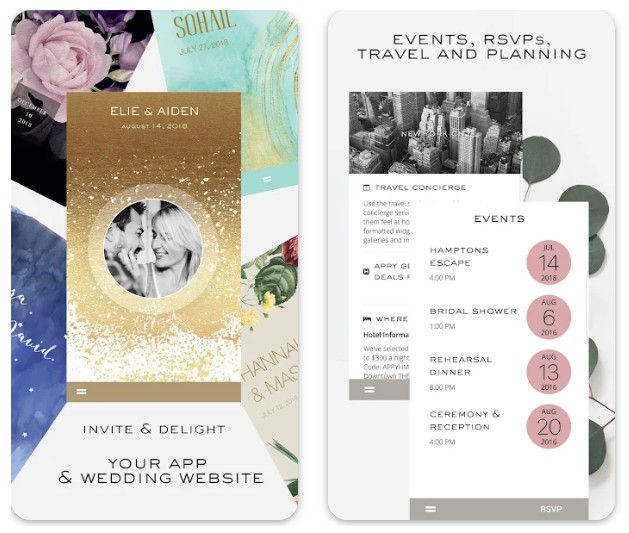 Bridebook – The Wedding Planner App
Many couples hire a special person for the wedding, who will be engaged in planning. But it is worth remembering that the budget for the celebration is not unlimited, and you can spend this money on a fee for the artists or your own wedding trip.
We present you the Bridebook application, which will be a personal wedding planner for each couple. An important nuance is that you will not need to pay for the services of this mobile specialist, but at the same time, you will get a huge benefit.
In the Bridebook application, you can easily find a free place for your own celebration, as well as all necessary suppliers – for example, florists or designers. With special search functions, it will not take you long to find the really necessary specialist with the goods that you need.
You can also set the expected date of the wedding in Bridebook, which will be used to organize a countdown and a special customizable to-do list. In this to-do list, you will be presented with all the necessary tasks that are required for a perfect celebration – for example, the list of guests and artists, as well as the nuances of the organization.
Bridebook will help you not only to organize guests but also to distribute them to the desired parts of the celebration – for example, a ceremony and a party with cocktails.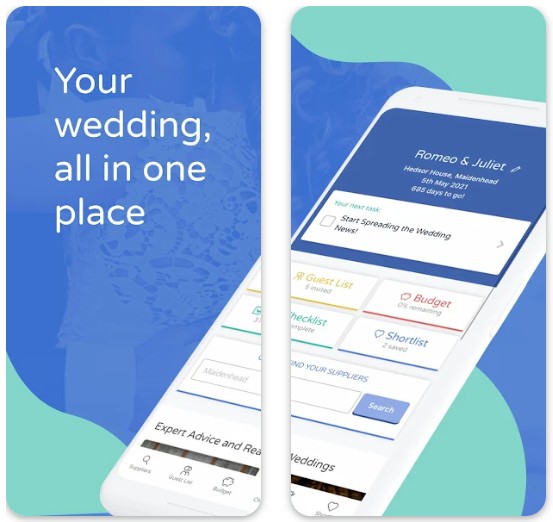 WeddingHappy – Wedding Planner
WeddingHappy is the service that will help you look at the whole process of organizing the celebration. It will help you to understand how many things you have to complete before you can say with confidence, "We're ready for the party".
Schedule with a list of tasks and meetings, the countdown to the wedding, tracking costs and fees, hire professionals – all this you can do in one application. Also, WeddingHappy fully adapts to all changes that you make to your schedule and organization of the celebration.
WeddingHappy is unique in that it is perfectly suited for the organization of gay weddings. In fact, there are nuances associated with such events – for example, tailoring costumes or certain churches.
The application will send you all notifications related to tasks or payments, which were made automatically. By the way, you will need an Internet connection only in case of automatic payments or communication with suppliers – the task plan or calendar will be available to you even offline.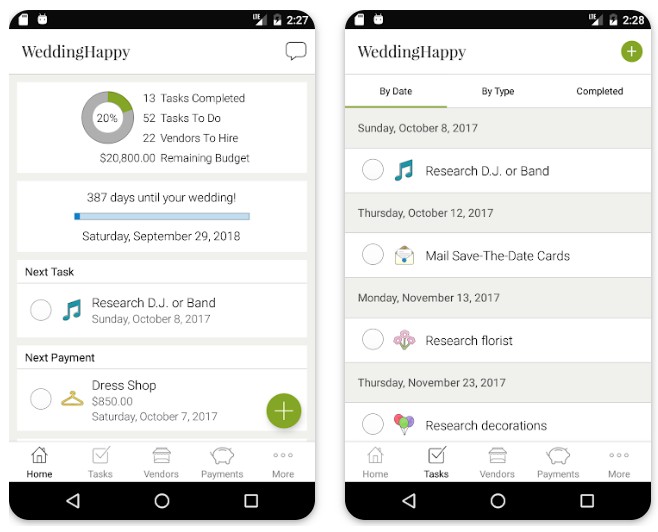 You may also like: 11 Free Wedding Countdown Apps for Android & iOS
Wedding Countdown App 2023
Minimalistic applications in the form of the countdown are also popular among couples. Perhaps you already have a professional who has taken over the entire organization, and all you need is just to wait for the wedding itself.
In this case, we can offer you an application Wedding Countdown, which simply leads to a kind of timer until your celebration. Now, every time you meet your friends, you can say how much exactly the time you have left before the outstanding event – with an accuracy of a second.
You can share the timer from Wedding Countdown regularly on social networks, notifying all your friends and subscribers about the approaching memorable date.
The application provides you a daily love or romantic phrase, which you can share with your partner as a sign of boundless love. By the way, you set the timer yourself – for example, choose the color of the text and design.
Also, note that in Wedding Countdown there is a special list of pre-wedding cases, but it is not the most convenient, because the service is not yet fully developed.