21 Best mileage tracker apps for iOS and Android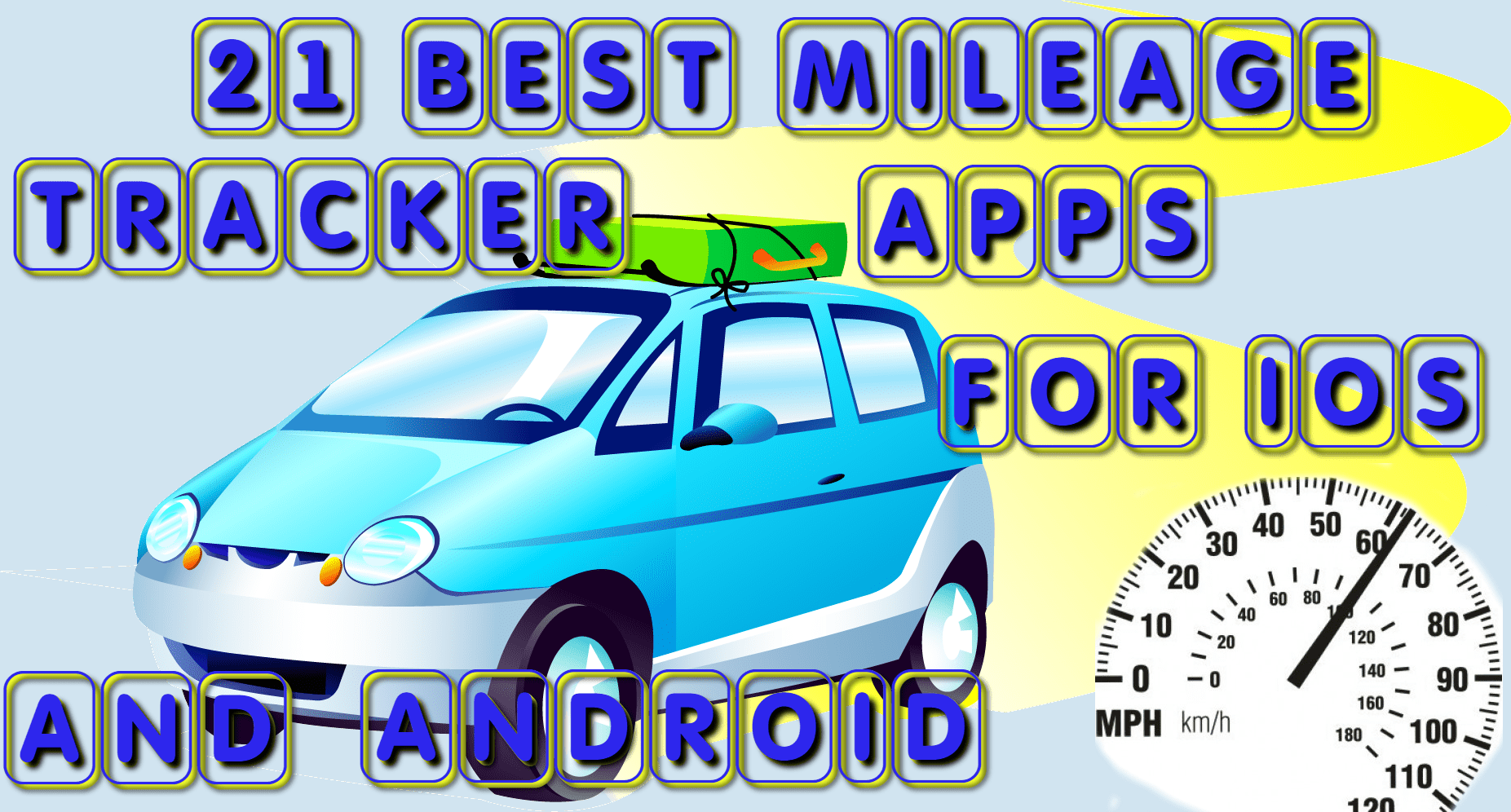 In addition to playing Angry Birds, which is played by millions of smartphone users and photographing themselves, our digital gadgets can be much more useful than for entertainment. The most helpful are mobile applications for car drivers. Many applications for smartphones will help you save money and time, and will also become indispensable helpers in work and travel.
We offer you for review mobile applications, which in our opinion are the most useful to any car enthusiast and a person who is forced to constantly be on trips for work. So here is the list of best mileage tracker apps:
TripLog
The application, compatible with the Android and iOS platforms, is designed to count the mileage of the car and save records and reports on trips, fuel refueling and other expenses for car maintenance. Owners of Android and Apple devices will be able to take photos of all receipts, upload, and reserve all information about their trips to Amazon Cloud (the Amazon account will not be required). This will save the information, even if you lose or damage the phone.
Here are the main features of the TripLog GPS Mileage Tracker:
recording of expenses for business trips, gasoline, toll roads, parking and all services related to the car;
work with several cars and their categories, for example, with corporate, medical, charitable transport, as well as with several companies;
GPS technology is used to calculate the distance traveled;
to automatically calculate the location and search for addresses using GPS, cellular and Wi-Fi access points;
allows you to take pictures of receipts using the camera phone (the first 10 pictures are free, then you need to purchase the Power User Package);
uploading data to Amazon Cloud servers and uploading them as HTML reports;
automatic calculation of fuel consumption (l/100 km, km/l);
support of commercial cargo transport;
fast data entry based on information from the last trip;
built-in calculator for calculating tax benefits for various transport categories (corporate, medical and charitable) with the possibility of editing;
compilation of monthly reports on benefits, real costs and final information (free of charge);
exporting and sending by e-mail annual reports and records for the audit in CSV and HTML formats (requires the purchase of the Annual Report package or Power User Package);
backup and recovery of information from the SD card (for free);
backup and recovery of information using Amazon Cloud (requires an annual subscription to Cloud Storage)
the ability to select units of measure (US, imperial or metric) and currency.
The application can be downloaded for free, but to activate some features you will have to pay.
Get it on Android
Get it on iOS
FYI Mileage
FYI Mileage is easy to use application that will simplify the process of controlling the mileage of a car for personal and business purposes. It also has features such as exporting reports via email/Wi-Fi and can store several cars and drivers in memory.
Get it on iOS
Mileage
Accounting for fuel consumption with the output of various statistical data.
Mileage – is a program for your mobile device based on Android and iOS OS, which allows you to easily control the fuel consumption of several cars.
Features of the program:
Support for multiple cars.
New flow charts.
Customizable input fields.
Powerful statistics.
Import data using CSV.
Automatic backup on SD.
New types of transport and much more!
The interface of the application is quite simple, you need to enter a minimum amount of data to track the mileage and cost of operating your car.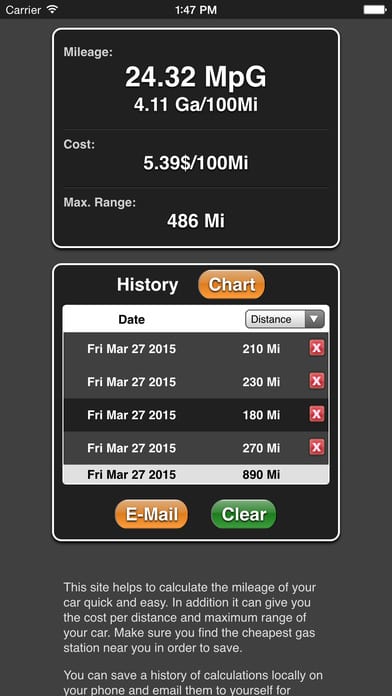 Get it on Android
Get it on iOS
TaxMileage
If you are looking for an easy way to control the mileage of a car for later filling out a tax return or compensation payments, then Taxmileage is just what you need. It has a long list of features, among which you can note the creation of reports, automatic backup duplication, real-time monitoring with GPS and support for more than one account.
Mileage is able to:
Keep track of several cars.
Consider fuel with liters and gallons.
Operate with kilometers and miles.
Take into account the price of fuel in various currencies.
Display fuel consumption statistics in the form of graphs.
Import/export data to CSV, SQL, and SQLite DB format.
Plan maintenance of cars (replacement of oil, filters, etc.).
Mileage is a very convenient and useful program for motorists. It allows to take into account the fuel consumption (and money for it) for several cars, view statistics, take into account and plan maintenance of the car.
Get it on Android
Everlance
This application uses GPS in order to track the mileage of your car. The application automatically saves your trips in the background. The program is specifically designed to save battery life. There is synchronization with the cloud storage. The application Everlance tracks your miles automatically by logging all of your trips.
Everlance is an excellent solution for business trips because the program marks the time of the beginning and the end of the journey and calculates the cost of reimbursement. There are several classifications: business, personal, charitable or medical trips. Another convenient function of the program – it saves receipts for the mileage, reserving it in the cloud. So, now you will not lose a single trip by car. All expenses are also saved – they are checks for food intake, etc. The application supports multiple revenue sources.
Get it on Android
Get it on iOS
SherpaShare
Now, tracking the mileage of the car for personal and professional purposes has become much easier with the application Sherpashare: mileage log expense. A little effort on your part and the application itself will calculate the tax deduction. Drivers with such popular services as Uber and others use this application for their own purposes. Now, you can classify your trips, track expenses, save everything in the cloud. Communicate with other drivers through a special community, view the areas loaded by the machines.
Features:
The application uses the latest technology in tracking the mileage.
Used by popular driver services.
View all road conditions.
Fast preparation of information for tax.
Get it on Android
Get it on iOS
MileIQ
What distinguishes this application from many others? Easy to use, fast and effective settings. The app is a great way to track the mileage. The program accurately tracks every mile in any of your trips, whether it be personal, business or another trip. You can register every mile, classify trips, get personalized mileage records and much more. Save your time with GPS technology. Also, the application accurately records all the data, so you can easily pass all the reporting to the tax on your trips. There are built-in purchases.
Features:
Automatic tracking of mileage with GPS.
Classification of trips.
Reporting on the miles traveled.
Built-in purchases to enhance your capabilities.
Get it on Android
Get it on iOS
MileBug
Those who are constantly on personal, business or tax travel, you need to download the application MileBug – Mileage Log & Expense Tracker for Tax Deduction. All information can be exported via CSV and sent by e-mail. You can track the mileage for several destinations, create categories, track several vehicles. You will find cool screen functions, IRS-compatibility, clear interface and much more.
Various built-in purchases will allow you to expand your capabilities – for example, you can save all data in Cloud storage in case of loss or change of the gadget.
Features:
Convenient functions for tax documentation.
Domestic and international directions.
Customize your own categories.
Adding multiple vehicles.
Built-in purchases.
Get it on Android
Get it on iOS
QuickBooks Self-Employed
Track your budget and expenses with this app. Find all tax deductions and be organized. In the application, there are additional functions that you may need, but they are available only at an additional cost. One such function is tracking the run, which is performed automatically using GPS. You can also monitor your expenses, save receipts, create and send invoices, etc. This is an excellent app for individual entrepreneurs.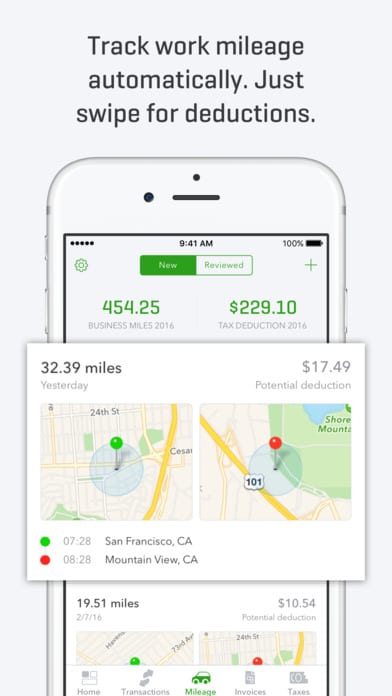 Get it on Android
Get it on iOS
Hurdlr
The application helps to track the mileage for reporting to the tax. Track your miles, collect the necessary information for easy filing of tax documents. In the application, you will be available: internal support, automatic distance tracking, cost and tax deduction assessment, self-assessment calculation, payment reminder, cloud storage, battery saving device.
This is an excellent application for those who are constantly on business trips and who need to provide tax reporting.
Get it on Android
Get it on iOS
MileWiz
The MileWiz application is designed to record gasoline costs. Here, there are all the basic functions for business trips, including adding, editing and deleting cars and events, viewing cost statistics, fuel consumption and so on.
The MileWiz application is free for all registered users and includes several functions, including the ability to monitor the current status of MileWiz ("Stop", "Idle" and "Move"), categorize trips, and activate or deactivate the auto-tracking function.
IRS compliance, easy generation, and provision of tax reporting.
The ability to create multiple trips on several vehicles.
Automatic tracking of mileage.
iDevices synchronization.
Paid subscriptions for a month or year, 20 free trips are provided monthly.
Get it on Android
Get it on iOS
BizXpenseTracker
This is a great functional application for tracking mileage, in which you can personalize the interface and various functions to simplify your work and make it more efficient in terms of business. You can track not only the mileage of the car but also everyday commercial expenses, time for performing various tasks, etc. You also have an access to all the reporting functions, you can save all the data in the cloud storage, for example in Box and Dropbox.
Another convenient feature is the ability to scan receipts and add information about your location.
All types of expenses are tracked.
Extended mileage information.
Tracking of current expenses.
Subcategories.
Cloud data storage.
Get it on iOS
TrackMyDrive
Track your car's mileage on Android/iOS devices. The application works in the background and is able to track all trips. Simplify your journey by taking advantage of the many functions of this application: mileage compensation, manual data entry, GPS tracking, mileage deduction, tax information and much more. When buying a paid version, you get an access to an unlimited number of trips (in the free version, there are only 8 of them).
Track the mileage automatically or do it by hand.
Different categories for different trips.
Reimbursement of expenses and tax deductions.
Add additional information about the trip using your own mileage log.
Get it on iOS
AutoCare
AutoCare allows you to monitor the costs of several cars at once: each of them is assigned its own profile. Note that this function is available in about 50% of applications, which in certain cases will be really useful. Another interesting feature – the account of urban and suburban mileage.
The pre-compiled list of expenses is distinguished by a "curved" translation like "rotate auto tires", but you can create your own categories. It is also possible to create reminders after a certain time or mileage. In the rest – it's not an overloaded with unnecessary features application, which allows you to monitor the costs and mileage of the car in details.
Get it on iOS
Mileage Expense Log
Track your mileage automatically along with the application Mileage Expense Log. The interface of the application is fairly simple, you must begin filling out the summary with the necessary information about the trip (vehicle, destination, purpose, etc.). There are tips for more competent filling.
You can choose both automatic tracking and manual mode. Synchronize your data with iCloud or Dropbox, and even with Apple Watch. Available formats HTML and CSV.
Features:
Clear interface.

Auto tracking with GPS.

Adding additional costs.

Availability of a price book.

Synchronization with cloud storage and Apple Watch.
Get it on iOS
Fuelio
Fuelio is an application for keeping statistics of gasoline consumption, money spent and mileage traversed by a car. The application helps to track and save fuel costs.
The gadget works by the fact that the user writes data: automatically counts, prepares flow charts, conducts comparisons.
The interface of the program
The interface is understandable for users, the statistics tables allow you to quickly learn the distance covered, understand the value of spent fuel, and in the case of cost allowances, reduce the number of trips.
Where is the information stored?
By default, the received data is stored on the internal drive in the Fuelio application directory. However, you can connect the upload of data to both the SD disk and the cloud storage (Google Drive, DropBox). Thus, the data will be accessible from any device, it will be enough to connect the SD card, or to enter the cloud server.
A full list of functions:
The mileage registration scheme (accounting for the number of fuel stations, refueling, gasoline costs, and GPS orientation).
There are records of the operation of the machine and fuel consumption.
It is easy to record on several machines: all data are counted separately.
Statistics: statistics on the use of devices, fuel economy.
Get it on Android
MileTracker
Excellent application for tracking your mileage. In addition, you can track the fuel, calculate all travel expenses (for example, parking costs), track the mileage of the car and the difference between personal and business trips. With this application, you can track your way both automatically and manually.
Get it on iOS
Magical Miles
A great application, amazing with its interface. Track the mileage of the car in automatic mode. The application Magical Miles will do everything for you.
Calculating the distance traveled and deductions that are based on your itinerary.
The record log can be converted to a table for more convenient use.
Take notes, enter costs, establish your classification.
Select a mile log for a particular car.
Measurement in kilometers and miles.
Battery saving mode and much more.
Easy Logbook
This is one of the easiest apps to track mileage. A simple interface and the graphics that does not detract from the details of the schedule – all this will contribute to a productive progress of tracking. This application is perfect for personal and business purposes, you can count miles or kilometers and create reports on email.
However, the application spends a lot of battery life, because uses GPS navigation. All you need to do is press the start button at the beginning of the trip, and the stop button at the end of the path; then, describe the trip and the deal is done!
MileGuru
Become a professional in calculating tax deductions for driving expenses. Track everything: car mileage, travel, expenses, including gas, fees, and parking. You can create your own log, which will indicate the points of your trips, expenses, various vehicles, all reports. It is possible to export files via PDF (however, in the free version of the application, this function is provided in a limited mode).
Tracking not only the mileage but also the expenses.
Creating tax reports.
Ability to send reports via email.
Create a travel journal that is easy to save and sort.
Mileage Tracker
Track your routes with Mileage Tracker. This user-friendly application permits you to see all the statistics of the most frequent trips: travel time, mileage and fuel consumption.
This application will help you keep money by saving all your travels and runs, saving fuel, finding the cheapest gas stations, as well as hospitals, police stations nearby, etc.
The application saves all your expenses, and also takes into account statistics and calculates travel time.
You are able to send your mileage log along in with fuel receipts, or export and import all the information to Google Drive for later viewing.
We did not try to rank the applications for "coolness" or the number of downloads, but found programs that are really capable of helping you along the way. Choose what you like and download the application to your gadget. Successful use!