Nowadays, a numerous of negotiations between nations can be conducted in different languages. However, in order to convey your thoughts to the interlocutor, you must know his language, or use a special app. This article will feature five best simultaneous interpretation apps.
Moreover, we want to recommend you to also use the voice translation apps, which you will find in this article that we compiled.


KUDO
KUDO is a real find for those who want to have communication at a very high level among absolutely all nations. Thanks to this utility, you can perform a huge number of different actions, for example, attend various meetings. It is worth noting that the management in the program is simplified to a minimum.

Some of the most interesting options of the app, which the developers advise to pay attention to:
the opportunity to attend a specific meeting with the option of choosing a specific language in which you want to speak for the duration of the entire meeting
a unique option to select one of several votes in the various polls created during the conference, whether it be consent, denial or simply neutrality
a selection of meetings recommended to you using a unique analysis of the system of the app, as well as the ability to join any of the meetings in just a couple of clicks
one of the unique options of the program, which consists in broadcasting the screen of the chapter of the conference and watching all his videos, photos, or pictures that he wants to show
the presence of the "answer" button during the presence at any of the audio conferences with the answer to the speaker's question or reasoning on the given topic of the conference
easy-to-use interface, as well as very fast registration in just a couple of clicks along with possible synchronization on the utility
Thus, we can say that the program can be worthy of your attention due to the descent characteristics and quality of all developed options. If you look at the entire functionality of the utility, you can safely talk about the quality standard. Download this app and make sure for yourself.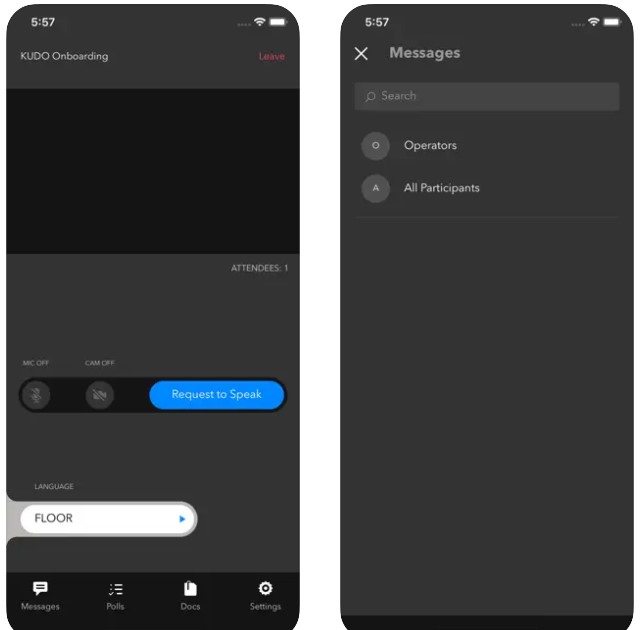 You may also like: 11 Best translation apps for Android & iOS
Interprefy
This app will be able to earn your attention literally at first glance because not all programs can boast of such well-developed options. The utility has been successfully helping users from all over the country for more than four years. In addition, the app does not ask for high technical requirements.

Some of the most interesting characteristics of the program:
optimal choice of almost any language when entering any conference from a large list of proposed, coupled with good acoustics quality
the ability to create a conference for a limited number of people by adding a certain password, thanks to which third parties will not be able to enter your chat
support for almost any headphone along with your device or device, including portable, wired, wireless or even arc
the ability to simplify your workflow, as well as facilitate any business or project, by creating a single conference for all participants
the simplest control of all apps of this type, as well as a solid design that saves your vision and ease of use of all options
good feedback from satisfied users of this utility, who guarantee a fairly good quality standard and encourage the use of the program
To summarize, we can make a simple conclusion that this app is one of the best in this area. It is thanks to its well-developed functions, as well as the painstaking work of developers, that you can communicate in your language with ease. Try doing it now.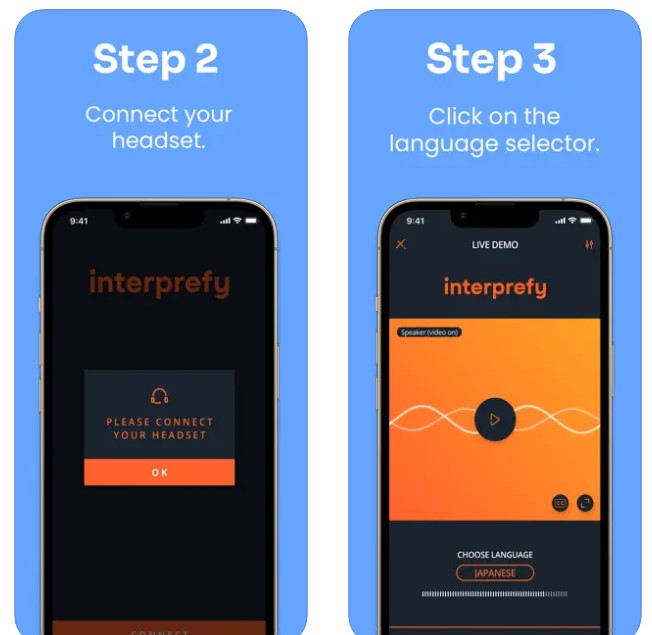 You may also like: 11 Best Apps To Caption Videos (Android & iOS)
VoiceBoxer
With this program, you will be able to create and attend multilingual events. To do this, you need to do nothing, namely, a few simple steps. Enter your first and last name, select the language you want, then select the desired broadcast and act!
Functional features of this program, which were praised by users:
the simplest synchronization and registration among all apps of this type, consisting literally in a couple of clicks to connect to an existing account
having a rich list of various open video and audio conferences in your preferred language that can help you find like-minded people
the ability to view all video, audio and acoustic files of the conference chapter and other users thanks to the unique "screen broadcast" option
the ability to adjust the language change, speaker speech volume, add new interlocutors and many other options right during the conference
drowning out unnecessary chat participants using a special lock option, as well as the ability to record all the necessary webinars using the screen
the ability to collect content required by users in one place and localize it by topic for easier navigation in the program
To sum up, it can be emphasized that this program is one of the best options for people who want to develop. It is thanks to this utility that more than two million people have already been able to find a worthy exchanger of the necessary information. So, what are you waiting for? Download and join soon! Interactio
This app can be safely called one of the favorites among utilities of this kind because its functionality turns literally everything over. The program is designed as simple and understandable as possible, even for the most inexperienced user. All Interactio options are completely free and do not require cash.

Several options that were able to interest the most fastidious users:
the option to eliminate all queues in the same conference, constant communication with technical support, as well as maintenance of your equipment
support for almost all devices (tablet, computer, phone) and headphones, as well as the absence of high technical and price requirements
the ability to use the utility literally in any place and time, be it some kind of corporate party, event, service, prayer, or holiday
feature of the utility, which consists in putting still not watched video broadcasts on hold and viewing later, as well as planning viewing in advance
adaptation of the utility to literally all corners of the globe, which consists in the presence of all popular languages ​and smart subtitles for each phrase of the speaker
the ability to enter the event using a special code issued to you by the organizer, thereby excluding unnecessary person
So, Interactio is the type of app that you can calmly say "simple and tasteful." It is the reliability and clarity in each function, as well as the ease of use and catchy design, that make this app in demand today. Developers are constantly improving this app to make it better.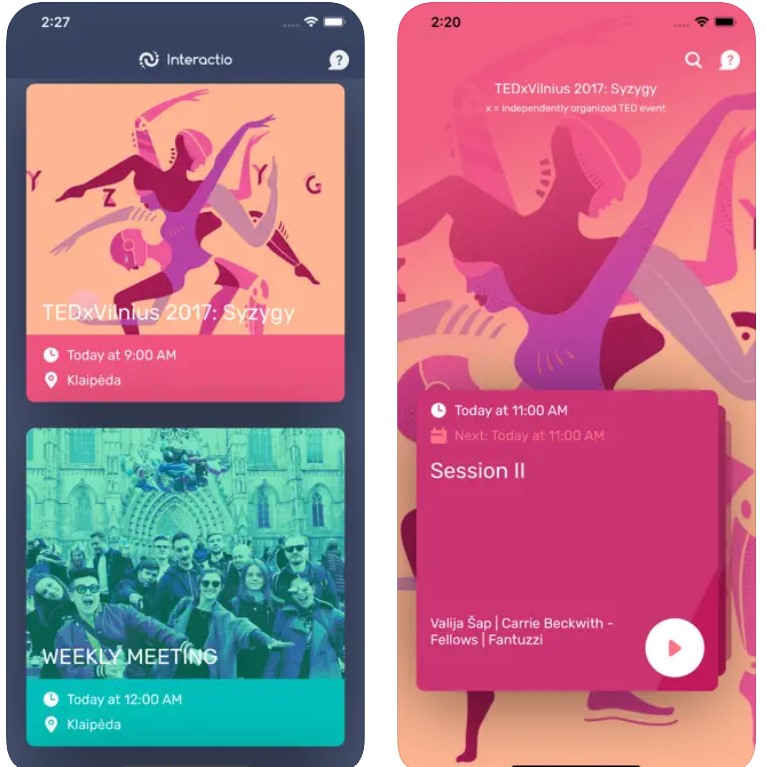 You may also like: 11 Best Dog Translator Apps (Android & iOS)
SPEAKUS
Speakus is your best solution with the choice of the program in order to get a synchronous or other type of translation quickly and efficiently. The utility differs in that except artificial intelligence, real people work in it, which improves communication. The waiting time of a particular translator is short.

The most interesting features of the app that deserve attention most of all:
unique ability to enter the conference using several methods, whether it is a password of numbers or letters, a code from a certain sequence or even a QR code
the presence of most of all the most popular languages ​into which you will need to translate any documentation
ease of use of all device options, as well as a fairly simple and elegant design that saves the user's visual health
the most convenient and easy to use control, allowing the user to enter and create conferences without interference
Finally, we can say that this app will be able to help you not only for regular negotiations, but also for work or in other situations. You can easily find yourself a new friend or interlocutor from another corner of the world just a couple of clicks. Just try downloading and making sure with your own eyes.