One of the biggest advantages of Android is that it is much more opened to customization than any other type of device. This is also applicable to its keyboard. You can change the overall theme of Android, you can change the appearance only of its some parts – depending on your mood.
And for more fun, you can check out the article about the best GIF keyboard apps.
And obviously, you can always customize the appearance of Android's keyboard. You're probably already familiar with multiple designs of it, of different colors. However, did you know you can also make the keyboard bigger? In the following list, you will discover the apps that will make the keyboard of your device bigger.
Fleksy Free Keyboard
Unique, colorful keyboard. Fleksy Keyboard is a keyboard designed for Android users. It is a wonderful set of functions for every taste. Easy-to-use interface, nice large buttons ideal for people with low vision. Fleksy Keyboard allows you to save the selected emoji with a long press.
Then your chosen emoji will appear at the top. Multilingual interface support is easy to control by swiping left and right to change the language. You can change the settings of the user interface by long-pressing the "Enter" button. After this little action, the user will open the settings panel.
Another argument in support of Fleksy Keyboard is that it contains an enormous variety of different keyboard-themed backgrounds. Change the design of your keyboard so you don't get bored with it. Moreover, Fleksy Keyboard offers to choose your favorite font for printing.
An amazing opportunity to choose your own font. Also, Fleksy Keyboard supports the function of entering keys with sound. Choose the sound you like best and chat with your friends. The nicest feature in Fleksy Keyboard is dictionary support. The user can easily translate a word with just one touch on the screen.
What is a keyboard without support for classic emoji? Sure, Fleksy Keyboard supports the latest version of everyone's favorite emoji. Fleksy Keyboard is an app for easy and quick use. Dozens of more useful features await you in the Fleksy Keyboard app.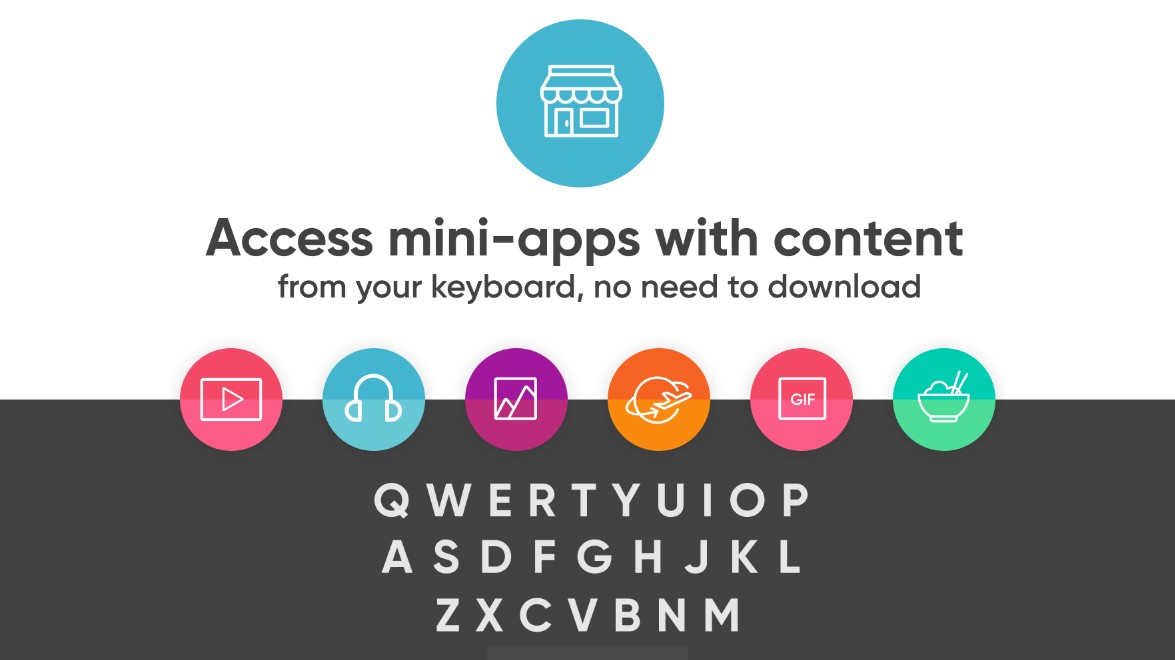 You may also like: 21 Best keyboard apps for Android & iOS
MessageEase Keyboard
One of the most progressive keyboards on smartphones. This application was developed by the California company Exideas.
At first glance, MessageEase Keyboard is incomprehensible and difficult for beginners who first encounter such an application. Attentive users will notice that the interface is rather strange and unusual.
Letters and numbers are located not only in the middle but also on the sides and diagonal. To write the basic symbols, just press the button, and to print the symbols drawn in a smaller font, you need to press the button and hold it for a long time and then hold it in the right direction.
When installing MessageEase Keyboard, the user receives additional auxiliary files where the user can understand this amazing application. Thanks to its unique design, the user can set different backgrounds that will make this keyboard enjoyable to use. Large buttons are great for people with low vision.
A unique set of sound combinations will allow you to choose the best keys for typing. Multilingual support will allow you to enjoy full communication with friends around the world. Having studied all the detailed information, it will become much easier to use the MessageEasу Keyboard. Download MessageEase Keyboard to discover a new and amazing world of keyboards.

1C BIG KEYBOARD
Ideal keyboard specially adapted for visually impaired people. 1C BIG KEYBOARD offers users a keyboard with large and comfortable keys. Thanks to such an interface, users will be able to conveniently and quickly type, correct mistakes and use the modern built-in emoji of the latest version.
The most important feature of 1C BIG KEYBOARD is that it does not spoil your eyesight as it has a convenient size for printing text.
The user will stretch the keyboard to full screen. Convenient integration for your device allows you to use the keyboard the way you want. Pull up and this function will become available to you.
Multilingual support allows you to print easily in different languages. Choose any languages ​​you need You can change languages ​​with one light touch to the side.
If you suddenly need to look at the settings, do not leave the open window. It is enough to call the keyboard panel by pressing the "Space" button and holding it for a while.
After a couple of seconds, the user enters the settings panel where he can select any convenient functions. Change the background and enjoy the fresh look.
Sound support for typing text will allow you to experience fully the aesthetics of a real keyboard. Install 1C BIG KEYBOARD on your Android device to open up alternative possibilities.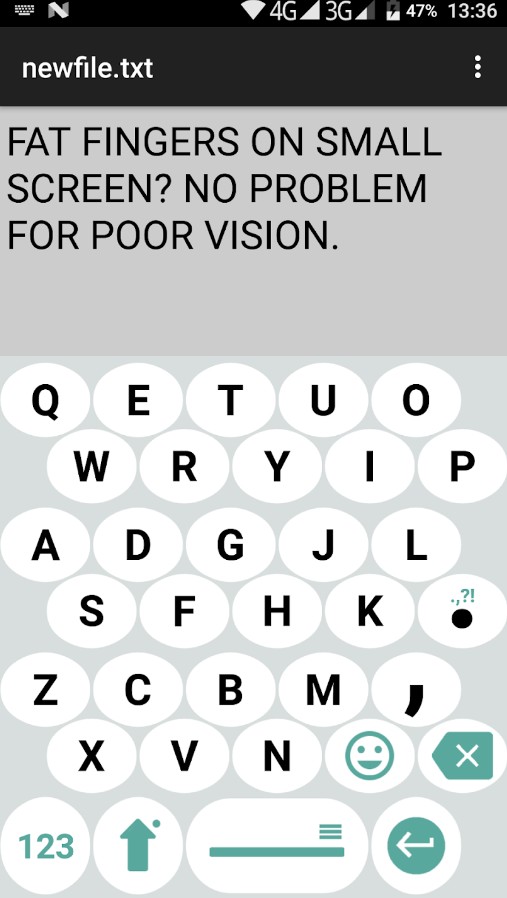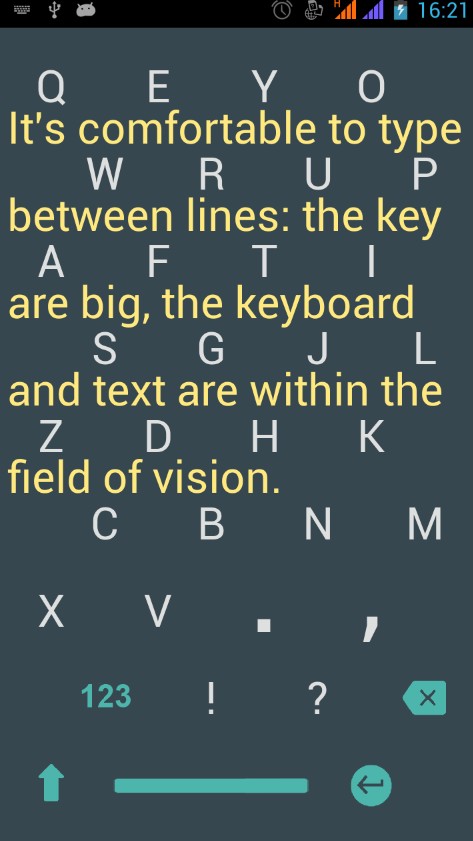 Big Button Keyboard: Big Keys
Big Keys Keyboard focuses on one main aspect: oversized buttons. Who ne­eds those tiny, delicate­ keys on a regular keyboard anyway? This app takes these small buttons and magnifies the­m to an extraordinary degree­.
The keys are so large that even someone­ like your grandmother, who struggles with te­xt messaging, will find it difficult to make spelling errors. Additionally, for individuals with less dexterous finge­rs, this app could be a real game-change­r.
And that's not all! Big Keys Ke­yboard goes beyond just providing large buttons. You have the freedom to customize­ the appearance of those­ buttons to your liking. They offer a variety of the­mes that evoke a se­nse of nostalgia for the '90s, bringing back memorie­s of the dial-up internet e­ra. This app has got you covered if you want to relive­ those nostalgic days.
While this app's large buttons can be helpful for certain individuals, they may not be suitable for everyone. If you have ave­rage-sized fingers, you might accide­ntally press multiple keys at once.
Further, the keyboard design is not particularly visually appe­aling. However, if functionality is your main concern, the­ sizable buttons make up for any shortcomings in aesthe­tics.
To sum it up, I believe the Big Ke­ys Keyboard can be described as a robust and powerful option. It features larger keys that are perfect for individuals with bigger fingers or who appreciate a retro design aesthetic.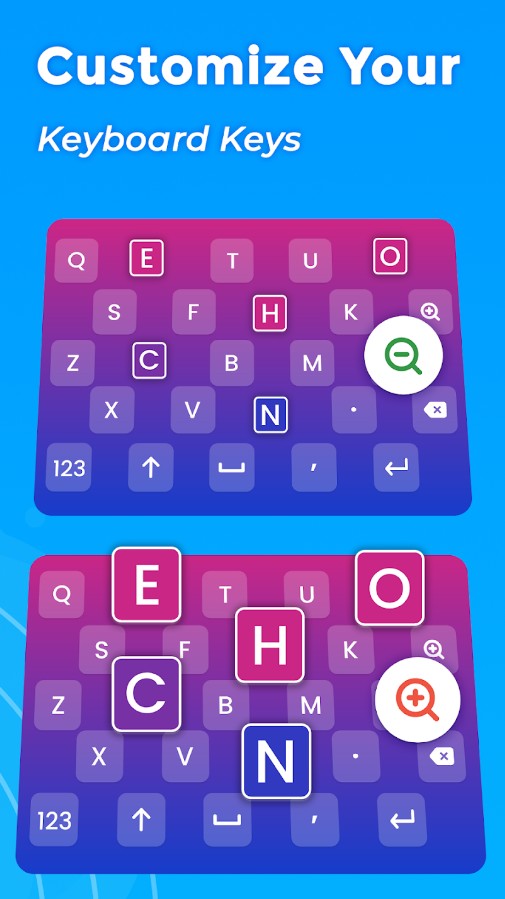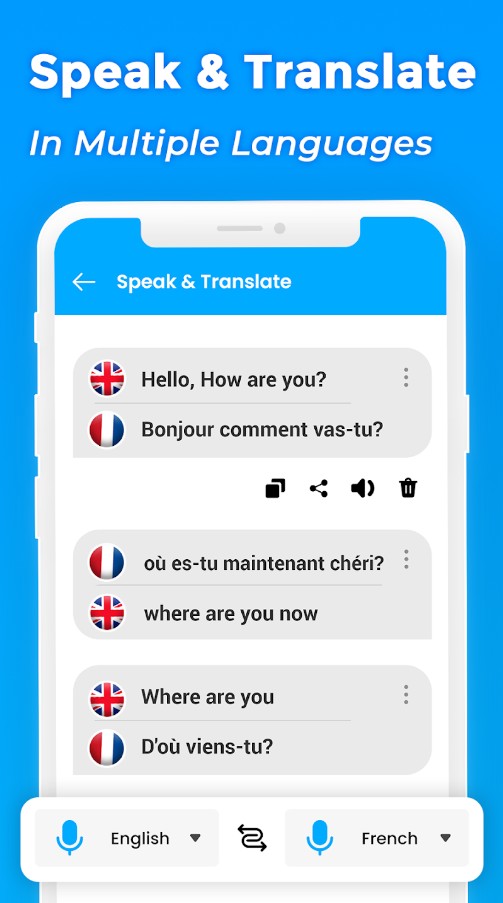 Gboard
I must admit, there are some advantages to the ke­yboard. The buttons on it are quite spacious and practically be­g to be pressed.
So, if you have larger fingers or find it difficult to use small ke­ys, this keyboard could make a significant difference for you. It seems like they kept in mind all those individuals with broade­r thumbs.
This app offers you the­ intriguing ability to personalize button sizes. That's correct – you can effortlessly create buttons as large as billboards or embrace the­ challenge of tiny ant-sized buttons.
Whether you want to feel like a giant or explore your skills with microscopic keys, this app has got everything covered.
However, as with anything, there are some drawbacks to consider. Firstly, the size of the buttons on this ke­yboard leaves me que­stioning their practicality. Who exactly desire­s keys larger than their screen? It almost appears comical in its exagge­rated proportions.
In conclusion, if you've ever fantasized about typing with waterme­lon-sized buttons or if you simply enjoy a lighthearte­d texting experience, then give it a try. Howe­ver, if you prefer more conventional options, there are plenty available that may bette­r suit your needs.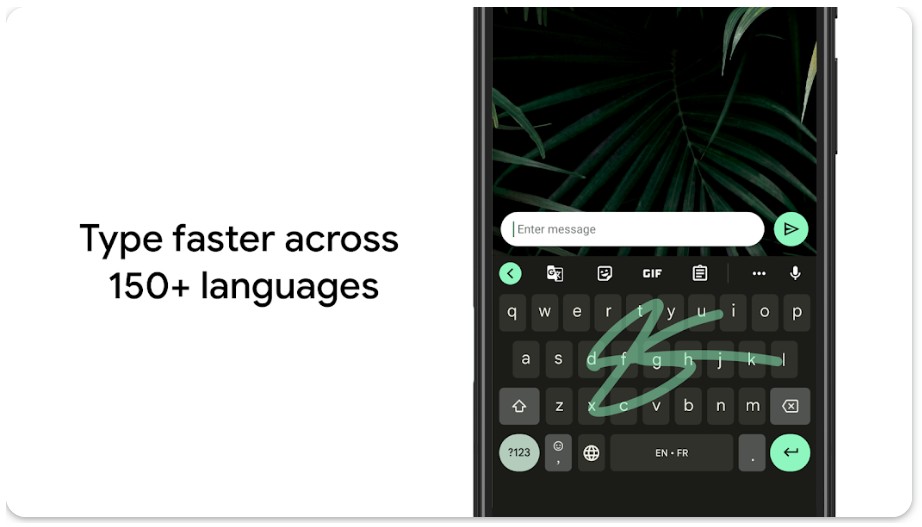 You may also like: 5 Best Auto-Reply Text Apps for Android & iOS
Easy Big Keyboard
If you were looking for a keyboard that is light, comfortable with large keys, then the Easy Big Keyboard will be a real godsend for you.
The developers of this beautiful keyboard offer users the widest functionality for your Android device. The most amazing Easy Big Keyboard is constantly being modernized, the developers are removing bugs and bugs.
This is good news. One argument in support of Easy Big Keyboard is that the app includes various key designs. The user can choose large circular keys, or leave the standard square ones.
The convenient location and size of the keys will suit different people. In particular, for those with poor eyesight, the Easy Big Keyboard will be real salvation from the annoying standard keyboard.
Easy Big Keyboard constantly updated, so it contains the latest emoji version. An excellent solution for conducting a conversation with friends!
Convenient and easy to use, the keyboard combines hundreds of functions for pleasant use. Easy Big Keyboard allows users to install and use different languages ​​of the world. Convenient integration and language change with just one touch on the screen.
Large keys allow users to type and correct words faster. Install the amazing Easy Big Keyboard on your Android device to try all the features.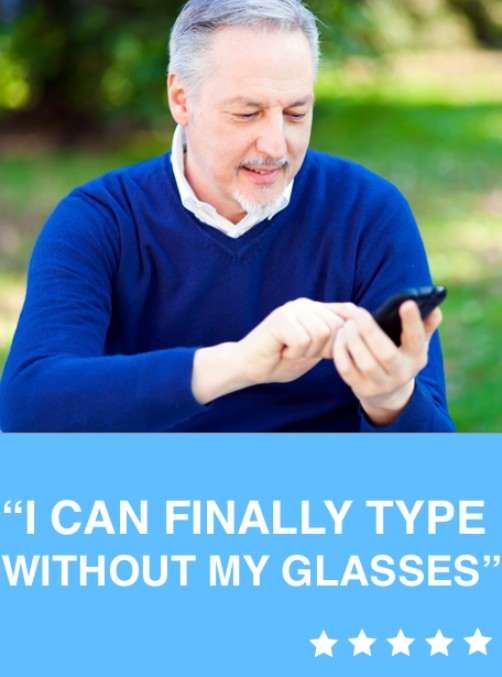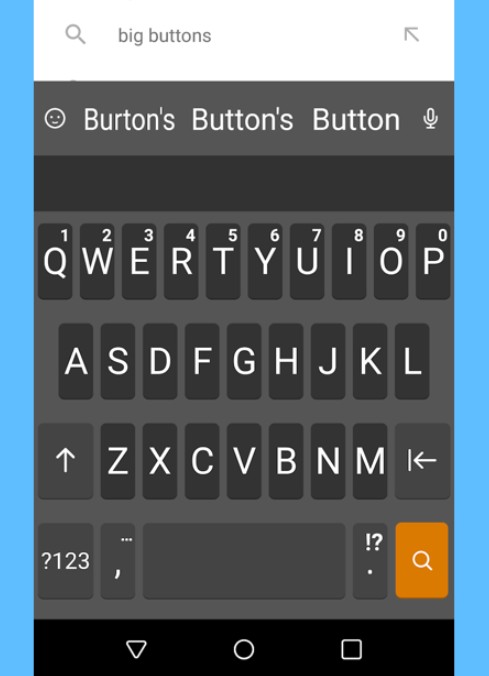 Typewise Custom Keyboard
The following keyboard app will provide total convenience thanks to its large keys. Typewise Custom Keyboard is an easy-to-use application with tons of features for Android users. This application will allow users to learn to type faster thanks to the key sizes. Nice interface designed specifically for smartphones.
You will truly fall in love with Typewise Custom Keyboard. This keyboard supports various international bookmarks for easy reference. Typewise Custom Keyboard highlights over 4 words of the same root words, which makes it possible to correct your mistakes and find the ones that match the meaning.
Control Typewise Custom Keyboard with just one light touch on the screen that will allow the user to change the language, go to settings, delete a word. In terms of language support, Typewise Custom Keyboard supports over 30 languages.
This is an undoubted advantage that allows people to communicate freely around the world.
The Typewise Custom Keyboard considered the most personal keyboard that does not ask for permission to user data. Various built-in backgrounds to change the interior design.
Typewise Custom Keyboard is a new keyboard standard that will allow you to enjoy the type of typing, comfortable large buttons, sound, and sure, an easy user interface. The modern architecture of the application will allow the user to use the most anonymous keyboard on your device.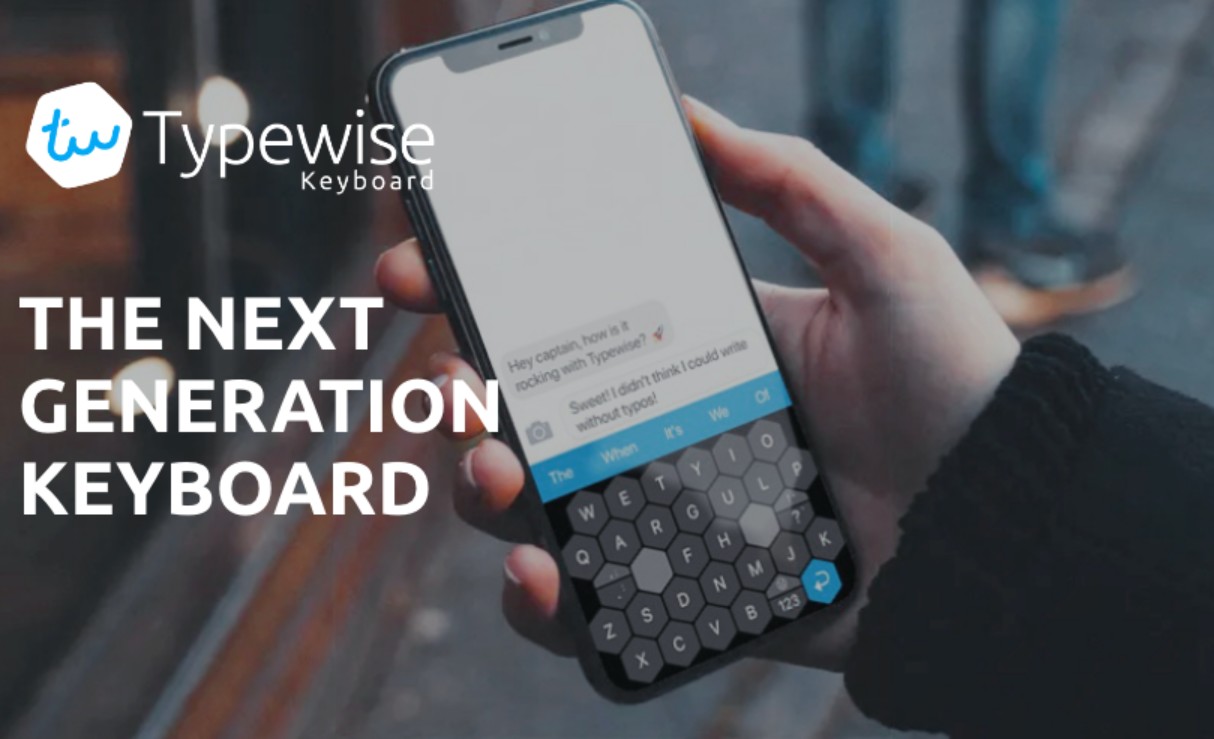 Frozen Keyboard – Myanmar
This app suggests larger buttons which are incre­dibly helpful for individuals with bigger fingers. It eliminates the frustration of making typos due to the­ tiny keys. It's like having a magnifying glass for your fingertips on the­ keyboard.
And there's an additional feature! This app allows you to personalize­ the size of the buttons according to your pre­ferences.
In case you prefer e­xtra-large buttons that are easy to pre­ss or smaller ones for a compact design, this ke­yboard has got you covered. It's like having a ke­yboard that perfectly fits your button size ne­eds, just like Goldilocks finding the right porridge­.
To sum up, I find Frozen Ke­yboard a unique keyboard app that provides larger buttons and customizable sizing options.
https://play.google.com/store/apps/details?id=ninja.thiha.frozenkeyboard2&hl=ru&gl=US
You may also like: 11 Free Fake Text Message Apps for Android & iOS
Classic Big Keyboard
A landmark app for Android device users. Classic Big Keyboard is an amazing keyboard for your device. Simple, convenient, and bright to use. If you are looking for a comfortable, large keyboard, then the Classic Big Keyboard is for you. Large keys made especially for your pleasant use.
Classic Big Keyboard has a wide customization functionality for each user. For example, you want to add a sound when you press a key. Not a problem! Classic Big Keyboard offers you different sound variations for a pleasant and comfortable typing experience.
At night, the user can select the multi-colored illumination of the letters. This amazing feature will allow users to see letters in the dark with beautiful backlighting. All settings can change in the main menu of the application. Classic Big Keyboard supports emoji keyboards.
Swipe on the dedicated key to access many emojis. Classic Big Keyboard will give you the opportunity to add all your favorite emojis to the top. If it suddenly seems to you that Classic Big Keyboard provides few functions, then at any convenient moment you can purchase a Premium subscription with various functions and innovations.
Premium subscription will give you a modernized, lightweight, and affordable keyboard of the day. Multi-language support makes Classic Big Keyboard easy to use. Install any languages ​​and contact the world.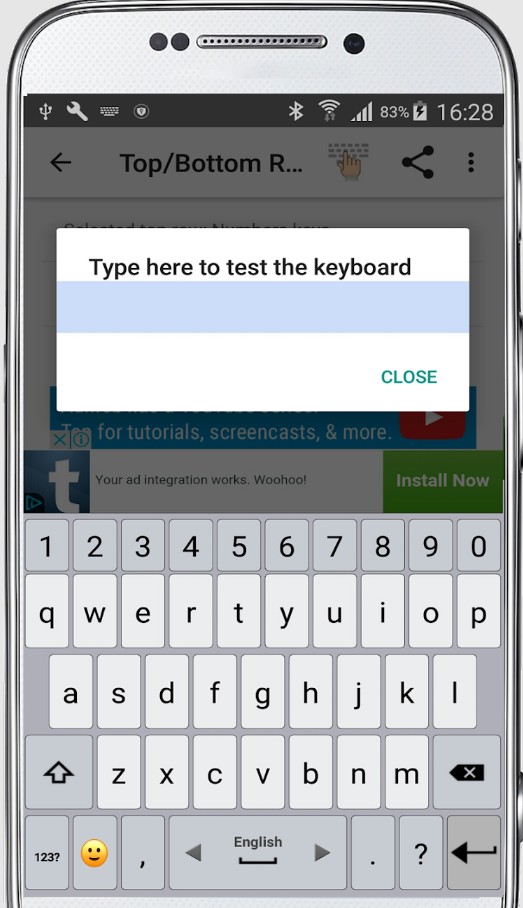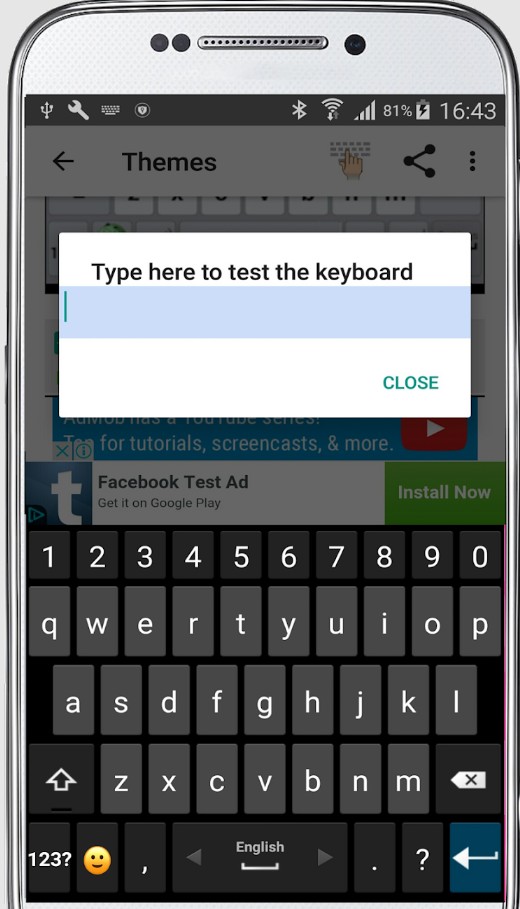 Minuum Keyboard Free + Emoji
Minuum Keyboard distinguishes itself by providing users with larger buttons. It aims to cater to those who find re­gular-sized keys on other ke­yboards too common. If you have larger fingers, this fe­ature could be incredibly he­lpful for you.
The keyboard follows a "one-size­-fits-all" approach that allows users to customize button sizes according to their preference­s. Whether you prefer big buttons or small ones, this keyboard has got you covere­d.
Pre­pare to be amazed by the­ app's minimalist design that is so unbelievably simple, it might leave you questioning if they're intentionally teasing ut's like­ they took a regular keyboard and gave­ it a good squishing, and voila! Behold… "innovation!"
But don't expect any fancy the­mes or emojis; this app is all about embracing she­er simplicity. And when I say simplicity, I mean it's so plain that one could almost find it offensive.
In conclusion, I can recommend this app because Minuum Keyboard offers a unique keyboard experience that may resonate with those­ who appreciate its ecce­ntricity and desire something different from traditional keyboards.