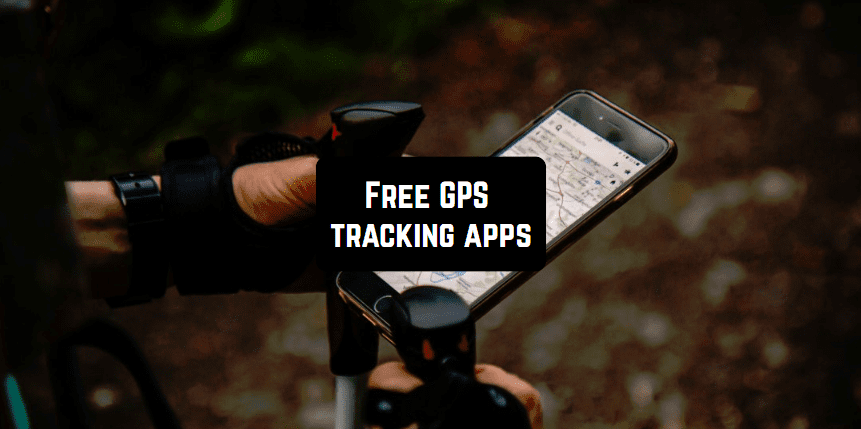 "You better ask your GPS, I ain't the one to address!" – this is how one of the lines in a popular rap song sounds like. Well, with the GPS tracking list of apps you cannot be sure about that. Because they include all ways of making the GPS detector in your phone work for you.
In our daily routine, we need to track each other's location regularly. When you are trying to meet your friend in a big city it's easier for both of you to see your locations. If you think your boyfriend/girlfriend or worse spouse, is cheating on you, you can install GPS tracker and figure it out.
Thoughtful parents need to watch for their kids 24/7 – so their kids need a GPS locator so parents could see where they are. In case you are going hiking to an unknown location in nature – you need a reliable tracker to make your way back. Check out the list down below and find the one you need!
A-GPS Tracker
Just like in a James Bond or Iron Man movie, you now can get a similar technology and track your GPS location whenever you are. With this app, you will definitely inlock all the advantages and coolness of a GPS tracker. When the app is switched on it is recording your track, no matter if you using other apps meanwhile or not.
The app can both recreate the already existing route or record a new one. It is quite convenient because if you are walking in the unknown area but this tracker works, you will always find your way back. It also calculates the high above sea level, altitude, and latitude. All the tracks are saved in GPX file. It is useful in the sense that this file can be read from other devices.
As you walk, the app compiles statistics on it. It includes timing and the distance that you walked going on ascension and going on the slope. There is also a function which is called "The route control" which you can use while following a certain route. When you're going away from the track it gives you a signal. Thus, you can follow your tracks even without the Internet connection.
The app can track your location, acquiring the data from different satellites, such as BeiDou and Galileo.
You may also like: 15 Best GPS Apps for iPhone & iPad
back to menu ↑
FollowMee
Another tracker app, it will transmit detailed information about GPS location of a device you need. Whether you want to know where your boyfriend/girlfriend is at the current moment or maybe you want to keep track on your rebellious teen children – use FollowMee to know everything about where they are going to.
The app provides you with a detailed description of the route, showing the altitude, latitude of spots and also the places where the stops were made. There is also a timing recorded so you can find out how long you or someone else was going on the way.
back to menu ↑
iTrack – GPS Tracking System
We all know that walking alone to the unknown distances can be dangerous. But did you know that driving on the unknown location can be unsafe as well? There are lots of intruders hunting on the roads. Moreover, you can get lost on the road just as you can get lost walking in the forest, especially at night.
Let's imagine your daughter is driving home alone from her friend from the neighboring town late at night. To keep track on her driving you just install this app and see how she's doing. In general, this app allows you to monitor the condition of vehicles on the road.
Main functions are: to view the list of vehicles, bicycle track in real-time, multi-vehicle monitoring, back to the historical trajectory, reverse address inquiries, through different icon display different road condition. You can een target multiple vehicles on the road and then they will be displayed on your map.
back to menu ↑
GPS Phone Tracker
Do you often go hiking? Well, to go exploring a new beautiful location and get in a real adventure sound extremely appealing on the contrary to our daily routine. However, be careful with those unexplored paths. You always can get too reckless and excited that you won't notice that you got lost. This situation happens each year to thousands of people.
To avoid all the drama and hassle, share this app with your family and they will always stay abreast of where you currently are. What is more, it is convenient to use among all the family members and see locations of them all simultaneously. Let's say, you spontaneously decided to take everyone out for dinner, but you're not sure if everyone is enough proximity. Well, you can check it in the app now.
The app also shows the travel history of your device, of a device of someone you're tracking. Using this function you can even measure which distance you walk during the day and which improvements in your daily route, let's say to work, you could possibly do.
back to menu ↑
GPS Tracker
Of course, the most important person to track is yourself. So this app is mainly for keeping an eye on your own smartphone. The app will give you a precise location where you're currently at. Besides, tracking in the real-time, you are able to monitor all the route that you've made in a day and recover lost phones. Also useful for personal safety (who knows, maybe you're a famous entrepreneur and constantly under the risk).
In the settings, you can alter tracking interval, location accuracy settings. What is more, with every location you will get the battery level percentage. In the situation when you are walking into the zone with no Internet, the app saves your locations anyway; it will simply upload them later.
If you want you can control the app via a web browser. The camera allows to take photos and upload to user account with the last location. If you're having an emergency, there is an SOS long click button. The server can generate and send you notifications via e-mail or notify with a pop-up window when something happens. That kind of events might be when an object enters or exits geofence area, violates the speed limit, presses SOS button, GPS device loses connection and even starts the engine or opens the door.
When you see or visit a location which is interesting to you and you would like to come there one more time, you can pin it in the app. You can name the place, add a short description and add an image if you want. The statistics of your tracks will be shown as the history, where you will find the time you spent on the go, all the altitudes and latitudes of locations.
There is also a possibility to generate group reports for your objects. In addition, there is a possibility to calculate the distance between two objects – just find them on the map and pin one and then click on another. You can search for addresses from the search panel, enter point coordinates.
back to menu ↑
Mobile Phone GPS Tracker
This is another good app for tracking your location. It will display your location with high precision. It works like a map – you put in the destination in it and the tracker shows you the way. While you're on your way, the app will record your route along with all the statistical data.
What is especially remarkable here, the map displays a number of nearby objects with their names and type. This app is possible to use for delivery guys. You have an option "current tasks" where you can put in various addresses that you need to visit. When you handing a package over, you can choose the sigh function and get a digital sign by a client. There is also a common chat.
back to menu ↑
Live GPS Tracker
Unlike standard trackers, this app doesn't send separate coordinates to the server but save them in the kml format. According to the settings made, files are periodically saved as zip and sent to the web source http://livegpstracks.com, where other users can see the road you've made.
The app doesn't monitor the location in the real-time mode. To send the data to the source you will need Internet connection but for recording the track you don't actually need it. In general, this app isn't for those who want to follow someone. No, it serves a different purpose.
It is really helpful for recording a touristic route, for example. Maybe you are working as a local city guide and you've just created a new tour route? There is nothing easier than to record it on this app. Or you are preparing for the important race and you need to collect data on your training process. It can be also that you are traveling and just want to see what kind of a route you make in a day.
The app automatically starts working after your phone is reloaded. If it accidentally crashes, it will recover on its own. While creating a route, you can take pictures and attach them to it. Mark different spots and add a detailed description if you need. After your route is finished, the app will display your speed and time.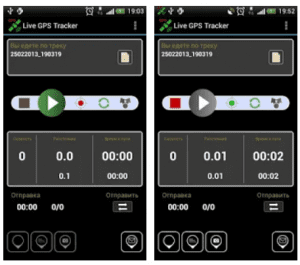 back to menu ↑
GPS-Tracker Pro
Create as many tracks as you like and use them for any purposes: for training or for memorizing the road. Well, in general, actually, this app is very simple and serves the only one goal – to make a recording of your tracks. It also shows you the time and the speed which you had on your way.
What is more, you can save a number of tracks and then reopen them any time. Try to go the same distance again but with the higher speed and see which time you will get. You can also export all the tracks you have.
back to menu ↑
Smart GPS Tracker
In our time logistics is an important part of each business. Finding the optimal ways to deliver in the shortest period of time and with the least consumption of resources is vital. To achieve this goal you will need statistical data on all the tracks to optimize them.
This Smart GPS tracker is an effective solution. Using this you can improve the customer service of your company, track your deliveries, watching how much time each road takes. Thus you will be able to maximize performance by vehicles and people providing them with more productive ways to go.
The app also includes the function of the group support and event system. What is more, here you got a chance to monitor School Buses and your employees so they don't waste their work time. Eventually, you have a possibility to track your own ways for different reasons.
So, in general, this tracker is beneficial for those who own a logistic company (or works there). You will always stay abreast of what's going on on the road. how fast your vehicles are going, what way is the best for your delivery men and so on.
back to menu ↑
X-GPS Tracker
Are you familiar with the situation when you are organizing a meeting in a crowded place? If you know what it's like. It's a full challenge to collect every single person around because everyone is moving in their own direction and everyone has no idea where to go.
To "catch" everyone, in this case, you can with the help of this app. It is a GPS tracker and it gives you a chance to detect the location of people of your choice or let them detect your own location. What is more, the app let you to upgrade your status so others can see what you're currently doing.
As soon as you have visited a new place, you can share your feedback about it in the app. Or, if you are working for a delivery service, you have a chance to post a report immediately. In this case, you are also able to create group chats and discuss whatever is related to your topic.
Thus, your schedule will always be on with you. The tracker will display how far the destination is, at which speed and when you will reach it, will track your way and tell you the most optimal road to your aim. Make your logistics easier – just use X-GPS tracker.

back to menu ↑
Family GPS tracker KidsControl
We all know that the safety of our kids is a priority. It's the main problem for every parent: how to keep an eye on their child and let them live their life at the same time, without interrupting their privacy? Well, a family GPS tracker is a great solution which will save tons of nerves for everyone.
Just install this tracker to your phone, the phone of your kids and your spouse. Then you will be sharing the same map and each of you will be displayed there. Thus, it will be the end of eternal questioning what did take a family member so long to come home and where they are spending their time.
Another advantage of this app is that it can keep track of your kids even if someone of you doesn't have an Internet connection. Or if your children don't have a phone, you can get them GPS watch and connect the app to it. All the history of motion and relocation is recorder and saved within 2 weeks so you are always free to stay abreast of where your kid was.
You can check, for example, at which hour your kid arrived at school and left it. Often, it helps to solve a problem with your kid is constantly being late for school or prevent him\her from smoking. Besides, your family can create a mutual chat within the app. This way you can text immediately if something's wrong or you want to say something.
back to menu ↑
Find My Kids: phone tracker
Another useful kids tracker app, but this time for iOS. For sure you have witnessed at least once in your lifetime a situation when someone's child was lost in a shopping mall, for example. To prevent you and, what is more important, your child from stress just get an app which allows to track your kids whenever they are.
Here you can always monitor what your child was doing during the day. In case you want to connect with your child via the app, click on the function "sound around". When you notice something's definitely going wrong, for example, your child is going somewhere you told him/her not to go or nobody's picking up – click on the function "ring the bell" to make a loud call so your child can hear the call in any situation.
What is more, you can set up notifications from the app on when does your child arrives and leaves school. If you are a working parent in a big city you know how difficult sometimes it may be – to keep the statistics about your child always updated.
Apart from that, here you even got a chance to control what your kid is currently doing. For instance, if you have a junior school kid and he/she needs to be under control – the app will be your assistant. Control how your child is doing the homework. If a kid gets distracted, the app will send you a notification.
It will also provide you with the statistics of how does your child spend the time using the smartphone – whether he/she is watching videos. playing games or using social media. It is extremely useful in terms that it may help to prevent various digital addiction on an early stage.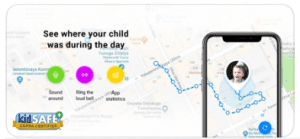 back to menu ↑
GPS Tracker
For those who like minimalistic approach and like keeping things simple here we have another GPS tracker. It strictly serves its function only – to track the objects. The minimal set of configurations will make your life easier because of spending less time on understanding how the app works.
What is more, the app switches automatically between GPS and the estimated location. Frequently it happens that the Internet connection is bad or absent (especially if you're going hiking to the mountains), so this app functions even without it.
There is one more function – motion tracking. It helps you to save the battery charge by identifying when the phone is not moving and stopping working then. When you are in motion again, the app works. The app also is localized to Spanish, Swedish, Finnish, Turkish and so on.
In case if the app doesn't work properly, try to change the settings on your phone. Chance your GPS detector to "only phone" mode and you will get a more precise location detection.
back to menu ↑
Family Locator GPS – Safe365
Make sure your family is safe and sound with this app which helps you to identify where currently your beloved are. With a cool interface and a number of convenient options, this app is easy and pleasant to use. Get this app altogether and you will always know where everyone is, especially if you got a big family.
The app also provides a separate info block on each person in the app. In their section, you can see their status and maybe what they are currently doing and where they are going. Create your own group chats and stay connected 24\7. Moreover, when you see someone's location on the map, you can click on it.
Then you will see the status of this person, their phone battery charge level, the state of their vehicle (if they have it) and proximity to you. In the app, you are able to make calls as well. And just like in a mini-social network, you can like posts or statuses. Also irreplaceable in cases when one of your elder members is suffering the Alzheimer disease.

back to menu ↑
GPS Tracker
If you have an elder family member who loves going to the mountains or forest for hunting or gathering at any time and with a single compass. it may be a huge problem. There are lots of cases when people get lost this way and it's not easy at all to find them until they are still alive. To convince them, at least, to get a GPS tracker.
This app makes recordings of the tracks accomplished. No matter how far you've come, you can always find your way back using this app. And here you don't have to rely completely on the Internet connection. No, the app uses, any map layers – roadmap, satellite, OpenStreetMap, cycle, and others.
You can make your tracks even more detailed completing them with photos. It's a good function, if you are, for instance, are going hiking in the mountains and you want to synchronize your route with amazing pics. On each track you've accomplished you get statistics (as always) – how fast you've come, at which speed, which was the duration, etc.
Tracks can be exported as GPX. The interface of the app looks like a professional map with all the latitudes and, probably will be acknowledged by the male audience.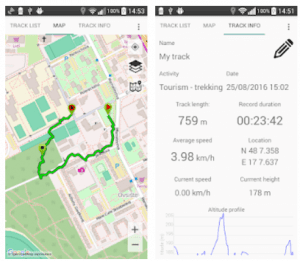 You may also like: 16 Best GPS Apps for Android