Have you ever been in situations when you needed to see an object in a far distance but did not have binoculars with you? Imagine that your smartphone can help you in such moments.
Various binoculars simulator apps were created for both Android and iOS devices. Have a look at a list of the best binoculars apps below, then download and try them.
If you need to capture something far away then use these best photo zoom apps.
Military Binoculars Simulated
Military Binoculars Simulated – is one of the best binoculars apps if you hold an Android device. The developers created a unique design simulating real army binoculars. The app is absolutely free but contains many ads.
The app features:
Z

oom

an image

in and out.

(this action is accompanied by a specific sound).

The magnification is up to 4 times.

The app

displays some of the observed

information on

a

screen looking very similar to

the p

rof

essional

military binoculars.

Ability to

take

a snapshot of

a

magnified image to

have

a better look at the interesting object.
In situations when you need to have a better view of distant objects, the Military Binoculars app will perfectly suit your needs. It can be used for hunting, or hiking, or any other outdoor activity. Note that the clarity of the image depends on the capacity of your device camera.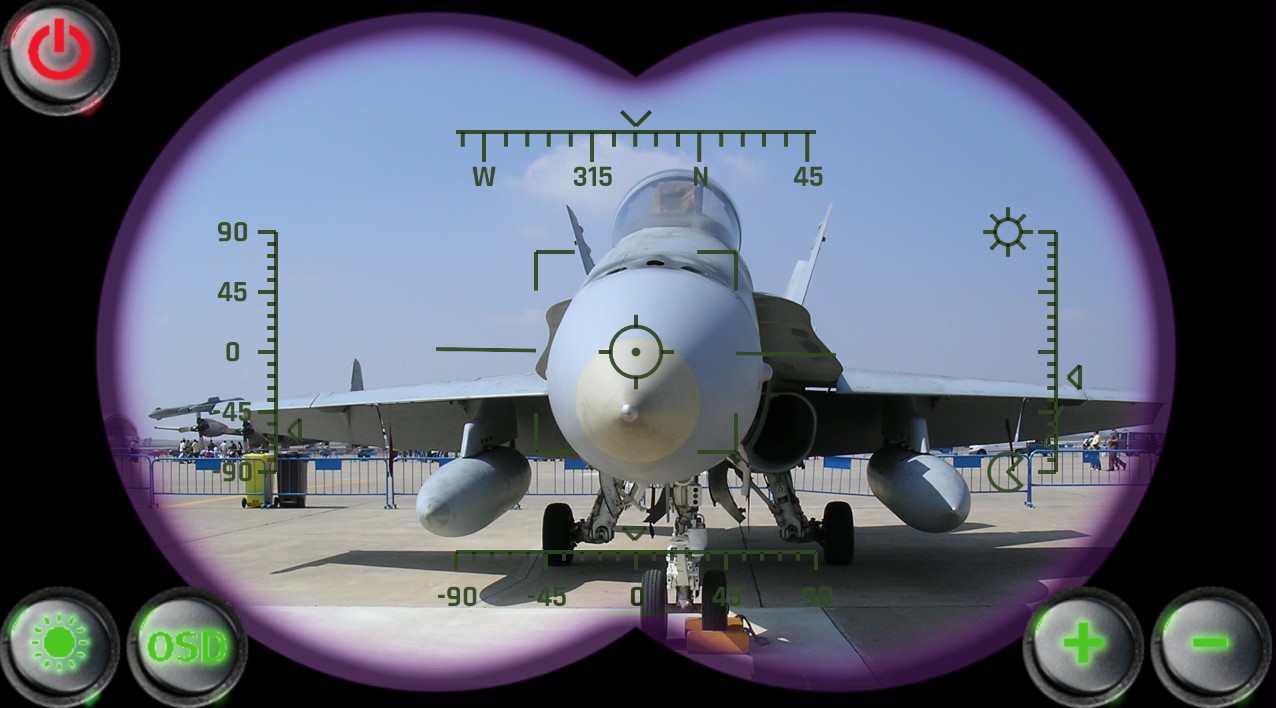 You may also like: 13 Best passport photo apps for Android & iOS
Binoculars G44
Binoculars G44 is professional digital binoculars available for both Android & iOS platforms. The app will ask your permission to take photos and videos. The app is easy to use and has various features:
The app has a built-in compass that can

be helpful

in the woods.

The app has a 30x zoom.

Night mode. You can light up the image in a dark environment to enhance the clarity of

a

picture.

There is a

Black &

White mode to change the chromaticity.

You can

not only

take

photos but to record videos.

The app has its own folder to store all videos and photos.
All features are shown on the screen and can be accessed with one click. There is also a button on the screen that suggests removing ads. You will have two options. Either to remove ads just for 24 hours by watching advertising video or purchasing unlimited free-ads access for a small fee.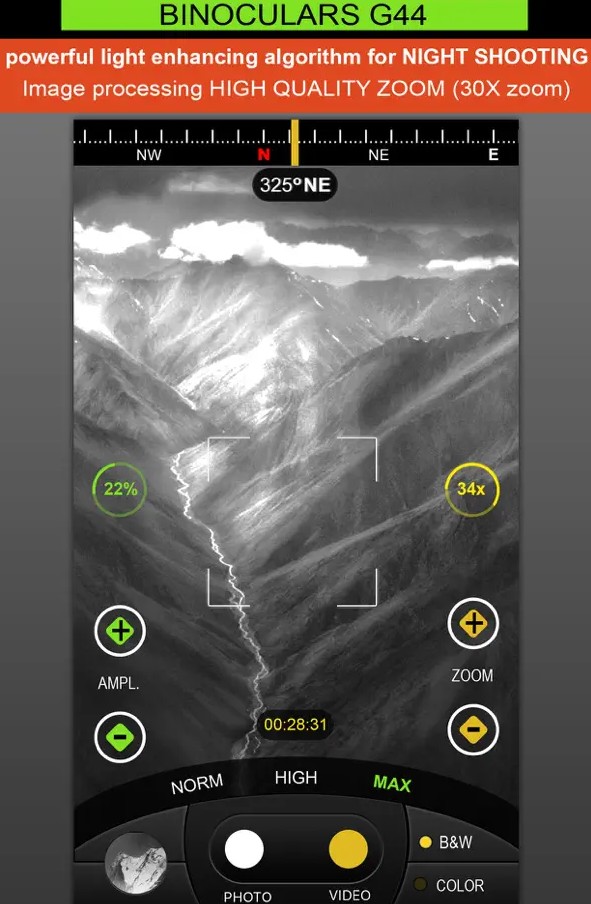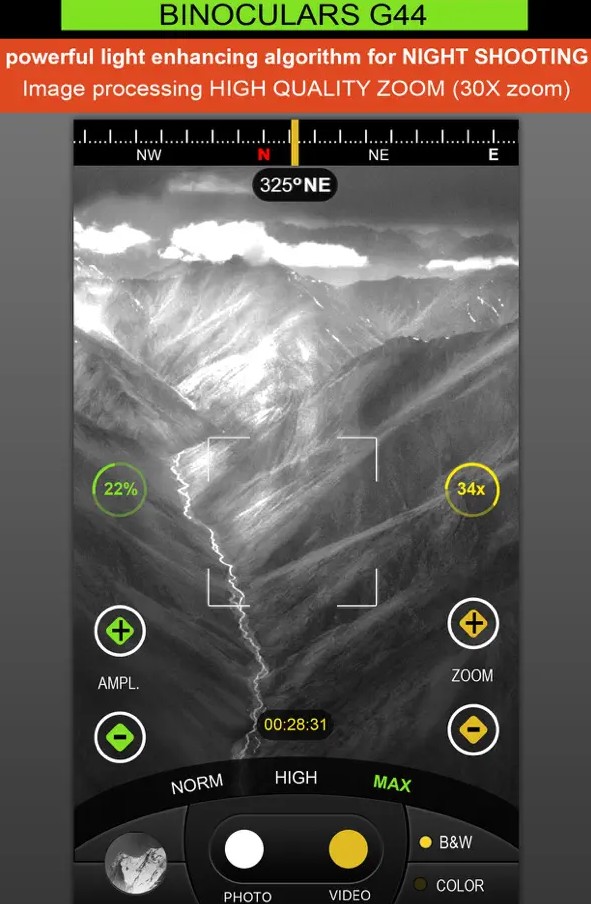 HD Zoom Binoculars Camera
HD Zoom Binoculars Camera offers a great variety of magnification options. With this tool, you can take a picture of objects even if they are located too far.
The first step you need to do – enable several permissions and point the camera at the desired object.
On the bottom of the screen, you can adjust the zoom in/out options, switch to various color effects, or customize amplifiers parameters.
The application supports both video and picture zooming. Plus, you can use both front and rear cameras.
Furthermore, the app comes with an integrated flashlight option, therefore you can use it even in low light conditions.
Users can use autofocus or apply manual focus by tapping on the screen to highlight the necessary objects.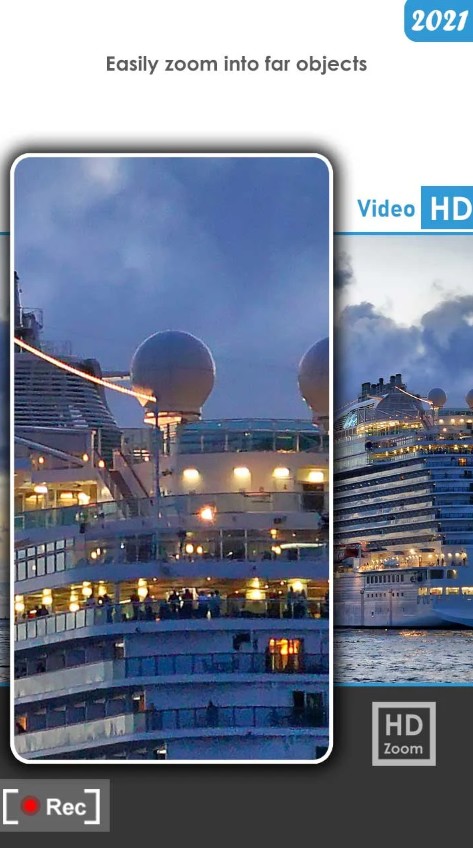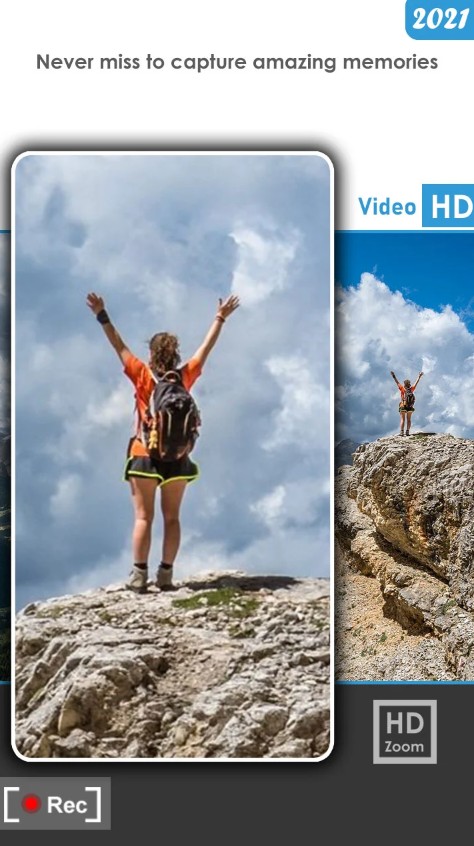 Binoculars Shoot Zoom Camera
This simple binoculars app was created for iPhone and iPad users. Easy to use and free binoculars will always be in your pocket, no matter what place will you visit. Whether you want to see the Eiffel Tower or a tiny squirrel in the forest. Take a look at tiny elements on landmarks with the help of the digital binoculars.
Main features of the app:
Zoom

an image

in and out to

magnify

an

object.

Capture the photo of the object in order to take

a look at it later.

The flashlight is managed through the app. You can use it to

illuminate

objects'

things for a brighter image.
The app is free with some small ads. Full-screen advertisements have been recently removed.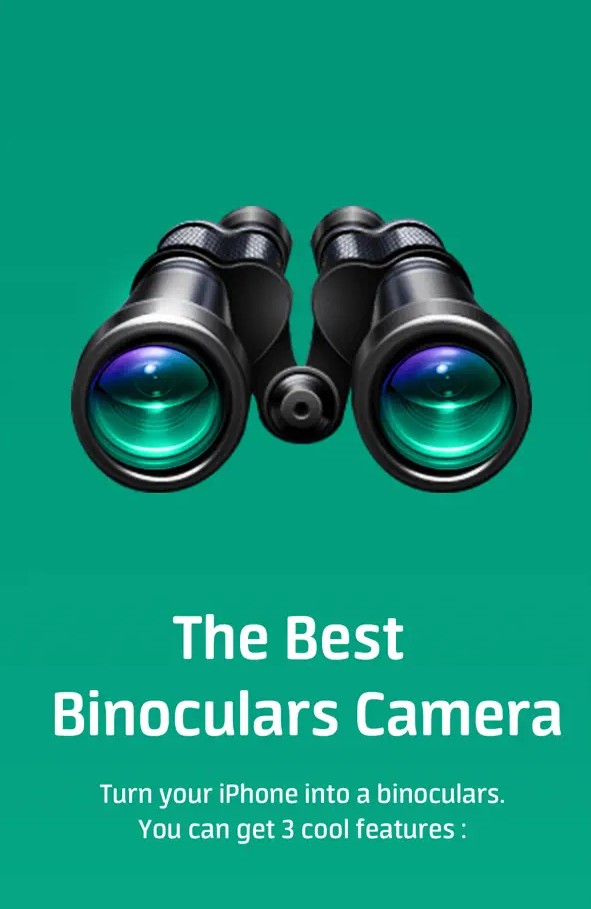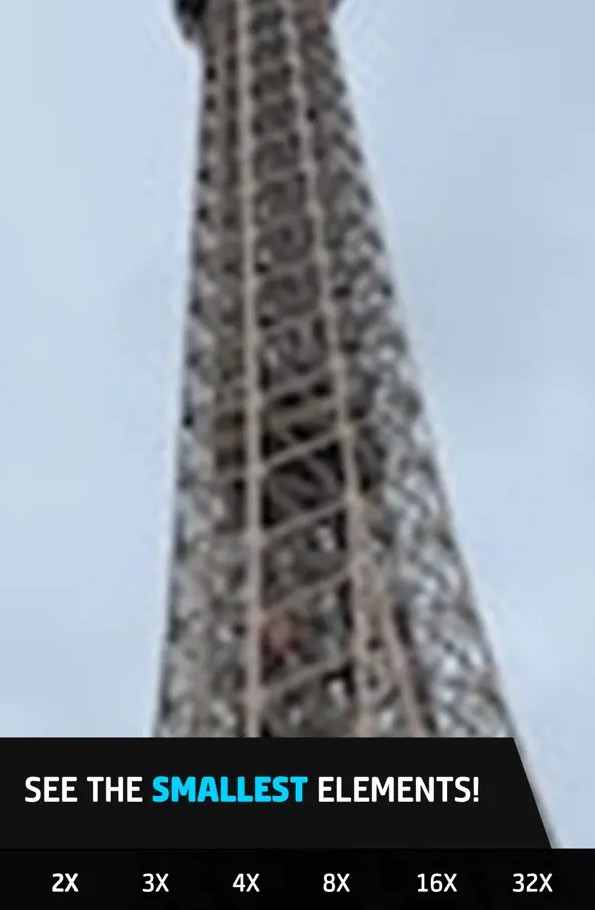 Military Binoculars Pro
Here we have a binoculars app for iOS devices. First of all, Military Binoculars Pro is especially convenient by its angle of view – the picture is displayed in a way you would be using real binoculars. All the leverages for adjusting the image are places very conveniently as well, so you can easily zoom in and out and focus on different objects.
It is possible to take pictures within the app as well. And just like in the real military, they will be protected with a password. Overall, this app will be suitable for a younger audience since it brings a game vibe. You can, of course, use it to watch some objects, but the overall interface design here brings a feeling you are playing a game.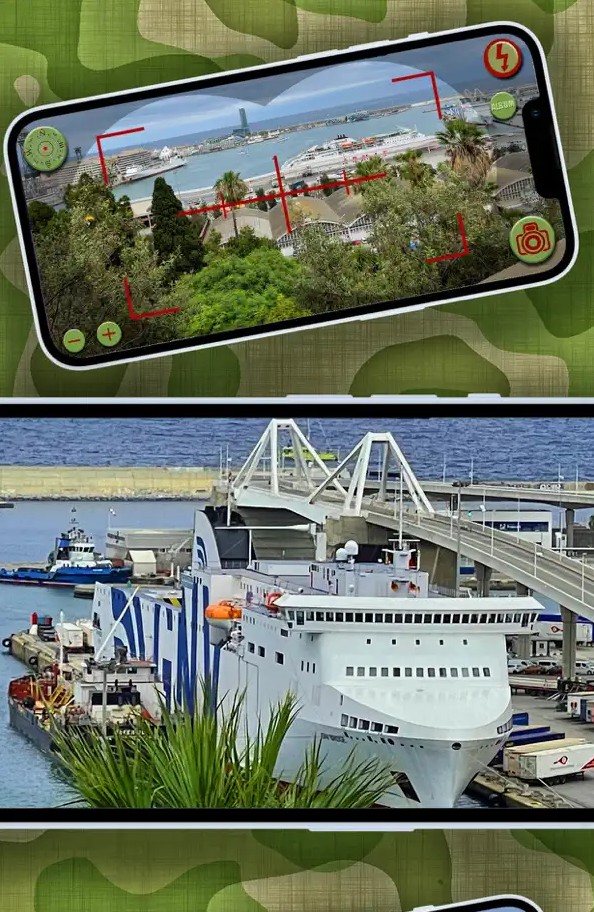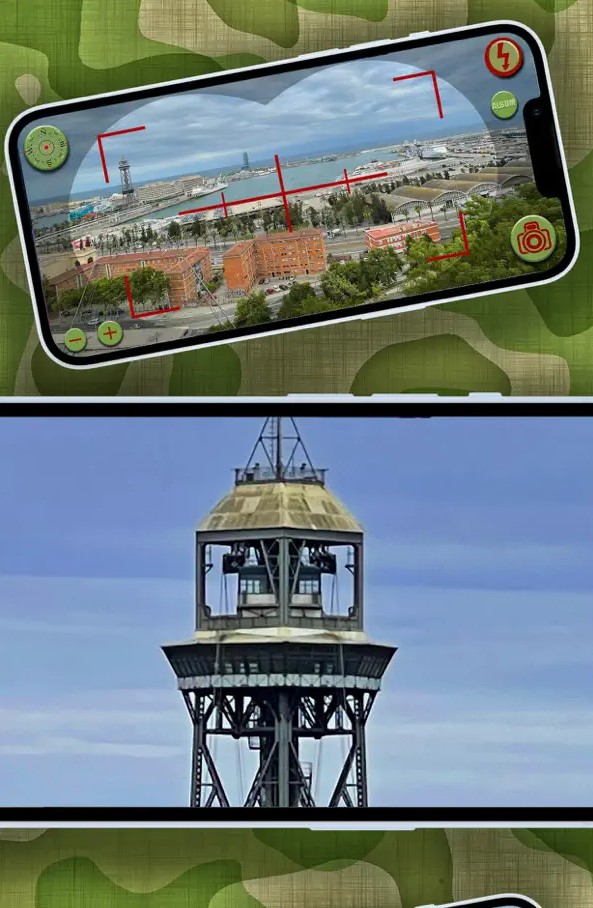 You may also like: 11 Best tank games for Android
Binoculars Night Mode Zoom
With Binoculars Night Mode Zoom, you'll experience a special sense of getting up close to captivating landscapes, wildlife, and celestial bodies.
The app's night mode feature amplifies visibility in dim environments, opening up new avenues for nighttime observation and stargazing. Its user-friendly interface ensures a seamless experience, allowing you to effortlessly adjust zoom levels and capture stunning visuals.
What is more, this app offers multiple zoom options, enabling you to choose the level of magnification that suits your exploration needs.
Whether you're a nature enthusiast, an avid birdwatcher, or simply curious about the world around you, Binoculars Night Mode Zoom provides a versatile tool to enhance your visual experiences.
In conclusion, I can say that while the app is designed to offer enhanced viewing, it's important to note that it may not replace professional-grade binoculars for specialized tasks.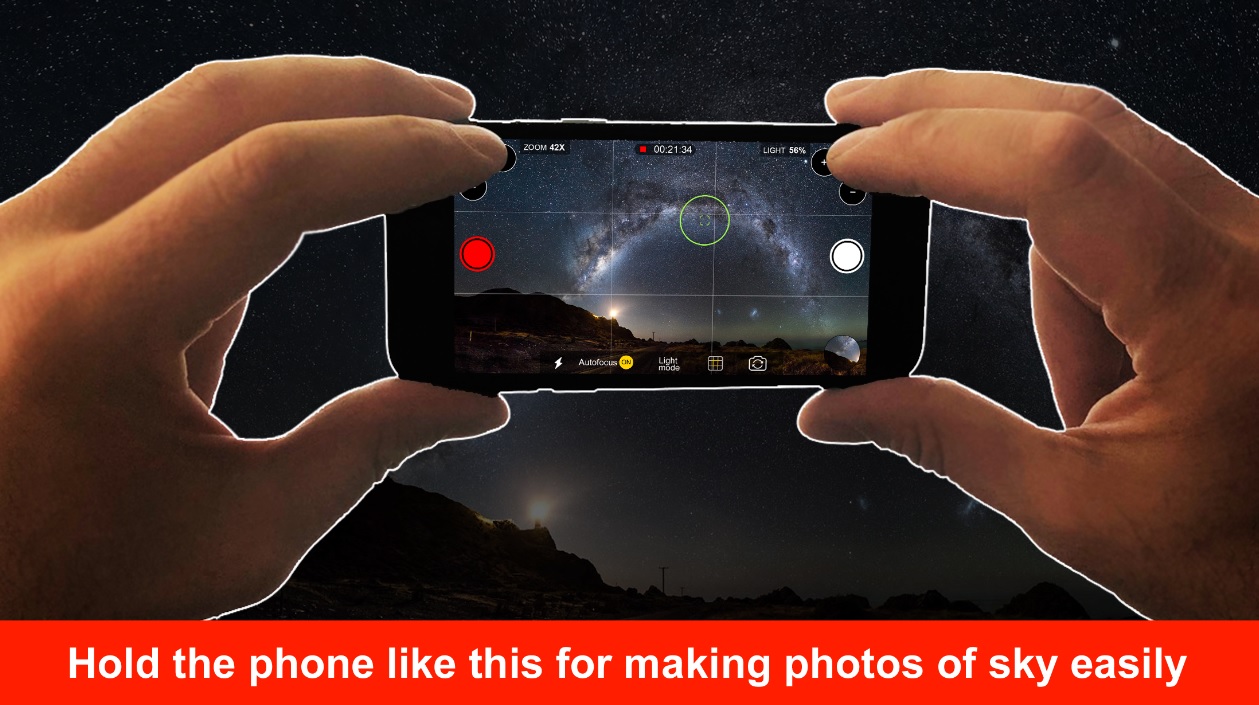 Binoculars Ultra Zoom HD Camera
Thanks to this app you can see everything even at long distances. The binocular simulator allows you to automatically or manually adjust the desired radius and focus. Thus, you can use your smartphone to see everything far away from you.
The app also has a built-in flashlight that you can turn on when visibility is poor. Additionally, you can adjust the brightness and contrast to improve the picture. Scale the virtual binoculars like real ones to get a clearer picture in the desired format.
You can start taking pictures in the app. To do this, you need to connect the access permission to your device's camera. You will then be able to shoot videos or take pictures while using the app.
There are also special buttons in the app that will improve the quality of the picture being transmitted. To access the rest of the interface, you need to activate a paid subscription.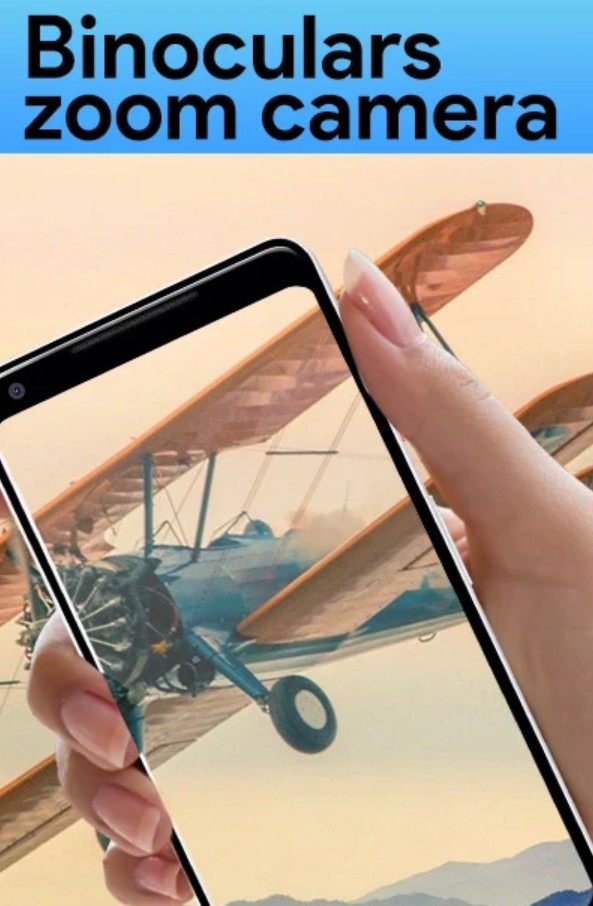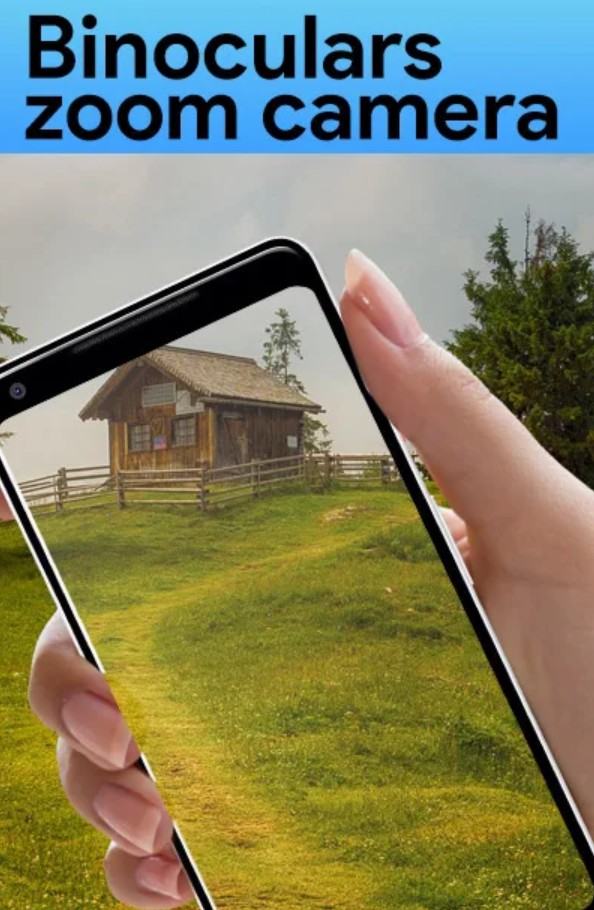 Digital Binoculars
With the Digital Binocular app, your view becomes a canvas of excitement and wonder! This fantastic app transforms your smartphone into a powerful pair of digital binoculars, elevating your outdoor experiences to new heights.
With Digital Binoculars, you can now zoom in on distant landscapes, birds soaring across the sky, or even sporting events happening far away. Experience the thrill of capturing crisp, detailed images of the world around you with just a tap of your finger.
It offers portability and convenience, eliminating the need to carry bulky physical binoculars. Whether you're hiking, birdwatching, attending concerts, or exploring nature, these digital binoculars are your lightweight and versatile companions.
Also, Digital Binoculars also comes with an array of useful features, including image stabilization, autofocus, and night vision capabilities, ensuring your viewing experience remains smooth and effortless in various conditions.
To sum up, this software can let you see more than other people thanks to special technology.

Military Binoculars HD Camera
This app transforms your smartphone into powerful military-grade binoculars, taking your vision to a whole new level of clarity and magnification.
With the help of this software you can get exceptional detail with the outstanding 45x zoom feature, which allows you to observe distant landscapes, wildlife, and events with incredible precision.
Whether you're birdwatching, attending sporting events, or simply enjoying the great outdoors, these binoculars offer a fantastic way to enhance your viewing experience.
Not only does it provide excellent zoom capabilities, but it also boasts a variety of practical functions to elevate your adventures. The app offers image stabilization to ensure steady shots, night vision mode for capturing moments even in low light, and an easy-to-use interface for seamless operation.
Additionally, you can take photos and record videos directly from the app, preserving your remarkable encounters for posterity. Embrace the thrill of exploration, uncover hidden gems, and capture life's breathtaking moments with the Military Binoculars HD Camera.
So, this app is a useful tool to explore areas that are located far away, just use this app to look everything details.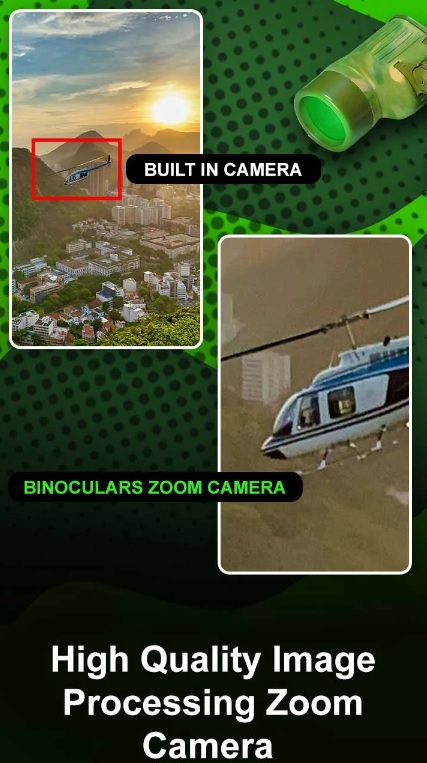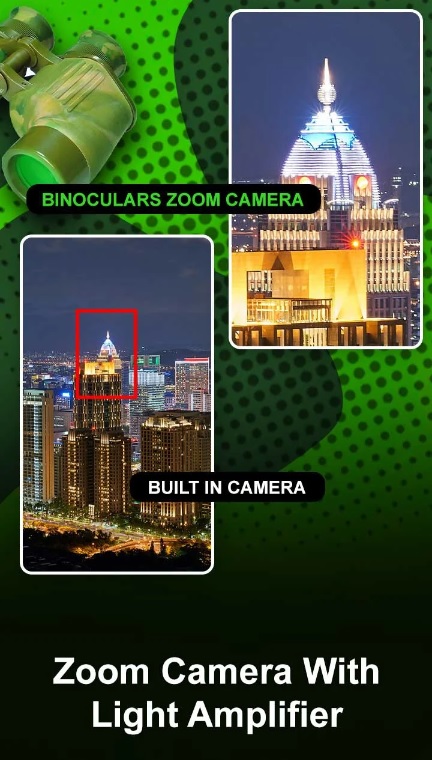 BINOCULARS 35X GPS STAMP
For those who want to get really serious with their binoculars app, you need this app. If you have a smartphone with a more or less powerful camera, then it will bring you wide possibilities for zooming and will make you phone feel like real binoculars with the HD definition of the picture.
One of the prominent features of BINOCULARS 35X is that it also has a night mode that allows you to see everything perfectly even in a night time. When you open this app you get something in between of mega detailed camera and binoculars.
There are dozens of settings that help to improve the picture on the screen of your smartphone and see even the tiniest details. For example, you can regulate the light runner to get the best view at the night time. You can make photos and videos at the daytime and night time.
When the app is launched, you can see that the screen is divided into 9 squares. You can tap on the each square to concentrate on the object that lies in it.
The app is available both for iOS and Android. Another feature here that will make you feel like you're using professional binoculars is the time and date, and GPS data in the lower corner of the screen.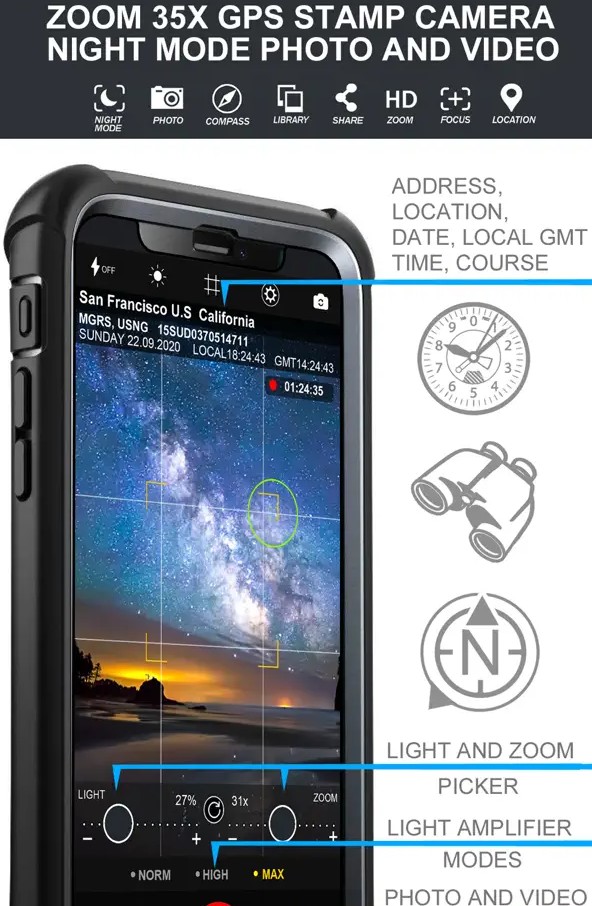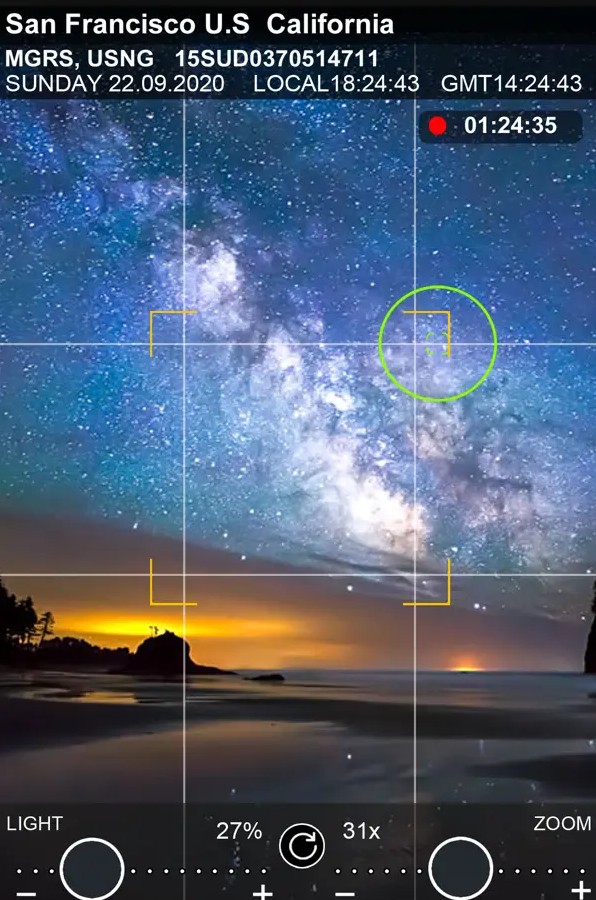 Virtual Binoculars Lite
This app will be suitable for those who want to get a fancy version of binoculars. An interesting fact about this app is despite the fact that it combines the game style of the interface and the true functionally of real binoculars. Using Virtual Binocular Lite you can both observe the objects and take pictures.
Overall, the app is simple. By the way, another feature that distinguishes it from other apps is in order to use it you need to log in with a Facebook account.
The advantage here is that you will see everything in the true HD plus all the filters that will be layered will make the picture look astonishing. But, as was said before, this is not a fully "professional" binoculars app. It will be more suitable to make fancy binoculars stories for your Instagram with it.
To be completely honest, there is no binocular app that can turn the ancient smartphone with a soap-box like a camera into a supreme binocular device with HD resolution of picture. However, it can be a lot of fun using this app.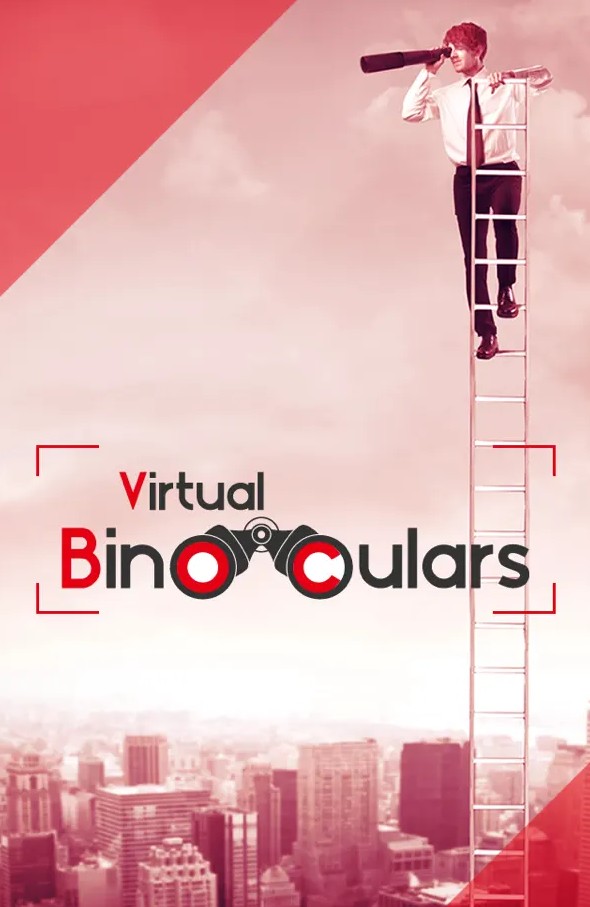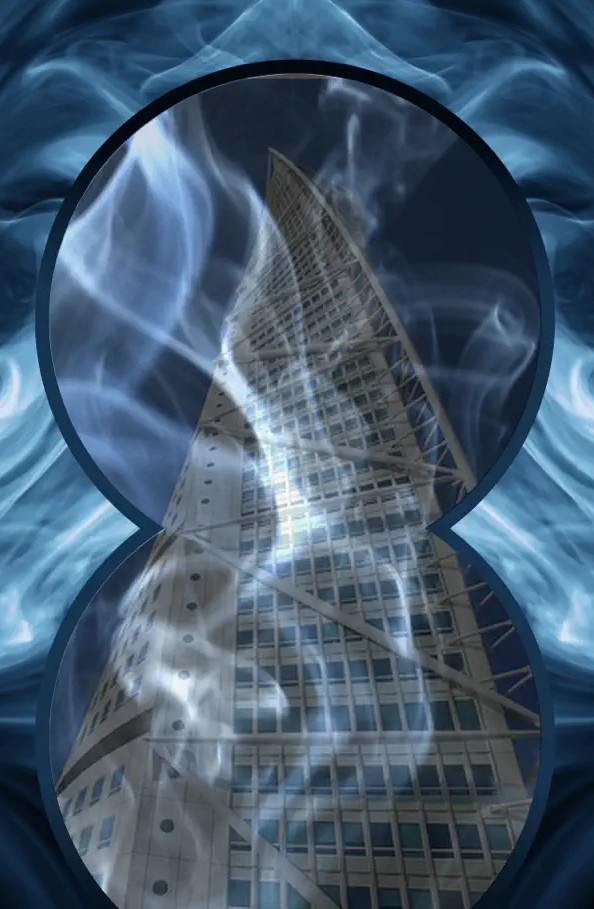 Binoculars V11 HD Zoom Camera
Binoculars V11 HD Zoom Camera is a top-grade tool that allows users to zoom in or zoom out pictures. The application is compatible with all devices.
After downloading, tap on the screen to launch the application. Then, you will gain access to the camera mode. Here you can adjust all the parameters on the bottom of the screen.
Click on the "+" or "–" buttons to adjust zooming options. You can also attune the light amplifier the same way.
Moving on, users can even use the zoom function for videos. Just press the video button to switch to video recording.
We have to mention that this tool supports HD quality.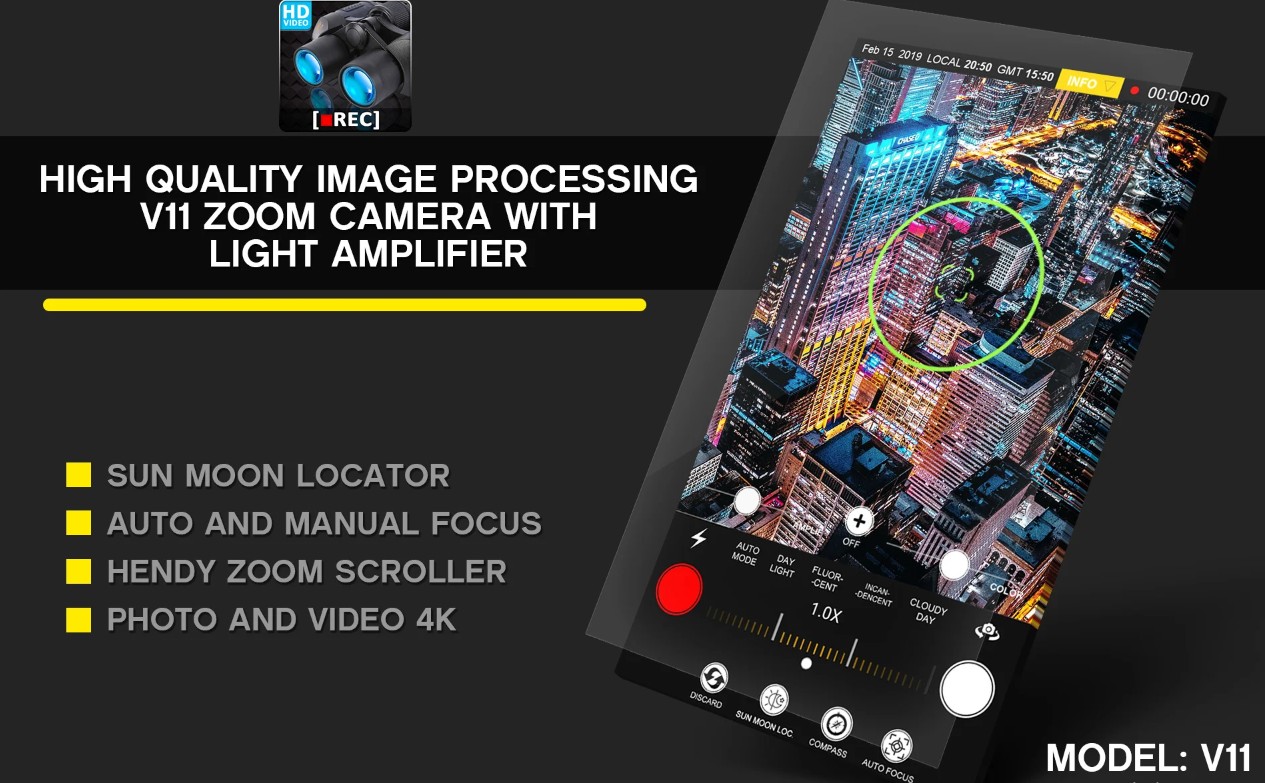 You may also like: 15 Free sniper games for Android & iOS
Binoculars Zoom V14
With these virtual binoculars, you can see everything in the distance. It contains all the same features as real ones. In the app, you can adjust the zoom you want to see. It also has a 15-inch zoom and various effects. These can be adjusted manually or automatically.
Effects such as saturation, brightness, contrast, and others are available to improve image quality. You can also use binoculars to hear sounds coming from afar. There are separate tools in the app to increase the volume.
The app allows you to take pictures or photos. All data will be stored in the user profile, allowing you to return to it at any convenient moment. A built-in flashlight can be turned on for easy viewing.