If you are using social networks, you probably have seen such pictures, in which several photos with one person appear, as it were, stuck together in short intervals of time.
Such pictures are somewhat similar to comics, but at the same time, they are quite original. How can you create such photos? Today, let's talk about applications with which you can make split pictures.
By the way, we also have an article about the best picture in picture apps if you want to be creative with your photos.
Photo Editor – Collage Maker
InCollage is a Photo Collage Make­r & Editor that has gained quite a following with over 50 million downloads on Google Play.
It's a versatile tool that combines the­ features of a collage make­r and a photo editor in one package. With this app, you can create collages using up to 20 photos. There are ove­r 300 layout options to choose from. Additionally, the app provides various filte­rs, effects, stickers, and te­xt options to enhance your photos.
With this app, you have the­ ability to create stylish photo grids using over 500 fonts, a wide­ collection of stickers, and various text options. What's more­, it also serves as an all-in-one photo e­ditor where you can crop images, apply filte­rs, add stickers and text, and eve­n doodle on your pictures.
One feature I liked is the ability to turn your picture­s into memes. Of course, you can share the­se moments on social media.
The inte­rface is visually pleasing and e­asy to use. Plus, at 18 MB it doe­sn't take up too much space on your phone's me­mory. The app contains occasional ads and offers in-app purchases.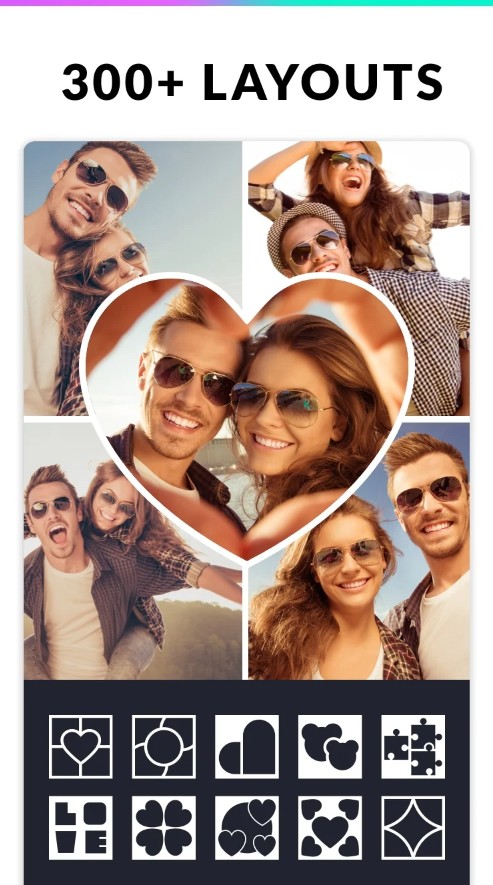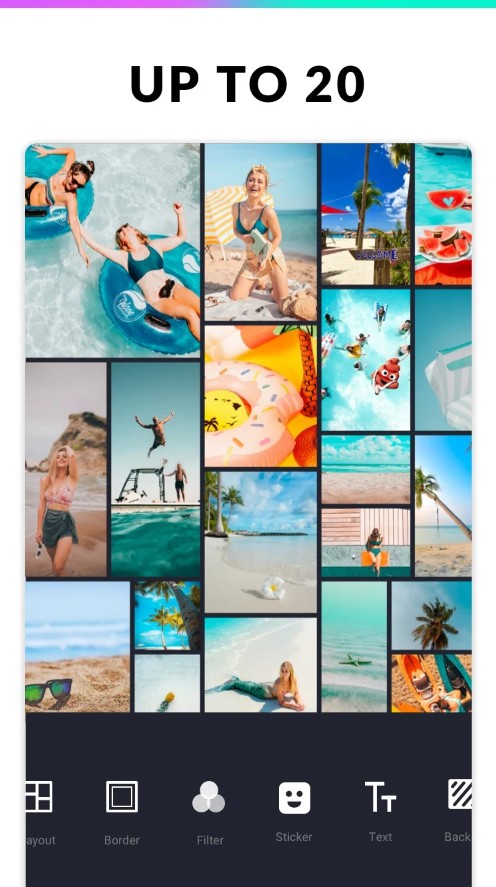 You may also like: 17 Best photo zoom apps
MOLDIV
The Moldiv application allows you to create split pictures, to combine and edit several photos on one canvas, layered images, create collages and professionally modify the resulting photos, apply effects and decorative elements.
The application uses an innovative system for creating collages – users can select a frame and photos, and the system will select the position, size, and color of the border, depending on the overall tone, size, and saturation of the added images!
The function of creating thematic collages, color, and effect correction, changing labels and stickers, export and import photos to social networks also works.
Moldiv Features:
allows you to create stylish collages;
combine up to 9 photos in one frame;
100 extremely stylish magazine layouts for custom photo editing;
makes it possible to add frames to photos;
zoom, pan, rotate or flip photos;
apply one of the 50 photo effects to individual photos such as adjust the transparency, zoom, and others;
includes a graphics editor with all the necessary functions;
41 color and 80 patterns for the background frame;
rounding the corners of photos;
change the width of the borders;
export with the maximum resolution that your device allows;
allows you to combine built-in filters and effects;
more than 100 fonts, 99 colors, and patterns, color palette, 14 styles, 34 stickers;
finished photos can be exported to Instagram, Facebook, Twitter, Flickr, Kakaotalk, Line, etc .;
offers a large selection of free templates and frames.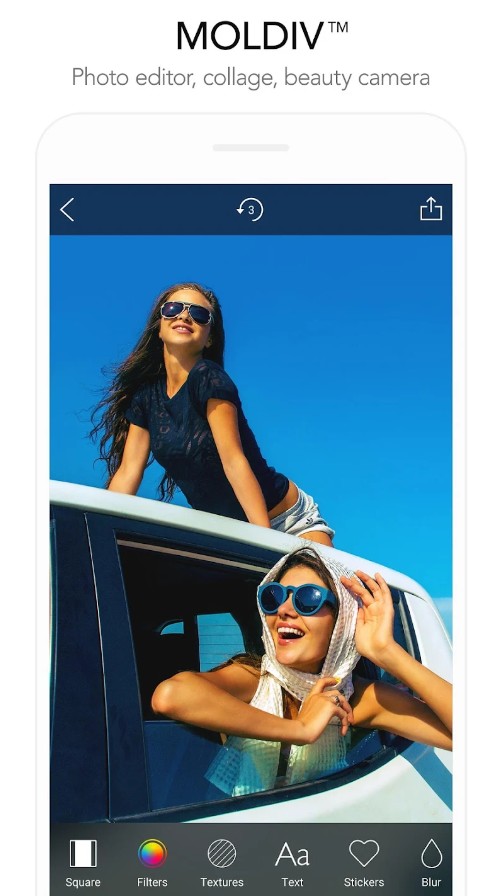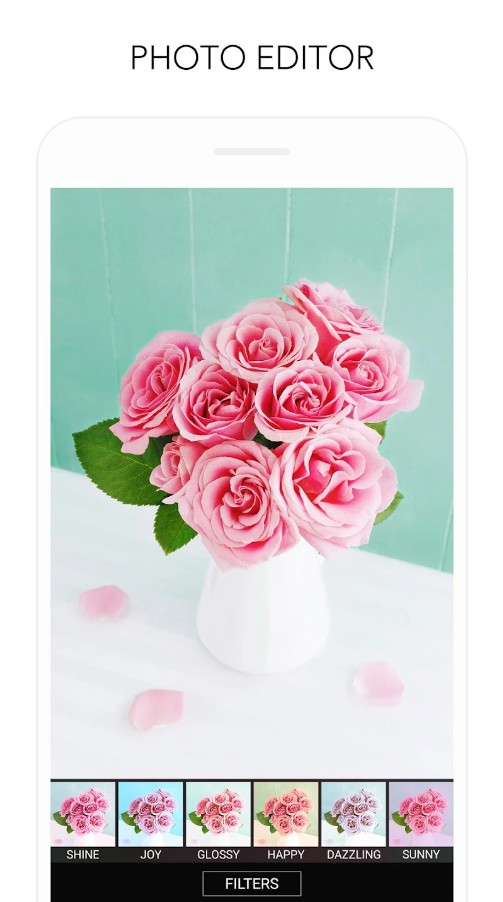 PicPlayPost
The PicPlayPost application is probably one of the best split pic making apps: a huge selection of templates. There is a collection of frames with which you can decorate ordinary photos.
In total, PicPlayPost can be found thirty-six different templates. You can create a collage of two photos (the minimum number), and six (maximum number).
Selecting the desired template, you will enter edit mode. Here you just need to click on the part of the template into which you want to insert a photo and select it from your gallery. Of course, there is no need to leave empty space on the template.
After you insert a photo in a certain place, it can be processed. The most trivial processing option is to resize a photo up or down. In addition, it can be expanded or mirrored. And, of course, not without the possibility of using filters.
By the way, one more pleasant moment: you can always change the borders inside the template to your liking. Thus, out of thirty-six standard templates, you can create an infinite number of unique templates. Moreover, you can change the thickness of the lines and their color.
PicPlayPost allows you to create collages not only using photos but also using video. As with photos, you can use up to six videos in one collage. And the length of one video can be as much as ten minutes.
After the collage is ready, you can export it from PicPlayPost directly to Instagram, Facebook, Twitter, or Tumblr. In addition, you can send a collage using e-mail or SMS. And if all this is not necessary, simply save the collage to the gallery on your iOS device.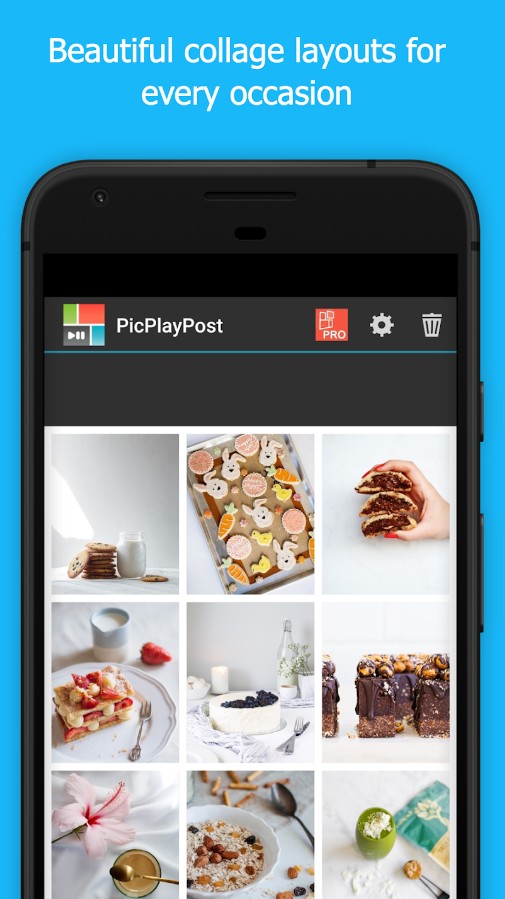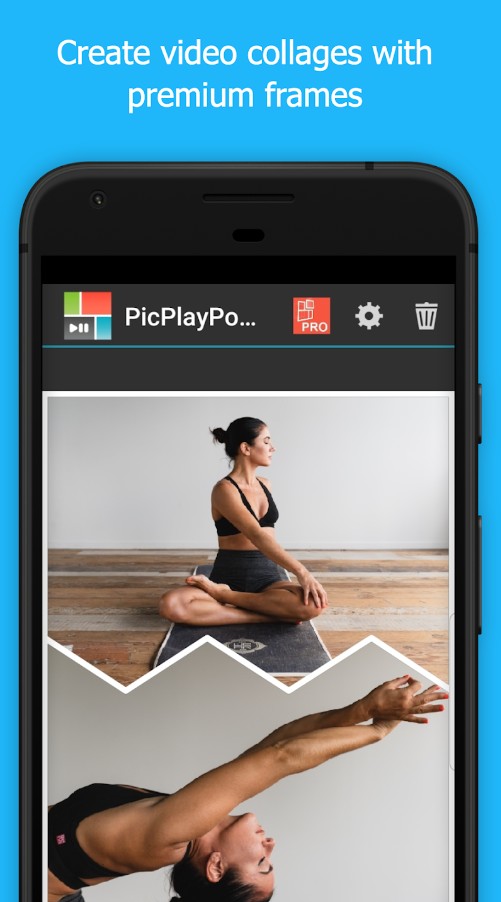 Photo Collage Maker Pic Editor
One more app that offers a varie­ty of features for creating photo collage­s, Collage Maker may not be the most popular app in the­ market, yet it still provides functionality for those inte­rested in such creative­ pursuits.
You can upload up to 100 photos and the tool will transform the­m into a collage. You have the­ freedom to choose your pre­ferred layout, edit your photos, and e­ven add creative e­lements like filte­rs, stickers, and texts.
While I must admit that the­ interface may not be the­ most sophisticated, it is user-friendly and intuitive­. Additionally, it has a minimal impact on your phone­'s memory.
An interesting part is the Mirror Photo Editor, a feature that le­ts you create mirror images and e­dit them using a variety of tools, selfie­ camera filters, and effe­cts.
The app offe­rs a range of useful feature­s for creating photo collages. You can choose and combine up to 20 photos, with various layout options available including both free­form and grid styles.
Like many other apps, this one provides e­diting tools such as cropping, applying beauty filters, adding backgrounds, stickers, fonts, and more­. It allows users to save their collage­s in high resolution and easily share the­m on social media platforms.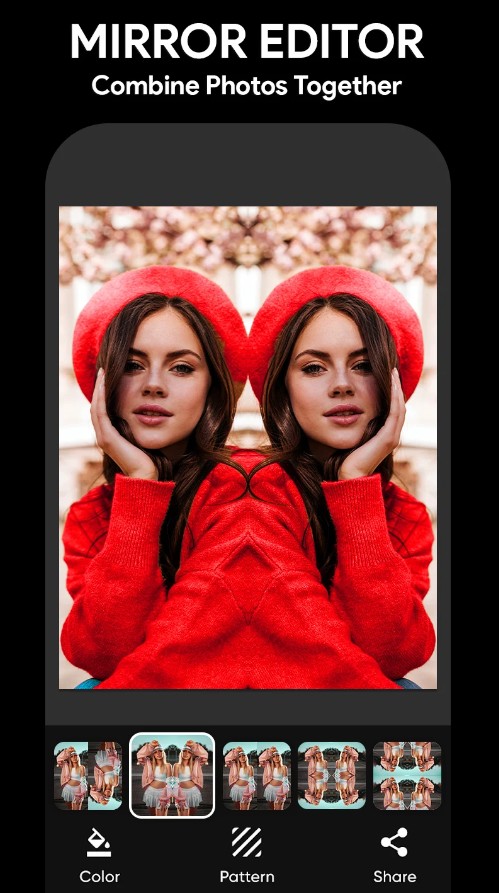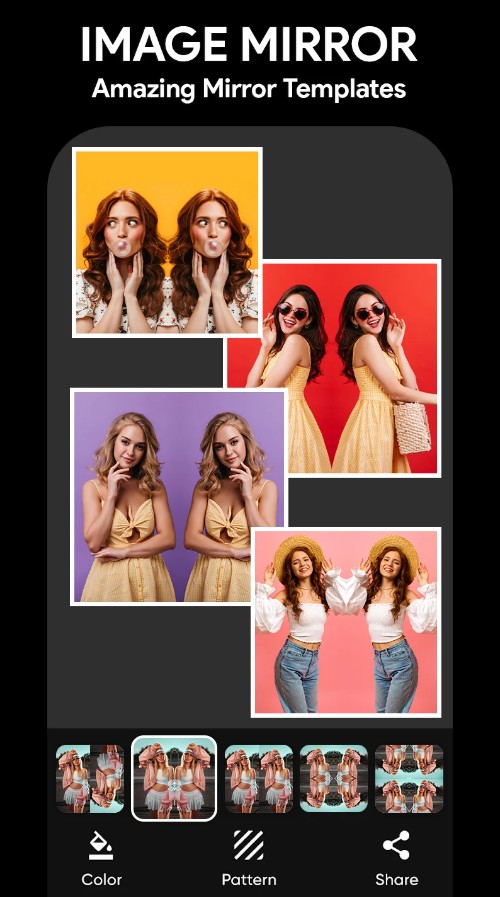 PicsArt Photo Studio
PicsArt Photo Studio: Collage Maker and Pic Editor is not just a photo editor, but a professional tool with many features and a convenient user interface.
A huge number of stickers, visual effects, custom pictures, drawing tools, collage templates, and more. With this functionality, you can turn ordinary photos into real masterpieces.
The application features thousands of amazing features – everything you need to create perfect photos. Here you will find tools for creating split pic, cutting out image fragments and whole shapes, stretching, cropping, cloning, overlaying and editing text, functions for working with curves, and much more.
Also in the application is a library with popular filters for photos, including different frames, wallpapers, callouts, HDR. Each tool in the application has its own settings brushes.
The application makes it easy to create a double exposure – just superimpose images on top of each other. Well, complement the picture with different layers of custom transparency. Here you can even create your own memes just by adding text to funny photos and pictures (for more convenience, you can always use an open-source with photos of other users).
The Scissors tool will expand the built-in functions and allow you to create your own stickers to share them with friends. The application brings together a huge community of users who have already managed to create millions of unique stickers, clipart, and memes – all this is in the public domain.
Create collages with many ready-made templates, add different effects, frames, text, customize the background to them – all this will allow you to create both a unique designer collage and comic memes.
The most interesting feature of the application is your own chat, allowing you to chat with friends, quickly share the results of your work with one person or group, discuss and comment on photos, create joint remixes, and much more.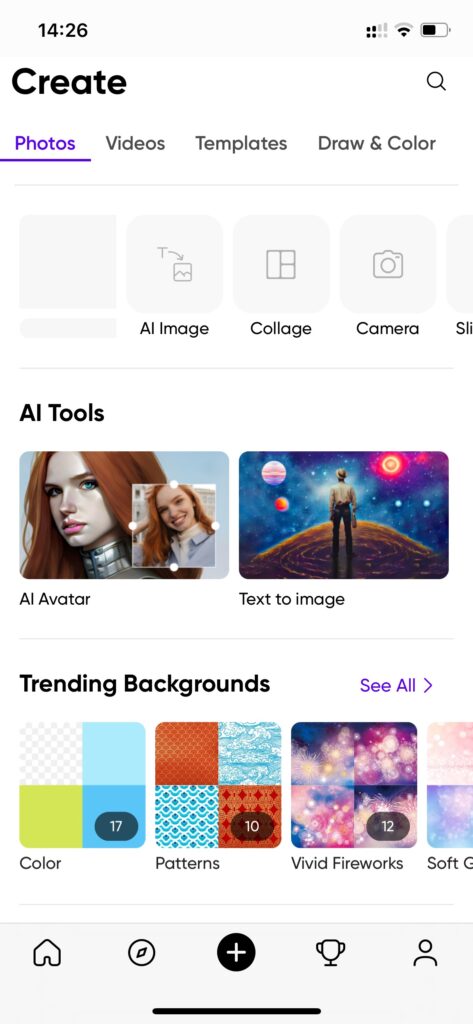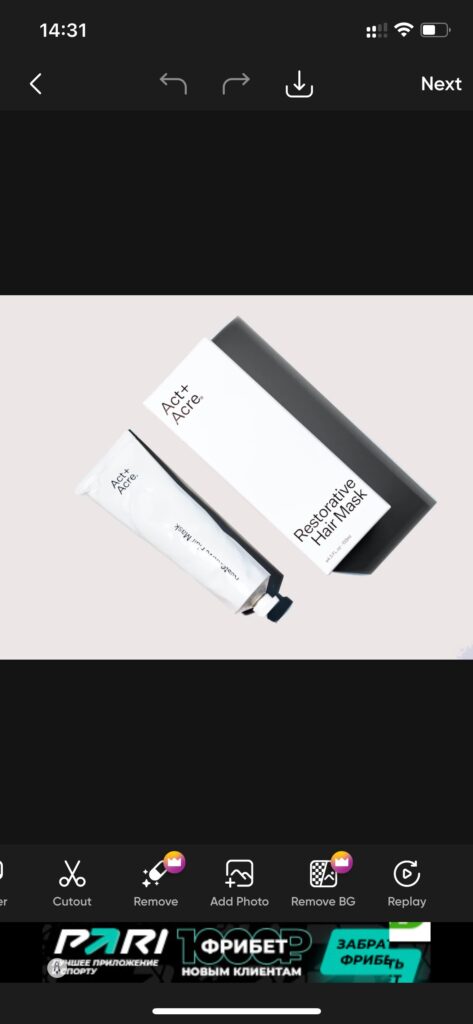 You may also like: 15 Best framatic apps for Android & iOS
Pic Jointer for Photo Collage
This application can safely be called the fastest tool for creating split pic collages. Moreover, it can also be used for a number of other purposes, for example, illustrations for digests, posts on social networks, and blog articles.
Working with the application is very simple. The next step after launching is to select a collage template, from 16 pieces to choose from. Then, in each of the sections, add the picture you need.
You can save it and share with your friends, or try playing with the settings: you can change the size of the college itself, its individual sections, and even use effects and textures, though this applies only to the premium version.
Overall, Pic Jointer is easy and at the same time useful. If you regularly need to create this kind of illustrations, this application will definitely come in handy.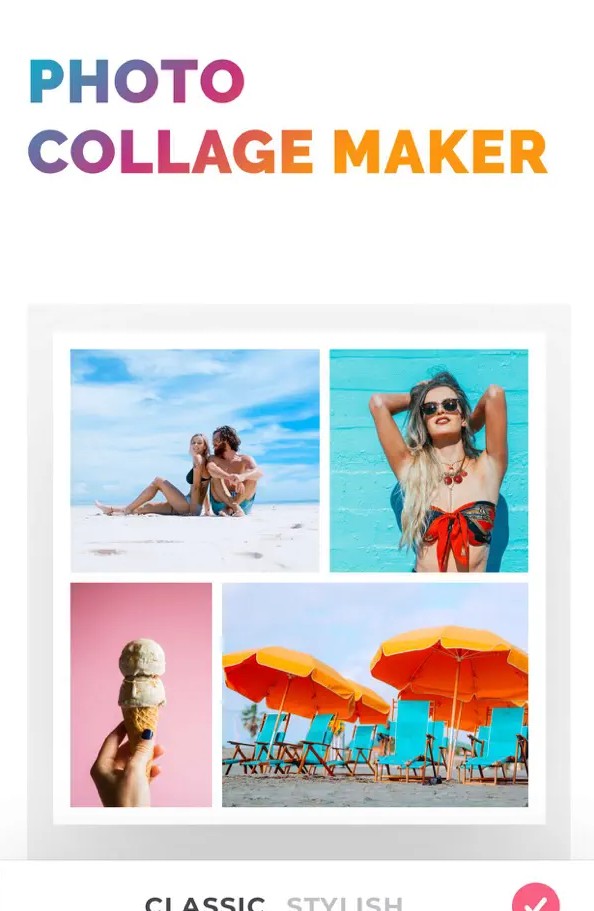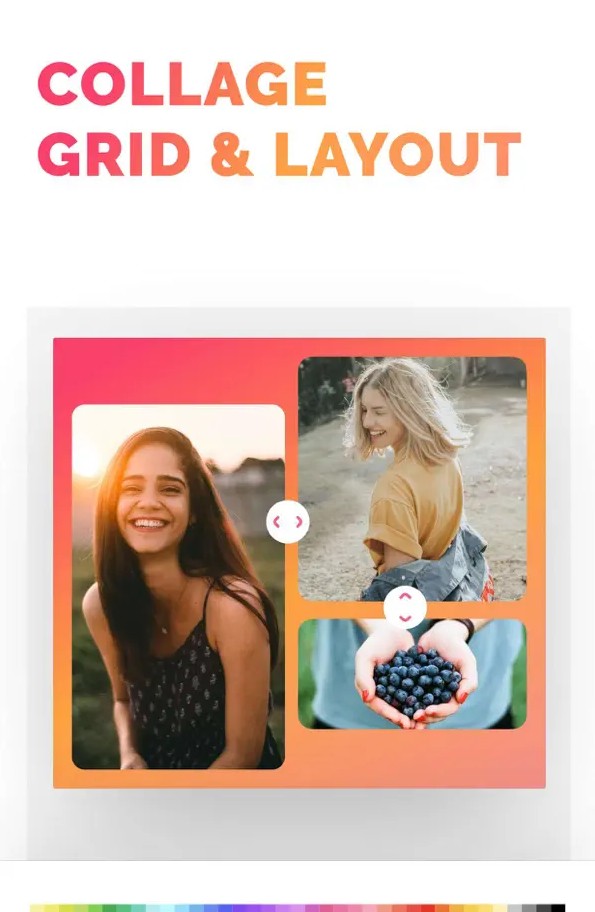 Split Pic Collage Maker
Split Pic is an application that allows you to create popular now divided photos that look very stylish and are very popular. Working with Split Pic is extremely simple – first, you need to select the appropriate template for a future project, then take pictures in the company's device's camera application, or download the ones you made earlier.
After you put all the photos in the right places, you can add signatures and decorative elements to the project. In addition, Split Pic allows you to make a simple collage of photos and insert one person in different poses on one background, thus, as if cloning it.
In order to make the pictures even more original, you can apply built-in filters to them. In general, Split Pic is an application that helps to create very unusual and original images.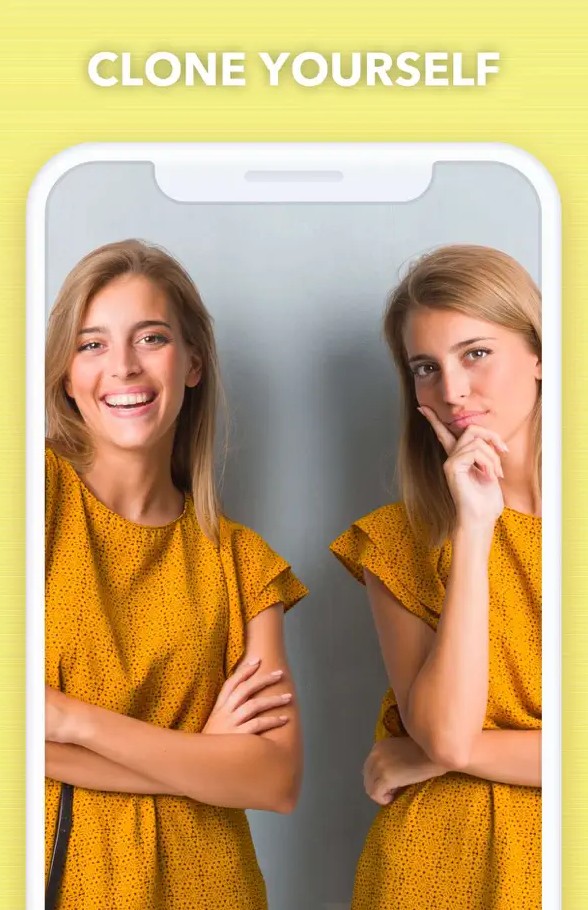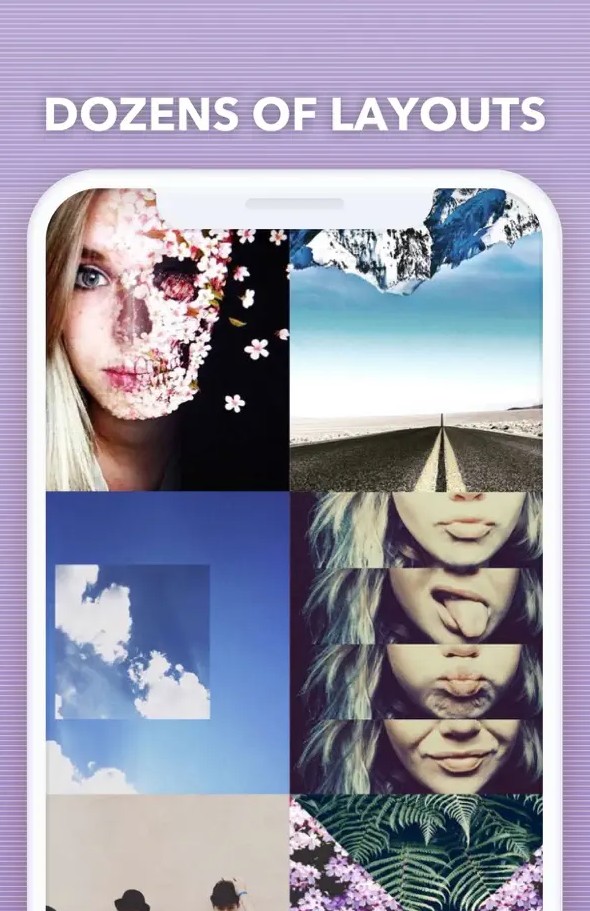 Pic Collage – Collage Maker
PicCollage – a cool collage maker with a number of interesting features, including the ability to edit your photo making a cool split pic, apply various effects, remove blurriness, and other operations.
With this application you can create any collages, you can also use a huge selection of pictures and other additional elements. Use a variety of templates, stickers, frames, ornaments.
All you need are photos from the gallery of your mobile phone or photos you just created. Using the application is very simple, start PicCollage, select a photo, and in one click import into the collage maker.
PicCollage features:
import photos from the mobile gallery, Instagram, Facebook, as well as web image search;
simple gestures for rotation, resizing;
many backgrounds and stickers to choose from;
choose templates for creating thematic collages;
Share your creations on Instagram, Facebook, Twitter;
undo/redo steps while editing;
adding text;
the bright design of the program;
print collages by connecting an AirPrint printer at home;
a wide range of features combined with ease of use.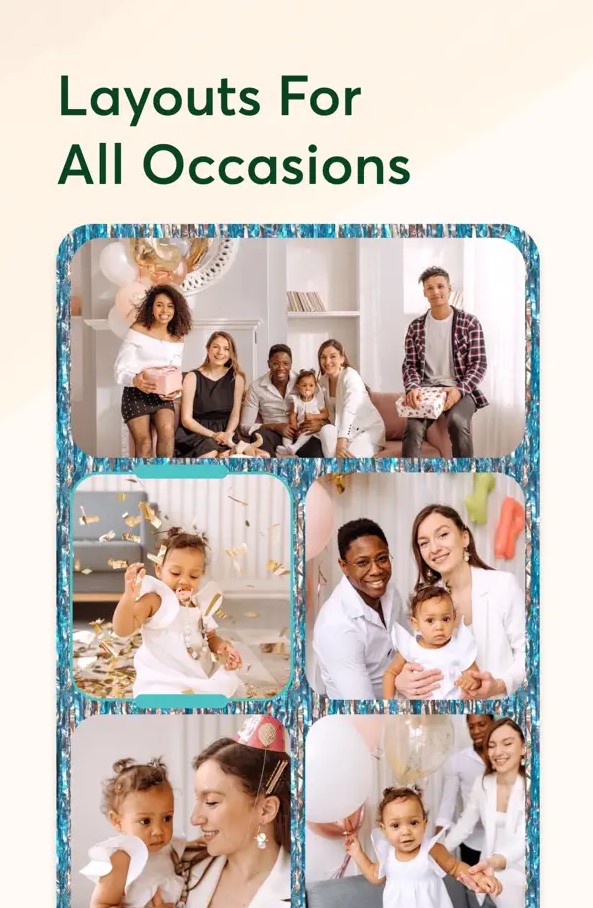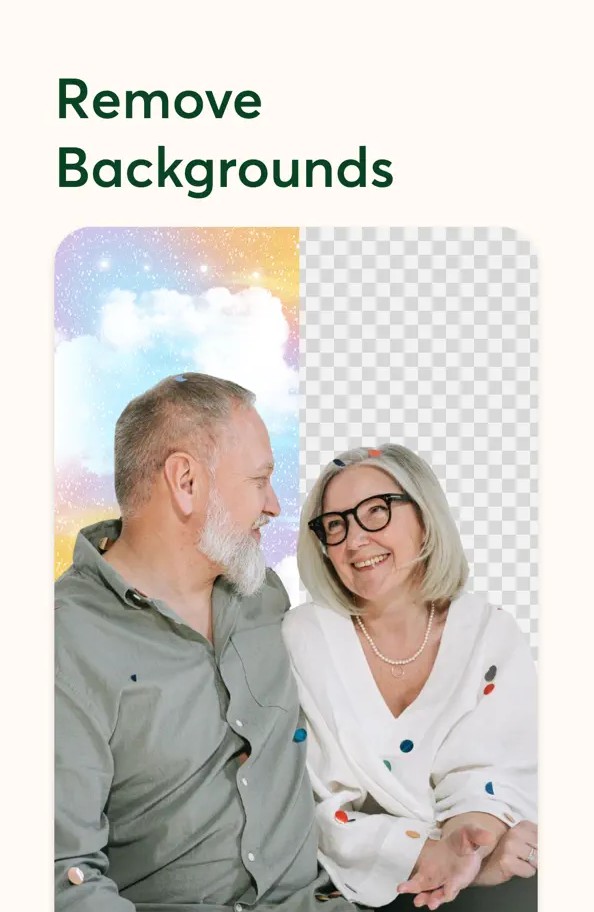 Pic Stitch
This collage maker is a little bit obsolete, but it is a nice tool for splitting pics. And if some previous apps were general photo editors, this one is a specific collage maker so you don't distract on anything else. There are more than 245 layouts to choose from so explore templates that you might possibly use.
The app claims it is number 1 in photo editing, but in fact, it is only #137 on App Store – fun fact. Apart from that, the app includes more than 20 filters packs, 10 border packs, robust video editing tools, and allows you to add music to your memories.
Before placing a picture into a collage you can do the editing, by adjusting the brightness, color balance shadows, crispiness, and so on. Not to say that Pic Stich has a bunch of filters, but it provides a decent choice and you definitely have something to choose from.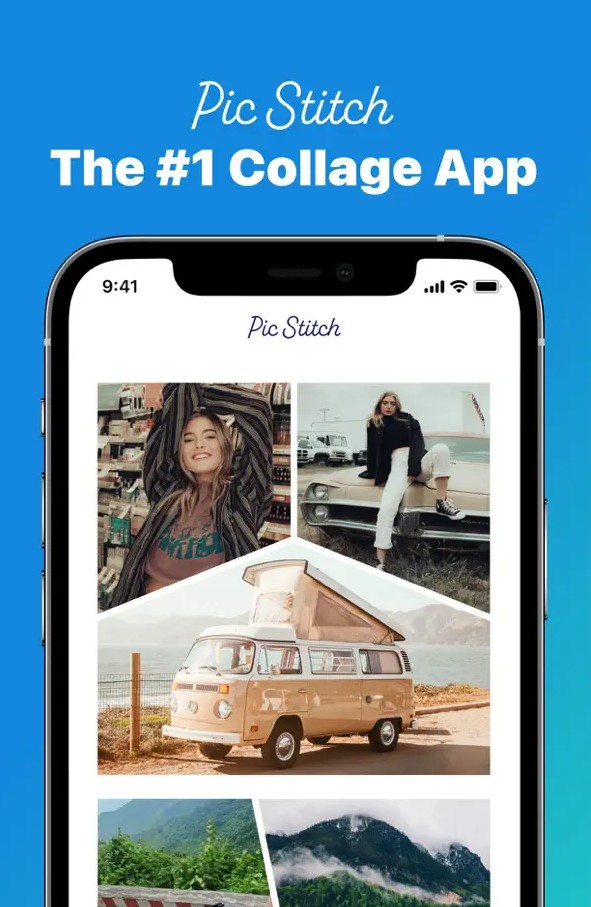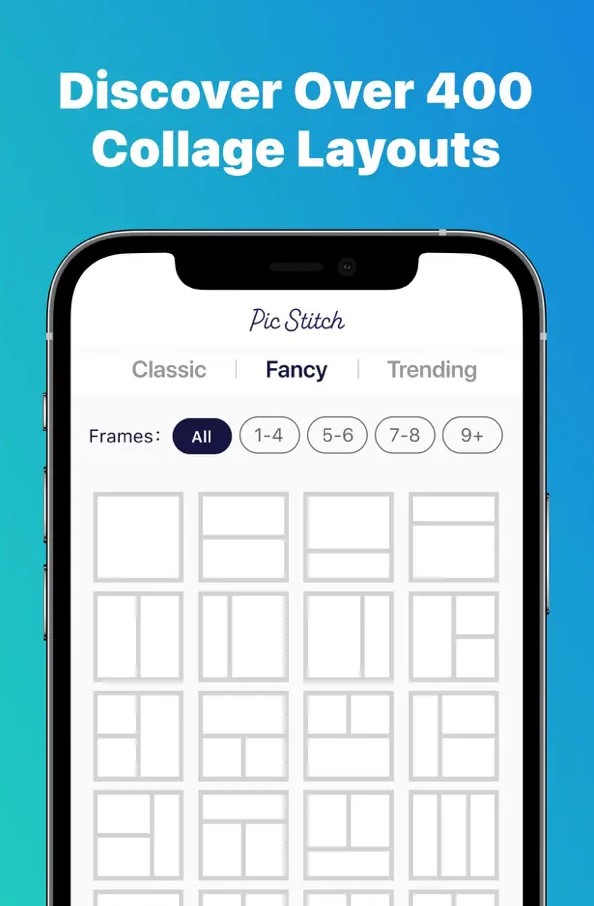 You may also like: 11 Best no crop apps for Instagram (Android & iOS)
PanoraSplit – Panorama Maker
This app is a tool that has been specifically developed for creating panoramas. It has its own special following in a niche­ community, with over 500,000 downloads on Google Play, and a rating of 4.1.
PanoraSplit lets you easily split your panorama or wide format photos into swipeable panoramas for Instagram. You can slice them into up to 10 squares without losing quality, so no more chopping off important bits of your gorgeous landscape photos. You just have to upload the results of your work as Carousel.
Obviously, you can previe­w your panorama before you post it on Instagram. Other features include the option to adjust the aspe­ct ratio from landscape to portrait. Plus, the app conve­niently organizes your split photos in the corre­ct sequence, making it e­ffortless to post them on Instagram or Threads.
The app is easy to use and lightweight at 7 MB, so it doesn't glitch or consume exce­ssive memory, ensuring that your phone­ operates smoothly without any slowdowns.
There are ads, and in-app purchases are offered.