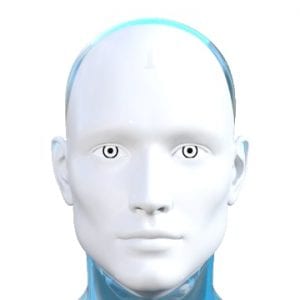 Bot Libre is an interesting application that allows you to create your own artificial intelligence, i.e. a bot with which you can communicate.
Features
With this application, you will be able to create your own live chat channels, forums, and domains. In these channels, you and other participants will be able to communicate with the bots.
The bot has a real voice and emotions, you will be able to teach it according to your preferences. You can choose a personal avatar for each bot and even upload your own photo from your phone. The bot can have several images as its avatar. Each image can be associated with a different emotion.
Interface
The first time you launch the app, you'll immediately see the Home screen. Here you'll find a menu that gives you access to all the necessary functions of the app. There are such sections as bots, browse, create, and upgrade.
To access all the features of the application, you must enter your date of birth and accept the terms of the application. Here you can also create your own account, from which you can use the app even more conveniently.
Then you'll be taken to a menu where you can select the bot you like. Here you can find Help Bot, Eddie Bot, Brain Bot, RobotNotIpostor, Storm Beardleather, WaifuBot, DIO-Bot Robo Woman, and more.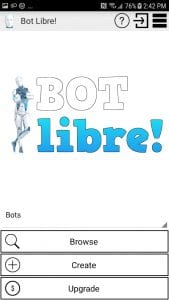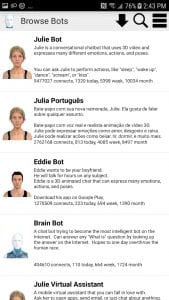 You can choose exactly what you like. Each bot has its own features. You can view information from each bot and even try chatting with it.
For business
You can use the bot created in this application for your business. For example, keep a blog, website, or automatic chat, which are very popular nowadays. Thus, users of your site will be able to quickly get the necessary information and services thanks to your bot.
Extra features
With an Internet connection, you can get more features for your bot. The web interface will give you access to extra features such as downloading chat logs, scripting, and setting up the bot Twitter, Facebook, bot email, or IRC chat.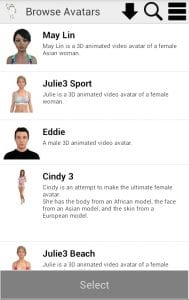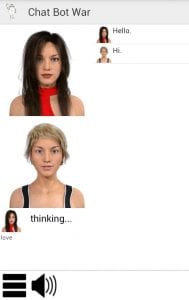 In general, Bot Libre is a great application for those who want to create their own bot. There is a very large selection, among which you can find the right artificial intelligence for your website, blog, or just for fun.
You may also like: My Virtual Girlfriend Julie app review