Do you like taking photos and uploading them to social networks? Then we offer a professional photo editor Moldiv. With it, you can edit a ready-made photo or adjust the camera and take a picture of something with already applied effects.
The program interface is convenient and easy to use. In the process of editing photos, it is possible to apply effects, texture, blurring, attach text, stickers, crop the picture, adjust light, shadows, tilt, color, vibration, sharpness, etc.
Let's start with filters. Twenty-two effects are available in the free version of the application, such as" Sepia"," B&W " and many others. If you want to add to your collection, you can buy 12 more filter packs. Next are the textures. You can use 6 free effects or buy seven sets that will make your photos unique!
So you took a picture but you don't like the outfit? MOLDIV doesn't have a feature of outfit change in it. But these apps do! Check them out and now you can get a perfect picture even if you were dressed not so well.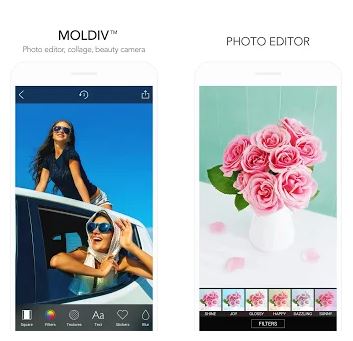 A significant plus is the text and stickers. The number of fonts is simply amazing! There are a lot of very diverse variants of writing texts. Plus, you can add shadows and a contour of any color and size, and also make a background for the inscription. There are quite a lot of stickers, but some need to be purchased. But you can cut it apart from any other photo, or insert it as a whole.
Functions such as crop, rotate, blur, adjust light, shadows, sharpness, and the like. All these features are easy to use, and they are free. We also recommend trying the "Square" and "Beautify" effects. In the second, you can enlarge your eyes, adjust the oval of the face, smoothness of the skin and add more filters:) By the way, in the application, you can create a collage or make a magazine page from your photos, thanks to the samples.
So you photoshopped your picture so good it looks like a cover of a magazine? Go ahead and picture yourself like this! These apps will help you to edit your picture like it's some magazine's cover.
This way you can make the camera of your Android or iPhone much cooler! Now you don't need to install several applications to make frames in one, apply filters in another, and write text in the third. All this is available in Moldiv!