Any competition, tournament or even just a sporting event is accompanied by a match schedule. It can be a chess game between two players, a football match between two teams or a championship in which many teams take part.
During the full organization of the event, managers ask themselves the question: how best to organize the pairs themselves for the competition?
In such situations, special applications come to the rescue. Bracket creator apps will do this work for you: it will be enough to drive all the participants of the competition and the applications will distribute the pairs themselves.
We have found for you not only such applications but also those in which you can do something other than the usual drawing up of schemes. So, we present to you the 9 best bracket creator apps for iOS and Android.
You may also like: Top 8 sport video analysis apps for Android & iOS
ESPN Tournament Challenge
This application is indeed one of the best among Bracker creator apps on the AppStore. Here you can compete with your friends and even ESPN celebrities, watch the competition among the best tables and gain real fame among fans.
You can create up to 25 brackets, which will be divided into 10 categories. In each of them, there is a possibility to fight with real opponents and fight for a real prize.
Speaking of the prize: even though the application is free, you can win a real trip to Hawaii or even tickets to tournaments. Detailed information about each match is available to help you think through your strategy in the future.
Your bracket is filled in manually or generated by the application – but you can also import your bracket. Sorting the best players by points and you can immediately see who has already left the competition.
You can get full information about each match or battle of the tour and even a video about each game. Once you have all the data, you can make a conscious and wise choice. As soon as the games begin, start following the events and conclude how the players might have affected your performance.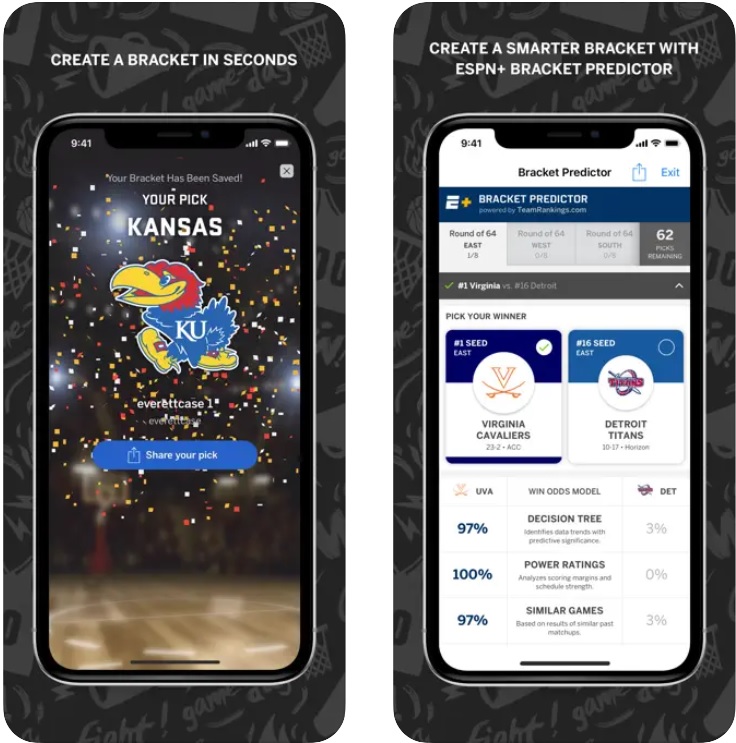 You may also like: 11 Best Geocaching Apps for iPhone & Android
Winner – Tournament Maker App
Winner is a popular app for creating brackets on the go. It is possible to create a tournament bracket in a matter of minutes.
One of the unique features of Winner is its ability to handle large tournaments with up to 256 players. This makes it a great tool for organizing tournaments with a large number of participants, such as in esports or sports tournaments.
The app also allows users to customize the brackets by adding team names, logos, and other details, making it more personalized.
When it comes to graphics, the app has a clean and modern design, which is easy on the eyes. However, the graphics can be slightly underwhelming compared to some other similar apps.
For example, some users have complained about the lack of customization options for the visual appearance of the brackets. Nevertheless, the app's simplicity and ease of use make up for any shortcomings in its design.
However, it doesn't allow users to save their work or export it in any way. This can be frustrating for those who have spent a lot of time creating a tournament bracket, only to find out that they cannot save it for later use.
Advantages:
User-friendly interface.
Ability to handle large tournaments.
Customization options.
Drawbacks:
No saving or exporting options.
Intrusive ads.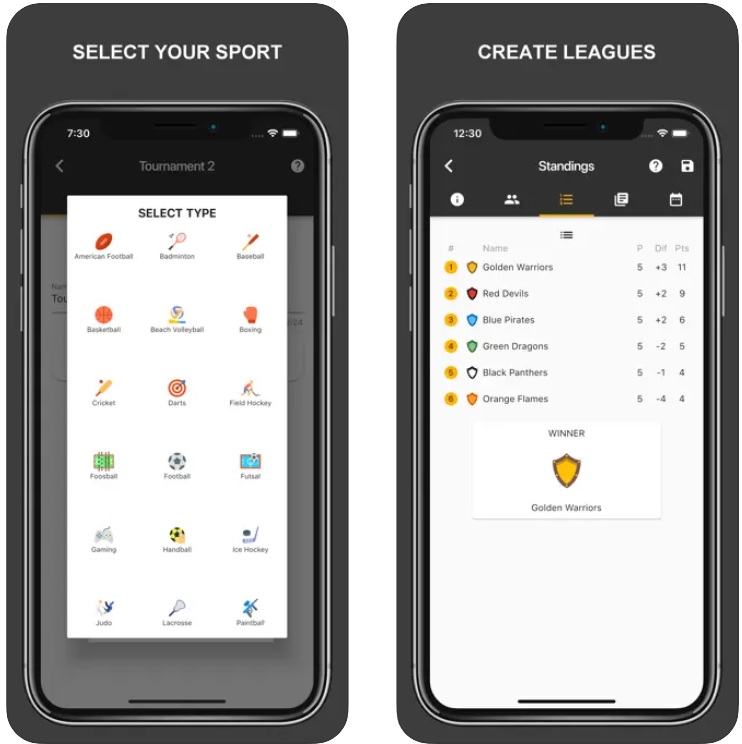 League App & Tournament Maker
You can also find this application called LEVERADE. Here you can take a fresh look at how to organize your league or even a championship, as well as find new goals for your work. The application was created to allow novice managers to organize their events right on their smartphones.
All the possibilities that the Internet can offer you are presented in LEVERADE. Here, in addition to the standard brackets, you can create a playoff, a mixed competition system or something completely new.
There are plenty of possibilities only on your smartphone. In your profile, you act like an organizer and can manage yard leagues or even friendly leagues.
By the way, the number of participants is not limited: the tournament editing mode is available at any time of the games. Full control over statistics and team data – you have access to their profiles.
Tournament tables can be synchronized with other devices or via the Internet. You, as the organizer, will manage your refereeing staff and tools to regulate the game, and your brackets will be shown to all people who are interested in the league.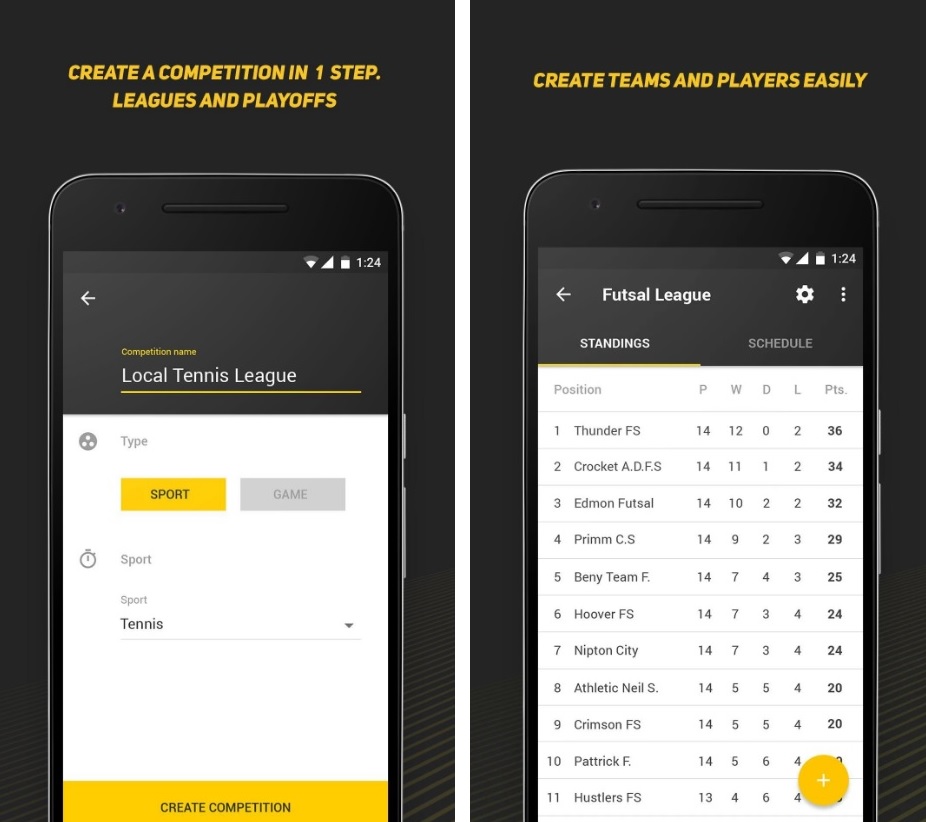 NCAA March Madness Live
The NCAA March Madness Live was created for real basketball fans who want to keep track of what's going on in the game in real-time.
In addition to being able to watch all the games live, you can also participate in the Capital One NCAA March Madness Bracket Challenge, as well as view analytics and commentary.
Yes, you may have realized that the NCAA March Madness Live does not offer you the option of creating your schemes, but here you can see an example of the great work of the organizers.
The app includes brackets for the competitions, which are constantly updated and notify you of the results. In addition to the results, you will learn about all overtime games and all the news of the selected teams.
Here you can watch the games online with other fans. Direct inclusions in each match allow you to feel inside of all the events. During the game itself, you will be able to check brackets and compare these data with your records.
You can fill in brackets yourself and play together with your friends and acquaintances, without going deep into the knowledge and without making it difficult.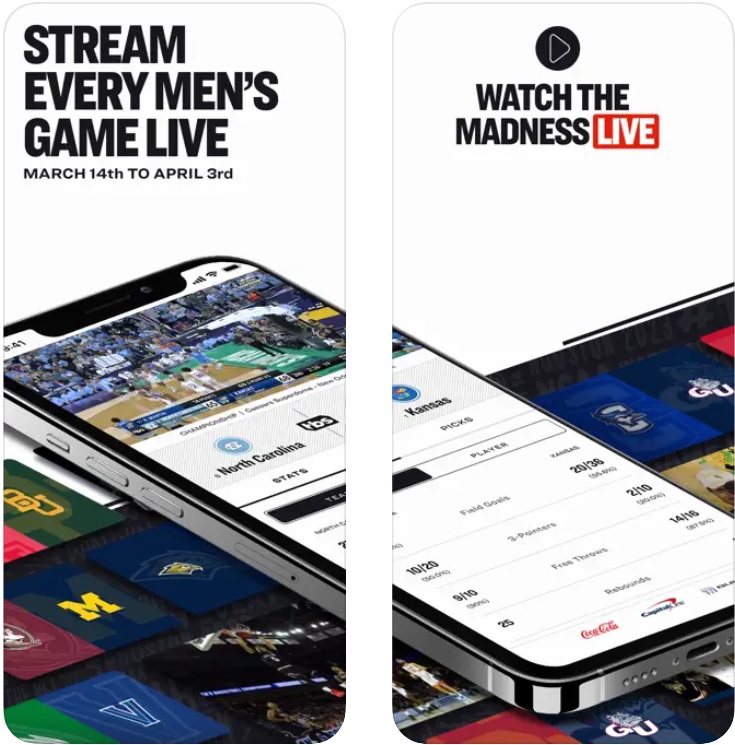 Tournament & league manager: brackets, schedules
The title immediately reflects the essence of what the application does. Tournament & league manager will become a real manager for sports competitions while giving you the role of manager.
You will be able to save your time and resources by using a special application to create the tournament layout. With this approach, you can even increase the revenue stream from sponsors!
Tournament & league manager will create a schedule, tables, and ratings for you online, as well as help you to keep up to date with the fans and the family of the participants.
This way the coverage can be higher and your goals and the course of the tournament will be preserved. The results of each match are also recorded – you will be able to track the games you have ever played in. You can also use the application as a fan and keep track of your favorite players.
As a manager, you will manage the team registration, communication between fans, and never miss the highlights of the game. Automatically calculate the team rating, placing the teams in their places.
You will be surprised that the attendance of such a well-organized tournament will become higher!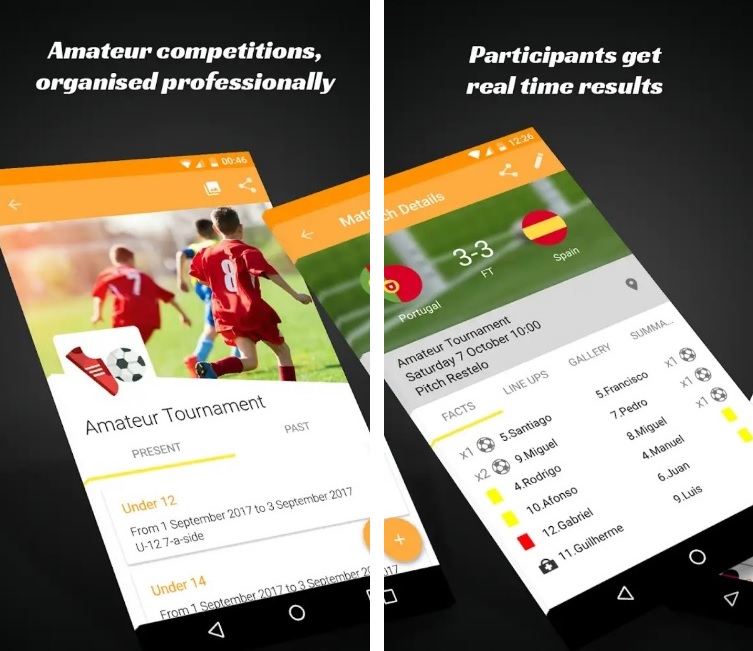 You may also like: 15 Best time lapse apps for Android & iOS
Challenge Place: Tournament and Bracket Manager
Challenge Place: Tournament and Bracket Manager is a unique manager created especially for those who are fond of the world of big sports, table games, and virtual games. It will perfectly suit people who want to feel like professional organizers of various tournaments.
When you first run the program, the registration menu will appear. There you can log in anonymously or register your account.
You can create your tournaments in just thirty seconds with any parameters you want. The choice variates itself from the Group stage, Series, Elimination, or Knockout tournaments (it's up to you what to select).
You can create tournaments for basketball, soccer, hockey, baseball, chess, and many other real sports disciplines! Everything is fast and automated: scheduling, rankings, statistics …
Add your events to your matches and install any team logos of your choice! You can also update your tournaments even without an internet connection, which will save you a lot of time and nerves.
It is advised to weigh every decision you make and keep a close eye on what is happening on the screen. The developers call you to show the world all your skills and talents!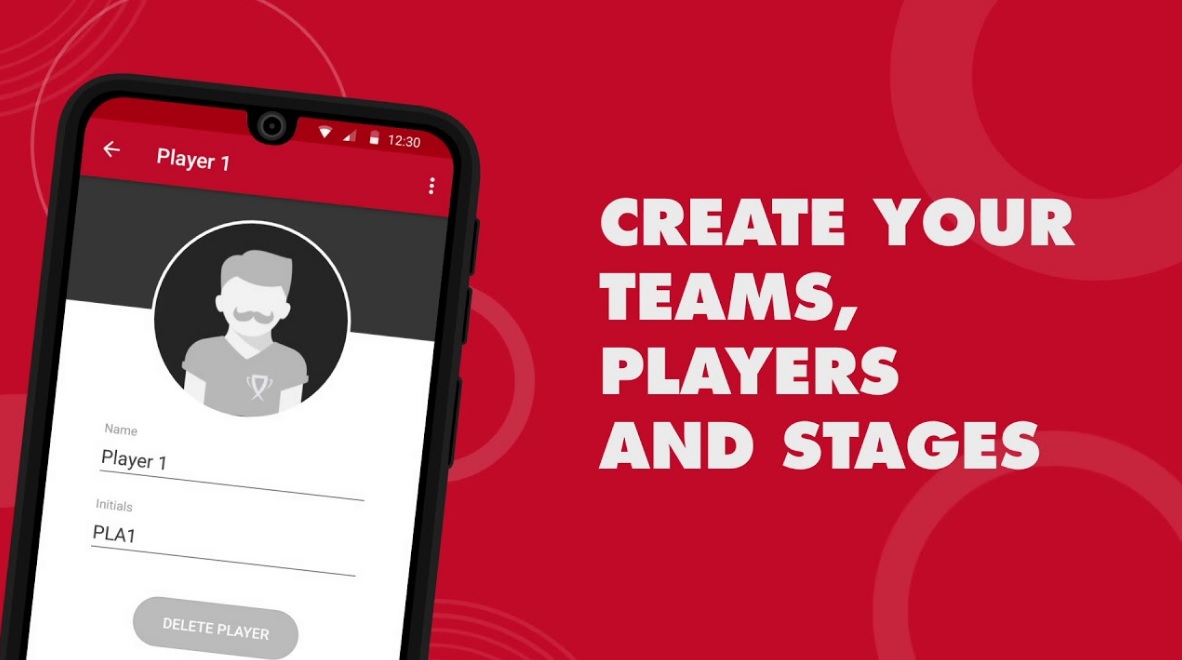 My Bracket: Tournament Manager
If you're tired of drawing up diagrams manually, recording and thinking through each step yourself, then we recommend you try My Bracket. The app will become your competition pocket manager and personal assistant.
If you're passionate about creating your tournaments and want to keep people up to date on what's going on in real-time, it's a great way to work.
My Bracket won't keep you busy with a lot of features, yet you can easily manage it. The app allows the administrator to manage the competition process on the fly without having to break away from the game itself.
All your tournaments are easily tracked in one place and all the results can be easily shared with friends. It's worth noting that My Bracket is divided into a paid and free version.
The free version only allows you to create brackets for up to 8 teams, with all the features available to you. To plan larger tournaments, you will need to unlock the PRO version.
If you need to make changes to team names or even change locations, you can do so right in the process.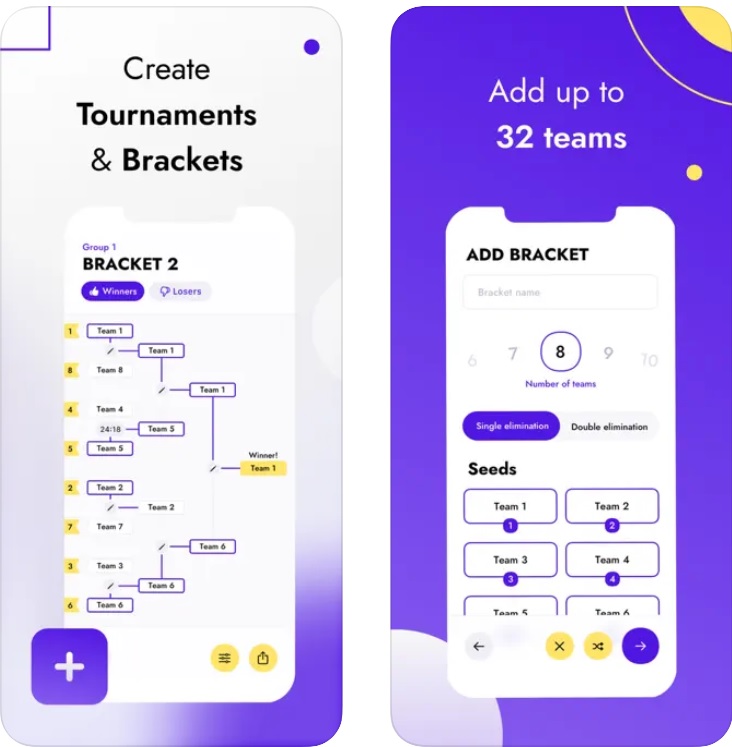 Competition Manager
If you are looking for a tool to manage your tournament and create brackets, Competition Manager is worth checking out.
You have the option to create a new tournament and customize the settings, such as the number of players or teams, the type of bracket, and the scoring system.
The app then generates a bracket, which can be shared with the participants via email or social media. The organizer can also update the bracket in real time as the tournament progresses.
You can also track game results and calculate scores automatically. The app allows for different scoring systems, including round-robin, double-elimination, and single-elimination.
This software provides setting up different tiebreakers, such as a head-to-head record or point differential.
Its customizable settings and automatic score calculation make it a convenient tool for organizers, while its sharing features allow participants to follow the progress of the tournament.
Advantages:
Easy-to-use interface
Allows for managing multiple competitions.
Customizable settings for each competition.
Supports various sports and game formats.
Drawbacks:
Limited features compared to other sports management apps.
Some users report bugs and glitches.
In-app purchases are required for certain advanced features.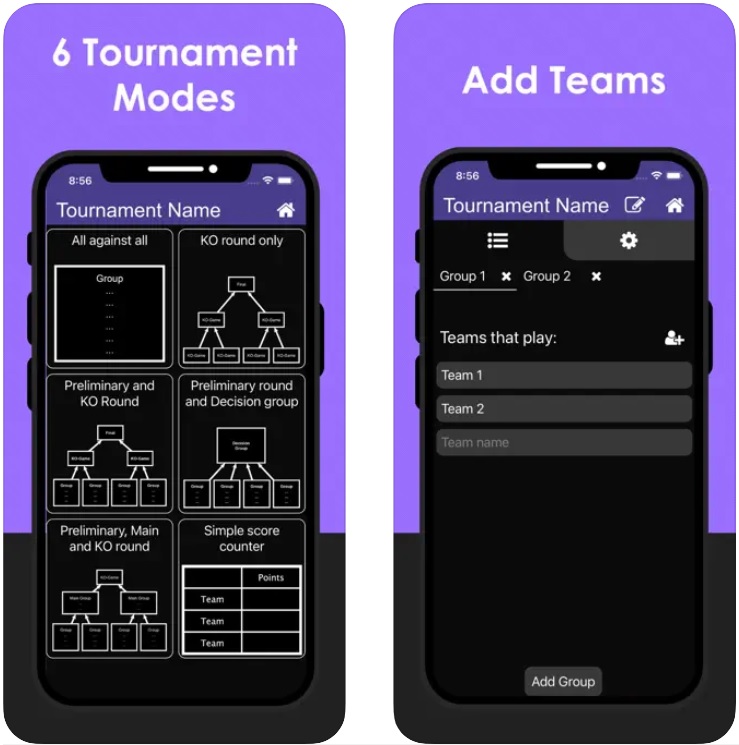 Brackelope: Tournament Builder
Brackelope is a great tool for organizers of tournaments and competitions. It allows you to organize, create, run tournaments and battles for any kind of competition.
You can even manage multiple arenas simultaneously – for example, watching paintball or darts play simultaneously. And you'll know what's going on everywhere – you balance between players while keeping track of statistics.
Using Brackelope, you won't face the problem of confusion in the statistics of victories and defeats of teams and players. Up to 128 players or teams are supported in the application and Brackelope will generate matches between them.
For each team, you can easily find the possible variants of battles, as well as easily remove it from the competition.
Please note that in Brackelope it is possible to publish results directly in real-time. To do this, there is a service Brackelope Live, which monitors the statistics of all your competitions. Save points and take into account even the outcome of the "Draw" with Brackelope.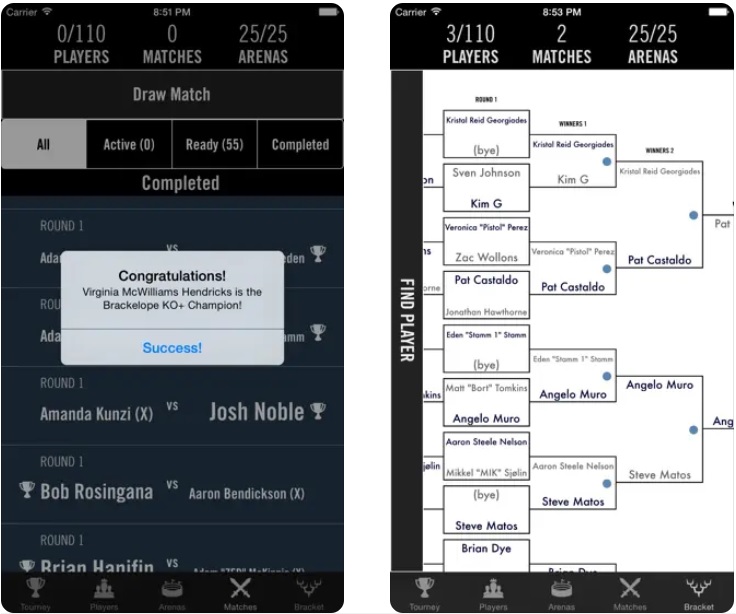 4League
4League is a bracket creator app that allows users to easily create, manage and share brackets for various sports leagues and tournaments.
The app is easy to navigate, and even novice users can quickly create brackets with just a few clicks. Users can choose from a variety of sports, including football, basketball, soccer, and volleyball, and customize the bracket according to their preferences.
There is also a chance to handle large tournaments. The app can manage brackets with up to 64 teams, making it an ideal choice for users who want to create brackets for major sporting events.
Users can also choose from different bracket formats, including single-elimination, double-elimination, and round-robin.
Some users have reported experiencing crashes while using the app, especially when attempting to create larger brackets.
Additionally, the app's user interface can feel sluggish and unresponsive at times, which can be frustrating for users who are in a hurry to create a bracket.
Advantages:
User-friendly interface.
Ability to manage large tournaments.
Multiple bracket formats to choose from.
Drawbacks:
Occasional instability and crashes.
Lack of customization options for app appearance.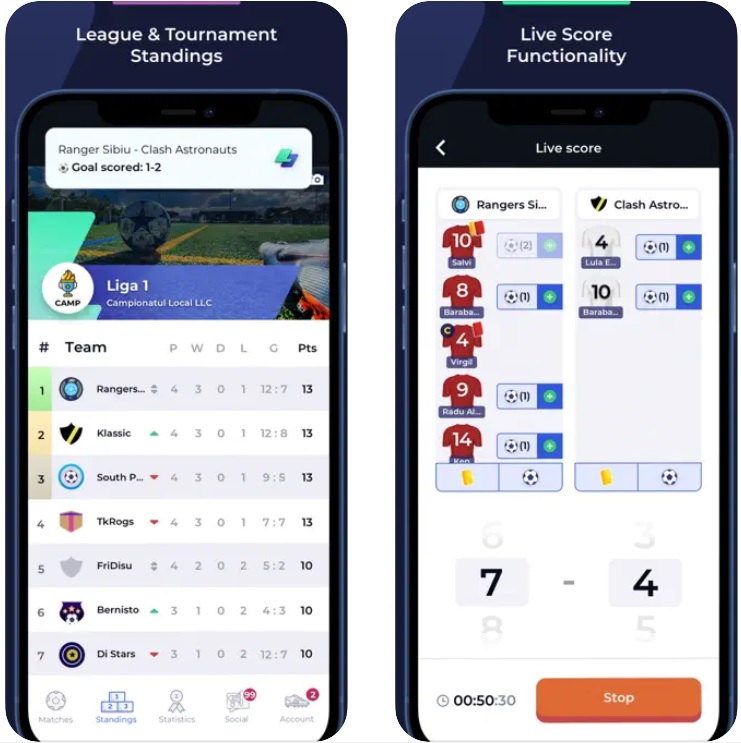 You may also like: 11 Best clipboard manager apps for Android & iOS
Champion – Tournament Manager
Brackelope Tournament Builder is a useful app for anyone looking to organize and manage tournaments.
Users can create and manage tournaments of various sizes and formats, including single and double-elimination, round-robin, and Swiss-style formats.
The app allows the user to input team or player names, set the tournament's rules and regulations, and generate the bracket. Additionally, it allows the user to keep track of scores, progress, and results of each game or match in real time.
Although, some users have reported that the app crashes occasionally or freezes while in use. However, these issues are infrequent and do not appear to be common.
However, it is possible to use additional features, such as the ability to customize the bracket's appearance or to share the results on social media platforms.
Advantages:
Various tournament formats.
Real-time score tracking.
Drawbacks:
Occasional crashing.
Lack of customization options.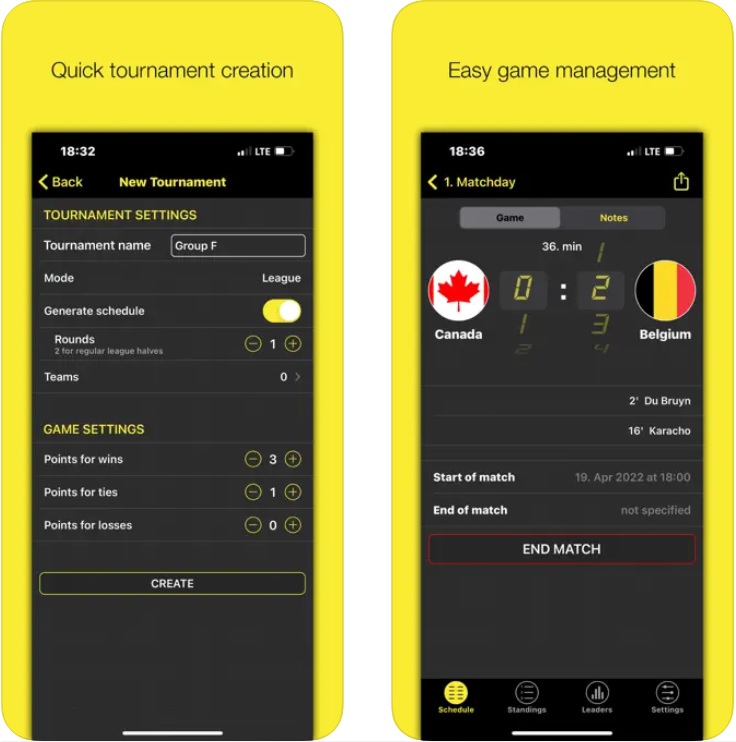 If you previously thought that the work of the organizers is simple and does not have any problems, then we think that you have already changed your mind.
These applications can be useful not only for sports competitions but also for regular events that require serious organization. You just have to choose the application that you like most by design and install it on your smartphone. At the right moment, you just need to launch the application and use it.