Southern food is something special. It's that kind of comfort food that soothes the soul and feeds the spirit. Plus, the majority of such recipes consist of inexpensive ingredients, which makes it easily accessible.
Southern recipes have gained a lot of popularity, so we've picked up the 9 best soul food recipe apps for 2023 (Android & iOS) for you to try. These apps contain a wide range of authentic southern food recipes, so you could find something for any occasion and mood. Plus, these apps let you search by the ingredients which are great for lowering food waste. Have a look!
Yummly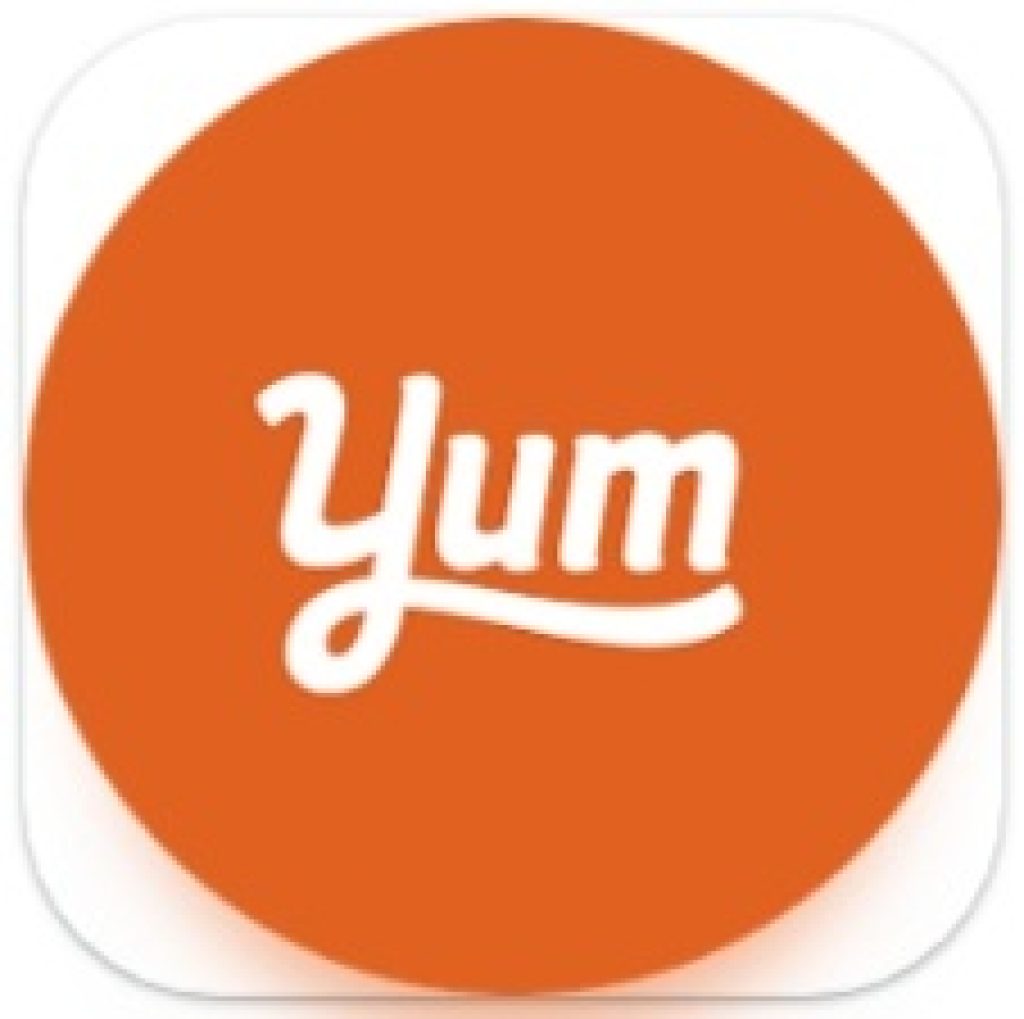 Firstly, we have a recipe app to cover all of your needs.
This app covers over 2 mill recipes already and more get added every day. Needless to say, there are a bunch of world cuisines recopies in this app: Italian, Asian, and of course soul food as well. It also comes with additional filters for vegan food, gluten-free, allergy-free, and all that. The app runs on a smart AI system that analyzes your searches to provide you with the best personalized recs.
You can also add all the recipes you like or would like to try in your faves for easy access. Make sure to mark as many dishes as you want, as it affects the amount of recs you will get. More to that, you get to add all the items to your shopping list right away. Herewith, the lists are customizable, so you can add your own items and delete the ones you don't need.
The app lets you search for specific ingredients, so it's easy to find recipes out of products you have left in the fridge. It's also a great option if you're looking forward to reducing your food waste. Most recipes also come with video tutorials, so you could fully understand the process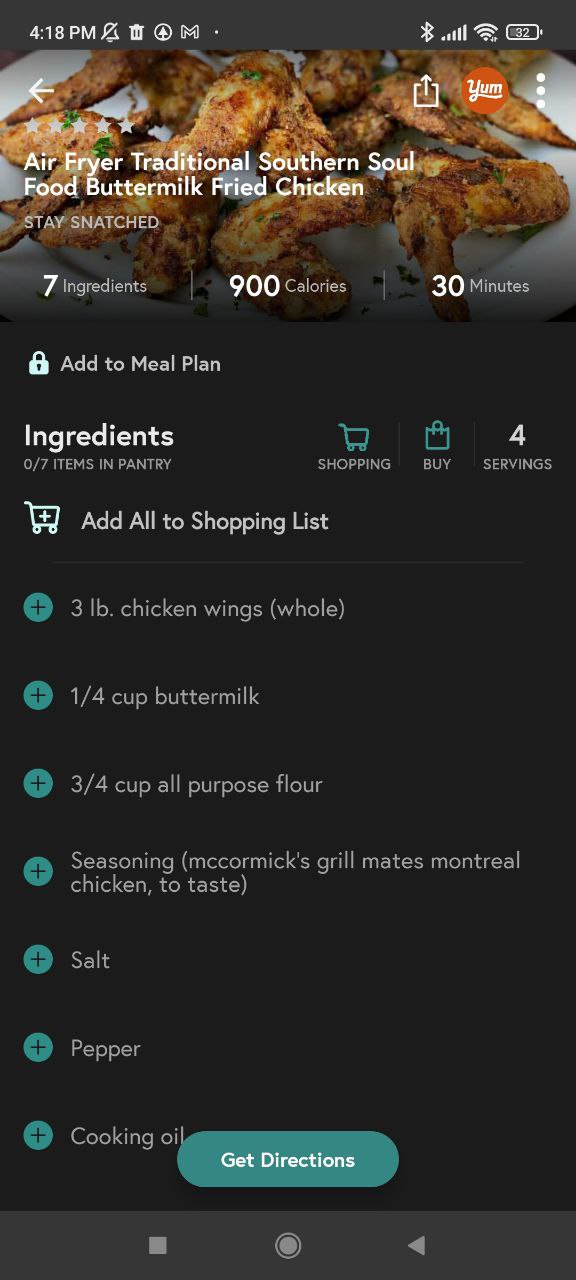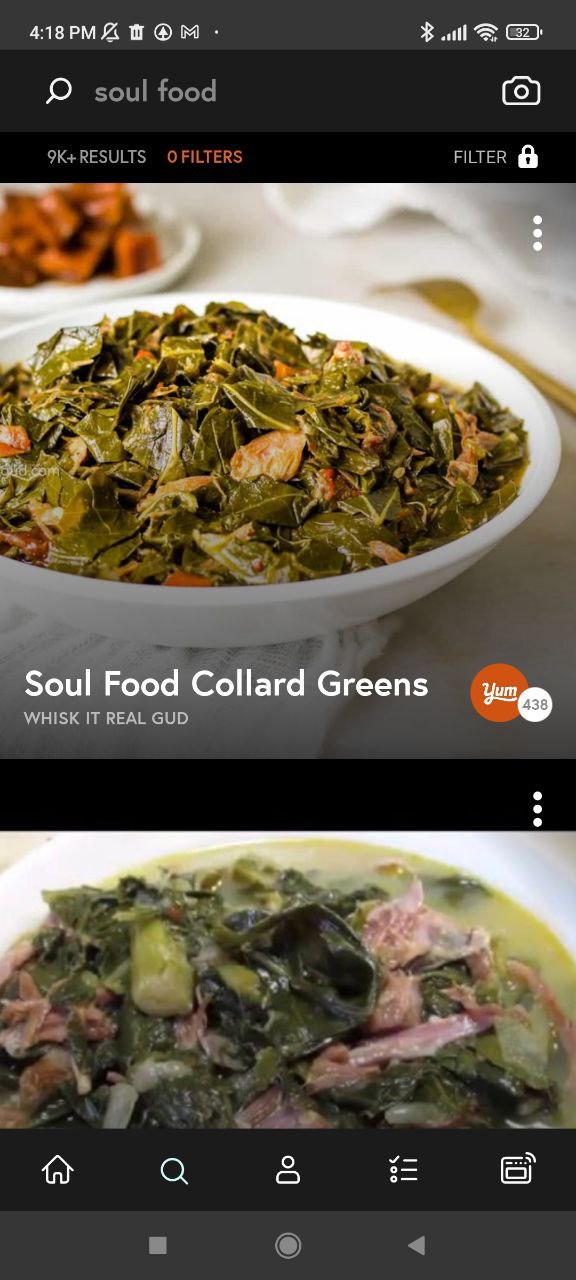 You may also like: 11 Free Meal Planning Apps for Families
Cookpad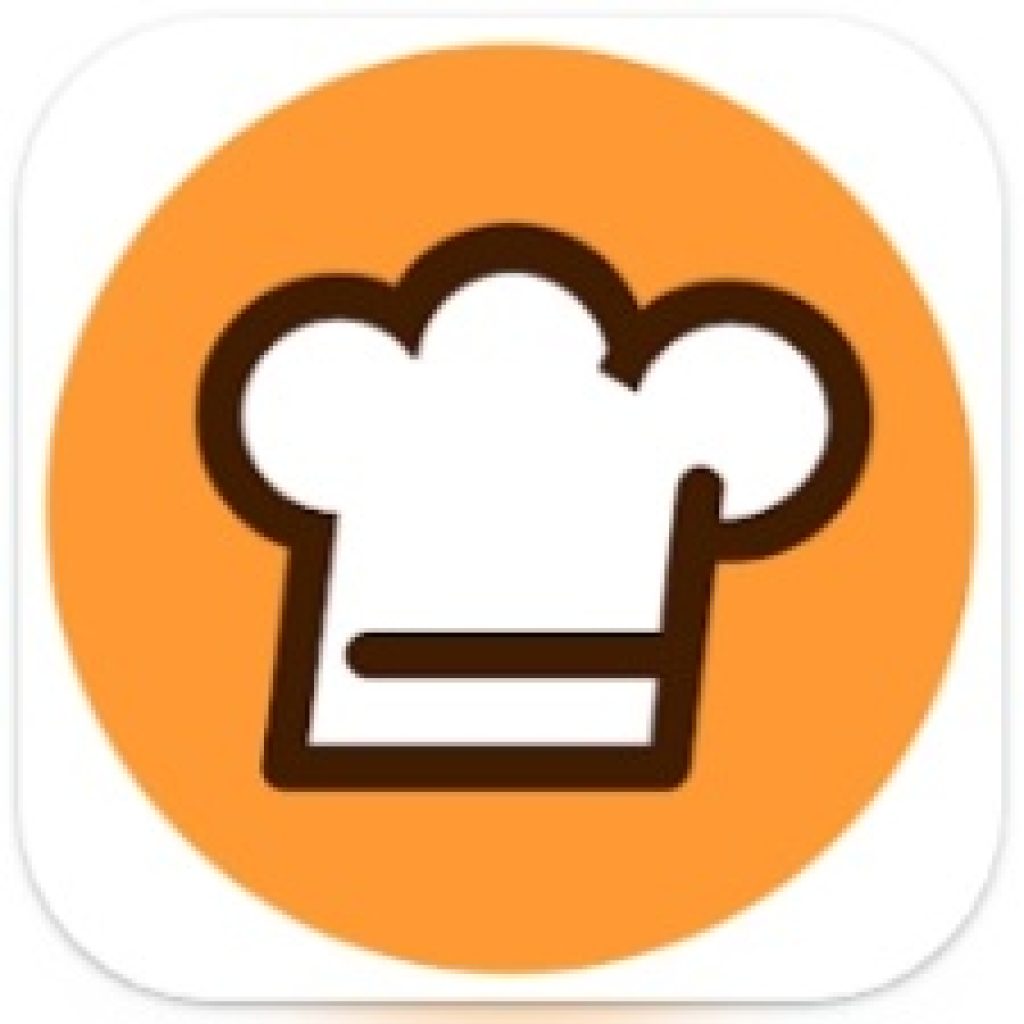 Next, there's a food app to find the most authentic world cuisine recipes.
The main perk of this app is that all the recipes here are written by real people around the globe. Thus, you can not only see the collection of recipes but add your own if needed. It also makes it easier to find original recipes of world cuisine dishes along with some family recipes as well.
For now, the app already covers over a million recipes for you to try, and more get added daily. As for the soul food, there are over 4K recipes, so there's smth for any taste. You'll find this app incredibly useful if you're into cornbread: there are a bunch of recipes with it, from classic ones to sweet, ones and all that.
The app also comes with filters that let you specify your search. You can specify the products, diet requirements, and even the cooking process in general. In case you would like to post, make sure to share as many dishes as you can, as the app usually gives authors real prizes for activity.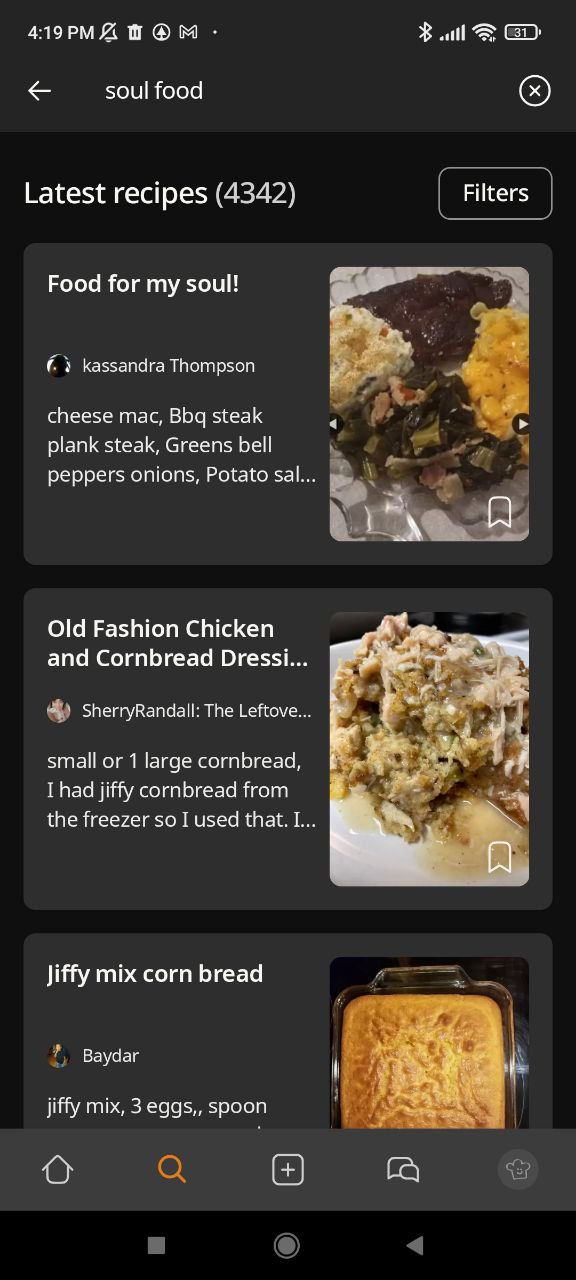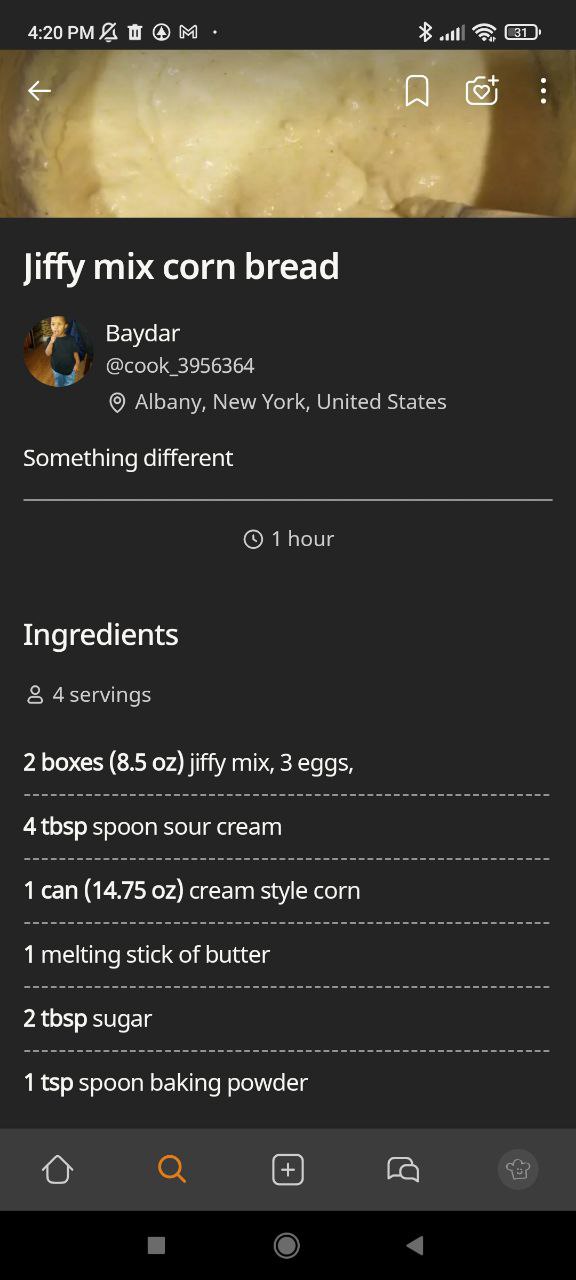 SideChef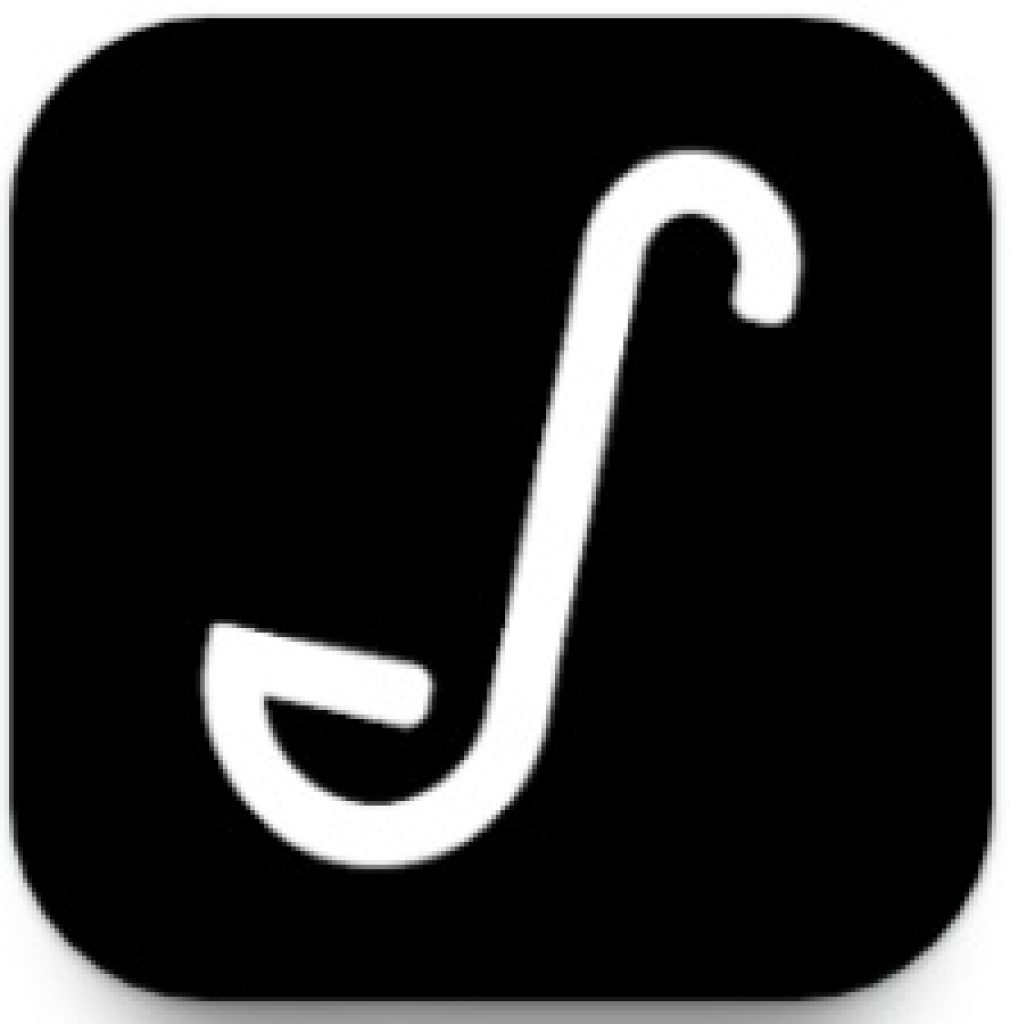 It's a cooking app that will help you find your next fave meal.
It needs to be said, the app doesn't have the widest bank of dishes: there are only 18k options (if the word only is fair to use here). However, you still get a wide variety of recipes and a powerful search engine. You can look for the nationality of cuisine, type of dish, ingredients, and much more. Dietary filters are included as well, so no worries.
The app also features lots of would food recipes, so you could definitely find smth you would like to eat. Plus, all the recipes will guide you through the entire cooking process step by step, so you won't have issues with that. Each dish comes with a checklist of ingredients, so it's easy to make a to-buy list out of it. The app can even calculate the cost of the meal if needed.
In case you're not a fan of in-store shopping, you can buy all the products online by following in-app links. You can also view the nutrition info for all the dishes, which is nice for those who track their food consumption and calories. The app also lets you make your own cookbook out of recipes you like.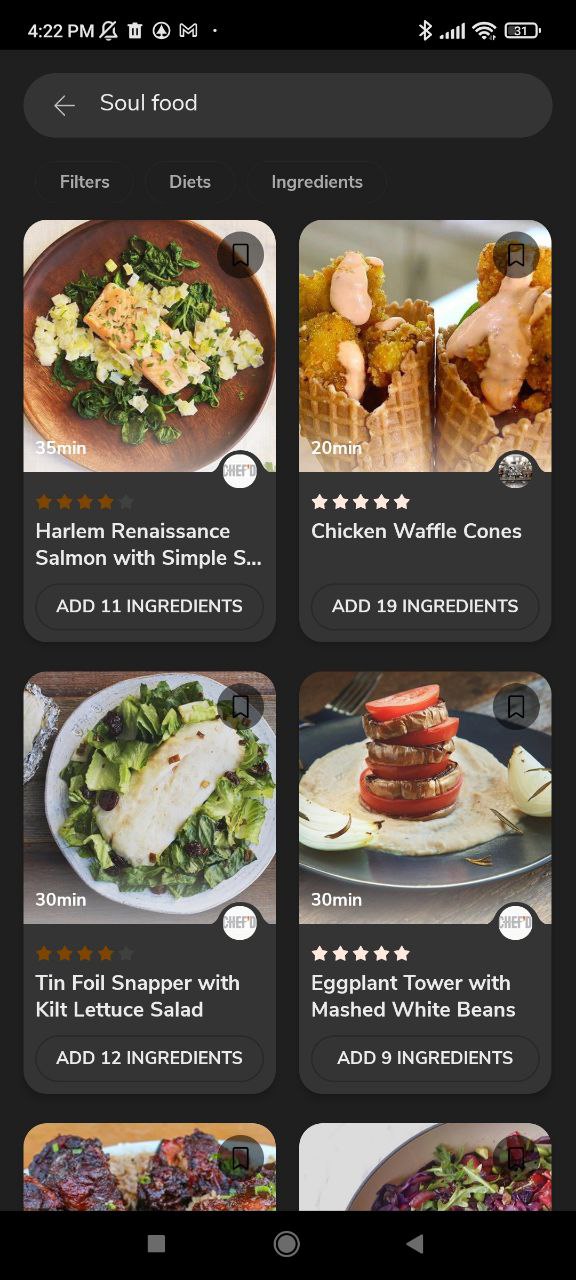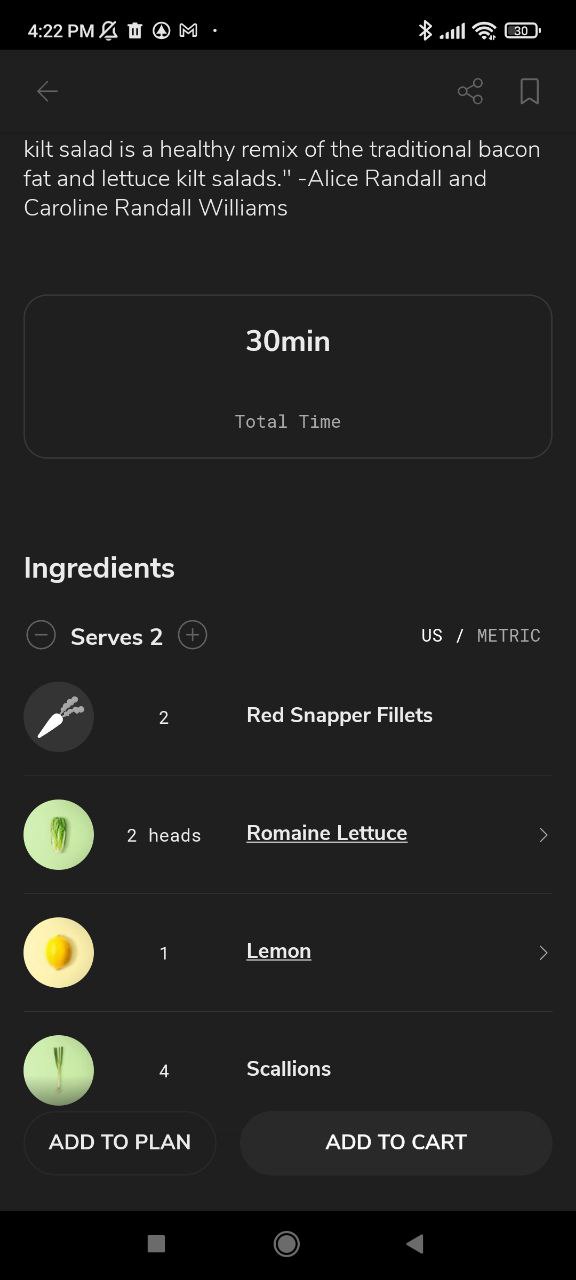 All Recipes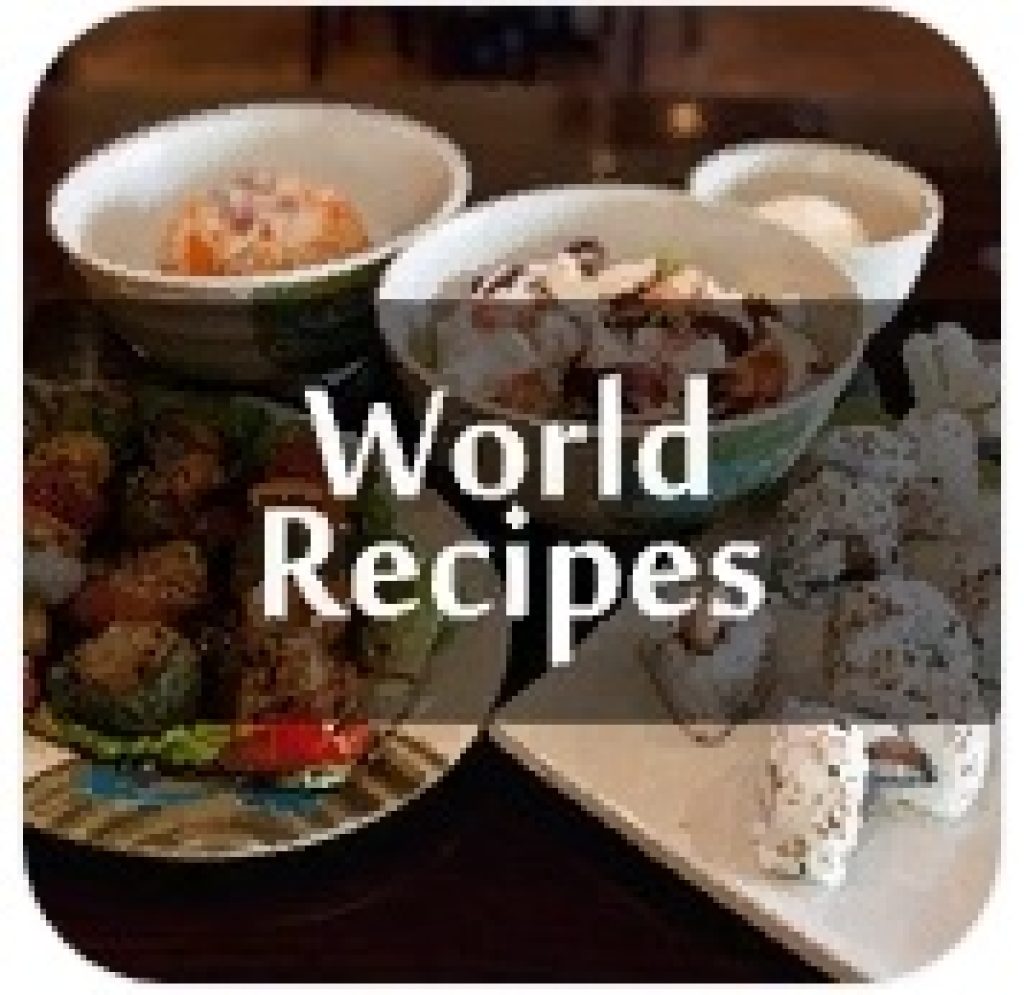 This is a recipe app for all the world cuisines food lovers.
The app covers a wide scope of recipes from all over the world. It's an ultimate world cuisine recipe cookbook to always have on hand. The app covers authentic recipes of different cultures, religions, festivals, and more, so everyone could find smth yummy to try. For instance, there are Asian, French, Italian, and much more cuisines for you to explore.
The soul food recipes are included as well, and there are quite a lot of options to pick from. There are over 1M recipes, so you won't struggle with a lack of variety. All recipes get explained step by step, so you could gain the most authentic results. Plus, most of them come with video tutorials, which is great for cooking beginners.
The app also comes with detailed nutrition info along with items for all the dishes. Beyond that, you get to import the items into a to-buy list right away, so you won't forget any while at the store. You can also collect your fave dishes for easy access. Once it's done, you'll be able to view your faves without the web connection.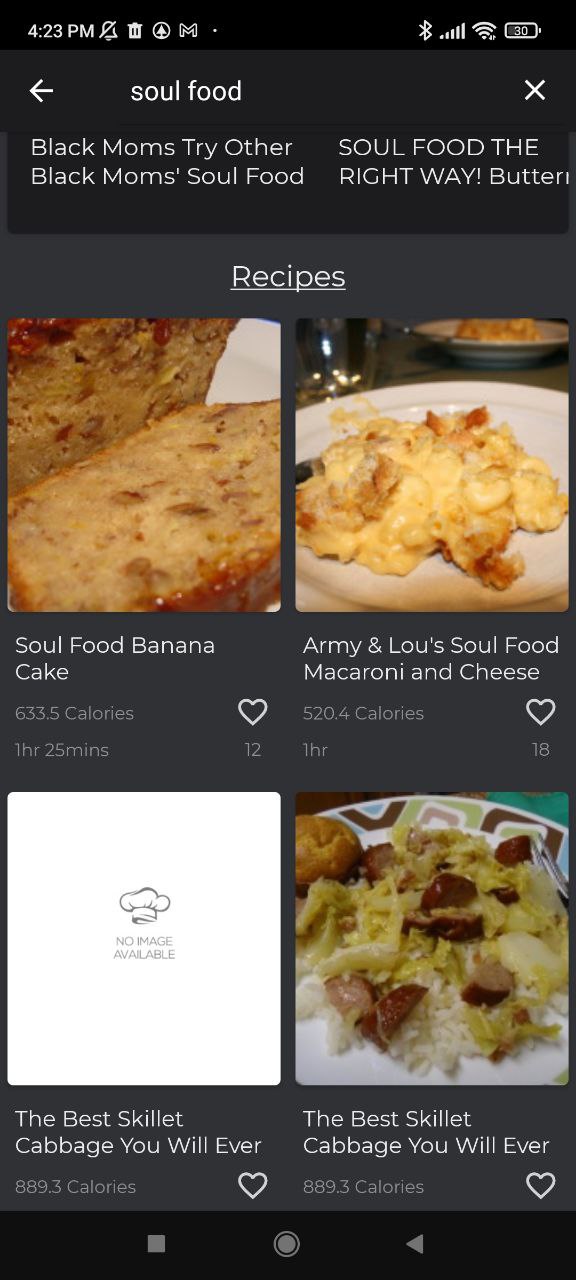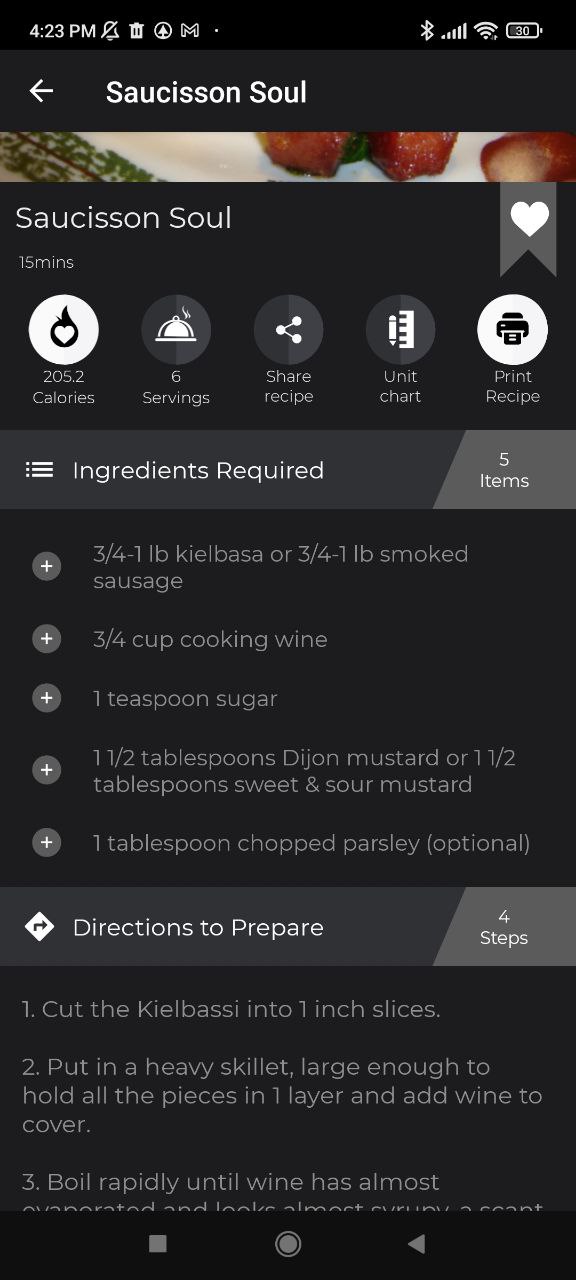 Check also: 15 Free Recipes by Ingredients Apps & Websites
BigOven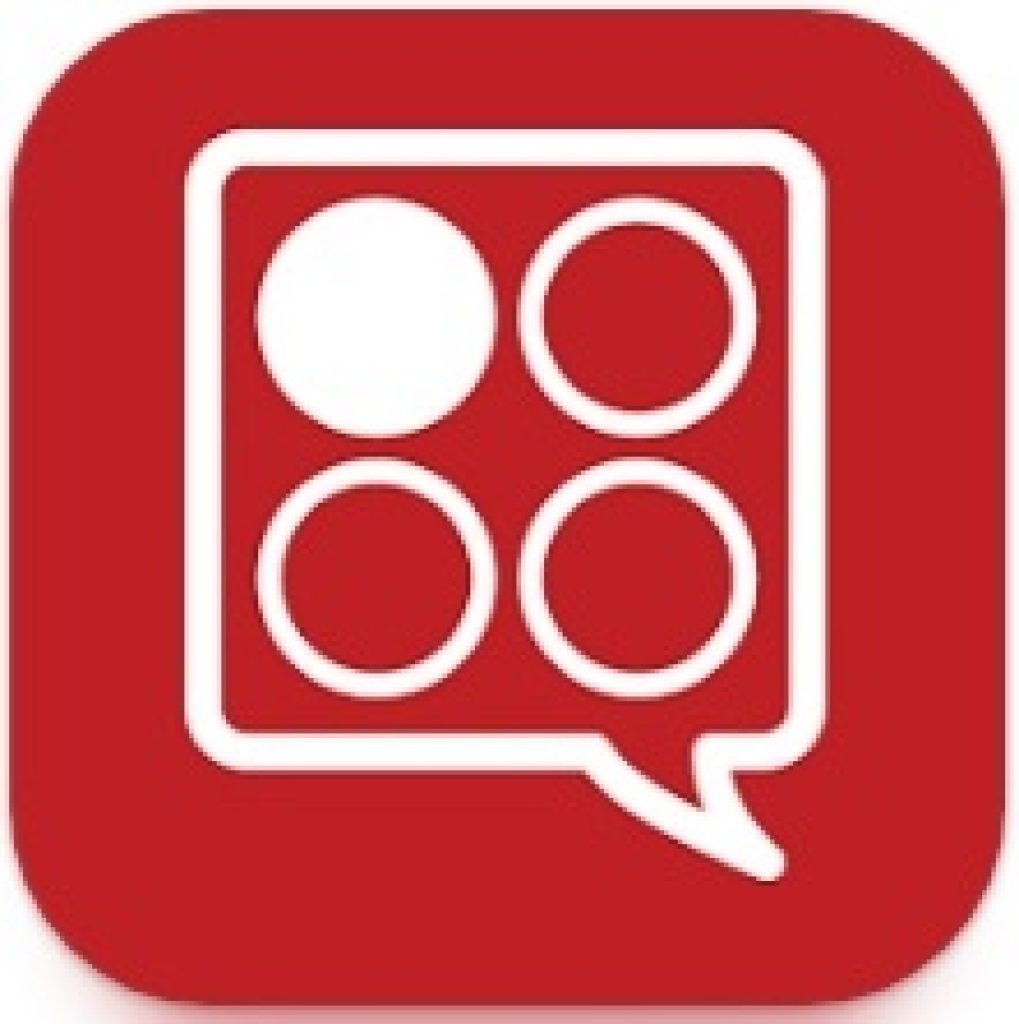 That is one of the most used recipe apps on the market, so don't get past it.
Sooth to say, if you enjoy home cooking and authentic dishes from all corners of the globe, you will like this one. In this app, you won't only get to view the recipes, but share your own. All the dish cards in this app get posted by real users, so you can easily find traditional cuisines and family recipes.
The app also comes with an in-depth searching tool that lets you find specific dishes without much effort. Thus, you get to search via specific ingredients (which helps to lower food waste), dietary needs, titles, cuisine types, and more. You can actually search by the list of items you have on hand if needed.
The app also lets you make a personal cookbook of your fave recipes. Just mark the dishes you like, and they will be added to the book. You can even make a special folder for the ones you would like to try later on. You can also comment on recipes and read other people's reviews, which is quite helpful if you're trying smth new.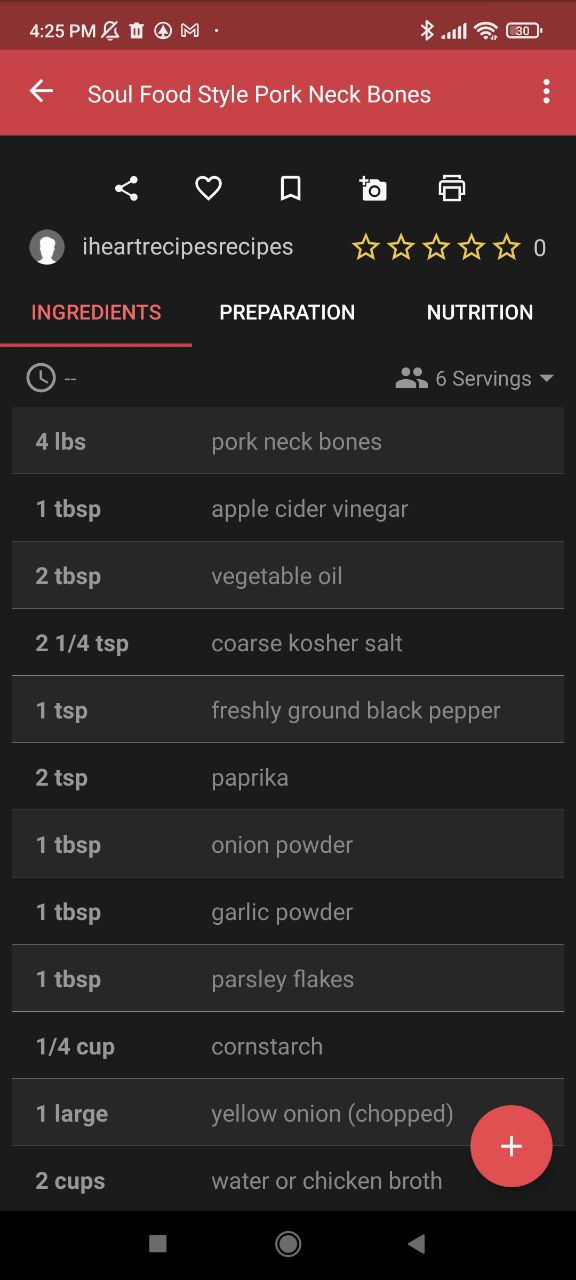 Allrecipes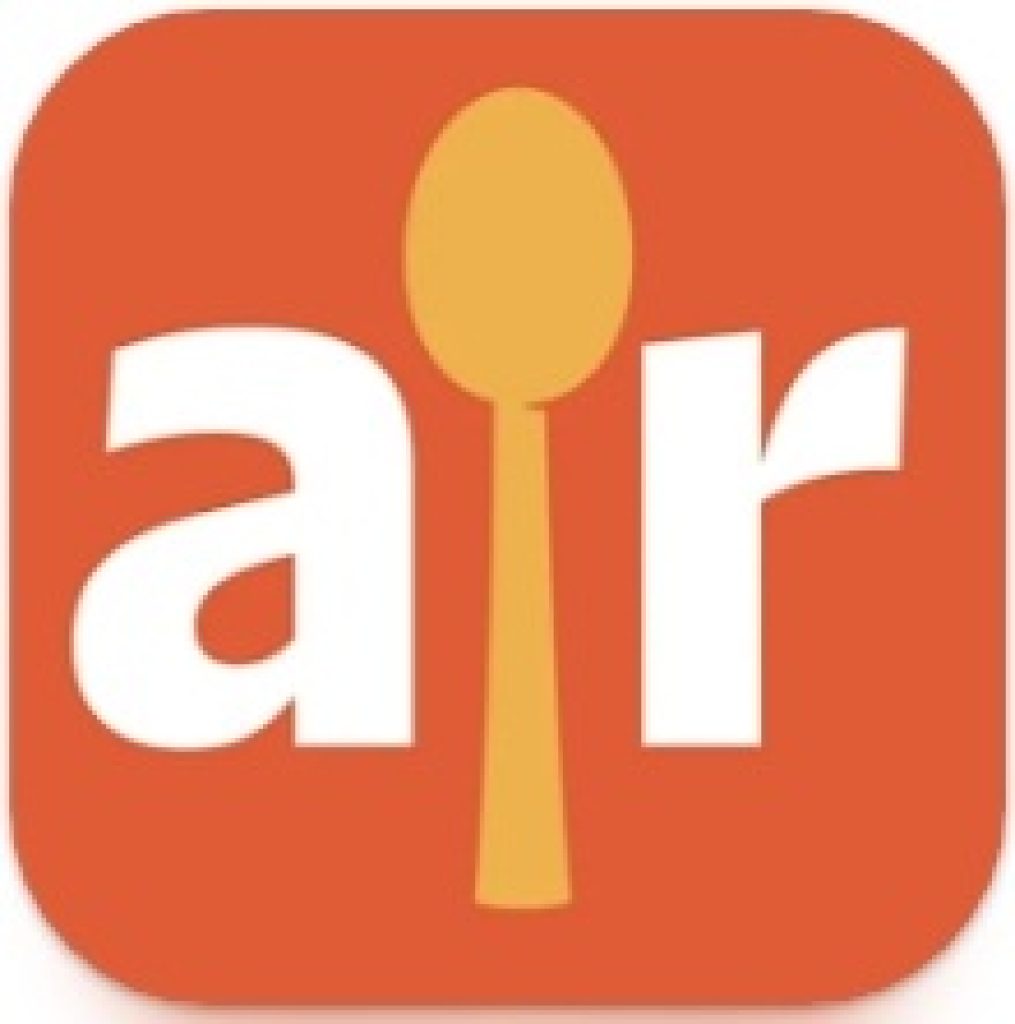 If you've ever searched for a recipe online, chances are you've come across this app (or at least its web version).
This is by far the most used recipe platform you could find. And of course, it covers a bunch of soul food recipes for you to try. If carted, the app covers multiple world cuisine recipes, so you could find a dish for any mood and occasion. The same comes for dishes: there are salads, meat recipes, soups, desserts, drinks, pastries, and much more.
Plus, the app comes with an adjustable search engine, and you can use filters to specify your search even more. There are fillers for every diet a swell, so no worries. You can also search y specific ingredients to make smth out of the food you already have on hand. The app learns from your searches and viewed recipes and forms a list of personal recs you might like.
All the recipes come with detailed guidance and video tutorials, so there's practically impossible to ruin your meal. More to that, the app runs on a rating system, so you could view the rating and comments from real users. It's quite helpful in terms of avoiding mistakes and learning new tips. Each recipe also includes in-depth nutrition info, which is pleasant.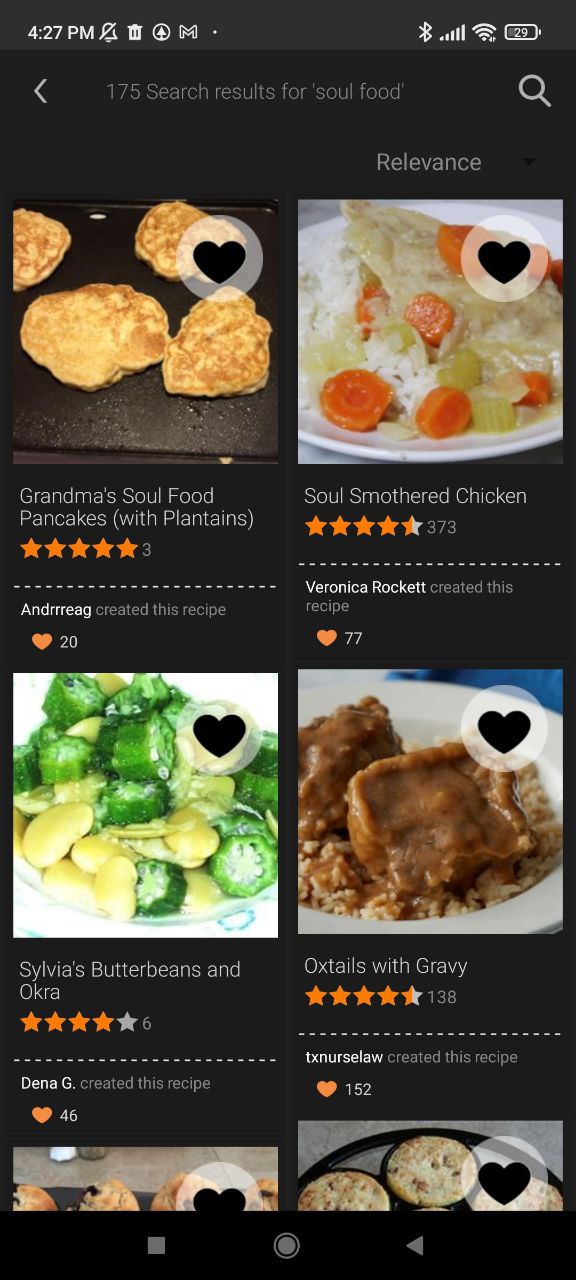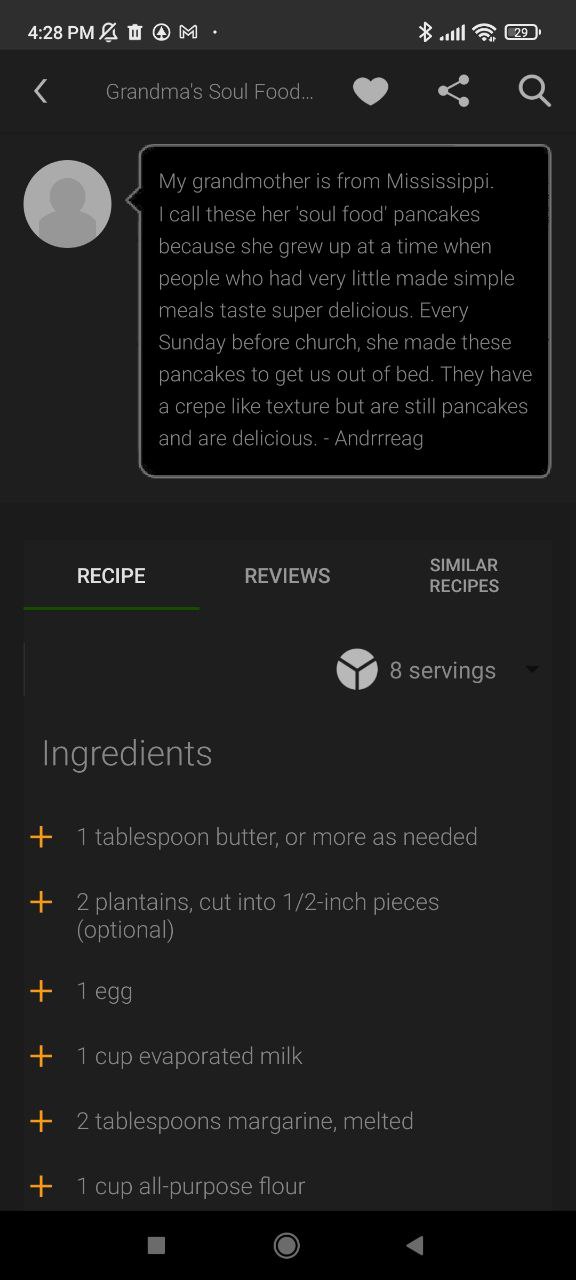 Southern Food Recipes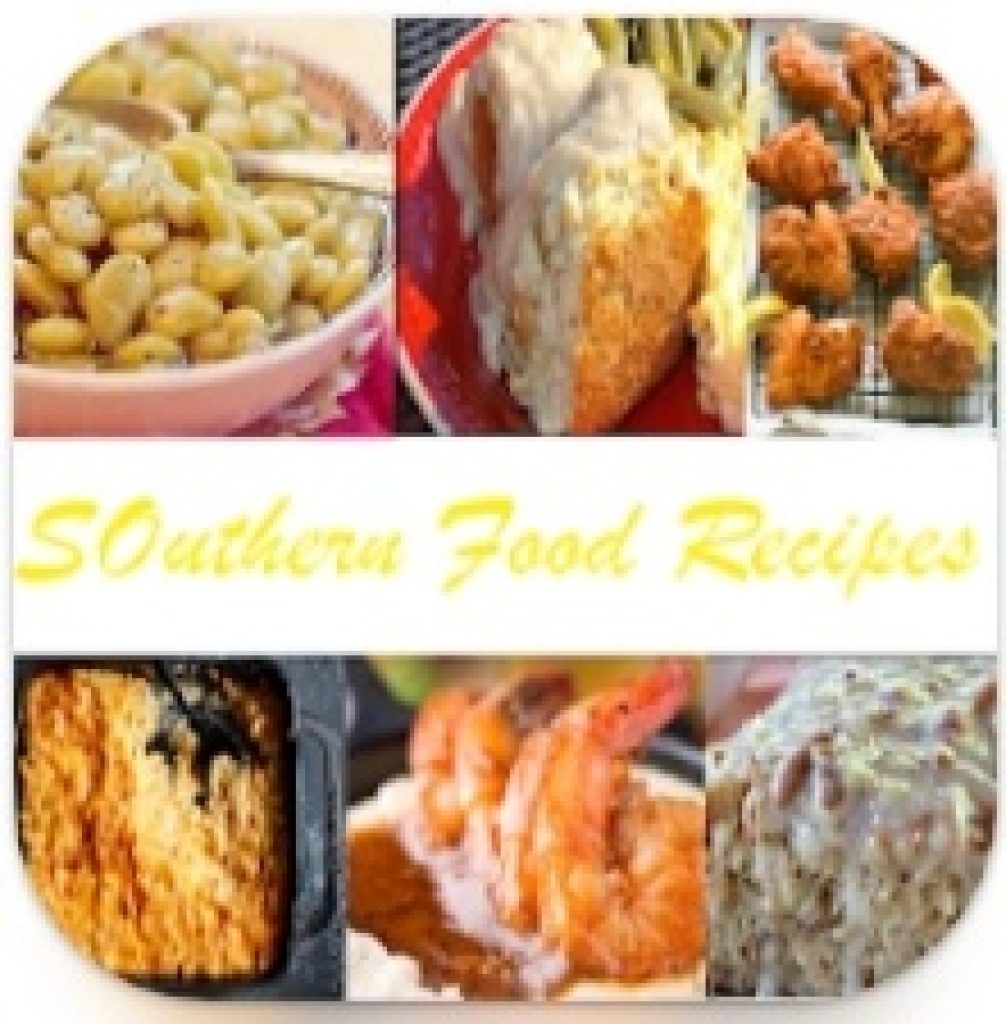 This is an app for all southern food lovers.
Apart from the previous apps, this one is fully focused on soul food dishes. So if you're on the hunt for a wide compilation of southern recipes, make sure to give this app a try. It covers everything: meat recipes, gravy, biscuits, pancakes, seasoning, pastry, and more. Of course, there are all the elements of classic southern cuisine as well: corn, barbecue, squash, and all that.
There are plenty of full breakfast recipes to get you through a busy working day. It needs to be said, the UI of this app may not be the most modern-looking, but it's a pretty niche app after all. The main perks of this app are the meals, and all of them are just delicious. You get all you need to look for: a step-by-step manual, a list of items, and nutrition info.
Plus, all the dishes are split into sections like breakfast, lunch, dinner, and all, o it's easy to find smth for a specific occasion. Of course, there's also a search engine that lets you find specific recipes right away. The app doesn't feature video tutorials, though, but that's not that big of a deal.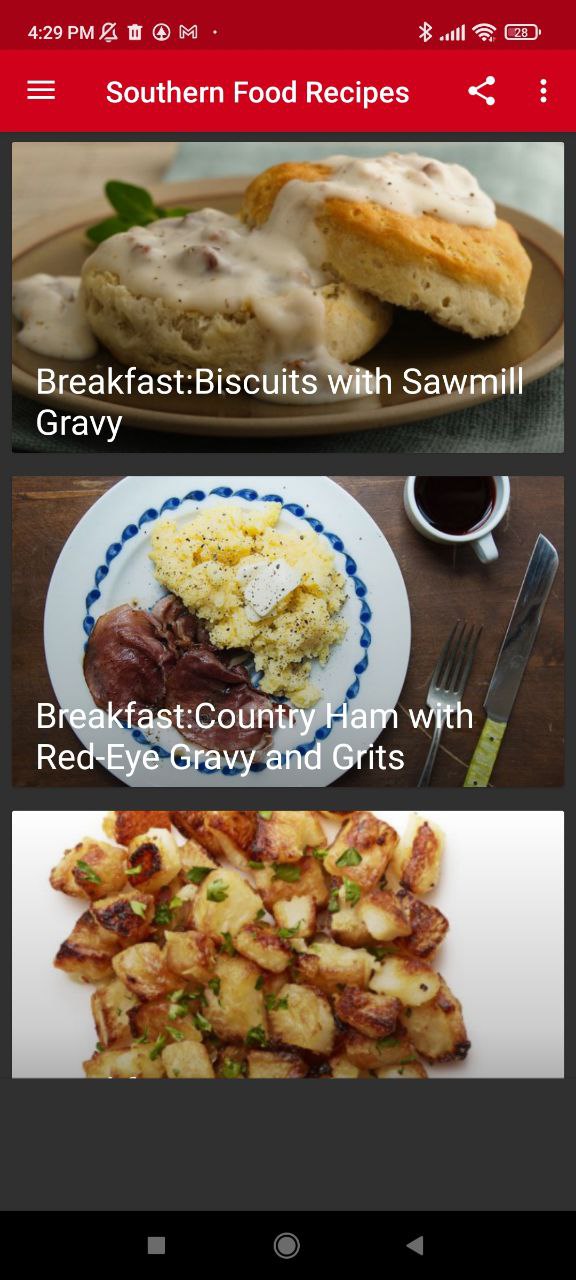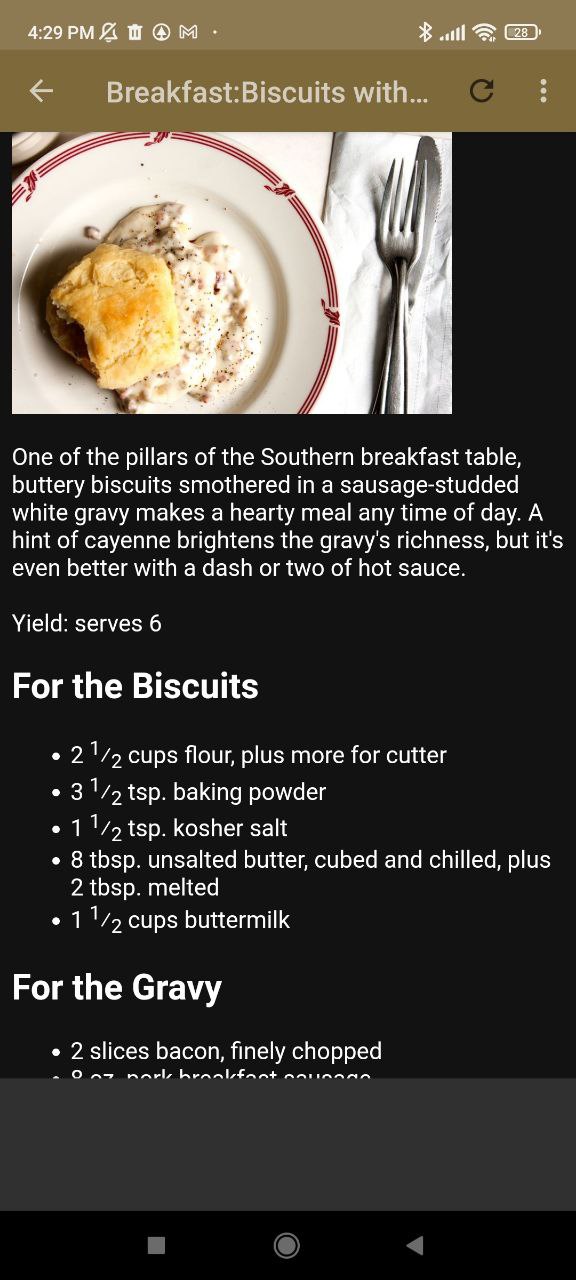 Southern Foods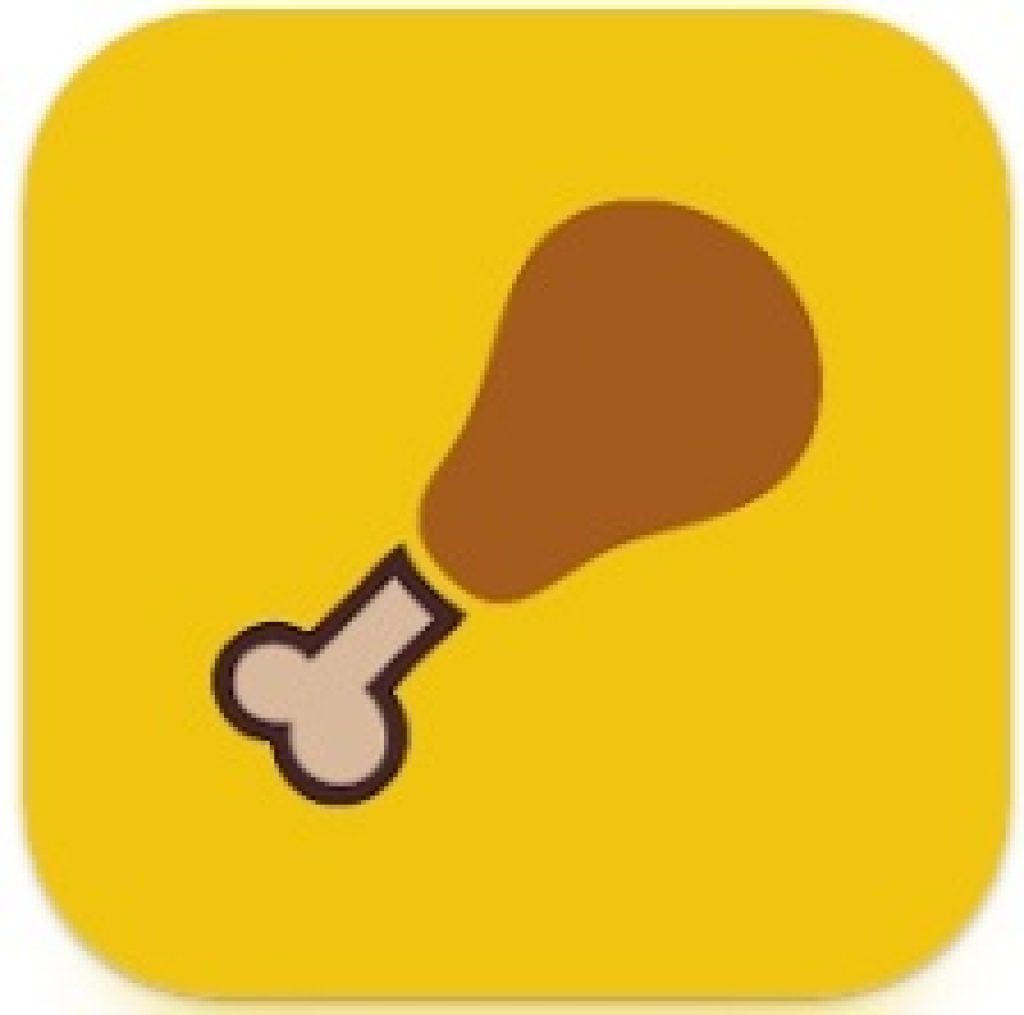 It's another app that is fully dedicated to southern food meals.
The app covers multiple soul food recipes of any kind. You've got appetizers, main meals, desserts, pastries, bread, and much more. The new recipes get added regularly, so there's always smth new for you to try. Each dish card comes with in-depth step-by-step guidance, so you'll be able to master it even without major cooking skills.
Another great thing is you see nutritional info right away as it's placed on top of the components. You get to view fat, protein, and carbs per dish. You can also set the app to show the nutrition info per serving if needed. There's also a list of components you can easily copy and paste into your shopping list.
Besides, the app lets you mark recipes that are faves for quick access. As for the search engine, it's not that detailed, as you can only search for dishes using keywords. You can try to search b the ingredients as well, but it doesn't always work smoothly.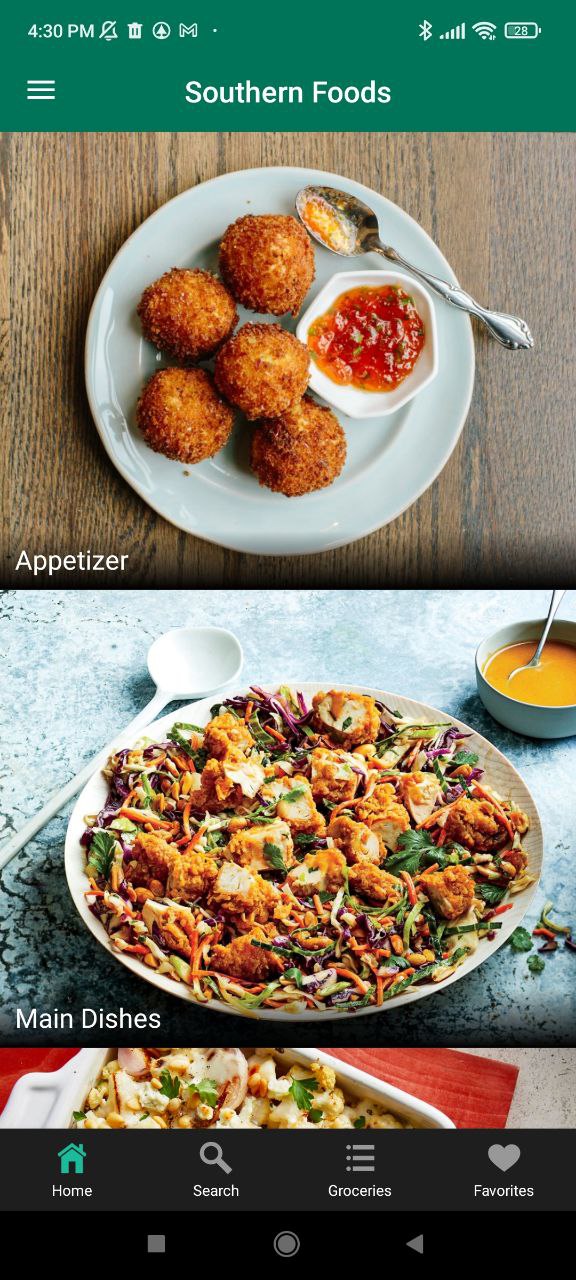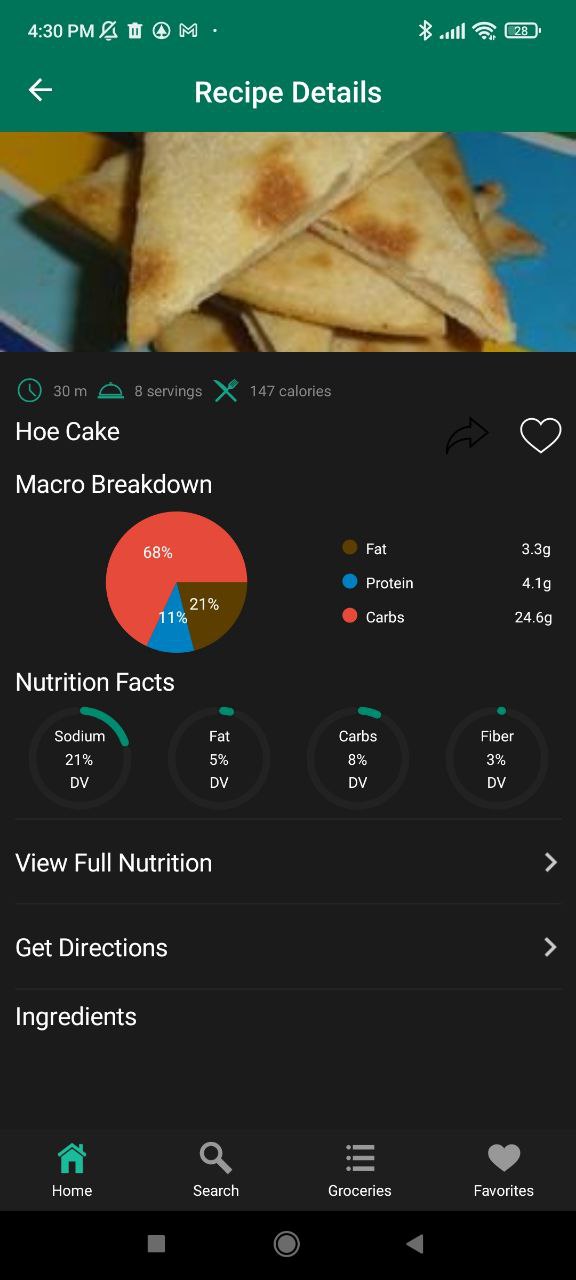 You may also check: 11 Best Recipe Organizer Apps
Tasty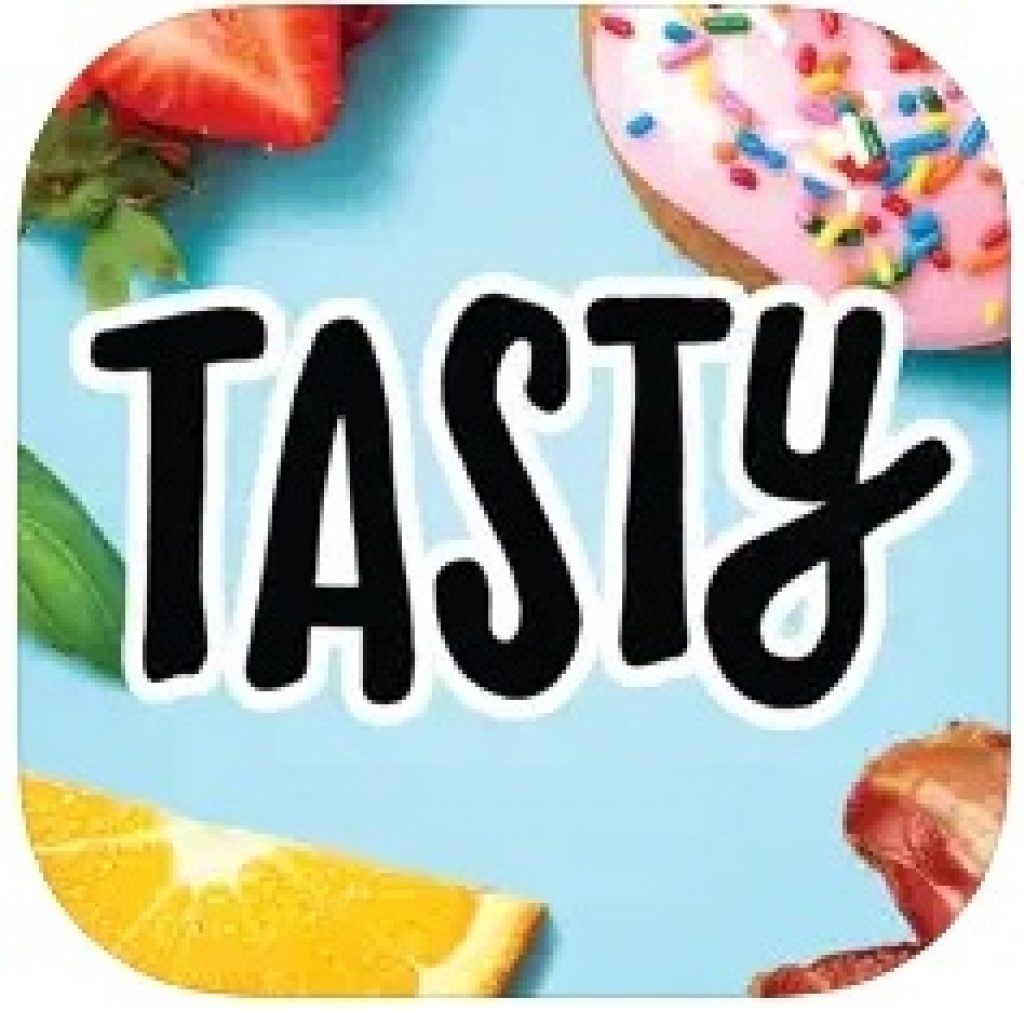 And lastly, there's a cooking app loved by millions of users worldwide.
This app has everything you may need: easy-to-follow recipes, a wide variety of dishes, and plenty of world cuisine options to try. It covers over 4K special recipes made by the team of Tasty, so you could easily find the perfect one for any occasion. As for soul food, there are quite a few options for chicken dishes, fish one, and authentic desserts as well.
The app provides you with a detailed list of items and nutritional info, so no worries here. All the recipes get explained step by step along with a video tutorial (which is great for beginners). It also features a powerful search engine that lets you search for products, dietary needs, keywords, and more.
In case you're a vegetarian, you can set the app to automatically hide all the meat recipes. Plus, the app helps you decrease food waste: there's a mode where you can add three ingredients you have on hand, and it will provide you with potential recipes. You'll also get personalized recs daily.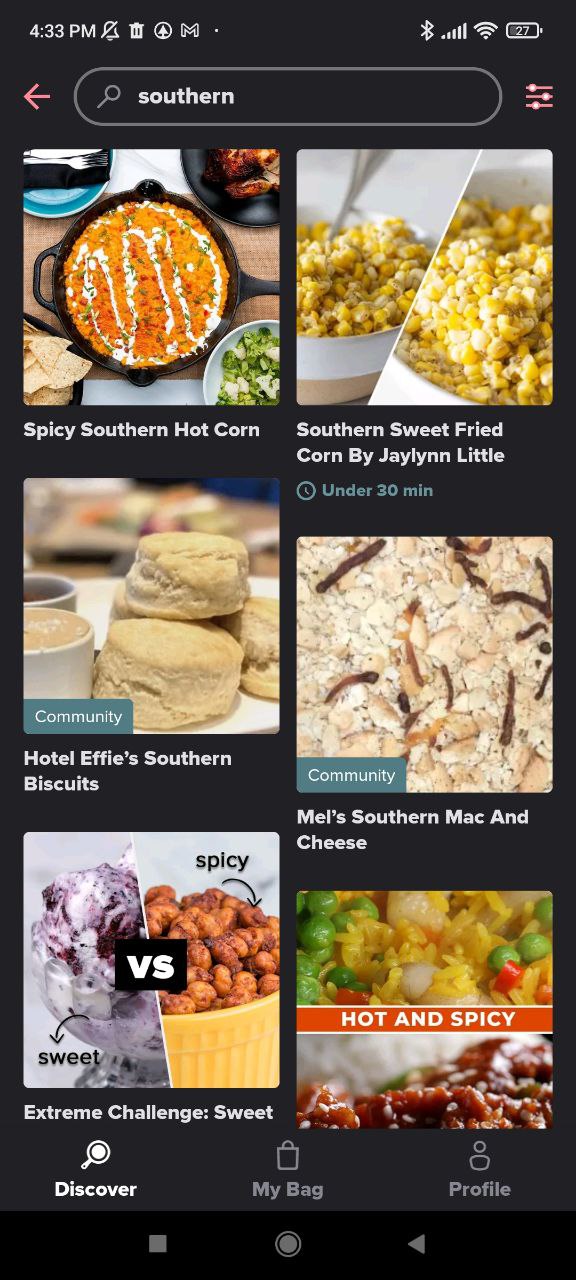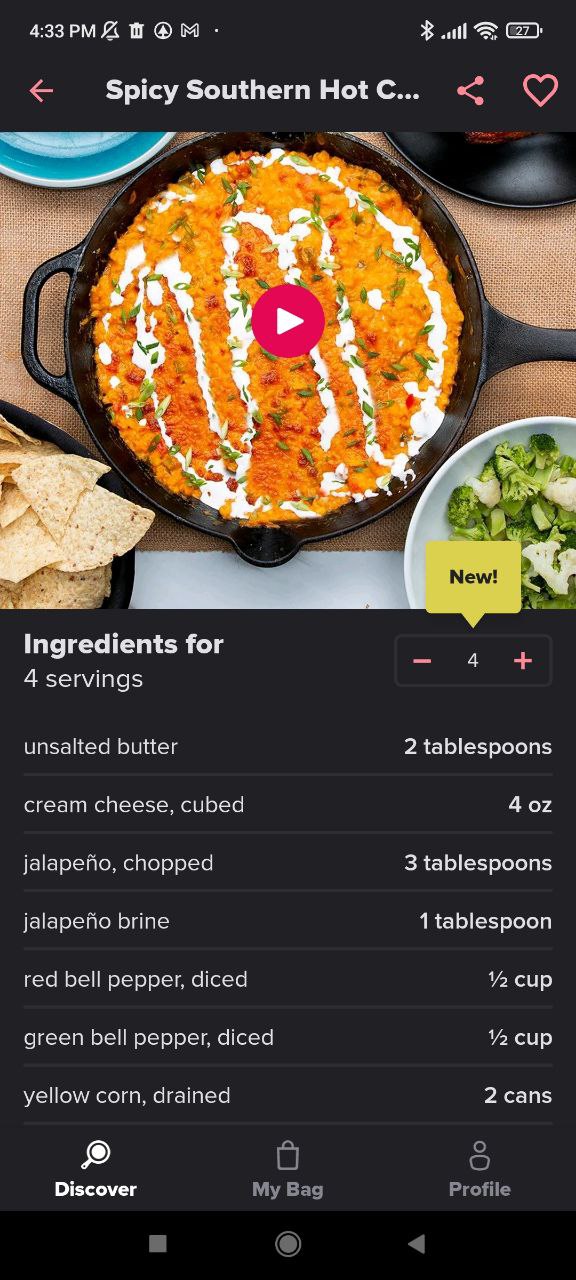 .