Do you want to boost your memory? In this case, we have found an excellent solution for you! Brain Practice app is an interactive game that allows you to train your brain with a help of a card deck. So, let's find out why this game is so special.
What is more, we can offer tons of useful apps for teenage girls – just check out this article and discover hidden gems!
First of all, the Brain Practice app contains a minimalistic design that makes its interface simple and convenient to use. The game is available for IOS, macOS, watchOS, and tvOS.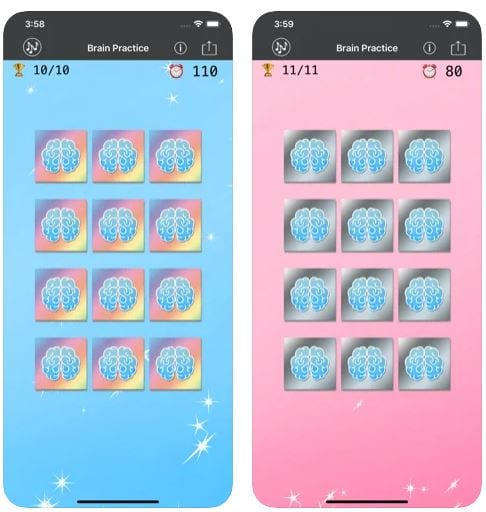 The app installs quickly and does not slow down. There is no need to pass the registration process, so you can get straight to the subject.
So, what's the point of the game?
Brain Practice app is a traditional memory game. When you start using it, you will find a card collection on the screen. The game consists of various difficulty levels – from simple to difficult ones. All you need to do – just turn over two cards.
Another category of apps that will help to unleash your creative skills is the apps to create characters.
If they are similar, they will disappear. But if they aren't, you will have to recall where is located the appropriate one. The faster you clean the board, the more points you will receive. Keep in mind – the time is limited!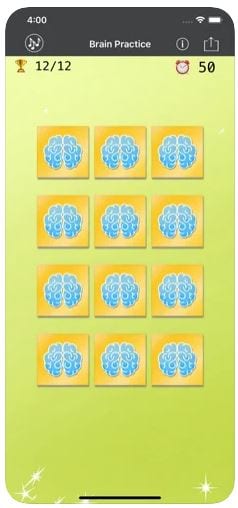 Brain Practice app comes with free access, but you can purchase a premium version at a quite reasonable price. In the paid version, you will get new levels and collections. Plus, you can share the game with friends to play together with them!
When you want to relax and use something easier, you can read our article about the best apps to cartoon yourself – have fun!
The manufacturer constantly updates the app version to satisfy all users' needs and wishes. Today it is quite difficult to find both developing and entertaining games that would not ask for tons of money. But we have to admit that the Brain Practice app is truly one of these kinds of games.
It will ideally suit anyone – both children and their parents. The game is very addictive – we have played it for days and still can not stop!