Beautiful elastic buttocks are the dream of almost every modern girl. But how to achieve such forms, if there is no time to go to the gym? This problem will be solved by special applications for buttocks training.
This list includes the best butt workout apps. With their help, you will be able to do sports even at home and get the figure of a dream.
You may also like: 11 Free Weight Tracker Apps for Android & iOS
Butt Workout by 7M | Booty & Buttocks Workout App
The Butt Workout by 7M | Booty & Buttocks Workout app offers a set of classic foot exercises with an emphasis on the top.
Squats, lunges, wave your feet and take them away. It's a classic that's been tested for years. Each complex is designed for 10-15 minutes.
The complex can be done as a morning exercise or several times during the day. By the way, you can assemble your own set of exercises.
It is recommended to perform exercises for several days or to move to the next one every day. The workload does not increase too much.
So it does not make much difference in which sequence to go through them. It depends more on your emotional feelings – boring or not, repeating the same thing every day.
Features of the application Butt Workout by 7M | Booty & Buttocks Workout:
Animation exercises. It helps to understand the technique. Pay attention not only to the movements of the legs but also to the position of the hands and body.
Countdown timer. When you see how many repetitions are left, it's more fun.
You can set your own training time and the number of approaches and repetitions.
The application calculates how many calories you spent. It also allows you to track your parameters (weight, waist size, hips and much more).
Training reminders and daily statistics in the form of a schedule.
This free application will help you get the forms of your dreams.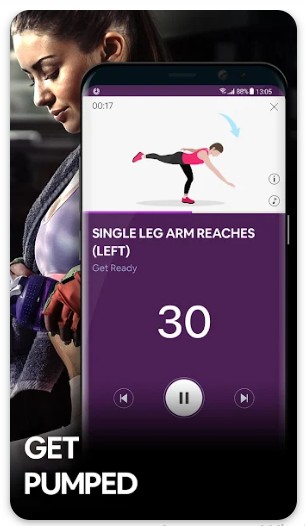 You may also like: 9 Best 7-Minute Workout Apps (Android & iOS)
Daily Butt Workout
The Daily Butt Workout app contains 45 exercises for weight loss and figure sharpening.
There are also exercises to develop the strength of major muscle groups. It turns out that these are training complexes not only for elastic butt but also for the whole body.
Besides, it focuses on the lower body part. First of all – on the buttocks and anatomically related hips, back and stomach.
This approach can be even more effective. This is due to the fact that weak stomachs and legs often limit the results when working only on buttocks.
Features of the application Daily Butt Workout:
All exercises are accompanied by video instructions and text descriptions.
You can use ready-made training programs or create your own exercises.
There are programs for both weight loss and muscle building.
Training programs go from simple and easy to more difficult. Thus, you can choose to train at any level of training.
This free application has no built-in advertising and does not need extra purchases. Do all the exercises and get the best figure!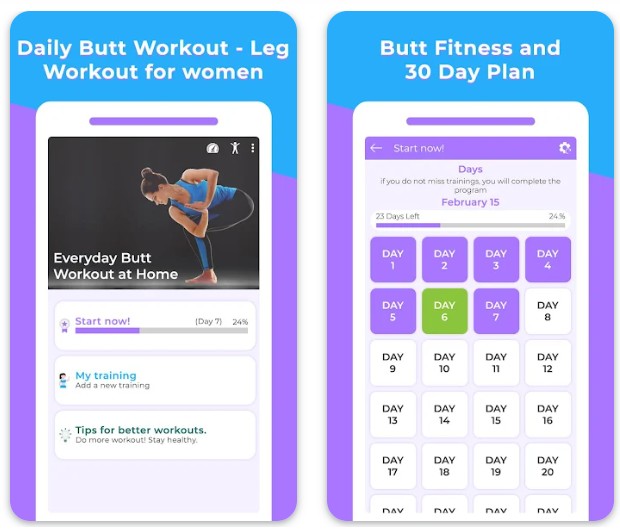 30 Day Firm Butt Challenges
There are only 4 training programs in the 30 Day Firm Butt Challenges app.
But, these complexes are filled with the best exercises to help you pump your buttocks. Here you will find a total of 46 exercises.
From level to level the difficulty increases. There is also a virtual instructor who tells you how to perform the exercises.
Features of the application 30 Day Firm Butt Challenges:
It is not necessary to increase the complexity from level to level. You can immediately start with the most shock load.
You can use exercises at any level to create your own individual training program. At the same time, you can set not only the number of approaches and repetitions but also the time of rest.
Audio and video instructions for performance.
Exercises are distributed among muscle groups. So that not only does the pope pump and becomes elastic. The rest of the body will also fit it.
By clicking on the "pause", you can extend the exercise if you want to increase the load.
This program is suitable for those who think that they need not only a firm butt but also a good tightened body.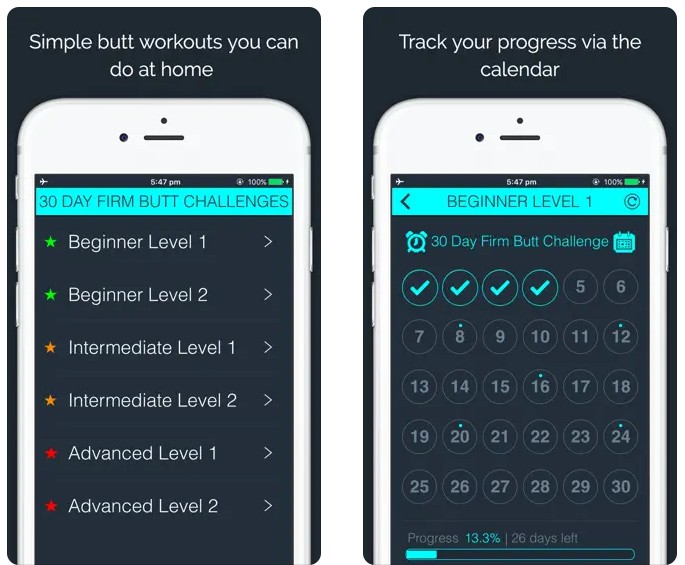 Squat Challenge 30 Day Workout
The Squat Challenge 30 Day Workout app aims to teach you how to sit down up to 300 times a day.
Since squatting is the best buttock exercise, it will do you the best. Just remember that squatting is not the most harmless exercise
So make sure your knees are always above your feet and do not lower your pelvis below them. See appendix 15 training programs.
From 1 to 300 squats. The specific training program is selected depending on your level of training.
Features of the application Squat Challenge 30 Day Workout:
Each program has a warm-up. If you do not like the selected set of exercises, you can change it right during the training.
The statistics show your current level of training. The system of "medals" – virtual awards for performance – is designed to motivate you.
Reminders about training include a break of 48 hours between training. And 72 hours after each of the 15 programs. After each program, you will move to a new level.
The application Squat Challenge 30 Day Workout will be useful for everyone who has no contraindications to squats.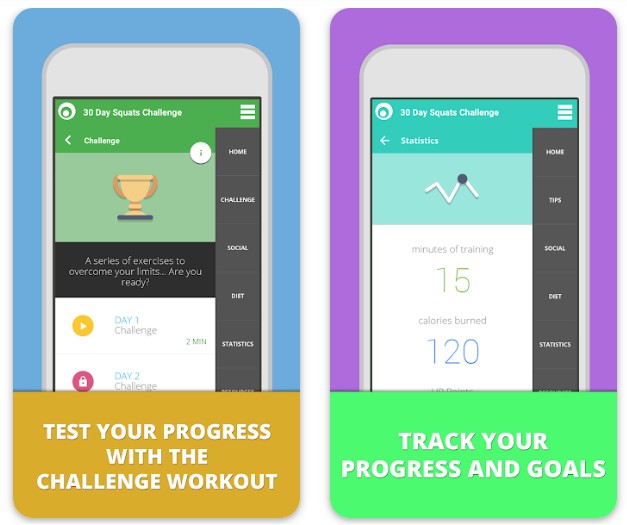 You may also like: 11 Best Weight & Food Calculator Apps for Android & iOS
Five Minute Butt and Legs
Five Minute Butt and Legs app by Olson Apps is a useful training app that offers a simple and effective workout routine for users looking to tone their legs and glutes.
You are presented with a series of exercises that target the lower body, with each exercise lasting 30 seconds. There is a brief rest period in between exercises, and the entire workout takes just five minutes to complete.
Users can customize their workouts by selecting specific exercises or creating their routines.
The graphics in the app are functional but not particularly impressive. The interface is easy to navigate, and the animations used to demonstrate the exercises are clear and easy to follow.
However, the graphics could benefit from some additional polish, especially when compared to some of the other fitness apps available on the market.
While the animations provide a basic understanding of how the exercises should be performed, users who are new to fitness may struggle to execute the movements correctly without additional guidance.
Also, there is a limited exercise selection and a lack of guidance on form and technique.
Though, it is worth noting that many users have praised the app for its simplicity and effectiveness, especially those who are looking for a quick and convenient workout option.
Advantages:
Quick and convenient workout option.
Simple and effective routine.
Easy to customize.
Drawbacks:
Limited exercise selection.
No guidance on proper form and technique.
Some technical issues were reported.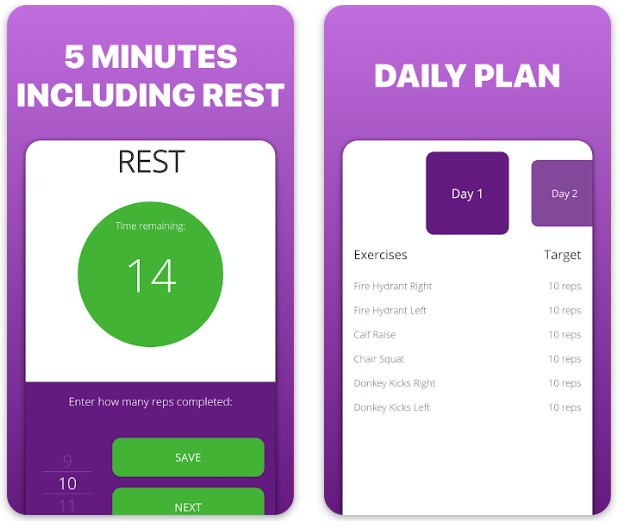 30 Day Ab & Squat Challenge
30 Day Ab & Squat Challenge is a squatting app that combines a training program with an exercise counter.
You should sit down while holding your smartphone or tablet in front of you. The built-in sensor-accelerometer will calculate the number of repetitions.
In the app 30 Day Ab & Squat Challenge, there are three levels of training. They will teach you to sit down up to 150 times in a row, observing the safe technique of exercise.
Features of the application 30 Day Ab & Squat Challenge:
You don't have to count repetitions by yourself.
Visual analysis of training results and recommendations for continuing training.
To motivate you to compare your achievements with the results of other users of the application. You can also measure yourself against the leaders of the rating
Powerful social media integration. Each training session will be offered to you to put in all social networks, where you have an account.
The ability to login via any social media will help you get the extra incentive for your training. You can share your results with your friends. Invite them into the game to compete with them to increase their progress.
Besides, the application 30 Day Ab & Squat Challenge has a nice interface and useful functionality. With its help, you can easily perform the best exercises for the buttocks.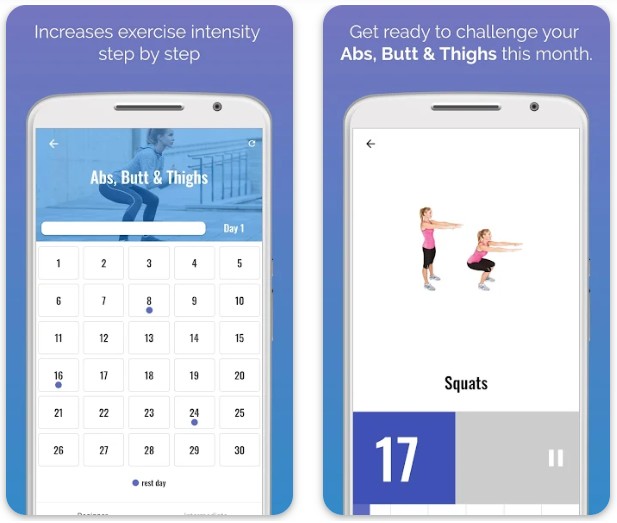 Buttocks Workout-Hips, Legs & Booty Home Workout
The full course is designed for 30 days. Every day includes foot and buttock exercises. From 8 to 11 types with repetitions up to 25 times.
Training is carried out using detailed text instructions. They are also accompanied by a voice coach who will guide your actions.
Animations also show you how to do an exercise correctly. For example, how to sit down and lean-to pump your hips and buttocks without pulling anything.
After you do the exercises for the legs, thighs, and priests, the app Buttocks Workout-Hips, Legs & Booty Home Workout will show a small report:
Number of exercises
Number of calories burned
Training duration
Also, remember to enter your height and weight data. So the application will calculate your body mass index.
The report screen shows all your training sessions. Total calories and a total time of exercise. You can see the same data in the History section. And the exercise and weight chart show the dynamics of your progress for each day of exercise.
Exercises in the set of exercises are quite simple. The training plan is designed for 30 days. A small training session includes up to 10 exercises. Some exercises need to be repeated 20 times each.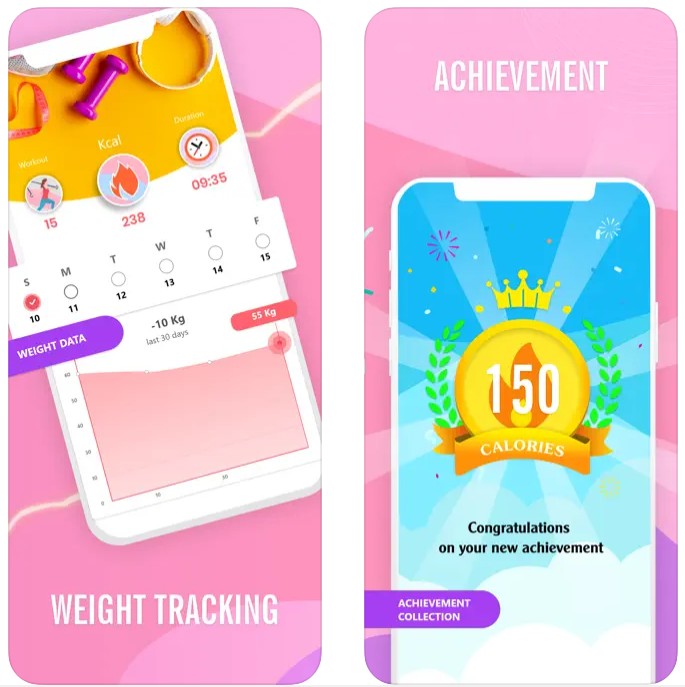 30-Day Butt & Leg Challenge
30-Day Butt & Leg Challenge is a popular workout app designed to help users tone their lower body over a month.
Users are provided with a daily workout routine for 30 days that targets their legs and butt. Each exercise is demonstrated with a video and has a specific number of reps and sets to complete.
The workouts gradually increase in intensity as the days' progress, which can be challenging for some users.
Also, the design of the app is not impressive but is sufficient for its purpose. The videos are clear and demonstrate the exercises well.
However, it doesn't provide modifications or alternative exercises for people with injuries or physical limitations. Some users have also complained about the lack of warm-up and cool-down exercises in their daily routines, which can increase the risk of injury.
Advantages:
Challenging workout routines with clear video demonstrations.
Drawbacks:
Lack of modifications for injuries or physical limitations.
Technical issues were reported by some users.
No warm-up or cool-down exercises are included.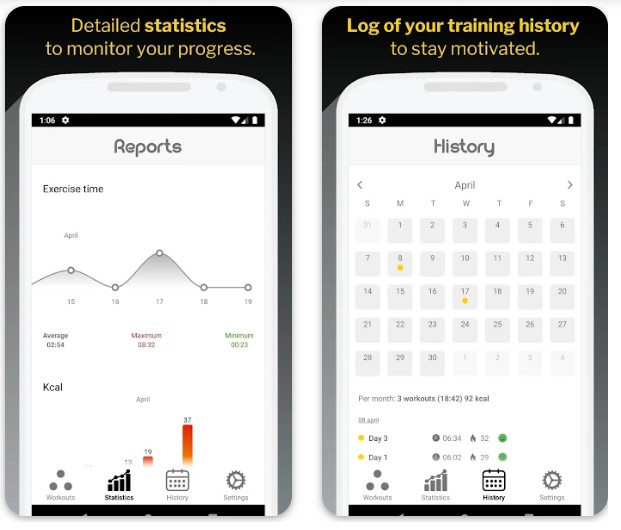 You may also like: 11 Best workout timer apps for Android & iOS
Butt workout – 4-week program
This workout app is a great fitness app that improves the shape buttocks.
The app has a series of exercises and workouts designed to tone and shape the buttocks.
Also, this app provides video instructions for each exercise, making it easy for users to follow along and perform the workouts correctly. You can use a progress tracker to monitor the user's fitness journey.
In terms of graphics, the app has a simple yet effective design. The layout is easy to navigate, and the videos and images are clear and well-made.
However, some users have commented that the graphics could be improved, particularly in terms of the user interface and the variety of exercises.
What is more, sometimes users can face long loading of training videos and bugs. Also, it can become disappointing that there is only a limited number of workouts available and could benefit from more variety.
Advantages:
Targeted buttocks workouts.
Clear video instructions.
Progress tracking.
Drawbacks:
Limited workout variety.
Potential technical issues.
Some graphics could be improved.