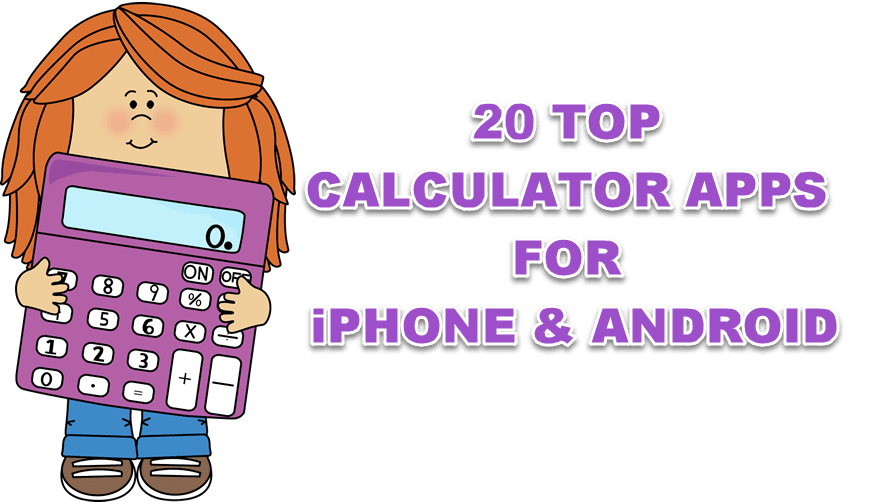 With the appearing of smartphones and built-in calculators, hand-held ones have outdated. Now even more specialized tools, such as scientific and graphing calculators, are under threat by the proliferation of highly capable calculator apps. Do you gonna to try one of the top calculators on your smartphone? We present the most helpful and high rated calculator apps for you!
1 Calculator ++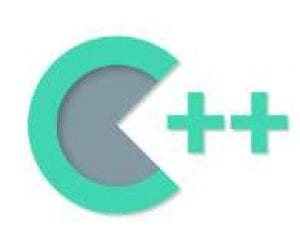 Are you looking for an efficient and easy-to-use calculator? Calculator ++ is for you! It is a multi-optional calculator app created for Android devices. It is well-designed and has a friendly intuitive interface. You can choose one of five different themes to your taste and add home screen widget.
Using Calculator ++ you will save your time!
Available operations:
• You can do calculations with variables and constants
• You can use built-in functions or add your own
• It is possible to integrate and differentiate
• You can do calculations with fractions and simplify expressions
• You can do calculations with complex numbers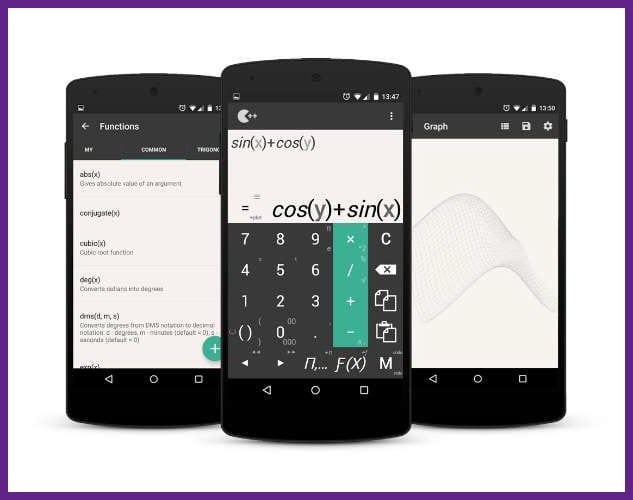 [Price: free with in-app purchases]
2 Calculator Plus Free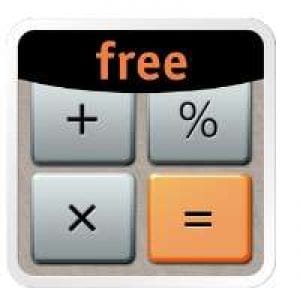 USA TODAY named Calculator Plus among its "25 Essential Apps", calling it the "handy calculator app that's garnered great user ratings".
Calculator Plus Free is a perfect calculator app for both iPhone and Android devices. It is easy in use and beautifully designed. It is created to save your time and efforts.
Distinctive features of Calculator Plus Free
* It remembers everything you have ever calculated, you can review it anytime
*It is possible to use backspace anytime to correct a simple mistake, instead of starting over
*It shows your calculations in clear, elegant type that's easy to read
*You can use memory to keep a running total you can actually see
Calculator Plus Free is a perfect finding for shopping, doing homework, balancing chequebooks, or even calculating taxes.
Let Calculator Plus finally put that handheld calculator to rest!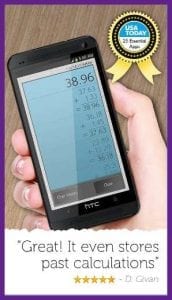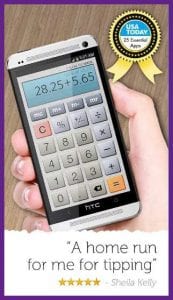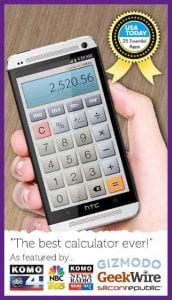 [Price: free]
3 CALCU™ Stylish Calculator Free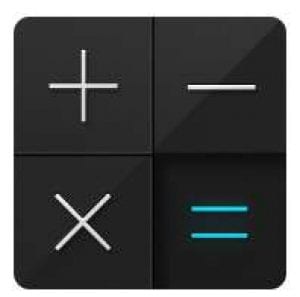 CALCU™ is one of the high rated calculator applications created for Android users. It is a stylish calculator with a number of themes for you to choose.
Why you should choose CALCU™
It has intuitive interface with gesture-based control and navigation
You can see instant results of your mathematic operations
To open the history of your calculations just swipe down on the display or use show memory keys option
You can choose between simple and full keypad layout
CALCU™ offers all the regular and scientific calculator functions in a simple, stylish and easy-to-use app. Download the perfect calculator for free today!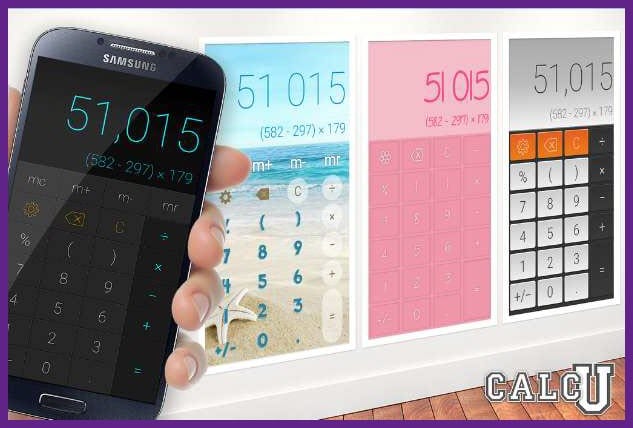 [Price: free with in-app purchases]
4 Algeo Graphing Calculator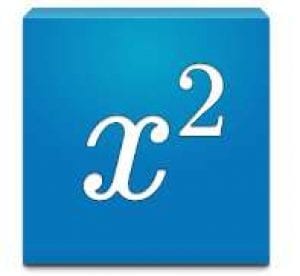 Algeo Graphing Calculator is a powerful graphing calculator for Android. It has the best graphing experience available on the Google Play.
Algeo has all functions you need: Trigonometric and Hyperbolic Functions, Radians and Degree Support, Result History, Variables, Scientific Notation, Supports Landscape Mode and more.
The app works really well! You will enjoy all the operations that you can do with it!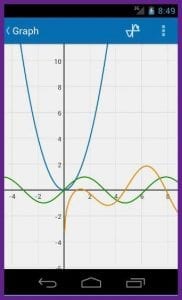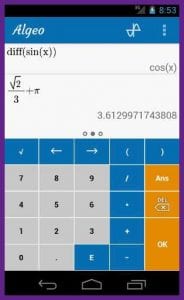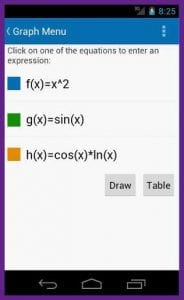 [Price: free with in-app purchases]
5 Calculator +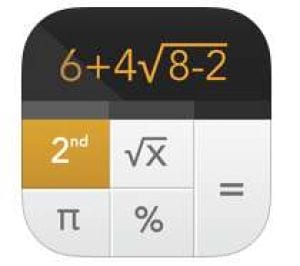 Calculator + is one of the simplest and useful calculator apps fo iPhone devices. There are NO ADS. NO annoying popups! It is well-designed and has an elegant & intuitive interface.
Calculator + benefits:
– Supports handwriting
– Displays both the equation & the result at the same time
– Supports Fraction & Percent
– Supports many scientific functions
– Advanced editing by easily going back and forth
Try Calculator + and you will never have any issues with it!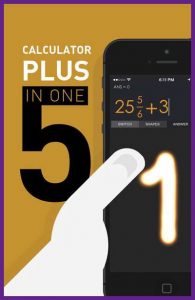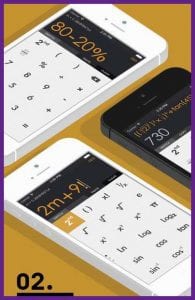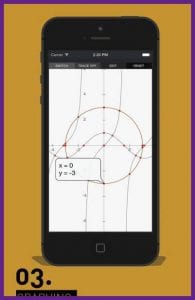 [Price: free]
6 CalcTape Free Tape Calculator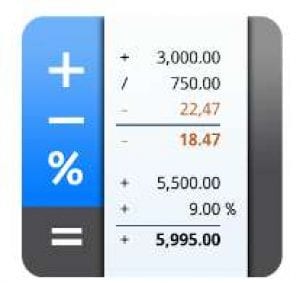 CalcTape is an innovative substitute of a pocket calculator.  It has all the function that every calculator should have and some other specific features of its own. Using CalcTape you can share your results via email, Airdrop and more. Also, you can print your calculations.
CalcTape is used for money, tax, and any other percentage calculation easily. You can save your calculations into files and open them later to continue or to change. Calculations are refreshed automatically.
CalcTape is more than a calculator!
It is free with in-app purchases on Android devices and paid for iPhone users.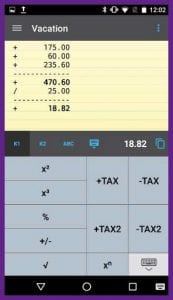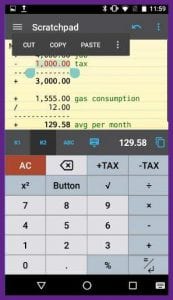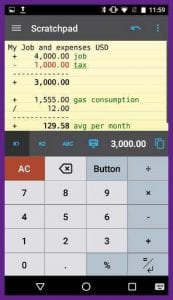 [Price: free with in-app purchases/$2.99]
7 Free
Graphing Calculator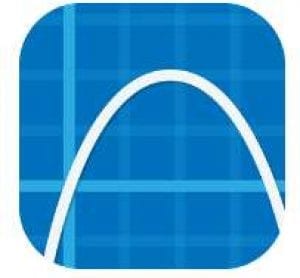 Free Graphing Calculator is a helpful multi-optional tool for calculations. Simple to grasp and easy to use, but powerful features are available when you need them.
Available functions include the following: the usual arithmetic functions and exponentiation; square root, cube root, nth root, natural log, log base 10, log of arbitrary base, absolute value, factorial, permutations (nPr), combinations (nCr), modulus, random integer, bell curve, cumulative normal distribution, decimal to fraction.
You can graph up to four equations at once, resize the graph and so on. You can convert different units here: acceleration, angle, area, density, distance, energy, force, mass, power, pressure, speed, temperature, time, and volume. Great!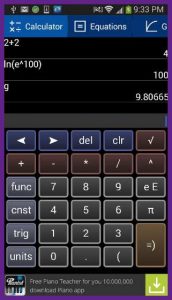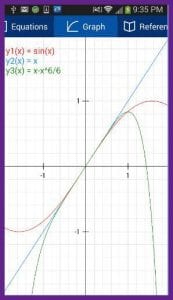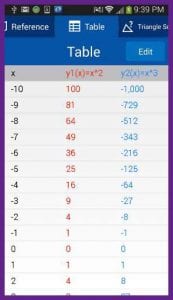 [Price: free with in-app purchases]
8 Calcbot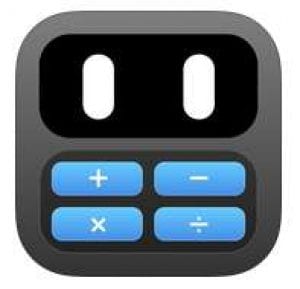 Are you looking for an intelligent tool for everyday calculations? We have found one for you! It is Calcbot! Calcbot application is available for Apple phones and absolutely free! It has plenty of useful features.
All you calculations are saved and can be read anytime you need. So, you can refer to previous calculations. You can rotate your device into landscape mode to gain access to common scientific functions.Also, you can get instant access to scientific constants like Pi, Atomic Mass, or add your own.
Beautiful custom animations and sound effects provide positive feedback and an enjoyable experience while performing calculations.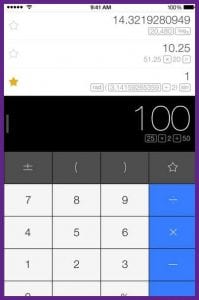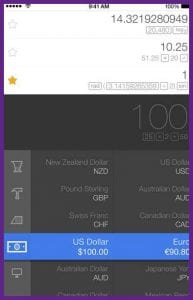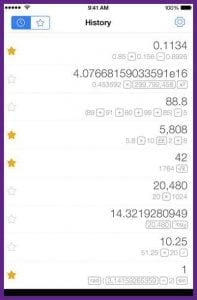 [Price: free]
9 Financial Calculators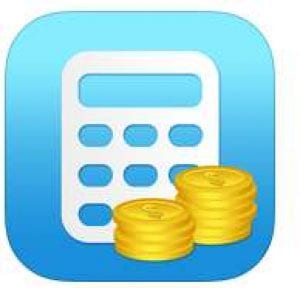 Financial Calculators is a calculator app for real financial professionals. This application includes the complete package of financial calculators needed in an everyday life of financiers.
Finance and Investment Calculators: TVM Calculator, Currency Converter, Compound Interest Calculator, Return On Investment (ROI) Calculator, Bond Calculator, Tax Equivalent Yield Calculator and more. Loan/Mortgage Calculators:  Loan Calculator, APR Advanced Calculator, Commercial Loan Calculator,  Loan Analysis Calculator and many others. Retirement Calculators: Retirement Planner, 401k Contribution Calculator, Retirement Savings Analysis, Traditional IRA vs Roth IRA, Required Minimum Distribution, Social Security Estimator and so on. Stock Calculators:  Stock Return Calculator, Stock Constant Growth Calculator, Stock Non-constant Growth Calculator… Credit Card Calculators: Credit Card Payoff Calculator, Credit Card Minimum Calculator. Auto Loan and Lease Calculators: Auto Loan Calculator, Auto Lease Calculator. Miscellaneous Calculators: Regular Calculator, Discount and Tax Calculator, Percentage Calculator,  Date Calculator and others. The list is great!
Users can choose the most suitable and often used calculators and prioritize them for easy access.
Users can send the calculation results to others via email. Financial professionals can email the quote to their clients.
One more benefit of the app is that it works even without internet connection!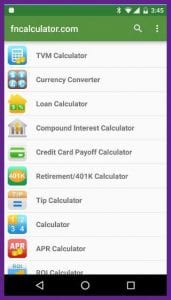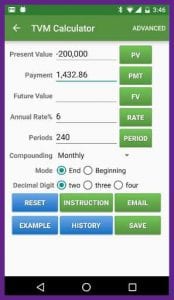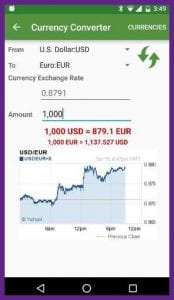 [Price: free]
10 RealCalc Scientific Calculator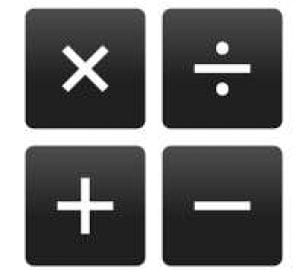 RealCalc Scientific Calculator is Android's most popular scientific calculator. It has over 20 million downloads already.
It looks like a real hand-held calculator which makes doing calculations habitual. It has all the features of a standard scientific calculator plus history, memories, unit conversions and constants.  It also supports binary, octal and hexadecimal calculations and has an optional RPN mode. RealCalc is easy in use but has full help included in the app.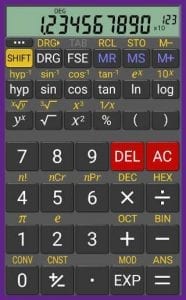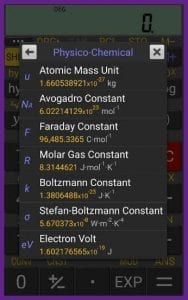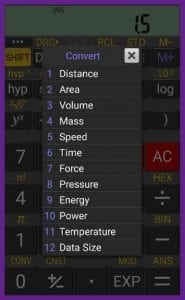 [Price: free]
11 Graphing Calculator + Math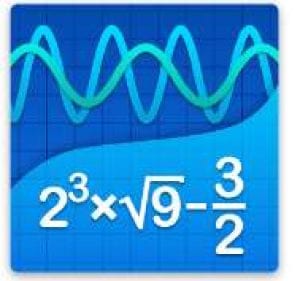 Graphing Calculator + Math is a great new learning tool for teachers and students. It offers calculations with simple and complex fractions, mixed numbers,
It offers calculations with simple and complex fractions, mixed numbers, quare root, cube and higher roots, exponent, logarithms ln(), log(), log[base](), trigonometric, hyperbolic and inverse functions, complex numbers, binary, octal and hexadecimal numbers. It also includes a graphing calculator.
Free version requires internet connection and contains ads.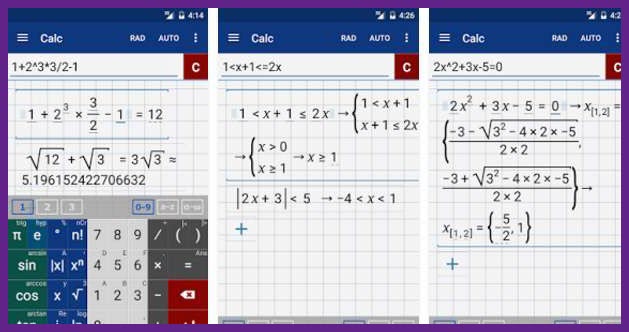 [Price: free with in-app purchases]
12 Mobi Calculator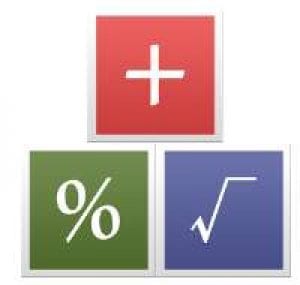 Mobi Calculator is a good simple calculator app for Android users. It has cool bright skins for you to choose. The interface of the app is pleasant and clear with large buttons.
Mobi Calculator features
* Math expressions calculation (developed on RPN-algorithm but no RPN-calculators' kind UI!)
* Percentages (calculation discount, tax, tip and other)
* Radix mode (HEX/BIN/OCT)
* Time calculation (two modes)
* Trigonometric functions. Radians and degrees with DMS feature (Degree-Minute-Second)
* Logarithmic and other functions
* Calculation history and memory
* Digit grouping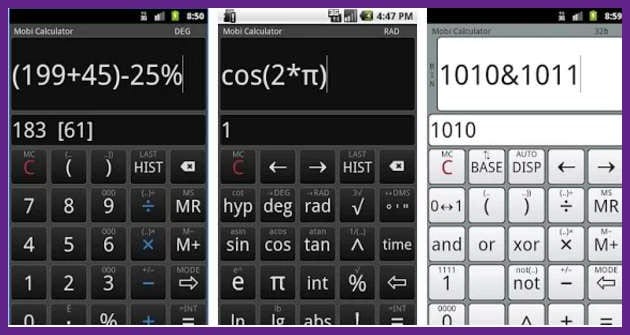 [Price: free]
13 Kalkulilo (scientific calculator)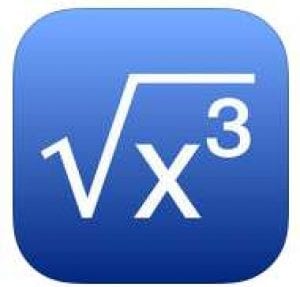 Kalkulilo is a clear and helpful program for different calculations. It includes the following modes:
– The scientific mode. It offers all the usual functions and operations like the basic arithmetical operations, power, logarithm, roots, trigonometry etc.
– The bit/integer mode. It offers logical operations (AND, OR, XOR, >>, etc.) on bit level. All values can be displayed as binary, octal, decimal or hexadecimal numbers. Calculations can be done in 8, 16 32 or 64 bits.
– In the statistics mode, you can create a sample by adding several values and then calculate mean, median, quantil values, variance, standard deviation, range etc.
– Trigonometry mode provides lots of trigonometric functions
– The base/radix mode. It allows you to do calculations with numbers of base 2 to base 36
– The Time mode lets you directly work with time values (hours, minutes seconds)
– A simple calculator is also included, with just the basic operators and large buttons.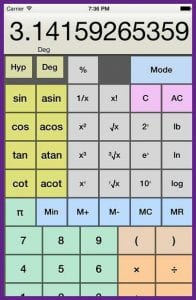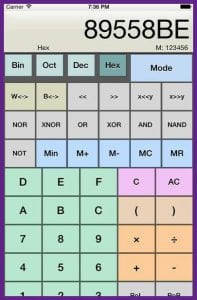 [Price: free]
14 Fraction Calculator Plus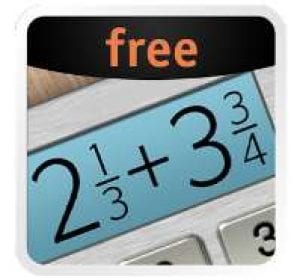 Fraction Calculator Plus is the best and simplest app fraction calculations.  It has an attractive interface and shows your calculations in a clear and elegant style.
It has a triple keypad what makes typing fast. Every fraction result gets automatically reduced to its simplest form to make your job easy.  Every result is also shown in decimal to make conversion a breeze.
Give Fraction Calculator Plus a chance to turn your phone into an everyday helping hand.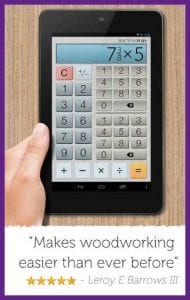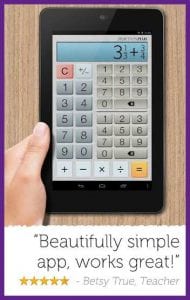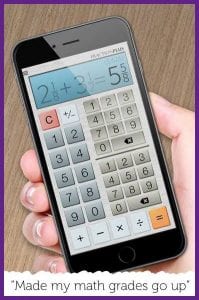 [Price: free with in-app purchases]
15 PCalc Lite
PCalc is a powerful tool for scientists, engineers, students, programmers, or indeed anybody looking for a feature rich calculator.
It includes an optional RPN mode and multi-line display, a choice of button layouts, an extensive set of unit conversions and constants, a paper tape, multiple undo and redo, engineering and scientific notation, as well as support for hexadecimal, octal, and binary calculations.
It is designed for iOS platform only.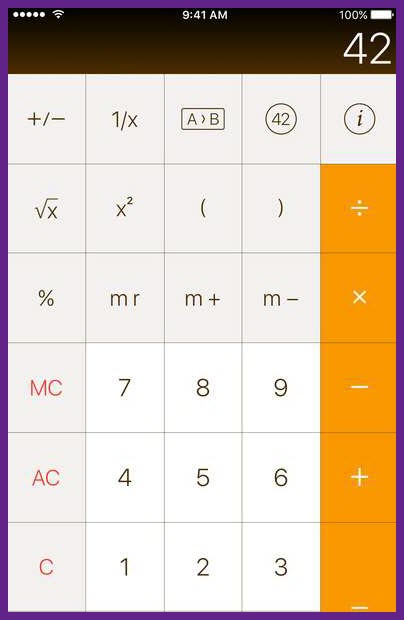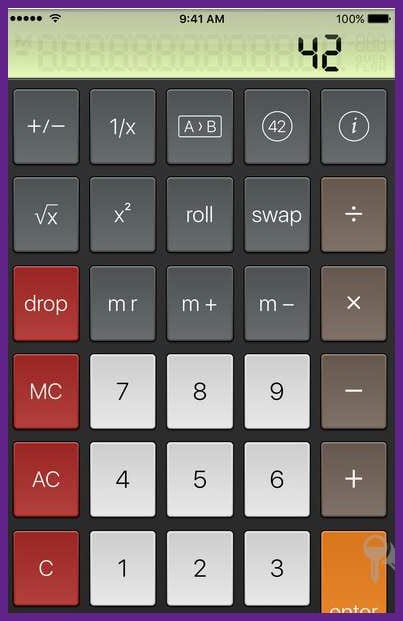 [Price: free with in-app purchases]
16 Desmos Graphing Calculator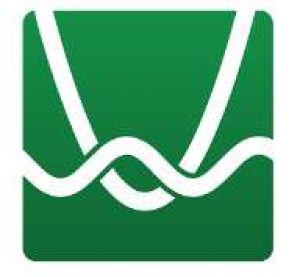 Desmos Graphing Calculator is a shining replacement to hand-held ones. It's clean and simple in use.
Just type in any equation you want to solve and Desmos will show you the answer. It can handle square roots, logs, absolute value, and more.
There's no limit to how many expressions you can graph at one time – and you don't even need to enter expressions in y= form!
A number of users is increasing every day! Join it to!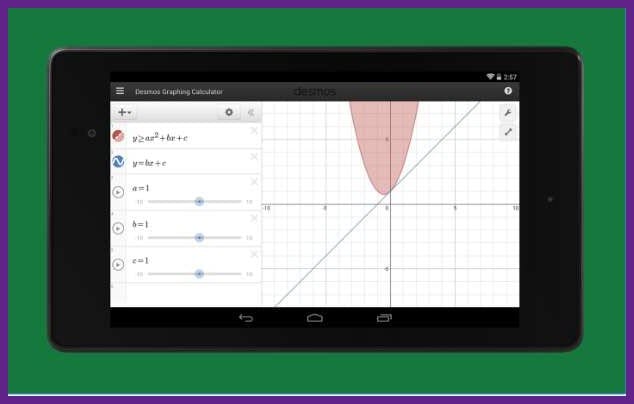 [Price: free]
17 Calca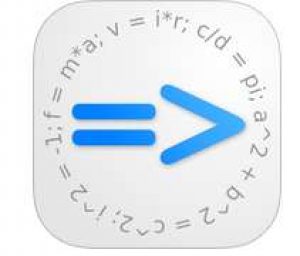 Calca is a powerful symbolic calculator that gives you instant answers as you type. It solves equations and simplifies complex expressions – it's a computer algebra system in your pocket! It's also a rich Markdown text editor so that you can explain your ideas alongside your calculations.
Calca is perfect for professionals and students – anyone who works with numbers and equations. Variables and functions can be created with only a few keystrokes and can be manipulated with a rich library of operators and functions.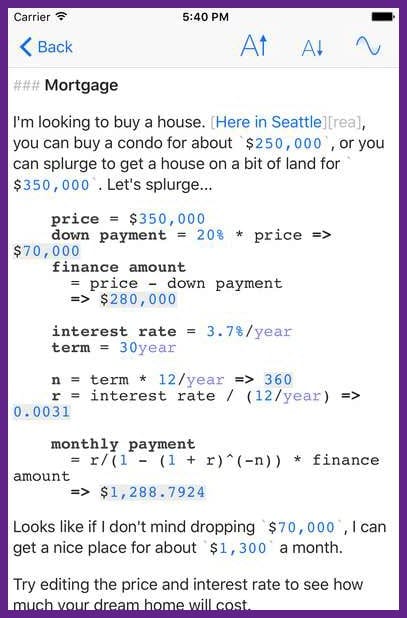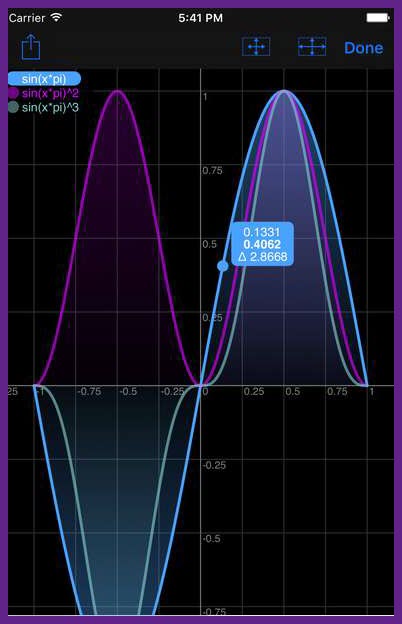 [Price: free]
18 Numix Calculator (basic version)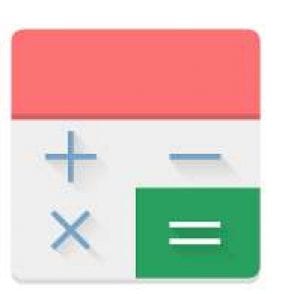 Numix Calculator is a calculator app design with simplicity and beauty in mind for Android users.
The calculator support all the basic functions (+, -, * and /), but it also has advanced panes that allows things like trigonometric functions and more advanced functions.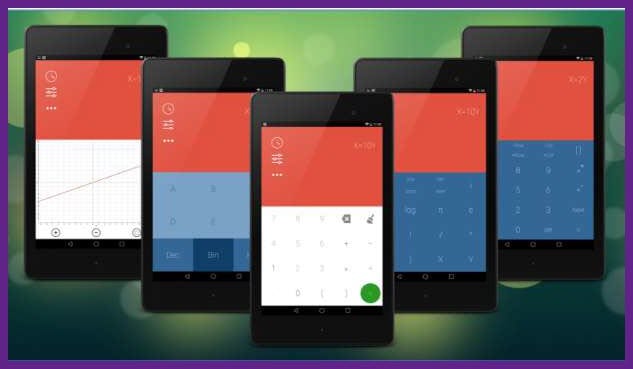 [Price: free]
19 Calculator Pro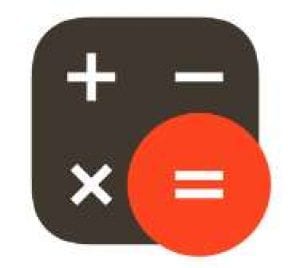 Calculator Pro is a calculator app for those who are looking for simplicity and functionality. Here are two modes are available: Portrait Mode for doing basic calculations and Landscape Mode for scientific operations.
You can copy and paste, save calculations. To delete the incorrect formula you can just swipe with your fingers to delete it. Everything is simple and understandable!
Whether you're a diligent student, an accountant, a banking manager, a housewife in charge of the family finances or even a maths genius, this calc will save both your effort and time and let you calculate anything you need!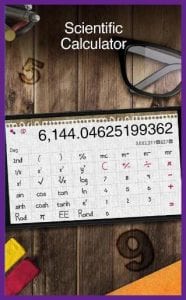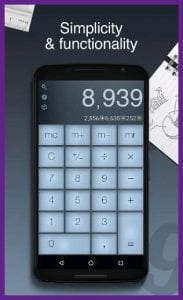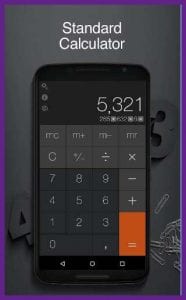 [Price: free with in-app purchases]
20 MyScript Calculator
MyScript Calculator is a smart application for making mathematical operations easily & fast using your handwriting!
With MyScript Calculator you can just write the mathematical expression on the screen and MyScript converts it to digital text and show the results immediately. Magic but true! If you want to delete some symbols use scratch-out gestures and that will be done!
Solving mathematical equations has never been easier! Try it yourself!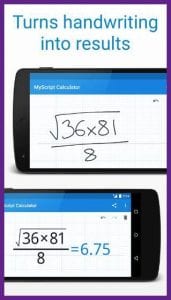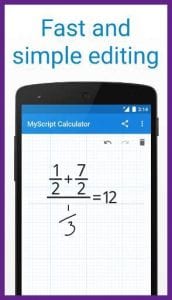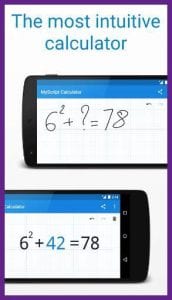 [Price: free]
That was the top list of best free calculator apps. Every single one of these apps has its own set of features and design, so pick the one that fits you most.