Do you suffer from constant monotonous calculations? Excellent news for you! We would like to recommend you try the Calculator app. This is the universal tool for any task! So, let's get a look at why this app is so special.
Another app that will become a perfect accessory for your phone is the last-seen tracker app.
First of all, the Calculator app features a great number of functions. Apart from simple calculations, the app enables you to calculate percentages, work with constants, display formulas, calculate dividends, and multiple exponentiations.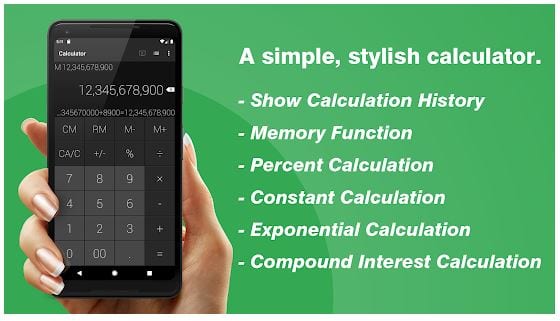 Calculator app guarantees you a user-friendly interface, so you will not have to face any technical issues. Moreover, the app does not require a registration procedure, so you can use it immediately after downloading.
The app contains a special section of calculation history, where you can keep track of your previous calculations. Besides, the app saves your data, even if you have closed the app. That is why there is no need to worry that your entered data will disappear.
Moving on, the Calculator app supports widgets, so you can simply use the app on the home screen. Plus, it is compatible with both mobile phones and tablets.
And if you want to hide such a cool app on your phone – just use the special software for that from this list.
The app allows you to easily delete the data. By long clicking on the button DEL, you will delete the data completely. Touching C/CE removes the data and pressing long C/CE makes a full reset.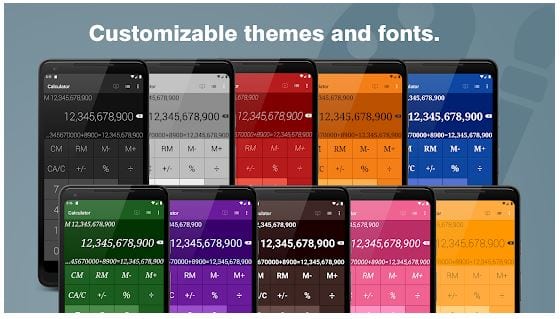 In addition to it, the app allows you to customize settings. You can activate a vibration option, use sleeping mode, and select appropriate themes or fonts. The calculator app is designed in exquisite dark shades. It boasts an intuitive design and it is effortless to navigate.
The great advantage is the fact that it comes with free access. Today there are not a lot of qualitative calculator apps that would not ask for an additional fee.
You can develop not only your mathematical skills but creative ones as well. For this purpose, use the character creator apps – unleash your creativity!
Overall, the Calculator app is full of excellent features. It is a must-have assist for everyone, who regularly works with calculations. The calculator app ideally does its job, so we guarantee you will not regret it!