Print2Flash is a converter and part-time virtual printer that will help you convert any files to Adobe Flash, HTML, or SVG. The main advantage of the program is that such files do not require special software, they can be opened in any browser. It is also easy to publish such files on the Internet.
You may also like: 9 Best Wireless Printer Apps for Android
How does this happen? You simply upload the desired file to Print2Flash, and at the output, you get its analog in a different format, such files are easy to share, publish on the Internet and send by email. They are almost universal and do not require anything from you except the browser.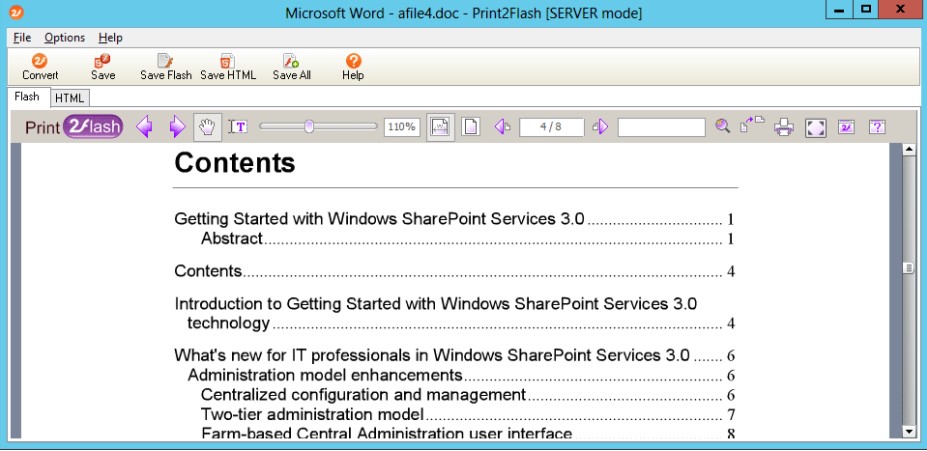 The program interface is simple, it is enough to select a file and click "Convert", the program will display a list of settings that can be applied for conversion. It is here that the true potential of the program is revealed.
For the converted file, it is possible to configure the Print2Flash toolbar (configure buttons and interface elements), file protection (for example, from copying text or printing), compatibility with individual Flash versions and browsers, put a watermark, configure image compression and hyperlink support.

The converted documents have the following features: support for many languages, the converted file can be printed on a real printer, the pages of the document can be rotated; documents change proportionally, which allows you to scale them as you like, word search is available, the ability to copy any part of the text in the document, convenient page navigation.
Separately, it is worth noting that Print2Flash has a batch processing function, which greatly facilitates the conversion of many files at once.
You may also like: 11 Free print apps for Android
Print2Flash can be called a unique program, it provides specific features that, nevertheless, can make life much easier for many PC users. How much time can you save without installing dozens of programs for each individual file? With Print2Flash, you can find out.