Sometimes we need to save part of a video, online broadcast, video call or game. While not everyone has discovered the convenience of screen recording, it will make capturing important moments much easier. We will tell you how Calipio Free Online Screen Recorder.
You may also like these best screen recording apps for Android devices.
Online recorder that works with browsers. Calipio does not require registration and provides all of its services completely free of charge. The recording starts directly from the browser window without installing additional extensions and downloads. You only need to allow access to the microphone and webcam.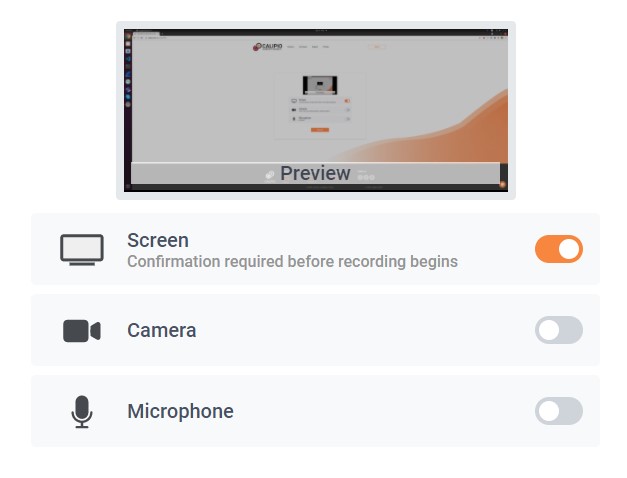 It's hard to disagree with the fact that any video is impossible to watch if it has disgusting sound. Calipio will delight you with audio files of excellent recording quality, and not only through the microphone, but also when you are wearing headphones. In many similar applications, this feature is either missing or does not work as expected.
The wide functionality gives a lot of creative freedom and facilitates the production of content. You can make a recording without sound, if necessary. But its excellent quality from the microphone will definitely delight everyone who will watch the video. This is a very important parameter for those whose videos will be seen by many people.
You can create any kind of video, from a simple screencast to a training video or a review. After that, you just have to click Start Recording. Sharing is really easy here. Just share the link in the way you prefer. Share your video with whoever you want.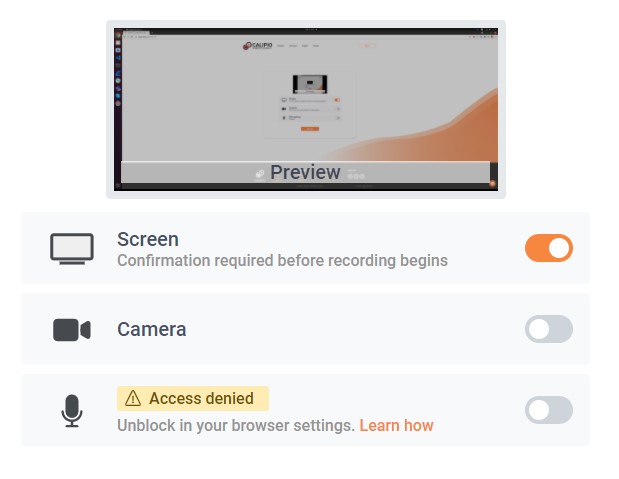 On the plus side, no one but you and your network sees the records. In other words, as soon as you click the "Share" button, you grant access to whoever you want. To save space on your hard drive, all your video files are stored in our secure cloud. It also makes it easier and faster to share information on the go.
Speaking about your phone, you can record not only the screen but also incoming and outgoing calls. With these apps, each recording is made at ease.
Calipio Online Screen Recorder is a free screen recorder that allows you to record it in high quality (UHD, FHD, HD, etc.) with great sound from the microphone. Calipio Screen Recorder works with games, tutorials, video calls, broadcasts, video players and many more programs. It is compatible with all devices.