Are you in a meeting and worried about phone notifications? Do you have a test at school or the university, and you are constantly called and distracted from the educational process? To solve this problem, you can download apps to mute person.
In addition to those, you can also download the microphone blocker app, so other people wouldn't hear you as well.
Mute
Mute is a great tool to help the user mute all noise sources on their device. By pressing the button you will automatically put your phone in silent mode and deprive yourself of all sound effects if you need silence.
There are no banner ads or in-app purchases in this app. Mute itself does not require high user permissions and is very fast.

This app does an excellent job of muting and can mute both individual apps and the entire device. You can also turn off the sound of a specific person if their speech is annoying or prevents you from concentrating at an important moment while you are at school.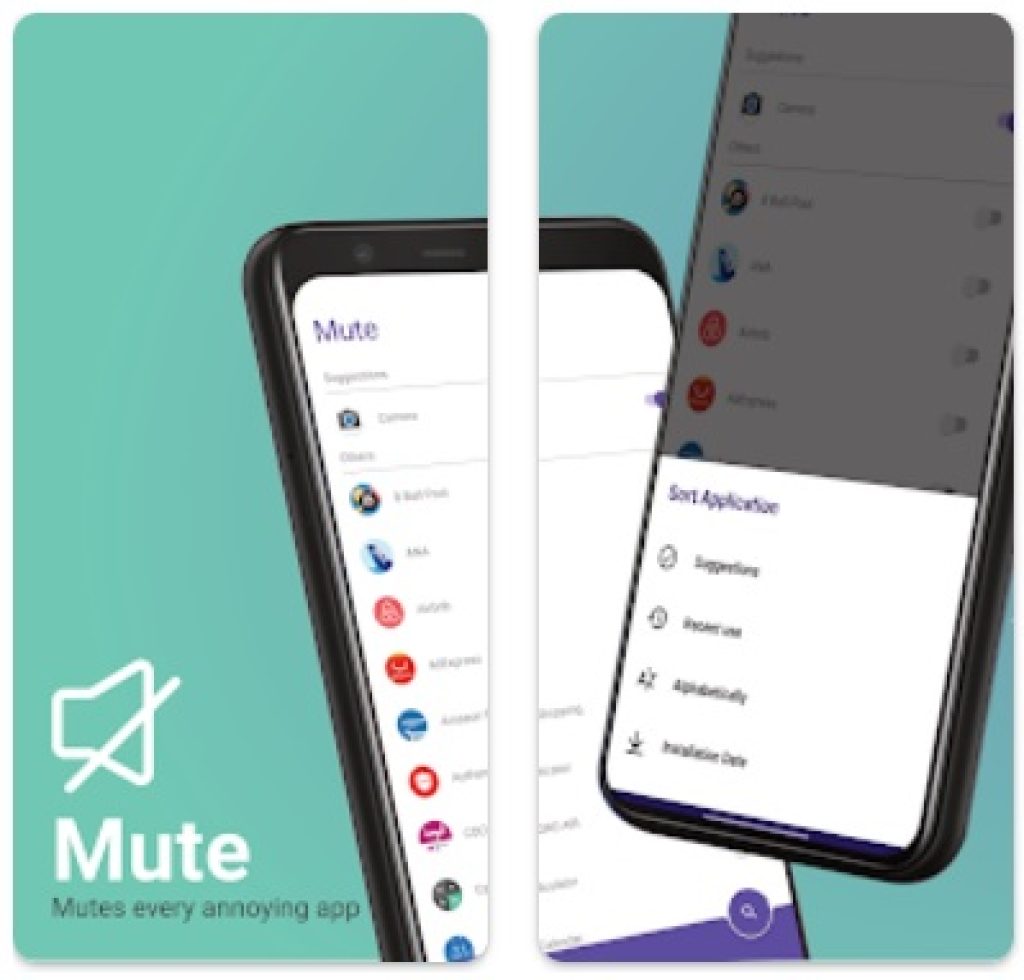 You may also like: 5 Best Health Insurance Apps for Android & iOS
Silent Mode Toggle
Silent Mode Toggle works in the following way. You enter the application and press the mute button, after which all sound effects on your device are completely turned off. The sound will return only after you return to the application and click on the same button.
The app has many settings for the design that suits you the most. You can choose the shape of the icon – round or square, you can choose which mode will be shown on the panel – silent or not, and you can choose the background color and the color of the speaker on the app icon.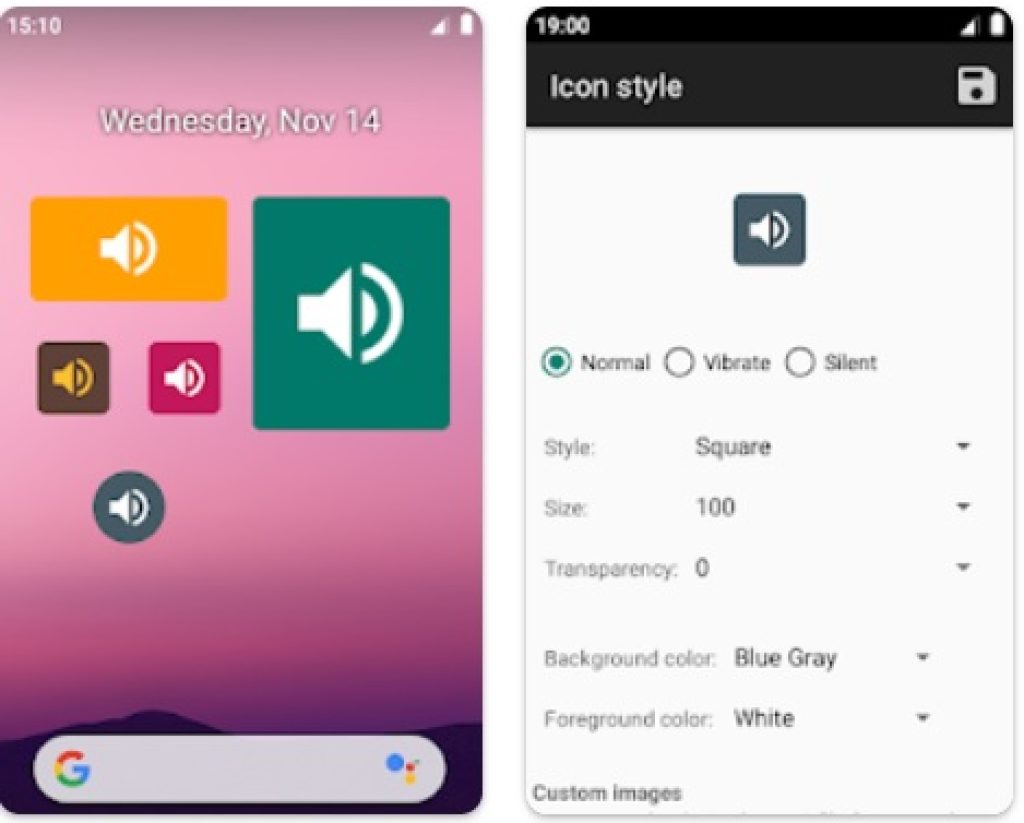 Mute Mode (All camera shutter sound)
Mute Mode (All camera shutter sound) after downloading and registering automatically adds a widget to your main screen that will allow you to turn off the sound on the device without opening the app. This is very convenient and saves time because you no longer have to wait for the app itself to load.
Vibration and message can tell if silent mode is active on the phone. Using Mute Mode (All camera shutter sound) you can also selectively mute apps for other users and keep track of which apps are already muted.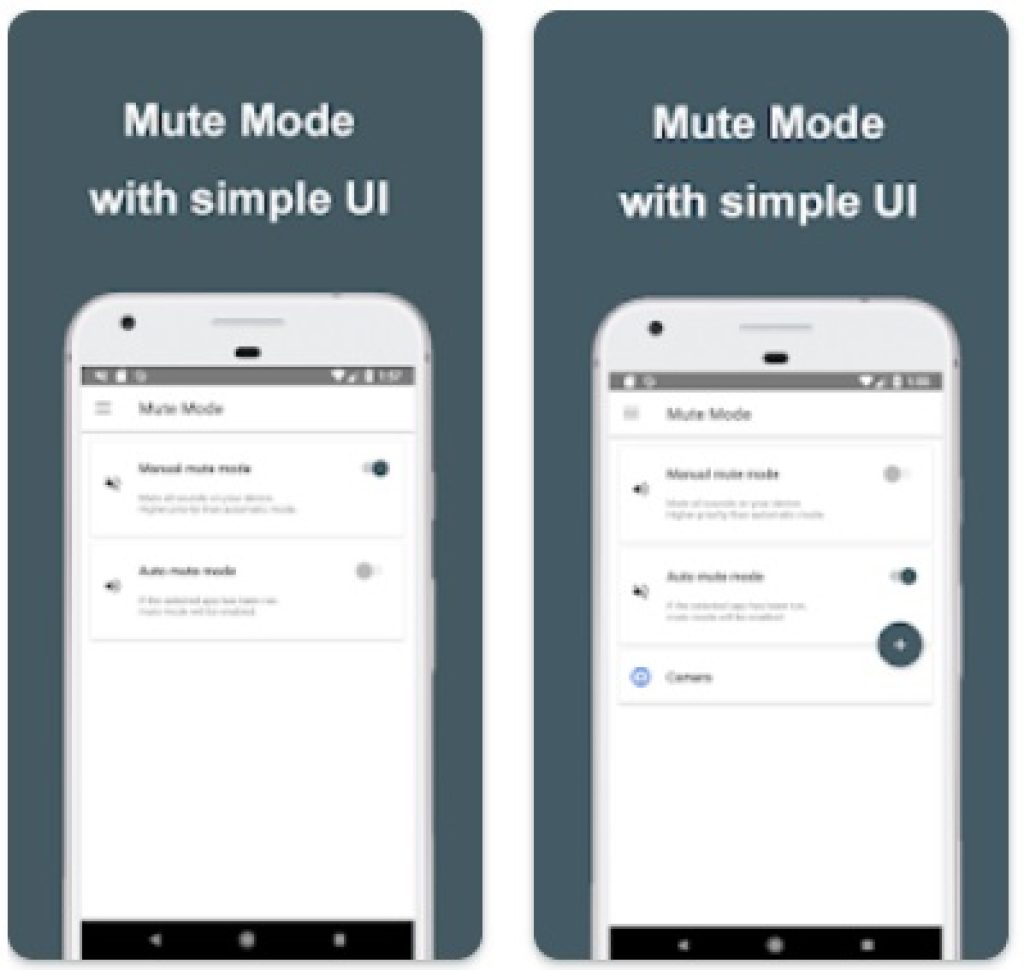 Volume Lock & Mute
Volume Lock & Mute contains many features that allow you to turn off the sound on your device. You can block the sound of ringtones on all contacts in your phone book, as well as on individual people of your choice. You can also turn off the sound of notifications on the apps of your choice or all apps at once.
The app does not require high user settings and special permissions, works on both platforms, and does not require in-app purchases. Many users note the pleasant design and beautiful colors in the design of the app. In addition to the beautiful interface, it is worth paying tribute to the work of the app itself.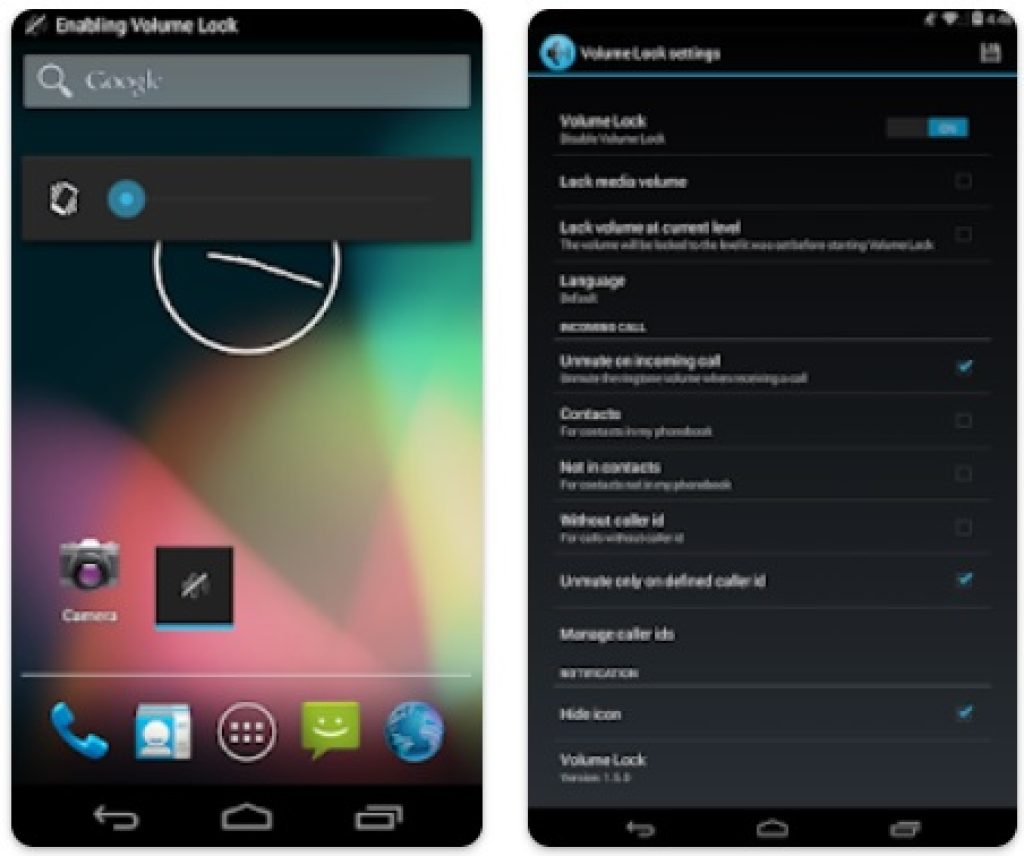 You may also like: 11 Best gallery apps for Android
Sound OFF
Sound OFF appeared on the application market relatively recently – just a few years ago. It has passed several test launches and is now working as a full-fledged application.
It is worth noting that this app noticeably loses to the previous ones in terms of design and design.
If it does its job well, then the app interface leaves much to be desired. In Sound OFF, it is rather boring and annoying.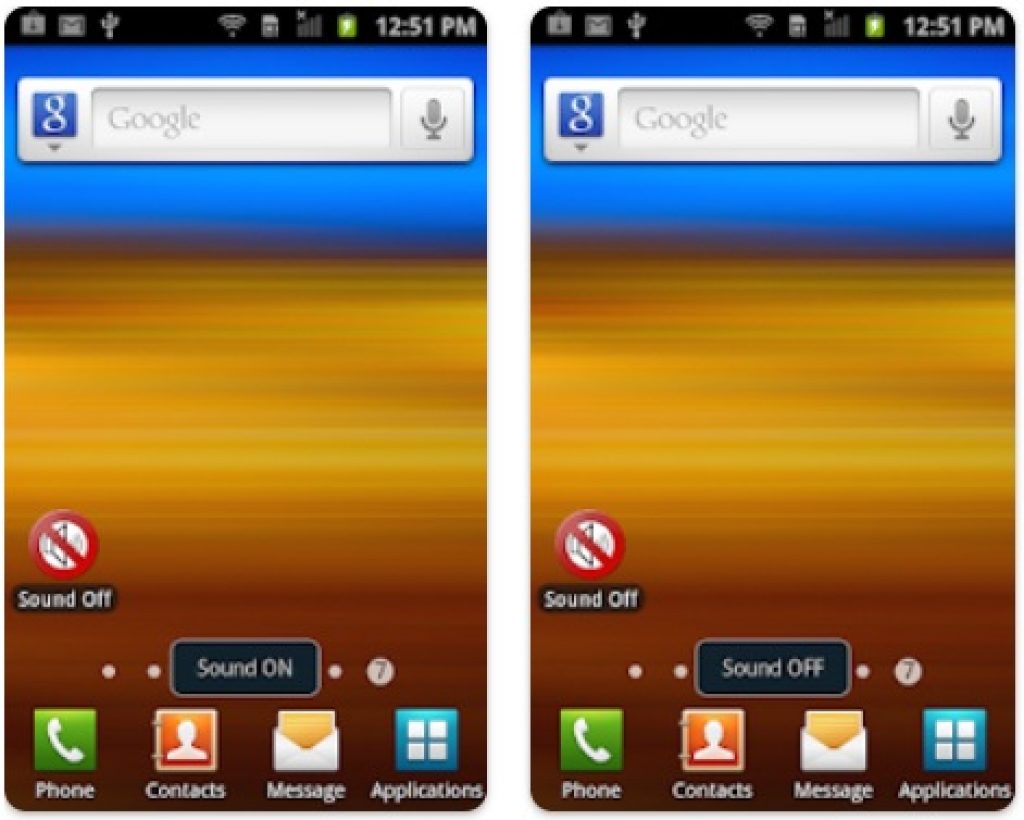 Simple Silent Timer
The Simple Silent Timer application has a special feature built-in that will help you turn off all sound effects on your device (ringtones and notifications) for a certain period. By turning on the timer in the app, you turn your device into silent mode or vibration.
After that, an app icon appears on the top panel of your phone, by clicking on it you can see how long your device will work in silent mode.
The important point is that you can turn on silent mode only if your phone is in a lying position. This is to prevent you from accidentally turning on silent or vibrating while your phone is in your pocket or backpack. Many users note that this feature, although unusual, is very useful.
The app has a very nice color scheme and a beautiful interface. It also does not require special permissions and is supported on almost all Android and iOS models.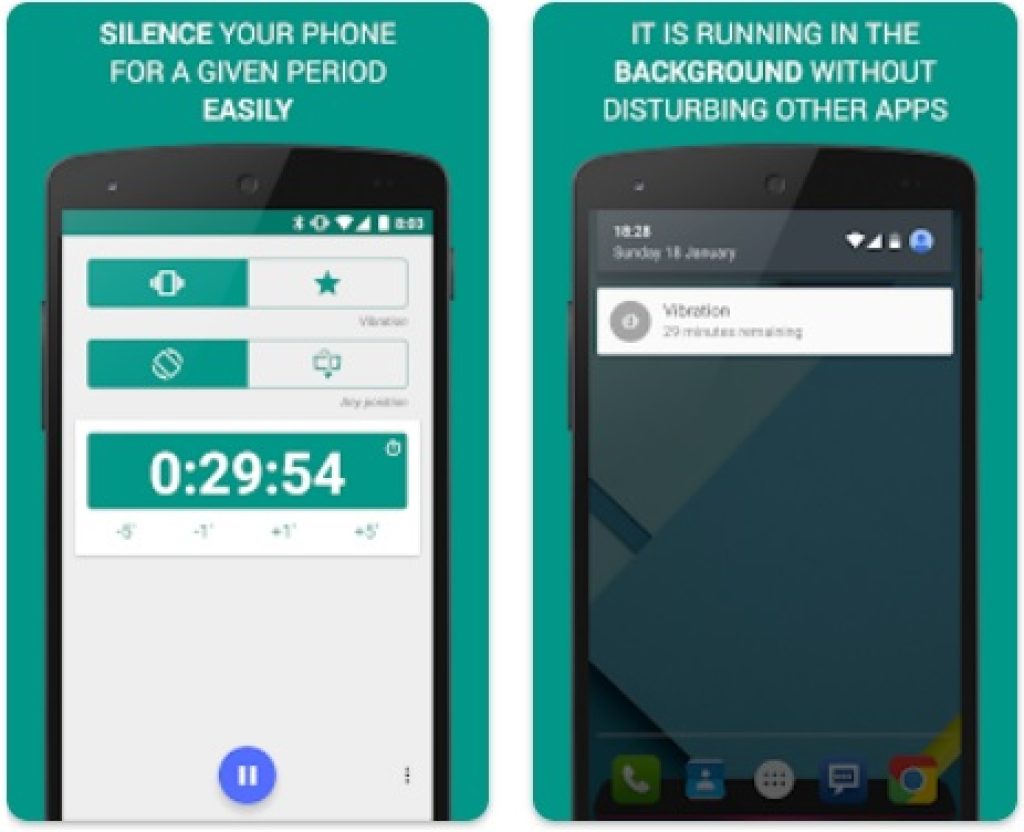 Polite – Automatically Silence Your Phone
Polite – Automatically Silence Your Phone helps users cope with the problem of annoying notifications or calls from unknown users, as well as if users need complete silence to focus on work or study.
This app works similarly to the previous ones – you go to Polite – Automatically Silence Your Phone and select the volume of apps that you want to put on silent or vibrate. Also, you can set the mute mode for certain days or certain periods, which is a very convenient feature.
On the seven-day timeline, you mark the days you want to put your phone on silent and the app will automatically do it.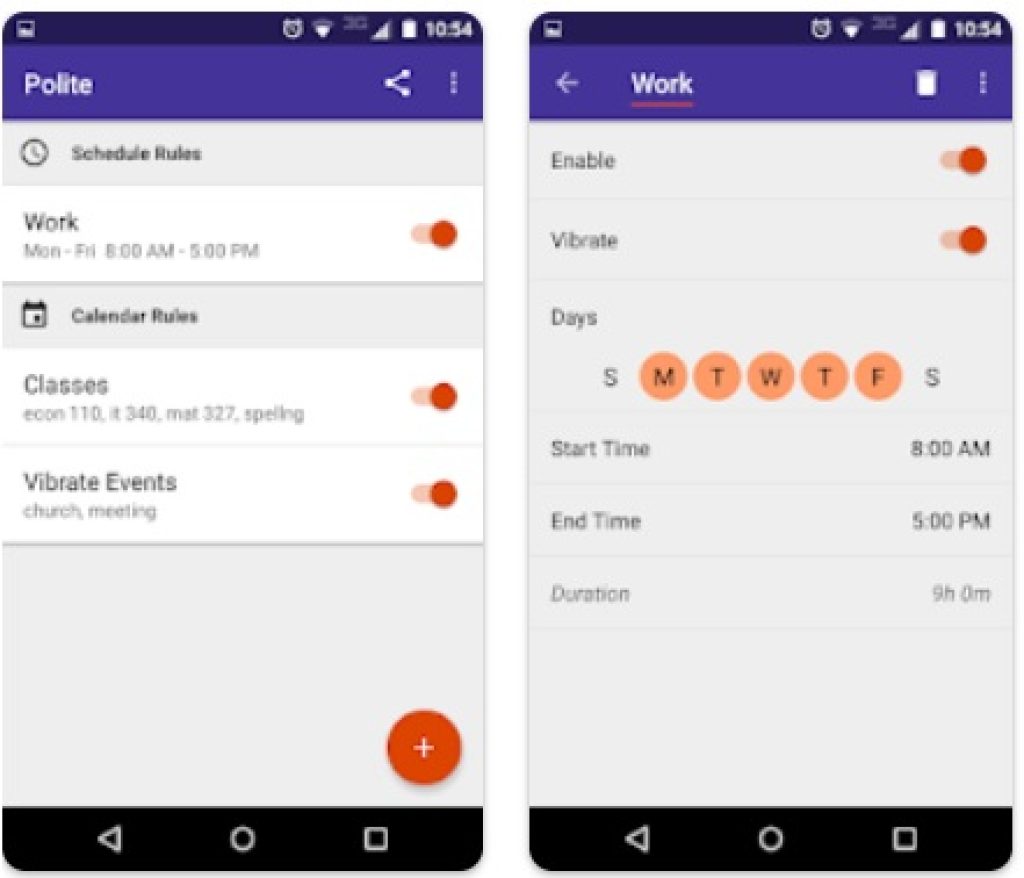 Mute Contacts
Mute Contacts is rather intended to ensure that you do not mute the sound of apps, but specific people in your phone book. If you want, you can also put these people on vibration.
The app has a filter that allows you to turn off the sound of all unknown numbers and numbers calling from advertising or spam. It is worth noting that the app has a very boring interface.
It is more like factory settings in older computers. The colors here are basic – white and bright blue.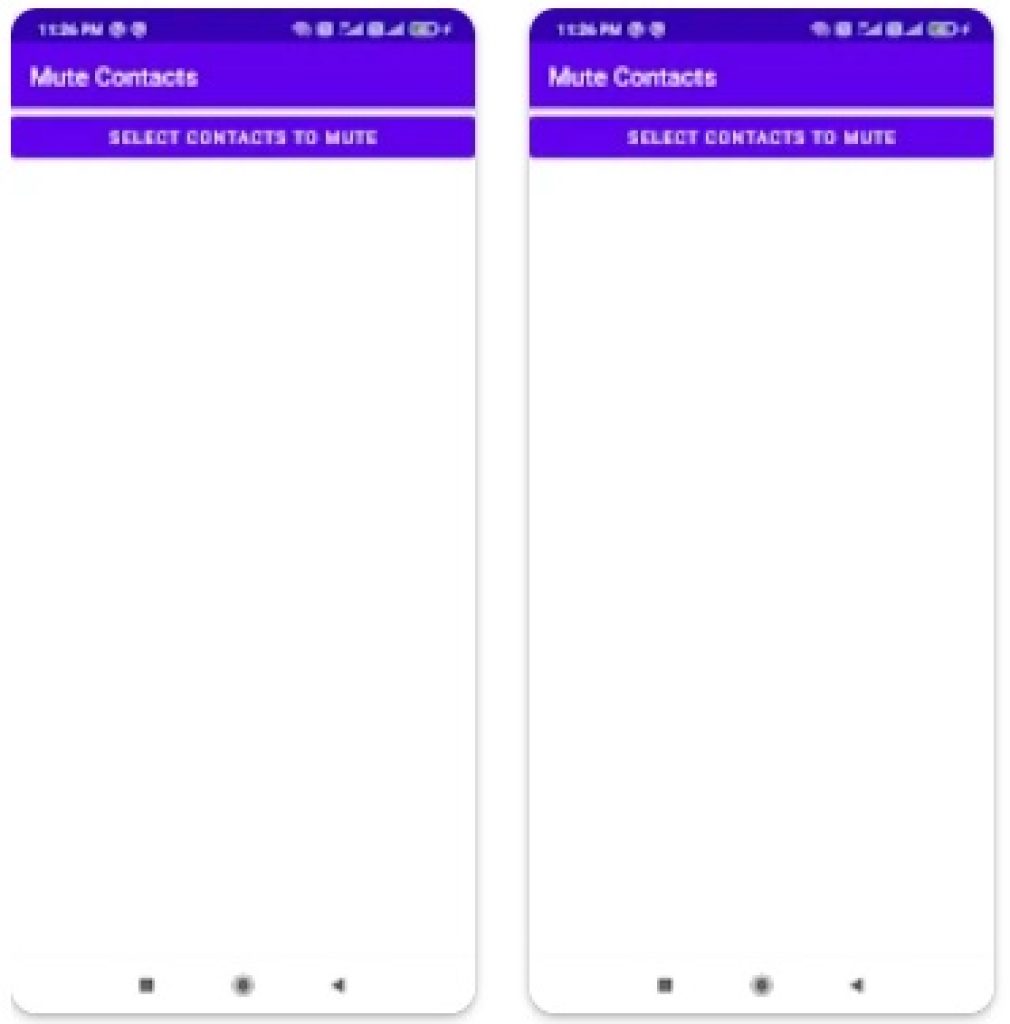 You may also like: 15 Best contacts apps for Android
Mute Pro (Auto Silent Ringer)
The Mute Pro app allows you to programmatically put your phone on silent (or vibrate) at a specific time or location so that you and others are not disturbed by phone calls during these events. During the mute period, you will not be disturbed by sound effects from calls and notifications.
Your phone's ringer will return to normal volume when the event ends or when you unmute it back yourself. You can also set a setting so that your phone will automatically go into silent mode when you arrive at a certain location. You can choose this location on the map built into the app.
Many users say that this app has the nicest design compared to other mute apps. There are very nice colors and properly designed categories in the app.