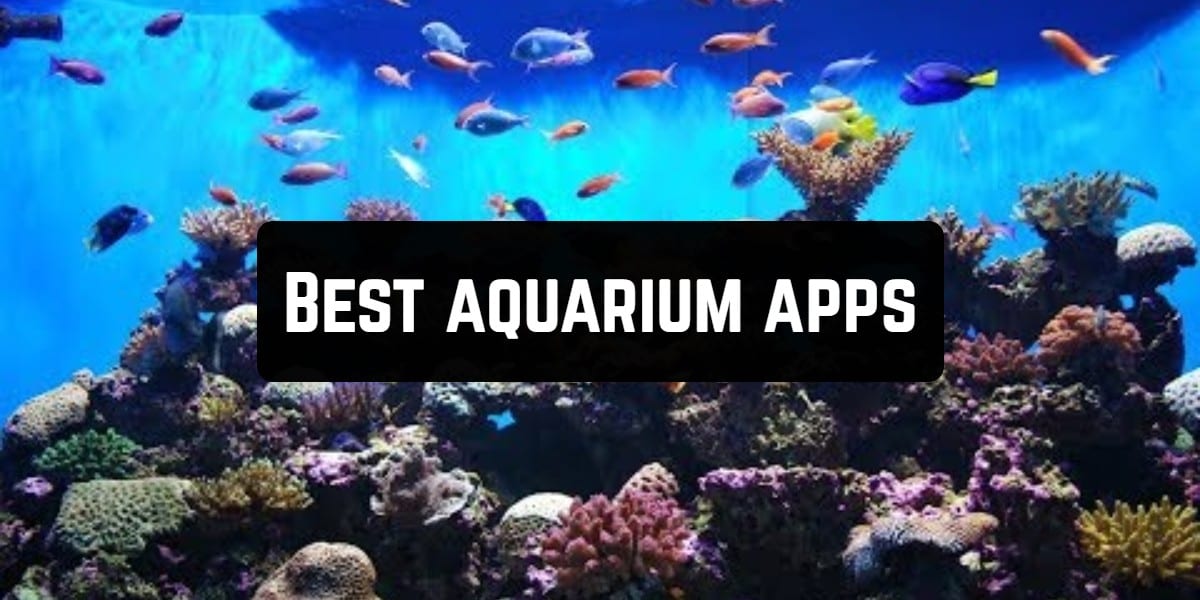 A large number of people love pets and any other animals. One of the popular types of pets is fish.
But, what if you do not know how to care for them and you do not have the relevant experience? Or maybe you generally do not have the opportunity to make home fish? Then aquarium apps will come to your aid.
This is a great way to practice keeping your home aquarium and fish farming. Besides, it is a great entertainment and pastime for adults and children. Use this list of best aquarium apps to choose the best for yourself.
MyReef 3D Aquarium
Using the MyReef 3D Aquarium application, you can create your own underwater world right on your phone.
This game presents several types of aquariums. For example, marine, river or even fantastic. Also here you can choose for yourself an unlimited number of fish of various species.
Decorate your aquariums with decorations and look after your pets. Buy, feed, grow and sell your fish. For each fish sold, you will earn game coins and experience. For rare fish, you can even get diamonds.
The catalog of the game contains more than 100 species of fish, including exotic ones. Also here you will find a huge number of scenery and beautiful accessories.
Choose your favorite background for your aquarium. Use all the features without restrictions.
In this game, you can enjoy attractive graphics and unique animation. This virtual aquarium is very much like a real one. Thus, you can practice fish farming before acquiring them in real life.
If you create an account in this game, then you can invite your friends there. Chat with them and visit their aquariums. You can even cross your fish and breed new offspring.
This is an absolutely free application that will replace a real aquarium. Just download it to your phone and enjoy the view. Take care of the fish and improve their living conditions.
You may also like: 13 Free Fishing games for kids (Android & iOS)
back to menu ↑
Fishdom
Fishdom is an exciting aquarium simulation game. Here you have to look after your pets, namely to breed and feed the fish.
Fish can be sold when they reach a certain level. For their sale, you will receive game currency. With this money, you can buy various decorations or improvements to your aquarium.
Your fish will grow and develop, as in the real world. Collect a variety of species and breeds of fish, grow them from egg level to adult.
Here you can put in your aquarium itself, perches and even sharks. But do not forget that some fish cannot live together. To do this, you need to develop more to be able to buy many more aquariums.
In this game, more than 400 species of fish are available. Every day you will receive useful bonuses and updates. You can also win various gifts and surprises, in which there may be a lot of interesting things. Expand your fish empire and become the best among the best.
You can decorate your aquarium with a large variety of items that you will find in the store. Buy everything from ordinary feed to the rarest fish.
Also in the game Fishdom, a research model is available. During it, you will receive free food and increase your income.
back to menu ↑
Fish Tycoon 2 Virtual Aquarium
Create unique aquariums in the game Fish Tycoon 2 Virtual Aquarium. Gather a collection of unique fish and support their life.
Here you need to earn points and improve your level. During the game, you will discover new worlds and an aquarium. There you can place your new fish.
Create the perfect home for your fish through various levels of difficulty. You will also receive rewards in the form of feed and unique new fish species.
Make your aquarium unique. After all, it depends on you how it will look.
The game Fish Tycoon 2 Virtual Aquarium also has a huge variety of different events, for the passage of which you will receive rewards. For example, you can collect pearls, which can later be exchanged for various items.
You certainly will not be bored, because all the fish know how to talk. They communicate with each other and it is very interesting to watch.
If you sign up for the game, you can compete with your friends. To do this, you can use your email or account on any social network. Climb to the highest-ranking positions to show who breeds fish best.
This is a free game in which you do not need to issue any subscriptions or make internal purchases. Besides, there is no annoying advertising. Just enjoy the fun gameplay.
back to menu ↑
AquaLife 3D
The AquaLife 3D game is your new virtual aquarium. Here you can breed different types of fish, feed and sell them.
To get access to all types and breeds of fish, you need to reach the desired level. Also, during the game, you will be able to buy new interiors and decorations.
By multiplying and selling fish, you earn game currency. It is for this currency that you need to buy all the necessary things.
In order for your fish to continue to grow and improve, you need to take care of them. Thus, do not forget to feed them and regularly clean your aquarium.
By the way, for this, you can buy an automatic installation, which itself will clean the aquarium.
You can get a variety of improvements for your fish and aquarium. For example, change color or install fluorescent lights.
This game has the most realistic graphics. Here you can use a variety of devices and functions. Want to change the color of the fish? Do it. Don't you like your aquarium? Sell ​​it.
Necessary processes to maintain the good condition of the aquarium can be automated. To do this, buy various equipment for the game currency.
Every day various bonuses and prizes will be available for you. For example, for a daily visit to the game during the week, you will receive a special surprise.
back to menu ↑
Ocean Dream
In the Ocean Dream application, you can create your own aquarium with a wide variety of fish. Fill it with new life and maintain it at a high level.
You can place in your aquarium not only small fish but even sharks and dolphins. All exotic species of fish and marine life are collected here.
In this game, you can go on an exciting journey through the sea world. Here you will meet a variety of inhabitants and interesting objects.
You can collect them and then sell them. With game currency, you can buy new fish and everything you need for them. For example, food or items to decorate an aquarium.
Life in your tank can flourish every day. It all depends on you and your actions. The higher your level, the better your marine life will live. You can buy more expensive food and make your aquarium more comfortable.
Register in this game using electronic posts. So you can be friends with other players and even create entire families. Go to the aquariums of your friends or invite them to yours. Compete for the title of the best aquarium.
Create a fish farm. Grow your fish. Cross different breeds to create new unique individuals.
This is a free game, all purchases in which are made only for game currency. You can get game currency for completing special tasks.
back to menu ↑
Fish Farm 3 – 3D Aquarium Simulator
The Fish Farm 3 – 3D Aquarium Simulator app is your pocket aquarium. Choose the inhabitants of your aquarium from a huge variety of fish species.
Maintain life in the aquarium. Feed your fish and create favorable conditions for their life. You can even play a joke on them by clicking on the glass of the aquarium.
So, it's like you tap on the wall of the aquarium so that the fish will turn their attention to you.
The game Fish Farm 3 – 3D Aquarium Simulator is framed very beautifully and in high quality. You can zoom in to better see exactly how the fish looks.
You can also look through the eyes of fish. To do this, you need to change the view in the settings.
In addition to the gaming component, this game also has a lot of useful information. In a special section, you will learn how to properly care for real fish and an aquarium. You will receive recommendations on the selection of food and the necessary items for the aquarium.
The animation in this game is so realistic that you might think that this is a real aquarium. You can choose from five types of aquariums. Choose your favorite background and accessories.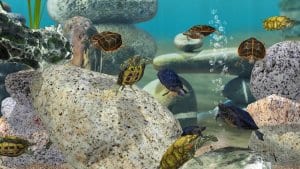 This free application will be liked and will be useful for both children and adults. This is a great way to spend time and get the necessary information. Have you wanted to make fish for a long time, but don't know how to care for them? Try it in this interactive game.
back to menu ↑
Fish Abyss – Build an Idle Ocean Aquarium
Fish Abyss – Build an Idle Ocean Aquarium is an incredibly beautiful game in which you can create your own aquarium.
At the first start, you will get a basic aquarium and a set of fish. Then you will go through various difficulty levels and get game coins for it.
For this currency, you can buy even more different types of fish and improve your aquarium. You can name each fish a specific name.
A list of names is provided for you to choose from. But, you can come up with your own name. A unique feature is that all the fish know how to talk.
They even have a small set of emotions that they show in some situations. For example, they may be sad or happy. If you click on a fish, then it can swim away or talk to you. They can sleep. If you click on a fish while you sleep, it will wake up and tell you something.
During the game Fish Abyss – Build an Idle Ocean Aquarium, you must decorate your aquarium. Buy coral reefs, plants, stones, houses and much more.
Each item has its own animation. Decorate your tank to your liking. You can place each item anywhere in the aquarium or change its size.
This game can replace a real aquarium. The animation in this game is so realistic that sometimes it is difficult to distinguish it from reality. Want to buy a real aquarium for yourself? Practice in this application.
back to menu ↑
Aquarium Sim
The Aquarium Sim app is a virtual aquarium that exactly repeats the real one. This is where you can practice keeping and raising domestic fish.
At the very beginning of the game, you are given a small amount of money and an aquarium with a couple of fish.
First, you need to clean the aquarium and feed your new pets. Next, you need to develop in the game to receive game currency.
So you can buy food for your fish and new neighbors. The game has a large selection of fish of the most unusual varieties.
During your absence, the aquarium will become very clogged. Thus, you need to enter the game at least once a day. This very much resembles the actual conditions of the home aquarium.
For cleaning the aquarium, you will also receive coins, and sometimes gems. Dry fish food is stored in a special jar. You need to feed the fish every day. Otherwise, your level will drop.
The design and animation of this game worked out very high quality. Here you will see such smallest details as the movement of algae, the sun's rays and the swimming of fish. If you swipe your finger across the screen, realistic circles appear in the form of circles.
The game features a lot of aquariums. But, at the beginning of the game, you get only one. New aquariums will be available upon reaching certain levels. This can be done very simply – just complete specific tasks.
You can design each aquarium as you want. For example, the themed design for the holidays is very popular.
You may also like: 9 Best Animal Breeding Apps for Android & iOS