A large number of people love pets and any other animals. One of the popular types of pets is fish. But, what if you do not know how to care for them and you do not have the relevant experience? Or maybe you generally do not have the opportunity to make home fish? Then aquarium apps will come to your aid.
This is a great way to practice keeping your home aquarium and fish farming. Besides, it is great entertainment and pastime for adults and children. Use this list of best aquarium apps to choose the best for yourself.
You may also like: 13 Free Fishing games for kids (Android & iOS)
AquaLife 3D
Become the owner of an aquarium with Aqua Life 3D!
Create a perfect aquarium with different fish and decorations! There are 8 aquariums to choose from. The goal of the game is to get as many different kinds of fish as you can and keep them all alive by feeding.
To feed your fish, tap on the screen, it is as simple as that! Of course, you will lose some coins, the amount of which you can see in the top left corner of the screen. You can buy and sell your fish as well. By tapping on a fish you will see its name and its cost.
Decorate your aquarium by purchasing stones, plants, reefs, and other accessories. All these actions will earn you coins, diamonds, and experience. You will never get bored with the game as there are over a hundred different fish and accessories!
Invite friends to play this game, add them to your account, and play together! By doing this, you will be able to exchange gifts and see each others' aquariums.
The game is rather calming, it would be great to kill time in a relaxing way. There is also music playing while you are in the game but you can easily turn it off by tapping on the sound icon in the bottom right corner.
The game is constantly updated, the bugs are fixed and new features are added. If you have any questions or concerns, email support@fishgame3d.com.


You may also like: 7 Best Apps To Rent A Boat Near Me (Android & iOS)
Fishdom
Fishdom is an exciting aquarium simulation game. Here you have to look after your pets, namely to breed and feed the fish. Fish can be sold when they reach a certain level. For their sale, you will receive game currency. With this money, you can buy various decorations or improvements to your aquarium.
Your fish will grow and develop, as in the real world. Collect a variety of species and breeds of fish, grow them from egg level to adult. Here you can put in your aquarium itself, perches, and even sharks.
But do not forget that some fish cannot live together. To do this, you need to develop more to be able to buy many more aquariums.
In this game, more than 400 species of fish are available. Every day you will receive useful bonuses and updates. You can also win various gifts and surprises, in which there may be a lot of interesting things. Expand your fish empire and become the best among the best.
You can decorate your aquarium with a large variety of items that you will find in the store. Buy everything from ordinary feed to the rarest fish. Also in the game Fishdom, a research model is available. During it, you will receive free food and increase your income.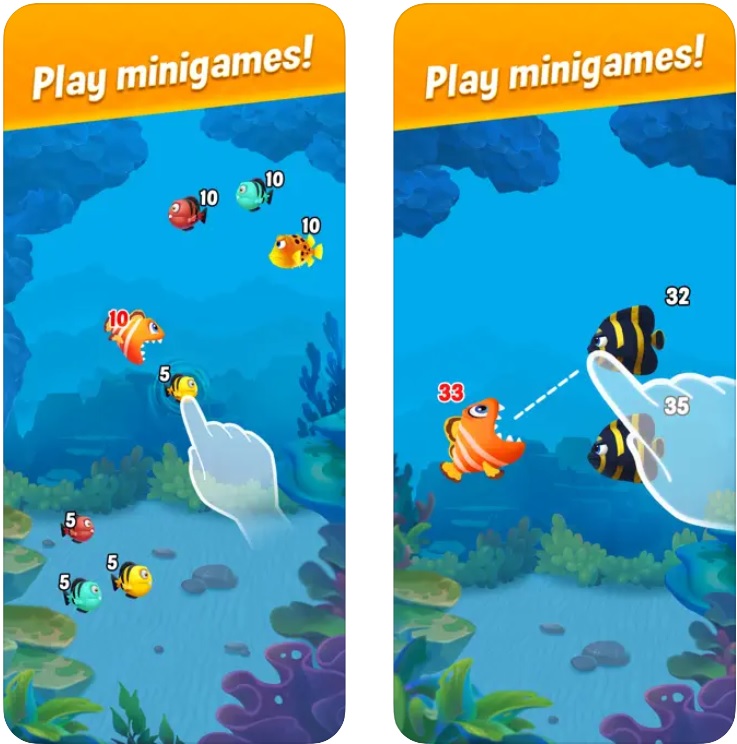 Fish Tycoon 2 Virtual Aquarium
Create unique aquariums in the game Fish Tycoon 2 Virtual Aquarium. Gather a collection of unique fish and support their life. Here you need to earn points and improve your level. During the game, you will discover new worlds and an aquarium. There you can place your new fish.
Create the perfect home for your fish through various levels of difficulty. You will also receive rewards in the form of feed and unique new fish species. Make your aquarium unique. After all, it depends on you how it will look.
The game Fish Tycoon 2 Virtual Aquarium also has a huge variety of different events, for the passage of which you will receive rewards. For example, you can collect pearls, which can later be exchanged for various items.
You certainly will not be bored, because all the fish know how to talk. They communicate with each other and it is very interesting to watch. If you sign up for the game, you can compete with your friends. To do this, you can use your email or account on any social network.
Climb to the highest-ranking positions to show who breeds fish best. This is a free game in which you do not need to issue any subscriptions or make internal purchases. Besides, there is no annoying advertising. Just enjoy the fun gameplay.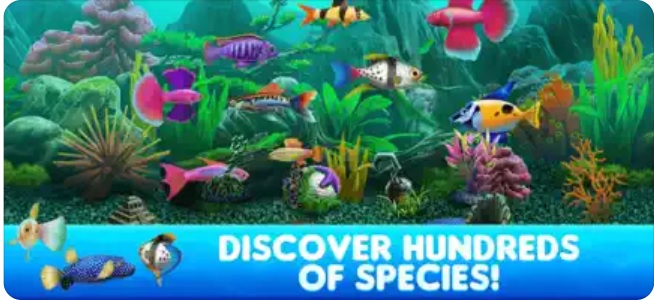 aquaPlanner
Let's take a break from all those game apps and aquarium live wallpaper apps and pay our attention to something more practical in this category. Today the apps that we got on the market can help to improve almost all the spheres of your life – including your aquarium management.
This app claims to be the number one aquarium management app among all the others.
Well, to say that there is a lot of similar apps on the market is clearly hyperbolic, but it is really a nice helping tool for anyone who owns an aquarium. It helps you to keep track of everything that is happening with your aquarium at home.
You can set up notifications that you need to change the water in the aquarium, you can install special sensors that will be transmitting the information about the overall state of the tank to the app, including the water temperature, take pictures of the aquarium, and collect other data for the statistics.
The app also measures the Ph balance of the water.
With aquaPlanner, you can manage multiple aquariums, and thanks to its task alert system, you'll attend to all fish tank maintenance duties right on time. You can log equipment, inhabitants, and of course key water parameters, and even monitor parameter changes on graphs.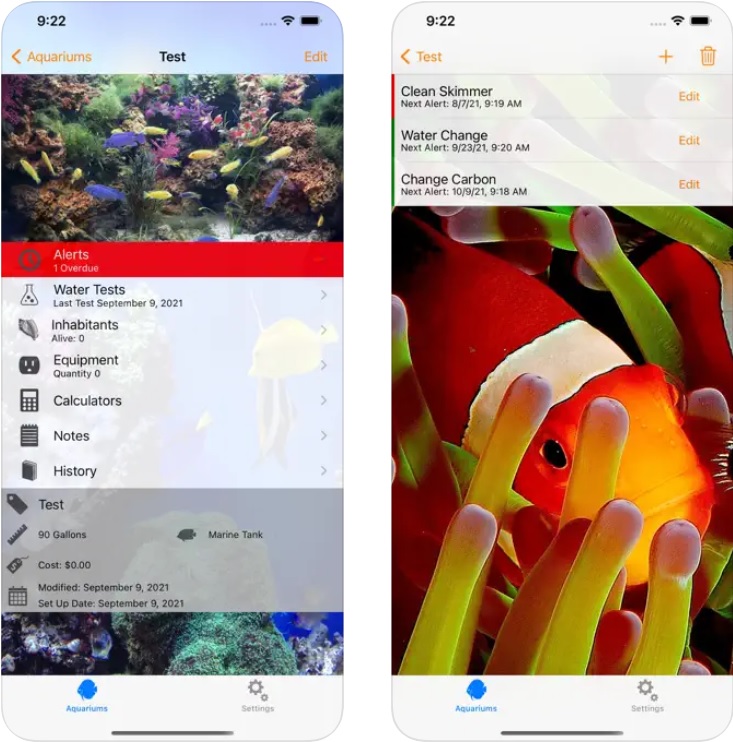 Apex Fusion
This is an app of a little bit a different type – it is made actually for those who have an actual aquarium at home or at work. Those people are probably aware of how time and power-consuming it might be to take care after it – especially if you got a large tank, not just a small jar with one fish.
So this innovative app was developed in order to make the life of the aquariums' owner easier. Using Apex Fusion, you can monitor your tank even from the distance and see in which state it is. Apex Fusion is especially helpful if you are on a business trip and you left your aquarium at home.
This is an aquarium management app – however, you hopefully understand, that it cannot replace all the real care that someone must do while you're away – the app cannot clean the aquarium or feed your fish.
Among the interesting functions of Apex Fusion, you will find the fact that it shows you the temperature of the water in the tank.
What is more, it allows you to control the equipment of the aquarium remotely – lights, pumps, heater, etc. You have probably guessed that for the effective remote management with Apex Fusion you will find the special equipment for the aquarium that will synchronize with the app and the stable Internet connection.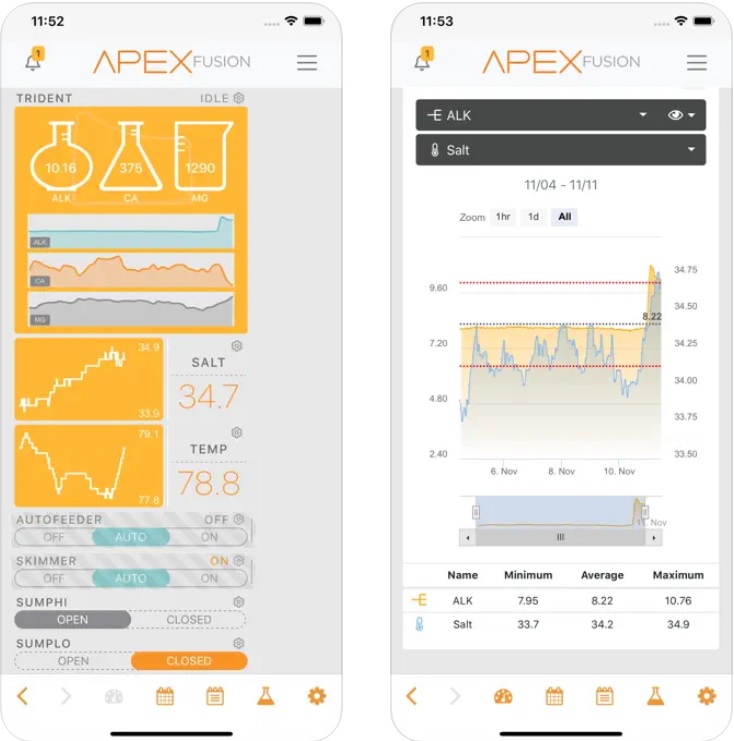 Fish Farm 3 – 3D Aquarium Simulator
The Fish Farm 3 – 3D Aquarium Simulator app is your pocket aquarium. Choose the inhabitants of your aquarium from a huge variety of fish species. Maintain life in the aquarium. Feed your fish and create favorable conditions for their life. You can even play a joke on them by clicking on the glass of the aquarium.
So, it's like you tap on the wall of the aquarium so that the fish will turn their attention to you. The game Fish Farm 3 – 3D Aquarium Simulator is framed very beautifully and in high quality.
You can zoom in to better see exactly how the fish looks. You can also look through the eyes of fish. To do this, you need to change the view in the settings.
In addition to the gaming component, this game also has a lot of useful information. In a special section, you will learn how to properly care for real fish and an aquarium. You will receive recommendations on the selection of food and the necessary items for the aquarium.
The animation in this game is so realistic that you might think that this is a real aquarium. You can choose from five types of aquariums. Choose your favorite background and accessories.
This free application will be liked and will be useful for both children and adults. This is a great way to spend time and get the necessary information. Have you wanted to make fish for a long time, but don't know how to care for them? Try it in this interactive game.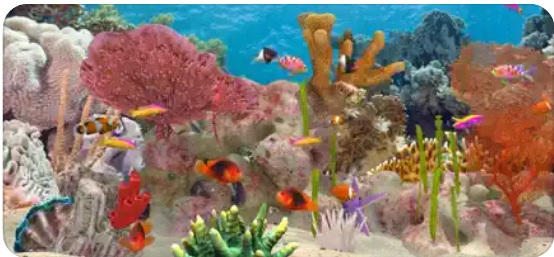 You may also like: 15 Free Background and Wallpaper Maker Apps (Android & iOS)
Fish Abyss – Build an Idle Ocean Aquarium
Fish Abyss – Build an Idle Ocean Aquarium is an incredibly beautiful game in which you can create your own aquarium. At the first start, you will get a basic aquarium and a set of fish. Then you will go through various difficulty levels and get game coins for it.
For this currency, you can buy even more different types of fish and improve your aquarium. You can name each fish a specific name. A list of names is provided for you to choose from. But, you can come up with your own name. A unique feature is that all the fish know how to talk.
They even have a small set of emotions that they show in some situations. For example, they may be sad or happy. If you click on a fish, then it can swim away or talk to you. They can sleep. If you click on a fish while you sleep, it will wake up and tell you something.
During the game Fish Abyss – Build an Idle Ocean Aquarium, you must decorate your aquarium. Buy coral reefs, plants, stones, houses, and much more.
Each item has its own animation. Decorate your tank to your liking. You can place each item anywhere in the aquarium or change its size. This game can replace a real aquarium.
The animation in this game is so realistic that sometimes it is difficult to distinguish it from reality. Want to buy a real aquarium for yourself? Practice in this application.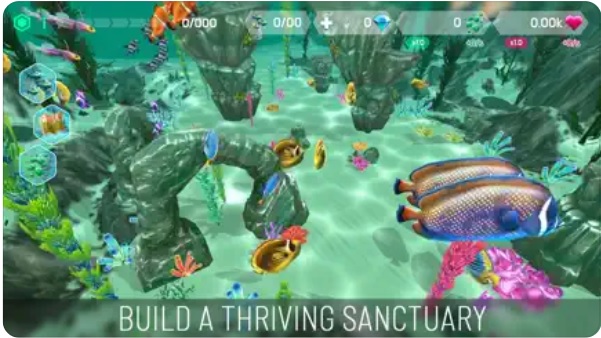 3D Aquarium Live Wallpaper HD
This application is a huge library of 3D wallpapers for your smartphone. The wallpapers collected in this application have animation, the effect of motion and refraction of graphic layers, which, in turn, creates the effect of three-dimensional space directly on your screen. This app is free of charge.
The wallpapers in this app are collected specifically on the marine theme, and thanks to the responsibly chosen palette and the combination of the background and the marine life depicted on this background, the wallpapers have a calming, soothing effect, which is necessary for working people, businessmen and all those who are engaged in difficult and stressful activities.
This wallpaper is not a simple video sequence. These images, fish, corals, bubbles, are all 3D OpenGL renderings, and the background has a 3D parallax effect. All of these graphic tricks will make you feel like you're in front of a real aquarium.
The wallpaper also has touch sensitivity. When you swipe your finger on the screen, the entire background and its contents begin to move according to the territory of your touch and touch interaction with the screen.
In addition, installing this wallpaper does not require any force or mental effort. The interface in the app is very simple and intuitive, you can install this wallpaper on your smartphone with literally one touch.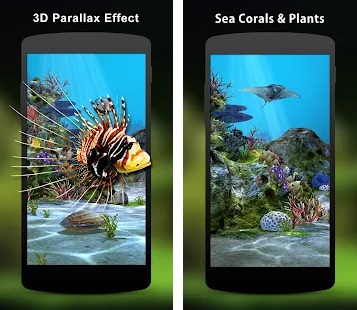 Idle Aquarium: Fish Tank Zoo
If you have the desire to take care of fish and get an aquarium but there is no possibility, so, you can try to download this game on your device and enjoy fish virtually.
It is possible to unlock new species, upgrade tanks to hold more fish, and even hire staff to help run the tank.
The fish are animated and swim around the tanks realistically. However, it cannot work correctly on older devices. Additionally, the ads can be intrusive, but they can be removed with an in-app purchase.
One drawback of the game is that progress can be slow at times, especially in the early stages when players have limited resources. This can lead to frustration, with some users complaining that the game is too slow or too repetitive.
Though, this app offers daily achievements, which can help keep players engaged.
The game is easy to pick up and play, with simple and intuitive controls. This game is also free to play, with optional in-app purchases for those who want to progress faster or remove ads.
Advantages:
Cute graphics.
Easy to pick up and play.
Offers daily rewards and achievements.
Free-to-play with optional in-app purchases.
Drawbacks:
Can be slow and repetitive in the early stages.
Lagging and freezing issues on older devices.
Intrusive ads.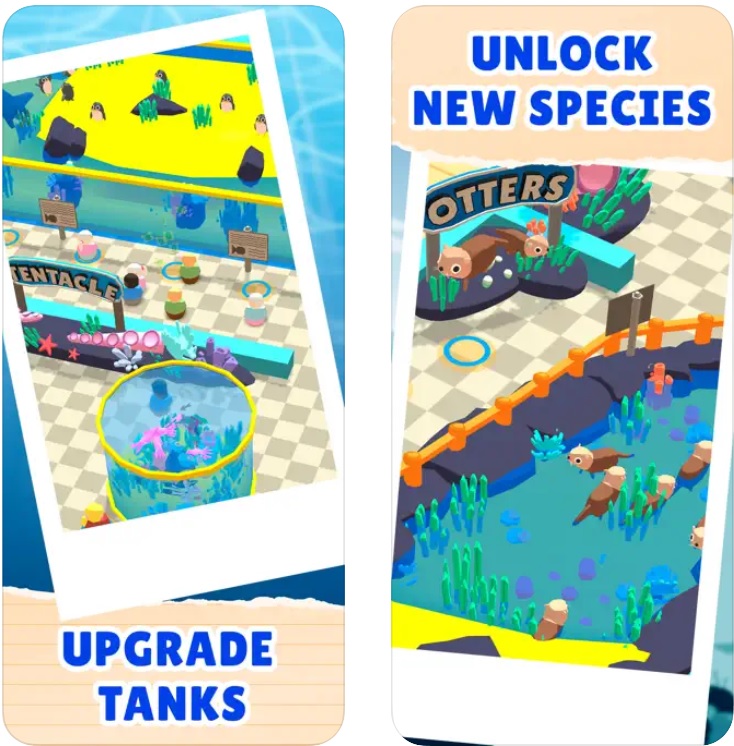 Aquarium Live – Real Fish Tank
Aquarium Live – Real Fish Tank is an app designed for those who love aquariums and want to have one right on their mobile devices.
Users can choose from a variety of fish and customize their aquariums with plants and decorations. The app also offers different backgrounds, lighting options, and sound effects to make the aquarium look more realistic.
Aquarium Live – Real Fish Tank is an enjoyable app that offers a relaxing and calming experience. It is perfect for those who love aquariums but do not have the time, money, or space to have one in real life.
What's more, the app even allows users to feed their fish and watch them grow over time.
You can experience a real aquarium atmosphere that makes users feel like they're watching real fish swimming in a tank.
However, there are some issues, such as the lack of variety in fish breeds and limited customization options.
Also, some users feel that the app's premium features are overpriced, and the app forces users to spend real money to unlock certain items. You have to pay to play the way you want.
Advantages:
Realistic graphics.
Simple gameplay.
Wide variety of fish options.
Drawbacks:
Limited customization options.
In-app purchases can be expensive.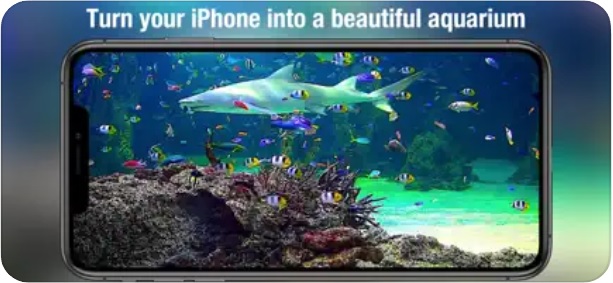 You may also like: 9 Best Animal Breeding Apps for Android & iOS
Dino Aquarium
Dino Aquarium is a casual mobile game that allows players to build and maintain their underwater world filled with prehistoric creatures.
Players begin by purchasing an empty aquarium and then start adding various prehistoric creatures to populate it. Players must feed and care for their creatures while also decorating their aquariums to attract visitors and earn in-game currency.
As you progress, you can unlock new creatures and expand their aquarium to make room for more animals.
However, the game suffers from occasional lag and slow loading times, which can be frustrating for players.
The graphics of Dino Aquarium are decent, with detailed and colorful creature designs. However, the game suffers from occasional lag and slow loading times, which can be frustrating for players.
Advantages:
Fun and engaging gameplay.
Detailed creature designs.
The ability to unlock new creatures and expand the aquarium.
Drawbacks:
Occasional lag and slow loading times.
Technical issues such as crashing and freezing.
Some players find the game repetitive and lacking in depth.