We're all so busy right now, we often don't have time to hang out with our friends. Work, study, business, and permanent employment take a lot of time and effort. So much that we don't even have the energy to rest. If at the weekend we find time for meetings, we prefer to do it as relaxed as possible.
The best place for adults to relax with a pleasant company is a pub, bar, or a cozy veranda at home. This is often accompanied by a drink of good alcohol. And since this is an evening meeting, alcohol should be strong and good.
The first thing that comes to mind from good and strong alcohol is whiskey, scotch, and bourbon. But not everyone is a sommelier, and sometimes it is so hard to tell the difference between whiskey and a mixture of tea and vodka.
Since our smartphone is always with us, it will become your assistant in the choice of alcohol. We have collected for you the best app for iOS and Android, which will become your guides in the world of quality whiskey. Well, put the ice in the freezer and get ready to choose!
You may also like: 5 Coolest clean time counter apps for Android & iOS
Whisky App
The first application, and already speaks for itself. If you want to choose a good whiskey, or record and make your own rating, then you should try it out.
On the start page of the application you get access to 4 functions: find the right bottle of alcohol, get advice, Extra, and access to your lists and ratings.
In short, in the search tab, you can find the alcohol you are interested in with the price and production information; in the tips tab, there are several variations: rating information, information about tastes and subtleties, the best whiskey and the function for the most sophisticated or indecisive – random generation of whiskey.
If you don't know what you want or just want to try something new, it's for you. You can write your own notes, mark your taste and blending impressions, and much more. You can even send them to your friends and compare who knows more about whiskey.
The most interesting thing is that you can even find the place where the whiskey is located at the International Festival in The Hague. Suddenly it will encourage you to go there and find your own special whiskey!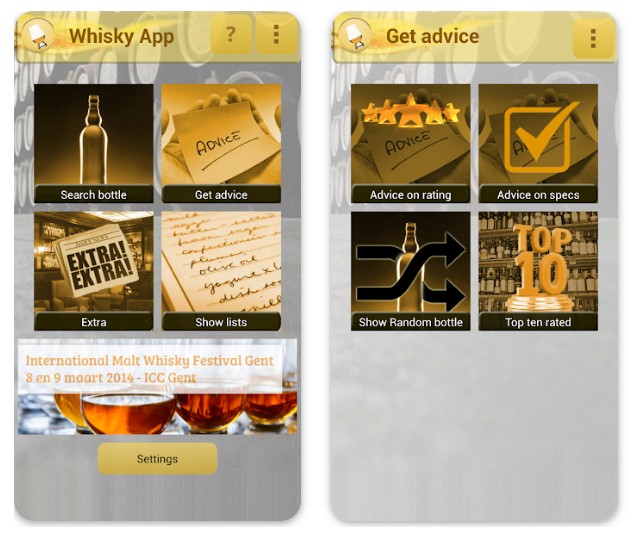 You can also check: 16 Best drinking game apps for iOS & Android
Distiller – Your Personal Liquor Expert
"Drunk Google" is what you hear about Distiller. If you like whiskey, bourbon, scotch, or similar alcohol with all your heart and soul, it is surprising if you still don't have this app installed.
For comfortable use of the application you need to register your account, then you will get access to all the necessary tools, ratings, and more. Also, you can create your own top favorites, track their production, and much more.
If you have already tried a lot, you can use the recommendations of the application itself. Just specify a few criteria – how much you are willing to spend, where you will drink it, what type of alcohol you prefer – and Distiller will select the most suitable bottle for you.
Every type of whiskey or scotch has full information. Up to the point where you can find out all about a particular brand of alcohol.
There are rating systems on the homepage that show you which types of alcohol are considered the best by most people. Of course, you can also make your own rating, depending on your taste and alcoholic preferences.
See what other users think about a particular whiskey – this will help you choose. Find out all about the desired bottle before you spend at least a cent of your money on it.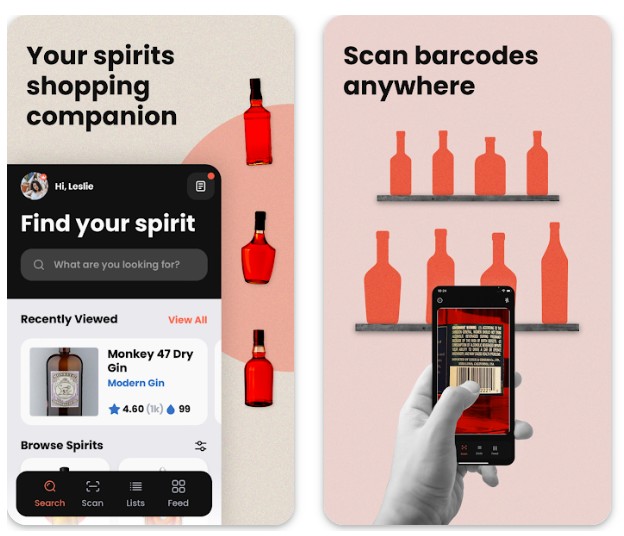 Whisky Suggest
Do you know what exactly you like about your taste? Or on the contrary, you can't stand it? Whisky Suggest will help you to find new varieties and brands that will satisfy your taste requirements!
Whisky Suggest is a huge alcohol catalog that contains ratings, reviews, and more about specific bottles and brands.
You can scan a barcode of your favorite whiskey and the app will tell you all about it. History, tasteful notes, features – all this will be available to you. So you can find out what makes alcohol your favorite.
With the help of this information in Whisky Suggest you will be able to find such varieties or brands, as well as assess the availability of bottles in your city or country.
You can be a big connoisseur and the kinds of scotch you like will only be available in other countries or regions. With the help of the application, you can place an order or just get to know the suppliers of alcoholic beverages.
Whisky Suggest makes it easy to find smoke whiskey or scotch. Just click on the search and think of a bottle of fragrant and fine alcohol almost in your possession! Brief up your evening with friends based on the app's rankings and other connoisseurs' feedback, and you won't miss a chance.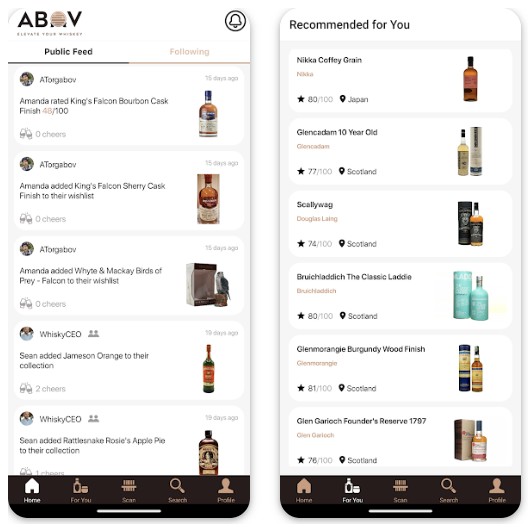 Whiskey Companion
The Whiskey Companion app is a must-have for any whiskey enthusiast. With its extensive database of whiskey brands, tasting notes, and reviews, it is no surprise that this app has gained a massive following among whiskey fans worldwide.
The app's graphics are simple yet elegant, which is perfect for an app of this nature. The app's design is not too flashy or complicated, which lets users concentrate on the whiskey information and tasting notes without any distractions.
There is a large collection of whiskey brands, tasting notes, and reviews make it an excellent resource for whiskey enthusiasts.
In addition to its impressive catalogue, the app also has some fun features, including a section on whiskey cocktails and even some whiskey-related jokes.
This app is an excellent resource for anyone who would like to expand their whiskey knowledge.
Advantages:
Extensive whiskey collection.
User-friendly interface.
Tasting notes.
Whiskey cocktails section.
Drawbacks: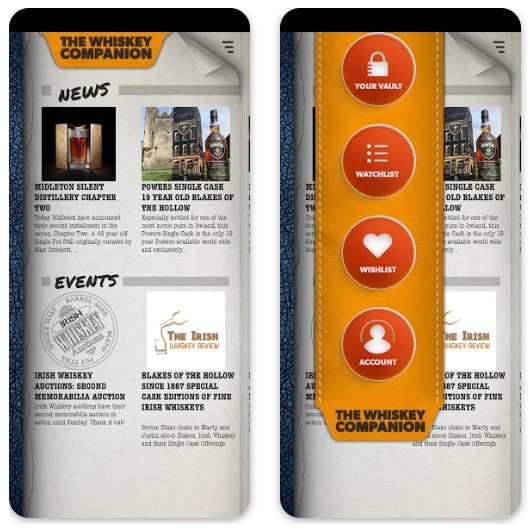 Whisky Whisky Scanner
It is clear from the name of the application that the main purpose of the application is to provide complete information about whiskey, having access to its label. Scan the bottle and get full information about the alcohol in it!
Each bottle's page shows the type of whiskey, its age, strength, and estimated cost of the bottle. Of course, the price may vary depending on the store, the supplier, or your country, but you will at least get an idea of the price.
Rating, feedback, and ratings from other users are immediately visible. With this information, you can add alcohol to your wish list or to your favorite whiskey. So you can form your own mini-dream bar on your own smartphone!
Whizzky provides you with a list of recognized brands and varieties as standard, as well as the opportunity to search for new ones by specific criteria – taste or type.
Find out what's going on in the alcohol world, watch interesting videos, and a video tutorial on whiskey. Invite your friends to the app and create your own club of connoisseurs.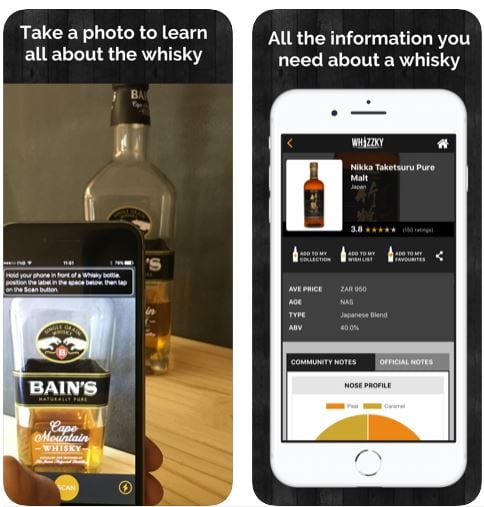 You may also like: 10 Best Bartender Apps for Android & iOS
Craft Bourbon
Have you heard of the Buffalo Trace plant? Even if you haven't heard of it, you should find out about it! Craft Bourbon is an application that specifically specializes in Buffalo Trace products. If you are already a sophisticated taster, you have tried their whiskey. But you should also know about the rest of the products.
The app shows you the process of creating bourbon and whiskey from the beginning to the end. This will allow users to find out how a particular tasteful bouquet is made and how a blend of whiskey appears.
This will help you to determine roughly what your whiskey will taste like, even if you're just in the store and looking at the label.
Become a manufacturer: create your own kind of bourbon or whiskey. Choose the ingredients and fully manage the process – the app will show you all the information as a result. Even how much it will cost to produce it and how it will be stored in the warehouse!
Craft Bourbon will also help you to choose the whiskey that is most similar to the whiskey you have created. The application makes the process of consumption of bourbon more cultural and sublime. Whiskey is more than just alcoholic intoxication, with Craft Bourbon you can master the art of its creation.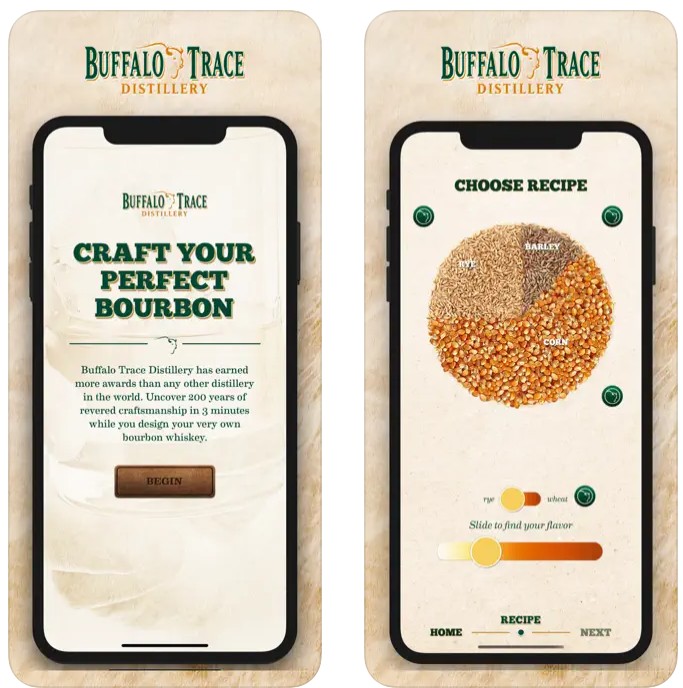 Whisky Journal
When it comes to holidays or celebrations, we understand that we need to choose a gift for our loved ones and friends. Of course, you can know in advance what people want, but most people get stuck with this problem.
If it's a close friend of yours, you can give him/her good alcohol as a gift, and one of the most popular types of good alcohol is whiskey.
The Whisky Journal is an almost a social network that connects you and your friends in the world of alcohol. With the help of the app, you can make notes about your feelings after drinking, mark what you liked or disliked in a particular bottle, mark your favorite brands of whiskey, bourbon, or scotch.
When you use it, you get access to more than 5,000 kinds of alcohol, so you can find your favorite whiskey and mark it in your favorite ones.
Your friends can also use the Whisky Journal and you can see their tops and preferences. You will also be able to see the fullness of their bar. On the basis of this information, you will be able to present quality whiskey to your friends, which they will love and which is not yet in their collection.
All your records are automatically synchronized with your cloud storage, so you can access information from another device or just by logging into your account. It doesn't matter which platform the other device will be on – Whisky Journal is available on iOS and Android.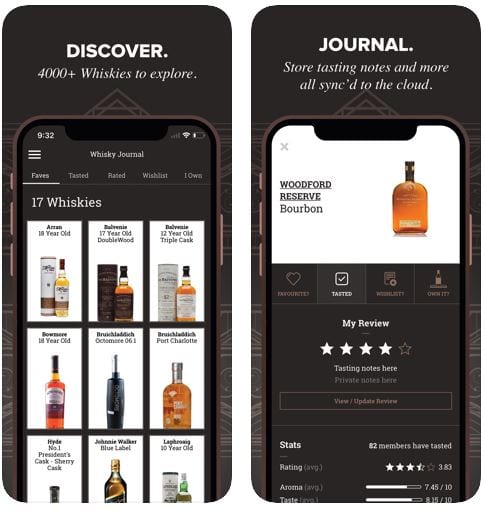 Drammer whisky app
In case you don't think the number of 5,000 bottles is so big, we have an application for you with a large database of whiskey, bourbon, scotch, and other alcohol. Drammer whiskey app has a list of more than 25 thousand daily updated prices of alcohol and information on them.
With the help of the application from this huge catalog, you can find your favorite whiskeys and make your own virtual collection of whiskeys from the desired or tried and tested varieties and sorts.
With the help of the barcode scanner, you can instantly find the right bottles from your minibar, as well as immediately leave a review or opinion about the whiskey. For the activity in the application, you get icons that will give you access to more advanced features in the future.
But in order to access it initially, you need to have a personal account with Drammer whiskey. As the app is available on iOS, you can synchronize your account with your iTunes account. This way, you can attach photos and memories of tastings directly to the app.
As we said earlier, the app also tracks alcohol prices. Prices are in different currencies – dollars, euros, etc. – choose the rate that suits you best and be aware of price increases or decreases. You can also see the location of the desired alcohol plant on the map right away – perhaps your favorite whiskey is very close.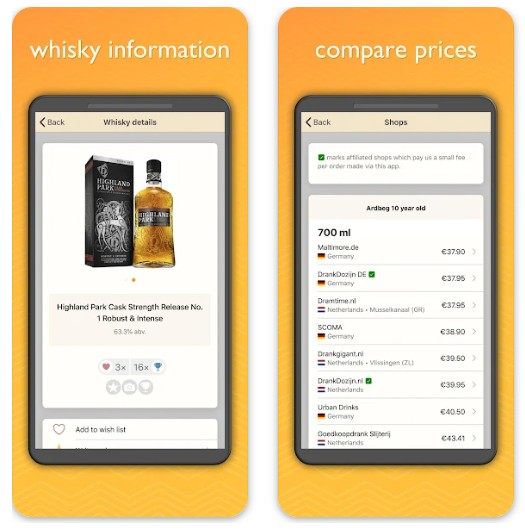 You can also check: 10 Best bartender apps for Android & iOS
Drizly
Do you want to shop for alcohol without even leaving your house? This is a great and convenient app for that. you can explore all the options that Drizly provides – and, being honest, this is a huge assortment of alcohol and drinks. You can use the search bar to find something specific.
Considering the whiskey section, the app has a separate corner for those and it sells several kinds of this drink. Under each brand, you will find the detailed description – the history, contents, the price, and how popular it is among buyers. For buying the drink, you just need to add it to the cart.
Another cool feature of Drizly is that it allows you to shop in all the local stores online until you find the drink that you are looking for. Snag exactly what you want and get your alcohol delivered.
You can make the price comparison and choose the most beneficial option. You can pay right in the app via your credit card. If you wish to go to the store personally for that whiskey bottle you can open the map that will show you all the closest stores.